Du 05 septembre au 1er octobre 1974, les Jackson 5 sont en tournée en Amérique du Sud. Ils donneront des concerts au Mexique, au Panama, au Vénézuela et au Brésil.
Au Brésil, des représentations sont prévues dans 5 villes : Sao Paulo, Porto Alegre, Belo Horizonte, Rio de Janeiro et Brasilia.

Le 13 septembre : Sao Paulo, Palácio das Convenções d'Anhembi
Le 14 septembre : Sao Paulo, Pavilhão de Exposições d'Anhembi
Le 17 septembre : Porto Alegre, Ginasio do Internacional
Le 18 septembre : Belo Horizonte, Estádio Independência
Le 19 et 20 septembre : Rio de Janeiro, Maracanãzinho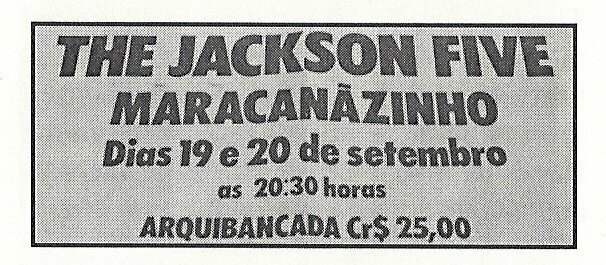 Le 22 septembre : Brasilia, Ginasio de Brasilia (Stade Médici, aujourd'hui Stade Nilson Nelson)
« Après Panama, nous reçûmes de nombreuses invitations pour l'Amérique du Sud, tout d'abord le Venezuela et le Brésil. J'avais toujours rêvé de visiter le Brésil, et nous allions à Rio !
Le promoteur était arrivé de Rio en Amérique pour nous accompagner au Brésil. Rio de Janeiro ! J'aimais déjà le nom de cette ville. Quand nous étions en train d'atterrir, je vis une de plus belles villes du monde par la fenêtre de l'avion. Sur la route de l'hôtel, un autre choc m'attendait : j'ai découvert que tout le monde se promenait en maillot de bain » raconte Joe Jackson dans son autobiographie. Nous devions performer à Rio, San-Paulo et à Brasilia. Mes garçons étaient acceptés partout à bras ouverts." raconte Joe Jackson dans The Jacksons

Pourtant, avant leur arrivée dans le pays, la presse brésilienne présente un groupe trop confiant devant leur succès phénoménal : " Nous voulons améliorer notre travail et peut-être faire encore mieux. Nous voulons garder notre public et prendre la place des Beatles. Leur place est maintenant la nôtre. La preuve en est la quantité incroyable de disques que nous vendons » aurait déclaré Jermaine dans un magazine pour adolescent.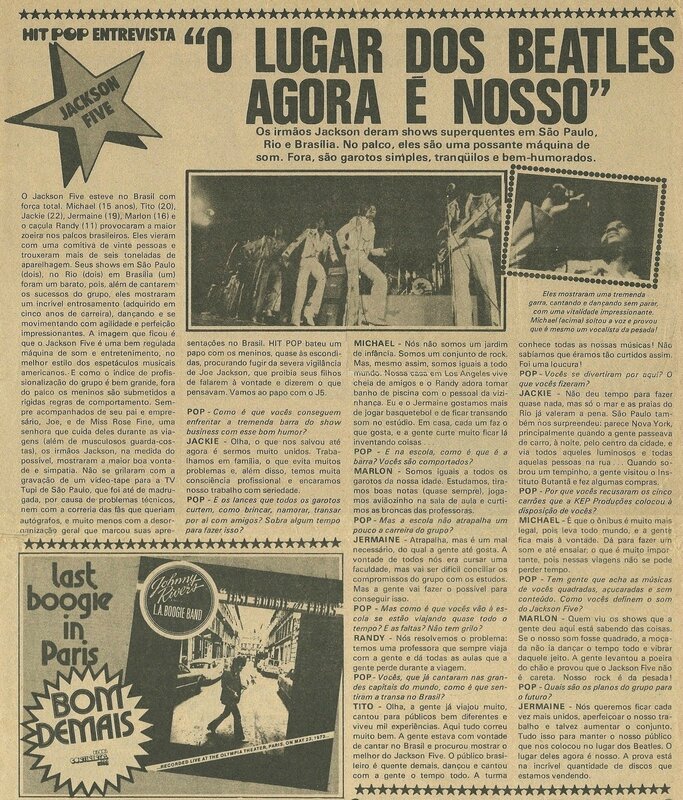 Un autre article est titré "Maintenant, nous allons secouer le Brésil"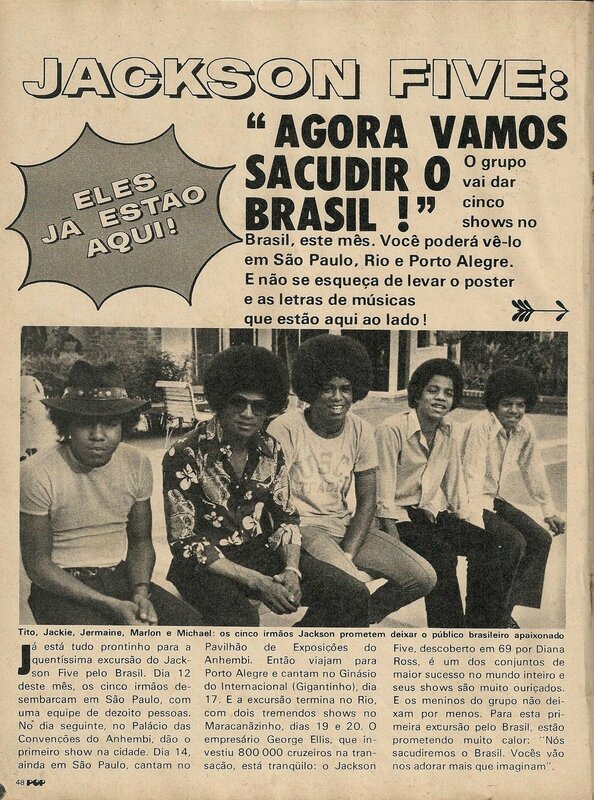 Le groupe atterrit le 12 septembre à 13h30, au Brésil, à l'aéroport Viracopos de Sao Paulo, la première étape de la tournée dans le pays. Ils rejoignent l'Othon Palace Hotel, avec les 21 personnes qui les accompagnent dont Joe, Katherine, et deux de leurs soeurs, et Miss Rose Fine, la préceptrice des enfants. Randy, le dernier garçon de la famille a également rejoint le groupe
Une conférence de presse est organisée à l'hôtel. La presse brésilienne, à l'image de la Folha de S. Paulo, se méfie un peu du groupe et les questions sont dérangeantes et quelques peu agressives.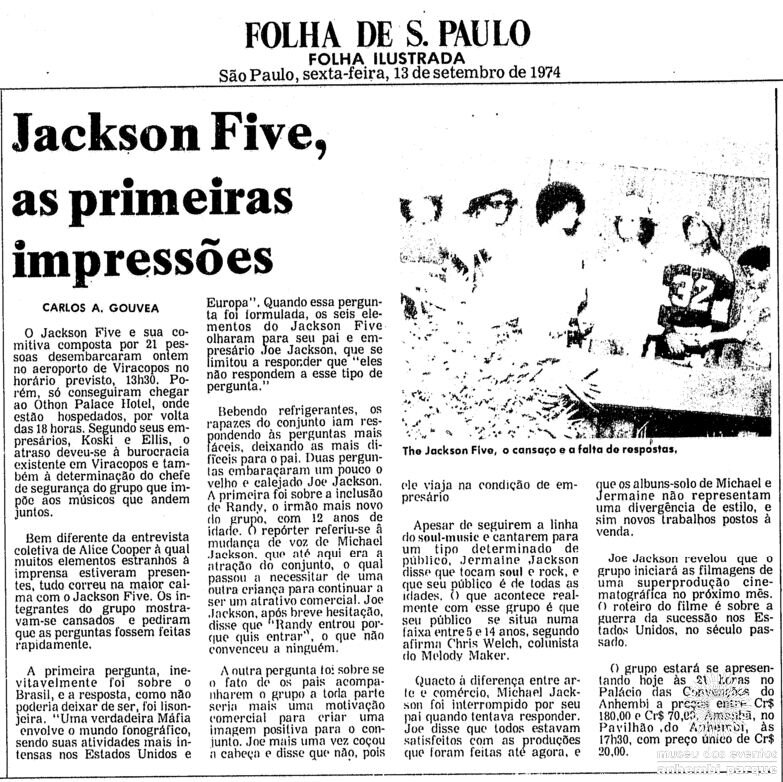 Les Jackson 5, peu à l'aise devant ces journalistes, attendent souvent l'approbation de leur père pour répondre. Les questions évoquent la présence de Randy dans le groupe, le changement dans la voix de Michael, la présence incessante de la famille autour du groupe et le type de public des garçons, les faisant passer pour des produits commerciaux. Alors qu'un journaliste pose une question au groupe sur la différence entre l'art et le commerce, Michael, qui tente de répondre, a même été interrompu par son père qui a éludé la question en disant qu'ils étaient satisfaits de leurs producteurs et que les disques en solo de Michael et Jermaine avaient des styles différents mais que de nouveaux projets étaient en cours (il évoquera le projet de film des Jackson 5 durant la guerre de Sécession).
Les 13 et 14 septembre, le groupe donne deux concerts dans la ville, non complets. Les billets sont vendus à l'époque l'équivalent de 2,50 dollars. Bien que sa voix soit en train de muer, les journaux de l'époque décrivent finalement Michael comme un « monstre de scène ». Une journaliste qui a vu Michael en concert à Sao Paulo, pour le Dangerous Tour de 1993 et qui était déjà présente lors d'un des deux concerts de 1974 écrit qu' « on pouvait voir qu'il allait devenir très grand ». A un moment au cours du spectacle, il y a eu des problèmes de son et tous les membres du groupe ont arrêté de jouer. Michael a sauvé la situation en se mettant à jouer du tambourin et en dansant, ce qui a permis de faire descendre la tension sur scène.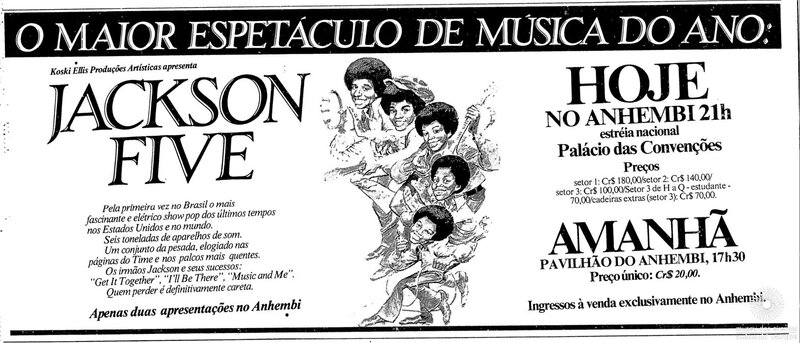 Lors de ces concerts au Brésil, les frères Jackson chantent leurs plus grands succès comme I Want You Back, ABC, Never Can Say Goodbye et I'll Be There et des chansons de leur album Dancing Machine, qui venait à peine de sortir, notamment "Life of the Party" et la chanson titre de l'album. Michael Jackson, qui avait déjà trois albums solo à son actif à l'époque interprète Ben et Music and Me. Deux reprises de chansons d'artistes de la Motown sont également au programme: Superstition de Stevie Wonder et Papa Was A Rolling Stone des Temptations.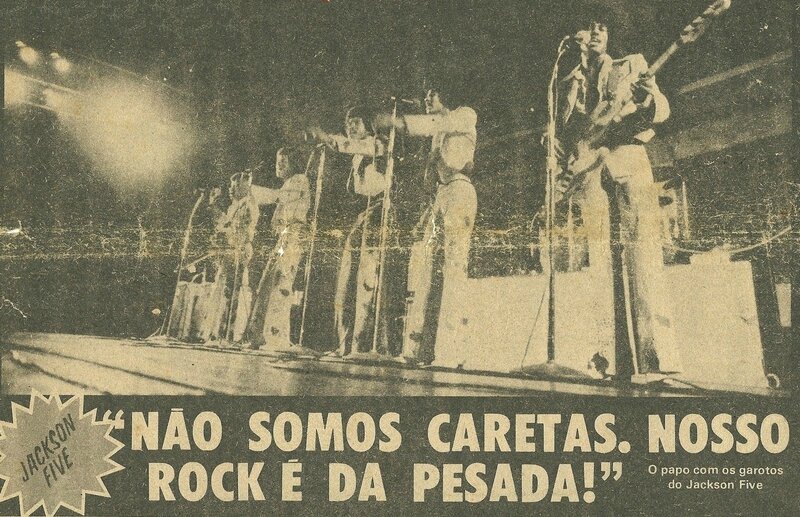 « Le public à San-Paulo était magnifique. Les gens présentaient bien, et, ils avaient l'air d'avoir une santé de fer, particulièrement les jeunes filles, toutes étaient de réelles beautés. Ce n'est pas un hasard que je ne quittais pas mes fils des yeux, pour qu'ils ne fassent rien de stupide » raconte Joe Jackson
En plus de ces deux dates à Sao Paulo, le groupe enregistre une émission pour la télévision Brésilienne, Tupi, dans le quartier Sumaré. L'enregistrement dure jusqu'à l'aube en raison de problèmes techniques. José Sebastiao, à l'époque directeur de la chaîne déclare : « J'étais impressionné par le groupe qui est arrivé sans émeute, qui a enregistré et qui ne parlait à personne ». Solano Ribeiro, le directeur de la division spectacle en 1974 parle d'un groupe extrêmement discipliné, travailleur et très rigoureux dans le travail.
Le programme est le seul enregistrement qui existe du passage des Jackson 5 au Brésil. Il a malheureusement été détruit en grande partie par l'incendie qui a frappé le bâtiment de la chaîne de télé. Seules 1 minute et 40 secondes d'enregistrement ont survécu à l'incendie et sont désormais conservées à la Cinémathèque brésilienne, avec le reste des fichiers la chaîne. Des images rares de Michael interprétant Never Can Say Good Bye et Ben qui ont été diffusées en 2009.
Les Jackson 5 font la une du "Jornal de Minas" le 19 septembre1974 avec le titre "La dernière explosion des jeunes frères". Le journal, aujourd'hui disparu, de Belo Horizonte revient sur le concert de la veille du groupe qu'il qualifie comme le "spectacle de rock le plus étonnant du monde."
L'article commence en annonçant qu' "écouter un disque des Jackson Five est une chose, mais assister à un concert du groupe est quelque chose d'entièrement différent." Selon le "Jornal de Minas", ce qui a motivé l''attente pour le concert de Michael Jackson et de ses frères à l'Estádio Independência, dans le quartier Horto, était «le succès presque incroyable du talentueux jeune Michael, qui avait vendus plus d'un million d'exemplaires des singles "Ben" et "Music and me".
Mais l'article rapporte surtout la puissance vocale du jeune Michael Jackson, alors âgé de 16 ans. "Il est loin d'être le garçon avec la petite voix des premiers disques et des premiers concerts". Michael est présenté comme "l'un des plus grands artistes de la scène rock."
Le concert à Belo Horizonte a eu lieu un jour de pluie et le stade n'était pas comble. Le producteur Wilson Miranda et les journalistes Neusa Costa et Afonso de Souza étaient présents et se souviennent du show : " Le groupe est arrivé à l'aéroport de Pampulha et séjournait au Brasilton Palace Hotel de Contagem", se souvient Miranda, tandis que Afonso de Souza indique que les jeunes et les enfants représentaient la plus grande partie du public au stade de l'Indépendance pour ce concert. Sur scène, les frères ont interprété leurs succès mais tous se souviennent que c'est Michael, qui faisait le show, avec ses pas de danse et notamment un pas qu'il venait d'inventer : les mouvements d'un robot.
Le pays étant sous dictature militaire à cette époque, les forces de police ont été renforcées autour du stade et le show devait se terminer strictement à 22 heures.
Lors de leur passage à Rio de Janeiro pour deux dates, le groupe est de passage dans les studios de la radio Globo. Ils sont reçus dans l'émission quotidienne de Paulo Giovani, célèbre présentateur radio.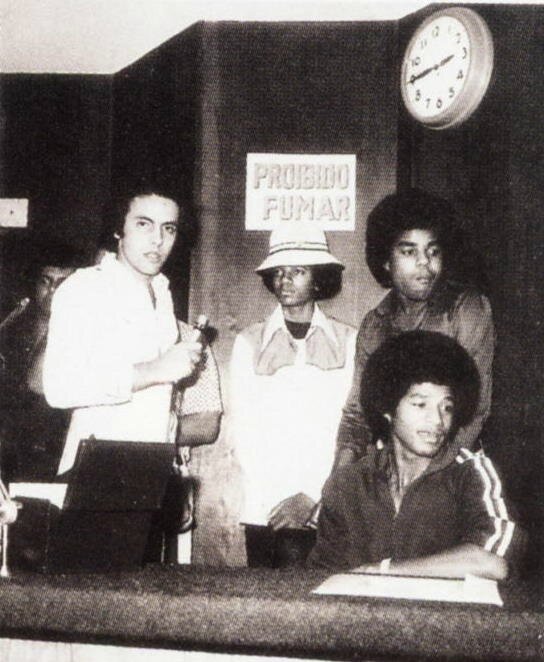 Certains fans n'hésitent pas à dire que le groupe posait volontiers avec eux dès leur arrivée à l'aéroport ou lors de rencontre dans les magasins.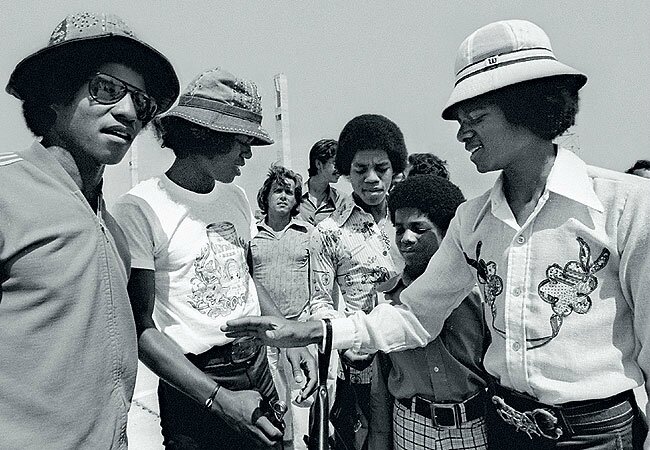 Les frères donneront également une conférence de presse à l'Hotel Nacional de Rio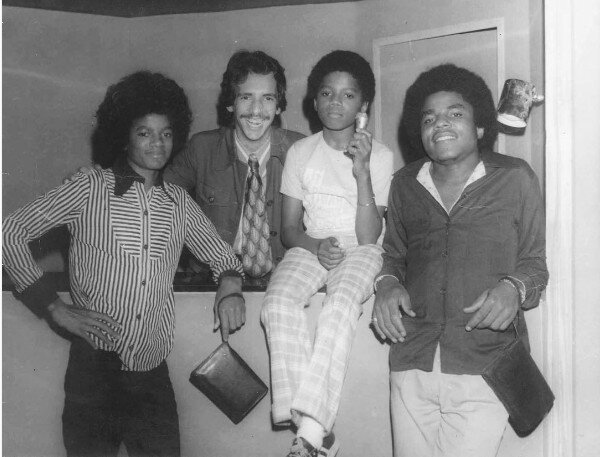 Photo: jackson.rare (instagram)
La dernière date de la tournée, Brasilia, a été plus chaotique pour le groupe.
Pour Brasilia, il n'était possible de poursuivre les concerts que par avion. Nous avions pris nos billets et quand j'ai regardé par la fenêtre j'ai remarqué que notre matériel se tenait toujours près de l'avion. J'ai commencé à m'inquiéter, j'ai appelé les hôtesses de l'air, leur ai expliquées qu'on avait un concert juste après notre arrivée à Brasilia, et demandé pourquoi les choses n'étaient pas encore dans l'avion. Elle a répondu, qu'ils ne pouvaient pas tout prendre d'un coup et que les choses restées dehors, seraient prises dans un autre avion qui débarquerait un peu plus tard que nous. Ça m'a calmé, bien que je n'aimais pas partir sans notre matériel. Mais l'avion avait déjà démarré, et on ne pouvait rien changer.

Quand nous sommes arrivés dans la salle de concert à Brasilia, notre matériel n'était pas encore arrivé. J'ai demandé à un des gardes de sécurité armés de trouver où au moins notre cargo arriverait. Il a exécuté cet ordre et m'a informé que le cargo était toujours à San-Paulo et qu'il ne semblait pas arriver.
Comme la salle était en même temps remplie de gens, il a suggéré que nous partions par la porte du fond, en fait si les gens remarquaient, que nous ne pouvions pas performer, un chaos commencerait. Mais à ce moment là, quelqu'un déclara à l'haut-parleur que le show n'aurait pas lieu. Il aurait mieux fait de ne pas parler.
Dans la seconde, un chaos commença. Les spectateurs rageaient. Nous avons sauté dehors et quand le conducteur de bus nous a vus, il s'est arrêté immédiatement. Nous avons eu à peine le temps de sauter dans le bus, et dans la salle la foule enragée cassait tout. Les gens ont encerclé du bus, le poussaient et jetaient tout ce qu'ils leur passait par la main.
« Vite, allongez-vous et couvrez-vous la tête avec les mains » ai-je crié aux garçons. Les éclats de verre cassés volèrent, et en quelques minutes toutes les fenêtres étaient brisées. Le conducteur parvint, par miracle, à passer à travers la foule furieuse sans écraser personne, et par la suite nous étions libres sur la route. Mais les spectateurs fâchés nous poursuivirent pendant quelque temps. Dieu soit loué, nous sommes sortis vivants.
Le lendemain, c'était écrit dans tous les journaux, que les Jackson avaient presque causé une révolte à Brasilia. Enfin, notre matériel est arrivé de San-Paulo, et le concert a réellement eu lieu, ils y ont cru seulement quand nous furent sur scène. Peu importe tout cela, il y avait une audience fantastique. Ils criaient fort et tapaient, et le service de sécurité devait tout le temps regarder que personne ne grimpe sur scène. Et les filles, bien sûr, s'évanouissaient en masse.

Le fait qu'ils avaient lancé des pierres à notre bus avait été complètement oublié. J'étais très fier de mes garçons, ils avaient fait un show excellent, malgré ce qu'ils avaient dû traverser. Après le concert, les « Brasilienses » nous traitaient extrêmement poliment et attentivement. Cela montre de nouveau combien la force de la musique est grande. Si notre musique avait atteint leur cœur, ils devenaient nos amis pour toujours.
Nous avons passé deux jours là bas, puis nous avons dû dire au revoir. L'énorme foule nous accompagnait sur la route de l'hôtel à l'aéroport. Malgré quelques circonstances désagréables, nous avions plus de bonnes impressions du Brésil, et finalement tout était exactement pareil que dans les autres pays où les Jacksons étaient venus performer : à chaque concert le nombre de nos fans augmentait.
Les gens sont les mêmes partout dans le monde, il semblait que nous devions juste parvenir à nous faire aimer. Et nous l'avons fait. Nous étions venus comme des délégués des Etats-Unis et c'était un bon sentiment – d'avoir des amis dans le monde entier." se rappelle Joe dans son autobiographie
L'annulation de ce concert, initialement prévu le 21 septembre, Orlando de Souza l'évoque sur son blog et raconte sa rencontre avec le groupe.
En chemin pour assister au concert, Orlando et sa jeune sœur sont passés par l'hôtel où logeaient Michael et ses frères. Un bus était stationné devant l'hôtel et ils s'en sont approchés et ont eu l'agréable surprise de voir les 6 frères à l'intérieur. Ayant étudié l'anglais à l'Instituto Britânico Independente, ils ont entamé la conversation en anglais avec eux. Comme il restait du temps avant le début du spectacle, les Jackson 5 ont pris le temps de discuter avec eux et de leur signer des autographes. Orlando a beaucoup parlé avec Jermaine et Randy et se souvient très bien de Michael.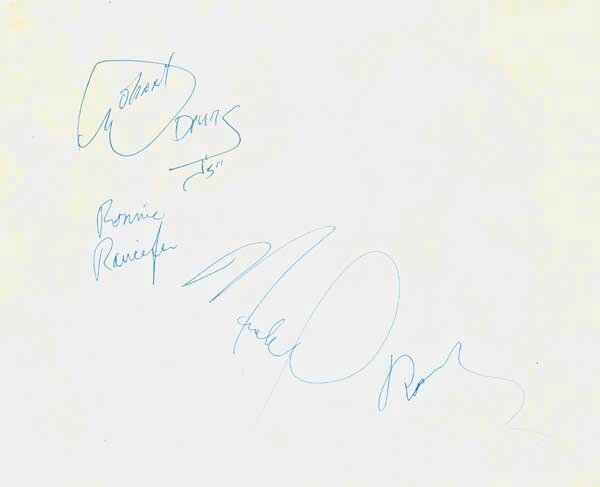 La venue des Jackson 5 était un évènement pour Orlando et pour le Brésil à l'époque, en raison de l'immense succès du groupe.
« Je me souviens que certains équipements n'étaient pas arrivé à l'heure à Brasilia et le spectacle a été annulé, ce qui a provoqué une grande indignation de ceux qui étaient présents et ils ont lapidé le bus des artistes à l'annonce de l'annulation et le report à un autre jour. Le spectacle a eu lieu le lendemain et c'était un concert fantastique. Je n'oublierai jamais le moment où Randy a fait son solo de percussion, Michael Jackson chantait divinement avec ses frères, c'était fantastique ».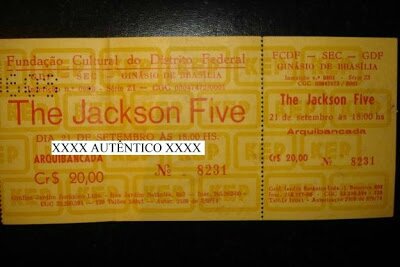 Michael Jackson est par la suite revenu deux fois au Brésil. Des visites, cette fois beaucoup plus médiatisées puisqu'il était devenu la star que l'on connait
En octobre 1993, dans le cadre du Dangerous Tour, Michael donne deux concerts au Stade Morumbi à São Paulo. Dans la confusion parmi les fans et les médias qui suivaient les déplacements Michael, un des véhicules dela sécurité de Michael a renversé deux adolescents. L'un d'eux, âgée de 15 ans, a eu la jambe cassée et a reçu la visite de son idole à l'hôpital. Michael a donné une poignée de main au garçon, salué sa famille et discuté avec tout le monde.
En février 1996, Michael est de retour au Brésil, avec le réalisateur Spike Lee pour tourner le short film "They Don' Care About Us". A Rio de Janeiro, les équipes de chanteur et directeur ont dû négocier pour enregistrer des scènes dans les favellas. Certaines scènes ont été également tournées à Pelourinho et à Salvador de Bahia, avec la participation du groupe Olodum. Michael porte d'ailleurs le t-shirt du groupe dans le clip.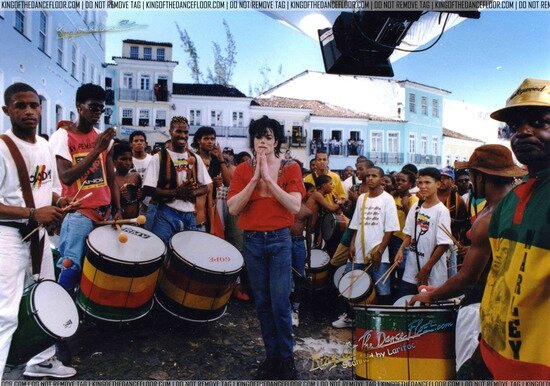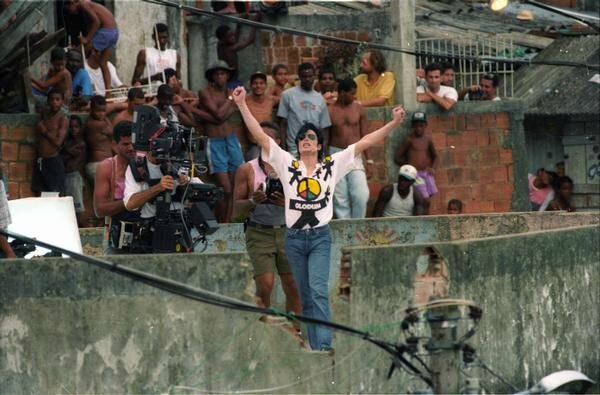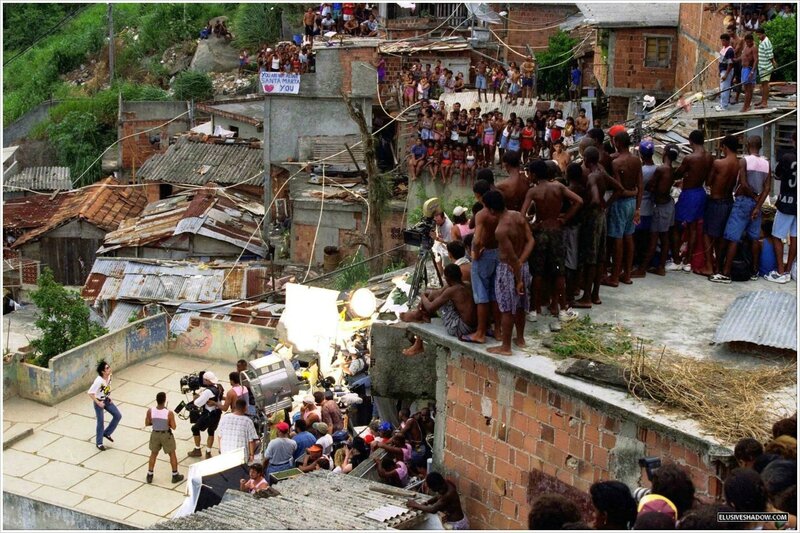 Sources : arquivo-mj.blogspot.fr/semioticas1.blogspot.com.br/ bardobulga.blogspot.fr/orlandosouza.wordpress.com/ forevermichael.forumeiros.com/MJJPlanet (traduction de The Jacksons de J. Jackson)/For The Records, Chris Cadman
Les traductions des articles en portugais, issus des différents liens, sont personnelles, si vous constatez des erreurs, n'hésitez pas à me le signaler. Si vous partagez cet article, merci de bien indiquer le lien du blog!!