Jeudi 24 juillet, les fans de Michael Jackson avaient rendez-vous à la Dorothy's Gallery à Paris pour une rencontre exceptionelle avec Siedah Garrett. Un évènement organisé début juillet lorsque Siedah a proposé sur facebook de venir sur Paris pour un « Meet & Greet ».
Siedah Garett , la co-interprète de I Just Can't Stop Loving You, le duo avec Michael Jackson, premier single extrait de l'album Bad en 1987 mais aussi co-auteur de l'incroyable Man In The Mirror et de Keep The Faith et choriste de Michael durant le Dangerous Tour. Un parcours qui lui permet au cours de ses rencontres avec les fans d'évoquer ses souvenirs avec le King Of Pop.
Dès 16 heures ce 24 juillet, quelques fans sont déjà présents devant la Dorothy's Gallery. Avec certains, nous décidons d'aller se poser autour d'un verre afin de faire connaissance et/ou de se retrouver.
D'autres plus nombreux arrivent après 17 heures. Je pénètre dans la Dorothy's Gallery vers 17h45, grâce à François, un ami, où je retrouve l'équipe du magazine Invincible, partenaire de l'évènement.
Photos: Lid Lily (facebook). Merci ;)
Siedah arrive avec son mari – manager vers 18h15. Ce dernier s'assure que tout est au point, se renseigne sur l'organisation, pendant que Siedah discrète, attend, mais sans s'isoler. On dirait qu'elle se concentre à sa manière. Nous sommes tous impatients de la rencontrer.
Essais de photos, de lumières, mise en place des produits à distribuer aux participants (photos, posters, CD) et Siedah arrive enfin. Je me retrouve la première à faire la photo avec elle. Je suis là à côté d'elle. Celle qui semblait fermée il y a encore quelques minutes a désormais un grand sourire et resplendit de gentillesse. Elle est grande et élégante et le temps ne semble pas avoir eu beaucoup d'effet sur elle. Petit échange de civilités. Photos et c'est déjà fini. Il faut laisser la place aux fans qui attendent leur tour à l'extérieur.
Le temps que tous fassent leur photo, je m'installe dans la salle où va avoir lieu la séance de questions-réponses. Petit à petit cette salle, très intimiste, se remplit et vers 18h40, Siedah se présente avec un grand sourire. Richard Lecocq, un des organisateurs de l'évènement, l'accompagne. Il est chargé de la traduction.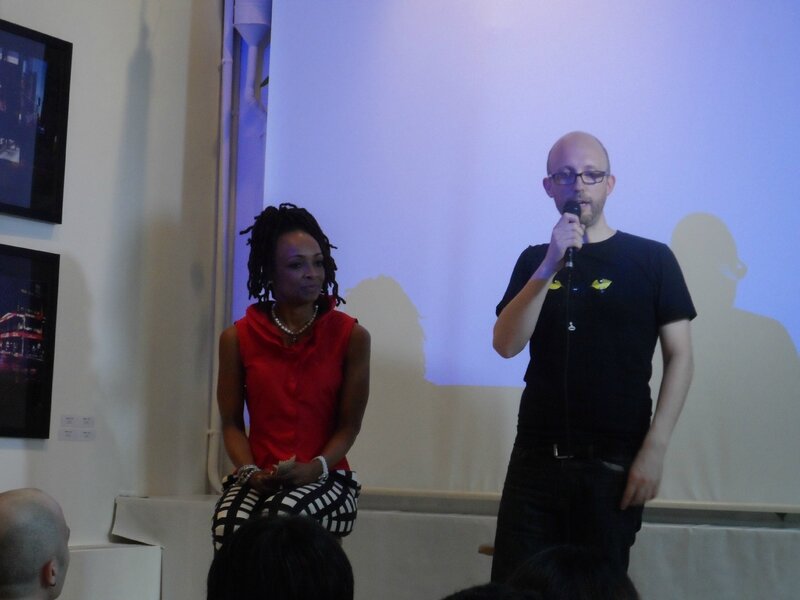 A l'initiative de Richard, Siedah entre tout de suite dans le vif du sujet et parle de l'enregistrement de la démo de Man In The Mirror. Michael voulait qu'elle la chante sur un ton un peu plus bas. Il s'est alors mis à la filmer pour la chanter comme elle. Siedah n'y croyait pas, Michael voulait chanter comme elle !!
Les questions des fans sont ensuite nombreuses. Beaucoup parlent et comprennent l'anglais, ce qui facilite l'échange et permet à Siedah de se sentir en confiance, au point qu'elle en oublie souvent que Richard doit tout de même faire une petite traduction de ses propos. Elle se désole de ne pas maîtriser le français, à part quelques petits mots. Elle répond avec beaucoup de naturel, d'humour, et de sympathie, comme si nous la connaissions depuis toujours (ce qui est presque le cas de notre côté ;) ). Souvent les question lui rappellent une anecdote qu'elle a plaisir à nous faire partager et sa manière de les raconter est extraordinaire. Elle mime, parle beaucoup avec des gestes, son visage reflète ses émotions. Elle a un don pour captiver son public et la salle s'est souvent retrouvée pendue à ses mots.
Il me sera difficile de retranscrire ces sentiments à l'écoute de son expérience avec MJ mais voici les questions qui lui ont été posées (en espérant ne rien avoir oublié !).
- Comment était-ce de travailler avec MJ en studio et sur scène ?
En studio, Siedah côtoyait Michael 8 à 10 heures par jour. C'était un travail intensif alors que sur scène, il ne s'agissait que deux heures. Le reste du temps elle ne le voyait pas. Les répétitions du Dangerous Tour ont débuté trois mois avant la tournée mais Michael n'est venu travailler avec l'équipe que les trois dernières semaines.
- Quel effet cela a-t-il fait de travailler et de voir collaborer ensemble le roi de la salsa, Ruben Blades (qui a écrit la version espagnole de I Just Can't Stop Loving You, Todo Mi Amor Eres Tu) et le Roi de le Pop ?
Il n'était pas question d'égo, elle n'a ressenti aucune compétition. Michael avait le don de faire sentir à chacun de ses collaborateurs qu'il avait quelque chose à apprendre d'eux et ça a été le cas également lors de cette collaboration.
- Comment est venue l'idée de faire I Just Can't Stop Loving You en français ?
Siedah ne sait pas. Le projet s'est fait rapidement, en une semaine. C'était le premier single de l'album et il fallait qu'il touche le plus de monde possible.
Quel est son album et sa chanson préférés de Michael?
L'album que Siedah préfère est Off The Wall (sa réponse est suivie d'une approbation d'une grande partie des fans !) et sa chanson favorite est bien entendu Man In The Mirror. Non pas parce que c'est elle qui l'a écrite mais parce que MJ l'adorait et parce que tout le monde, sur la planète, connait les paroles de Man In The Mirror !
- Question sur Keep The Faith et Man In The Mirror (désolée je n'ai plus l'intitulé )
Siedah a écrit Keep The Faith après Man In The Mirror. Michael lui avait alors demandé une autre chanson pour son album Dangerous. Michael a fait quelques modifications et a écrit le « bridge »
Sieddah évoque une anecdote sur un coup de téléphone qu'elle a reçu de Quincy Jones. La démo de Man In The Mirror était plus courte, et Michael voulait plus de paroles. Siedah reçoit donc un jour un coup de téléphone de Quincy (elle n'avait alors jamais rencontré Michael avant) qui lui donne des indications sur ce qu'il veut. Quincy lui dit d'attendre et elle entend à l'autre bout du téléphone Hum hum (un bruit très peu distinct). Quincy continue de lui dire ce qu'elle devrait faire, lâche le téléphone et Siedah entend à nouveau ces bruits. Quincy lui dit alors de patienter et passe le téléphone à Michael. Siedah se rend alors compte qu'elle a le King Of Pop à l'autre bout du fil et se retrouve toute excitée. Mais quand elle parle à Michael, elle garde son calme et fait tout simplement comme si elle devait lui donner un renseignement. (l'anecdote est bien entendu suivie de rires dans la salle)
- Comment Michael a-t-il influencé son travail ?
Michael était un étudiant formidable. Il tirait le meilleur des artistes, comme il l'a fait avec ses idoles James Brown, Fred Astaire, … et c'est ça qu'elle a retenu.
- L'enregistrement de Keep The Faith a-t-il été difficile comme on en a entendu parler ?
Siedah ne sait pas. Elle n'était pas présente pendant les répétitions. Quand elle arrivait en studio, tout était parfait.
- Siedah a aussi travaillé avec Madonna. Quelle était la différence entre travailler avec Madonna et avec Michael Jackson ?
Madonna est quelqu'un qui connait les limites de son talent et a du beaucoup travailler, fournir beaucoup plus d'efforts. MJ est un génie musical, Madonna est un génie du marketing.
- Quelle est la date précise de l'enregistrement de Keep The Faith.
Man In The Mirror a été enregistré spécifiquement pour l'album Bad. Quand Michael travaillait sur Dangerous, il a demandé à Siedah de lui écrire une autre chanson. Deux titres lui ont été proposés : Innocent side (que Siedah a enregistré pour sur son album K.I.S.S.I.N.G…..bizarre car l'album est sorti en 1988 !!!) et Keep The Faith, que Michael a gardé.
- Quelles sont ses principales influences ? Qui sont les artistes actuels qui selon elle, pourraient être la relève de Michael et qu'elle apprécie le plus?
Stevie Wonder, Michael Jackson et les Jackson 5, Prince et Chaka Khan sont ceux qui l'ont le plus influencée. Aujourd'hui, elle aime beaucoup Adele, Ne-Yo et Usher et Chris Brown qui ont bien sur été très influencés par MJ. Mais l'influence de Michael est partout.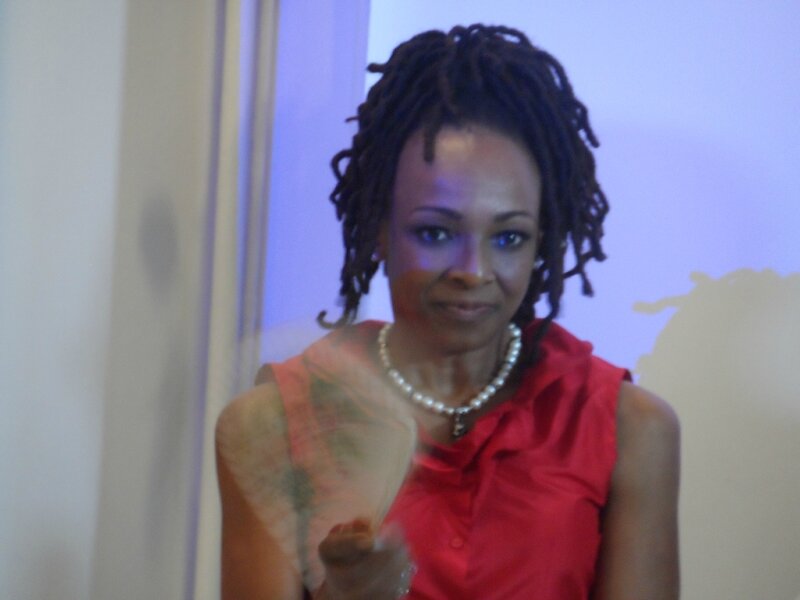 - Comment a-t-elle rencontré Quincy Jones ?
A l'époque elle participait à toutes les auditions qu'il y avait. Elle a auditionné pour Quincy qui cherchait un groupe. Elle savait que l'audition avait lieu à Hollywood mais ne savait pas à quelle heure. Elle s'est présentée à 7 heures. Comme l'audition ne commençait qu'à midi, elle a vu des centaines de personnes arriver derrière elle mais elle a été dans les premières à auditionner. Elle s'est fixée elle-même une barre pour savoir ce qu'elle valait en fonction des autres candidats. Durant les neuf mois qui ont suivi, elle recevait régulièrement des courriers lui indiquant qu'elle avait passé les différentes étapes et elle s'est finalement retrouvée dans les quatre premiers : elle et trois garçons. Ils ont participé à la bande originale d'un film d'une petite trentaine de minutes mais quand le film est sorti elle s'est aperçu qu'il n'avait retenu qu'une partie de la chanson et c'était un solo de musique !!!
- Pourquoi a-t-elle participé au Dangerous Tour et pas au Bad Tour ?
Siedah a commencé a répéter pour le Bad Tour. Mais au bout d'une semaine, on lui a dit qu'elle devait profiter du succès de son duo avec Michael pour préparer son propre album. Elle a donc arrêté les répétitions du Bad Tour.
Siedah raconte enfin la façon dont s'est déroulé l'enregistrement de I Just Can't Stop Loving You. Une anecdote que nous connaissons tous mais que nous prenons plaisir à réécouter : Elle avait déjà enregistré la démo de la chanson à la demande Quincy. Quand celui-ci lui a demandé d'entrer dans le studio pour enregistrer à nouveau, elle s'est retournée et a vu que Michael la suivait. Elle ne comprenait pas pourquoi. Et quand elle est arrivée devant le micro, elle a vu sur les papiers des paroles son nom écrit. Elle a alors compris : elle allait enregistrer un duo avec Michael Jackson !!!
La séance se termine par la diffusion de la vidéo du titre que Siedah a écrit et enregistré en hommage à Michael. « Je n'ai jamais eu l'occasion de le remercier pour ce qu'il m'a apporté » nous dit-elle.
Keep On Loving You (sur l'album Look Inside) est une chanson très émouvante. Siedah s'éclipse durant la vidéo. Elle reviendra à la fin sous les applaudissements de la salle, mais visiblement très émue par cet hommage.
L'heure est passée très vite. Personnellement, j'ai essayé de ne rien manquer : entre les photos, vidéos, et l'écoute de ce que disait Siedah, j'ai aussi voulu profiter de ce moment exceptionnel et me dire que j'avais devant moi une grande artiste, qui a su rester humble et à portée du public. Une artiste qui a travaillé pour et avec Michael Jackson et qui souhaite désormais partager ses souvenirs avec les fans, en toute simplicité (et pour un prix très abordable).
Merci Siedah de nous avoir fait vivre ces moments magiques avec Michael!
Je regrette simplement que nous n'ayons pas pu la voir chanter en live (Siedah était si émue après la diffusion de la vidéo qu'elle n'a pas pu chanter)
L'heure suivante sera consacrée à la signature des collectors rapportés par les fans. Les 45 tours de I Just Can't Stop Loving You et Man In The Mirror semblent avoir été parmi les plus signés mais quelques fans lui ont également fait dédicacer des singles ou albums de sa propre carrière.
Merci à toute l'équipe organisatrice de cet évènement. Ils ont su, en très peu de temps, mettre sur pied une rencontre conviviale avec un des grands noms de la carrière de Michael.
Découvrez le reportage réalisé par Saykou Diallo lors de la venue de Siedah Garrett en juillet dernier à Paris. Siedah répond aux questions de Richard Lecocq, rédacteur en chef de INVINCIBLE magazine, et des fans présents au Meet & Greet organisé à la Dorothy's Gallery
Plus de photos dans l'album photos de cette rencontre
News du 8 juillet 2014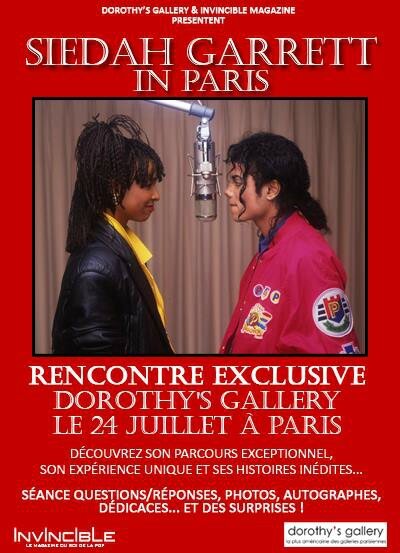 Venez nombreuses et nombreux rencontrer en exclusivité la célèbre chanteuse, auteur-compositeur Siedah Garrett qui a travaillé avec les plus grands noms de l'industrie musicale : Michael Jackson, Quincy Jones, Madonna, Aretha Franklin, Ray Charles et bien d'autres …

Vous découvrirez son parcours exceptionnel, son expérience unique et ses histoires inédites avec le plus grand artiste de tous les temps : Michael Jackson (Man in the Mirror, I Just Can't Stop Loving You, Keep The Faith, Dangerous World Tour …)

Séance questions/réponses, photos, autographes, dédicaces... et des surprises !

Nombre de places limité !!
TARIFS :
Catégorie # 1
26 euros
Rencontre avec Siedah Garrett : questions et réponses, photo (qui sera postée sur le site de Siedah)
PLUS Photo Promo MJ + Siedah dédicacée
PLUS le nouveau CD de Siedah Garrett
Catégorie # 2
20 euros
Rencontre avec Siedah Garrett : questions et réponses, photo (qui sera postée sur le site de Siedah)
PLUS Photo Promo MJ + Siedah dédicacée
Catégorie # 3
12 euros
Rencontre avec Siedah Garrett : questions et réponses, photo (qui sera postée sur le site de Siedah)
Pour les abonnés à Invincible Magazine : -20% de réduction
Pour en profiter, indiquez le code "ABOINV" lors de votre réservation (CB uniquement). Attention, la réservation doit être faite au même nom que l'abonnement au magazine!

Stay tuned … sur la page facebook de l'évènement