1971
La première fois que Michael Jackson s'est produit à Hawaï, c'était en 1971. Le 12 septembre, les Jackson 5 donnent un concert au International Center Arena d'Honolulu. Le groupe est sur le point de terminer son First National Tour, qui depuis octobre 1970, l'a mené à travers l'Amérique du Nord.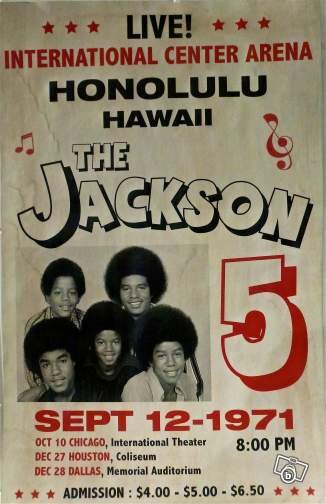 La première partie du spectacle des Jackson 5 est assurée par les Commodores, un groupe dont le leader n'est autre que Lionel Richie. Celui-ci disait à l'époque « On voulait donner une petite chance à ces gars !!! »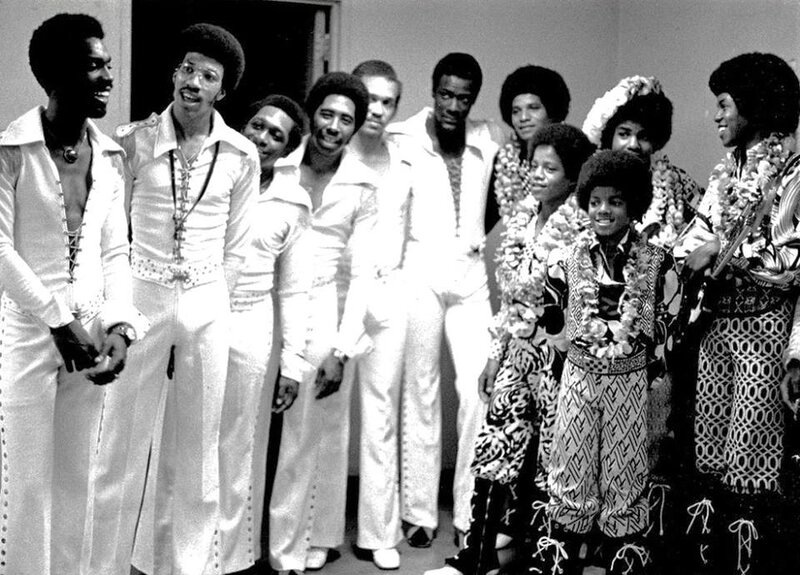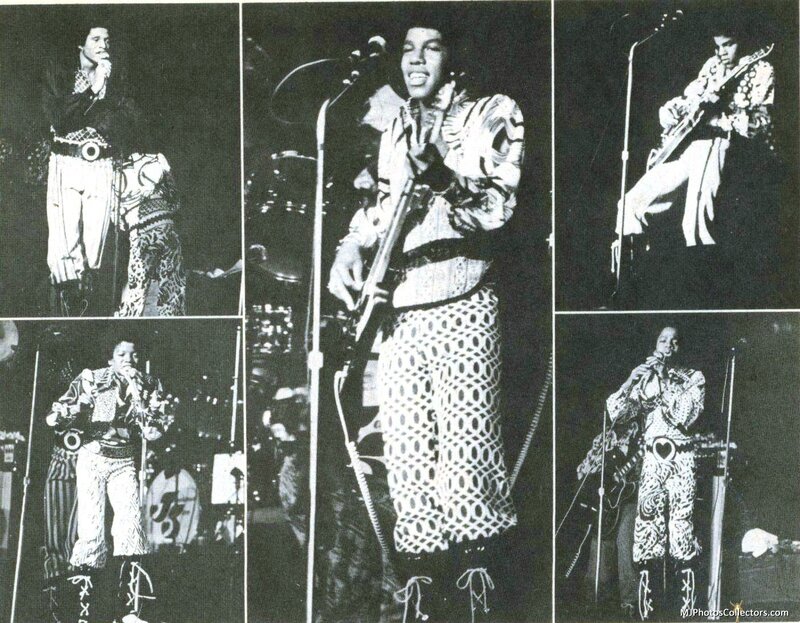 Dans un numéro du magasine Rock & Soul de 1984, ce dernier se souvient. "Oublier? Comment pourrais-je oublier? " s'est écrié Lionel Richie lorsqu'on lui a demandé s'il se souvenait de ce que c'était que cette première tournée des Jackson Five et des Commodores lorsque les deux groupes étaient relativement peu connus. "Il y avait là cinq enfants- cinq petit enfants et nous, les Commodores, nous étions en tournée dans le pays et nous faisions la première partie des concerts. Les Commodores avaient tenu une réunion de groupe juste avant leur premier concert et nous avons tous décidé que ces gamins étaient vraiment gentils. Nous ne voulions pas blesser leurs sentiments, et nous avons donc décidé de leur faire une place dans notre spectacle. Vous savez, on ne voulait pas que le public s'en aille, nous savions que ce serait difficile de passer après nous. Nous leur avons demandé «Donnez une chance à ces gamins». Après notre performance, nous les avons regardé des coulisses et depuis cette première soirée et tout le reste de la tournée, nous avons continué avec eux. Ils étaient incroyables! "
1972
Le 29 août 1972 marque également l'avant dernier concert de la tournée américaine, entamée le 1er janvier. Michael et ses frères se produisent à nouveau au Honolulu International Center Arena.
Voulant profiter de ce séjour, le groupe arrive quelques jours avant leur concert dans l'île américaine et séjournent à l'Hôtel Hilton Kahala sur l'Ile d'Oahu. Ils rendent visitent à de la famille (des cousins) qui vit à Hawaï et font un peu de tourisme. Chaque jour ils vont nager et faire du surf. Ils louent également un catamaran. Une photo de Michael sur la plage avec son cousin Tony (fils de Lawrence, le plus jeune frère de Joe et père d'Anthony, le filleul de Michael), pourrait dater de ce séjour.
Les frères participent même au Luau hawaïen, une célébration traditionnelle, accompagnée de musique, de danse et de nourriture locale. Michael y apprend ainsi la danse hula !
Michael fête ses 14 ans lors de ce séjour à Honolulu. Une fête est organisée avec un gros gâteau, et un délicieux punch hawaïen fourni par l'hôtel!
Le jour du concert, le groupe accorde une interview en direct à la radio locale KKUA. Ils racontent à Steve Nicolet, le directeur des programmes, à quel point ce séjour restera un très bon souvenir. Tito dit apprécier le rituel qui consiste à faire un bisou à la personne qui met un collier de fleurs autour de votre cou. Michael se présente à la station de radio avec son chapeau de plage (et oui Michael a toujours un chapeau !!!) et même Randy, qui ne fait pas encore partie du groupe, est interviewé.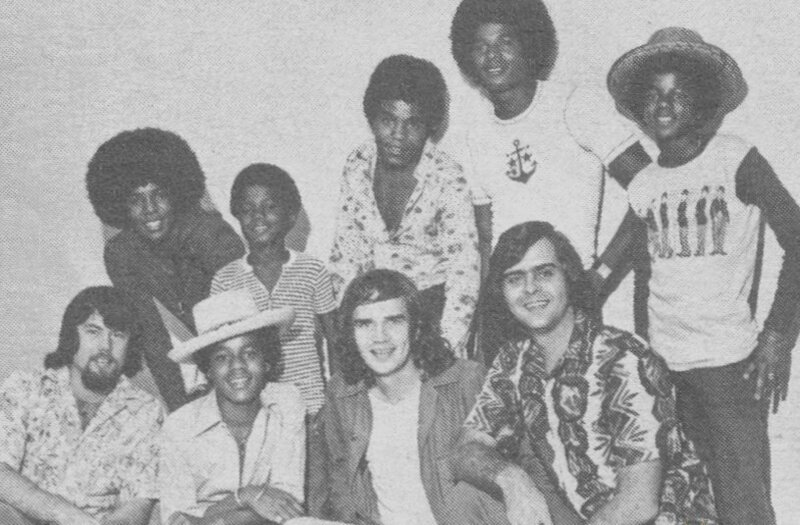 Le Disk Jockey Rick Shannon sur la gauche, Scott Edwards au milieu et le directeur des programmes Steve Nicolet, à droite avec les J5
Le concert est un gros succès. Les fans hawaïens avaient préparé des pancartes de couleurs pour les accueillir. Le groupe électrise le public. Michael adresse des « Aloha » à ses fans et les frères leur envoient des lei (des colliers de fleurs), ce qui provoque une certaine frénésie.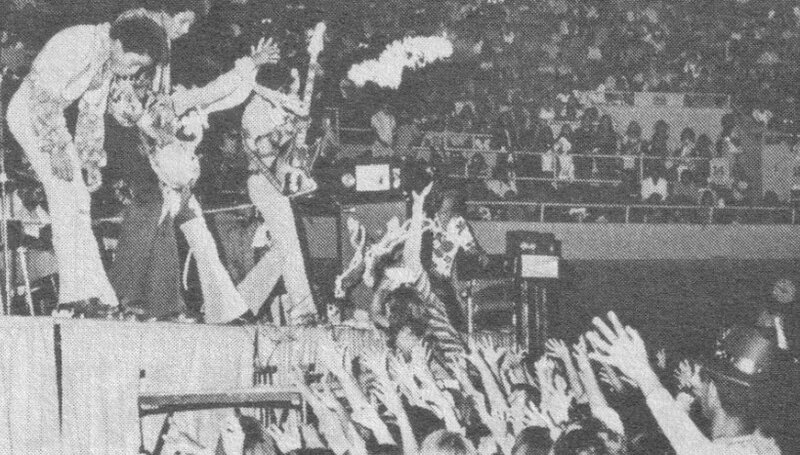 1973
Les Jackson 5 retrouveront Hawaï un an après. Le 2 septembre 1973, le concert au Honolulu International Center marque la fin de la tournée d'été, débutée le 20 juillet.
1980
Il faudra attendre le 5 février 1980, avec le Destiny Tour pour revoir les frères Jackson, désormais connus sous le nom The Jacksons, en concert à Honolulu, au Blaisdell Arena.
1988
Début février 1988, Michael retrouve le Kahala Hilton Hotel (aujourd'hui appelé le Kahala Resort), cette fois sans ses frères. Après la tournée Bad au Japon et en Australie, Michael vient se détendre trois jours à Honolulu (et assister à la Pepsi Bottler's Convention), accompagné de Jimmy Safechuck, le jeune garçon qui apparaissait dans la publicité Pepsi.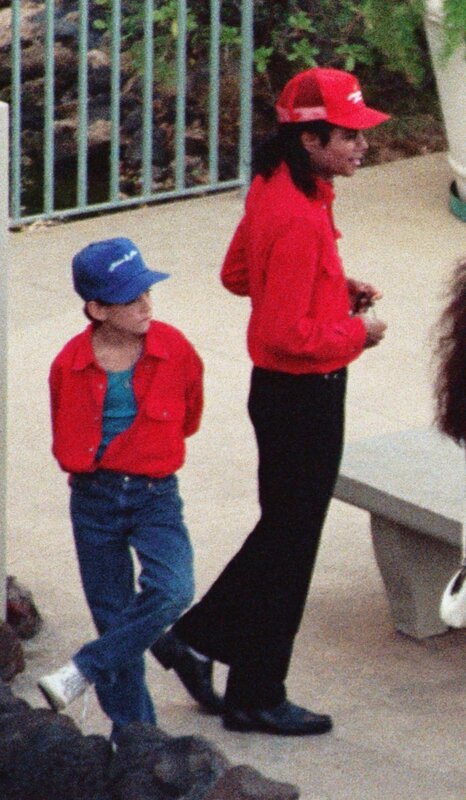 La pop star est reconnue par des clients de l'hôtel. Jack Viviani, Don Liggett et Alan Light, de l'Illinois se trouvaient dans l'hôtel au même moment que Michael Jackson.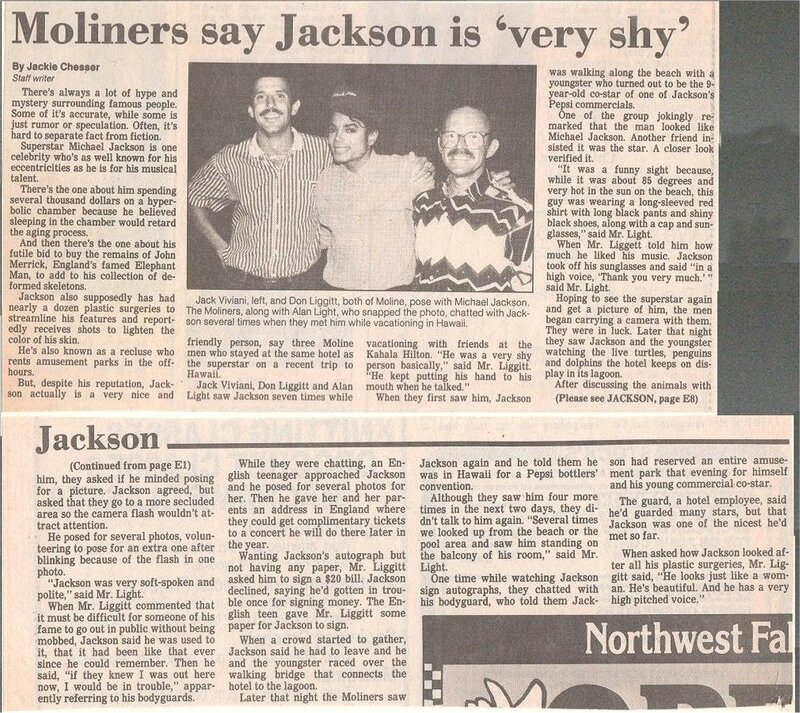 L'un deux avait remarqué un homme qui ressemblait à Michael Jackson marchant sur la plage et ils se sont approchés pour vérifier. Il faisait chaud mais il portait une chemise rouge à manche longue, un pantalon noir, des chaussures noires, une casquette et des lunettes. Don Liggett lui a dit qu'il aimait sa musique. Michael a retiré ses lunettes et l'a remercié. Les trois hommes rencontrent à nouveau la star le soir même. Michael et Jimmy étaient en train d'observer les tortues et les dauphins que l'hôtel possédait dans son lagon.
Ils ont discuté des animaux avec lui puis lui ont demandé s'ils pouvaient prendre une photo ensemble. Michael a accepté à condition que cela soit dans un endroit plus discret. Il a posé pour plusieurs photos, n'hésitant pas à en refaire au cas où elles seraient floues. « Michael Jackson avait une voix très douce et il était très poli » raconte Alan Light.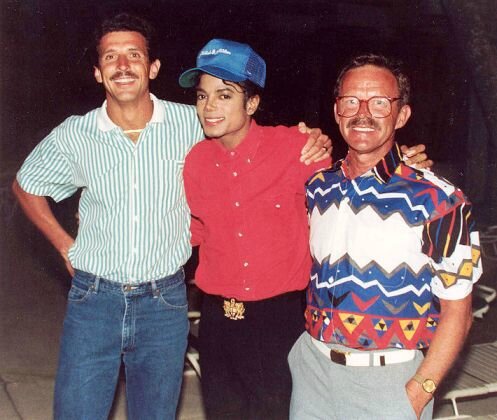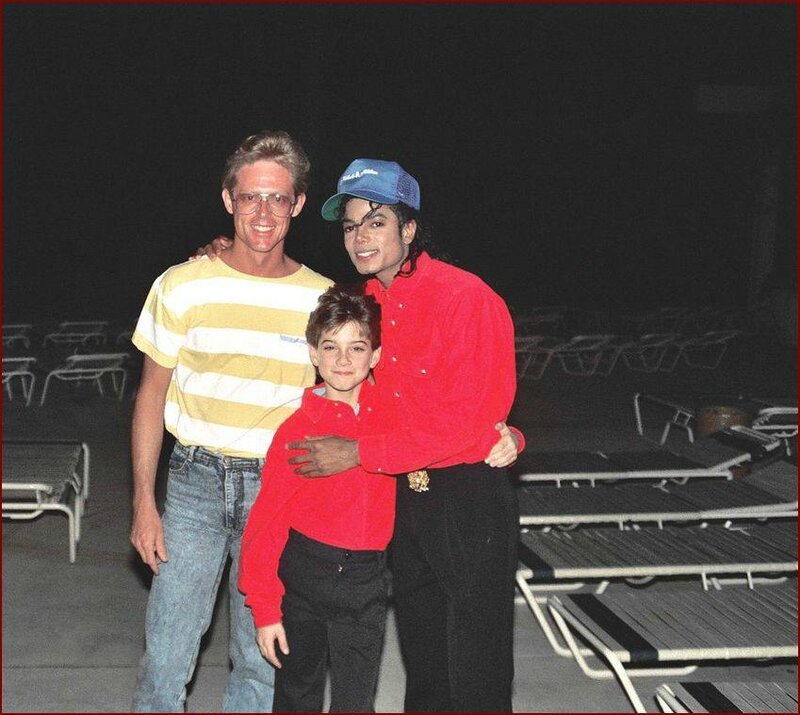 Les hommes lui demandent si le prix de la célébrité n'est pas trop dur à supporter, notamment quand il s'agit de sortie et Michael répond qu'il a toujours vécu ainsi. Il lui avoue cependant que ses gardes du corps ne savent pas qu'il est dehors à l'heure où il lui parle ! Pendant qu'ils discutent, une jeune anglaise et sa famille aperçoivent Michael qui accepte de poser pour une photo.
Liggett qui souhaite un autographe de Michael, lui demande s'il peut lui signer un billet de 20 dollars, la seule chose qu'il a sous la main. Michael refuse indiquant qu'il a n'a pas le droit de signer sur un billet de banque. Don Liggett s'est donc dépêché d'aller chercher une feuille de papier dans l'hôtel, qu'il a coupée en deux pour que la jeune anglaise ait également son autographe.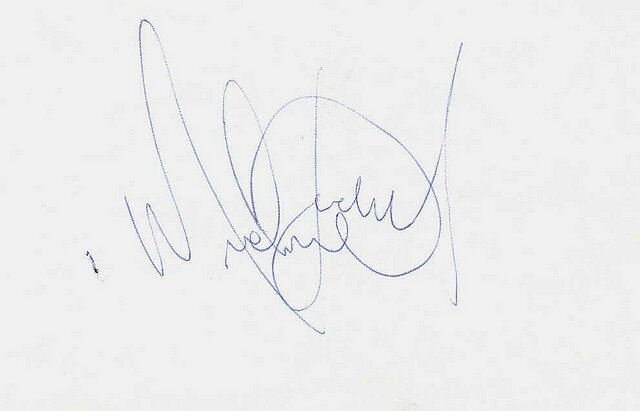 Comme la foule commençait à s'approcher vers Michael, il a préféré s'éclipser. Les trois amis ont revu Michael à plusieurs reprises les deux jours suivant mais ne lui ont plus parlé. Ils l'apercevaient sur le balcon de sa chambre d'hôtel ou au bord de la piscine à signer des autographes. « C'est quelqu'un de très agréable et de très gentil et il est très timide» ont-ils déclaré à un journal. Un des gardes du corps, employé de l'hôtel, habitué à surveiller des stars a également dit que c'était une des stars les plus gentilles dont il ait eu à s'occuper.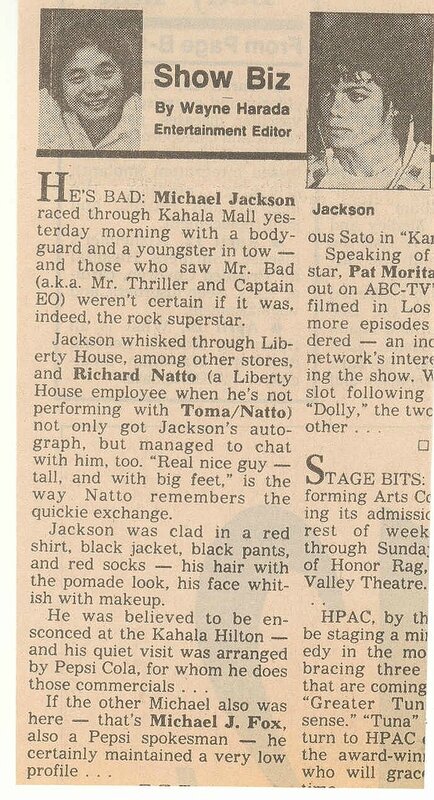 1997
Les 3 et 4 janvier 1997, dans le cadre du HIStory tour, Michael donne deux concerts, à guichets fermés, au Aloha Bowl Stadium d'Honolulu.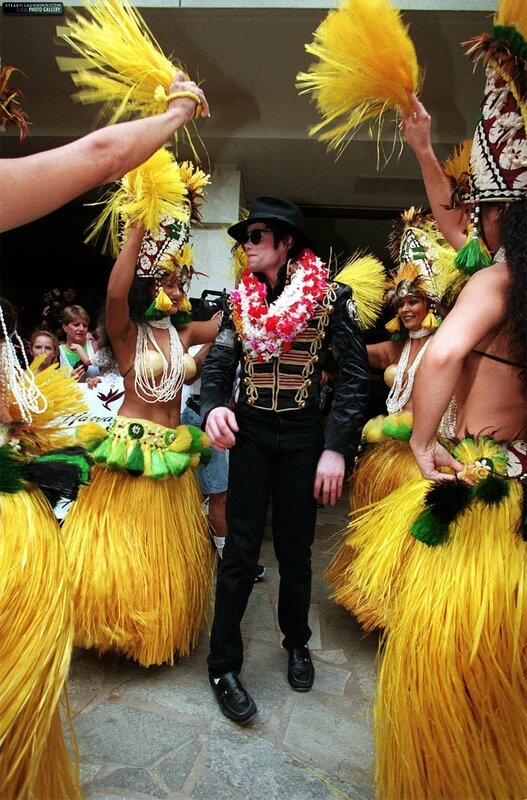 Michael est accueilli par ses fans à l'aéroport où il a souhaité un débarquement sur le tarmac afin que ceux-ci puissent le voir. Des musiciens locaux et des danseuses en tenue traditionnelle sont présents et il se voit remettre des colliers de fleurs. La venue de Michael Jackson sur l'archipel est considérée comme un évènement exceptionnel, d'autant plus que ce seront les seuls concerts de la tournée sur le sol américain.
Dori Lovell, une fan se souvient avoir demandé un autographe à Michael lorsqu'il quittait l'aéroport en voiture. Elle a posé un morceau de papier sur la fenêtre de la voiture et a demandé à Michael s'il pouvait signer un autographe pour son petit garçon. A sa grande surprise, Michael a fait arrêter la voiture, a baissé la vitre et a lui a donné un autographe. La jeune femme assistera à un des concerts et indique combien sa rencontre furtive avec la star a été un moment précieux.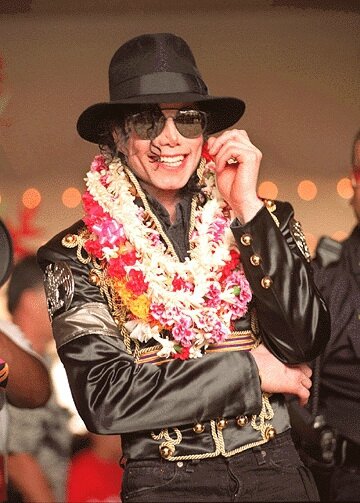 Michael séjourne au Hilton Hawaiian Village à Waikiki. Il occupe la suite Mahele Suite au 14ème étage durant quatre nuits. Les employés de l'hôtel se souviennent encore de son passage. « Nous n'étions pas habitués à cette foule. D'habitude c'est relativement calme ici, bien que nous soyons habitués à recevoir des célébrités ou des personnes officielles », se rappelle Lora Gallagher, directrice du marketing de l'hôtel.
« Nous l'avons accueilli dans notre village avec des gardes. Nous voulions lui montrer notre sens de l'accueil et il est arrivé escorté par la garde hawaïenne et avec des danseurs de keiki (…) Nous avons eu des fans qui ont campé devant l'hôtel, espérant juste l'apercevoir. Parfois, Michael sortait et leur faisait signe et on entendait crier "Michael, Michael" » raconte Lani Bjork, chef de la sécurité de l'hôtel.
La star aurait indiqué à Lani qu'il souhaitait revenir car il avait été ravi de l'accueil qu'on lui avait réservé.
Le promoteur des concerts, Tom Moffatt explique qu'avoir fait venir Michael Jackson a Hawaï est le plus gros évènement qu'il ait jamais organisé. « Je n'ai jamais rien vu de tel, et pourtant je fais ça depuis Elvis » dit-il au LAtimes

Aucun autre artiste n'avait réussi à remplir le Aloha Stadium deux jours de suite. Près de 70 000 personnes verront Michael Jackson. Les billets du premier concert se sont vendus en quatre heures, obligeant Moffatt à rajouter un concert le lendemain.
De longues files d'attente se créent pour voir le King Of Pop se produire, sous la pluie. Nombreux sont les américains qui font le voyage pour assister aux concerts. Ses parents, ses neveux, les 3T et sa sœur Janet sont présents et des noms tels que Magic Johnson font également partie du public. Un des meilleurs spectacles organisés sur l'île selon les spectateurs.

Le lendemain, Michael fait paraître une page de publicité dans un journal de l'île, dans lequel il adresse un message de remerciement à ses fans : « Merci aux habitants d'Hawaii pour leur soutien ». Michael termine ainsi la première partie du HIStory tour.
1999
Il était prévu que Michael donne un autre concert au Aloha Stadium, le 31 décembre 1999. Ce projet intitulé « Concerts du Millenium », marquant l'entrée dans l'an 2000, qui devait voir Michael se produire à Sydney, en Australie et à Honolulu à la même date, grâce au décalage horaire, n'aura finalement pas lieu.
Sources: UK loves MJ (facebook) /mjphotoscollectors.com/hawaiinewsnow.com/LAtimes/flickr.com Alan Light