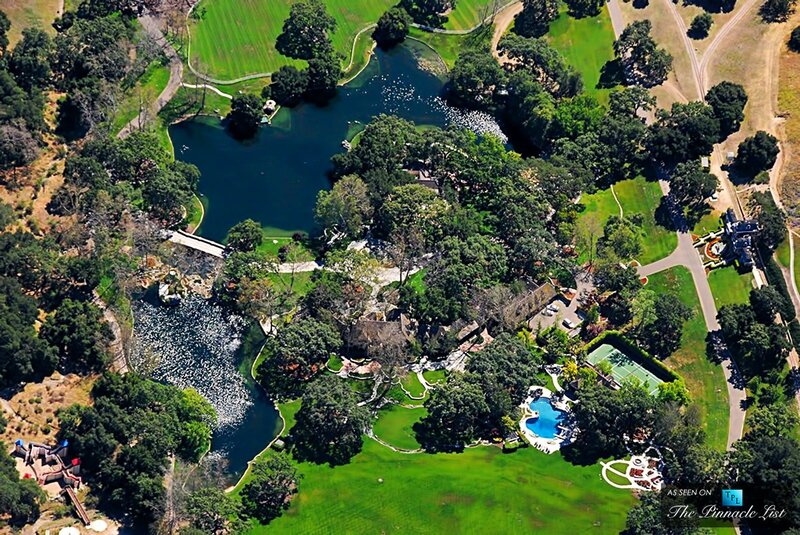 L'Estate de Michael Jackson a émis un communiqué il y a quelques heures indiquant que Colony Capital, en tant que manager de Neverland, le ranch de Michael Jackson, a pris la décision de vendre la propriété. L'Estate ne peut légalement pas s'opposer à cette vente et aurait tenté de proposer des solutions pour redonner vie au ranch. La situation géographique de Neverland ainsi que des questions financières et liées à l'exploitation des terrains ont rendu tout projet impossible. L'Estate affirme conserver la propriété familiale d'Encino dans laquelle Michael Jackson avait fait installer son studio d'enregistrement.
You will soon be reading news reports stating that Colony Capital has decided to sell Neverland. As the property manager, they have the right to do this. The Estate has issued the following statement in response to a media request for comment:
We are saddened at the prospect of the sale of Neverland which, under the agreement negotiated during Michael's lifetime, Colony has the right to sell. The Estate will maintain Michael's family home in Encino, including its iconic recording studio there. We continue to build upon Michael's legacy as an artistic genius and humanitarian through his music and new projects such as the Michael Jackson ONE show in Las Vegas. We hope and trust that any new owners of Neverland will respect the historical importance and special nature of this wonderful property. Michael's memory lives on in the hearts of his fans worldwide.
It is also important to the Estate that Michael's fans understand that although the Estate has no right to stop or obstruct the sale, The Estate did explore a number of potential options for Neverland with Colony but zoning, financial and land use restrictions limited the alternatives and ultimately Colony made the decision to sell.
MJOnline
The Official Online Team of The Michael Jackson Estate™
Devant la tristesse de cette décision on ne peut que se rappeler ces quelques mots que Michael lui même avait formulé en 2003 dans ses Private Home Movies: "I will always love it . I will never ever sell Neverland. Neverland, it's me. It represents the totality of who I am. It really does. I love Neverland"
En fin de journée, ce 31 juilet, l'Estate publie un autre message qui invite les fans à lire l'article de Forbes (ci-dessous) pour mieux comprendre les raisons de leur décision...
Last night, we sent you a message from the Estate regarding Colony Capital's decision to sell Neverland. Many of you have inquired about the Estate purchasing Neverland. As you know, the Estate does not disclose the details of its business dealings but last night's statement to the fans (not included in the comment to press) states "the Estate did explore a number of potential options for Neverland with Colony" but for the reasons stated none of those options were feasible. This sentence was included specifically for your benefit to let you know that the Estate tried to find a way to keep the sale from happening but for a variety of reasons, it was not possible.
Zack O'Malley Greenburg broke the news in Forbes shortly after we sent you the Estate's statement: http://www.forbes.com/sites/zackomalleygreenburg/2014/07/31/michael-jacksons-neverland-is-about-to-be-sold/. He offers some further insight you might find helpful in understanding the situation.
Like you, the Estate is sad and disappointed by Colony's decision. Michael's legacy is in his music, in his humanitarian efforts, and in his spirit. The Estate hopes that whomever the new owners may turn out to be, that they will continue to appreciate the property not only for its beauty but for its historical and cultural legacy as well.
Ci-dessous, la traduction de l'article de Forbes (merci à P.Y.C. de MJFrance)
Même si Michael Jackson a quitté Neverland des années avant son décès prématuré, la propriété de 10 hectares reste irrémédiablement associée au Roi de la Pop. Bientôt, cependant, ce lien ne sera plus que dans la pensée, et plus dans les faits : Neverland est en effet mis en vente.
Selon des sources proches du dossier, le multimillionnaire Tom Barrack, de Colony Capital, se prépare à mettre la propriété de Los Olivos sur le marché. La compagnie est devenue partenaire de Neverland après que Barrack a conclu un accord avec Jackson fin 2007 pour prendre en charge une note de 23 millions de dollars de fonds propres.
''Nous sommes frustrés, amèrement déçus et attristés d'en arriver là'', a déclaré un représentant de l'Estate de Jackson dans un mail adressé à Forbes. ''Malheureusement, Michael a perdu le contrôle de Neverland de son vivant suite aux conseils de son ancien manager''.
Les représentants de Colony Capital n'ont pour le moment pas pu être joints pour commenter.
Comme il a été dit dans Michael Jackson, Inc: The Rise, Fall and Rebirth of a Billion-Dollar Empire , l'accord conclu entre Jackson et Colony était très complexe. Barrack lui-même a déclaré qu'il avait pris en charge la facture uniquement pour faire une faveur à Jackson (dans une interview donnée pour le livre, il s'est rappelé les mots du chanteur : ''Ne me faites pas ça... sauf si vous êtes vraiment intéressé pour mettre en place un programme qui vous permettra de vous assurer des revenus pour vous même'').
L'accord, qui a pris effet début 2008, définissait une espèce d'entreprise commune entre Colony et Jackson pour gérer Neverland. Pour chaque dollar investi par la compagnie dans la propriété, ses fonds propres augmentaient. Ce qui voulait dire que plus le temps passait, plus la participation de Jackson – et plus tard celle de sa succession – diminuait.
Ces six dernières années, Colony a continué à financer l'entretien de Neverland. Ce coût, s'il est du même ordre que du vivant de Jackson, avoisine les 5 millions de dollars par an. Ceci ajouté à la note initiale de 23 millions de dollars, on peut donc en conclure mathématiquement que l'entreprise a investi à ce jour près de 50 millions de dollars dans la propriété. L'entreprise conserve aussi le droit de vendre la propriété si elle le souhaite.
Malgré tout, pas mal d'options ont été étudiées au fil des années. Vers la fin de sa vie, Jackson lui-même aurait eu dans l'idée de transformer Neverland en école d'art ; après sa mort, beaucoup ont suggéré que la propriété soit transformée en attraction telle que le Graceland de Elvis Presley.
Mais comme pourrait vous le dire toute personne qui s'est rendue à Neverland (l'auteur de cet article inclus), Los Olivos n'est pas exactement Memphis. La zone est située au milieu de nulle part, et les petites routes de montagne sont peu propices à accueillir des centaines de milliers de visiteurs par an.
''L'Estate a exploré de nombreuses options, dont l'acquisition'', a continué le représentant dans sa déclaration. ''Mais les restrictions financières, l'utilisation des terres et la zone géographique ont rendu toutes les options prohibitives, étant donné notre devoir, en tant qu'exécuteurs, d'être fiscalement responsables dans la protection et la croissance des avoirs de l'Estate pour les enfants de Michael''.
En effet, la succession de Jackson a engrangé plus de trois quarts de milliards de dollars en un peu plus de cinq ans depuis sa mort. Ce chiffre, avant les taxes et les frais, ne comprend pas le spectre des 702 millions de dollars d'impôts pour lesquels l'Estate fait actuellement appel.
Racheter la part que Colony détient dans Neverland – sans parler de la facture annuelle de plusieurs millions de dollars pour une propriété qui ne génère aucun revenu – semble donc être un choix financier bien imprudent.
Par conséquent, sur le papier, Neverland pourrait avoir prochainement un nouveau propriétaire. Mais le future acheteur devra comprendre que la propriété sera toujours le royaume du Roi de la Pop dans l'esprit de millions de gens.
Neverland, c'est comme le Moonwalk, ce sera toujours attribué à Michael Jackson!