Au mois de mai 2014, le magazine LVH, Las Vegas Hollywood, a sorti un numéro spécial Education et Environnement, intitulé People That Made a Difference (les gens qui onf fait la différence).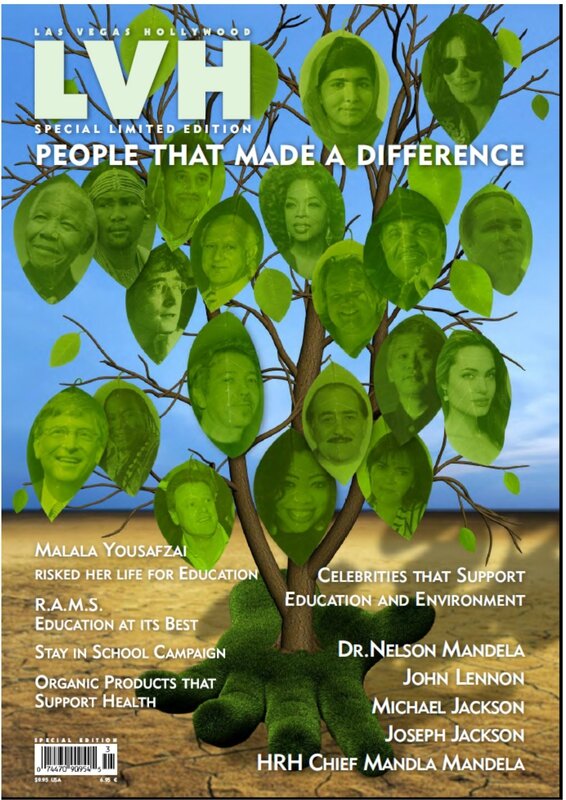 Plusieurs articles sont consacrés à Michael Jackson et sa famille (dont son père Joseph). Un article en particulier parle d' un projet qui tenait très à coeur à Michael. L'artiste japonais Kenji Koga raconte sa rencontre avec Michael.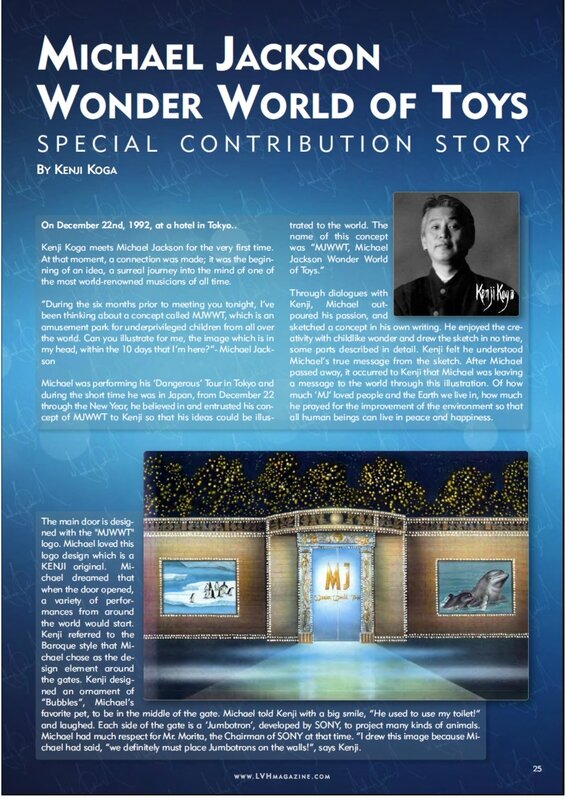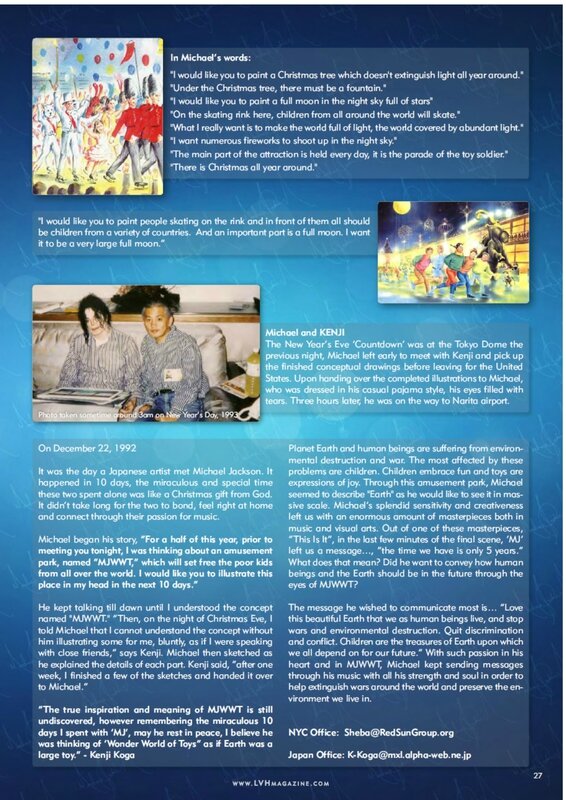 Le Monde Merveilleux des Jouets de Michael Jackson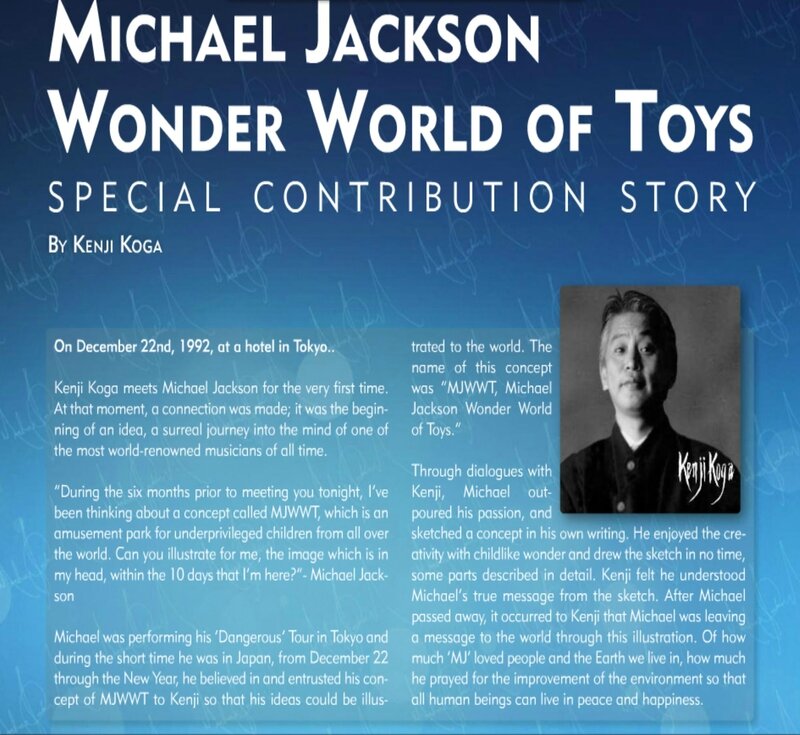 Le 22 décembre 1992 dans un hôtel de Tokyo….
Kenji Koga rencontre Michael Jackson pour la toute première fois. A ce moment là, un lien s'est créé, ce fut le point de départ d'une idée, d'un voyage surréaliste dans l'esprit de l'un des musiciens mondiaux le plus renommé de tous les temps.
« Pendant six mois avant notre rencontre de ce soir, j'ai réfléchi à un concept appelé MJWWT (Michael Jackson Wonder World of Toys), un parc d'attractions pour les enfants défavorisés du monde entier. Pouvez-vous illustrer pour moi l'image que j'ai en tête depuis dix jours que je suis ici, » Michael Jackson.
Michael jouait à Tokyo pour le Dangerous Tour et pendant son court séjour au Japon, du 22 décembre jusqu'au début de la nouvelle année, il a confié son concept à Kenji afin que ses idées soient illustrées pour le monde entier. Le nom de ce concept était MJWWT, Michael Jackson Wonder Worlds of Toys.
Au cours de ses conversations avec Kenji, Michael a exprimé sa passion et a réalisé sa propre esquisse de ce concept. Il adorait la créativité avec un émerveillement enfantin et a dessiné l'esquisse en peu de temps, certaines parties étant décrites en détails. Kenji a ressenti le vrai message de Michael à travers cette esquisse. Après le décès de Michael, Kenji a eu l'impression que Michael avait laissé un message au monde à travers cette illustration. Elle montre à quel point MJ aimait les gens et la Terre sur laquelle nous vivons, à quel point il priait pour l'amélioration de l'environnement afin que tous les êtres humains puissent vivre heureux et en paix.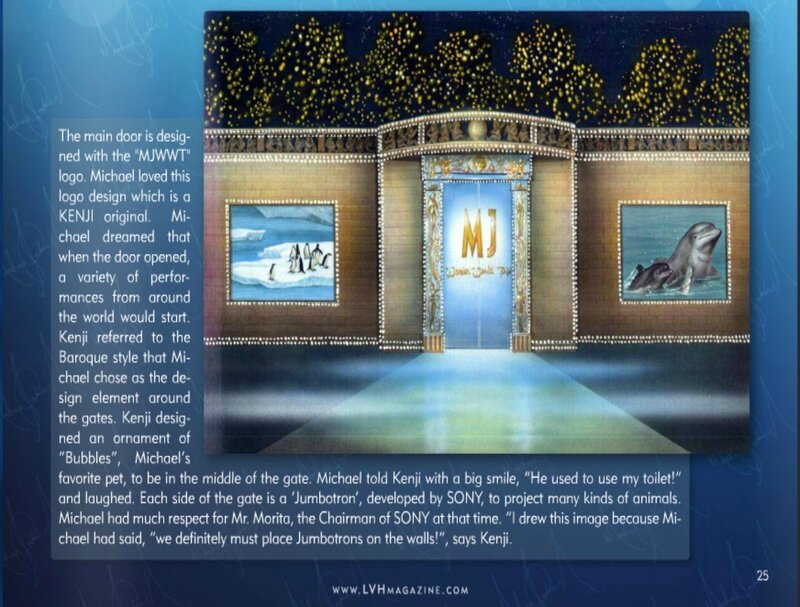 La porte principale comporte le logo MJWWT. Michael adorait le design de ce logo dont l'original est de Kenji. Michael rêvait que quand la porte s''ouvrirait, une multitude de numéros du monde entier commenceraient. Kenji se référait au style Baroque que Michael avait choisi comme élément de design autour des portes. Kenji a ajouté des ornements de Bubbles, l'animal de compagnie préféré de Michael, au milieu de la porte. Michael a dit à Kenji avec un grand sourire : « Il avait l'habitude d'utiliser mes toilettes ». Chaque côté de la porte est un « Jumbotron », développé par Sony, pour projeter toutes sortes d'animaux. Michael avait beaucoup de respect pour Mr Morita, le président de Sony à l'époque. « J'ai dessiné cette image parce que Michael avait dit que « nous devions absolument mettre des Jumbotrons sur les murs » indique Kenji.
Le soir du réveillon de Noël, le 24 décembre 1992, Michael a dessiné l'esquisse du concept MJWWT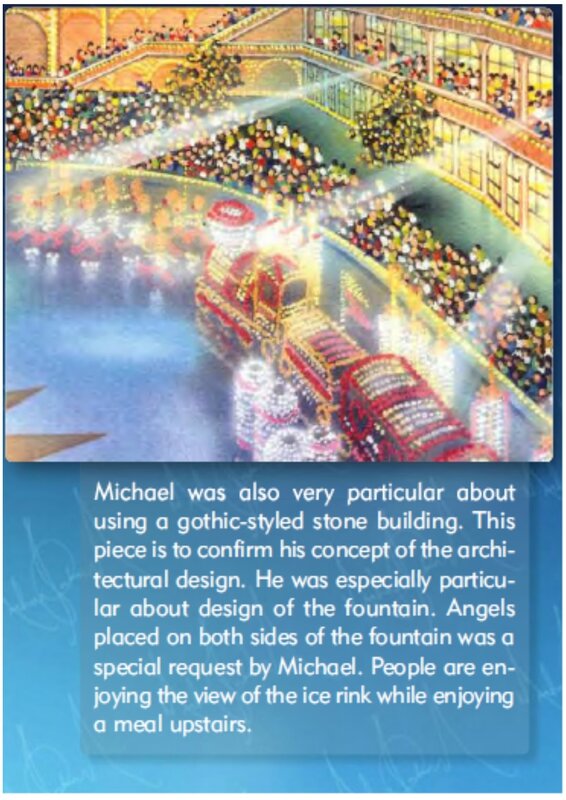 Michael était aussi très attentif à l'utilisation du style gothique dans l'édifice en pierres. Cette image confirme son concept du design architectural. Il tenait en particulier au design de la fontaine. Les anges placés de chaque côté de la fontaine était une demande spéciale de Michael. Les spectateurs profitent de la vue sur la patinoire tout en prenant leur repas à l'étage.
Michael disait « La patinoire s'illumine dans la nuit. Il y a un grand nombre de petites lumières à cet endroit et le monde est rempli de lumière. De nombreux feu d'artifices devront êtres tirés. Que pensez-vous de cette idée…le logo pourrait devenir visible sous la patinoire ? »
Comme on peut le voir, de nombreux feux d'artifices sont tirés dans la nuit, il y a un sapin de Noël avec de magnifiques lumières est au centre, avec une fontaine montée sur un piédestal d'éléphants. Pour une raison inconnue, Michael tenait particulièrement à l'idée du sapin de Noël, de la fontaine et des feux d'artifices.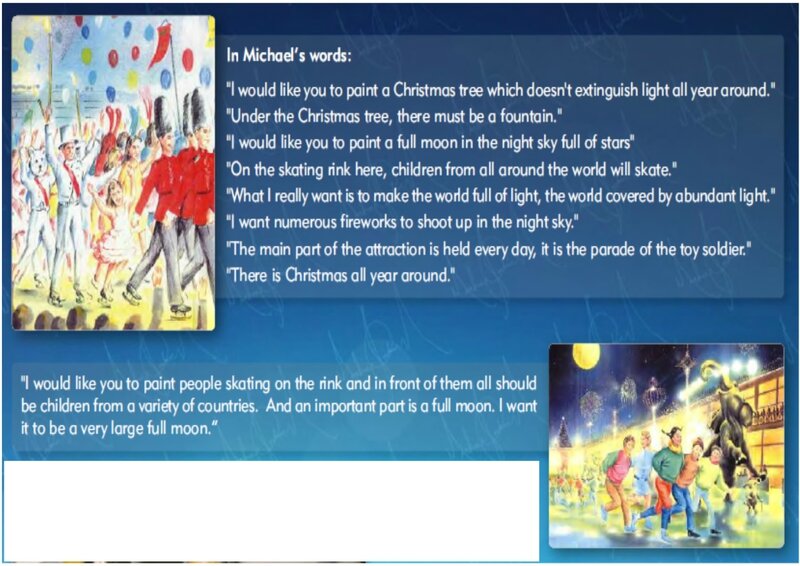 Ce que Michael a dit :
«Je voudrais que vous peigniez un arbre de Noël qui n'éteint pas ses lumières de toute l'année"
"Sous l'arbre de Noël, il doit y avoir une fontaine"
«Je voudrais que vous peigniez une pleine lune dans le ciel nocturne rempli d'étoiles"
"Sur la patinoire ici, des enfants du monde entier patineront"
"Ce que je veux vraiment, c'est de faire le monde plein de lumières, le monde couvert par une lumière abondante"
«Je veux que de nombreux feux d'artifice soient tirés dans le ciel de la nuit"
"La partie principale de l'attraction se tiendra tous les jours, c'est le défilé des petits soldats"
"Ce sera Noël toute l'année"
« Je voudrais que vous peigniez les gens en train de patiner et devant eux il devra y avoir des enfants de différents pays. Et une partie important sera fait à la pleine lune. Je veux que ce soit une très grosse pleine lune ».

Le compte à rebours du réveillon de la nouvelle année se tenait au Tokyo Dome la nuit précédente. Michael est parti plus tôt afin de rencontrer Kenji et reprendre les dessins terminés du projet avant de repartir pour les Etats-Unis. Lors de la remise des illustrations définitives à Michael, décontracté, habillé en pyjama, celui-ci avait les yeux remplis de larmes. Trois heures plus tard, il prenait le chemin de l'aéroport Narita.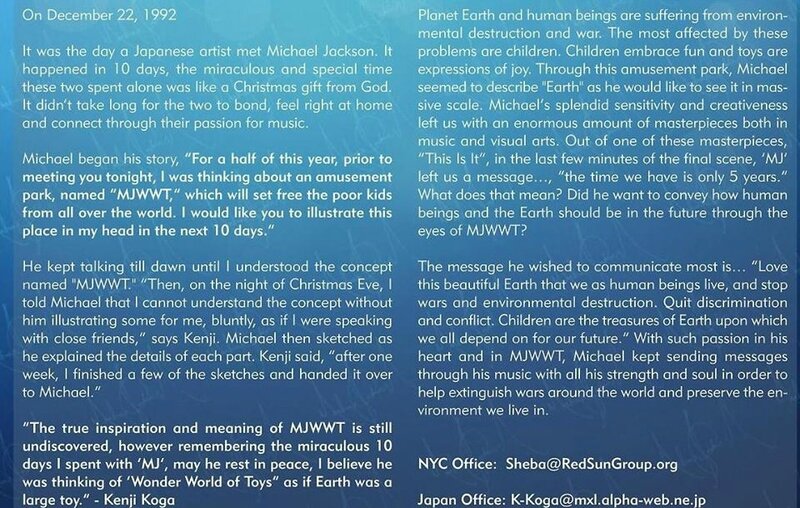 Le 22 décembre 1992
Ce jour là, un artiste Japonais a rencontré Michael Jackson. C'est arrivé en 10 jours, ce moment spécial et miraculeux que ces deux hommes ont partagé seuls était comme un cadeau de Noël de Dieu. Cela n'a pas pris longtemps pour qu'ils créent un lien, se sentent bien et se comprennent à travers leur passion de la musique.
Michael a commencé l'histoire : « Pendant près de six mois, avant de vous rencontrer ce soir, j'ai pensé à un parc d'attractions, appelé MJWWT, qui serait fait pour les enfants pauvres de partout dans le monde. Je voudrais que vous illustriez cet endroit que j'ai en tête durant les dix prochains jours. »
Il a continué de parler jusqu'à ce que je comprenne le concept MJWWT. « Puis la veille de Noël, j'ai dit à Michael que je ne pourrais pas comprendre le concept s'il ne me l'illustrait pas un peu, de façon très rapide, comme si nous étions des amis proches » déclare Kenji. Michael a alors fait une esquisse tout en m'expliquant le détail de chaque partie. Kenji dit qu' « après une semaine, j'ai eu terminé la plupart des esquisses et je les ai remises à Michael »
« Je ne connais toujours pas la véritable inspiration et la signification de MJWWT mais en me souvenant des dix jours miraculeux passés avec MJ, puisse-t-il reposer en paix, je crois qu'il pensait à « Wonder World of Toys » comme si la Terre était un très grand jouet » dit Kenji Koga
La planète Terre et les êtres humains souffrent de la destruction de l'environnement et de la guerre. Les plus affectés par ces problèmes sont les enfants. L'amusement des enfants et les jouets sont des expressions de joie. A travers ce parc d'attractions, on aurait dit que Michael essayait de décrire la Terre telle qu'il aurait voulu la voir à grande échelle. La sensibilité extraordinaire de Michael et sa créativité nous ont laissé une énorme quantités de chefs d'œuvres à la fois au niveau musical mais aussi dans les arts visuels. Dans les dernières minutes de l'un de ces chefs d'œuvres « This Is It », MJ nous laisse un message « nous n'avons que 5 ans ». Qu'est-ce que cela signifie ? Voulait-il montrer comment les êtres humains et la Terre seraient, dans le futur, grâce à ce projet MJWWT ?
Le message qu'il souhaitait communiquer le plus est … « Aimez cette belle Terre sur laquelle nous, les êtres humains, vivons et arrêtez les guerres et la destruction de l'environnement. Cessez les discriminations et les conflits. Les enfants sont les trésors de la Terre dont nous dépendons tous pour notre futur ». Avec une telle passion dans son cœur et dans ce projet MJWWT, Michael continuait d'envoyer des messages à travers sa musique, avec toute sa force et son âme, afin d'aider à stopper les guerres dans le monde et à préserver l'environnement dans lequel nous vivons.
Télécharger le magazine (article page 25 à 27)
Sources: LVH Magazine/ UK loves MJ/ liveinternet.ru/users/tally777/post332921406/