Le film Isomin Cross And Sons est évoqué la première fois en juillet 1973 par les Jackson 5 eux-mêmes dans une interview à la radio new yorkaise WWRL. Ils parlent d'un script écrit par Raymond Saint Jacques, « un western qui devrait ravir les jeunes comme les plus âgés ». (à partir de 5:10 dans la vidéo)
Lors de leur voyage en Afrique en janvier/février 1974, le reporter du magazine Blues & Soul qui voyage avec le groupe rapporte sa conversation avec l'avocat du groupe, Richard Aarons. Celui-ci indique que le groupe annoncera lors d'une conférence de presse un projet de film les mettant en scène. Le groupe ne chantera pas mais jouera le rôle d'une famille traversant les Etats Unis dans les années 1860 et les problèmes qu'elle rencontre. Le film, intitulé Isomin Cross And Sons, qui sera produit par une compagnie indépendante dirigée par Raymond Saint Jacques, devrait être tourné en Arizona au printemps 1974 pour sortir vers la fin de l'année 1974.
En juin 1974, le tournage du film ne semble pas avoir commencé. Lors d'un gala/conférence de presse où Joe Jackson annonce la création de sa nouvelle compagnie Ivory Tower International Record Co, les cinq frères dévoilent officiellement leurs débuts cinématographiques dans le futur film Isomin Cross & Sons.
Jet Magazine du 6 juin 1974
Raymond Saint Jacques, le réalisateur et producteur, jouera également dans le film qui évoquera une famille d'esclaves du milieu du 19ème siècle, se battant pour sa liberté et pour son existence. Raymond Saint Jacques aura le rôle du père (non sans rappeler le rôle de Joe Jackson !) et les Jackson 5 seront ses fils.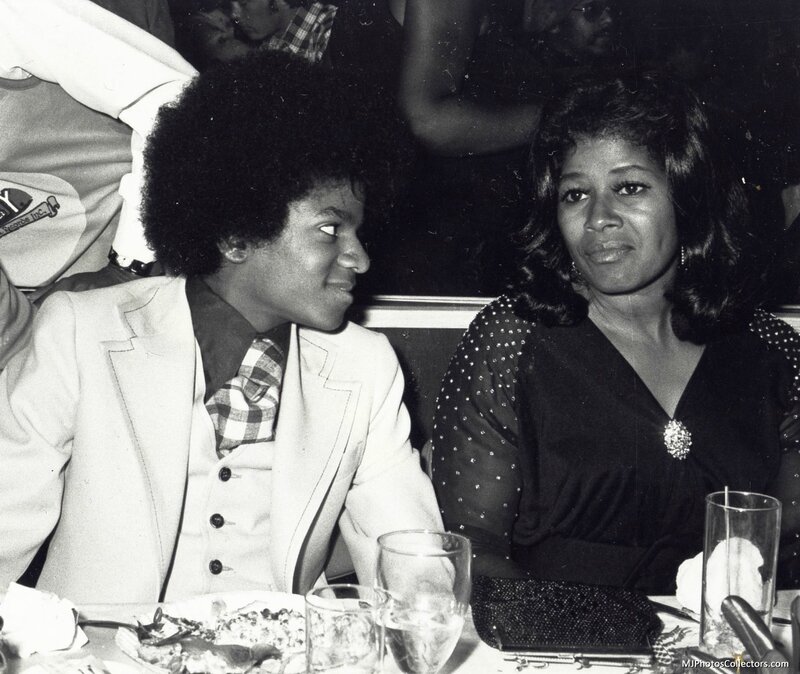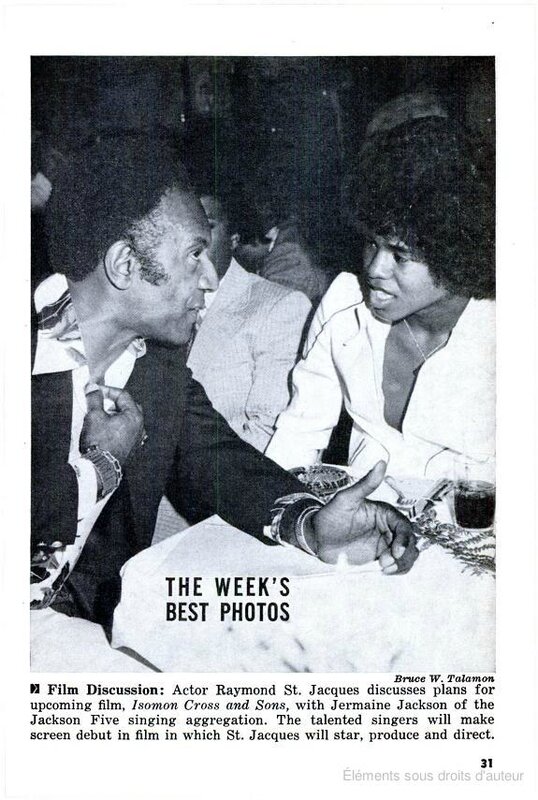 Jet Magazine du 4 juillet 1974
Durant l'été 1974, les magazines pour adolescents évoquent de plus en plus ce film. Le magazine Soul Teen d'Août 1974 consacre un article à ce projet où il est indiqué que le groupe, en plus de jouer les rôles principaux, s'occuperont de la musique. Joe Jackson, producteur associé, devrait faire des apparitions et Randy et Janet étaient même prévus pour interpréter des titres en solo.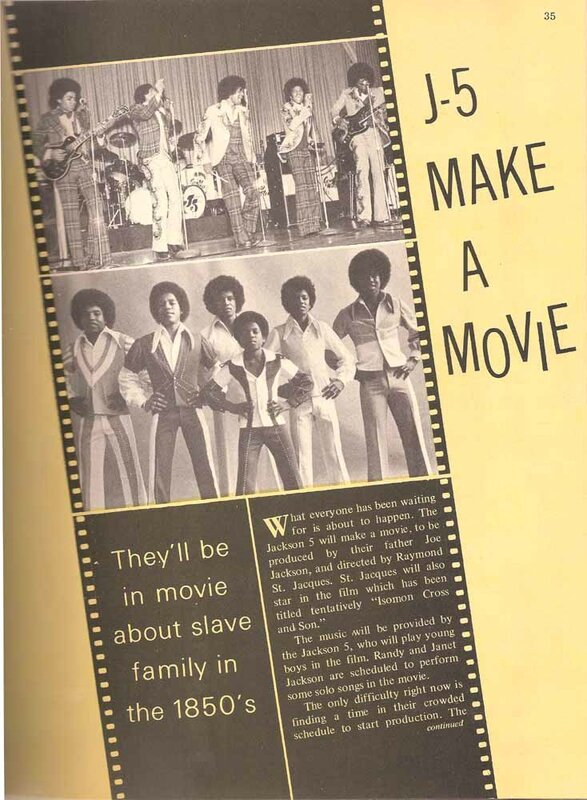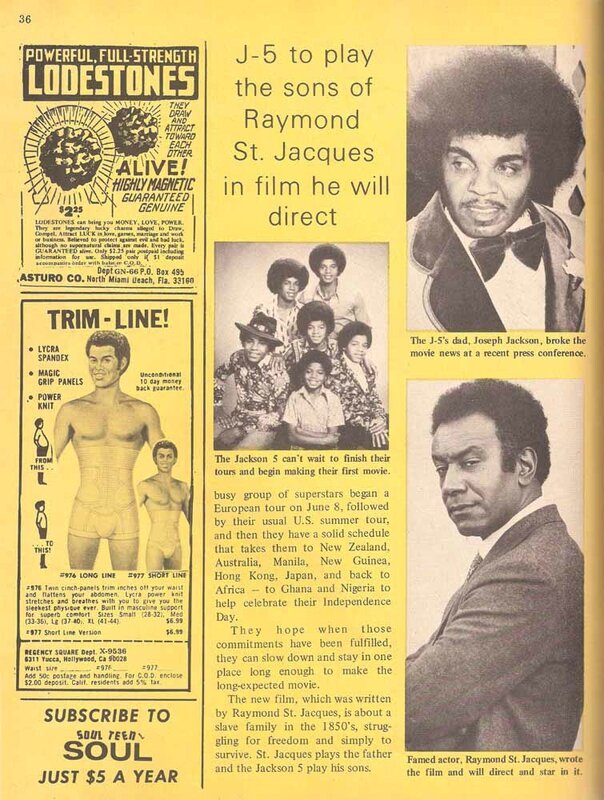 La difficulté qui émerge alors dans ce projet est de trouver le temps de tourner ce film. Le groupe a, en effet, depuis la première annonce, enchaîné les concerts, les tournées à l'étranger, les enregistrements et jusqu'au début de l'année 1975, n'a aucun moment de libre pour tourner un film tant leur emploi du temps est chargé.
Autre problème : le film, dont le magazine 16 évoque le tournage dans le Nebraska, implique que les frères devront monter à cheval. Or aucun d'eux n'est jamais monté sur le dos d'un cheval. Ils vont donc devoir prendre des leçons !!!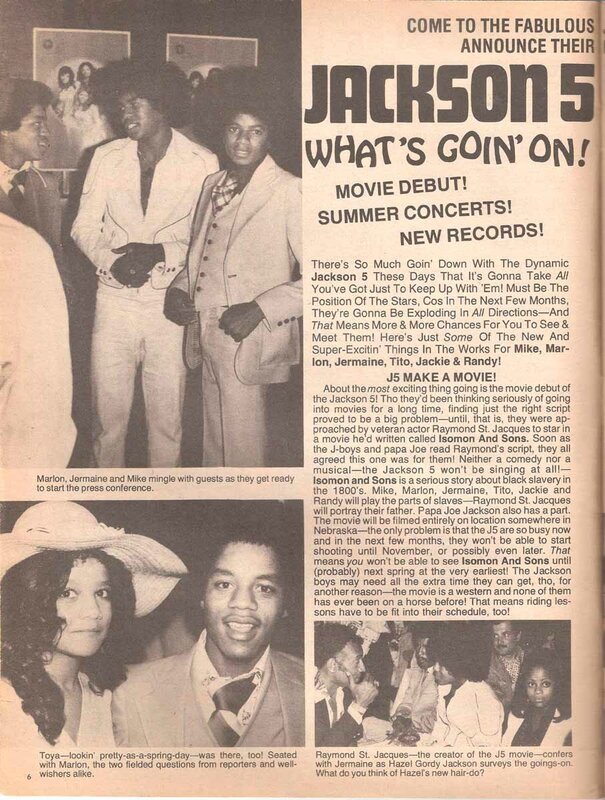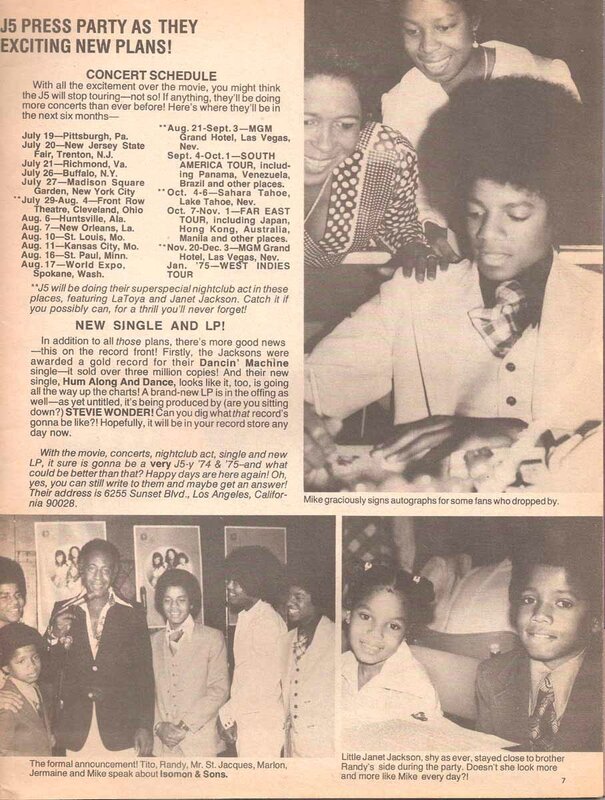 Le magazine 16 dans son article au sujet de ce film évoque également un projet d'album produit par Stevie Wonder. Une information reprise également par le site soultrain.com qui précise que ces enregistrements sont finalement restés dans les coffres de Motown. Seul Buttercup s'est retrouvé sur le CD I Want You Back Unreleased Masters en 2009.
Le tournage du film a-t-il débuté, comme l'indique le Visual Documentary, durant le voyage des Jackson 5 en Afrique fin janvier 1974 ?
Finalement Berry Gordy annulera ce projet. D'ailleurs était-il vraiment au courant de ce film avant la conférence de presse de la famille Jackson en juin 1974. Les Jackson 5 en esclaves ….le président de la Motown n'a pas vu cette idée d'un très bon œil.
Ce n'est pas la première fois qu'un projet de film pour les Jackson 5 tombait à l'eau. En décembre 1973, Billboard Magazine évoquait un rôle pour Michael dans une adaptation cinématographique de la série de livres jeunesse, très célèbre au Etats-Unis, The Boxcar Children, de Gertrude Chandler Wagner. Un projet dont on n'a plus jamais entendu parler ensuite.
Le 21 juin 1976, Michael signe un contrat de six pages avec Pressman/Williams Enterprises, Inc , qui prévoyait son rôle dans un film intitulé Twenty-four Robbers.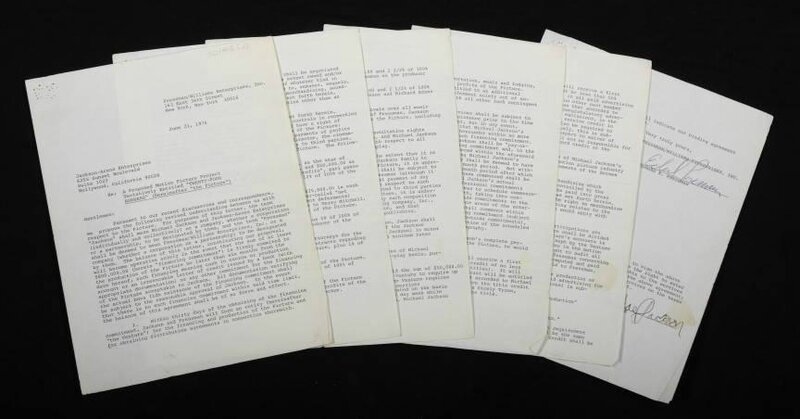 Le contrat stipulait ce que toucherait Michael Jackson, ses responsabilités au niveau musical ainsi que les paiements attribués à Joe Jackson en tant que co-producteur exécutif. Le contrat incluait un financement de 800,000 dollars.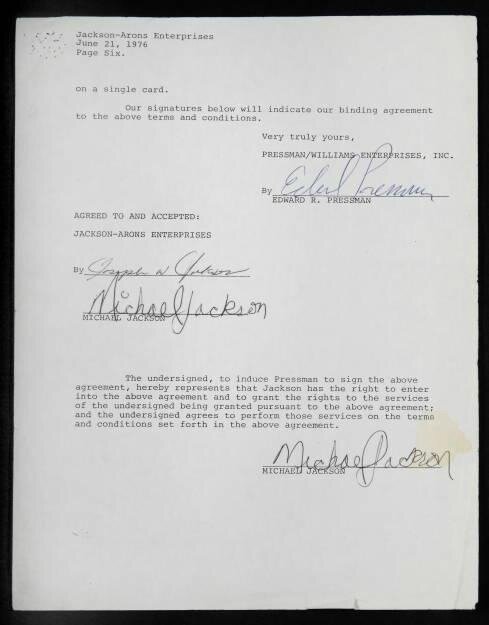 Le film n'a jamais été produit. Un an plus tard, Michael entamait le tournage de son premier rôle dans The Wiz.
Source: j5collector.blogspot.fr/ Michael Jackson, The Visual Documentary de Adrian Grant/The Maestro de Chris Cadman/ Soultain.com