La visite du ranch se poursuit vers le cinéma-théâtre de Neverland.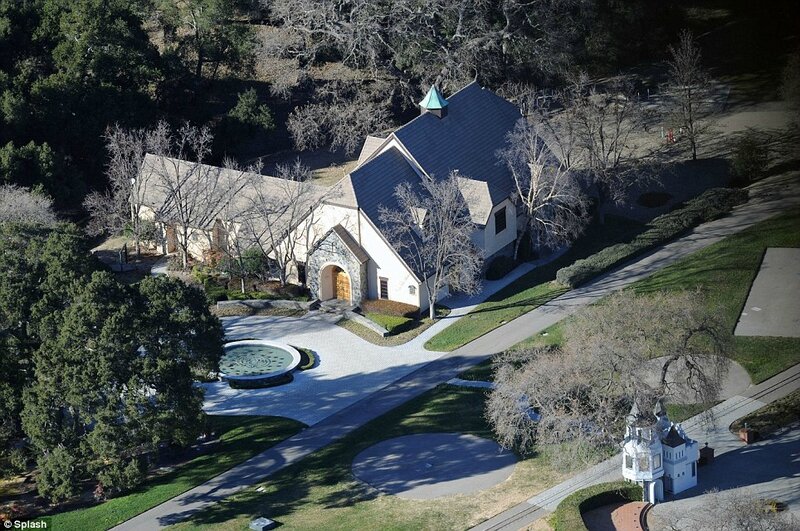 Loin de la maison, des parties privées et de la gare principale, le bâtiment qui abrite le cinéma et la salle de danse de Michael se trouve juste en face du parc d'attractions du ranch. Pour s'y rendre, il faut emprunter les voiturettes ou tout simplement le train qui fait le tour du ranch. Une gare se trouve juste derrière le cinéma.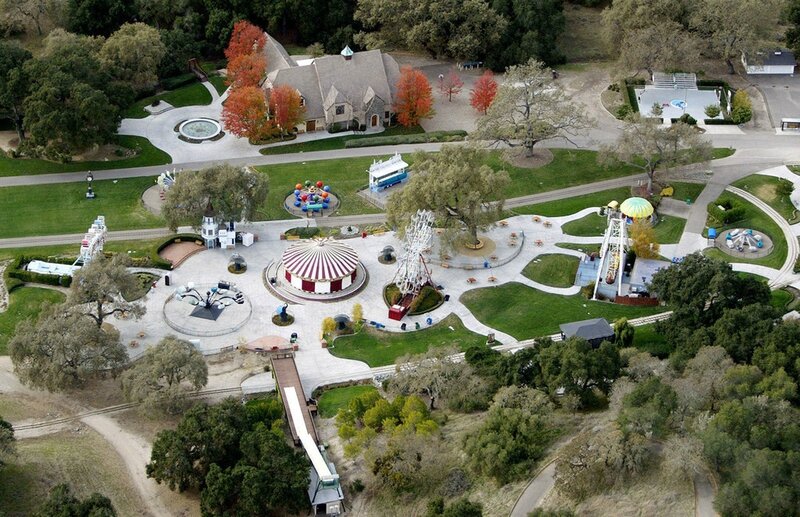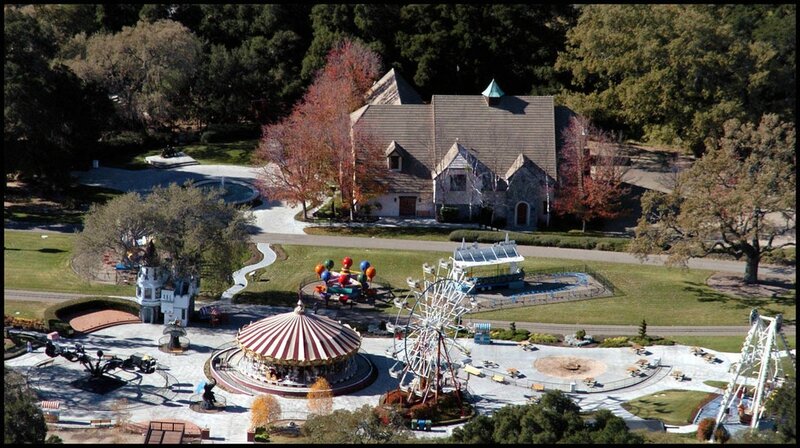 Lorsque Michael a acheté le ranch, seules les parties privées existaient. Mais il avait pour projet de transformer ce qui était autour pour construire un cinéma, un parc d'attractions et un zoo.
Katherine Jackson évoque sa première visite à Neverland en 1988 : « (…) Nous sommes montés dans une de ces petites voitures de golf et [Michael] m'a fait visiter le ranch. Nous avons roulé vers le lac et nous nous sommes arrêtés à la grange où Louis et Lola, les lamas, vivent désormais. Puis nous nous sommes arrêtés devant les maisons des invités, et la maison de jeu. Il m'a montré aussi l'endroit où il voulait faire construire une salle de cinéma, un petit zoo et un terrain de jeux pour ses nièces et ses neveux et pour tous ses autres petits invités » (1).
Le cinéma a été construit avant le parc d'attractions. L'entrée, qui, de part sa forme arrondie entourée de pierres, pourrait ressembler à une chapelle, est sur le côté du bâtiment. Une magnifique fontaine, des statues de bronze et des parterres de fleurs accueillent les visiteurs.
Le sol intérieur est recouvert d'une moquette bleue/ verte, qui s'accorde parfaitement avec les tons bleus des murs et les boiseries. Face à la porte en bois de l'entrée, tout est prévu pour emporter de quoi grignoter durant la séance : sucreries, bonbons, snack, pop corn, glaces sont disponibles gratuitement dans une vitrine/bar.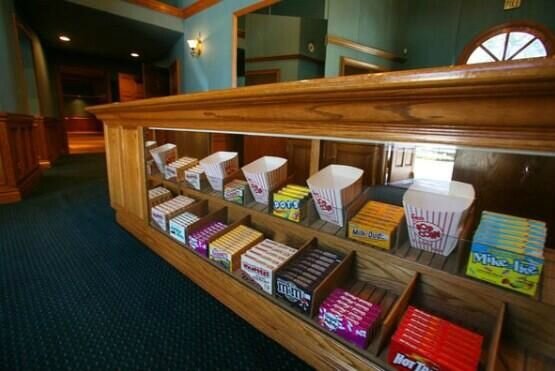 A droite de la porte d'entrée, un diorama de Cendrillon.
Michael adorait ces petites vitrines avec des scènes, animées ou non, des contes de Walt Disney. Il en possédait déjà un dans sa propriété de Hayvenhurst, de Blanche Neige et les sept nains.
Un autre diorama se trouvait à gauche de la porte d'entrée, celui de Pinocchio.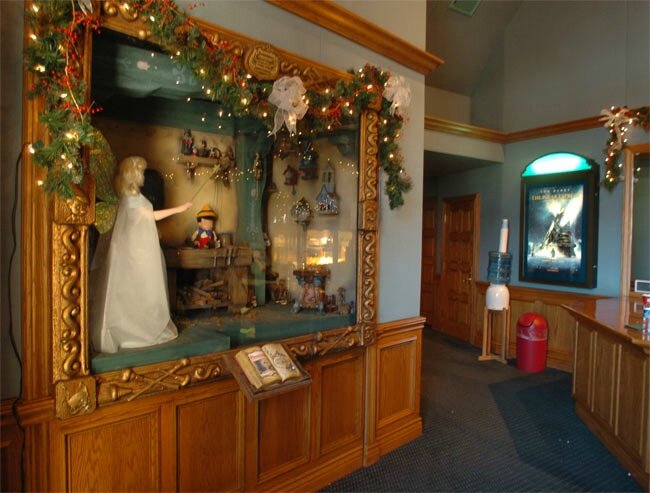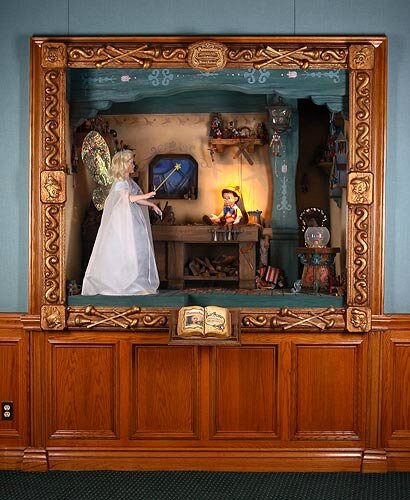 A l'intérieur de la vitrine, sur la droite, on y aperçoit un « petit Michael Jackson » habillé en Smooth Criminal qui, s'y on l'actionne, se met à danser.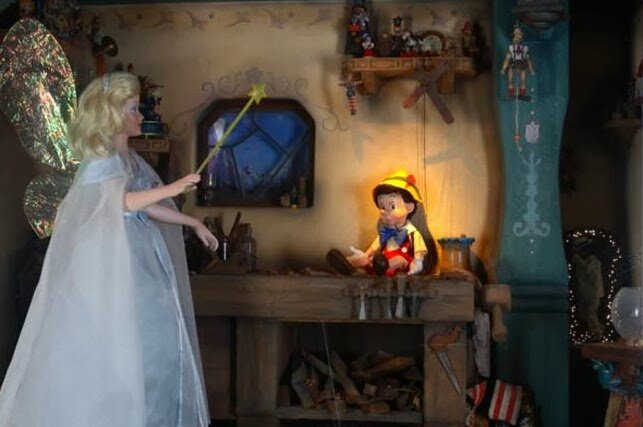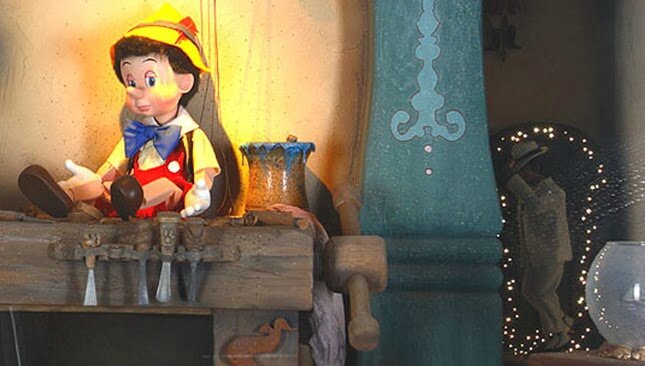 En effet, pour chacun des deux objets, un livre avec des boutons, devant la vitrine, permettaient d'actionner les personnages.
Ces dioramas ont été créés spécialement pour Michael et offert par Walt Disney World Theme Display.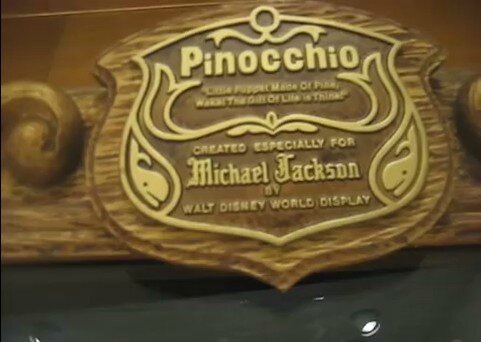 Jermaine Jackson raconte : « Il y avait également (…) une salle de cinéma et de théâtre qui aurait fait pâlir d'envie la plupart des cinémas du coin. Vous vouliez voir un film, Michael l'avait, et sa collection allait des grands classiques d'Hollywood aux derniers succès du jour (…). Quand on entrait dans le foyer du cinéma-théâtre, qui possédait une hauteur sous plafond de dix mètres, on pouvait voir sur la droite une vitrine contenant un Michael miniature en train de danser sur Smooth Criminal ; il y avait plusieurs boutons qui permettaient de sélectionner différents pas de danse. Il y avait également, bien sûr, tout ce que l'on peut trouver dans une confiserie, et en plus des machines à pop-corn et des glaces. » (2)
Le couloir de droite, dans lequel on pouvait apercevoir quelques personnages préférés de Michael, notamment E.T., mène à la salle de cinéma.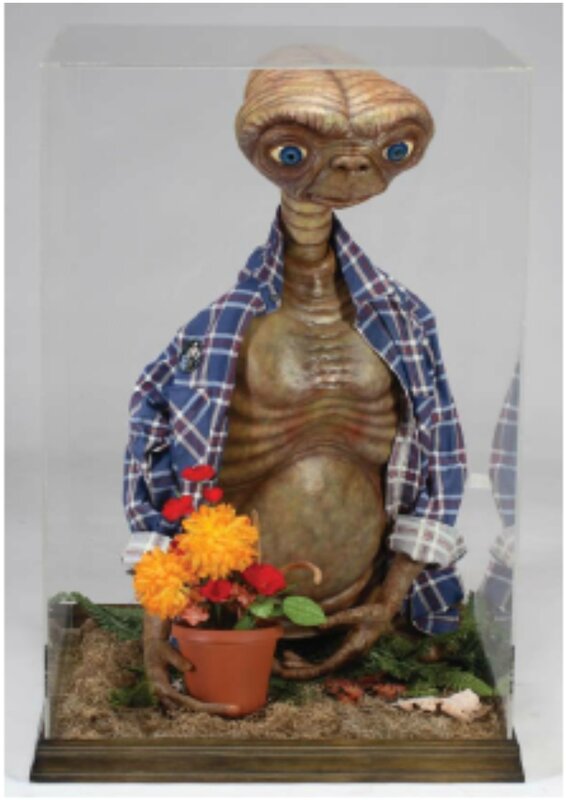 Une grande salle, toujours dans les tons bleus, avec 50 fauteuils de velours rouge et un écran n'ayant rien à envier aux vraies salles obscures.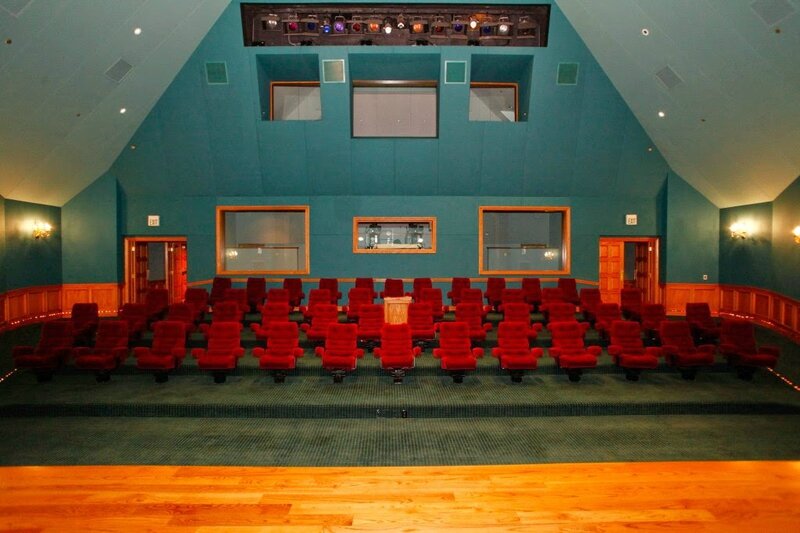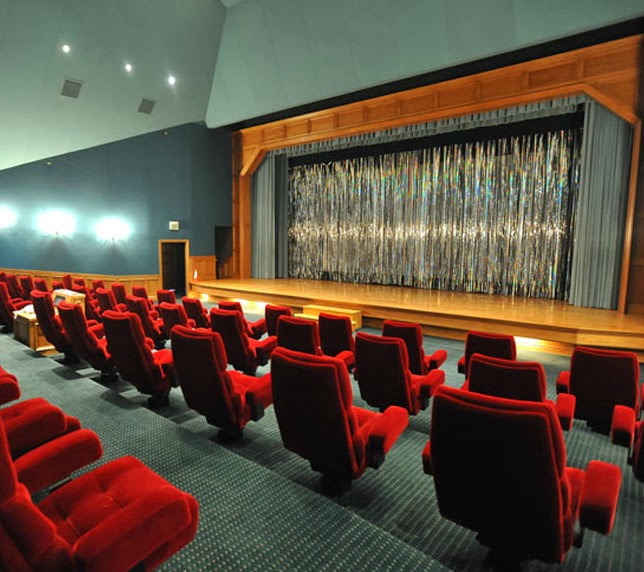 Parmi les sièges, un moniteur de contrôle.
Une grande scène se trouve devant l'écran, sur laquelle Michael fera une leçon de Moonwalk à Oprah Winfrey lors de son interview en février 1993. Sur le côté droit de la scène, Michael avait fait installer une statue géante d'un Oscar.
Michael y faisait parfois donner des spectacles, comme on l'aperçoit dans les private home movies, lors d'une fête de famille (à partir de 2 :12)
Au fond de la salle, se trouvaient également deux pièces spéciales. En effet, Michael avait pensé aux enfants malades qui viendraient passer du bon temps dans son ranch et avait fait installer ces deux chambres pour ceux qui étaient obligés de rester alités. Ainsi, tout comme les autres enfants, ils pouvaient assister à la projection ou au spectacle.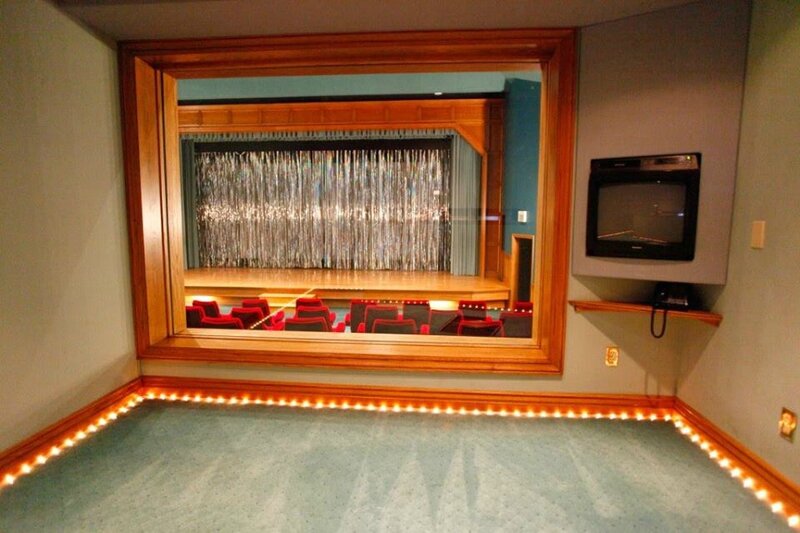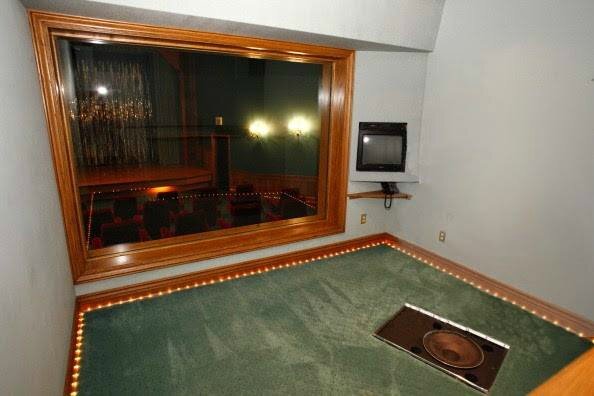 « Mais le plus incroyable dans ce petit théâtre de cinquante places, c'étaient les deux pièces qui se trouvaient à l'arrière de la salle de projection : une à l'extrême gauche, l'autre à l'extrême droite. Chacune de ces salles étaient équipées d'une fenêtre et d'un lit, d'une tente à oxygène et de tout un système de surveillance médicale agréé. Ces petites suites hospitalières étaient conçues et installées à l'intention des enfants atteint d'une maladie en phase terminale. Ces enfants qui ne pouvaient pas accéder à des joies simples, comme voir un film dans une salle de cinéma, le pouvaient dans cet endroit. Dans chaque pièce, il y avait un interphone sur la table de chevet qui permettait aux enfants de parler avec Michael qui, lui, était assis dans les derniers rangs. Il y avait des rampes pour les fauteuils roulants dans chacune des allées, et tout était conçu pour que les handicapés y trouvent le maximum de confort. » (2)
Sur l'aile gauche du bâtiment, Michael possédait sa salle de danse.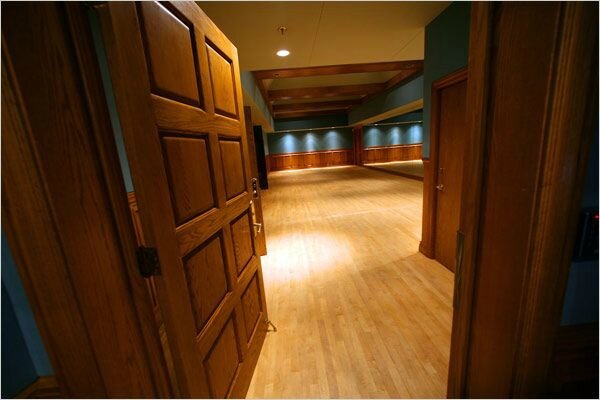 Tout en longueur, elle est dans les mêmes coloris que le reste du bâtiment. Ceux qui ont eu la chance de voir l'endroit disent que le parquet a conservé les traces des répétitions de la star.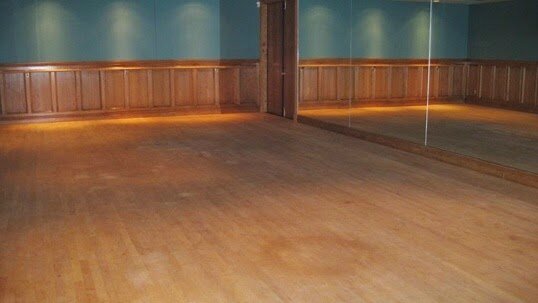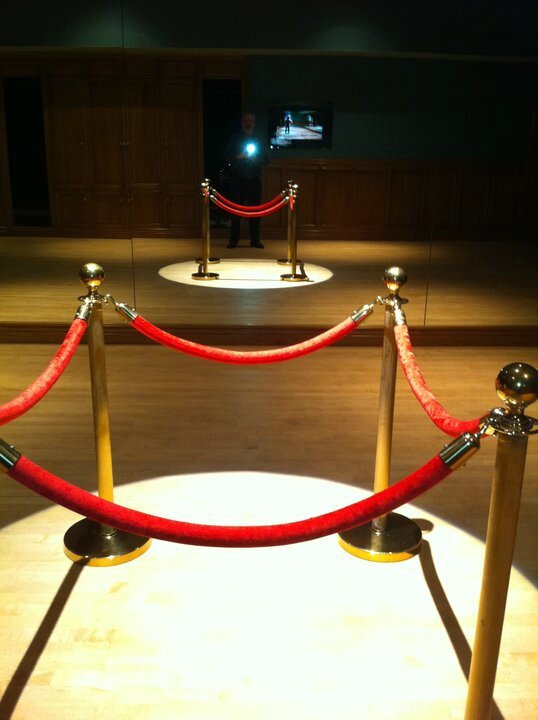 Dans la vidéo ci-dessous, une statue de Mickey Mouse trône à l'entrée de la salle, remplie de PLV de dessins animés mais c'est bien ici que le King Of Pop passait de longues heures à répéter ses célèbres mouvements de danse.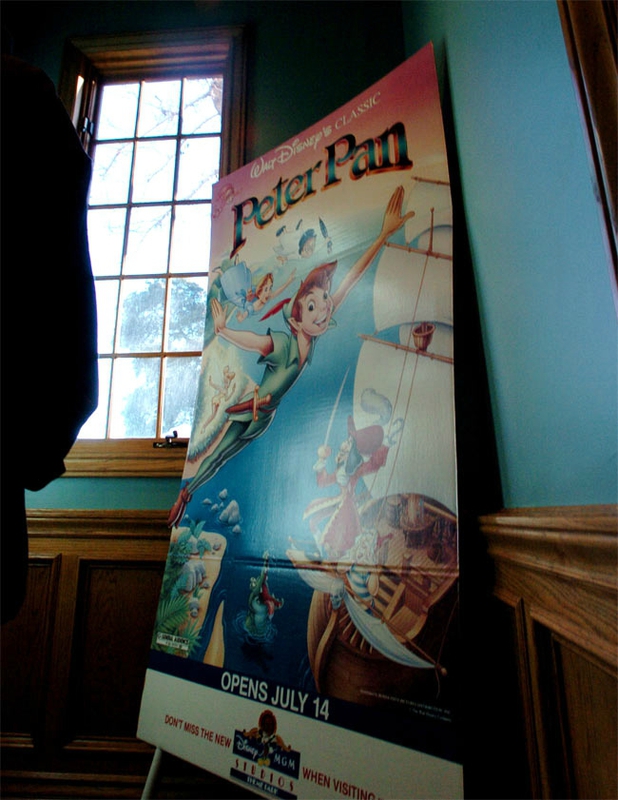 C'est dans cette salle dotée d'un grand miroir que Michael choisissait parfois de se faire photographier, comme ici, avec son fils Prince.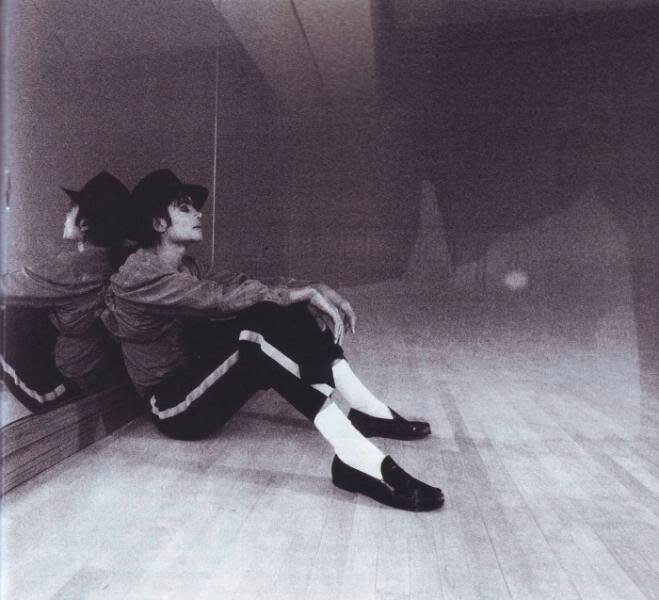 Michael avait également dans ce bâtiment son propre studio. Une pièce que l'on aperçoit dans le documentaire (très controversé) de Martin Bashir lorsque le King Of Pop parle de sa musique. La salle de danse a été réaménagée en studio, entourée d'oeuvres d'art que Michael aimait.
Petite visite du bâtiment....
Sources: (1) Katherine Jackson, Jackson & Jackson, Histoire d'un rêve, Ergo Press, 1990/(2) Jermaine Jackson, You Are Not Alone, le vrai Michael dans les yeux de son frère, Editions Michel Lafon, 2012/ enolalee.blogspot.com/ lacortedelreydelpop.com