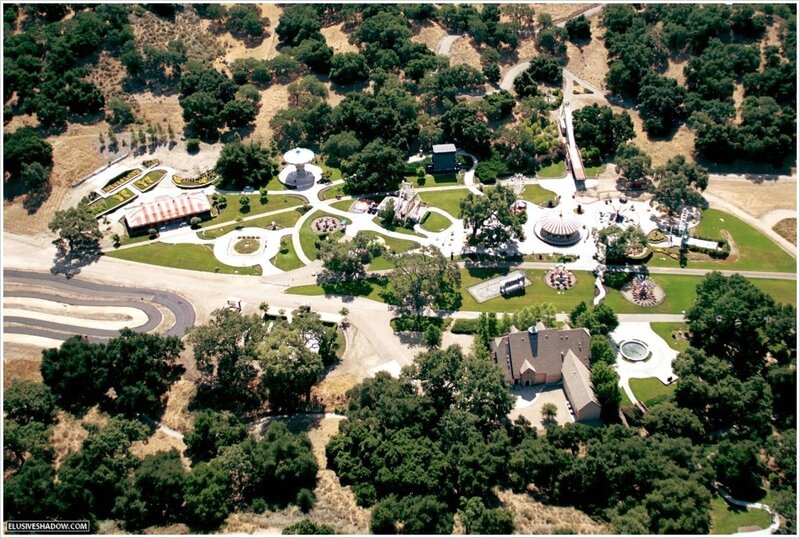 Lorsque l'on ressort du cinéma-théâtre du ranch, sur la gauche, une petite allée, « The Yellow Brick Road » mène à l'entrée du parc d'attractions que Michael a fait construire.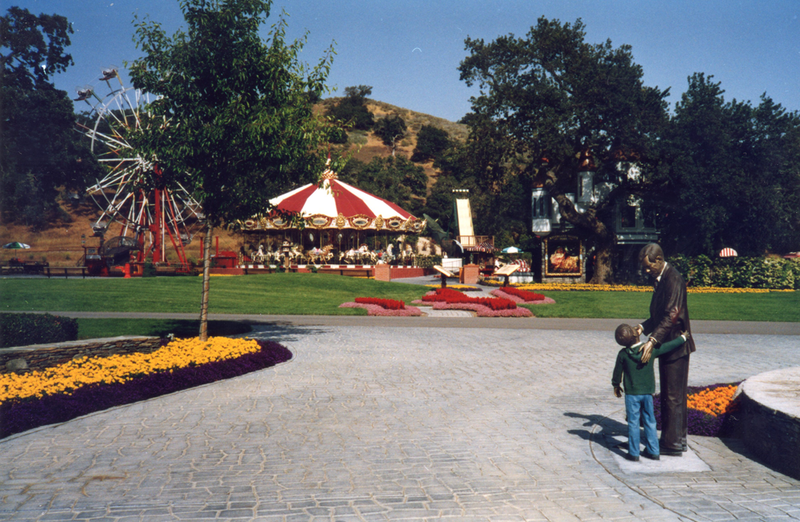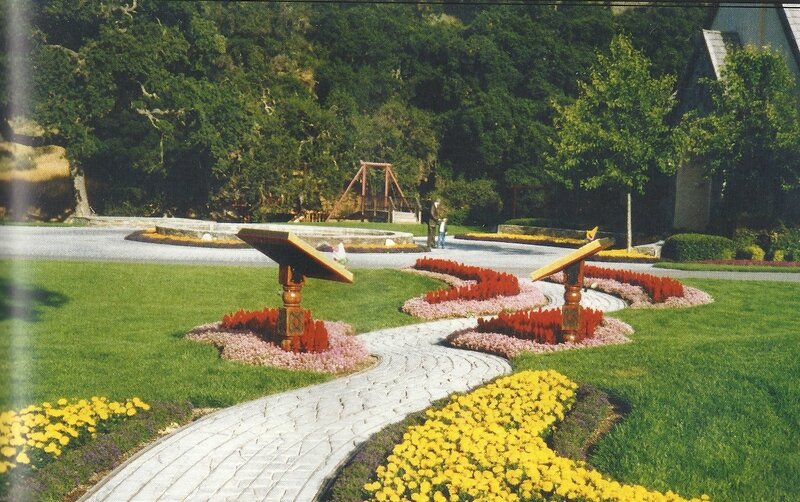 © Robert E. Swinson Private Collection" as found in my personal memoir, www.MakerOfDreams.com, (©) 2013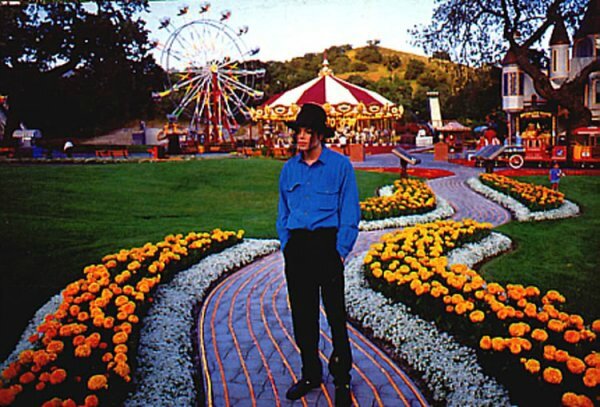 Des parterres de fleurs colorées, qui changeaient environ trois fois dans l'année, suivent la petite allée sinueuse et l'entrée dans le parc est marquée par deux gros livres en bois dessinés par David Nordhal, de chaque côté de l'allée, sur lesquels Michael a fait graver des extraits de son poème paru dans son recueil Dancing The Dream, en 1992, When Babies Smile.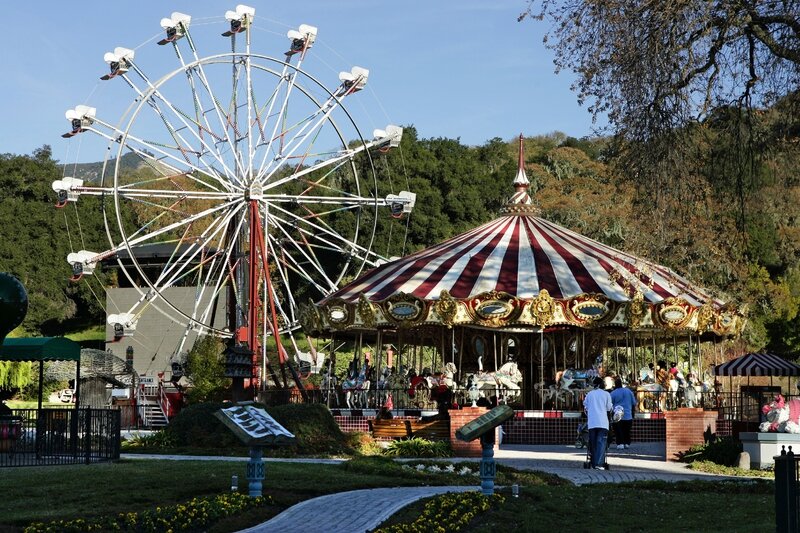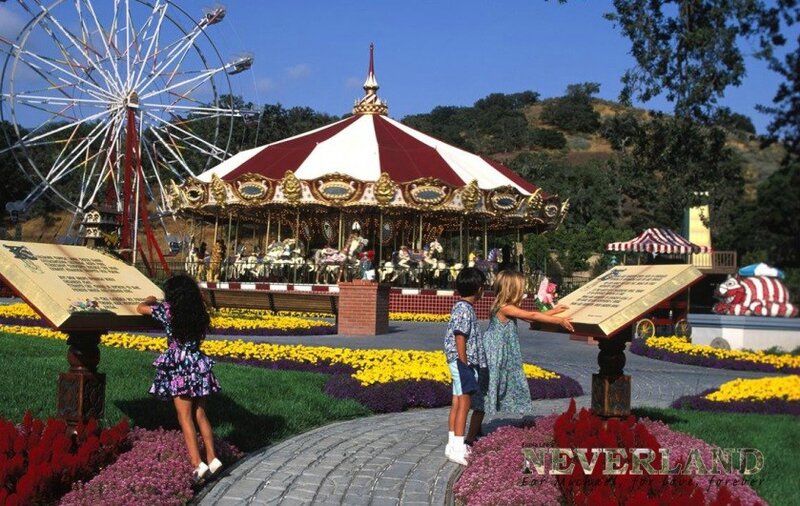 © Robert E. Swinson Private Collection" as found in my personal memoir, www.MakerOfDreams.com, (©) 2013
Sur l'un des deux livres, celui de droite, une petite fée en bois en train de lire avait été rajoutée.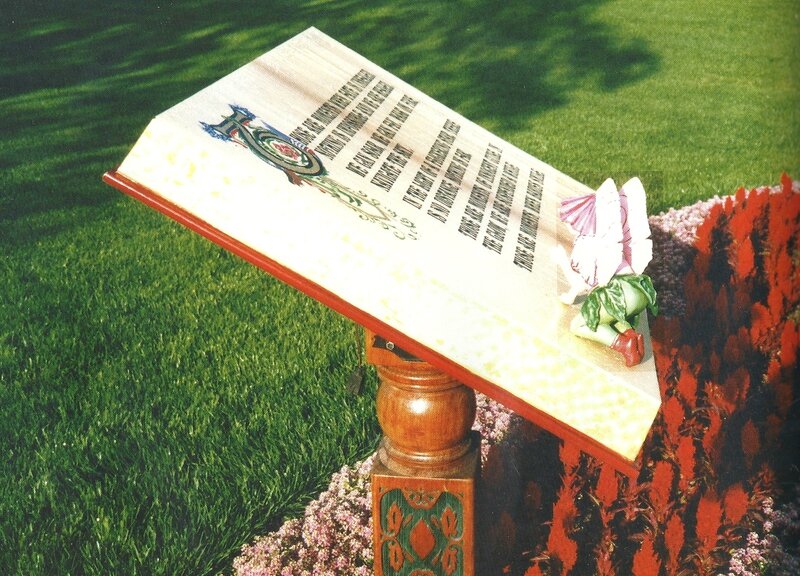 © Robert E. Swinson Private Collection" as found in my personal memoir, www.MakerOfDreams.com, (©) 2013
Les livres semblent avoir été modifiés ensuite pour prendre cette forme-ci.
L'entrée principale dans le parc est indiquée avec The Fantasy Castle, un château en bois niché dans un chêne. Sur le mur de briques, le panneau indiquant Neverland Valley Park est une copie de l'œuvre de David Nordahl, Playmates For A Lonely Child, dont l'original, peint en 1989, était accroché dans la salle à manger de la maison de Michael.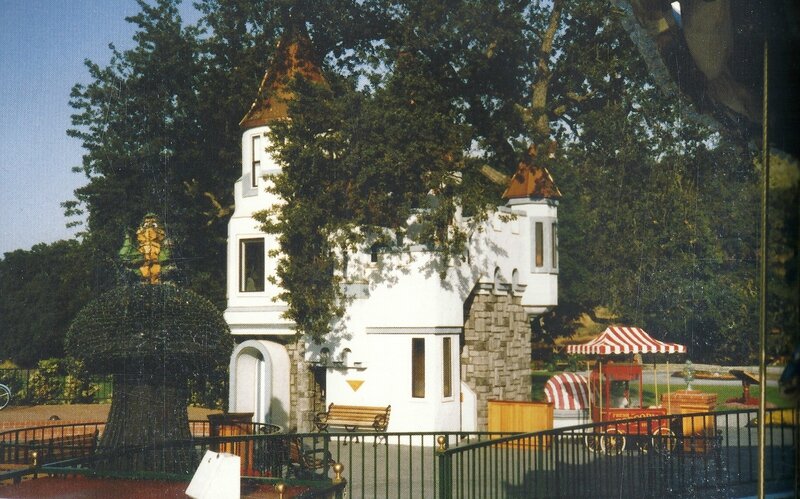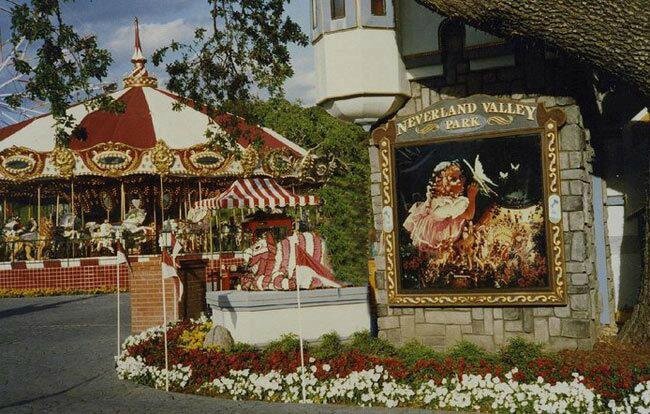 Le petit château blanc, avec ses deux tourelles de cuivre, et ses hauts parleurs diffusant de la musique, a été construit au même moment où furent installés le carrousel et la grande roue. Destiné à cacher un générateur qui alimentait le parc, il comporte un étage avec des pièces moquettées où Michael aimait aller pour discuter des futures idées concernant son parc d'attractions.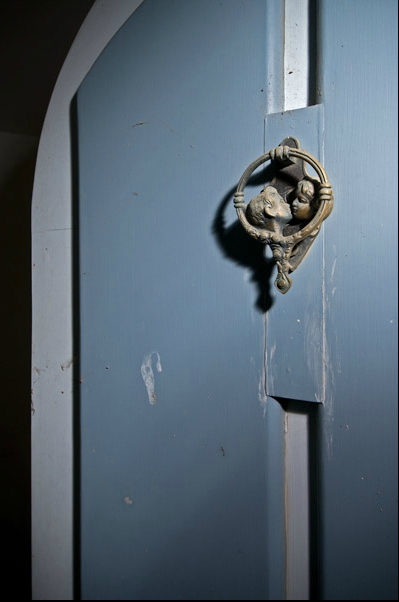 Allan ("Big Al") Scanlon était le directeur de la maintenance à Neverland Ranch. Il a acheté un grand nombre des manèges du parc sous la direction de Michael. Entre 1990 et 1997, Michael a acheté 18 attractions, dont six à Chance Ride : un carrousel, le Sea Dragon, un train CP Huntington, le Wipeout et deux zippers (en 1987 et 1990). Il y avait aussi quatre attractions Zamperla avec un train de tortues, un Lolli Swing, un Samba Balloon, et un Dumbos /Dragons. Le Eyerly Spider est arrivé de la société Roger Jourdan's Michigan Adventure. Il y avait une grande roue créée par Eli Bridge, un toboggan géant créé par Manco, des balançoires géantes inventées par Zierer, des autos-tamponneuses avec 20 voitures fabriquées par Majestic, un manège avec des Jeeps Hampton / SBF, des « petites » montagnes russes Dragon Wagon fabriquées par Wisdom, et un train à vapeur nommé Katherine.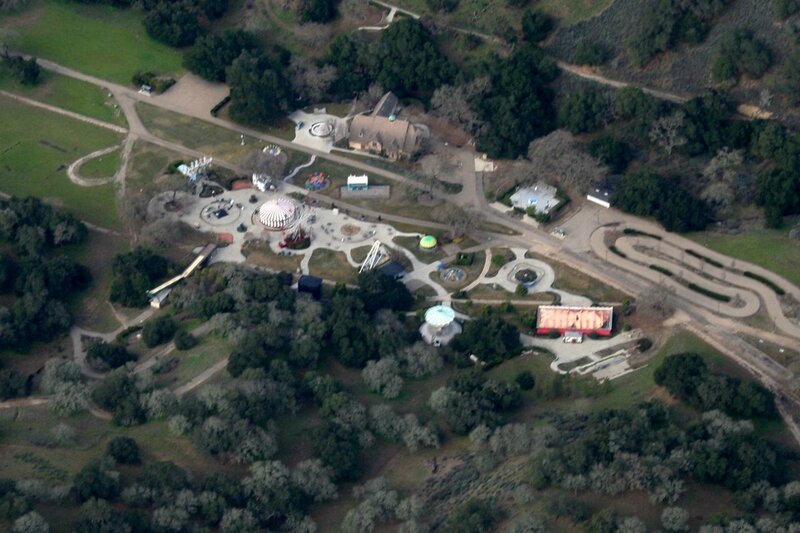 Rob Swinson, l'auteur de Maker of Dreams, explique dans son livre la mise en place des différentes attractions. Contacté en juin 1990, alors qu'il était directeur des ventes de la compagnie Chance Rides, Inc, située dans le Kansas, la plus grosse compagnie de création de manèges pour les parcs d'attractions, il se retrouve très rapidement à travailler pour Michael, se voit chargé du développement du parc de Neverland et devient l'ami de la star.
"La phase 1 du projet du parc d'attractions de Michael a débuté en juin 1990, lorsque le site du nouveau parc était une « terre nue » et nous avons travaillé en étroite collaboration jusqu'en juin 1993 pour développer ce rêve de longue date. Depuis l'âge de 17 ans, Michael avait rêvé de construire son propre parc d'attractions privé pour «les enfants du monde» - particulièrement pour les enfants défavorisés, les handicapés et les enfants malades en phase terminale - aussi la création du Neverland Valley Park a été merveilleusement passionnante et belle. »
1- The Ferris Wheel (la grande roue)
L'installation de la grande roue, fin octobre 1990, inaugure le parc d'attractions de Michael Jackson. D'une valeur de 215 000 dollars, cette grande roue de 16 sièges, a été construite par Eli Bridge, une des sociétés les plus anciennes spécialisées dans ce genre d'installation, installée à Jacksonville, dans l'Illinois.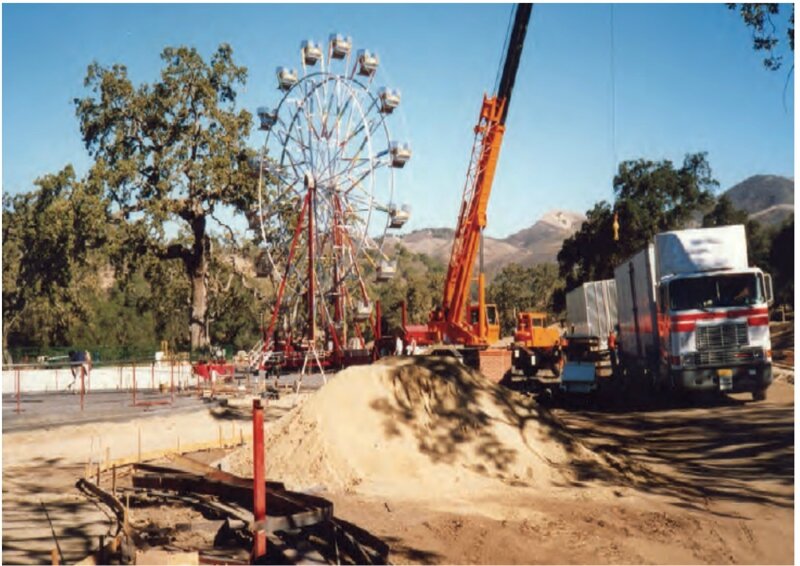 © Robert E. Swinson Private Collection" www.MakerOfDreams.com, (©) 2013
« [la grande roue] est une attraction traditionnelle, très ancienne et c'est apaisant…il n'y a rien de dangereux, c'est simplement confortable » dit Michael de cette roue dans le documentaire Living With Michael Jackson, en 2003.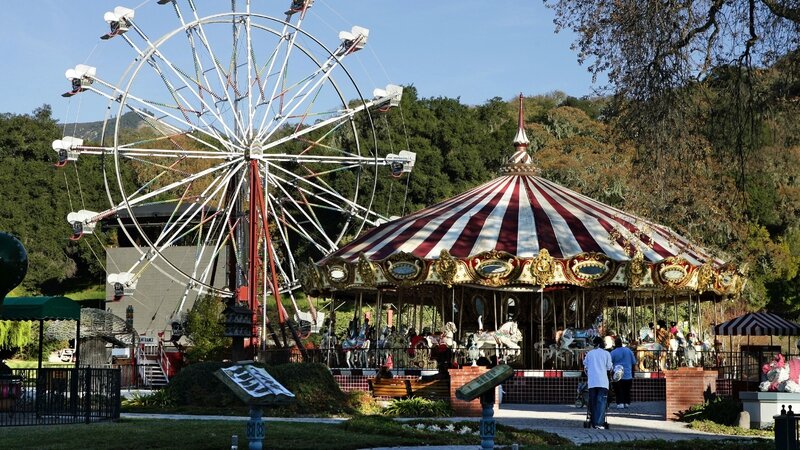 Dans le même temps, le Grand Carrousel, commandé à Chance Rides (la même compagnie qui a créé le petit train qui parcourt tout le parc), est installé.
2- The Magical Carrousel (le Grand Carrousel)
Créé sur mesure par le sculpteur et peintre Peter Petz, qui vit en Allemagne, le carrousel, qui comprenait 60 chevaux et animaux de bois, a été installé au centre du parc.La décoration, la conception et la production ont été supervisées par Jonathan L. Beauchamp de Chance Rides au Texas.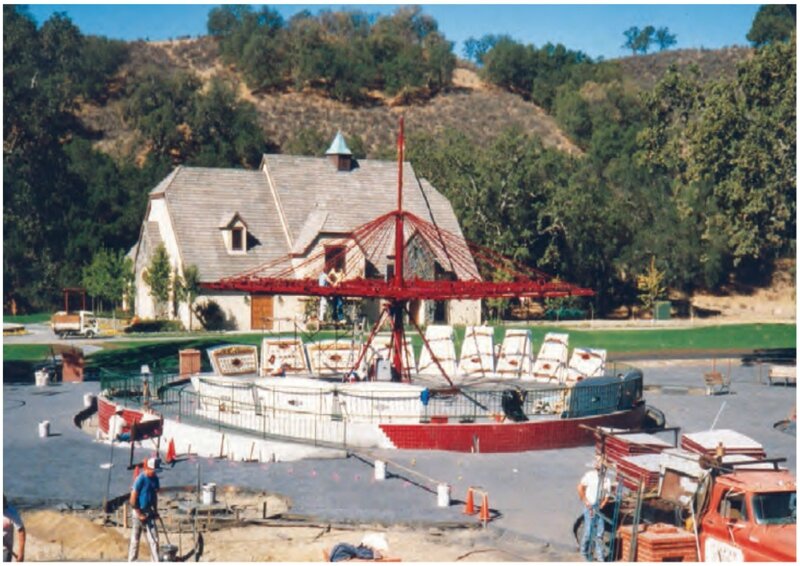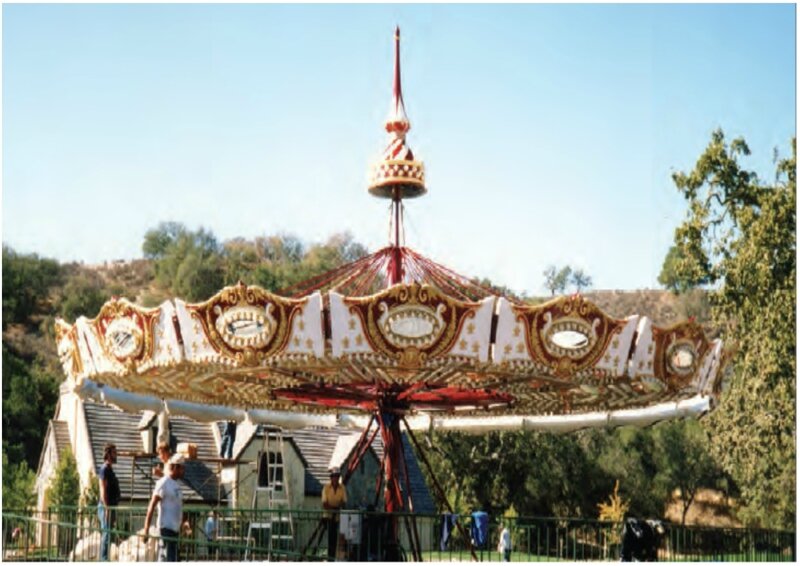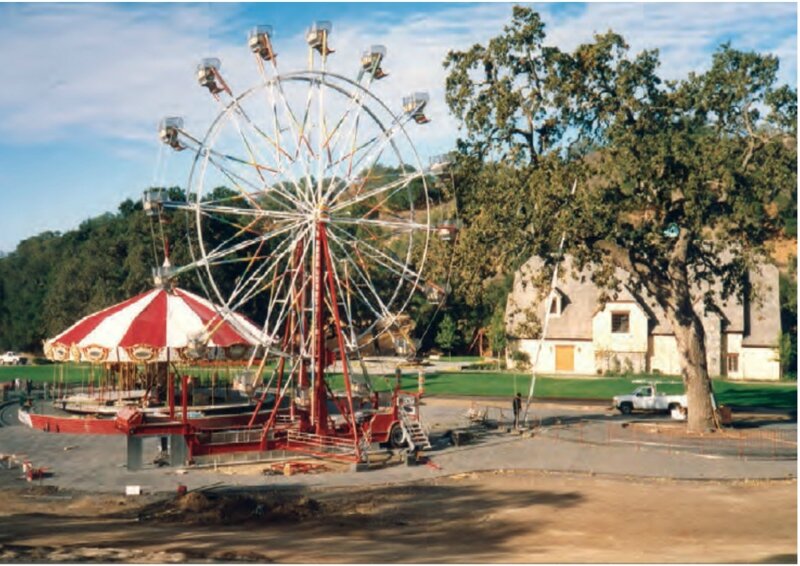 © Robert E. Swinson Private Collection" www.MakerOfDreams.com, (©) 2013
Le carrousel avec, à gauche, la structure en bois du Fantasy Castle
Chaque animal (il y avait non seulement des chevaux mais aussi un chat, un zèbre, une chèvre, une autruche, un lion, une girafe, un chameau …choisis par Michael lui-même) est unique et décoré spécialement pour ce carrousel.
« Chacun des 60 animaux était unique et magique. Chaque animal était comme un bijou magique et nous avons utilisé différentes coloris de perle dans un revêtement clair qui les fait étinceler .L'œuvre d'art était superbe ... Les 60 animaux sont fabriqués à partir de fibre de verre, les lignes extérieures des animaux sont tirées dans des moules anciens et ils avaient des yeux de verre comme les originaux (…). Travailler sur ce carrousel a fait ressortir l'enfant qui est en moi » explique Jonathan L. Beauchamp
Certains d'entre eux portent un message cher à Michael, ou parfois des titres de ses chansons.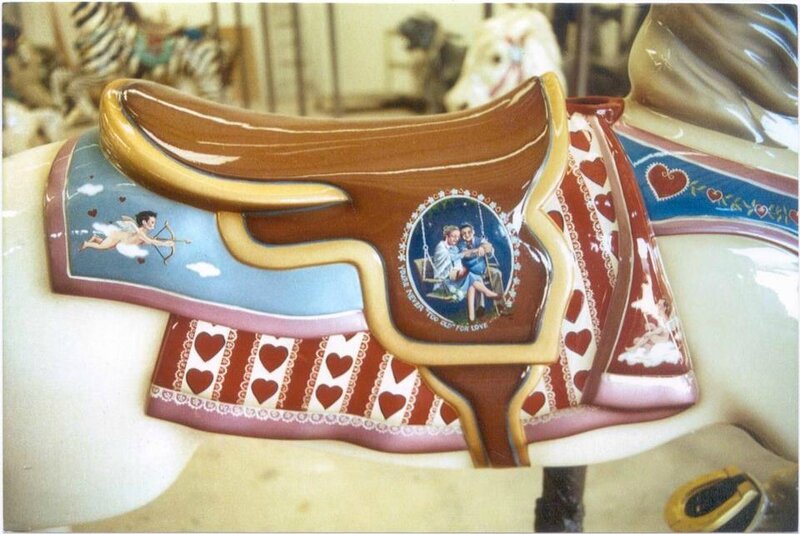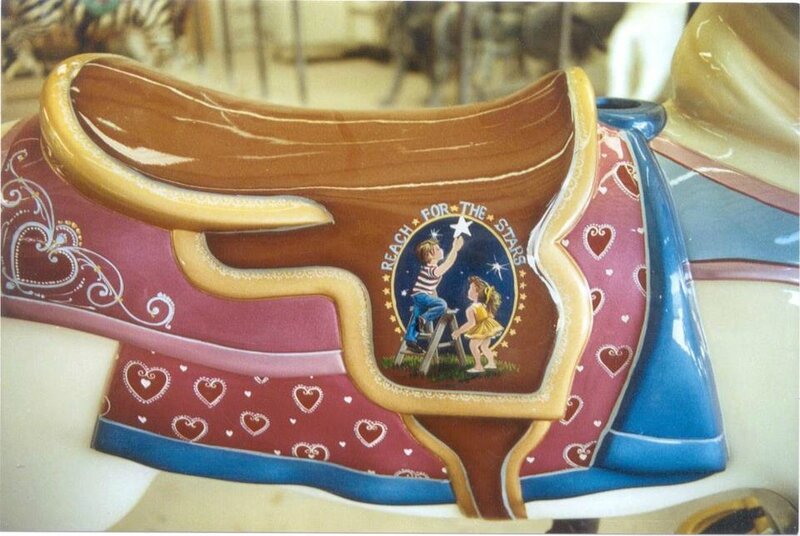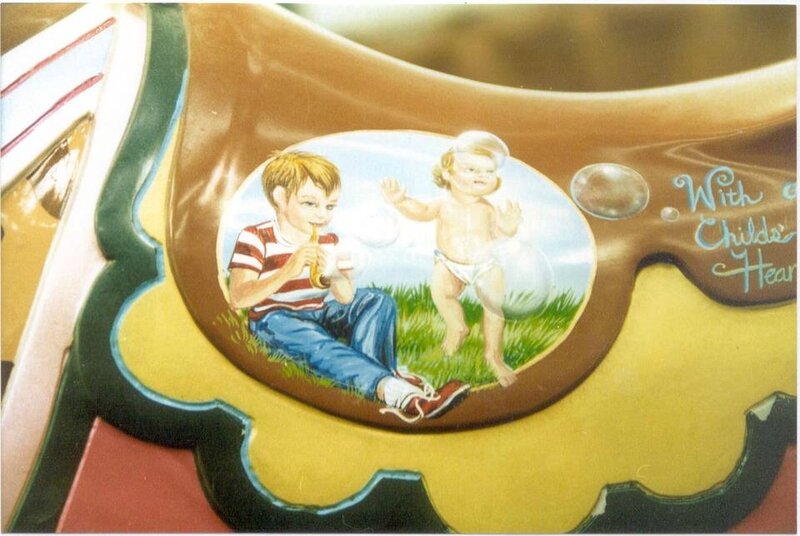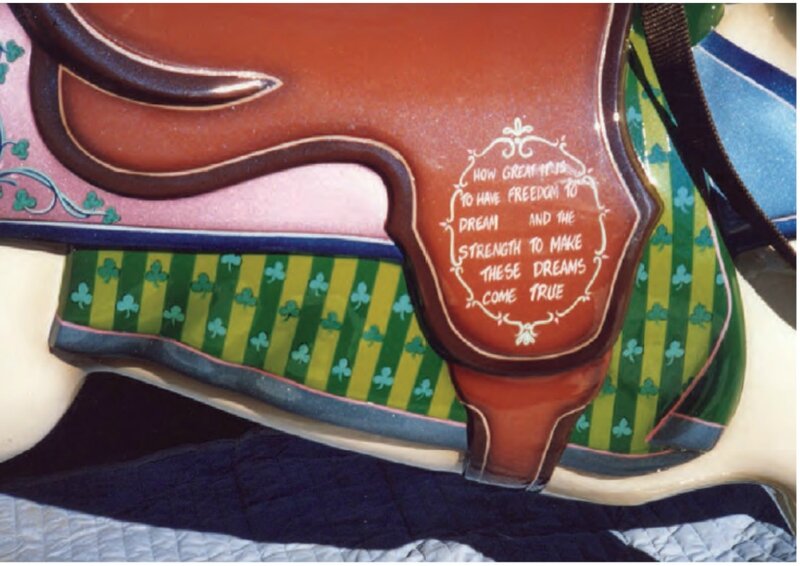 © Robert E. Swinson Private Collection" www.MakerOfDreams.com, (©) 2013
Le logo de Neverland, « The Blue Boy in The Moon » a été intégré dans la plupart des animaux du manège.
© Robert E. Swinson Private Collection" www.MakerOfDreams.com, (©) 2013
Robert Nolan Hall de la société Chance Rides Inc. a personnellement décoré un cheval du carrousel qu'il a remis en cadeau à Michael. « The Butterfly Cherub Horse» reste un des animaux favoris de Michael de ce carrousel.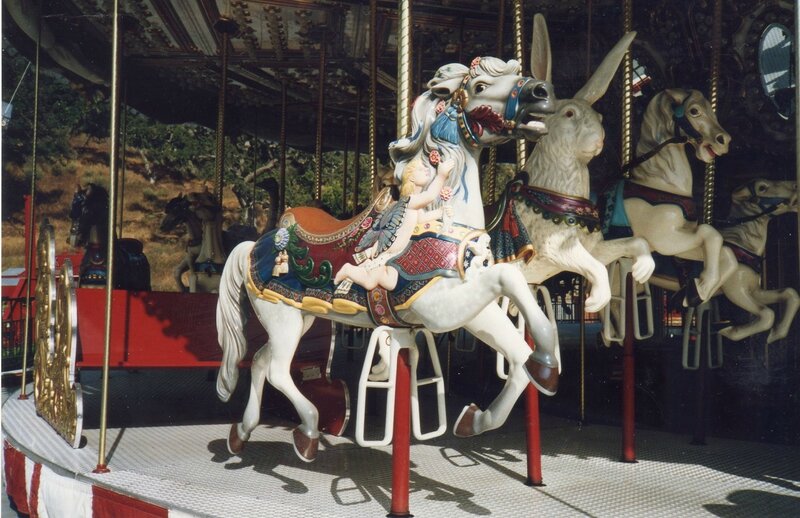 Sur le côté de la selle, l'artiste a peint des enfants de toutes races se tenant la main et gravé « We Are The World, We Are The Children »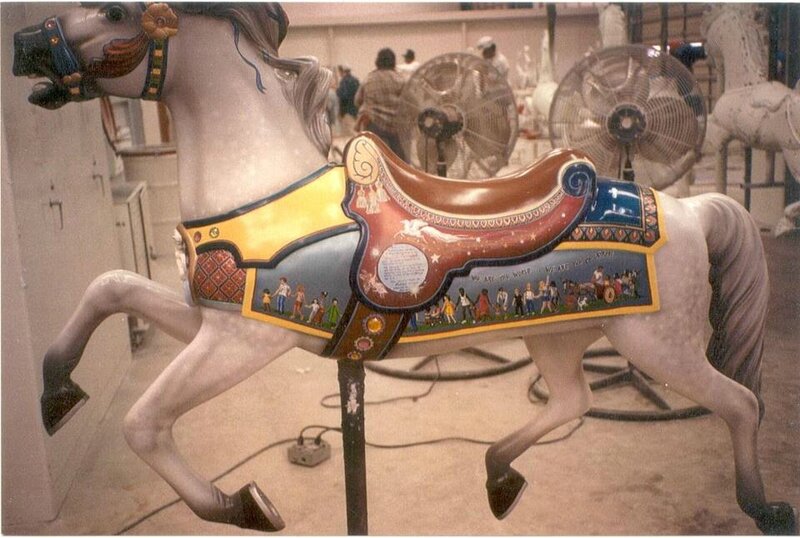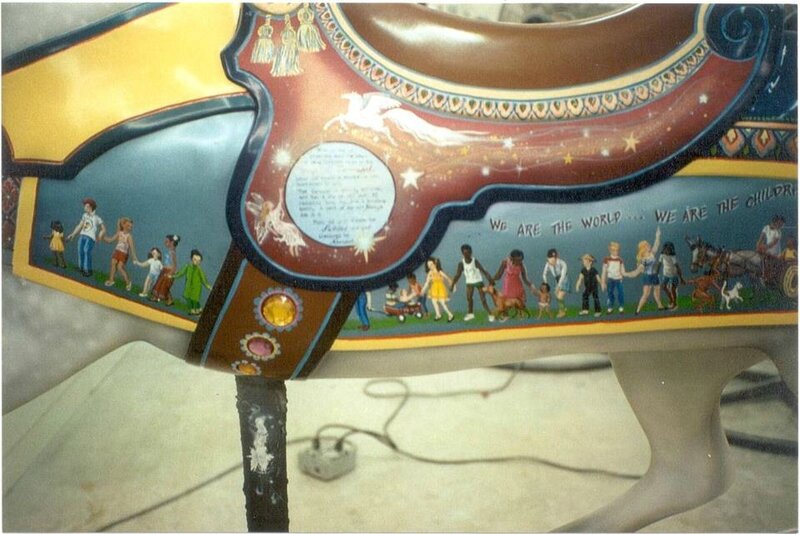 Jonathon L Beauchamp y a fait ajouter une dédicace personnelle "What you have so unselfishly done for others is being returned to you in this Magical Carousel, which will become a source of new inspiration to you. This Carousel is special, spiritual, and has a life of its own. It radiates love, joy, and a healing quality. A part of me will Always be in it. May all your dreams be fulfilled and your blessings be Abundant." ("Ce que vous avez si généreusement fait pour les autres vous est retourné dans ce carrousel magique, qui deviendra une source d'inspiration nouvelle pour vous. Ce carrousel est spécial, spirituel, et a sa propre vie. Il rayonne d'amour, de joie, et a un pouvoir de guérison. Une partie de moi sera toujours en lui. Que tous vos rêves s'accomplissent et que vos bénédictions soient abondantes »).
3- The Eyerly Spider (l'Octopus)
L'installation du carrousel est à peine terminée que commencent, sur la droite de celui-ci les travaux pour « The Eyerly Spider ». L'octopus, une attraction relativement connue des parcs d'attractions, comporte 6 bras et les nacelles, au bout des bras, fonctionnent indépendamment les unes des autres. (à 3 :06 dans la vidéo ci-après)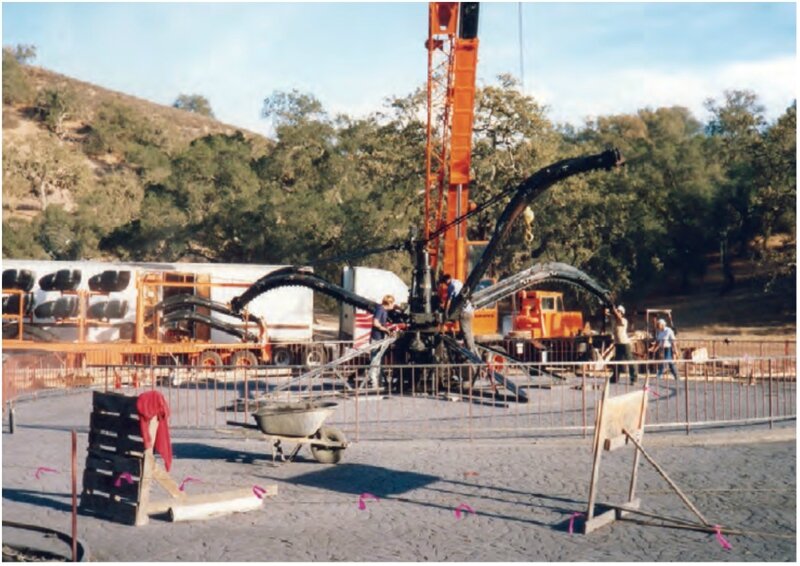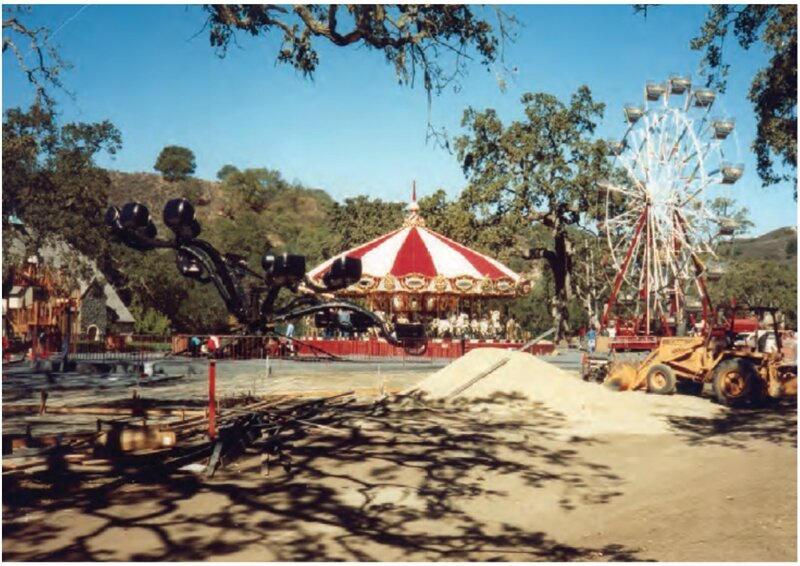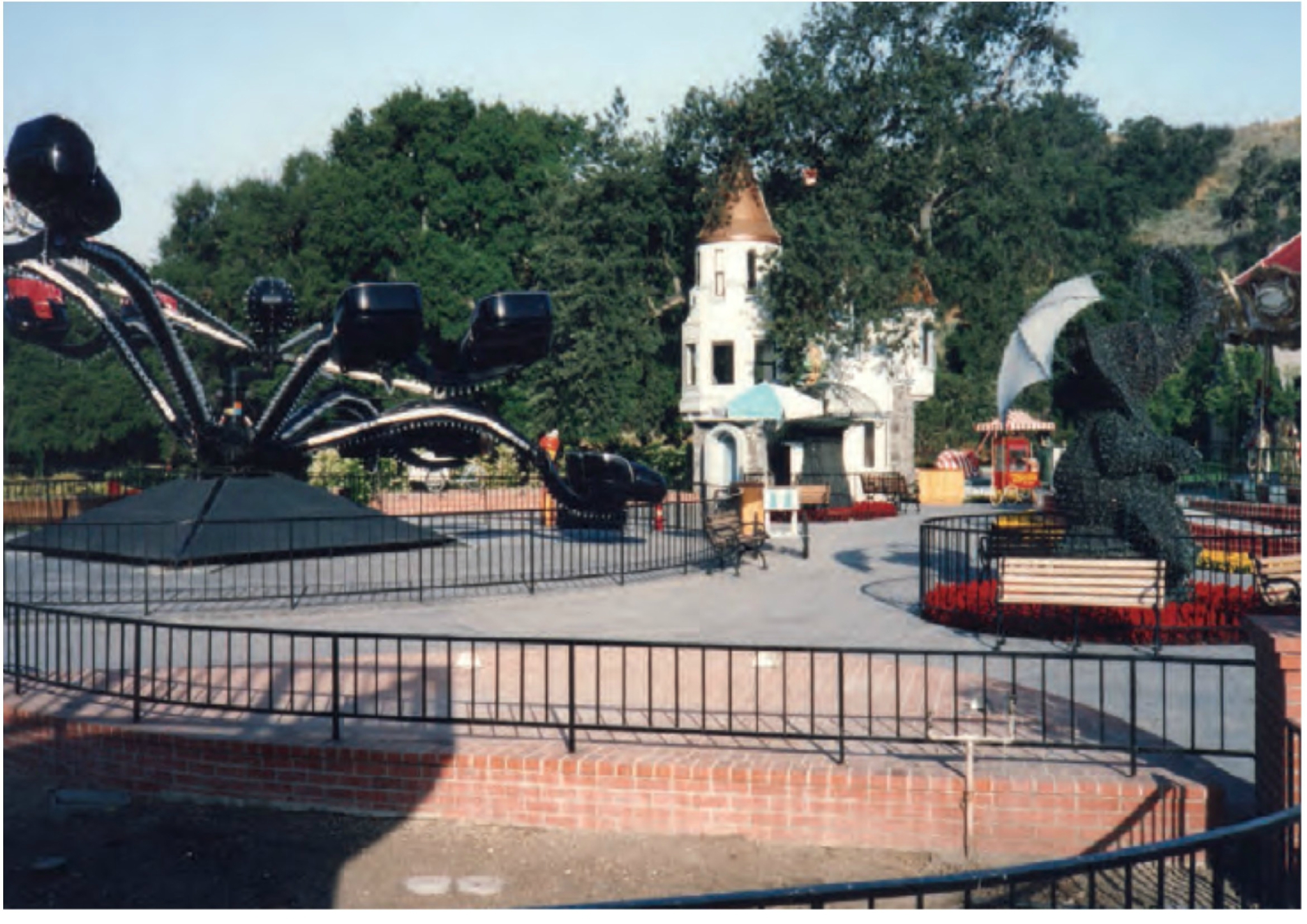 © Robert E. Swinson Private Collection" www.MakerOfDreams.com, (©) 2013
La première phase du parc est donc en place le 31 octobre 1990, avec la grande roue, le carrousel et l'Octopus. Le parc d'attractions, comme tant d'autres, diffuse de la musique. Brad Sundberg a été chargé de toutes les installations musicales et a placé des hauts parleurs près des différentes attactions.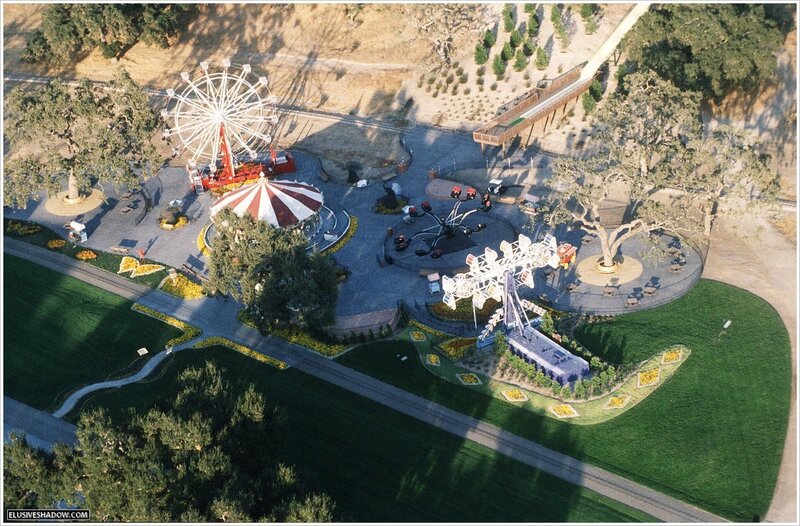 Le rêve de Michael a enfin pris forme mais n'en est qu'à ses débuts.
4- The Giant Slide (le toboggan géant)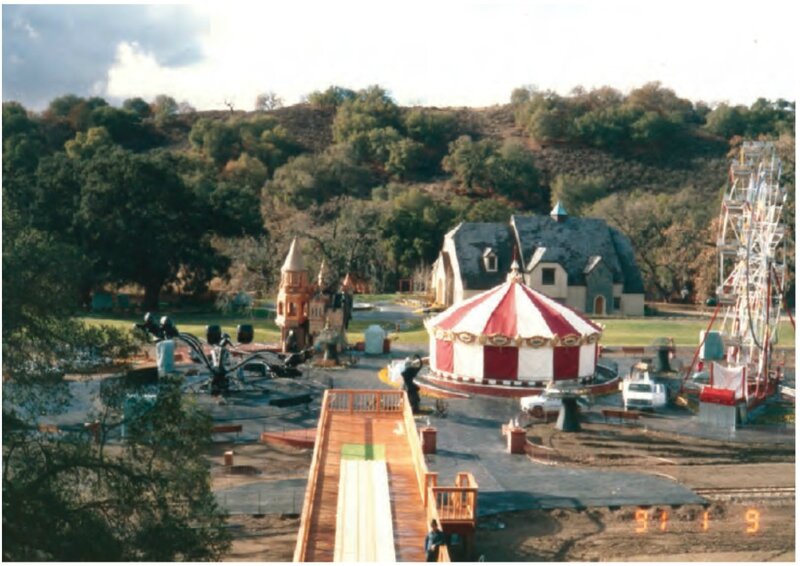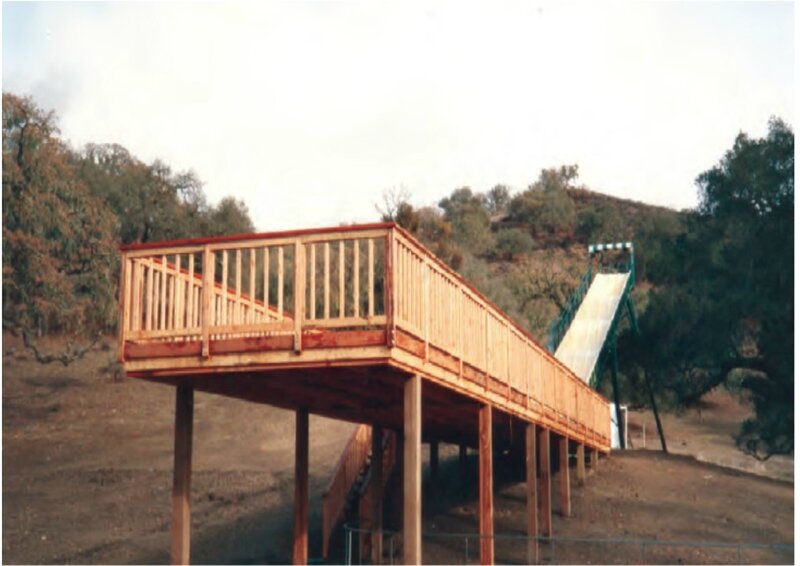 © Robert E. Swinson Private Collection" www.MakerOfDreams.com, (©) 2013
Débuté durant la première phase des travaux, le toboggan géant, avec trois vagues, acheté à la société Man – Co, où l'on voit Michael et Macaulay Culkin s'amuser comme des enfants dans les Private Home Movies (à 3 :43 dans la vidéo), est définitivement en place eau début du mois de janvier 1991. La structure de bois qui réceptionne le toboggan est situé à l'opposé du cinéma, derrière le carrousel.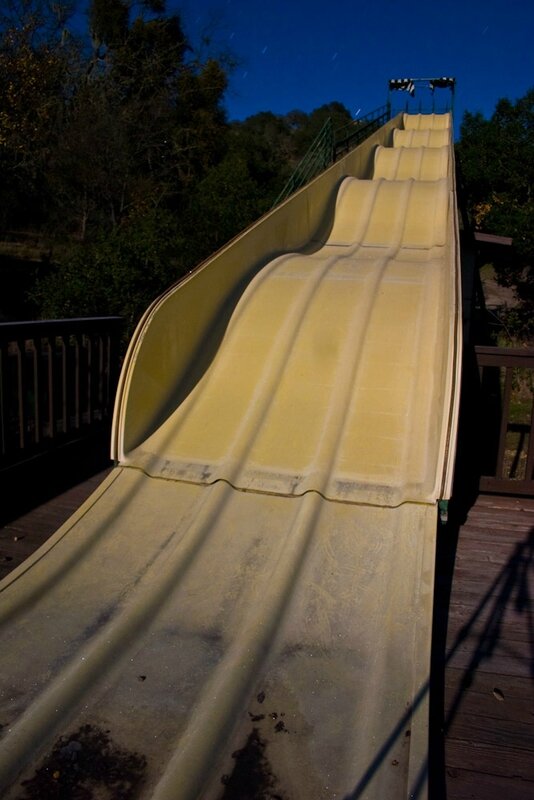 5- The Zipper
A droite du Fantasy Castle, Michael fait installer The Zipper par Chance Rides Inc. Cette attraction dont les nacelles tournaient dans tous les sens pendant que son arête centrale tournait également, deviendra son attraction préférée. Michael prétendait détenir le record de 35 mn d'affilée dans cette attraction. !!!
Grégory Peck a également testé ce manège en juin 1991. Dans les Private Home Movies, on le voit en ressortir très retourné mais prêt à y retourner !! « Never again…I loved it but I hated it (…) Can we do it every weekend ?" (Plus jamais ça, j'ai adoré. mais j'ai détesté… est-ce qu'on peut faire ça chaque week end?). Il y aurait eu deux versions du zipper.
6- The Sea Dragon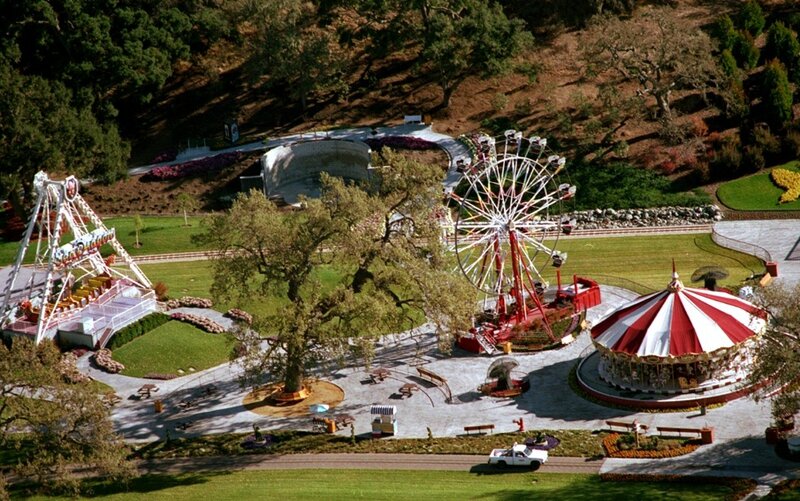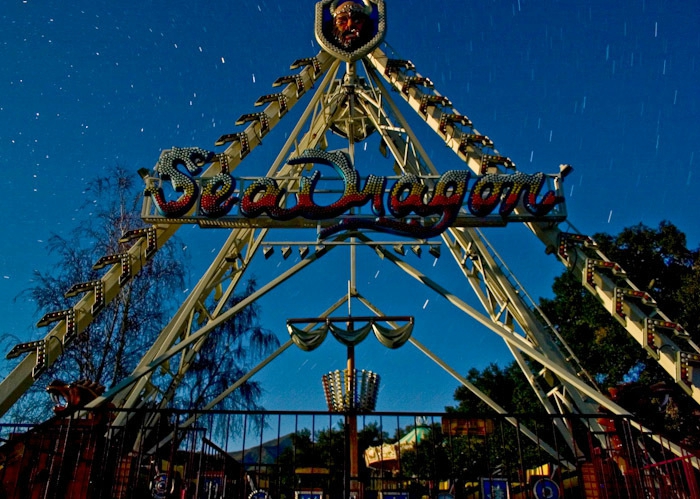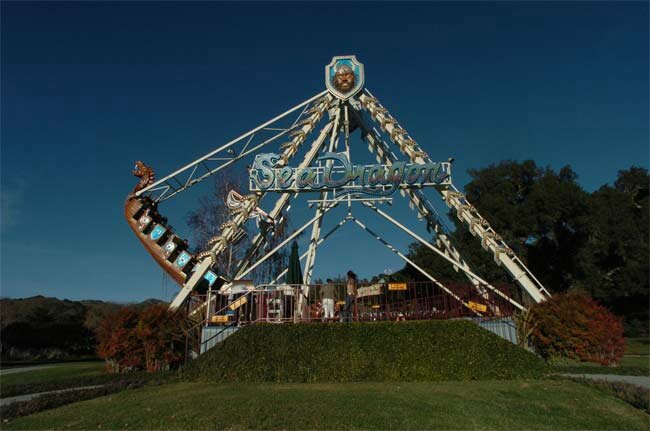 En avril 1992, à gauche de la grande roue, Michael fait étendre son parc en ajoutant le « Sea Dragon », une attraction fabriquée par Chance Rides Inc., dont le bateau viking se balance de plus en plus haut et que Michael aimait beaucoup partager avec les enfants qui visitaient son ranch.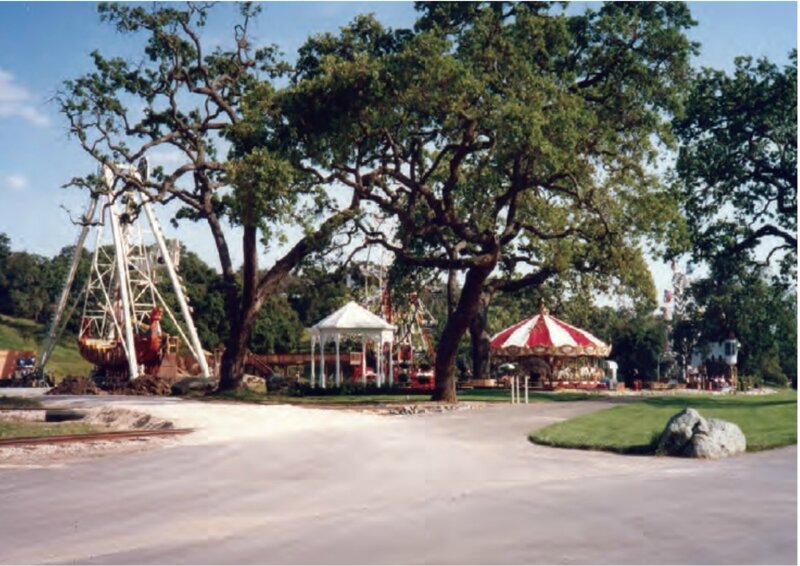 © Robert E. Swinson Private Collection" www.MakerOfDreams.com, (©) 2013
Rob Swinson raconte que Michael aimait se cacher derrière le cinéma-théâtre du ranch pour observer l'évolution de l'installations des attraction. Alors que celui-ci se croyait hors de la vue des employés avec sa chemise rouge, très voyante, ceux-ci étaient tous au courant que la star les regardait!!!
7- The Wipeout
Au-delà du Sea Dragon, le parc s'aggrandit encore et est installé le wipeout, fabriqué par Chance Rides Inc. Il s'agit d'un manège circulaire exploitant la force centrifuge : il tourne horizontalement avant de se mettre à osciller.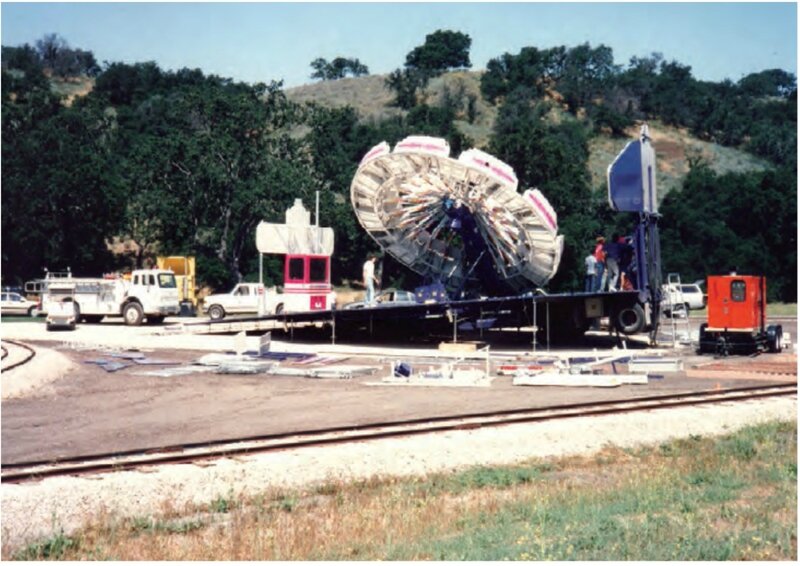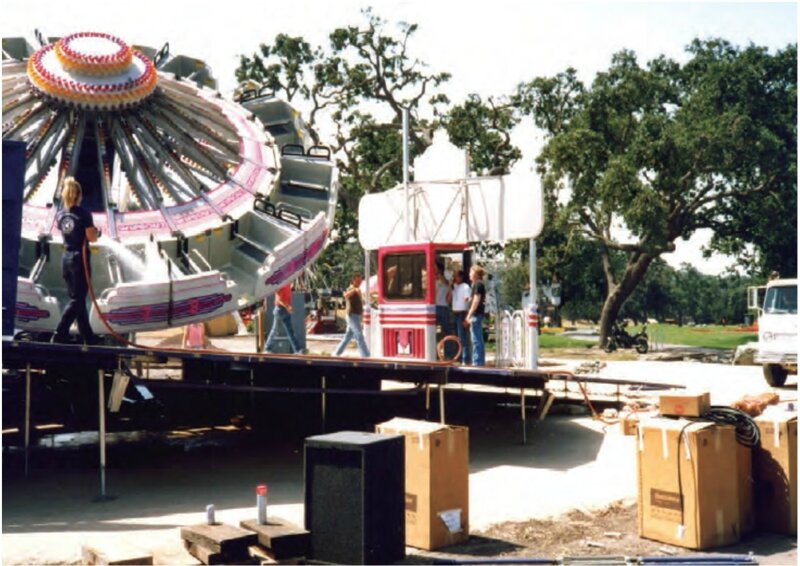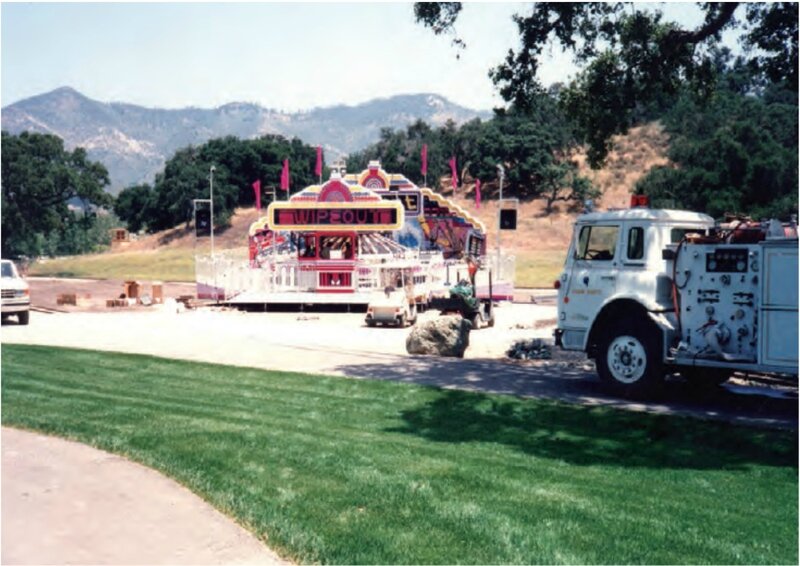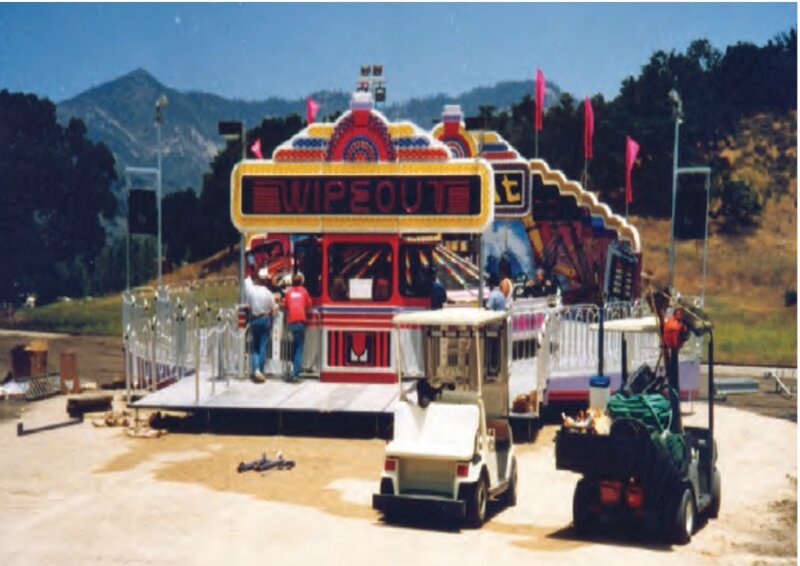 © Robert E. Swinson Private Collection" www.MakerOfDreams.com, (©) 2013
Michael enrichira son parc de plusieurs autres attractions ensuite :
8- The Wave Swinger (les balançoires géantes)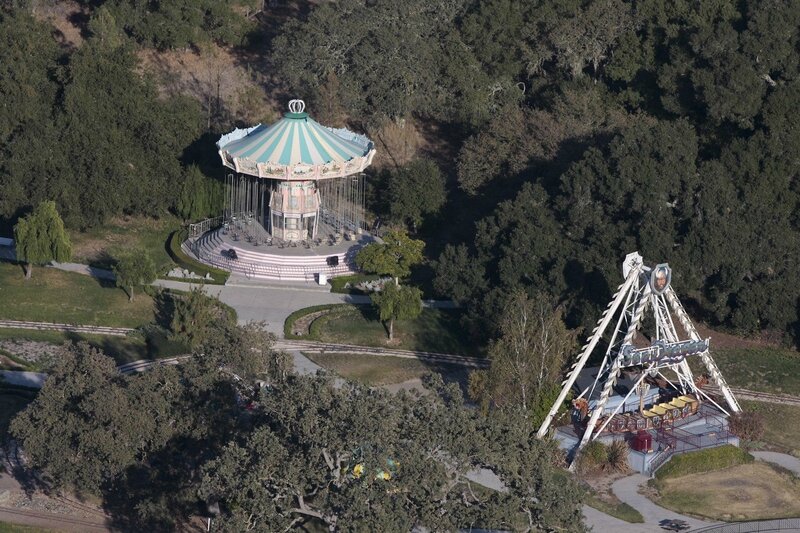 Les balançoires géantes qui transportent les visiteurs en l'air sont installées sur le côté du Wipeout.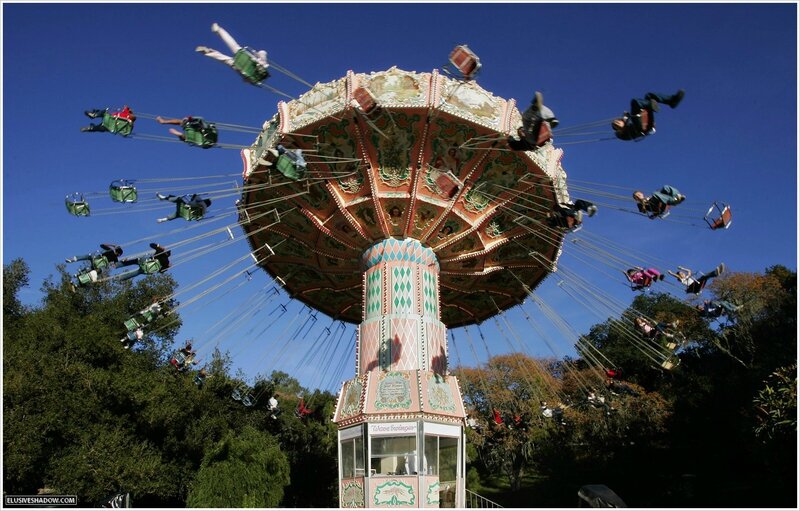 L'attraction, qui ressemble à un gâteau géant rose, est décorée avec des peintures de camée représentant des paysages et des femmes victoriennes.

9- The Bumper Cars (les autos-tamponneuses)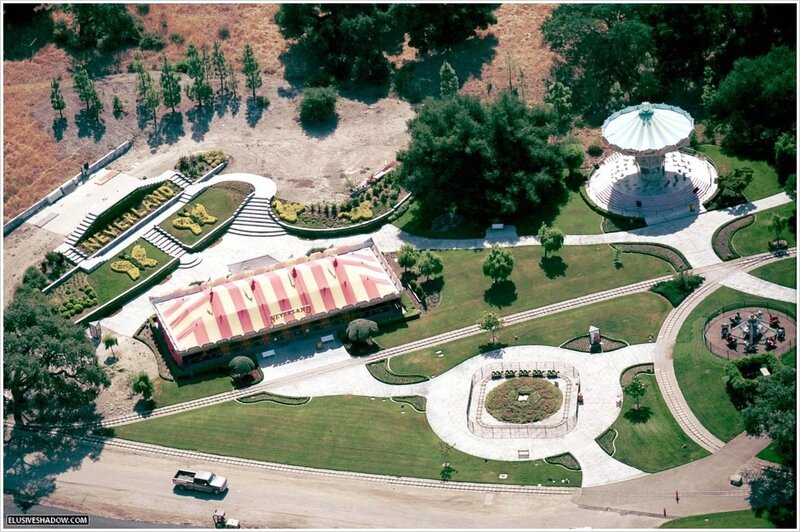 Cette attraction, commandée à Majestic Manufacturing, se trouve à l'extrémité du parc, sur le côté du Wave Swinger. 20 voitures tamponneuses faisaient le bonheur de petits et grands.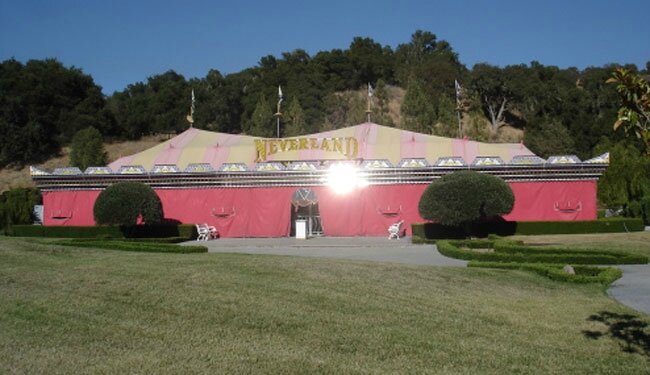 On se souvient de ces photos de Michael conduisant les voitures durant le Martin Luther King Day de 1994 alors qu'il avait ouvert son parc pour les enfants défavorisés.
Le logo de Neverland se trouvait également sur les voitures
Derrière l'attraction, se trouve un magnifique parterre de fleurs et topiaires représentant le mot NEVERLAND, toujours visible aujourd'hui lorsqu'on survole les lieux.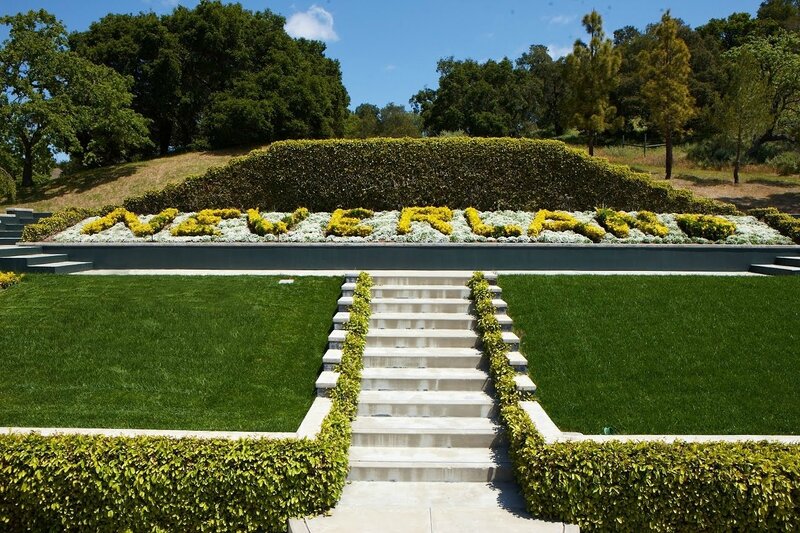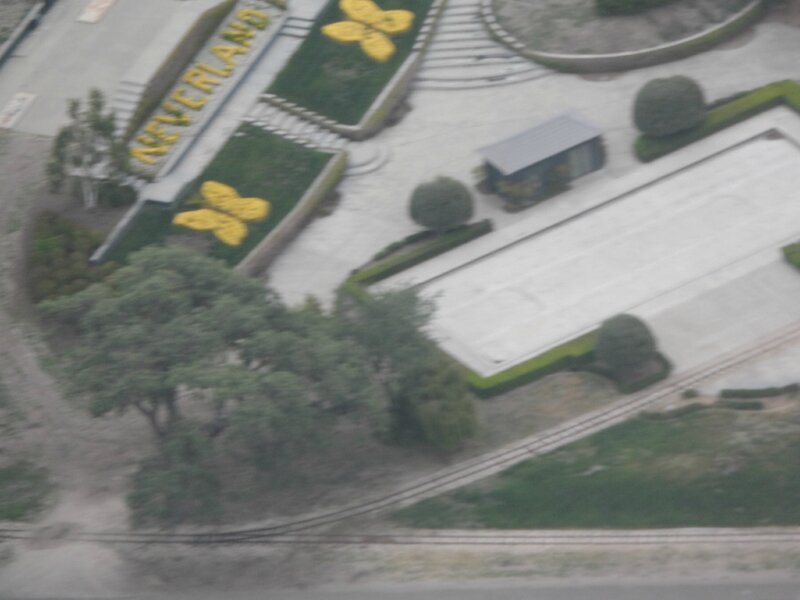 10- The Samba Balloon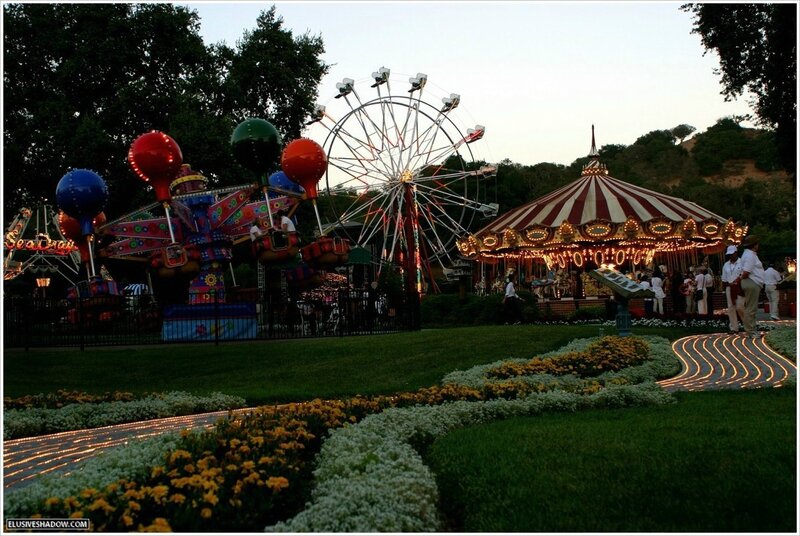 Le manège, très coloré, évoque des montgolfières, et pouvait accueillir jusqu'à 32 enfants. Il était placé à l'entrée du parc, à gauche de la Yellow Brick Road
11- The Lolli Swing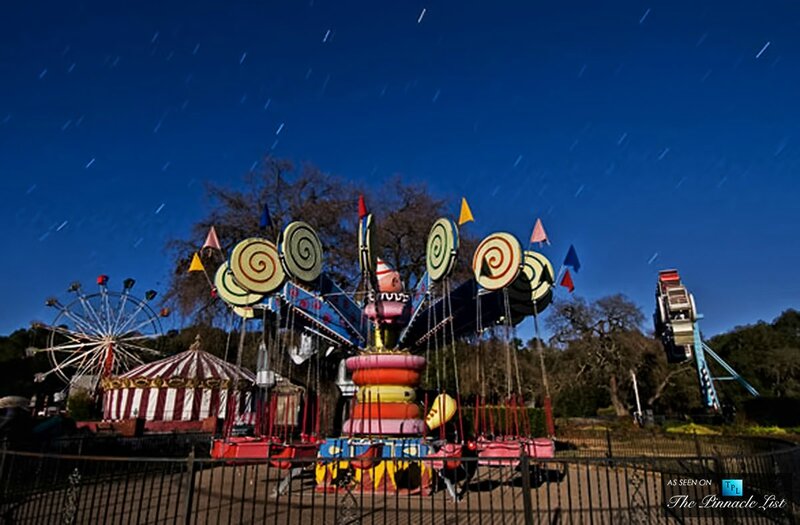 Situées à droite de la Yellow Brick Road, devant le Fantasy Castle, ces balançoires, moins impressionnantes que le Wave Swinger, et donc plus adaptées aux jeunes enfants, étaient fixées à ce qui pourrait ressembler à des sucres d'orge. Michael, semble-t-il, aimait également beaucoup cette attraction.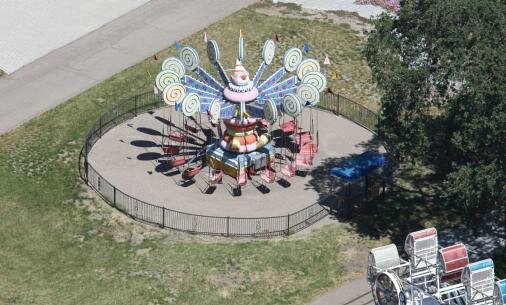 12- The Turtle Train
Il s'agissait d'un petit manège situé en face des autos-tamponneuses constituées de petites tortues qui tournaient sur un circuit de forme carrée.
13- The Dragon Wagon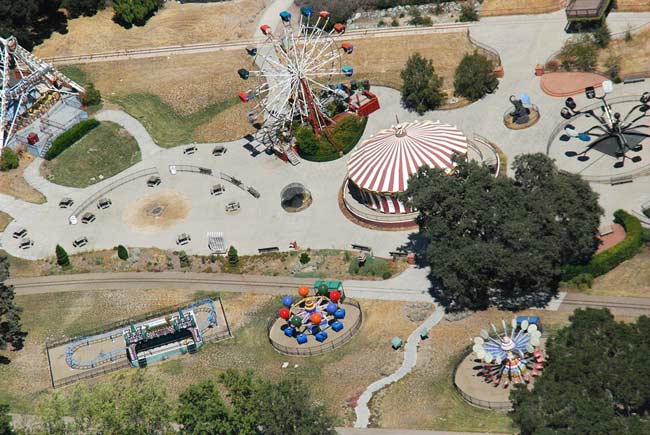 Fabriquées par la société Wisdom, ces montagnes russes spéciales enfant se situaient à côté de l'attraction The Samba Balloon (à gauche sur la photo ci-dessus). Les enfants montaient dans un train en forme de dragon.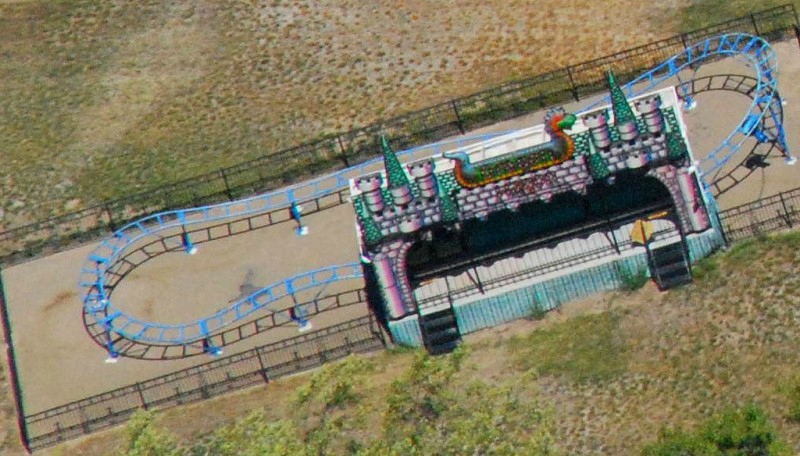 14- The Dumbo/Dragon Ride
Un petit manège typique pour les jeunes enfants qui pouvaient monter dans des nacelles en forme d'éléphants ou de dinosaures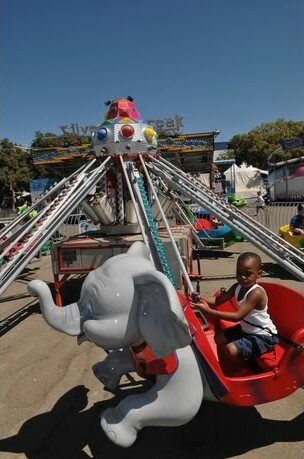 15- The "Jeeps" Ride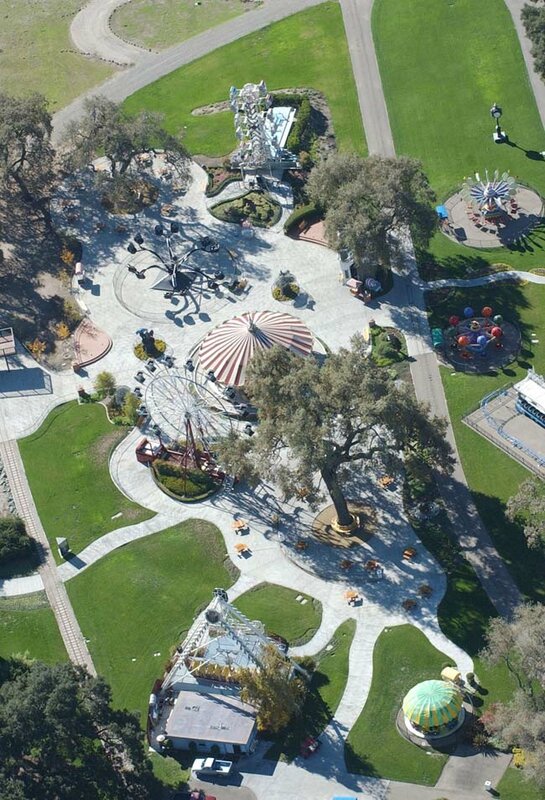 Installé à côté du Sea Dragon, il s'agit d'un manège destiné aux très jeunes enfants qui leur donne l'impression de conduire une voiture, abrité par un immense parapluie vert (en bas à droite sur la photo ci-dessus)
A la nuit tombée, tout s'allume. Le parc et les allées sont illuminés, les guirlandes qui ornent les arbres s'allument et, plus encore qu'en journée, l'endroit devient magique.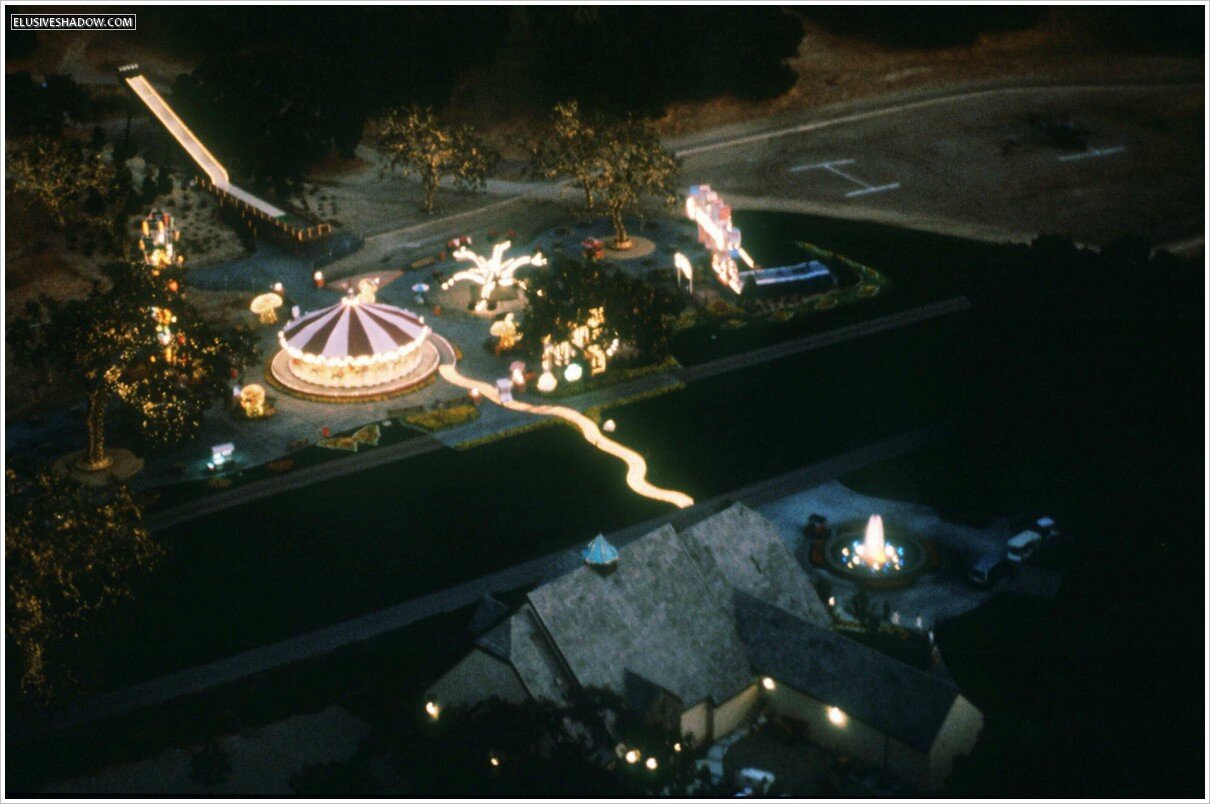 Le terrain de basket-ball et le circuit de karting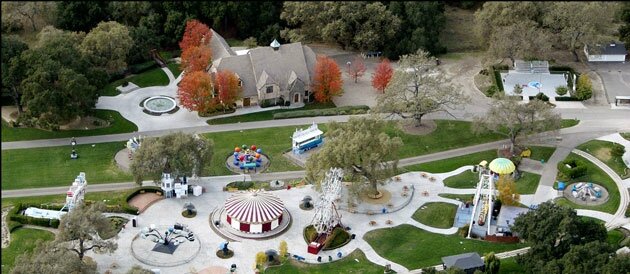 Tout près du parc d'attraction, sur le côté du cinéma, Neverland avait même son terrain de basket équipé de tribunes et d'un panneau de scores ….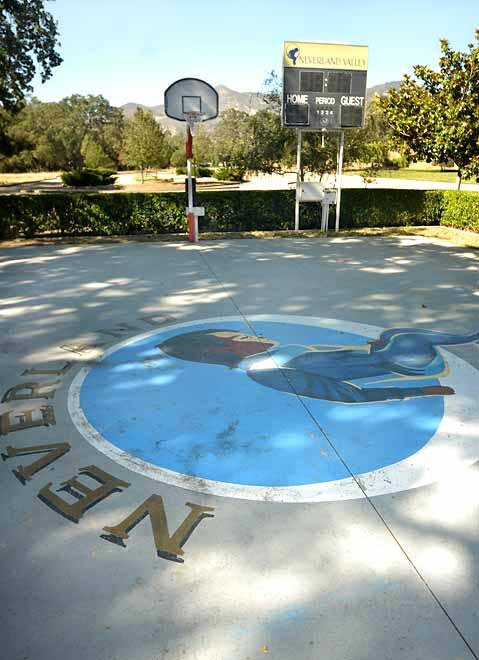 … et un circuit de Karting (en face des autos-tamponneuses). Michael aimait faire la course avec ses invités, ainsi qu'on le voit dans cette vidéo avec Martin Bashir (à regarder sans le son :) )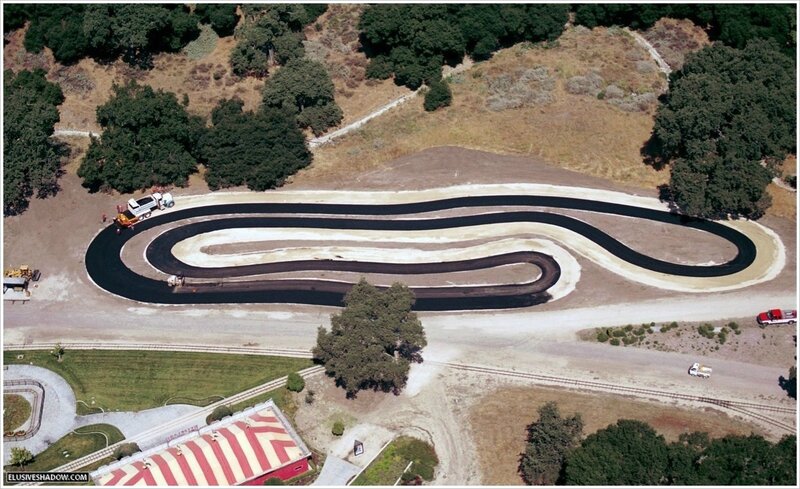 Les topiaires
De nombreux topiaires ornent le parc d'attractions, à l'instar du reste du ranch. Ceux autour des attractions prennnent des formes différentes et sont ornés de guirlandes qui les illuminent le soir:
Plusieurs champignons dont un avec une chenille, à côté du Fantasy Castle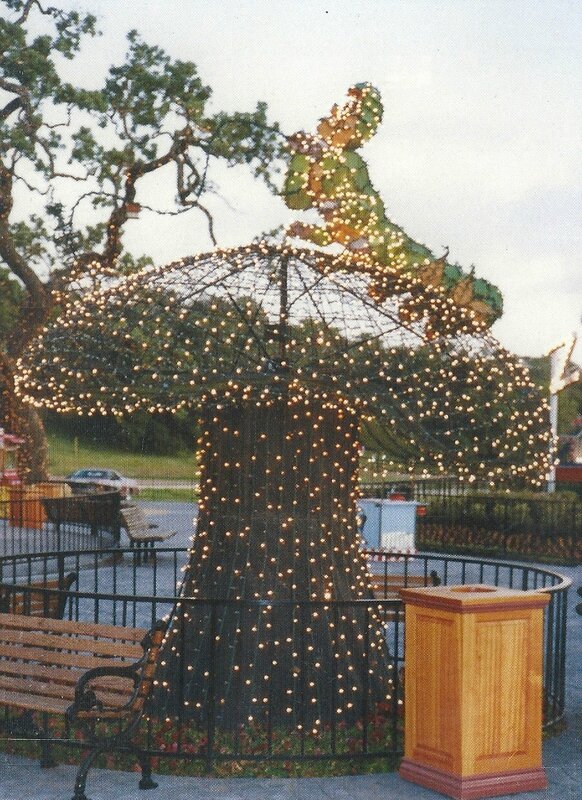 © Robert E. Swinson Private Collection" www.MakerOfDreams.com, (©) 2013
Un éléphant (avec un parapluie)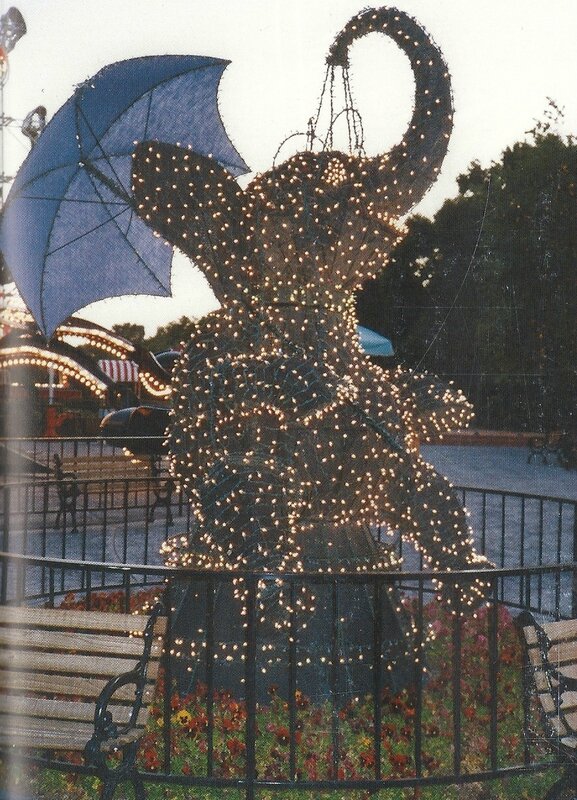 © Robert E. Swinson Private Collection" www.MakerOfDreams.com, (©) 2013
Un ours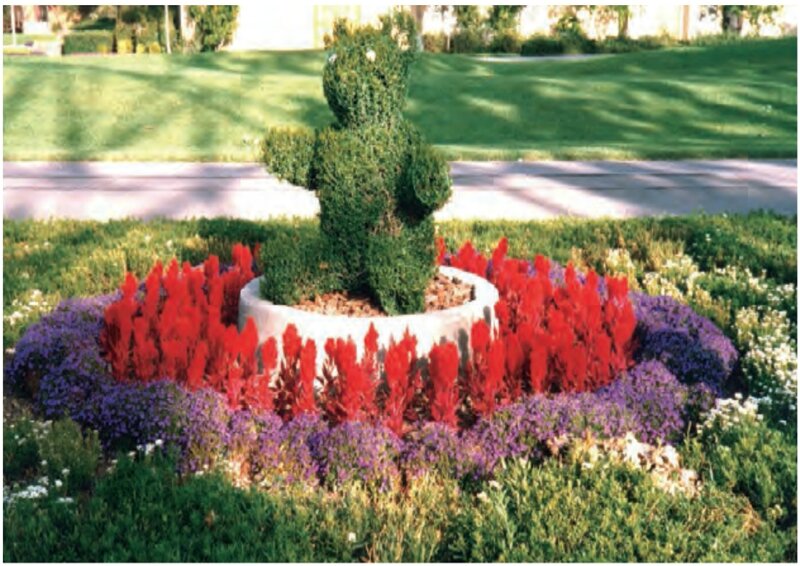 © Robert E. Swinson Private Collection" www.MakerOfDreams.com, (©) 2013
Le chat d'Alice au pays des Merveilles, sur le côté du Fantasy Castle, est également illuminé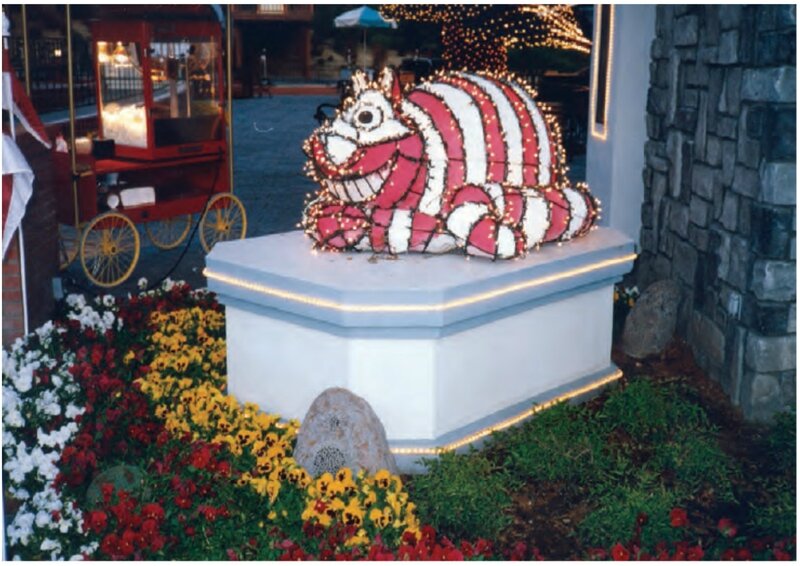 Un parc d'attraction ne serait pas digne de ce nom sans les distributeurs de pop-corn et de glaces.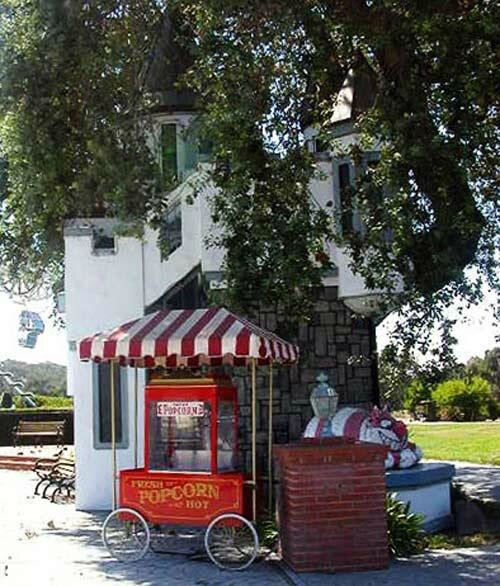 Le village d'indiens et la forteresse
Tout près du lac et des parties privées, et donc assez éloigné du parc, Neverland avait son propre village d'Indiens. Trois beaux tipis au sol moquetté, un totem et des mannequins d'indiens faisaient de l'endroit un de ceux où Michael venait régulièrement se réfugier et où il aimait passer du temps avec ses invités.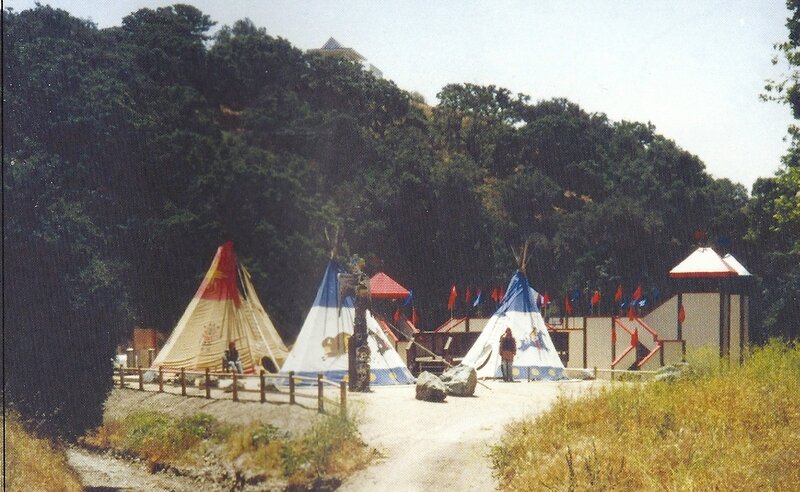 © Robert E. Swinson Private Collection" www.MakerOfDreams.com, (©) 2013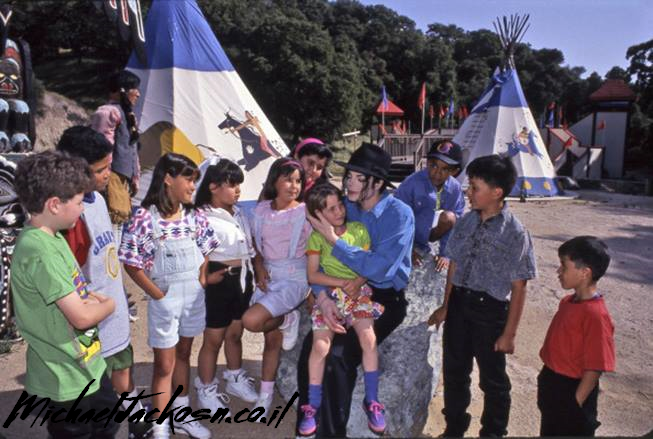 Une passerelle en bois menait à la forteresse pour les batailles d'eau, un jeu où Michael était champion. Il s'agissait d'une très grande structure en bois avec des tours aux toits rouges et bleus et des filets qui les reliaient.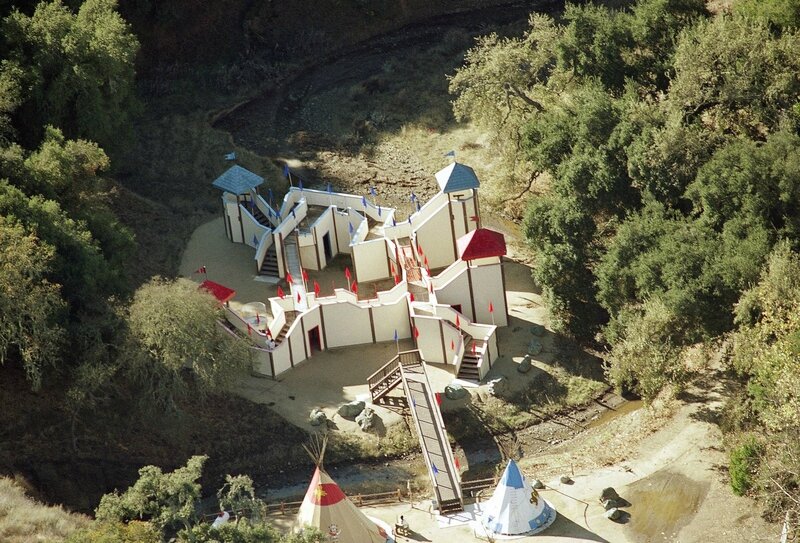 Si les tipis ont été retirés et seuls restent désormais les emplacements, la forteresse est, elle, toujours visible.
Il est très triste aujourd'hui de voir le parc vide de toute cette magie que Michael a mis tant de cœur à mettre sur pied et qui a procuré tellement de bonheur aux enfants qui ont la chance d'entrer à Neverland (voir aussi l'album photo du vol au dessus du ranch). Les emplacements sont bien là mais les attractions ont été ôtées et vendues à d'autres parcs à travers les Etats Unis, faisant souvent la joie de leurs visiteurs.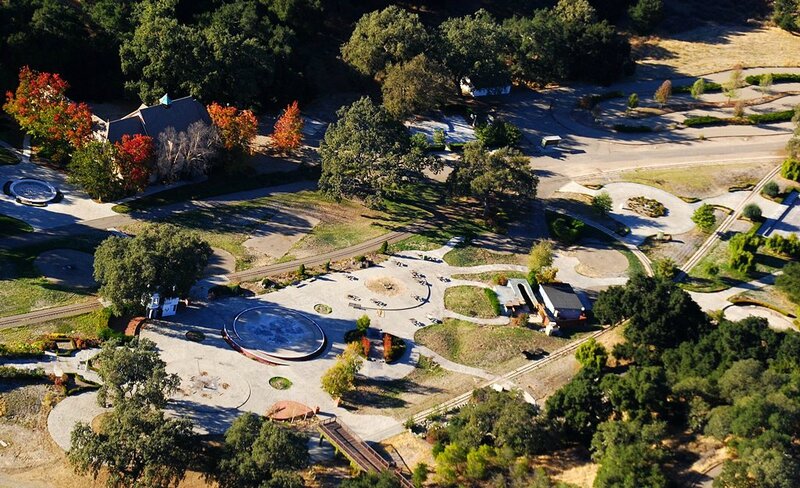 Neverland ne retrouvera sans doute jamais son prestige des jours heureux mais l'endroit restera à jamais attribué à celui qui en a fait un lieu enchanté.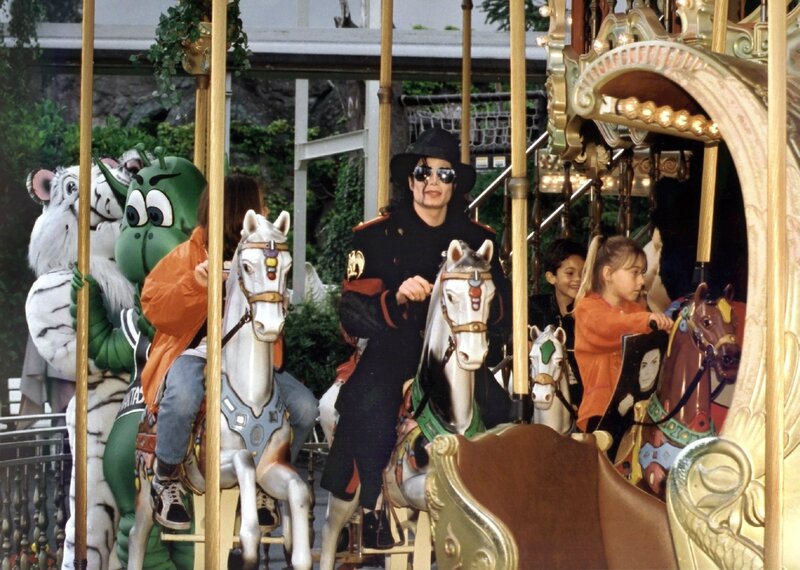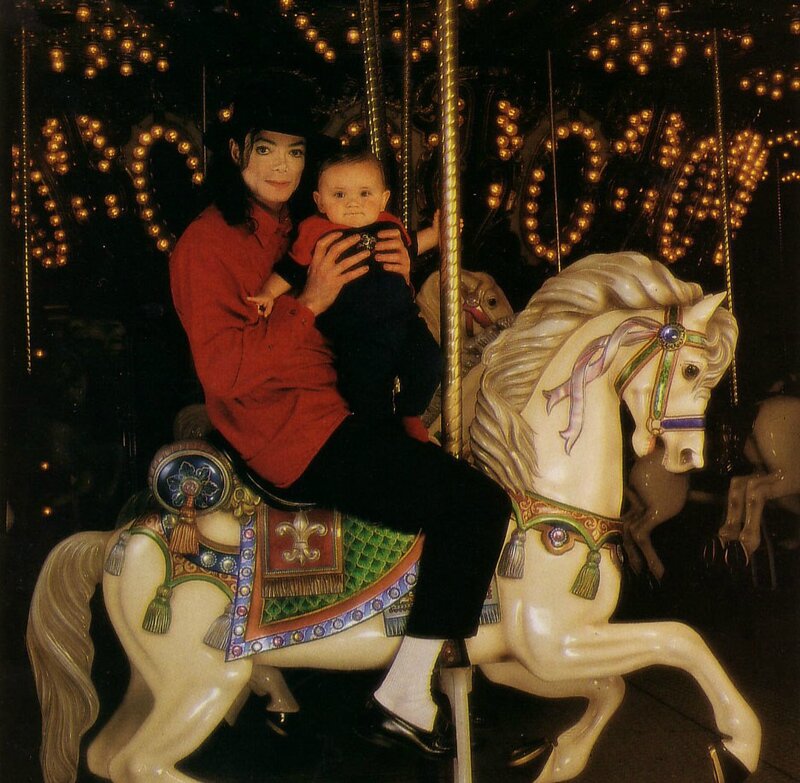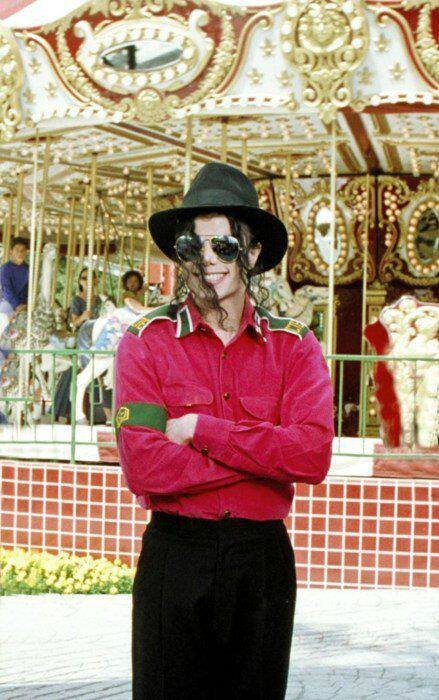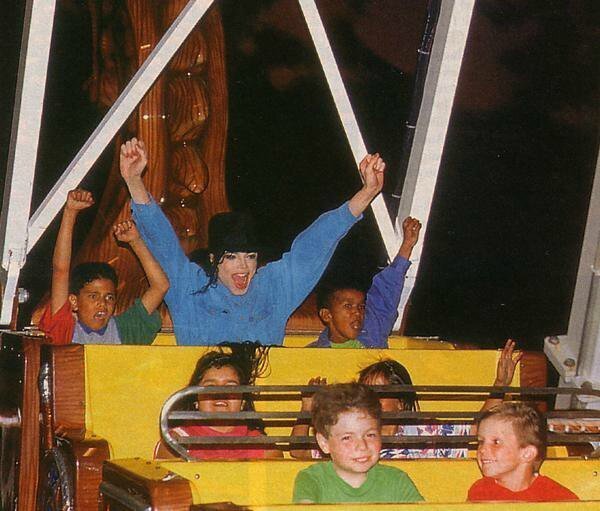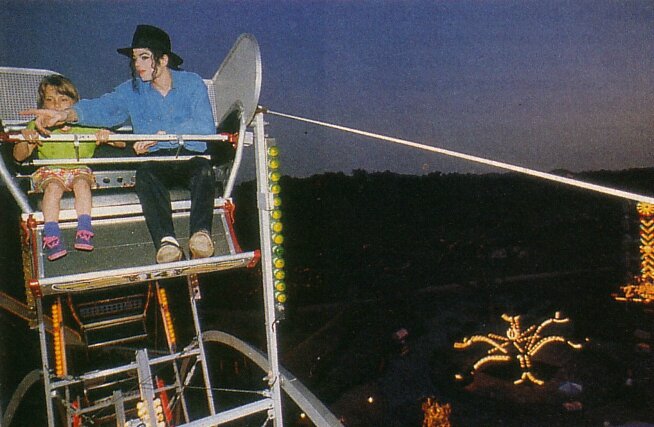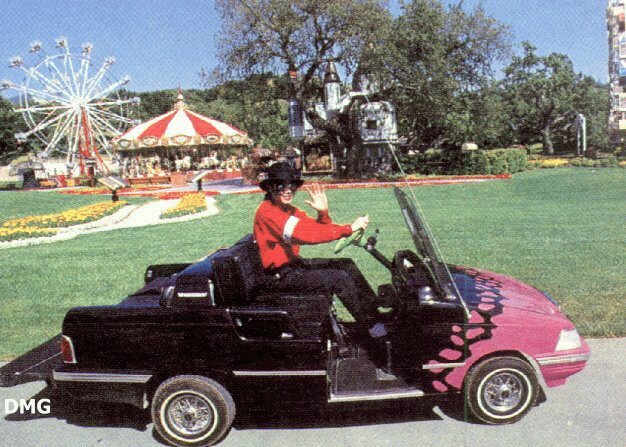 Sources: Merci Rob Swinson pour son superbe livre Maker of Dreams/ Enolalee.blogspot.fr/ The Pinnaclelist.com/Elusiveshadow.com/lacortedelreydelpop.com/MJSabe (facebook)