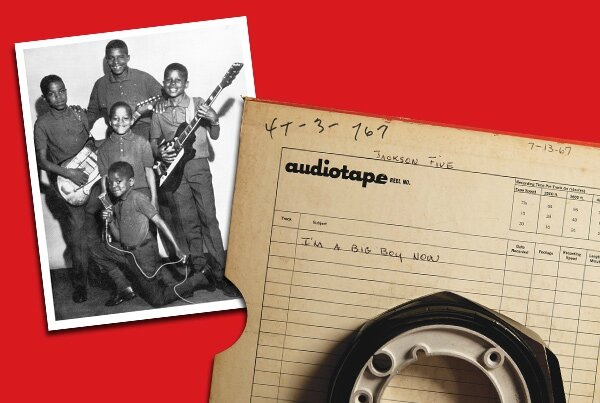 Tous les fans de Michael Jackson connaissent bien le titre Big Boy, premier enregistrement officiel du groupe The Jackson 5 sous le label Steeltown Records sorti le 30 janvier 1968. La démo chez Steeltown date de novembre 1967 et a été enregistrée au Morrison Sound Studio de Sunny Sawyer sur West 69th Street à Chicago (ainsi que trois autres titres : 'You've Changed', 'We Don't Have To Be Over 21 (To Fall In Love)', 'Some Girls Want Me For Their Lover').
Les masters de 'Big Boy' de Steeltown/Sunny Sawyer
Le titre ne sera distribué que localement et les frères Jackson le vendront lors de leurs représentations.
Le label Atlantic Records, attiré par le petit succès du groupe contacte Steeltown pour signer un contrat de distribution plus important avec sa filiale Atco. Le 05 mars 1968 sort la deuxième édition du titre qui remportera un succès plus conséquent, Atco ayant fait pressé 10 000 copies.
Mais une autre version de Big Boy, la toute première enregistrée par les cinq frères, a refait surface il y a quelques années. En effet, en juillet 1967, le groupe a enregistré le titre alors appelé 'I'm A Big Boy', pour One-Derful Records, un studio de Chicago que possédaient George et Ernie Leaner où les Jackson 5 répétaient régulièrement, situé au 1827 S Michigan Avenue (le studio est aujourd'hui un cabinet dentaire)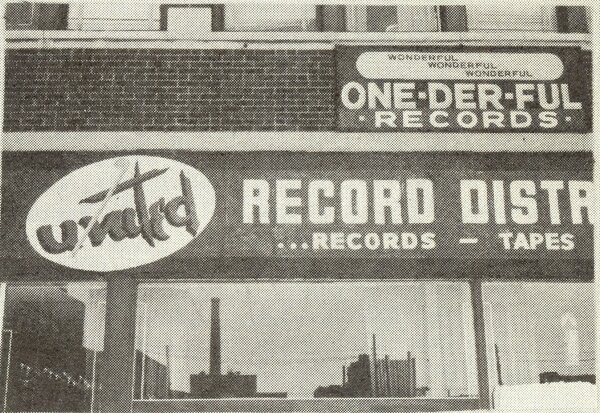 Oubliée jusqu'en 2009, la démo, écrite par Ed Silvers alors directeur musical pour le label One-Derful Records, a été retrouvée à l'initiative d'un journaliste du Chicago Reader, Jake Austen. Celui-ci, en quête d'une histoire sur les sorties de Steeltown, apprend par Larry Blasingaine l'existence de cette session d'enregistrement. Alors jeune musicien de 15 ans, Larry participait régulièrement avec son groupe The Four Dukes (qui s'appelera plus tard Larry & The Hippies) à des sessions pour le studio.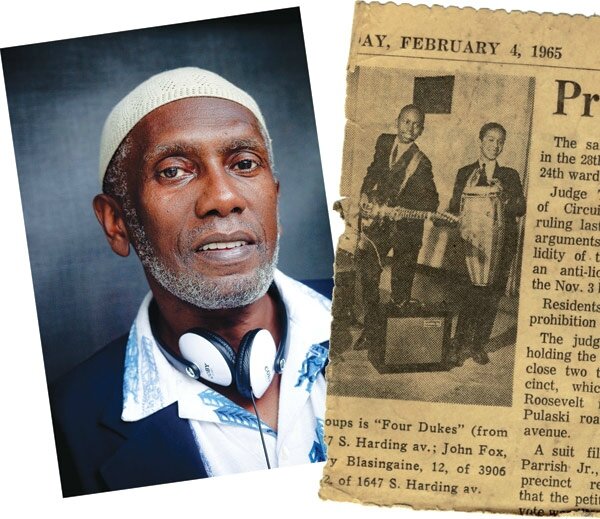 Larry Blasingaine aujourd'hui et en 1965 avec son groupe The Four Dukes
Blasingaine se souvient qu'un après-midi de juillet 1967, environ quatre mois avant la session dans les studios de Sawyer, il est entré dans le studio et a trouvé ses amis les Jackson Five en train d'enregistrer avec le compositeur Eddie Silvers et le producteur Otis Hayes. Le groupe de Blasingaine croisait souvent la route des frères Jacksons, ils fréquentaient le même circuit, partageant parfois le matériel. "Eddie Silvers les produisait", indique Blasingaine. "Il avait écrit la chanson qu'ils étaient en train d'enregistrer, 'Big Boy', et quand il m'a vu arriver il m'a dit: "Larry, j'ai besoin de toi une minute. Je veux que tu montre sau bassiste, Jermaine, comment utiliser sa basse". "Je lui ai montré comment utiliser la partie charnue de la paume pour tenir les cordes, parce qu'il jouait avec ses pouces.. ". Silvers a alors demandé à Blasingaine s'il avait sa guitare: "Prends ta guitare, je veux que tu joues cette autre partie avec eux". Et je l'ai fait."Silvers avait écrit une partie de guitare mélodique pour l'intro de la chanson qui était probablement trop difficile pour Tito". Blasingaine a enregistré le morceau et est parti. "Je ne me rappelle même pas si j'étais là quand ils ont chanté. Une fois l'enregistrement terminé je suis parti. J'étais jeune, nous avions d'autres choses à faire".
Le chanteur-compositeur Billy McGregor, se souvient également qu'en 1966, alors qu'il travaillait sur son futur single 'Mr Shy' avec Eddie Silvers, il a vu arriver en studio Joe Jackson avec le petit Michael, sans ses frères, pour une audition. "Il a chanté 'Tobacco Road' a capella pour George Leaner qui a bien remarqué le talent du jeune garçon mais il ne voulait pas investir sur lui en raison de son jeune âge et du fait qu'il avait toujours quelqu'un avec lui". Ceci explique sans doute pourquoi le groupe n'a jamais sorti d'album avec le label. Pourtant Leaner semblait impressionné par le groupe, le faisant venir répéter trois ou quatre fois par semaine à Chicago, en fin d'après –midi, après que les garçons aient fini leurs cours.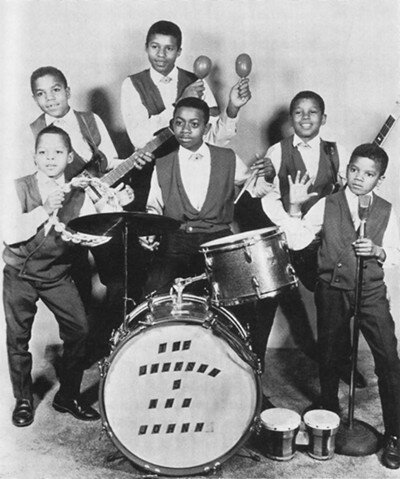 "C'était tous des enfants géniaux, ils écoutaient et je pense que c'est ce qui les prédisposait à leur longue carrière. Leur père leur avait enseigné ça, apprendre, apprendre et apprendre encore" se rappelle Otis Hayes. Ce dernier n'a cependant pas beaucoup de souvenir de l'enregistrement. Les Jackson 5 passaient beaucoup de temps en studio et pour lui cela ressemblait plus à une répétition enregistrée sur laquelle George Leaner voulait entendre ce que le groupe donnait en studio. Pour des raisons qu'ils ont emportées avec eux, George et Ernie Leaner ont décidé de ne pas sortir le titre des Jackson Five et ont vendu les droits du groupe à Gordon Keith de Steeltown ….la suite, nous la connaissons.
Qu'est devenu cet enregistrement de 'Big Boy' ?
Après avoir appris l'existence de ces sessions d'enregistrement, Jake Austen contacte l'un des héritiers de One-Derful Records, Eric D. Leaner. Celui-ci n'avait que 5 ans en 1967 et ne souvient pas du passage des Jackson 5 dans le studio de son père Earnie. Les acteurs de cet enregistrement Eddie Silvers, Otis Hayes et le compositeur Jimmy Jones sont toujours restés très discrets dessus à tel point que les héritiers du label n'en connaissaient pas l'existence.
"Jusqu'à ce que Jake Austen m'appelle pour m'expliquer qu'il existait peut être une démo des Jackson 5, et que si nous l'avions, ce serait le Saint Graal des enregistrements Jackson, nous ne savions pas que nous l'avions en notre possession», raconte Eric Leaner. "J'ai demandé à mon beau-frère Herb Newkirk de voir s'il y avait un espoir de la retrouver car nous avions déjà regardé toutes les bandes. Quelques jours plus tard, il m'a appelé et m'a dit: "Je l'ai trouvé! "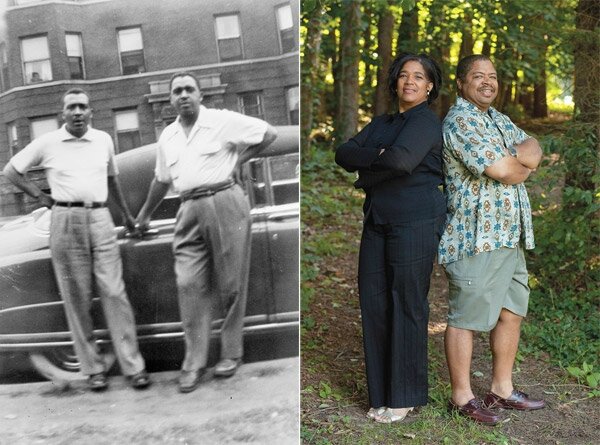 A gauche: George and Ernie Leaner vers 1949. A droite: Phyllis Newkirk and Eric Leaner, les enfants de Earnie
Le 17 Août 2009, le journaliste Jake Austen reçoit un e-mail d'Eric Leaner l'informant que sa soeur, Phyllis Newkirk, venait de trouver deux bandes très prometteuses dans les coffres. L'une, datant du 22 Juillet 1967, sur laquelle était indiqué " "Jackson 5 band tracks" and "Young Folks band." (The Young Folks était un groupe de jeunes talents avec qui Blasingaine avait souvent joué.) Malheureusement, la bande avait l'air d'être gravement détériorée, déformée et décolorée et son revêtement magnétique se décomposait. Mais le plus étonnant est qu'une autre bande, en date du 13 Juillet 1967, semblait être en excellent état. Elle portait le nom "Jackson Five—I'm a Big Boy Now"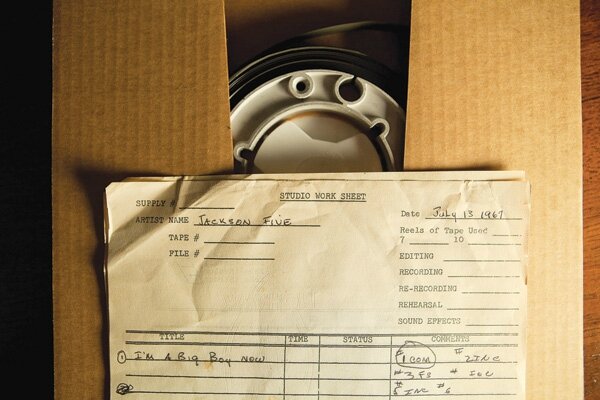 Larry Blasingaine avait été très déçu d'apprendre que la version de 'Big Boy' qui a été éditée par Steeltown n'est pas celle à laquelle il avait participé. Depuis plus de 40 ans, il croyait avoir joué sur le premier single des Jackson Five. Bien qu'il s'agissait d'une chanson avec une production de médiocre qualité ("C'était une sorte de mix sympa juste pour un enregistrement de One-Derful" se souvient-il), il n'avait jamais entendu parler qu'une autre version avait été enregistrée. Le musicien a cependant été ravi de savoir que l'enregistrement qui a été retrouvé dans les coffres de l'ancien label One-Derful est une version très rare et que sa contribution au groupe n'a pas été vaine.
Depuis 2009, la bande a été protégée et transférée et sera finalement disponible dès le 28 octobre 2014. Les 500 premières personnes qui passeront commande des 7 CD ou 12 disques vinyles de la One-derful! Collection découvriront 147 titres de l'ancien label, dont 57 inédits et parmi lesquels ce fameux titre "I'm A Big Boy" de ce jeune groupe qui allait devenir internationalement connu quelques années plus tard, les Jackson 5.
A à peine 9 ans à l'époque, Michael offre sur ce morceau une performance vocale magnifique et émouvante pour un si jeune garçon, tandis que ses frères réalisent les harmonies vocales tout en jouant de leur propre instrument. Le titre, loin du travail calculé et réglé que le groupe produira bientôt pour la Motown capture toute la puissance de la voix du jeune Michael sur le point de sortir de l'enfance ….une enfance qu'il recherchera toute sa vie et qui semble déjà brisée lorsqu'on lit les paroles de ce titre:
Fairy tales, fairy tales
I don't enjoy
Fairy tales and wishful dreams
Are broken toys
'Cause I'm a big boy now
Sources: chicagoreader.com/rollingstone.com/damienshields.com/forum.jackson5abc.com
L'article du Chicago reader, The Jackson Find de Jake Austen, paru en 2009, concernant l'existence de cet enregistrement de Big Boy de1967 ,a été traduit et est disponible en téléchargement ici. Merci à Catherine Renault pour cette traduction.