La visite du ranch continue au-delà du parc d'attractions. Plus loin, à l'extrémité du ranch, se trouve le zoo privé, créé par Michael Jackson lui-même qui abritait toutes sortes d'animaux.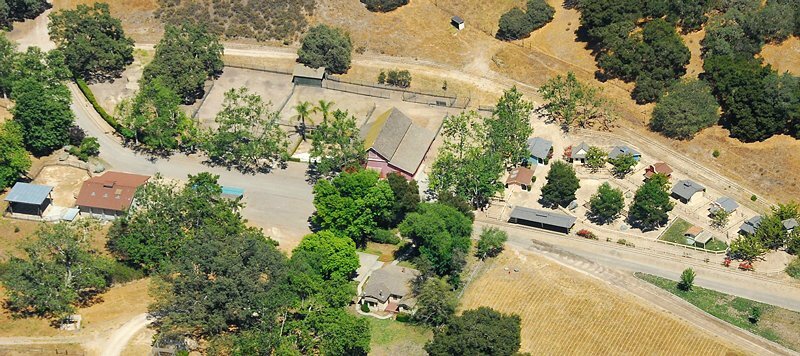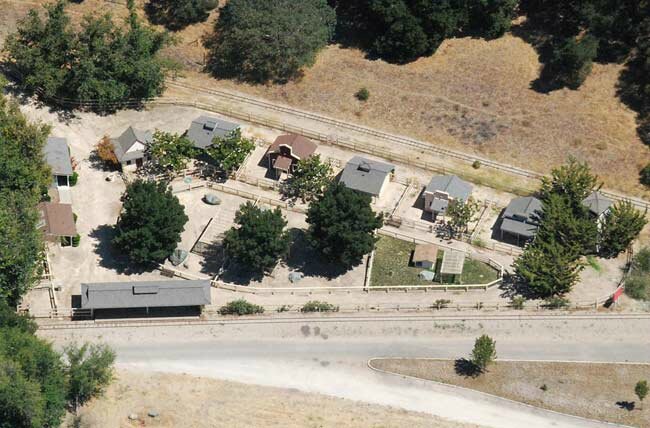 Les premiers baraquements ont été construits, au début des années 90, entre deux circuits du petit train qui traverse le ranch, permettant ainsi aux invités de Neverland d'avoir une vue optimale sur tous les animaux.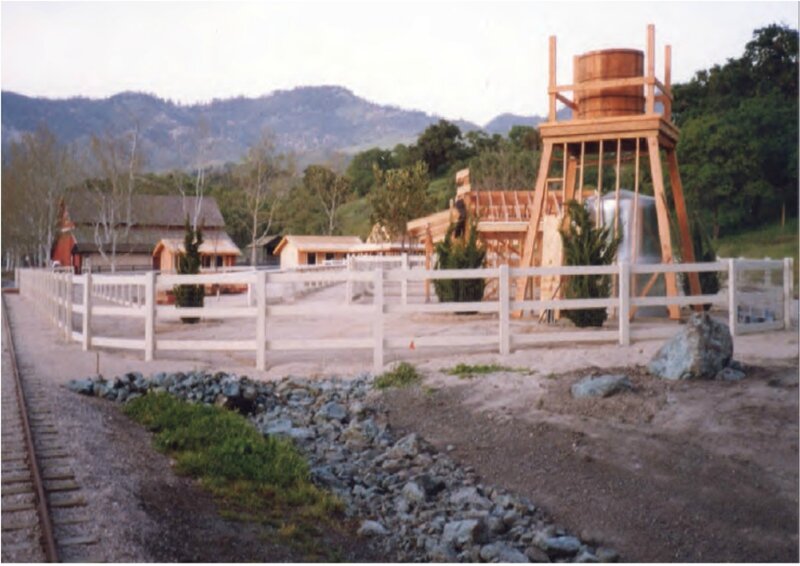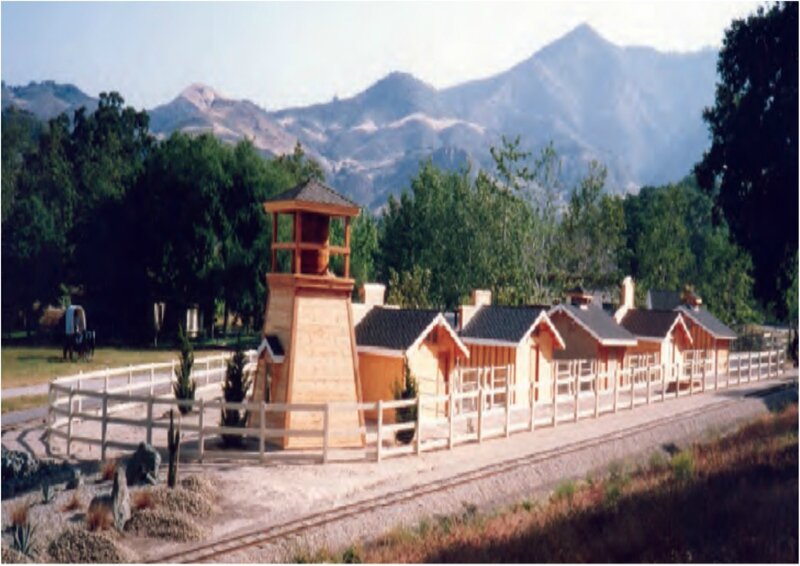 © Robert E. Swinson Private Collection" as found in my personal memoir, www.MakerOfDreams.com, (©) 2013.
« Michael avait une véritable ménagerie qu'il avait ramenée de la maison familiale de Hayvenhurst ; le chimpanzé Bubbles s'y promenait en compagnie des girafes, des éléphants, des lions, des tigres, des alligators ; il y avait également un orang-outan, un chameau et toutes les espèces de reptiles et d'oiseaux d'Amérique du Sud (…), chacune ayant sa propre cage, son coin pour le jeu et le repos. N'oublions pas les fameux chevaux de trait, un croisement entre des chevaux écossais et des chevaux percherons » se souvient Jermaine, le frère de Michael (1)
Une grande pancarte annonce l'entrée dans la zone animalière du ranch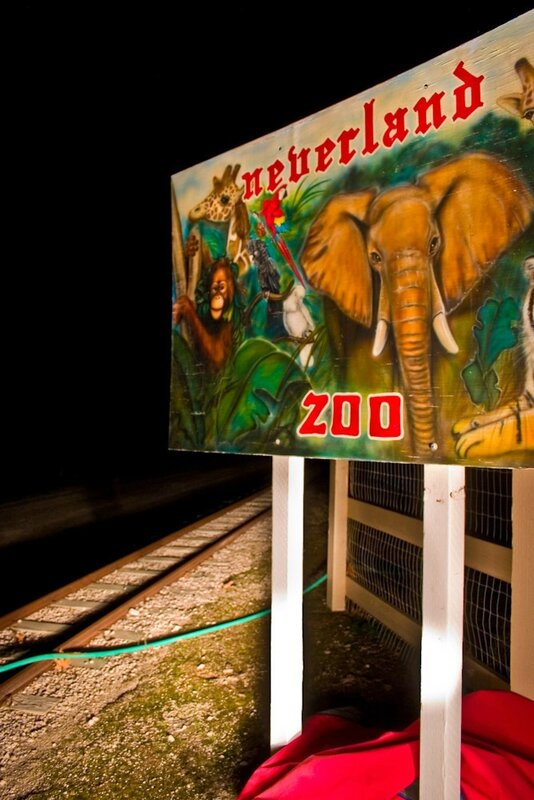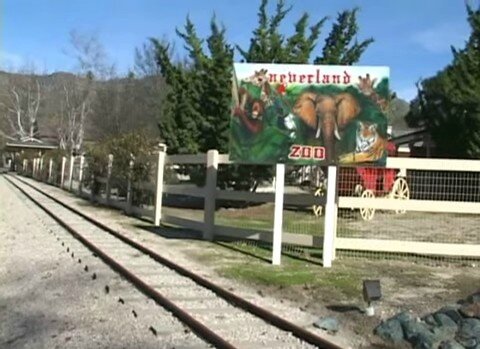 Un peu plus loin, se trouve la station où s'arrête le train, derrière les petites maisons en bois.
Frank Cascio, dans son livre, Mon ami Michael, paru en 2012, évoque ses impressions lors de sa première visite à Neverland à l'âge de 12 ans : « La visite d'un zoo privé a quelque chose d'étonnant. Michael avait des spécialistes sur places pour s'occuper des animaux : un pour les reptiles, un autre pour les ours, les lions et les chimpanzés, un autre encore pour les girafes et les éléphants (…). Ils sortaient les bêtes pour nous, nous laissaient leur donner à manger, nous parlaient de leurs habitudes. »
Les reptiles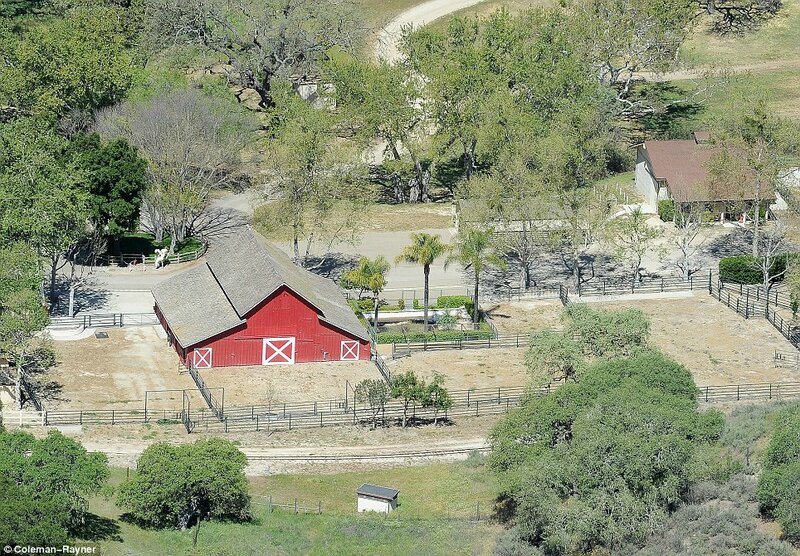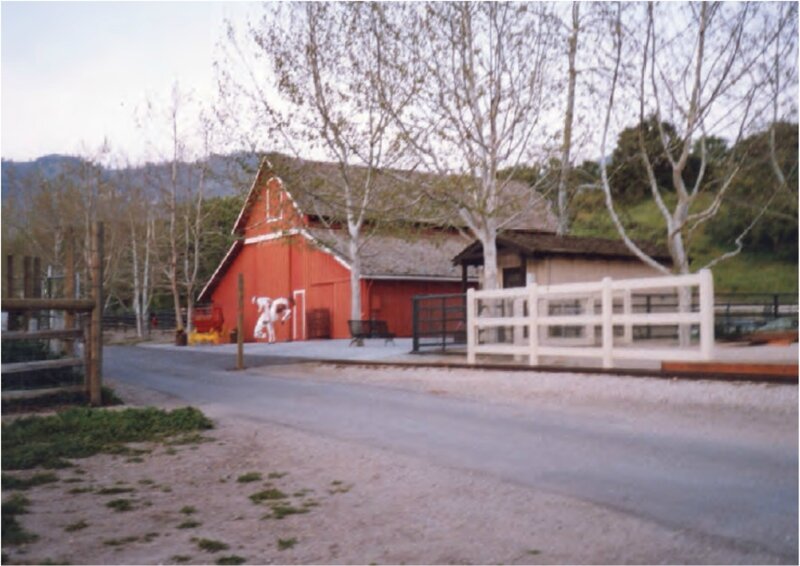 Dans la « rue » principale du zoo, la grange rouge, qui existait avant la construction de la zone, est reconnaissable de loin. Michael l'avait convertie en vivarium qui abritait des reptiles, dont son boa Muscle.
Le bassin des alligators était accolé à la grange.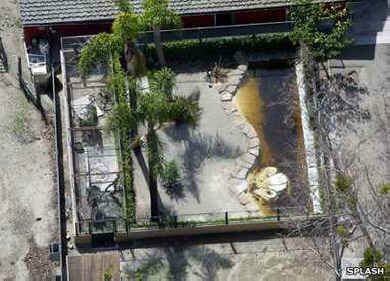 « Le vivarium abritait des anacondas, des tarentules, un cobra cracheur, des serpents à sonnette, des piranhas et des crocodiles. Ces derniers n'étaient nourris qu'une fois par semaine environ, avec des poulets crus entiers » raconte Frank (2)
Différents animaux
La barrière blanche à droite de la grange servait à tenir les chevaux dont l'écurie était située non loin de là.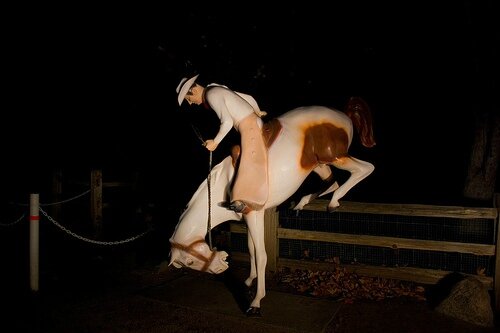 Les petites baraques en bois étaient le refuge des animaux. On y trouve notamment les lamas, les daims et des béliers. Des animaux que Michael avait déjà dans sa ménagerie d'Encino. On se souvient à l'époque de Louis le lama, Prince et Princesse, les daims et Mr Tibbs, le bélier.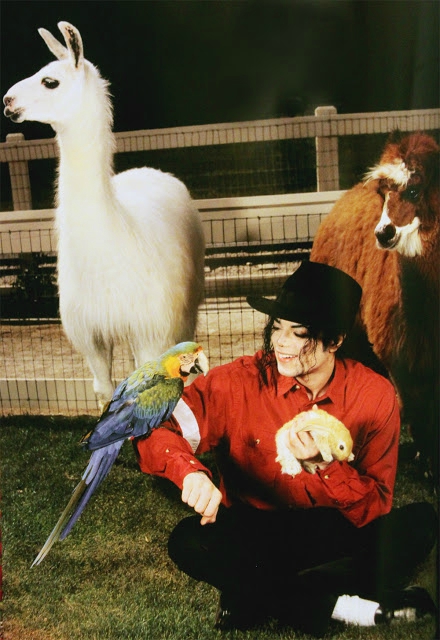 Des troupeaux de vaches erraient non loin du Ranch.
Le zoo avait également un chameau (qui a été donné à un refuge près De Lake Powell), un ours, un lion et des chiens : Black Girl, Spanky, Shadow, Large et Sasha....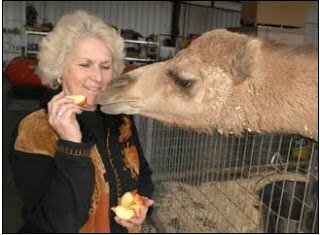 .... et des autruches
Brad Sundberg devant l'enclos des autruches
Les éléphants
Un peu plus loin, il y avait certainement le parc des éléphants.
Le zoo de Neverland avait deux éléphantes: Suzy, qui pesait plus de 5 tonnes et demies et Gipsy, un éléphant d'Asie de plus de 4 tonnes, offerte par Elizabeth Taylor.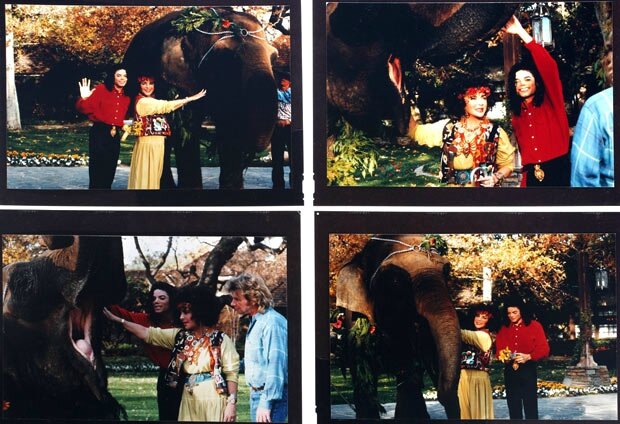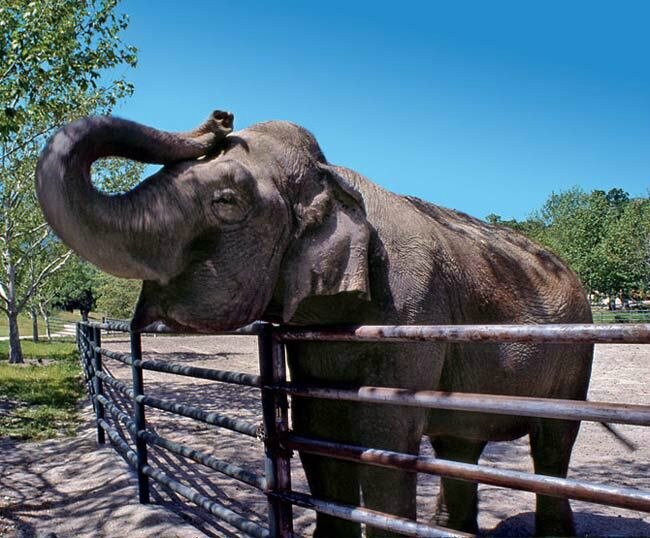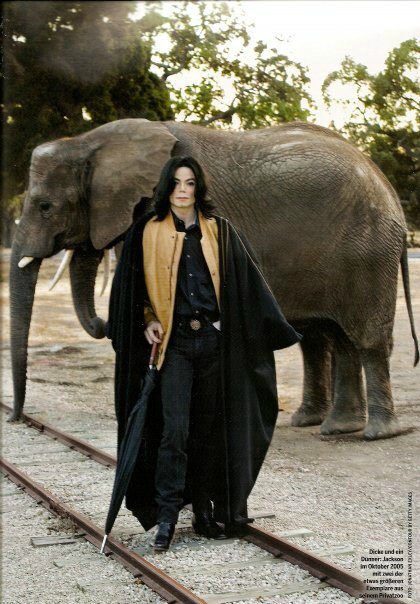 Suzy était utilisée pour réaliser des publicités et quand elle était absente du ranch, Gipsy n'était plus la même. Cela la contrariait.
Les éléphants étaient souvent laissés dans le parc du ranch afin de manger les branches des arbres.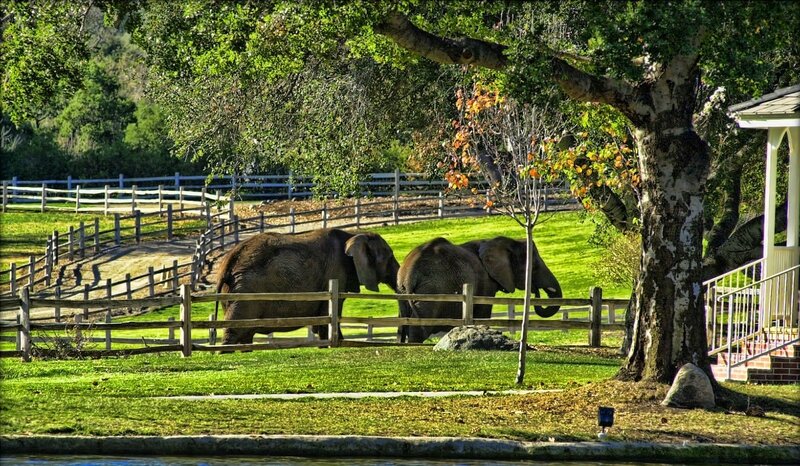 De 1990 à 2005, Alan "Big Al" Scanlan a travaillé au ranch de Neverland en tant que directeur de la maintenance. Il était chargé de superviser les terrains et les nombreuses attractions, dont le théâtre, les manèges et les trains. Il est aussi devenu un ami très proche de Michael.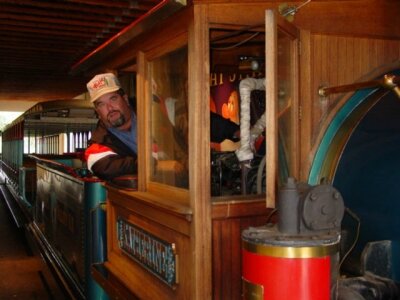 En 2011, il répond à Valmai Owens du site The Official Michael Jackson Tribute Portrait et évoque son travail pour Michael. Voici un extrait lié à ses souvenirs du zoo de Neverland, en particulier avec l'éléphante Suzy.
Valmai: Michael a eu beaucoup plus [qu'un parc d'attractions]; nous savons qu'il avait un zoo. Quel genre d'animaux a-t-il eu?
Big Al: Nous avions un zoo incroyable avec des reptiles. Nous avions également des chimpanzés, des orangs-outans, des girafes, des éléphants, des alligators, des tigres, des oiseaux exotiques, un ours noir et un lion.
Valmai: Avez-vous des souvenirs à partager avec nous à propos de Michael et les animaux?
Big Al: Mr Jackson aimait visiter le zoo et appréciait de passer du temps avec tous les animaux. Nous avions un grand groupe d'employés très bien informé dans le zoo. Mr Jackson aimait apprendre et retenait toutes sortes de nouvelles informations lors de chacune de ses visites au zoo. Une seule chose m'a vraiment interpellé, et il m'a fallu un moment pour le réaliser, mais je pense que les animaux savaient qui il (Michael) était. Cela peut paraître insensé? Mais ... c'est vrai. Je sais que certains animaux sont plus intelligents que d'autres, mais je pense qu'ils connaissaient tous Michael. Je me rendais au zoo au moins trois fois par semaine. Les chimpanzés me reconnaissaient et m'appréciaient vraiment, mais je suis sûr que tous les animaux là-bas savait qui était Michael ... peut-être que seul Big Al l'alligator ne le reconnaissait pas. Il ne se montrait que s'il avait faim et si vous aviez du poulet pour lui.

Valmai: Comment était-ce d'avoir des animaux dans les jardins, et quelles expériences avez-vous eu avec eux?
Big Al: Cela arrivait que le personnel du zoo laisse les animaux dans la cour avant ou arrière de la maison. Un jour, je m'occupais du train à vapeur et j'ai entendu des bruits étranges venant du lac. J'ai regardé vers le bas pour voir les éléphants jouant dans le lac. On aurait dit un film de Tarzan ... c'était incroyable.
Et en parlant du zoo de Neverland ... un jour, j'étais dans le parc d'attractions quand j'ai reçu un appel sur la radio de la jeune fille en charge du Département des éléphants. Elle m'a demandé si je pouvais passer lorsque j'aurais quelques minutes. Comme nous n'avions pas de clients sur la propriété, je suis allé au zoo. Et... voici l'histoire ... un des éléphants du zoo appartenait en fait à un gars qui avait plusieurs animaux exotiques et travaillait dans l'industrie de la télé/film/publicité. Comme les éléphants aiment être en groupes, Suzy passait son temps à Neverland quand elle ne travaillait pas. En plus, les jeunes éléphants apprennent des éléphants plus âgés et Suzy était un grand professeur car elle avait été bien entraînée, elle était très douce et bien élevée. C'était une situation donnant-donnant.
Le propriétaire de Suzy a aussi passé beaucoup de temps avec les filles dans notre département des éléphants et leur a appris tout ce qu'il savait sur les éléphants.
C'est là que j'interviens…. Ils ont voulu faire une carte de remerciement au propriétaire de Suzy, et sur cette carte ils voulaient une photo de Suzy et le Père Noël. Comme j'avais un très beau costume de Père Noël (encore une autre histoire amusante), on m'a demandé si je voulais participer à cette carte de remerciement. Avec la permission de la direction, on a fait la séance photos.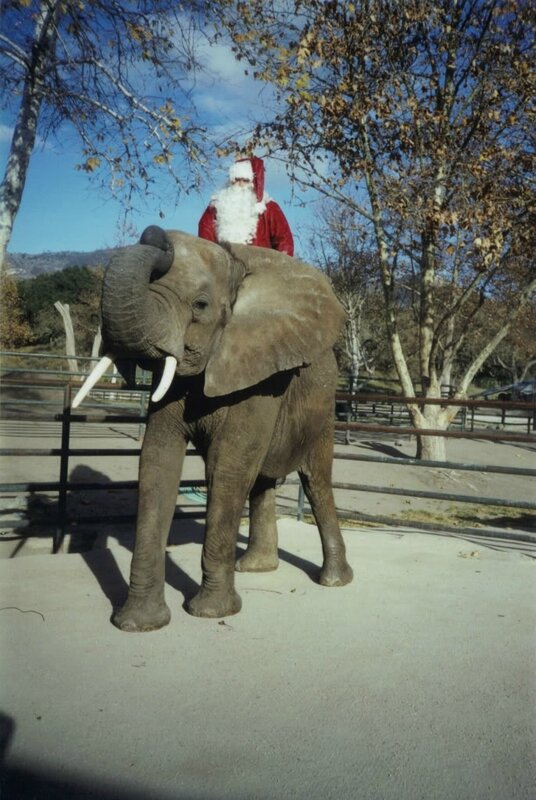 Avec mon costume de Père Noël, j'ai grimpé sur la clôture, Suzy s'est approchée et j'ai grimpé sur elle. Après plusieurs photos, Suzy m'a déposé sur la clôture. Comme je me dirigeais vers la maison du ranch pour changer de vêtements... j'ai été arrêté ... "Oh, nous avons encore une photo que nous voudrions faire". Ils ont sorti ce support en aluminium sur lequel l'éléphant met son pied quand les filles lui nettoient et lui dégraissent les pieds (ce qui arrive souvent). Ils m'ont expliqué que j'allais m'asseoir sur ce support, qu'ils allaient faire marcher Suzy en face de moi, qu'elle se retournerait vers moi et qu'elle lèverait sa trompe. Ses pattes arrière se plieraient alors. L'idée était de faire croire que l'éléphant allait s'asseoir sur les genoux du Père Noël.
Je dois avouer qu'à ce moment j'étais prêt à mettre un terme à ma participation à cette carte, mais j'ai accepté. Ainsi, Suzy s'est mise selon la position qu'on lui a indiquée. Suzy me regardait comme si elle me disait, "Hey, il y a quelqu'un ". Je pensais que c'était plutôt cool, et j'ai été heureux de voir qu'elle était préoccupée par ma sécurité. Une fois que nous avons assuré Suzy que tout allait bien, elle leva sa trompe. Oh, attends ... encore une photo pour s'assurer que les prises étaient bonnes …et voilà ... Suzy a lâché un gaz au visage du Père Noël. Permettez-moi de vous dire que quand un éléphant lâche un gaz, cela ressemble à un ventilateur géant à haute vitesse ou à un souffle dans une corne de train. Une fois que les filles qui s'occupent des éléphants ont eu cessé de rire, j'ai demandé si c'était fini. «J'ai besoin d'enlever les taches vertes sur ma barbe de Père Noël !".
Les oiseaux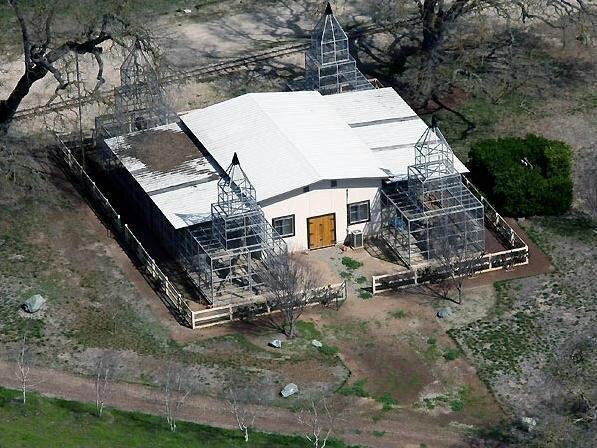 La volière avec ses nombreux oiseaux exotiques, macaques et perroquets est facilement reconnaissable.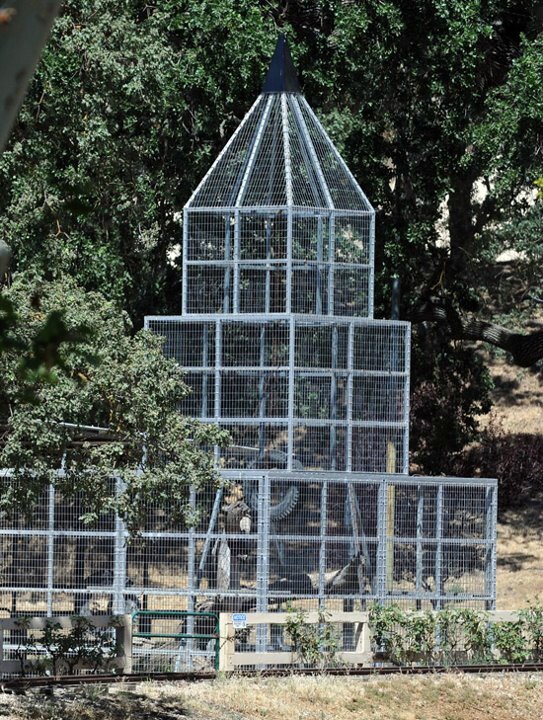 Michael avait un perroquet qu'il aimait particulièrement, qu'il avait appelé Rikki et qu'il prenait souvent dans sa maison.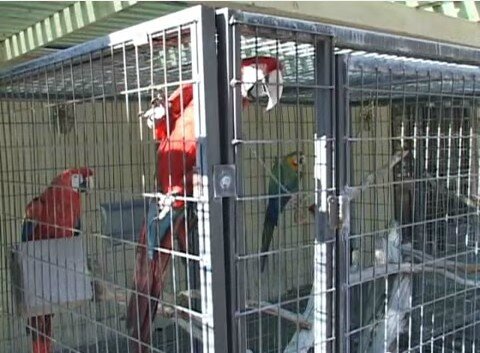 Les girafes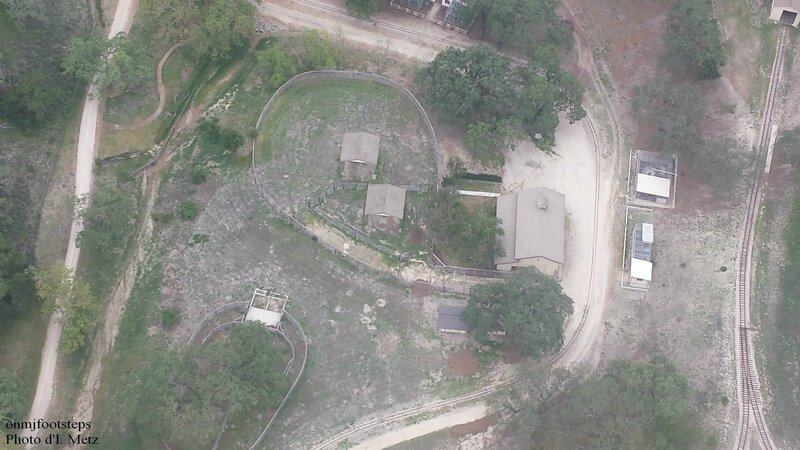 L'enclos des girafes se situait en face de la volière. Quatre girafes vivaient à Neverland, Rambo, Jabba Jr, Princess and Annie Sue.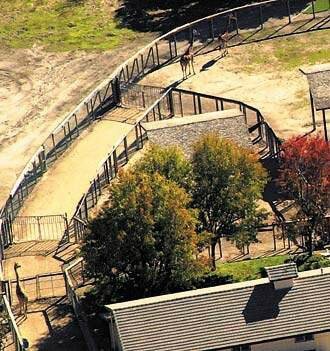 Deux d'entre elles, Rambo et Jabba Jr., sont décédées, sans raison dans une réserve d'Arizona qui les avait accueillies, peu de temps après leur départ du ranch en 2007.
« Les girafes étaient au nombre de quatre ou cinq. Michael était allergique aux girafes ainsi qu'aux chevaux ; il lui fallait prendre des médicaments s'il voulait les toucher. Moi j'ai adoré les caresser (chose étrange, de près elles avaient une haleine mentholée) » Frank Cascio (2)
Les singes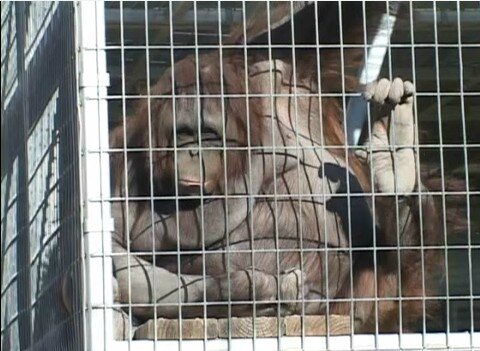 Dans la même zone, on aperçoit des enclos avec des cages qui ont peut être été celles des orangs-outans, Brandy, une femelle, et Graveyard, et des chimpanzés, qui, plus qu'être des animaux d'un zoo étaient les animaux de compagnie de Michael.
« Graveyard, l'orang-outan, assisterait avec nous à la séance [de cinéma], habillé comme un prince. Assis entre Michael et moi, il machonnerait du pop-corn en sirotant du soda. » se souvient Frank .(2) Quant à Brandy, selon David Nordahl, elle adorait les skittles.
Bubbles est le plus célèbre animal de compagnie de Michael.
Né en 1983 dans un laboratoire biomédical, il a été retiré à sa mère et vendu à un éleveur d'Hollywood avant d'être acheté par Michael. Il est rapidement devenu l'animal favori de Michael, le suivant partout, même dans ses tournées.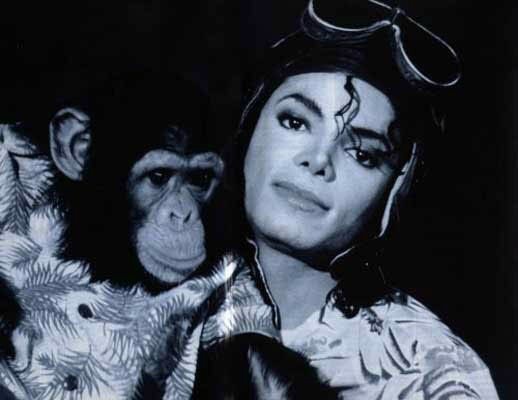 Michael avait cependant du s'en séparer, notamment pour la sécurité de ses enfants. Bubbles vit désormais, depuis 2005, au Center for Great Apes de Wauchula en Floride.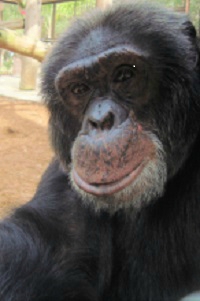 Le zoo avait également trois autres chimpanzés : AJ qui a été sauvé du marché noir alors qu'il était bébé, Max, un mâle, et Alex, une femelle. L'un d'entre eux aurait été vendu à un zoo en Corée et un autre donné à une ferme dans le Kansas.
« Mes animaux préférés étaient les chimpanzés et les ourangs-outans. Ils se promenaient en liberté, vêtus d'une chemise et d'une salopette – et munis de couches. Les chimpanzés, je ne sais pourquoi, avaient une obsession du détail (…). Ils buvaient du jus de fruits à la paille directement dans les briques. Leurs friandises favorites étaient les jujubes et les Nerds. Chaque bonbon était examiné sous toutes ses coutures avant d'être avalé" explique Frank Cascio (2)
Les tigres
Les cages des tigres étaient sans doute dans la même zone. Thriller, la femelle et son frère Sabu, deux tigres du Bengale nés en 1998 et ont vécu à Neverland jusqu'en 2006.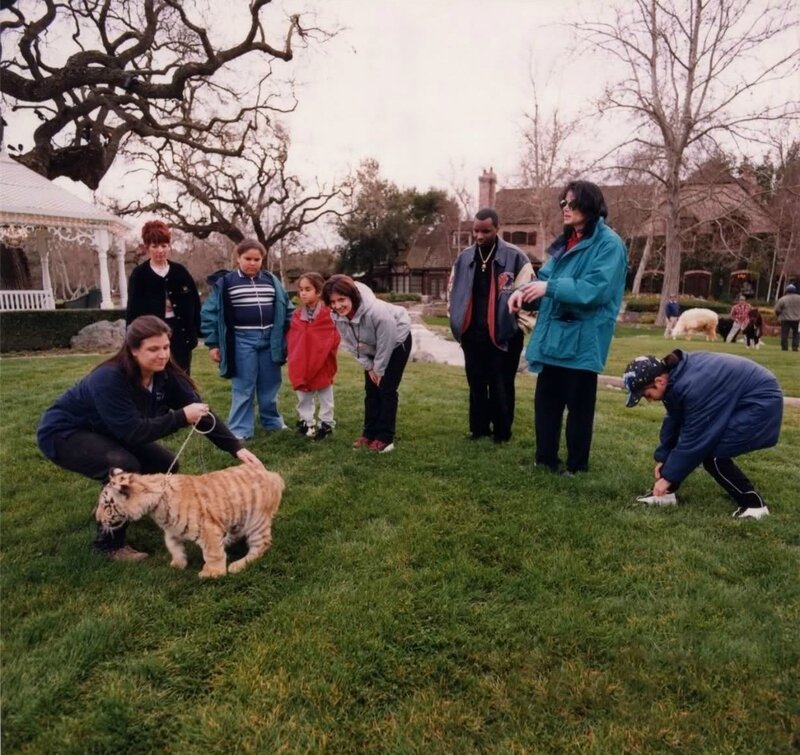 Selon David Nordahl, interviewé dans le numéro 16 (septembre 2014) du magazine Iconic, les deux félins étaient souvent emmenés dans une piscine, dans un endroit du zoo uniquement accessible par les employés et les soigneurs.
C'est dans cet endroit, un bâtiment calme, au-delà des limites du zoo, que les animaux en détresse ou négligés que Michael récupérait étaient emmenés afin d'être soignés et retrouver une nouvelle vie avant d'intégrer le zoo.
Thriller et Sabu ont été donnés à la réserve animalière Shambala, à Acton, près de Los Angeles, dirigée par l'actrice Tippi Hedren, en 2006. Thriller est décédé d'un cancer en 2012.
Les flamands roses
Treize flamands roses du Chili évoluaient librement sur une île du lac du ranch.
En 2007, les animaux ont été envoyés au Zoo de Cape May County dans le New Jersey.
Depuis son plus jeune âge, Michael a toujours aimé les animaux, se prenant déjà d'affection pour les petites souris qui envahissaient la maison à Gary. Tout au long de sa carrière, il a toujours pris du plaisir à poser pour des photos avec ses animaux, à visiter des zoos, seuls ou avec ses enfants lors de ses nombreux déplacements. Cette passion l'a d'ailleur mené à créer sa propre collection d'animaux en peluche, les Michael's pets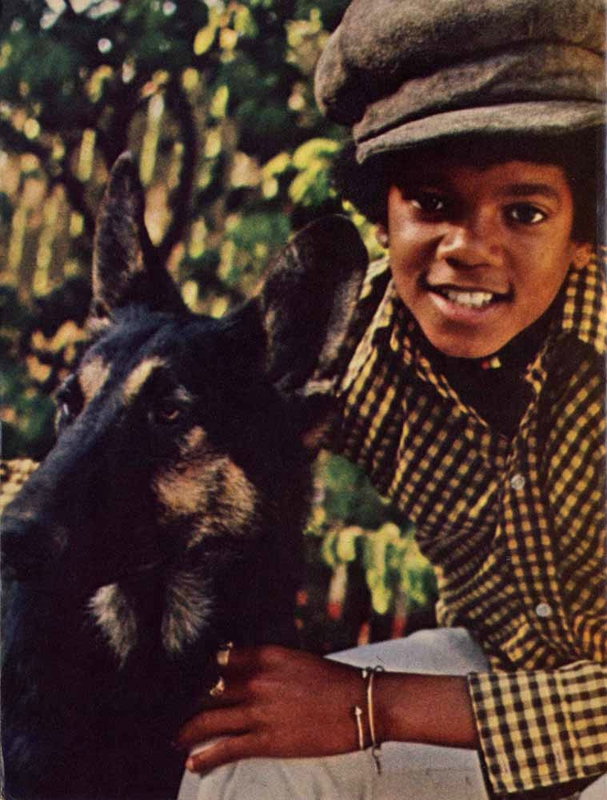 « Je retrouve dans les animaux ces mêmes choses merveilleuses qu'il y a chez les enfants. Cette pureté, cette honnêteté, ils ne vous jugent pas, ils veulent juste être vos amis. C'est tellement mignon » déclare-t-il lors de son interview à Oprah Winfrey en février 1993.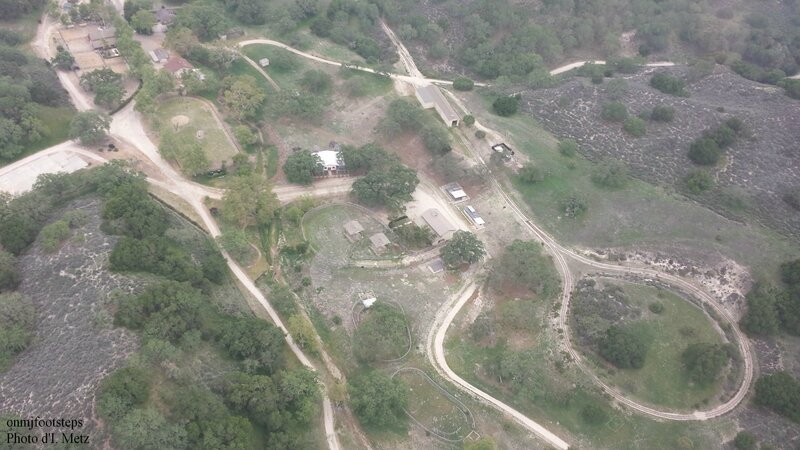 Le zoo de Neverland est désormais vide. Ses habitants ont été relogés dans divers refuges ou zoos à travers les Etats-Unis notamment. Restent cependant les cabanes désertes qui nous rappellent qu'il y a encore quelques années, cet endroit était le pays imaginaire de Michael, un pays qu'il a créé de toutes pièces dans l'espoir de retrouver son enfance perdue mais aussi et surtout pour le partager avec les enfants.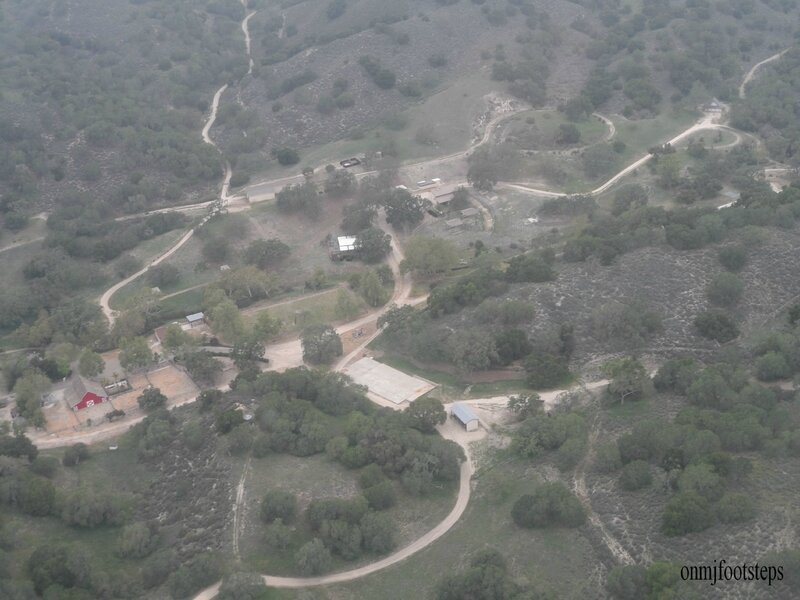 Neverland c'était la joie et la liberté de Michael, un lieu il pouvait retrouver son âme d'enfant. Bien qu'entretenu, ce n'est plus désormais qu'un lieu qui nous rappellera à jamais qu'on lui avait enlever tout ça !
Sources: (1) Jermaine Jackson, You Are Not Alone, le vrai Michael dans les yeux de son frère, Ed. Michael Lafon/(2) Frank Cascio, Mon ami Michael, Ed. Michel Lafon/ Rob Swinson, Maker of Dreams/lacortedelreydelpop.com/enolalee.blogspot.com