Treize jours avant sa disparition, Michael Jackson se fait livrer à son domicile de Holmby Hills sept tableaux de Patrick Whelan, un artiste de Laguna Beach, une ville au sud de Los Angeles (Californie).
Diplomé en 1991 d'une distinction honorifique du Collège Art and Design de Laguna Beach, Patrick Whelan est passionné par la peinture depuis l'âge de cinq ans : en entrant dans une pièce où son oncle avait entreposé une série de portraits qu'il avait peints, il les avait trouvés magique. Captivé par la magie de la création, il est devenu un artiste passionné et ses peintures se retrouvent désormais dans des collections privées à travers le monde. "Dans chaque visage se reflète toute l'humanité. Regardez le visage d'un autre et, à un certain niveau, vous finirez toujours par vous voir vous-même. Mon travail vise à démontrer cela. Dans les textures sculptées du fusain ou de la peinture chuchote toujours une voix... Une voix pleine de désirs ou de regrets, de déconvenues ou de triomphes. Et elle raconte une histoire, votre histoire …..écoutez", déclare-t-il.
Le 17 mai 2009, lors de l'exposition Affaire in The Garden, un festival d'art annuel, à Beverly Hills, où des centaines d'artistes exposent leurs œuvres pendant deux jours, Michael, accompagné de ses enfants, s'arrête longuement devant l'œuvre de Whelan, "Meditations".

Voici comment Michael a découvert le travail de Whelan, d'après un texte rédigé par l'artiste lui-même :
Durant les derniers jours de sa vie, Michael Jackson s'est découvert un lien prophétique avec une peinture envoûtante représentant un ange endormi.
Le 12 Juin 2009, seulement 13 jours avant la mort brutale et inattendue de la superstar de la pop Michael Jackson, sept tableaux de l'artiste Patrick Whelan ont été livrés à son domicile d'Holmby Hills.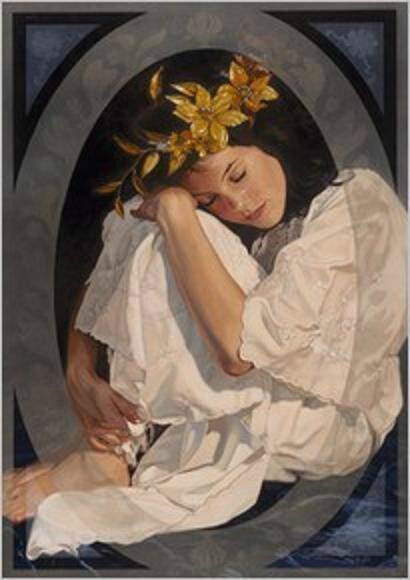 Parmi eux, l'un en particulier avait semble-t-il une place particulière dans son coeur. C'était le portrait doré d'une figure féminine angélique dormant, la tête sur un genou, et entourée d'une bordure d'un bleu profond. Il l'appelait "La peinture bleue". Elle avait attiré son attention pour la première fois lors de l'exposition "Affaire in the Gardens" à Beverly Hills en mai 2009.
Il l'avait contemplée en silence pendant plusieurs minutes, semblant perdu dans ses pensées. Pendant ce temps, sa fille Paris photographiait l'oeuvre avec son appareil numérique.
Au départ, Amber Henry, directrice des Galeries Whelan, n'a pas reconnu MJ, qui portait un voile lui couvrant la majeure partie du visage, des lunettes de soleil et un fedora. Ce n'est que lorsqu'un homme souriant et soigné prénommé Faheem l'avait abordée suite au départ de l'icône de la musique que tout est soudainement devenu très clair. Sur sa carte de visite figurait l'inscription "Michael Jackson Company".
Il a montré du doigt l'oeuvre connue sous le nom de "Meditations" et a dit en souriant "M. Jackson voudrait acheter cette peinture". Amber a commencé à faire les papiers mais Faheem n'a pas voulu achever la transaction, déclarant simplement "Il vous paiera plus tard". Il lui a dit qu'ils reviendraient et, très rapidement, il est parti.
L'artiste, M. Whelan, aussi bien que son associée, sont restés stupéfaits. Mais fidèles à sa promesse, peu de temps après, ils sont revenus. Michael Jackson, la petite fille dont ils réalisaient alors qu'il s'agissait de sa fille Paris, Faheem et au moins un garde du corps à la carrure imposante se sont tous de nouveau présentés dans leur bureau.
Bien qu'il ait choisi six oeuvres supplémentaires, son affection toute particulière pour l'oeuvre représentant l'ange, intitulée "Meditations", n'est devenue que pleinement évidente que lorsque le tableau a enfin été livré, seulement un mois plus tard. Ce délai important était lié à des histoires de comptabilité chez AEG Live qui avaient bloqué le paiement pendant plusieurs semaines. Cela a entraîné beaucoup d'appels frustrés du porte-parole de Michael, Faheem.
"L'argent est-il arrivé ? M. Jackson a besoin de ses tableaux. Il apprécie vraiment le travail de M. Whelan".
Petit à petit, les appels se sont faits plus insistants.
"Je ne comprends pas pourquoi l'argent n'est pas encore arrivé. M. Jackson réclame ses peintures tous les jours maintenant".
Enfin, le 11 Juin, une comptable d'AEG Live a contacté la galerie. Elle s'est longuement excusée pour l'attente et a envoyé par e-mail une copie de la confirmation de virement bancaire.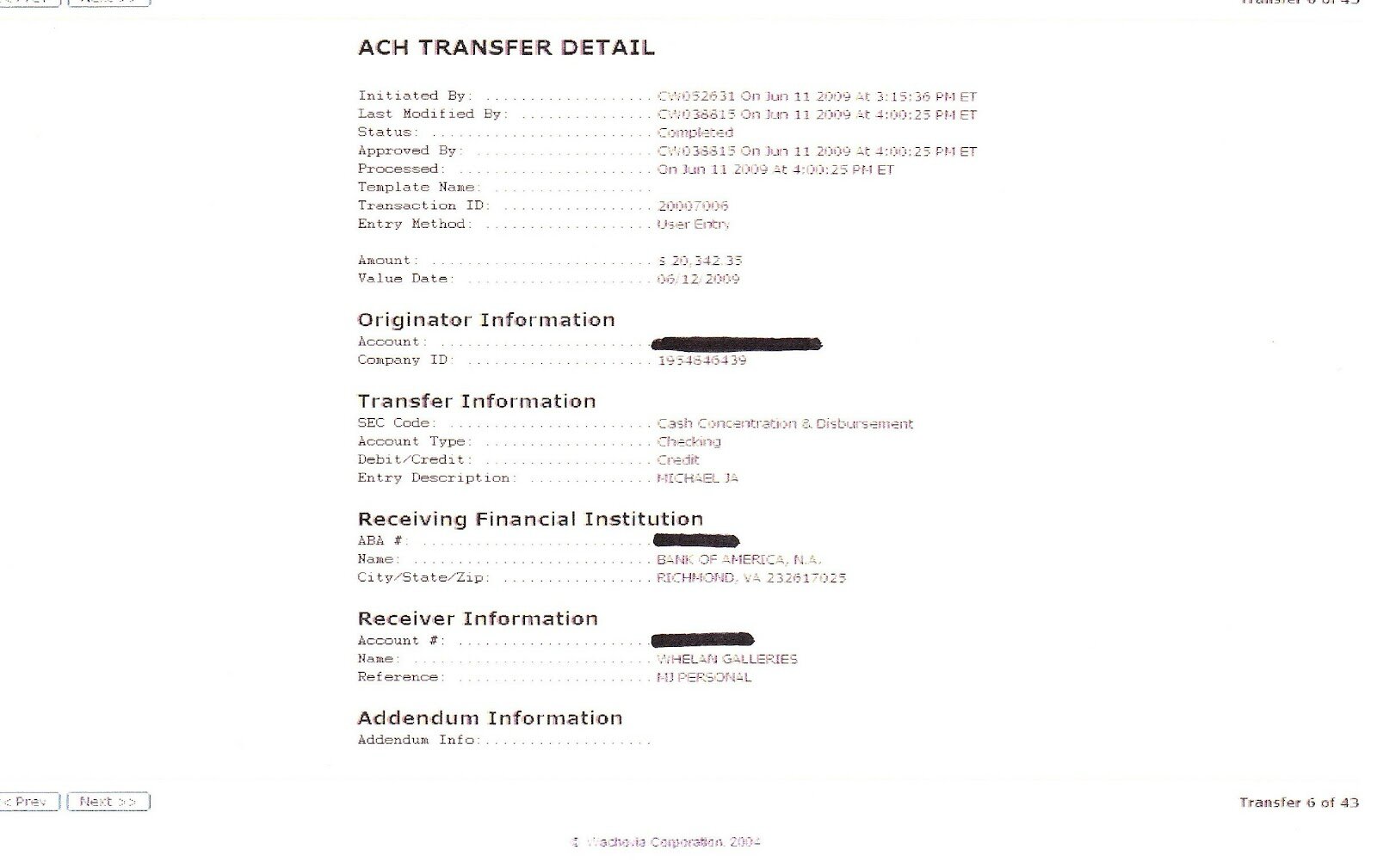 Les tableaux ont été livrés le lendemain matin. Faheem avait demandé que l'artiste arrivé avant 10h du matin parce que c'est l'heure à laquelle Michael Jackson devait partir en répétitions et il voulait rencontrer M. Whelan en personne. Quand ils sont arrivés dans la propriété, ils ont vu deux énormes couronnes de Noël ornant le portail de l'entrée. Détail frappant, sachant que l'on était mi-juin. Dès que leur véhicule a été garé, des hommes en costume ont commencé à apparaître, semblant venir de toutes les directions et se diriger vers la voiture. Rapidement, plusieurs oeuvres ont disparu dans la demeure.
Par la porte d'entrée, on apercevait des guirlandes de Noël colorées suspendues à l'escalier.
D'un seul coup, Faheem, d'ordinaire calme et souriant, a commencé à devenir visiblement agité. Il s'est mis à chercher avec frénésie parmi les peintures restantes et a demandé d'une voix craintive : "Où est la peinture bleue ? Celle avec la fille endormie, la tête sur les genoux ?" On sentait de la panique dans sa voix et dans son expression. M. Whelan lui a assuré qu'elle avait déjà été emportée à l'intérieur. C'était la première qu'ils avaient prise.
Faheem n'était pas rassuré. Il ne l'avait pas vue dans la maison mais il est allé revérifier.
Quelques instants plus tard, un Faheem de nouveau souriant et enjoué est réapparu sur le perron. Il semblait baigné d'un halo de soulagement. Il avait visiblement trouvé le tableau. "C'est le préféré de M. Jackson", a-t-il révélé. Apparemment, ils étaient inquiets qu'il ait pu être vendu à quelqu'un d'autre pendant les semaines d'attente. Faheem a laissée Amber et Patrick attendre nerveusement près du véhicule, le temps qu'il organise leur rencontre avec l'homme en personne.
"J'ai de bonnes nouvelles et de mauvaises nouvelles", a-t-il annoncé en revenant. "La mauvaise nouvelle, c'est que M. Jackson ne pourra pas vous rencontrer aujourd'hui parce qu'il est encore dans son lit. La bonne, c'est qu'il veut reprogrammer le rendez-vous". Whelan devait rapporter le certificat d'authenticité lors de sa prochaine visite.
Après cet épisode, Amber n'a reparlé qu'une seule fois à Faheem. Et la dernière fois qu'ils ont entendu sa voix, c'était pendant l'appel frénétique aux secours qui a été diffusé dans les médias après la mort de Michael Jackson.
L'après-midi du 25 Juin, le soleil brillait comme c'est presque toujours le cas en Californie.
Pourtant, quelque chose manquait.
Une voix, une présence, une partie de notre culture s'était tue.
Restait le tragique mystère d'une vie écourtée... et l'attachement prophétique du Roi de la Pop à la belle et envoûtante image d'un ange endormi".
Parmi les sept tableaux commandés à Patrick Whelan et qui ont été livrés ce 12 juin 2009, Michael Jackson avait choisi trois oeuvres illustrant des couvertures de livres anciens :
Alice au Pays des Merveilles ("Alice In Wonderland")
Peter Pan

Les Boucaniers ("The Buccaneers")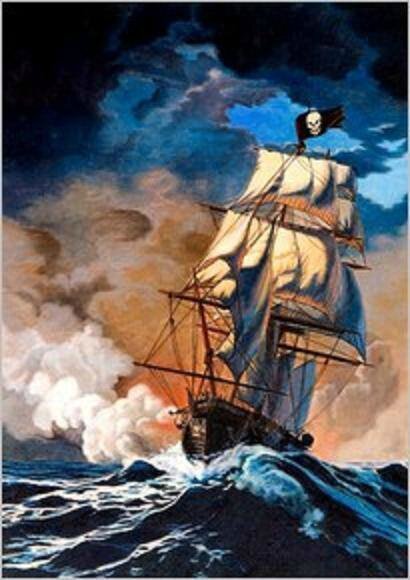 Ansi que quatre peintures à l'huile :
Penelope's Song

Stardust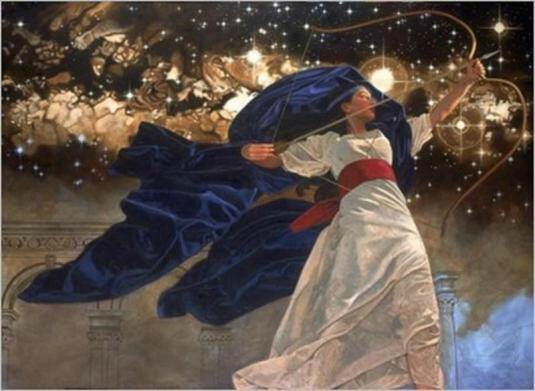 Secret Forest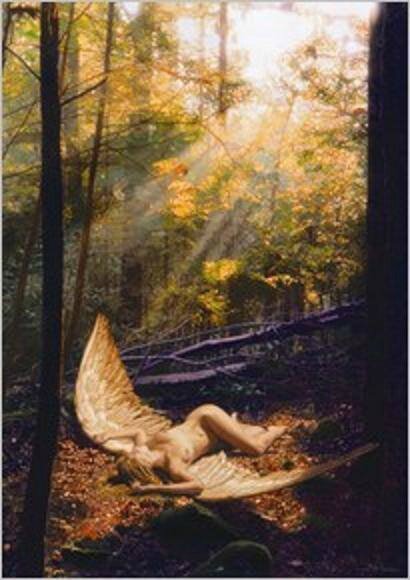 Et ce fameux tableau Meditations, que Michael appelait « The Blue Painting » ("la peinture bleue"), son préféré.
Certaines rumeurs ont commencé à circuler alors que les fans s'interrogeaient sur la passion de Michael pour cette œuvre. Michael aurait vu dans la jeune fille de la peinture un portrait de Lisa-Marie Presley, qui a été son épouse et avec qui il a toujours gardé une forte relation.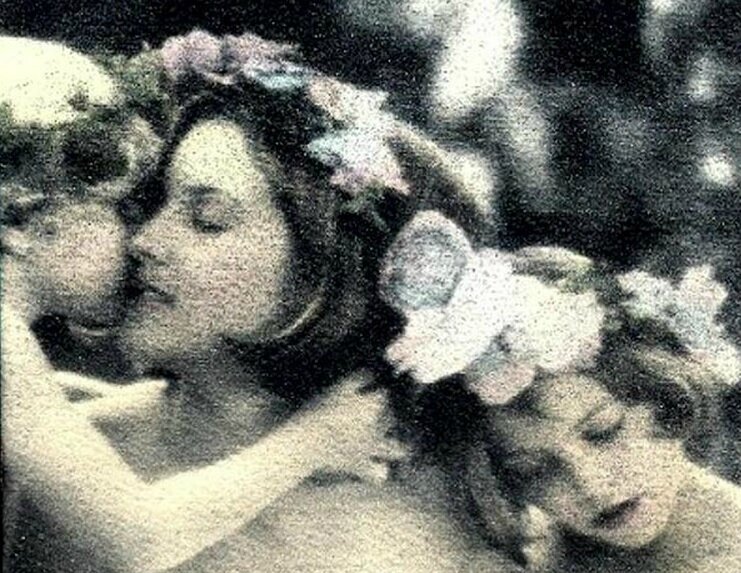 Une personne a d'ailleurs écrit à Patrick Whelan lui demandant s'il connaissait la signification de ce tableau pour Michael et si cela pouvait être du à la ressemblance avec Lisa Marie. Voici sa réponse :
Merci pour vos beaux commentaires sur l'art. J'apprécie énormément. "Méditations" a été l'un de mes tableaux personnels préférés, et cela a donc été particulièrement gratifiant pour moi quand un artiste de la stature de Michael a aussi été attiré parcette oeuvre. Je n'ai pas vu tout de suite le lien avec Lisa Marie, parce que, bien sûr, je connais le modèle qui a posé. Néanmoins, j'en ai entendu parler par beaucoup de gens, y compris parmi ceux qui sont venus à la galerie ont vu le tableau là-bas, et c'est finalement devenu évident pour moi.
Mais l'argument décisif a été il y a quelques semaines quand j'ai parcouru un article publié dans un journal de Taiwan. La peinture "Méditations" étaient comparée à trois photos de Lisa Marie prises au moment où elle était avec MJ. La ressemblance était frappante en effet. Je suis maintenant absolument convaincu que c'était la raison pour laquelle Michael s'y intéressait. Il a peut-être eu l'intention de lui montrer, ou même de lui en faire cadeau. Mais malheureusement, il est parti si rapidement après son achat que nous ne pourrons jamais en être certains.
Je doute fort que Lisa Marie ne soit même au courant de son existence. Je pense cependant que ce serait une chose merveilleuse si elle pouvait voir cette oeuvre, car alors elle saurait qu'elle était encore dans le cœur de Michael, même à la fin.
Peut-être le verra-t-elle un jour. Je l'espère. Je pense que Michael aurait vraiment aimé.
Patrick
Randy Taraborrelli, l'auteur de "The Magic and The Madness", écrit dans la dernière édition de son livre que Michael serait tombé amoureux de cette peinture, peu avant son décès. Il l'a acheté en pensant à Lisa Marie : "Voilà comment j'imagine Lisa. En fait, quand je rêve d'elle, c'est ce à quoi elle ressemble. Je dois avoir cette peinture '' aurait déclaré Michael à Randy Taraborrelli.
A l'automne 2009, Patrick Whelan a souhaité mettre en vente sept giclées (reproduction numérique de très haute qualité des oeuvres originales) de ces tableaux acquis par le Roi de la Pop. Les bénéfices de la vente ont été reversés à la Make-A-Wish Foundation, une association caritative chère à Michael Jackson.
Sources : ElusiveShadow.com/whelanartgalleries.com/presleyjackson.tumblr.com/ mj-777.com/lisamarieandmichael.forosactivos.net