En juin 1988, le Bad World Tour de Michael Jackson s'arrête en Suède. Deux concerts sont prévus les 11 et 12 juin à Eriksberg, un quartier de Göteborg. Michael Jackson est descendu au Sheraton Hotel, dans le centre ville de Göteborg et le vendredi 10 juin, il réussit à se faufiler hors de l'hôtel, avec son ami le jeune suédois Anton Glanzelius, pour se rendre au plus grand parc d'attractions du Nord de l'Europe, le Liseberg Park de Göteborg.
Le parc a été fermé spécialement pour accueillir Michael Jackson et ses invités. Vers 10h45, Michael est arrivé, en car, dans un parc sous haute sécurité, accompagné notamment de Frank DiLeo, son manager, Karen Faye, sa maquilleuse, et Bill Bray, le chef de sa sécurité.
Michael a commencé par se rendre sur le populaire Lisebergbanan présenté comme le plus grand et le plus long parcours de montagnes russes en Europe en 1987. Il a poursuivit avec le LisebergsLoopen, l'un des premiers grand huit de Scandinavie à l'époque.
Le temps était chaud et ensoleillé et Michael va ensuite profiter des auto-tamponneuses d'où il a eu du mal à partir tant il s'amusait. Il y a passé près d'une heure.
Dans la Villa Opp-A-Bas, une attraction très étrange, où les objets semblent flotter, Michael a assisté à un spectacle de danse. Michael a profité de beaucoup d'attractions, parfois en faisant plusieurs fois la même, dont notamment :
Le Breakdance, des petites voitures à deux places qui tournaient sur elle mêmes,
Le Hökfärden, un manège dont les nacelles, qui prenaient de la hauteur, ressemblaient à des faucons (Hök signifie faucon en suédois),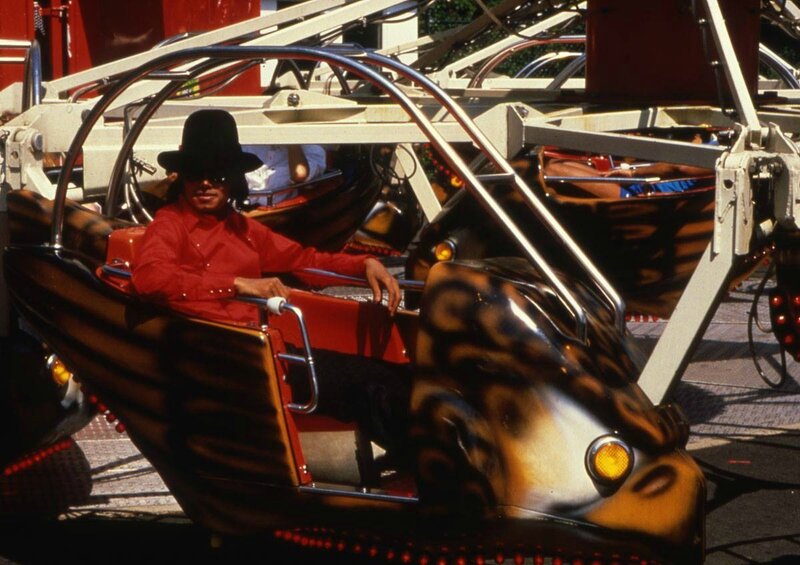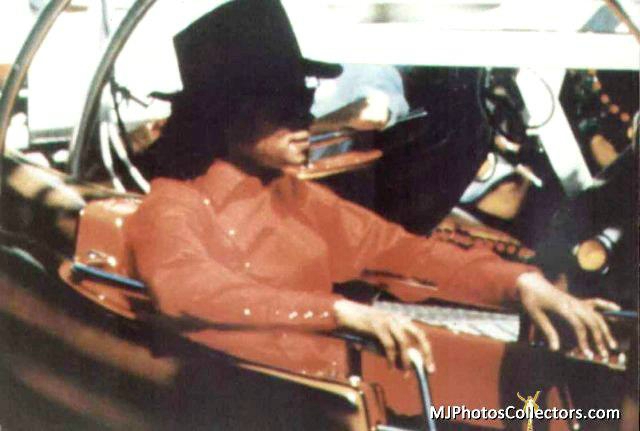 Le Flumeride, l'une des attractions les plus emblématiques de Liseberg
Le Sagoslottet (Le château des contes de fées) : la façade a l'apparence d'un château tandis que l'intérieur est composé de scènes de contes de fées bien connus tels que Aladdin , Belle au Bois Dormant, Cendrillon et bien sûr Peter Pan,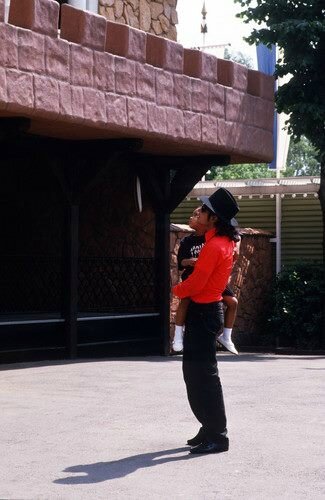 MJ devant l'entrée du châteu des contes de fées
Le Omer Lange, un bateau viking qui se balance,typique des parcs d'attractions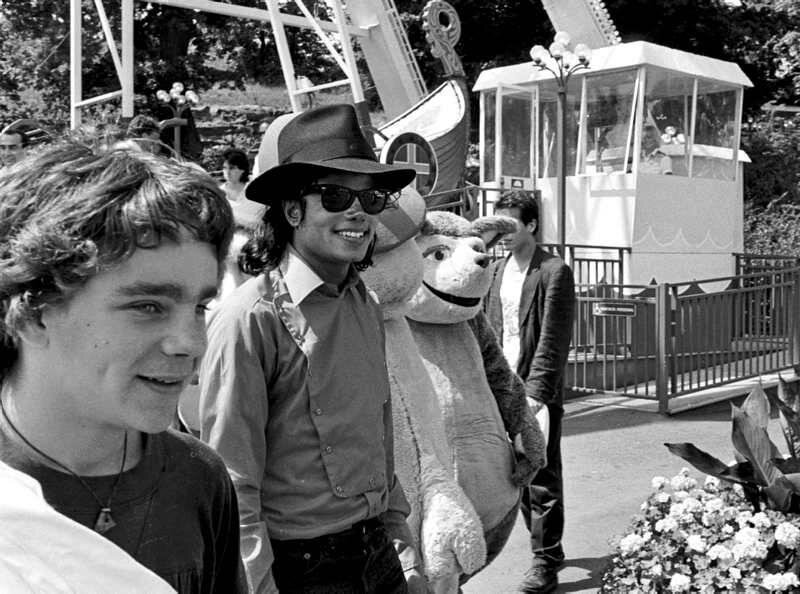 Anton Glanzelius et Michael devant le Omer Lange
Le DiscoRonde, un vaisseau spatial à l'intérieur duquel les passagers se retournent à une vitesse vertigineuse, au son des dernières chansons.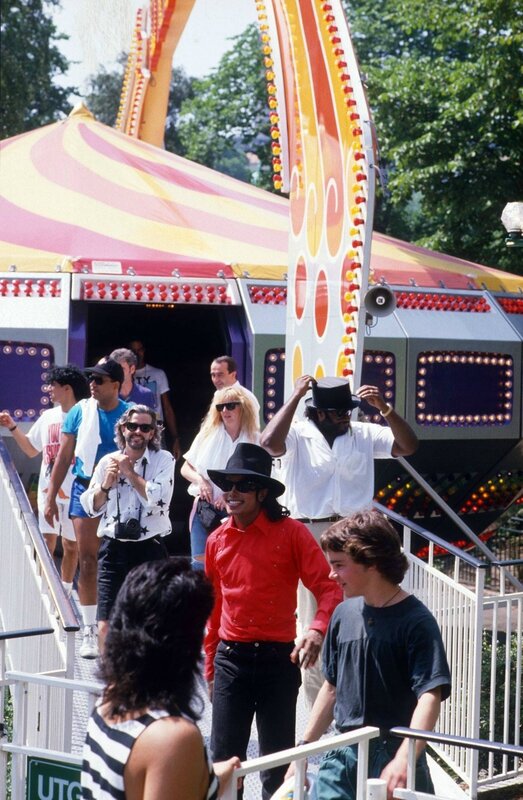 Michael sortant du DiscoRonde
Il a testé également les boutiques de souvenirs, surtout de chapeaux et se voit remettre un T Shirt souvenir !
Et il n'a pu échapper aux photos avec la mascotte du parc, un lapin vert.
Michael a déjeuné au Restaurant de la Station dans le parc. Au bout de trois heures environ, avant de repartir, il a réalisé les empreintes de ses mains et laissé son autographe, comme Whitney Houston l'avait fait quelques jours avant lui.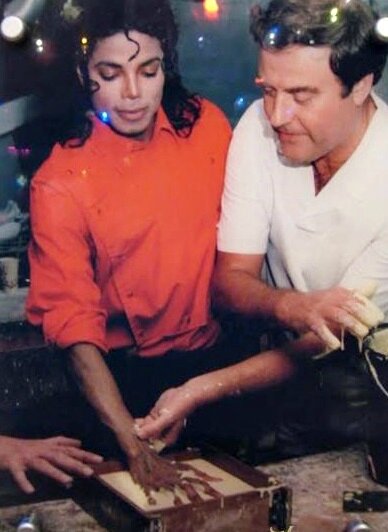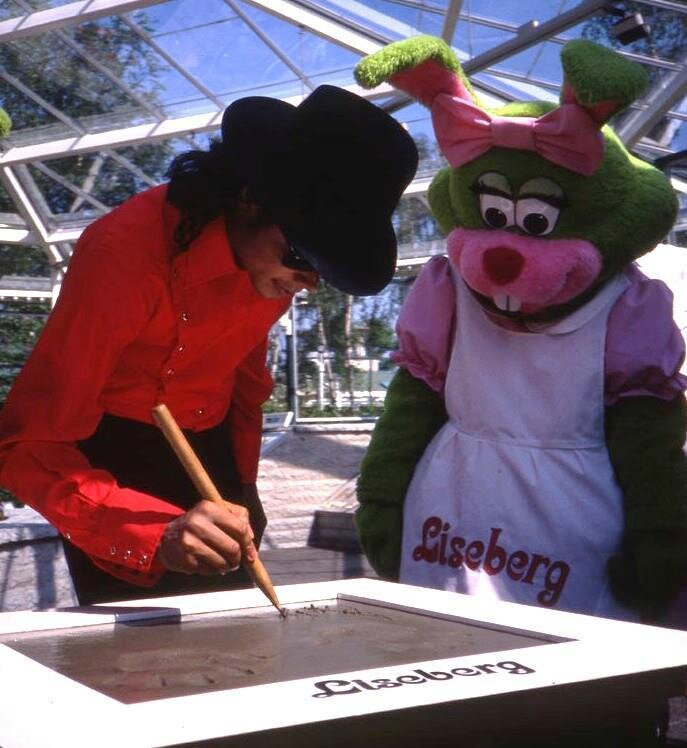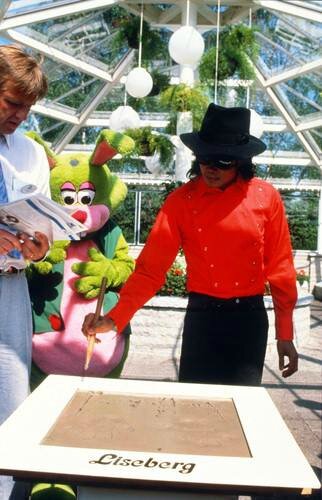 Michael, ravi de ce moment, aurait remercié le personnel du parc en offrant des billets pour les concerts de Eriksberg. "Göteborg est une très belle ville. Et si vive. Je voyais le parc quand nous sommes arrivés à l'aéroport et nous avons décidé de faire une visite. Un parc d'attractions c'est toujours amusant" a-t-il déclaré.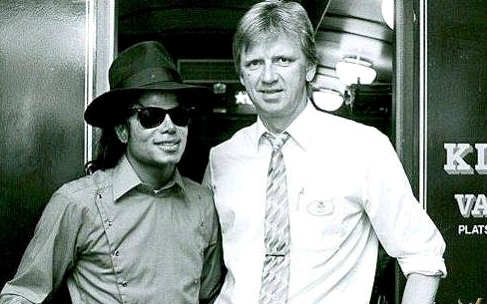 Les journaux de l'époque n'ont d'ailleurs pas manqué de rapporter l'évènement de cette visite qui a fait la une de certains quotidiens.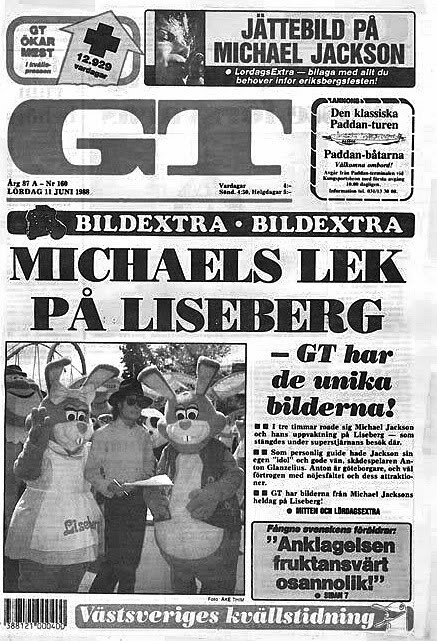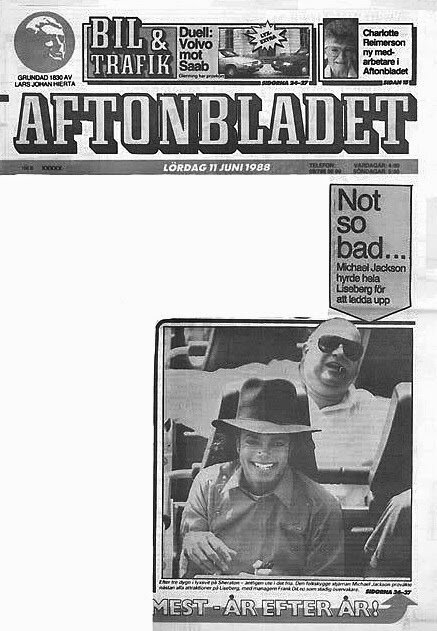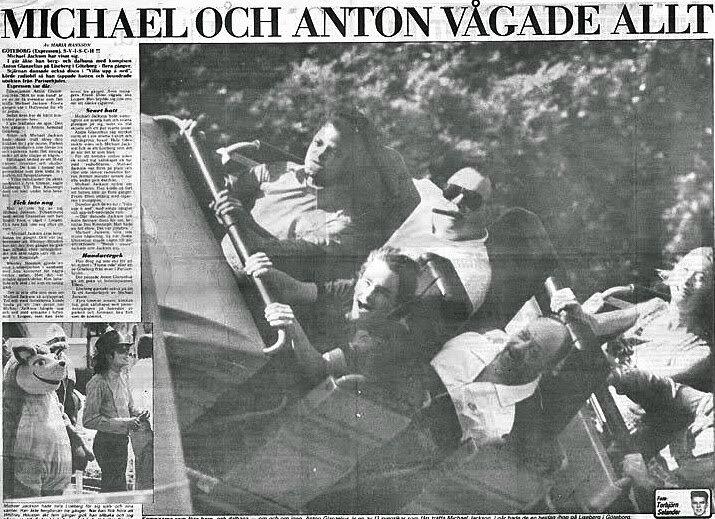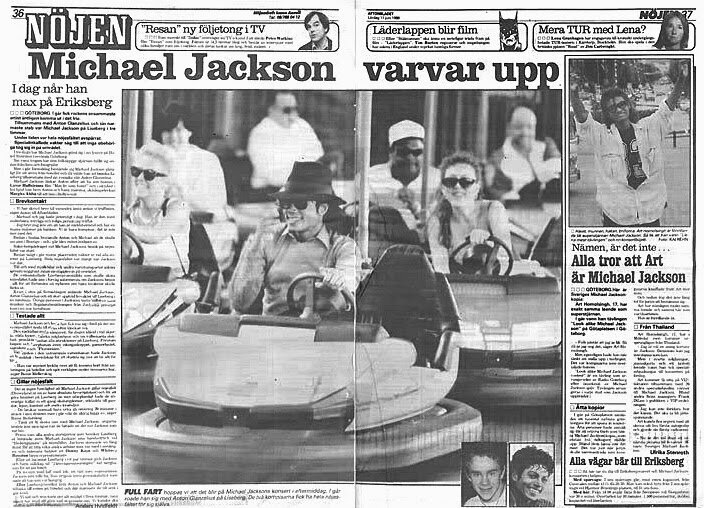 Anton Glanzelius , la jeune star alors âgée de 14 ans de "Ma vie de chien" (film sorti en 1985) qui a accompagné Michael durant cette journée a été contacté par le King Of Pop en 1988 et, après l'annonce de la disparition de Michael, il a évoqué ces moments passés ensemble à Liseberg.
Anton Glanzelius a rencontré Michael Jackson pour la première fois quand il avait 13 ans. Michael Jackson avait vu le film "My Life as a Dog", réalisé par Lasse Hallström dont Anton Glanzelius était la star, et il l'avait tellement apprécié qu'il avait invité le garçon dans son ranch de Neverland. Michael avait vu le film deux fois, dont une fois avec sa mère. Le film était très spécial pour lui mais Michael n'a jamais révélé au garçon ce qu'il signifiait à ses yeux. Anton, qui avait grandit dans le sud de Göteborg, ne savait pas alors qui était Michael Jackson. "J'ai couru chez mes voisins pour leur demander si ils savaient quelque chose de Michael Jackson. Je voulais voir à quoi il ressemblait". Anton est arrivé à Neverland avec sa mère. Ils ont passé quelques heures en compagnie de Michael, mais ils ne se connaissaient pas bien encore. Anton se souvient que Michael était très poli. "Je me rappelle que je me promenais et j'avais rencontré son lama et un serpent géant. Puis Michael est allé réveiller Bubbles. Le singe portait un t-shirt rouge et une couche et il m'a serré la main. Je me disais que c'était plus étrange de rencontrer un chimpanzé que Michael Jackson ", dit-il. "Il avait une chambre remplie de bonbons et j'en ai mangé autant que je voulais".
Glanzelius explique qu'il était probablement trop jeune pour réaliser la grandeur de son amitié avec la popstar. "En tant qu'enfant, vous avez un point de vue différent" dit-il. Anton décrit son ami comme "très gentil et humble". Sur scène, c'était un artiste qui a influencé le monde. En privé, il était très timide. "C'était un gars très ordinaire qui a vécu une vie extrême dès le début."
Quand Jackson est venu à Göteborg en 1988, il a contacté Anton. "Ce fut une expérience incroyable et amusante pour moi, qui avais 14 ans, d'avoir tout le parc Liseberg pour nous". Anton désormais adulte se souvient qu'ils ont fait les montagnes russes "Loopen", le manège préféré de Michael dans le parc, une douzaine de fois. "Il riait sans cesse, nous nous sommes tellement amusés."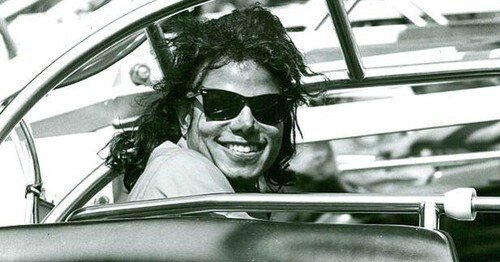 Le directeur du marketing de Liseberg, Pelle Johansson, avait consacré la première moitié de l'année 1989 à faire en sorte que Michael Jackson vienne dans le parc d'attractions. La star devait donner un concert à Eriksberg, à Göteborg, et les propriétaires de Liseberg ont vu leur chance de mettre le parc d'attractions sur l'agenda de Michael. Ils ont passé des centaines de coups de téléphone, ont envoyé des lettres à Michael et à ses managers, mais il n'était pas certain du tout que la star se présenterait. "Nous ne pensions pas que cela marcherait. La couverture médiatique était telle qu'il lui était difficile de quitter l'hôtel et venir ici", dit Johansson. Mais Jackson est arrivé avec son ami Anton et avec une centaine de personnes. "Nous avions fermé le parc et ils pouvaient se déplacer à leur guise dans le parc sans photographes ou journalistes. La seule chose que nous lui avions demandé en retour c'était son empreinte de main. Mais il était évident qu'il passait un bon moment".
Les toits étaient remplis de photographes qui essayaient de prendre des clichés d'un Michael Jackson souriant. La visite a duré 3 ou 4 heures. Michael et Anton ont également profité des autos tamponneuses, que Michael a adoré.
Anton Glanzelius a déclaré au Göteborgsposten: "Il s'amusait comme un fou et riait et nous nous amusions à nous attraper. Il était doux, humble, chaleureux et charmant."
Anton a également passé la soirée dans la chambre de Jackson, à regarder des films et à manger des bonbons "Je lui ai demandé qu'il me montre quelques mouvements de danse mais il ne voulait pas, il était si timide! Il a dit que c'était différent de jouer devant 50 000 personnes. Nous avons parlé de tout, du football et de la gloire jusqu'aux filles et de l'amour", di-il. "C'était impossible pour moi de comprendre ce que cela faisait d'être une superstar aux Etats-Unis, je n'avais que 14 ans. Je lui ai probablement posé des questions vraiment stupides", rit-il.
La dernière fois qu'ils se sont rencontrés c'était en 1992 à Stockholm. Ils sont restés en contact par courrier et Michael lui envoyait des colis de cadeaux et de vidéos. "Nous étions assez proches mais nous avons perdu le contact, je ne me souviens pas pourquoi" dit-il.
Le parc possède aujourd'hui Walk of Fame avec les empreintes de mains de quelques célébrités, dont bien sûr celles que Michael a laissées en 1988. Les mains et les signatures ont été peintes en or pour la conservation. Une étoile commémore également la visite du roi de la pop . Lors des anniversaires, le lieu est devenu un mémorial où les fans déposent fleurs et cadeaux.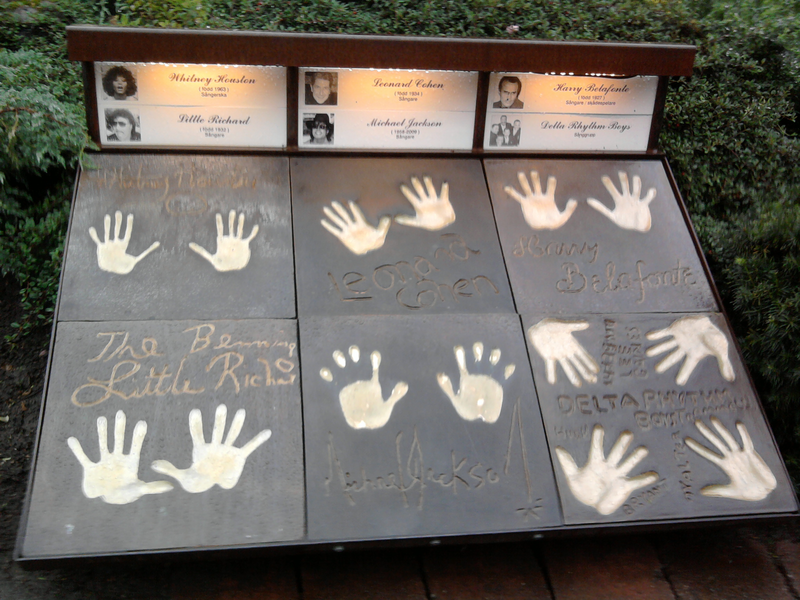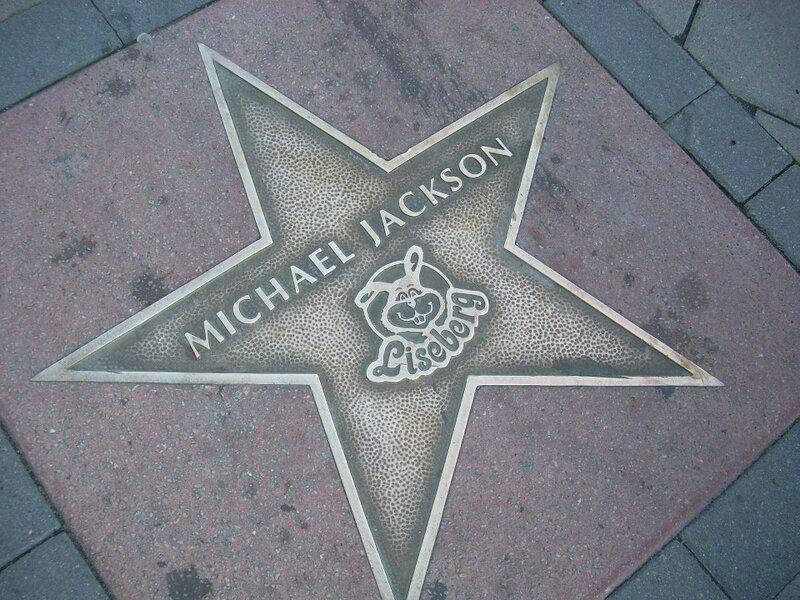 Voir également l'album photos
Sources: cartasparamichael.blogspot.com.br/lisepedia.se/Love Live Forever (facebook)