Annoncé au début de l'été comme l'évènement mystère de l'année, dévoilé au mois d'août, B 2014 a finalement eu lieu le samedi 8 novembre au SAE Institute d'Aubervilliers (93).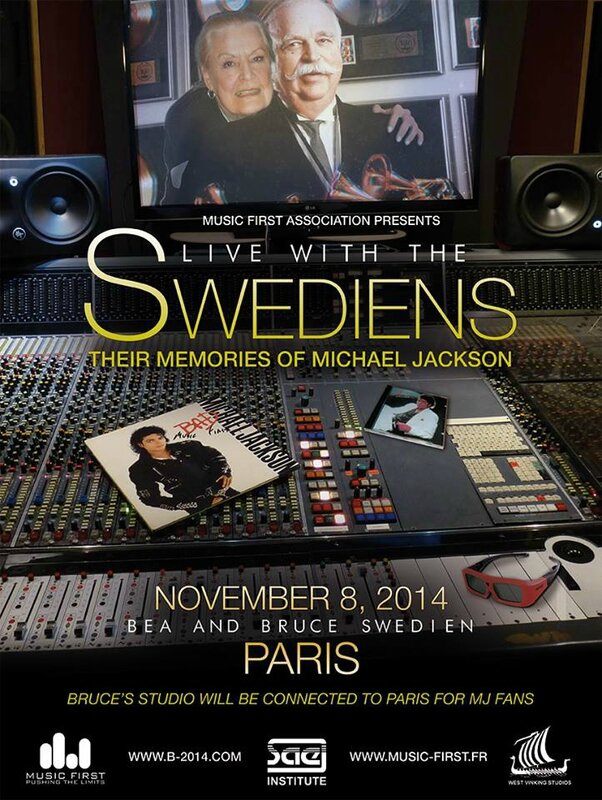 Organisé par l'équipe Music First, qui avait déjà mis en place, en octobre 2013, le séminaire de Brad Sundberg à Paris, l'évènement Live With The Swediens consistait en une visio-conférence en direct de la Floride avec le célèbre ingénieur du son Bruce Swedien et sa femme Bea. Ayant travaillé avec les plus grands artistes durant sa longue carrière, ce sont surtout leurs souvenirs avec Michael Jackson qui devaient être évoqués au cours de ces trois heures de direct.
Les invités VIP étaient conviés dès 10h pour un brunch. Un moment agréable autour d'une table pour se rencontrer, se retrouver, faire connaissance avec les fans croisés sur les forums ou sur facebook. Café, croissants, fruits, cake sucrés et salés, …. la journée commence dans une ambiance détendue et agréable. Les membres de l'équipe Music First nous accueillent de manière sympathique, malgré leur stress évident…. Et on les comprend :)
Photos: Invincible Mag
Un stand de merchandising est disponible où l'on retrouve, en plus d'un mug de l'évènement, les premiers numéros du nouveau trimestriel Invincible, le calendrier de Sunset Publishing fraîchement sorti et le beau livre de photos en noir et blanc "Forever Michael 1970 – 1977". Une autre occasion de se retrouver et de discuter entre fans.
Une vidéo en 3D est diffusée aux fans, par groupe de deux. Il s'agit de la vidéo de la visite du studio personnel de Bruce en Floride qui sera proposée également l'après-midi (voir ci-après). En 3D, il y a cependant quelque chose de magique, comme si nous étions sur place, à discuter avec lui. Moment d'émotion.
Vers midi la vingtaine de VIP est conviée à se répartir dans deux studios afin d'écouter une playlist spécialement préparée par Bruce Swedien, dans des conditions optimales.
Nous recevons également notre CD dédicacé par Bruce.
Près d'une heure trente d'écoute de titres qui ont fait la carrière de Bruce Swedien, des années 50 à la fin des années 80, montrant l'évolution des techniques de mixage et lui ayant permis de devenir LA référence en matière de son, toujours en étant dans l'innovation.
Après une courte pause, une nouvelle playlist élaborée par Bruce, cette fois concernant uniquement des titres de Michael Jackson, nous est proposée, couvrant toute la période solo de Michael durant laquelle les deux hommes ont fidèlement travaillé ensemble. Des titres bien entendu connu de tous, de Don't Stop T'il You Get Enough à Whatever Happens, mais les conditions d'écoute dans ce studio d'enregistrement nous permettent d'apprécier pleinement les mixages magiques de Bruce et la voix exceptionnelle de Michael.
Même si la séance a pu sembler longue, je l'ai particulièrement appréciée, car, en dehors de l'aspect technique dont je peux difficilement parler, n'étant pas une grande spécialiste, elle m'a fait prendre conscience, à l'écoute de certains titres qui ont pu bercer mon enfance, qu'il ne pouvait pas en être autrement pour moi d'aimer l'œuvre que Bruce a bâtie avec Michael.
Il est un peu plus de quinze heures lorsque nous pénétrons dans la salle ou doit avoir lieu la conférence. Les invités de l'après-midi sont déjà en place et on nous signale rapidement que Bruce et sa femme sont bientôt prêts à nous rejoindre.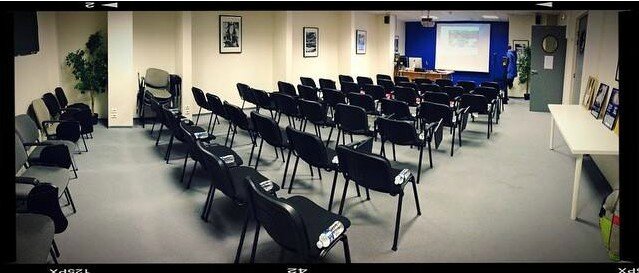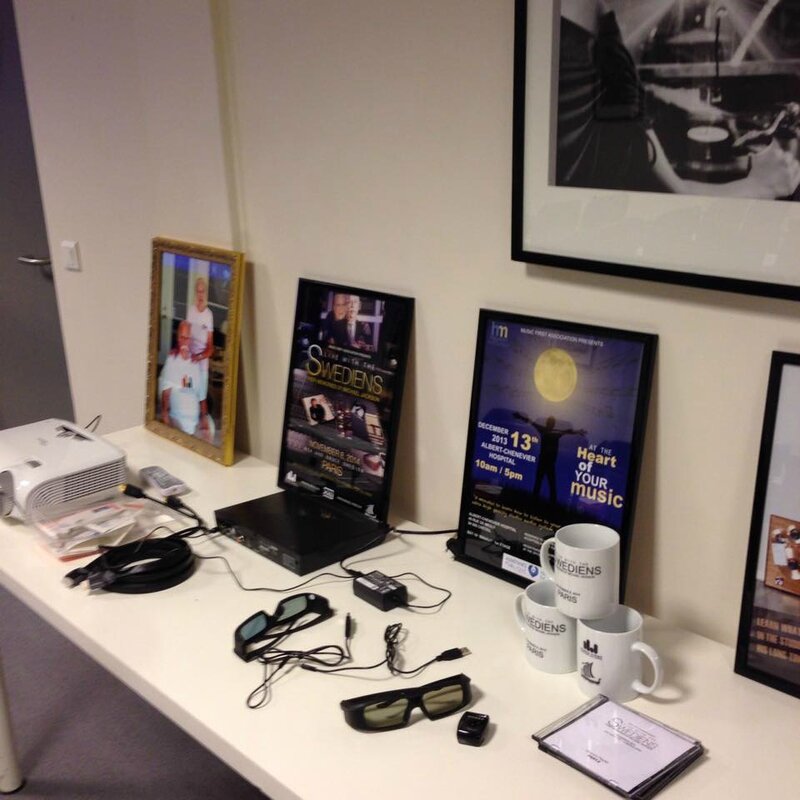 Photos: Invincible Mag
Avant de les retrouver, Music First diffuse une vidéo d'environ 25 minutes retraçant la vie et la carrière de Michael avec des témoignages de ses amis et collaborateurs, Rod Temperton, Quincy Jones, Siedah Garrett et de sa femme Bea, qui l'a suivi à de nombreuses reprises dans son travail. Une vidéo qui se termine par une séquence courte et inédite, très touchante de Bruce et Bea avec Bubbles le chimpanzé de Michael, que l'on entend en fond. On se prend à espérer que l'on aura d'autres pépites comme celle-ci.
Une deuxième vidéo s'enchaîne, celle de la visite du studio personnel de Bruce Swedien, le West Viking Studio en Floride, filmée par l'équipe de Music First. Marion, une des membres est notre guide. En pénétrant dans ce studio, on comprend le prestige de la carrière de Bruce et le lien fort qui s'est tissé entre Michael et Bruce et sa femme. Plus qu'un rapport professionnel, un lien amical presque paternel. Des photos dédicacées, des awards, des disques d'or, des objets souvenirs ornent les murs et les étagères, des vieilles machines d'enregistrement sont toujours là et des images montrent Bruce continuant à travailler sur la console principale du studio, identique à celle qui avait été utilisée pour l'enregistrement de l'album Thriller. Une étagère pleine de CD, dont nous apprendrons au cours de la conférence qu'il s'agit de démos et de titres non finalisés, apparait également sous nos yeux…..un véritable trésor.
Brad Sundberg apporte son témoignage audio, évoque ses rapports avec celui qui fut son maître.
Bruce et Bea évoquent leur rencontre avec le jeune Michael, sa personnalité, son professionnalisme et sa manière de travailler. Bruce ressort ses souvenirs : des partitions, des notes ou des dessins que Michael lui a laissés. On sent toute la nostalgie et la tristesse devant ces traces du passé qui lui rappellent certainement à quel point Michael lui manque.
"Mix #9 of Much Too Soon is great, Love MJ"
La séance de questions réponses avec Bruce et sa femme Bea commence enfin. La connexion est établie via Skype et nous voyons apparaitre le couple dans le studio de Bruce que nous venions de visiter virtuellement. Bruce porte un Tshirt de l'association Music First et, bien que vieilli, semble en forme. Nous sommes près d'une cinquantaine de participants dans la salle mais deux autres salles avec des étudiants du SAE sont également connectées à l'évènement.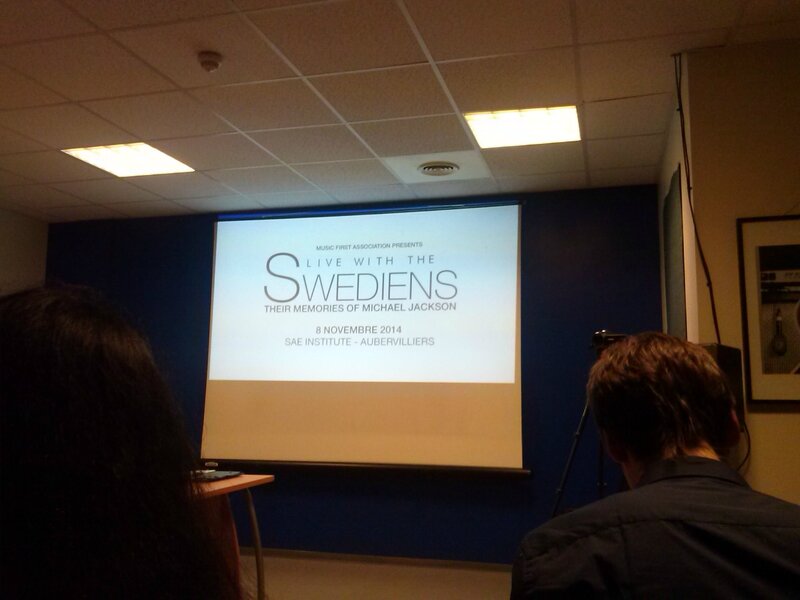 Tout au long de la conférence, j'ai découvert un homme plein d'humour, avec un fort caractère, des adages et des convictions qu'il n'a eu de cesse d'appliquer tout au long de sa vie et qu'il a tenté de transmettre au cours de cette conférence aux étudiants qui l'écoutaient. Un être humain entier, dont le côté sensible transparait parfois à l'évocation de certains souvenirs avec Michael. Des émotions ressenties et partagées dans la salle …..les larmes ont coulé à quelques reprises !
Il semble difficile de relater la totalité des propos de Bruce, voici quelques anecdotes et phrases relevées.
OFF THE WALL
Le titre préféré de Bruce sur l'album Off The Wall est la chanson du même nom car il aime le message qu'elle transmet.
Sur She's Out Of My Life, il s'est toujours demandé comment Michael avait pu ressentir et exprimer l'émotion de cette chanson, avec le final que l'on connait, sachant qu'il n'était pas marié alors.
Evoquant son passage du jazz à la musique pop : "Good music is good music, if it's good music, it's going to touch you" (de la bonne musique c'est de la bonne musique, si c'est bon cela vous touchera)
"If a piece of music is wonderful, it'll make you cry" (si un morceau est bon, il vous fera pleurer)
THRILLER
L'album préféré de Bruce.
Ce sont les pas de Frank Dileo le manager de Michael à l'époque, surnommé Tookie, que l'on entend au début du titre Thriller, le cri du loup étant assuré par Michael lui-même.
Bien qu'un grand nombre de mixes aient été réalisés pour Billie Jean, c'est le deuxième mix qui était le meilleur. Ils ont ensuite poursuivi pour essayer de l'améliorer.
"Nobody knows when a mix is the best one. Those who say that are liars" (on ne sait jamais quand un mix est le meilleur. Ceux qui disent ça sont des menteurs)
Bruce évoque et montre le modèle de couverture (mais pas l'original) qui a recouvert la batterie pour le titre Billie Jean.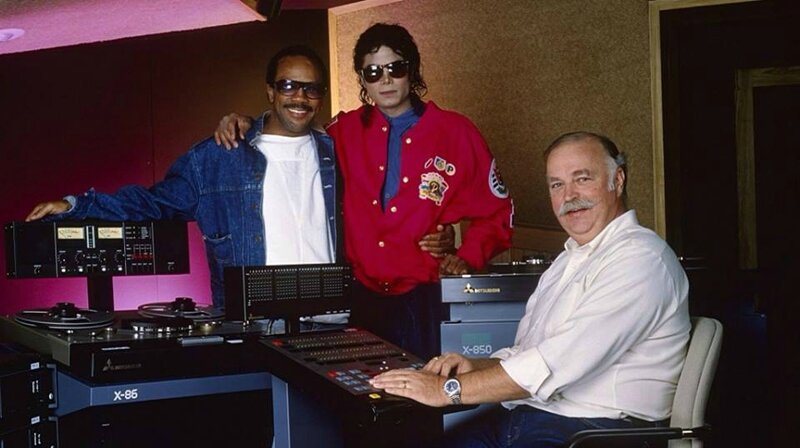 BAD
Passage au CD, mais Bruce préfère le son des vinyles qui est bien meilleur
C'est Quincy Jones qui a choisi la chorale d'Andrae Crouch
Bruce était sur le tournage du clip de Bad qui reste un bon souvenir. Selon Bea Swedien, le titre Bad aurait été inspiré d'une expérience que Michael avait eue durant une des étapes du Victory Tour. Il se serait fait jeté d'un magasin ( ???) et le propriétaire l'aurait traité de négro (nigger) et lui aurait dit "You're Bad"
DANGEROUS
Concernant l'absence de Quincy Jones sur cet album, Bruce apporte un bémol sur la personnalité de Michael, qui faisait souvent ce qu'il voulait. Il voulait faire les choses par lui-même, Bruce dit qu'il y avait parfois un peu de Joe Jackson en Michael (Joe qui s'était par ailleurs fait, un jour, sortir d'une des sessions d'enregistrement de Michael où il avait fait irruption).
Jam est le titre préféré de Bruce sur cet album, une chanson qui était écrite initialement pour René Moore. Le titre n'a quasiment pas été retravaillé pour Michael.
Bill Botrell et Teddy Riley n'ont pas spécialement les faveurs de Bruce, il déclare même que Riley est un "asshole" (……). Réactions amusées de la salle !!!!
"Michael is the easiest guy in the world to record" (Michael est l'homme le plus facile à enregistrer)
Michael connaissait toujours les textes de ses chansons, il n'avait pas besoin des paroles pour enregistrer et arrivait toujours préparé en studio où il enregistrait dans la pénombre. Il savait exactement ce qu'il voulait. Bruce explique que la musique n'est pas quelque chose d'inné et que pour l'apprécier il faut il faut mettre tous ses sens à son service.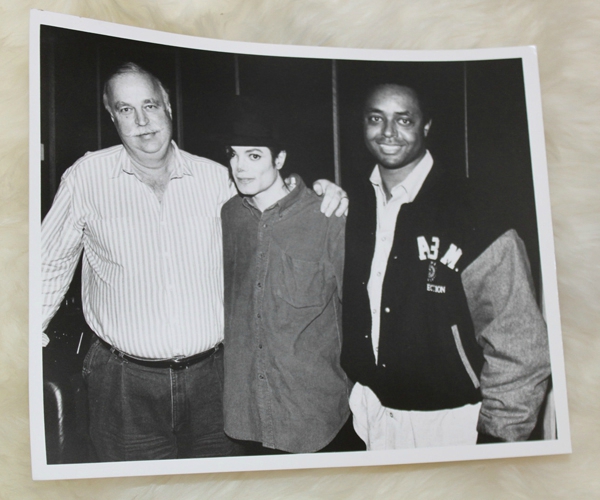 HISTORY
Le titre Smile, enregistré au Hit Factory de New York, a demandé un orchestre de 70 à 80 musiciens. Michael a enregistré en une prise avec l'orchestre et quand l'enregistrement a été terminé, les musiciens ont fait une standing ovation à Michael. A l'évocation de ce souvenir, Bruce ne peut s'empêcher de pleurer, la salle partage son émotion.
Evoquant le titre Childhood, Bea indique que Michael a parfois évoqué son enfance et les regrets qu'il a eu de ne pas pouvoir faire Halloween, par exemple, une fête qu'il aimait énormément.
Michael organisait des « Friday Family » lorsqu'il était en studio. Le vendredi, la famille, les animaux de compagnie, les amis, venaient partager un moment convivial et tout le monde mangeait ensemble. Michael apportait son serpent et Marlon Brando ou Katherine Hepburn pouvaient passer.
BLOOD ON THE DANCE FLOOR
Bruce qualifie l'album comme "OK" !
Il aime la chanson 2Bad mais n'était pas là pour l'enregistrement de Morphine.
INVINCIBLE
Son titre favori est Whatever Happens.
Les enfants de Michael étaient souvent présents aux sessions d'enregistrement.
Bruce évoque les maisons de disque, qui pour lui, ne connaissent rien à la musique.
Concernant la musique d'aujourd'hui, Bruce exprime son aversion.
"Go back to the melody, the harmony, the quality and emotions. Music is an emotional experience not a technical. Most people don't know what music sounds like. Listen to Michael Jackson's records, it's a real masterclass" (Il faut revenir à la mélodie, l'harmonie, la qualité et les emotions. La musique est une expérience émotionnelle, pas technique. La plupart des gens ne savent pas à quoi ressemble la musique. Ecoutez les disques de Michael Jackson, c'est une véritable leçon de maître).
La dernière fois que Bruce et Bea ont vu Michael c'était à Neverland, dans son studio.
Bruce a enregistré de très nombreuses chansons avec Michael, des centaines, et de nombreux titres ne sont pas finalisés. Il indique derrière lui l'étagère avec les CD contenant ces démos. Bea se met à en sortir quelques uns…..peut être allons nous en entendre un, on se prend à rêver. Mais non, nous ne sommes pas là pour cela !
La conférence est sur le point de se terminer, Bruce nous donne un dernier conseil :
"Learn to listen to your heart. You like it, do it" (apprenez à écouter votre coeur, vous aimez, faites-le).
La salle ne manquera pas de fêter, avec un petit peu d'avance, l'anniversaire de Bea, qui fête ses 80 ans le 11 novembre, en lui chantant un "Happy Birthday".
L'évènement se termine avec une vidéo de Bernie Grundman, un autre grand nom dans le domaine du son, et qui évoque son ami et collègue Bruce Swedien.
Des membres de la Full Sail University en Floride où Bruce a donné quelques conférences apportent également leurs témoignages.
Enfin, Scott et Michelle Dalziel chantent pour Bruce, dans son salon la chanson hommage à Michael Jackson, Timeless, enregistrée dans le studio de Bruce en 2013.
Entre humour, émotions et franchise, Bruce s'est livré durant près de trois heures. Un retour sur des souvenirs très riches qu'il semble avoir été heureux de partager avec les fans, même si on aurait voulu qu'il s'étende un peu plus sur certains sujets.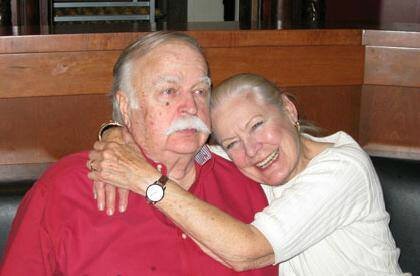 Le couple Bruce et Bea est très touchant, simple et gentil et j'ai apprécié de les entendre. On aurait sans doute aimé avoir plus d'interactions entre Bruce et le public mais l'équipe de Music First a réalisé un beau travail de préparation, d'organisation, et de technique. Marion, de l'autre côté de l'écran, a très bien su mener les échanges et je ne peux que les remercier de nous avoir permis de vivre ce moment extraordinaire.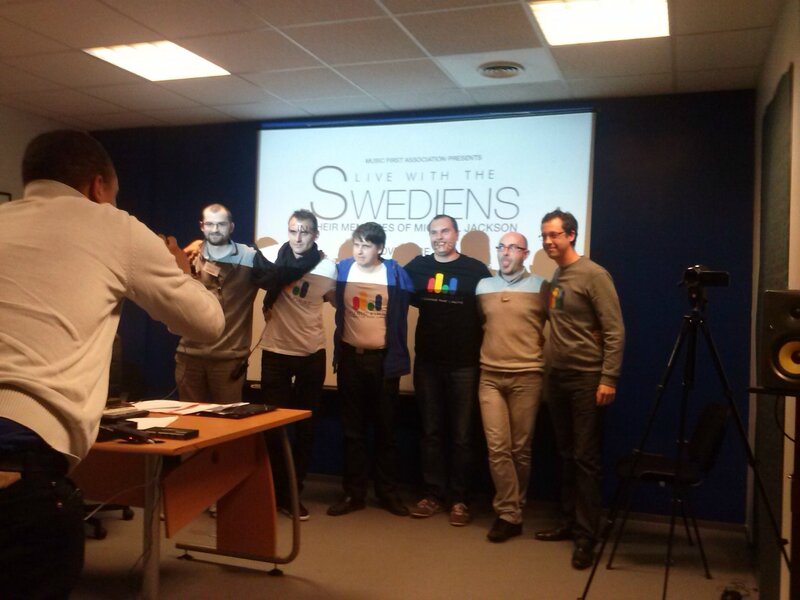 On espère avoir d'autres évènements comme celui-ci très vite car, comme le répète Bruce:
Music First !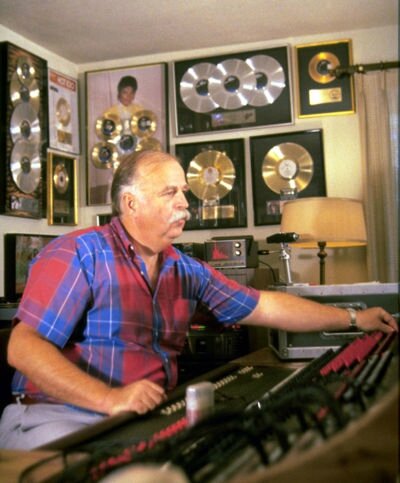 Encore plus de détails de l'évènement dans le numéro 3 du magazine Invincible, à sortir en décembre.
Sources: indiegogo.com/Invincible Mag/ B-2014