Le réalisateur irlandais Steve Barron est a réalisé certaines des vidéos musicales les plus emblématiques. Le nombre d'artistes avec qui il a travaillé dans les années 80 est impressionnant: A-ha, David Bowie, Fleetwood Mac,The Human League, Madonna, Dire Straits, …. En haut de cette liste, cependant, se trouve Michael Jackson.
Dans un livre disponible depuis novembre 2014, Egg n Chips & Billie Jean : A Trip Through The Eighties, Barron évoque ses expériences avec ces différents artistes, et raconte l'histoire de l'un des clips les plus influents de tous les temps, Billie Jean. Extraits :
L'offre
"A cette époque, [1982], j'avais fait 15 ou 20 clips vidéo, dont celui de Human League qui était alors numéro un au Royaume-Uni, avec Don't You Want Me. Le nom de Michael Jackson n'était pas encore sur toutes les lèvres. C'était quelques mois avant la sortie de Thriller. C'était bien sûr magique de recevoir un coup de téléphone de Michael Jackson mais j'étais plus excité concernant Human League. Ma femme était enceinte de mon premier enfant et ma première réaction a été: "Oh, je ne pense pas que je vais être capable de le faire". Je n'en étais pas à me dire "nous devons le faire". C'est ma femme qui m'a convaincu ".
Les idées
"Le manager de Michael Jackson m'a dit que Michael voulait que la vidéo soit magique, qu'il [Michael] avait vu Don't You Want Me, et qu'il aimait l'aspect cinématographique et l'ambiance. Michael voulait que ce clip soit comme un court métrage, avec une histoire, pas un simple clip".
Le budget
"50,000 dollars. C'était le double du budget avec lequel j'avais eu à travailler, jamais je n'avais eu autant. Et pourtant, en comparaison lorsque Beat It a été tourné de cinq semaines plus tard, le budget était de 300,000 dollars. Et quand ils ont tourné Thriller, le budget était de 2 millions de dollars. Ainsi, en l'espace de trois mois, le budget de Billie Jean était devenu le budget d'une minute de clip".
L'inspiration
"J'avais le projet [pour Billie Jean] basé sur une idée que je avais eu pour une précédente vidéo pour Joan Armatrading: The Midas Touch Thing. L'idée était que partout où Michael allait, tout s'allumait et se transformait en or à la lumière. J'ai écrit le concept sur une page et demie et nous avons faxé le contenu à Michael. On m'a répondu, "Michael aime beaucoup, il a vraiment envie de se sentir comme un Peter Pan". C'était donc un "oui, vous êtes pris, on le fait, nous aimons le concept".
Le film
"Nous avons utilisé un film 16mm. La raison pour laquelle nous n'avons pas utilisé un 35mm (je venais de tourner Don't You Want Me en 35 mm) c'est qu'il n'y avait pas assez de budget".
Steve Barron et Michael sur le tournage de Billie Jean
La rencontre avec Michael
"Il était doux, super calme, très doux, et vraiment curieux concernant les plans de la vidéo. Plus tard, il a voulu en savoir plus sur moi".
Avant le tournage
"Un de mes très bon ami a fait les storyboards, et je me suis assis avec Michael et je lui ai montré les images. Il y avait deux parties vides dans le refrain parce que son manager avait dit qu'il pourrait danser. Il a expliqué que Michael s'entrainait devant son miroir.
J'ai évoqué avec Michael l'idée de ce détective privé qui le suivait, vaguement basé sur ce qu'il m'avait dit du concept de base de la chanson, quelque chose qu'il avait lu dans un journal à propos d'un détective privé.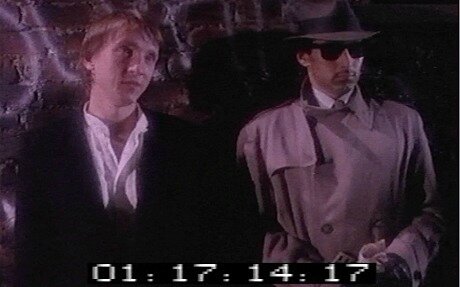 Steve Barron et le détective privé sur le plateau de tournage
Le moment de génie de Michael
"Donc, nous avons l'avons intégré et suivi, scène après scène. Et quand est arrivée à la scène avec le magasin d'appareils photos, où tous les appareils se déclenchent au passage de l'énergie, de la "Touch Midas", Michael a dit qu'il avait une idée. "Et si un des magasins de la rue était une boutique de tailleurs avec des mannequins dans la vitrine. Lorsque je marcherai, avant ou après le magasin d'appareil photos, que diriez-vous si les mannequins prenaient vie, et qu'ils sautent derrière moi et qu'on danse ensemble?". J'ai vraiment adoré l'idée, je trouvais que c'était un concept étonnant, cela améliorait tout. Cela correspondait tout à fait à l'idée, cela collait à l'histoire, c'était une idée de génie.
Après cette réunion, je suis allé voir sur mon producteur et je lui ai dit: "Michael a eu une excellente idée. Il faut que nous changions ce magasin, le troisième ou un autre, et on a besoin de mannequins dedans. Il nous faut aussi quelques danseurs et faire des répétitions. On a besoin d'un chorégraphe, d'un créateur pour les costumes, et j'ai besoin de quelques heures de plus pour tourner cela d'une certaine façon, parce que ce sera après la première danse.
Mon producteur a calculé que cela coûterait 5 000 dollars de plus et CBS [le label de Michael Jackson] a dit non. Ils ont dit, "Non, on ne vous donnera pas un penny de plus, vous avez 50,000 dollars et c'est tout".
Un coup de chance
"Je suppose que quelqu'un allait dire à Michael que nous ne pouvions pas utiliser son idée. Une partie de moi espérait qu'il dirait "je vais payer", mais il ne l'a pas fait. J'ai reçu un appel téléphonique de Michael le vendredi soir. Je dormais, je me suis demandé pendant un moment ce qu'il se passait. Cela me semblait bizarre car je pensais que Michael n'était pas le genre de personne à téléphoner lui-même. Il m'a dit : "Hey Steve, je pense que nous ne devrions pas faire la danse dans la vidéo demain". Je me suis dit : "Je ne vais pas lui dire. Il a annulé, quelle importance de lui parler du budget alors qu'il ne veut plus le faire ?"
Je comprends pourquoi il ne l'a pas fait. Créativement parlant, je crois qu'à ce moment là, il pensait déjà à Beat It et à Thriller. Ne pas pouvoir réaliser une bonne idée est décevant, c'est la scène manquante que j'aurais aimé pouvoir tourner. Je pense la vidéo aurait été encore meilleure.
Le jour du tournage
"J'étais à l'aise sur le plateau, c'était simplement un tournage comme les autres vraiment jusqu'à ce qu'il commence à danser".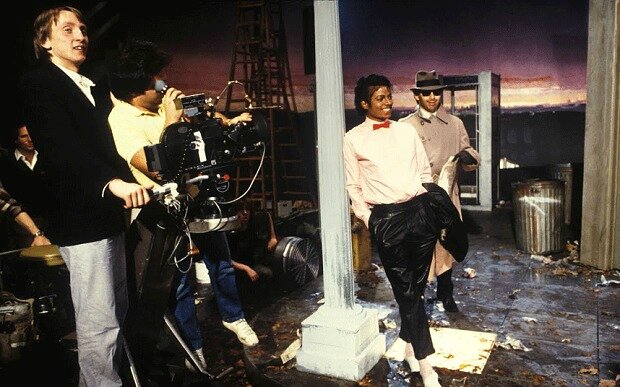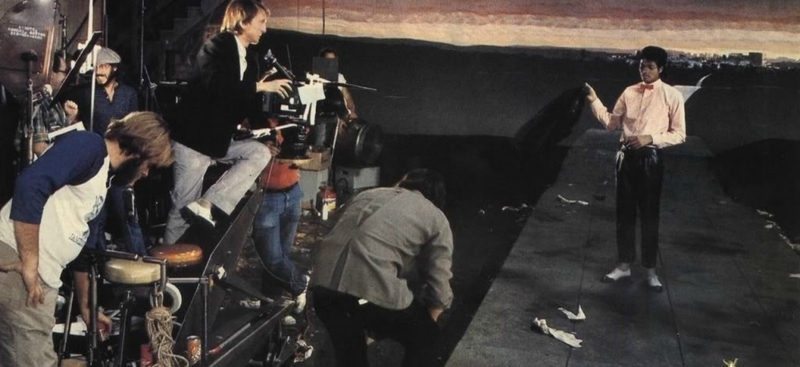 La danse
"On m'avait prévenu la veille que les pavés ne pourraient pas tous s'allumer, que Michael ne pourrait pas aller comme il le voulait. Seuls 11 pavés pouvaient s'illuminer (…) et il avait fallu les choisir au hasard pendant la nuit. J'ai du dire : "Michael Je suis désolé, mais il y a ce pavé qui s'allume, puis ces deux là, ces deux autres, et celui là".
N'ayant assisté à aucune répétition ou quoi que ce soit, je devinais ce qu'il allait faire. Je pense qu'il avait répété quelques mouvements, mais comment allions-nous les enchaîner ? C'était un mystère. Il les observa tous très attentivement et regarda ce dont je lui avais parlé puis je lui dis: "Michael, pourrions-nous faire quelques répétitions", mais il a dit, "pouvons-nous simplement enregistrer ?"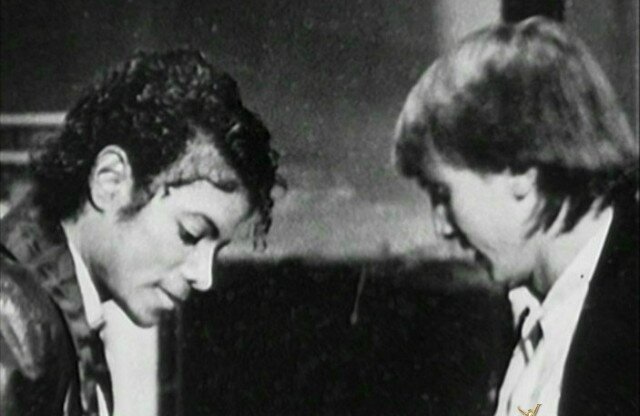 Alors que le refrain approchait, il a commencé à bouger un peu plus sa jambe et au moment du refrain, il a entamé cette danse qui ne ressemblait à rien de ce que j'avais déjà pu voir. C'était tout simplement extraordinaire, instinctif. Il a assemblé tout cela et c'est devenu ce que nous avons vu. Je chauffais, je me réchauffais avec l'énergie qu'il dégageait. La caméra se couvrait littéralement de buée, à cause de la chaleur de ce que je voyais. Il a presque disparu dans un brouillard dans l'œil de la caméra, ce qui a rendu ce moment totalement surréaliste".
Mise au point
"J'ai rencontré Michael à Covent Garden, tout près de Long Acre, pour la post-production. Je me souviens que nous avons travaillé presque toute la nuit parce que, comme d'habitude, il fallait faire vite. Il se trouvait à Londres, c'était donc le timing parfait. Je me souviens qu'il était couché sur le canapé du fond, et à un moment il a regardé l'un des écrans et il a dit: "J'aime cette prise". En fait il regardait un écran divisé. Il pensait que les trois parties étaient là pour qu'il en choisisse une ... Je n'ai rien dit ".
Une vidéo virale
"Tout ce que je me souviens, c'est que, environ deux semaines plus tard, j'ai entendu que MTV ne passerait pas Bille Jean. Ils ont dit ce n'était pas pour leur public. Et puis j'ai entendu, (et j'en ai entendu des d'histoires !), que CBS avait téléphoné à MTV. Ils étaient absolument furieux: "Comment un titre hip hop record, avec une vidéo comme celle-ci, d'un si grand artiste ne peut-il pas être pour votre public ?!. Qui est votre public?"
Ils ont dit qu'ils représentaient l'Amérique moyenne. Je ne pense pas que les termes "blanc" ou "noir" aient été utilisés. MTV était débutante. Ils ne savaient pas qui ils étaient, ils ne savaient pas ce qu'ils allaient devenir, et ils ne savaient certainement pas que Michael Jackson allait devenir MTV. Ils étaient en train de lutter contre la chose qui allait construit l'empire qu'ils sont devenus ».
Voir également l'histoire du titre Billie Jean ici