Le 18 décembre 1969 sort le premier album des Jackson 5 sous le label Motown, Diana Ross Presents The Jackson 5.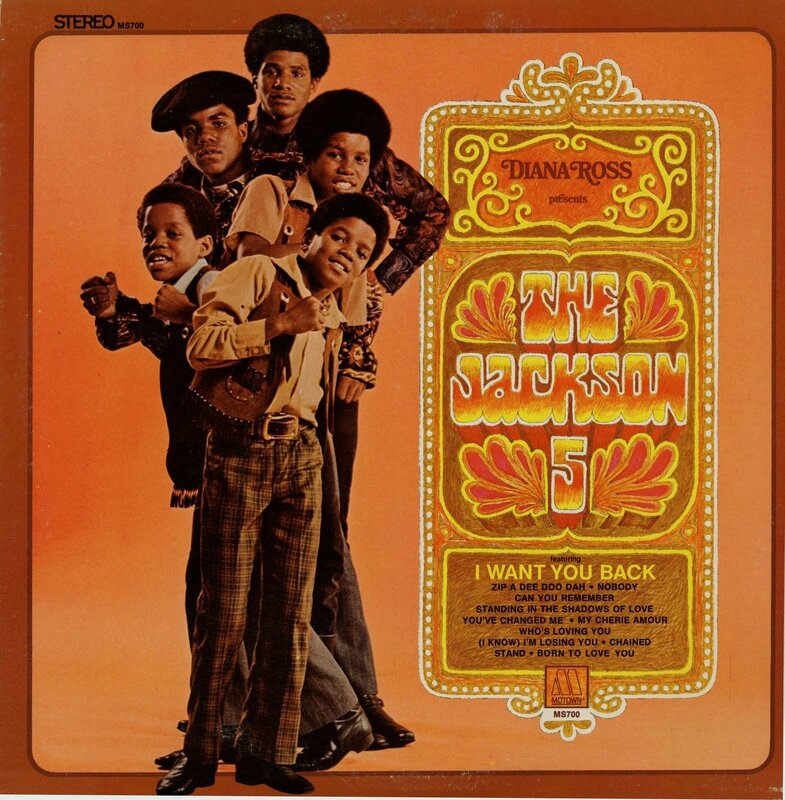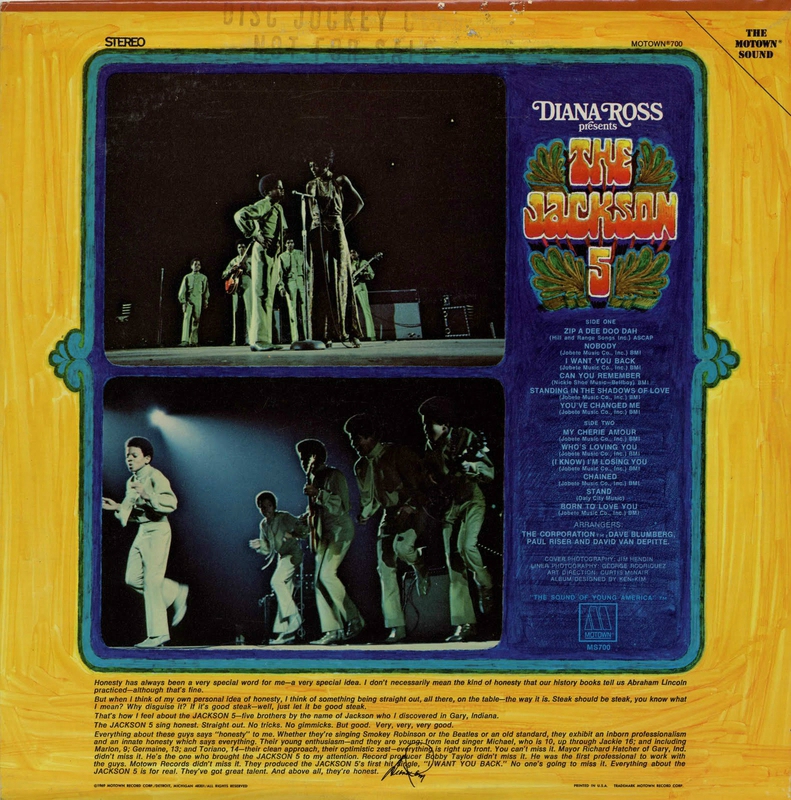 Produit par Bobby Taylor & The Corporation, l'album est composé de reprises et comporte notamment ,en première piste, Zip-A-Dee-Doo-Dah, une reprise d'un succès d'après-guerre d'un chef d'œuvre de Walt Disney. Un titre devenu un standard.
L'histoire de la chanson
Zip-A-Dee-Doo-Dah a été écrite en 1945 par Allie Wrubel, pour la musique, et Ray Gilbert, pour les paroles, pour un long métrage (94 minutes) combinant animation et prises de vues réelles, Song Of The South (Mélodie du Sud). Walt Disney a souhaité porter à l'écran Tales of Uncle Remus (les Contes de l'Oncle Rémus) de Joel Chandler Harris, ces histoires qu'on lui racontait lorsqu'il était enfant. Le film va cependant vite faire polémique : en effet, le long métrage met en scène trois contes de Harris inclus dans une histoire dramatique se déroulant dans le vieux Sud américain avec d'anciens esclaves et leurs anciens maîtres dans une plantation de coton. Bien que l'histoire soit située après la Guerre de Sécession, le film est accusé de montrer des éléments à caractère raciaux, par les paroles et les attitudes des personnages réels ou d'animation.
Affiche américaine du film (1946) et partition
Le film sort le 12 novembre 1946 mais il est l'une des rares productions de Disney à n'avoir jamais été diffusé en DVD. Il n'est plus ressorti au cinéma depuis les années 1980 et malgré quelques rares sorties sur supports vidéos il n'est plus disponible, de manière officiellement intentionnelle pour des raisons éthiques et morales.
Zip-A-Dee-Doo-Dah est chantée deux fois dans le film : elle sert d'abord de fil conducteur à la première séquence animée, quand l'Oncle Rémus (joué par James Baskett) raconte à Jeannot (Bobby Driscoll) sa première histoire, alors que celui-ci s'apprête à fuguer de la plantation pour rejoindre son père à Atlanta. Par son caractère enjoué, la chanson est réutilisée pour illustrer la fin heureuse du film. Elle est chantée cette fois-ci par les trois enfants : Jeannot (Bobby Driscoll), Ginette (Luana Patten) et Toby (Glenn Leady) qui sautillent en la fredonnant, le mouvement étant ainsi lié à l'idée musicale. Ils seront rejoints par Monsieur Lapin, l'Oncle Rémus, Frère Grenouille (Br'er Frog) et un choeur enchaînera avec la chanson-titre du film (Chanson du Sud).
Zip-A-Dee-Doo-Dah fait partie de ces mots inventés du répertoire Disney, au même titre que les futurs Bibbidi-Bobbidi-Boo ou Supercalifragilisticexpialidocious qui résument à eux seuls un état d'esprit, une situation. Dans ce cas, le mot nous rappelle bien une chanson qu'on fredonne (dee-doo-dah) et l'entrain (zip en anglais) qui nous conduit à fredonner. Les auteurs ont voulu traduire ce mot musicalement parlant de manière la plus simple qu'il soit : en donnant un caractère éclatant et un rythme pointé nous faisant immédiatement penser au sautillement, à l'allégresse. La simplicité formelle de la chanson nous rappelle également l'insouciance du moment.
Les premiers interprètes de Zip-A-Dee-Doo-Dah :
James Baskett, entouré de Luana Patten, Bobby Driscoll (debout), et Glenn Leedy (assis)
James Baskett est donc le premier interprète d'une longue série de ce titre qui, le 20 mars 1948, est récompensée dans la catégorie de la meilleure chanson originale lors de la cérémonie des Oscars qui a lieu au Shrine Civic Auditorium de Los Angeles. De nombreux autres artistes vont intégrer ce titre à leur répertoire : les crooners Johnny Mercer et Frank Sinatra en 1946, et Bing Crosby en 1947. Cette même année six autres versions d'artistes verront également le jour.
Au début des années 50, les nouvelles versions seront plus à destination du jeune public.
Le film Mélodie du Sud réapparaît sur les écrans en 1956 et la bande originale sort enfin grâce à Disneyland Records.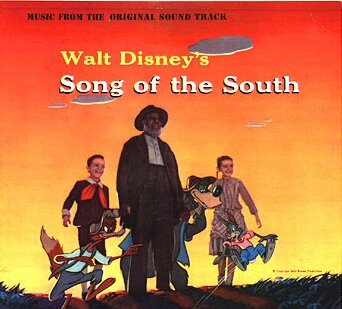 À partir des années 60, Zip-A-Dee-Doo-Dah revient sur le devant de la scène dans différents styles musicaux et pour toutes les générations. En 1963, notamment, Dionne Warwick enregistre la chanson dans une version rhythm & blue pour son premier album Presenting Dionne Warwick et Doris Day pour son album With a Smile And a Song.
Les Jackson 5
Durant l'année 1967, c'est au tour du label Motown d'entrer en jeu et d'utiliser ce titre. Diana Ross & The Supremes enregistrent toute une série de chansons du catalogue Disney dans le but de sortir un album intitulé Diana Ross & The Supremes Sing Disney Classics. Cet album ne verra jamais le jour. Si certains titres se retrouvent dans des compilations sorties ultérieurement, Zip-A-Dee-Doo-Dah fait partie de ceux qui restent encore inédits. Mais la Motown n'a pas dit son dernier mot. Elle va sortir ce qu'elle n'imagine pas être sa meilleure carte, puisqu'il s'agit d'un groupe encore inconnu : les Jackson 5.
Jackie, Tito, Jermaine, Marlon et Michael interprètent donc Zip-A-Dee-Doo-Dah en ouverture de leur premier album Diana Ross Presents The Jackson 5.
Le groupe enregistre la chanson en mai 1969 au studio Hitsville de la Motown, à Detroit (Michigan) avant le déménagement du label en Californie. La version comprend un snippet du titre de Sly & The Family Stone, Sing A Simple Song (Yeah Yeah Yeah, en introduction).
Mais avant la sortie sur l'album, les frèrent interprètent le titre en live (ainsi que Who's Loving You) lors de la soirée au Daisy's Disco Club, au 326 Rodeo Drive, à Beverly Hills, le 11 août 1969. Trois cents invités de l'industrie musicale sont présents pour découvrir le nouveau groupe prodige de la Motown, présenté par Diana Ross comme "The most talented entertainement act of this decade" (l'acte de divertissement le plus talentueux de cette décennie).
Le titre ne bénéficie pas d'une sortie en 45 tours mais, le 21 février 1970, les Jackson 5 l'incluent dans un medley lors de leur apparition à l'émission American Bandstand.


De mai à décembre 1970, les J5 réalisent leur première tournée américaine. Le titre fait partie de la setlist. Un film promotionnel où l'on voit les frères répéter est envoyé aux promoteurs de concerts.
La version Live du titre interprétée sur scène le 20 juin 1970 au forum de Los Angeles est présente sur l'album Live At The Forum, sorti en 2010


En janvier 1979, le titre a été donné pour une compilation, regroupant des titres de 1969 à 1972, uniquement sortie en Grande Bretagne sous le label Music for Pleasure.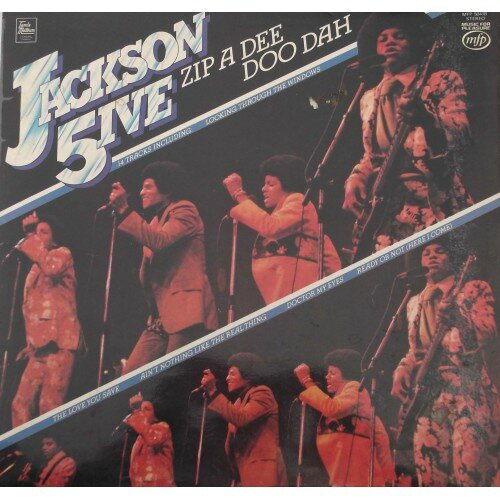 Zip-A-Dee-Doo-Dah continuera d'être enregistrée en s'imprégnant des différentes modes, des différents styles musicaux (classique, disco, reggae, jazz, country, …) comme si elle reflétait à elle seule toute l'histoire de la musique. Le titre a connu un grand nombre d'interprètes. Elle n'est plus associée à la musique du film Mélodie du Sud (vu le nombre d'artistes afro-américains ayant pris plaisir à l'interpréter, il est évident que ce n'est pas le cas !) mais est devenue à travers les années un hymne à la joie et la bonne humeur et exprime le plaisir de passer une "belle et radieuse journée". Ce sont des musiques "tellement universelles qu'elles ont la capacité de s'affranchir de leur film d'origine". (Vasile Sirli). Un auditeur lambda est-il d'ailleurs capable d'associer la chanson et le film ?
La chanson est également devenue un des classiques des parcs Disney à travers le monde, utilisée comme musique dans les attractions (Splash Mountain), dans les différentes parties du parc (Frontierland) ou pour les défilés et les anniversaires des parcs.


Dans une interview accordée en 2007 au site Media Magic, Vasile Sirli, le compositeur et directeur musical de la parade de Disney explique qu'il a utilisé Zip-A-Dee-Doo-Dah, car c'est une chanson "que l'on associe plus aux parcs, à la journée magnifique que l'on peut y passer, qu'à Mélodie du Sud, et qui a ce côté festif, cotillons et serpentins"
Sources: chroniquedisney.fr/Wikipedia/songofthesouth.net
Les paroles
zip-a-dee-doo-dah
zip-a-dee-a
my oh my, what a wonderful day
plenty of sunshine heading my way
zip-a-dee-doo-dah
zip-a-dee-a
mister bluebird on my shoulder
it's the truth
it's actual
everything is satisfactual
zip-a-dee-doo-dah
zip-a-dee-a
wonderful feeling
wonderful day
yeah
zip-a-dee-doo-dah
zip-a-dee-a
my oh my, what a wonderful day
plenty of sunshine heading my way
zip-a-dee-doo-dah
zip-a-dee-a
mister bluebird on my shoulder
it's the truth
it's actual
everything is satisfactual
zip-a-dee-doo-dah
zip-a-dee-a
wonderful feeling
wonderful day
oh yeah
[break]
zip-a-dee-doo-dahhh
zip-zip-zip-a-dee-a
zip-a-dee-doo-dahhh
mister bluebird on my shoulder
it's the truth
it's actual
everything is satisfactual
everything is satisfactual
everything is satisfactual
zip-a-dee-doo-dah
zip-a-dee-a
my oh my, what a wonderful day
plenty of sunshine heading my way
zip-a-dee-doo-dah
zip-a-dee-a
wonderful feeling
what a wonderful day
wonderful feeling
what a wonderful day
wonderful feeling
what a wonderful day
wonderful feeling
what a wonderful day
wonderful feeling (zip-a-dee-doo-dah)
what a wonderful day
wonderful feeling (zip-a-dee-doo-dah)
what a wonderful day
wonderful feeling (zip-a-dee-doo-dah)
what a wonderful day
Court extrait du film Mélodie du Sud avec la chanson en français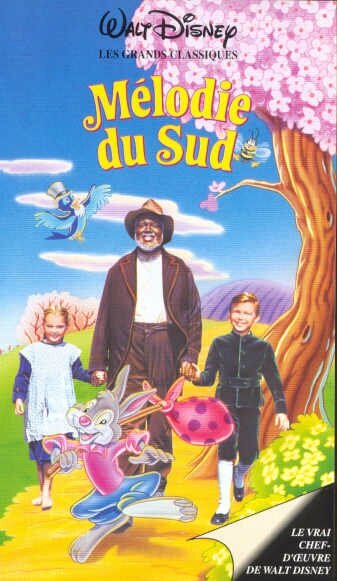 Support VHS français de 1997