Lorsque Michael Jackson crée Neverland, tout est pensé dans les moindres détails, rien n'est laissé au hasard : une entrée majestueuse, des statues dans divers recoins des pelouses et allées, un parc d'attractions à l'image d'un Disneyland, un cinéma et un zoo.
En tant qu'artiste, Michael y a bien sûr intégrer de la musique, différente selon les parties du ranch où l'on se trouvait.
Ainsi, selon Brad Sundberg, ingénieur du son ayant travaillé de nombreuses années pour Michael, qui a mis en place toute la sonorisation à Neverland et qui sillone désormais le monde avec ses séminaires où il évoque ses souvenirs avec la star, "lorsque vous vous promenez à travers les différentes sections d'un parc Disney, vous entendez de la musique et des sons qui changent pour refléter l'ambiance du lieu. Nous avons fait la même chose à Neverland, en utilisant de la musique et des effets sonores pour que les invités soient dans l'ambiance. Nous avions même des musiques et des effets différents selon que c'était le jour ou la nuit".
Une seule règle : Michael n'autorisait pas sa propre musique à Neverland. Lors de son séminaire à Paris, en 2013, Brad Sundberg a raconté que lorsqu'il a été chargé de définir la musique des portes principales de Neverland, The Ornate Gates - Michael voulait que chaque fois que s'ouvriraient ces portes résonne une musique – il a préparé un CD avec les meilleurs titres de Michael, Beat It, Billie Jean, … En l'entendant, Michael a aimé, a dansé dessus ………..puis a détesté. Il a dit "ce n'est pas possible, je ne peux pas avoir mes propres musiques chez moi". Brad a donc annulé le CD. Finalement Michael a choisi Danny Boy, un hymne funèbre irlandais pour l'entrée de son ranch.
Michael choisissait personnellement chaque chanson, chaque musique pour son ranch. Il écoutait les idées de Brad, était souvent d'accord avec lui … "sauf quand [il] lui suggérait certaines de ses chansons".
Brad Sundberg raconte également que Michael avait fait installer des nichoirs dans certains arbres du ranch tel que celui-ci (en haut à droite de la photo).
"Michael aimait le chant des oiseaux, mais il n'y avait pas beaucoup d'oiseaux dans la région de Los Olivos. Il m'a demandé un moyen pour obtenir ce type d'ambiance. Nous sommes arrivés avec un CD de chants d'oiseaux personnalisé (merci Matt Forger!) et nous avons conçus des nichoirs pour cacher les haut-parleurs étanches. Ils ont été placés un peu partout, avec le lecteur CD et les amplificateurs nécessaires. C'était si réaliste que les invités du ranch cherchaient constamment à repérer les oiseaux".
Autour des parties privées (la maison principale, le lac et la maison des invités), Michael avait choisi une playlist parmi ses titres préférés de musique classique et de Disney. Cette playlist s'appelait The Neverland Collection et était jouée toute la journée, que Michael soit présent au ranch ou non.
Ci-dessus la photo de la playlist Neverland Collection Vol II ..... Il y a donc un Vol I !!!
Plongeons-nous quelques instants dans l'ambiance du ranch :
- Carol Anne's Theme (End Title) de Jerry Goldsmith: extrait de la bande originale du thriller de 1982, Poltergeist, cette berceuse représentait la vie tranquille de banlieue et la jeune protagoniste du film.
- From Mermaids To Lost Boys de John Williams: extrait de la bande originale du film Hook (1991), de Steven Spielberg (dans lequel il avait été question, pendant quelques temps, que Michael tienne le rôle de Peter Pan).
- Arabesque n°1 de Debussy (1888) : la première des deux Arabesques composées par le français Claude Debussy, dans sa jeunesse.
- My Christmas Tree de Home Alone Children's Choir: Extrait de la bande originale de Home Alone 2: Lost In New York (Maman j'ai encore rate l'avion), sorti en 1992, avec le comédien et ami de Michael Jackson, Macaulay Culkin.
- The Lark Ascending de Ralph Vaughan Williams par l'Academy St Martin-in-the-fields et Sir Neville Marriner: Inspiré par le poème du même nom de l'anglais George Meredith, Ralph Vaughan Williams a composé la musique en 1914. Celle-ci est désormais plus célèbre que le poème.
- Fantasia on Greensleeves de Ralph Vaughan Williams par l'Academy St Martin-in-the-fields et Sir Neville Marriner: une pièce symphonique écrite en 1934 par le compositeur anglais, inspirée de la chanson originale du 16ème siècle, Greensleeves
- My Favorite Things de Maria: il s'agit d'un titre de Richard Rodgers et Oscar Hammerstein II, écrit pour la comédie musicale The Sound of Music (La mélodie du bonheur). La chanson a été créée sur scène par Mary Martin, l'interprète du rôle de Maria à Broadway, en 1959. Dans le film The Sound Of Music sorti en 1965, elle est chantée par Julie Andrews.
Résonnait également autour de la maison "La partita pour flûte traversière seule en la mineur BWV 1013" de Jean-Sébastien Bach.
On peut entendre cette musique dans une vidéo inédite de Michael à Neverland, récemment mise en ligne par le site de ventes aux enchères Gottahaverockandroll.com (à 2 :20)
Dans le parc d'attractions, Michael avait choisi des chansons de sa soeur, Janet Jackson, de Yes ou de Joe Satriani (qui fut quelques temps le guitariste de Deep Purple). Certains titres de Van Halen ou Led Zeppelin étaient mêmes joués dans les attractions.
Ainsi dans la vidéo récente de Gottahaverockandroll.com, on peut voir Michael s'amuser sur le toboggan géant de son parc d'attraction avec, en fond sonore, la chanson du groupe Yes, Owner of a lonely heart (à 4 :08 dans la vidéo ci-dessus)
Pour le zoo, des musiques plus traditionnelles, de cow boy, avaient été sélectionnées.
Les trains jouaient également de la musique classique.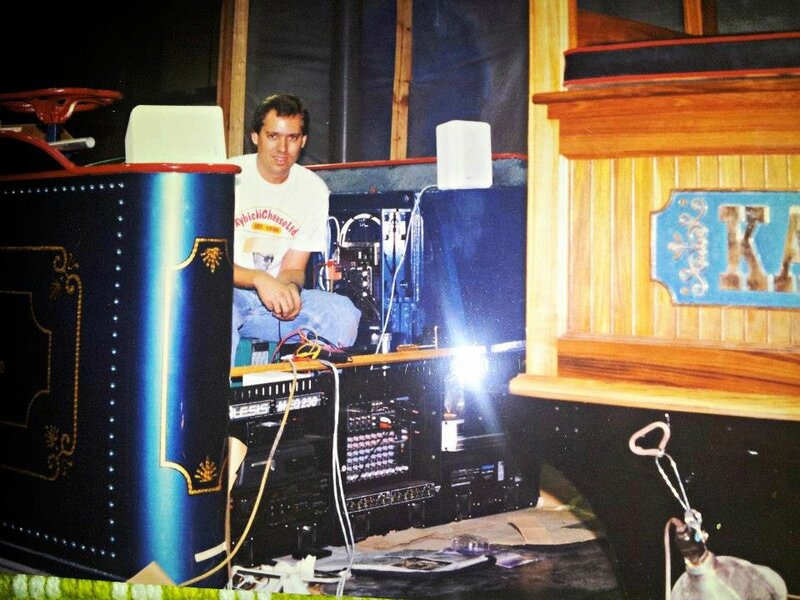 Brad Sundberg installant le système de sonorisation sur le train Katherine, dans le ranch Neverland
"Neverland c'était plus que des effets visuels. C'était des lumières scintillantes dans les arbres, l'odeur de la vapeur et de la fumée du train et les senteurs de l'herbe fraîchement coupée. Mais pour moi, c'était aussi beaucoup de sons. Revoir la voie ferrée sans entendre le train, ou se promener dans le parc sans entendre l'hydraulique des manèges et les haut-parleurs ... Je ne sais pas ce que je ressentirais. Michael connaissait le pouvoir de la musique, et il savait comment compléter une scène. Neverland était, en un sens, un film avec beaucoup de scènes. Et chaque scène avait une bande sonore. Je suis assez fier d'avoir fait partie des sons de Neverland, et je suis content que la bande sonore résonne encore clairement dans ma mémoire. Faites attention aux bruits autour de vous. Écoutez-les, souvenez-vous en, profitez en, et un jour, ils seront une mini machine à remonter le temps." Brad Sundberg
Le pouvoir de la musique…………….
Sources: inthestudiowithmj.com/michaeljacksonchosenvoices.com/mjjcommunity.com
Merci à Marion D. pour son aide ;)