En mai 2009, Michael Jackson vient flâner, avec ses enfants, au festival d'art annuel de Beverly Hills, Affaire In The Garden. Il y achète notamment des œuvres de Patrick Whelan (voir ici). Lors de cette exposition, il rencontre également l'artiste cubain Nelson De La Nuez à qui il commande certains de ses derniers tableaux.
Réputé pour combiner le pop art et le surréalisme, De La Nuez, surnommé également le King Of Pop Art (son logo ressemble d'ailleurs étrangement aux emblèmes de Neverland!!), est le créateur du site web Museum Of Humor Art (MOHA), un musée virtuel qui vend ses œuvres. Sa marque de fabrique est appelée Art On The Edge et consiste à couvrir tous les côtés de la toile avec un style qui reprend des mondes imaginaires, des vieilles publicités, de vieux jeux de société et toute la nostalgie de l'enfance.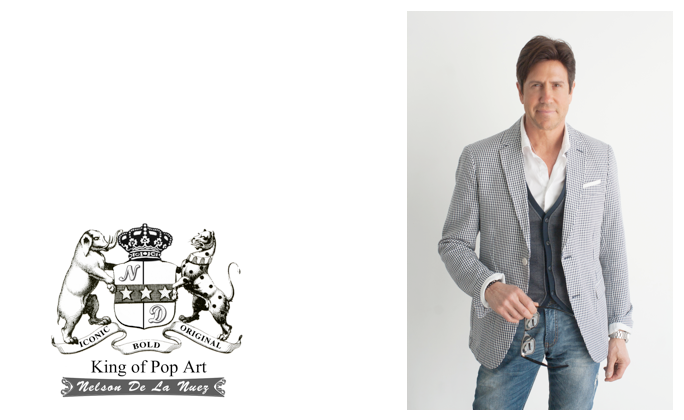 "Ma vie a été changée à jamais", raconte De La Nuez à propos de sa rencontre avec Michael Jackson. "Vous ne pouvez pas rencontrer quelqu'un comme ça ... une énigme, un morceau de l'histoire, une idole et ne pas être changé. Le plus triste, c'est que Michael Jackson venait de commencer une "relation" avec mon art et avec moi-même et qui sait ce qui aurait pu se passer ? Nous ne le saurons jamais, mais je me considère chanceux d'avoir pu rencontrer cette légende un court instant et de savoir que mes toiles étaient accrochées sur ses murs".
Michael aperçu avec ses enfants devant la peinture "Play Ball!"
Alors qu'il expose ses œuvres lors d'un festival d'Art à Beverly Hills, le 16 mai 2009. Nelson De La Nuez, qui compte beaucoup de célébrités parmi ses clients, rencontre Michael Jackson qui s'arrête devant une de ses œuvres, Wicked Witch (la méchante sorcière), tirée du film Le Magicien d'Oz. De La Nuez a travaillé avec la Warner Bros, à l'occasion du 70ème anniversaire du film The Wizard of Oz (le magicien d'Oz). Il a créé des œuvres d'art originales dont The Wicked Witch fait partie.
De La Nuez remarque que Michael est fasciné par la peinture représentant le profil vert d'une sorcière sur un fond jaune. Son garde du corps lui demande le prix et lui dit que Michael voudrait l'acheter. Michael revient le lendemain avec deux de ses enfants, et aborde De la Nuez d'une voix très calme et douce et lui demande s'il est l'artiste. Ses mots sont à peine audibles sous le voile couvrant sa bouche, mais il demande également le nom de l'œuvre intitulée Donut Queen et indique qu'il la veut. Il était impressionné par les couleurs et les images dynamiques et commence à pointer les pièces qu'il veut acheter. Il les montre à ses gardes du corps qui les photographient avec un téléphone portable.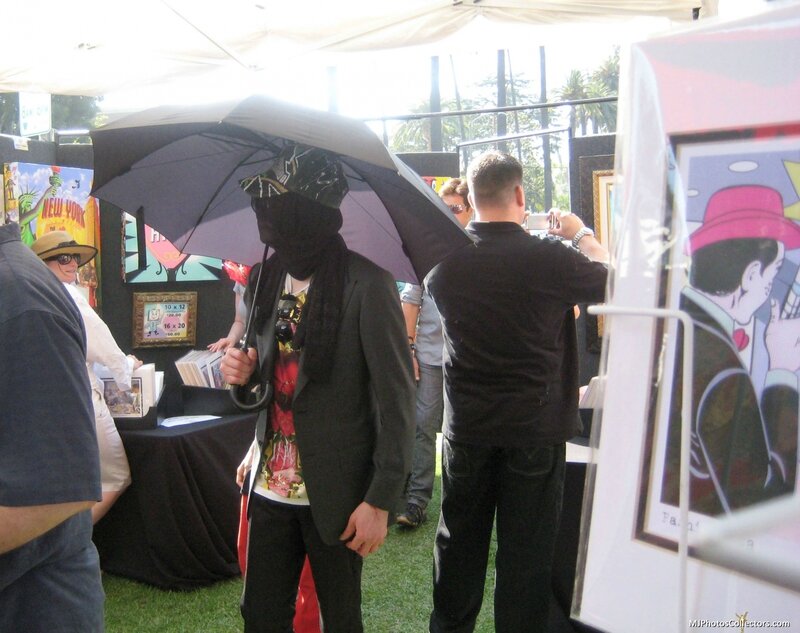 Le garde du corps derrière Michael photographie "Donut Queen"
Michael Jackson semblait transpercé par le travail de l'artiste pop parce que les oeuvres ressemblent à sa propre vie et à sa personnalité. Elles sont amusantes, étranges, nostalgique, enfantines et vibrantes avec une touche de mystère.
Les deux autres pièces que Michael achète ce jour là sont :
- Donut Queen (la reine beignet) , une peinture surréaliste pop d'une femme à la peau de porcelaine ressemblant à une poupée, entouré de beignets, d'un laitier et d'anges qui posent une couronne sur sa tête, dans un paysage surréaliste.
- Play Ball!, une peinture nostalgique de baseball. Il s'agit d'une pièce originale peinte à la main qui rend hommage à tous les grands joueurs de baseball.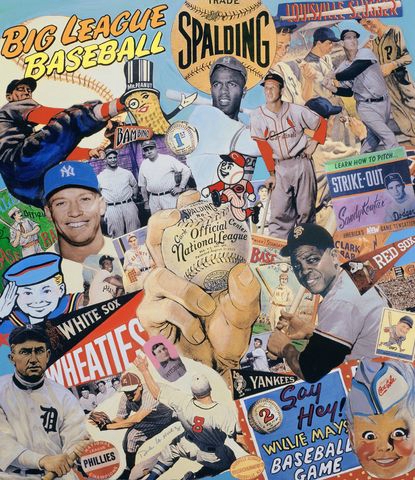 Malheureusement, avant que Michael n'ai pu voir le reste des œuvres, les paparazzi et le public se rendent compte de sa présence. "On aurait dit que l'enfer se déchaînait" déclare De La Nuez, qui, bien que possédant de nombreux clients célèbres, affirme n'avoir jamais vu un tel pandémonium. "Je n'ai jamais rien vécu de si bizarre et de si étrange quand quelqu'un arrive. C'était comme la seconde venue de Jésus. Tout le monde sait qui vous êtes et tout le monde veut un morceau de vous", dit-il. "Je ne peux pas m'imaginer vivre comme ça".
Michael disparait en un instant, laissant l'artiste avec l'impression d'avoir été touché par sa grandeur. Les derniers mots de Michael Jackson à De La Nuez sont "Dieu vous bénisse", et il lui fait le signe de paix qu'on lui connait.
La transaction est finalisée le 11 juin 2009 et les œuvres d'art sont personnellement livrées au domicile de Michael, à Holmby Hills, peu de temps avant sa disparition. Michael est devenu tellement obsédé par la peinture Wicked Witch que ses employés demandent à De La Nuez à l'avoir immédiatement. Ils étaient prêts à venir la chercher dès que possible. Ils ont déclaré à De La Nuez que Michael réclamait la "Méchante Sorcière" tous les jours.
AEG effectue un virement bancaire de 13 000 dollars à l'artiste peintre et dès le 15 juin, De La Nuez livre les pièces chez Michael Jackson. De La Nuez espère même obtenir une photo avec la star. Alors qu'il approche du grand portail où stationnent des paparazzi, il remarque des couronnes de Noël présentes sur les portes. Il se souvient également qu'une musique de Noël sortait d'un haut-parleur ... le temps semblait s'être arrêté dans la maison de Michael Jackson. Les portes s'ouvrent et se referment derrière lui et apparait alors la sécurité, aussi serrée qu'à la Maison Blanche. Le jeune fils de Michael, aux cheveux longs, jouait dans la cour et s'arrête pour voir qui arrive. Il ne semble pas s'en soucier beaucoup plus et reprend son jeu. Les hommes de la sécurité sont habillés dans des costumes noirs parfaits et avec des écouteurs dans chaque oreille, à la manière de la CIA. Ils guident De La Nuez et lui indique où se garer, en face de la porte. Le peintre est accueilli chaleureusement par les personnes qu'il avait déjà rencontrées et les aide à mettre les oeuvres d'art dans le hall d'entrée de la maison. De la Nuez apprend que Michael n'est pas présent et qu'il ne pourra donc pas prendre de photo. L'artiste montre au bras droit de Michael une autre peinture qu'il a apportée avec lui pensant qu'elle pourrait l'intéresser. L'employé de Michael demande alors à De La Nuez s'il a la possibilité de fermer ses De La Nuez Studios afin que Michael puisse y faire une visite privée, parce que selon ses mots, lorsque "Mr. Jackson aime quelque chose, il veut vraiment en voir plus". Il pensait que c'était dans l'intérêt de l'artiste que Michael vienne dans son atelier à Simi Valley (grande banlieue de Los Angeles) et, bien sûr, De La Nuez en était ravi. Michael voulait voir les couleurs vives de l'art en personne.
Quelques jours avant le 25 juin, Michael commande également à l'artiste trois œuvres d'art, plus petites, peintes à la main, pour ses enfants, qui devaient être prêtes la semaine suivante. Trois peintures, qui ne seront malheureusement pas livrées en raison des évènements que l'on connait. Katherine Jackson, qui obtient la garde des enfants de Michael fera tout de même en sorte que les peintures choisies, Alice in Dali's Land (Alice au pays de Dali), Flavor Of The Month (saveur du mois) et Lost Fairy Tales (Contes perdus), soient remis à Prince, Paris et Blanket au début du mois de décembre 2009.
Alice in Dali's Land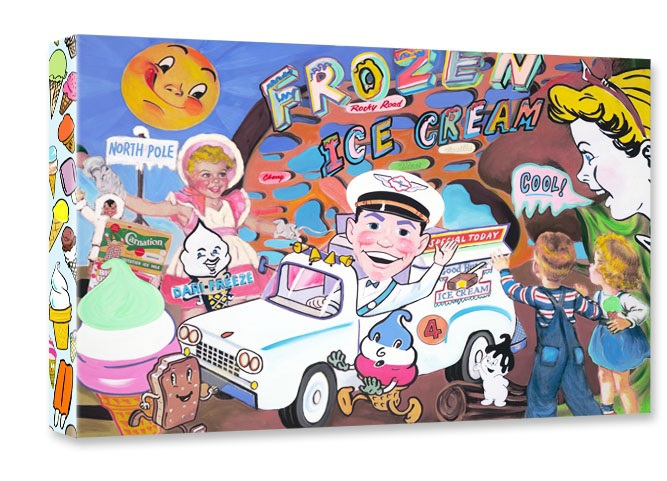 Flavor Of The Month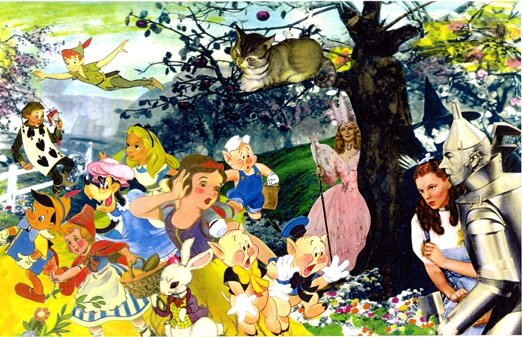 Lost Fairy Tales
Michael et De La Nuez discutent cependant de la livraison de ces œuvres, et de la possibilité de faire une photo ensemble. "Nous pensions tous que nous avions le temps de nous revoir, de construire une relation, de le faire venir au studio, de faire cette photo, qu'il n'y avait pas d'urgence. Je savais qu'il aimait mon art et cela me suffisait ... qui aurait pu penser qu'il partirait si vite ? C'est juste tragique", commente De La Nuez.
Nelson De La Nuez, grand admirateur de Michael depuis tout petit termine en disant : "Je suis honoré que l'un des derniers grands achats de Michael ait concerné mon art et je espère seulement que pour le peu de temps qu'il l'a possédé, il lui a apporté le sourire. Michael Jackson a tant contribué au monde avec sa musique. Il était la bande originale de ma vie. Je suis tellement heureux d'avoir apporté un peu de joie de sa vie à travers ma créativité".
Sources: kingofpopart.com/simivalleyacorn.com/Facebook UK loves MJ