Après leur départ de la Motown, le premier album éponyme des Jacksons, chez Epic, sort en novembre 1976. Les frères ne disposent pas d'assez de chansons pour une véritable tournée mais réalisent cependant quelques concerts, histoire de ne pas se faire oublier du grand public. Une série de concerts aura notamment lieu en mai 1977 en Europe.
Le 26 février 1977, les Jacksons passent par Caracas, au Vénézuela pour un concert unique au Poliedro, un complexe inauguré trois ans plus tôt.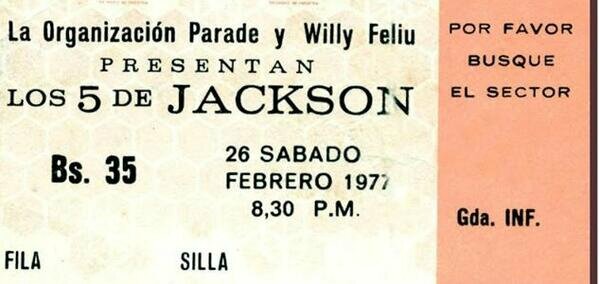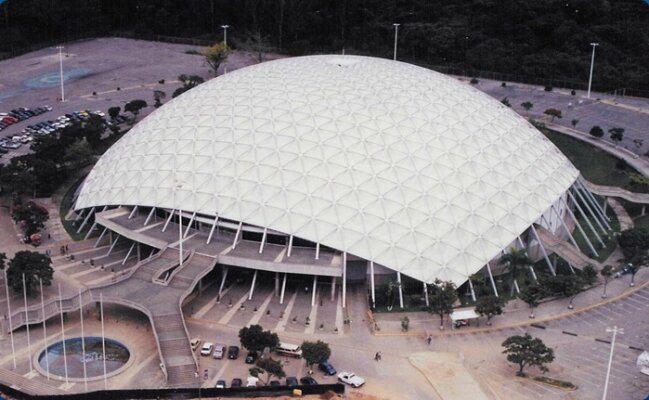 C'est dans cette même salle que Michael aurait du se produire pour le Dangerous Tour le 12 novembre 1993 mais le concert a été annulé au dernier moment.
Cette venue en février 1977 marque donc le seul passage de Michael Jackson au Vénézuela.
Phil Rodriguez, le promoteur du concert, s'est souvenu de ce moment suite à la disparition de Michael et il le raconte au site billboard.com :
"Je me souviens qu'il était très professionnel. (…) C'était comme quand vous mettez votre voiture au point mort, et à la minute où il se retrouve sur scène il explose. Tous les artistes ont ça, mais je n'ai jamais vu une telle transformation. C'était vraiment incroyable. Il était très sympathique, très doux, très professionnel. Le groupe était déjà énorme, mais Michael n'était pas encore le personnage que l'on a connu. J'avais 25 ans à l'époque et lui 19 ans, et je me souviens qu'il m'a même enseigné un pas de danse. Nous tournions une émission de télévision, il a réalisé ce pas et je lui ai dit : "Comment diable avez-vous fait ça!". Et il répondu: "Je vais vous montrer". Après avoir organisé ce spectacle, j'ai décidé de quitter mon école de droit et de continuer dans le business".
Si les images de ce concert (dont la première partie était assurée par Frank Quintero et son groupe d'alors, los Balzehaguaos), restent inédites, celles du passage des cinq frères dans une célèbre émission de télévision du Vénézuela, celle évoquée par Phil Rodriguez, ont été dévoilées peu après la disparition de Michael, en 2009.
La veille de leur concert dans la capitale vénézuelienne, les frères pourtant devenus The Jacksons, enregistrent leur passage, en tant que "Los 5 de Jackson" (Jackson 5), dans l'émission hebdomadaire Sùper Sàbado Sensacional (plus communément appelée Sàbado Sensacional).
L'émission de variétés, créée en 1971 était diffusée sur la chaîne Venevision, tous les samedis entre 16h et 22h, avec des invités nationaux et internationaux prestigieux, et présentée par l'animateur le plus populaire du pays, Amador Bendayán.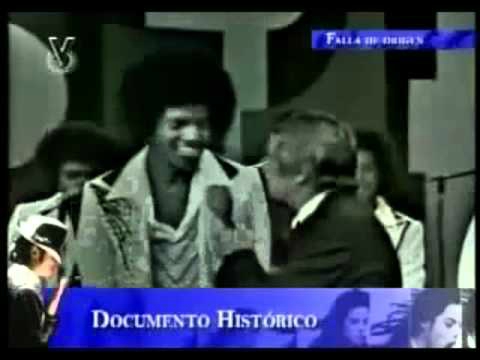 Le 25 février 1977, les Jacksons sont donc sur le plateau de l'émission et interprètent, pendant près de 30 minutes des grands titres de leur répertoire chez Motown et le premier single extrait de leur premier album chez Epic. Se succèdent ainsi One Day In Your Life, Happy, I'll Be There, Dancing Machine, Body Language (Do The Love Dance), Enjoy Yourself et Just A Little Bit Of You. (ces deux derniers titres ont été coupés dans la vidéo).
La performance des Jacksons a lieu en live, fait exceptionnel pour l'émission où la plupart des artistes se produisent en playback. L'orchestre du groupe, dirigé par Samm Brown (co-auteur du titre One Day In Your Life) comprend notamment le batteur qui a suivi les Jackson 5 depuis leurs débuts, Johnny Jackson.
La séquence humoristique de cette prestation reste celle où le présentateur, Amador Bendayán, tente de faire parler Michael en espagnol (à partir de 0 :47 dans la première vidéo) :
Amador Bendayàn (AB) : On m'a dit que Michael parle très bien l'espagnol. Vous avez eu le temps de venir au Venezuela ?
MJ : Oui (rires)
AB: Saviez-vous que le succès des Jackson 5 étaient aussi important dans le pays ?
MJ : Oui (rires)
AB: Qu'est-ce qu'il parle bien ! Savez-vous que, demain, le poliedro est très bien ?
MJ : Oui (rires)
AB : Parlez-vous espagnol?
MJ : Non !!! (rires)
Plus étonnement, vers la fin de leur prestation, sur le titre Body Language (Do The Love Dance), les frères Jacksons invitent des spectatrices, présentes au premier rang du public (des danseuses de l'émission?), à se joindre à eux. Le reste du public ne bouge pas, chose qui n'aurait jamais pu se produire aux Etats-Unis.
Samm Brown, qui a travaillé pendant quatre ans avec Michael et ses frères, évoque sur son site un de ses souvenirs avec Michael lors de ce voyage à Caracas.
"On frappait à la porte de ma chambre d'hôtel tout doucement, c'était à peine audible mais insistant . Je me souviens avoir ouvert les yeux et penser : "Qui diable est en train de frapper à ma porte et me réveille ? " J'ai regardé le radio-réveil sur la table de chevet et j'ai vu 8h00 heure locale. Il y a eu un autre coup. En fait, c'était plus comme un tap-tap-tap doux.
Je me suis levé en pensant que ce devait être le service de chambre, ou peut-être le service de ménage qui avait commis une erreur sur le numéro de la chambre. J'ai enfilé quelques vêtements, je suis allé à la porte et j'ai dit d'une voix bourrue et irritée : " Qui est-ce !! ?? " J'ai entendu une petite voix douce : " Samm c'est moi, Mike, ouvre la porte". J'ai ouvert la porte et Michael Jackson se tenait devant moi, avec son chapeau et son manteau.
" Désolé de te réveiller. Tu veux aller au parc d'attractions avec moi ? "
" Maintenant ???"
" Ouais, maintenant. Personne ne veut venir avec moi, sauf Bill Bray". Bill Bray était le garde du corps de Michael et le chef de son équipe sécurité personnelle.
Bien sûr, je suis allé avec eux ce matin là, et je peux vous dire maintenant que s'il y a un parc d'attractions au paradis, vous pouvez être sûr que Michael Joseph Jackson, un des meilleurs anges de la terre, y est".
Ces photos pourraient être celles de cette virée au parc d'attractions (elles datent en tout cas de 1977)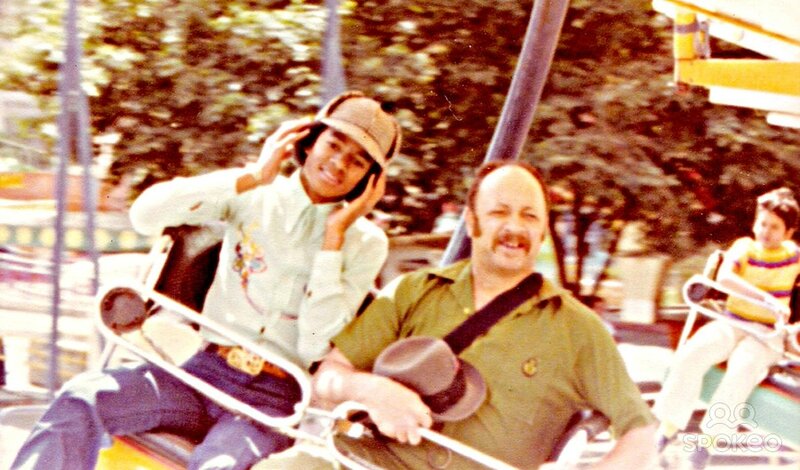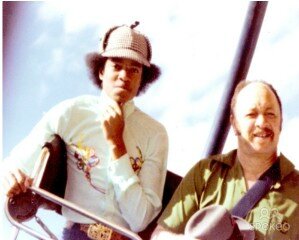 Sources: Wikipedia/cuandoerachamo.com/diversomagazine.com