"Neverland était tout ce que Michael Jackson avait rêvé durant son enfance". C'est de cette manière que Tony Urquidez, le constructeur de Neverland évoque le ranch de Michael Jackson. Michael lui avait demandé un parc d'attractions, des trains, un zoo et un cinéma. Il voulait construire son propre paradis et accomplir tous ces fantasmes imaginaires de l'enfance.
Tony Urquidez, le directeur de Urquidez Construction, une petite entreprise de bâtiment de Los Olivos, a largement participé à l'agrandissement du ranch de Neverland peu après que Michael Jackson en soit devenu propriétaire. Il peut ainsi se vanter d'être celui qui contribué à la mise en place du grand portail, à la construction de la gare et des emplacements du parc d'attractions et du zoo.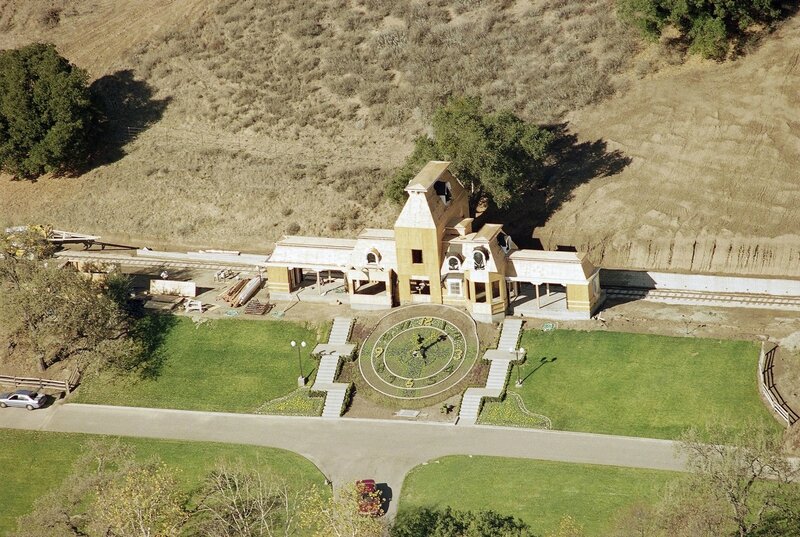 Après la disparition de Michael, il a évoqué ses souvenirs dans un journal local de Santa Ynes et a déclaré : "j'ai été contacté par un architecte local afin de faire une proposition pour le portail d'entrée d'une propriété sans savoir à l'époque pour qui c'était. Nous n'étions pas les moins chers du marché mais nous pensions que nous pouvions construire plus vite que les autres offres." Le prix n'était pas un problème pour le client apprit Urquidez et Michael a été impressionné par le travail, dans des délais assez courts, de l'entreprise
C'était en 1988.Tony Urquidez ne connaissait pas encore Michael Jackson mais leur relation allait devenir par la suite plus qu'une simple relation professionnelle. Ils se parlaient souvent au téléphone et sont devenus très proches au fur et à mesure des années.
Alors qu'il mettait en place le portail du ranch, Urquidez se souvient qu'une limousine est arrivée dans l'allée et qu'il dut vite déplacer le camion qui bloquait le passage. La limousine continua d'avancer et, alors qu'elle s'arrêtait un instant, la fenêtre s'abaissa un peu ne laissant entrevoir que deux yeux qui le regardaient. Elle reprit sa route aussitôt.
Le dimanche soir, le portail installé, Urquidez reçut un appel téléphonique d'une personne se prétendant être Michael Jackson, il lui raccrocha au nez, pensant à une blague. Le téléphone sonna à nouveau et la personne au bout du fil lui confirma que c'était bien Michael Jackson qui souhaitait lui parler. "Il avait une voix tranquille, calme et douce" explique l'entrepreneur que Michael a demandé à rencontrer la semaine suivante – le projet Neverland venait de commencer.
"Nous nous sommes assis à une immense table de conférence, et quand Michael est arrivé tout le monde s'est levé pour lui souhaiter la bienvenue. Il m'a immédiatement demandé de sortir avec lui, nous avons quitté la salle, sans les gardes du corps. On a parcouru le ranch dans une voiturette de golf et il m'a alors expliqué la vision qu'il avait de Neverland, le parc d'attractions, le grand zoo, le cinéma, le train, tout. Je me suis dit: ce mec est complètement cinglé", se souvient Urquidez.
Après le portail, Urquidez a travaillé sur le projet du bâtiment du cinéma qui devait avoir une sonorisation de dernier cri, un bar à popcorn, une salle de danse, des sièges-lits, ainsi qu'une scène suffisamment grande pour y faire tenir un éléphant si besoin était.
"© Robert E. Swinson Private Collection" MakerOfDreams - Creating Michael Jackson's "Neverland Valley Park," © 2013.
"Il n'était pas du genre exigeant, mais il se comportait plutôt comme un enfant qui voulait tout avoir tout de suite. Nos équipes travaillaient des heures durant, et Michael était tout excité. Il me mettait la pression, mais c'était une pression toute différente, une pression sympathique", déclare Urquidez.
Une fois le cinéma terminé, Urquidez recevait des appels téléphoniques de Michael Jackson en pleine nuit lui demandant de le rejoindre pour regarder un film ou simplement pour parler des idées qu'il avait concernant le projet suivant. "S'il avait quelque chose à l'esprit, il m'appelait à minuit. J'avais un papier et crayon à côté de mon lit pour ne rien oublier".
Certains projets exigeaient beaucoup de temps et des efforts. Si Michael voyait des objets qui correspondaient à ce qu'il voulait, il envoyait Urquidez les rechercher et les acheter.
"Il m'envoyait dans des tas endroits pour obtenir ce qu'il voulait. Il voyait des choses partout et voulait les adapter à Neverland. Il prenait des idées des parcs d'attractions, de films, de livres, c'était un grand lecteur. Je me souviens qu'un jour, à Pâques, Michael m'a fait venir en urgence à New York où il logeait et il s'est avéré que la situation urgente était …. une porte. Il avait vu un design de porte qui lui plaisait et il voulait le même avec l'emblème de Neverland placé dessus !"
"Michael m'a donné une vision imagée de ce qu'il voulait, j'avais carte blanche sur l'aspect créatif. Après plusieurs projets tels que 'Magic Walkway' (sans doute la fameuse allée entre le cinéma et le parc d'attractions, The Yellow Brick Road), le pont vers la cabane dans l'arbre (certainement celle qui marque l'entrée du parc d'attractions), le vaisseau pirate, le château d'eau, nous avions notre langage commun. Je savais ce qu'il prévoyait et je me chargeais de le réaliser", raconte Urquidez.
Le fils d'Urquidez, Aaron explique que Michael l'appelait alors qu'il était encore un adolescent et lui demandait son avis sur les derniers jeux et jouets à la mode et les faisait venir lui et son grand frère, Chris, afin de les essayer.
"Mon jeu favori était le château d'eau" déclare Aaron. "Il était construit à la façon d'anciens bâtiments de l'ouest américain et nous avions deux équipes qui s'affrontaient à l'aide de canons et pistolets à eau".
Afin de trouver tous les jeux que Michael Jackson avait dans son ranch, Tony Urquidez allait à toutes les ventes du pays, se rendant même dans les parcs d'attraction afin de tester les jeux lui-même.
"Michael devait toujours avoir les plus grands et les meilleurs jeux. Le bon côté de toutes ces demandes un peu étranges fut que j'ai été amené à travailler sur des projets que je n'aurai jamais plus l'occasion de réaliser par la suite", déclare t-il.
Urquidez a également participé à la construction de la maison de sécurité à côté du grand portail et du zoo et a collaboré avec Rob Swinson à la mise en place du parc d'attractions.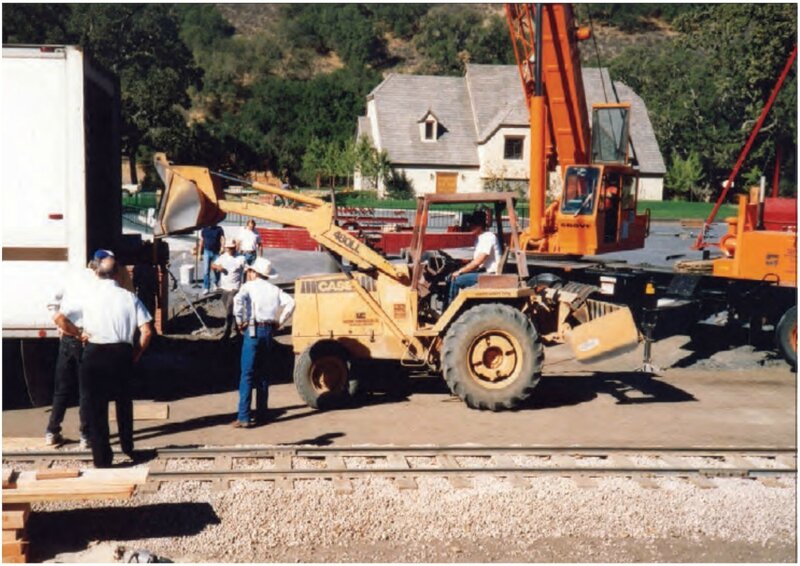 Les engins de Urquidez Construction aident au déchargement des parties du carousel
"© Robert E. Swinson Private Collection", MakerOfDreams - Creating Michael Jackson's "Neverland Valley Park," © 2013.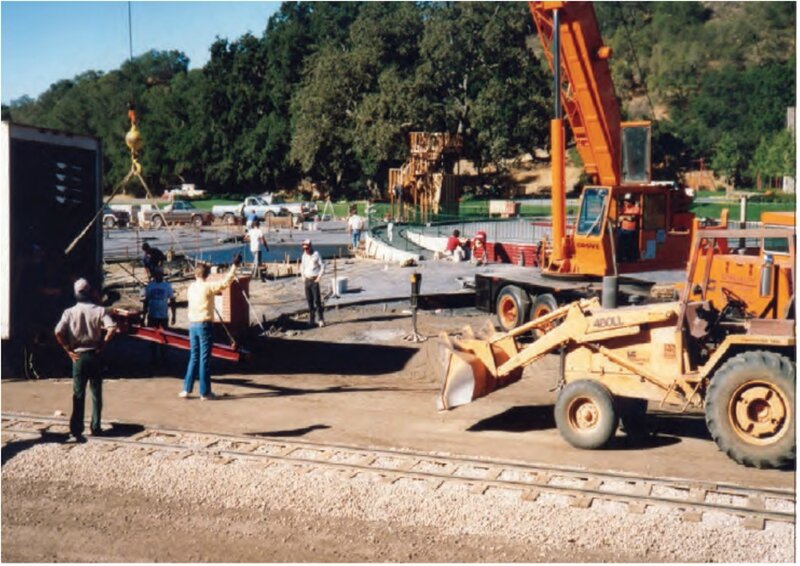 A l'arrière, The Fantasy Castle en construction
"© Robert E. Swinson Private Collection", MakerOfDreams - Creating Michael Jackson's "Neverland Valley Park," © 2013.
Après son procès en 2005, Michael a quitté Neverland et les relations entre les deux hommes se sont espacées. Un article de foxnews.com d'août 2002 évoque même des dettes d'un montant qui avoisinerait le demi-million de dollars que Michael n'aurait pas payées à l'entreprise Urquidez Construction.
Urquidez conserve cependant une très bonne opinion de Michael, le voyant comme un philanthrope. Il explique que Michael aimait ouvrir les portes de son ranch aux enfants défavorisés, de Los Angeles ou des villes aux alentours du ranch, et quand le train qui faisait le tour de la propriété a été terminé, Michael a demandé que des personnes handicapées puissent l'emprunter.
Peu de temps après que le trajet du train ait été tracé, un jeune garçon malade du cancer visita Neverland, il mourut quelques jours après sa visite. Urquidez apprit que le garçon avait été extrêmement heureux de ce voyage en train et qu'il décéda paisiblement.
Tony Urquidez a conservé précieusement ses souvenirs, des photos, le plan du ranch mais aussi des cadeaux que Michael lui avait offerts, tels que le schéma original du train, ainsi que le chapeau du clip Smooth Criminal (Urquidez a également travaillé à la mise en place du procédé permettant le lean dans le short film).
Tony Urquidez devant le plan de Neverland. A droite de la photo, la plaque- numéro du train principal de Neverland.
"Travailler avec lui de façon si régulière vous faisait oublier combien c'était quelqu'un d'important. J'ai eu de rares occasion de pénétrer dans sa vie et parfois il se mettait à chanter ou à danser sans raison et je me disais "wouahou, ça c'est Michael Jackson!" se souvint l'entrepreneur. "Il était toujours généreux et plein d'empathie. Au cours des années que nous avons passées ensemble, il n'a jamais cherché à acheter mon affection, Michael était quelqu'un de génial".
Sources: syvnews.com/MJackson.fr/lacortedelreydelpop.com/Livre Maker of Dreams de Rob Swinson