Août 1969, plus d'un an après leur audition pour Motown, la célèbre maison de disques de Detroit, les Jackson 5 émigrent à Los Angeles à la demande de Berry Gordy, le directeur du label.
Le contrat du groupe est signé en mars 1969 mais les frères, bien qu'ayant commencé à enregistrer en studio, n'ont toujours rien sorti. Berry Gordy ne les sentait pas "prêts". Un coup de téléphone de ce dernier au début du mois d'août 1969, demandant aux garçons et leur père de rejoindre la Côte Ouest va enfin accélérer les choses.
Au cours d'un après-midi de ce début du mois d'août 1969, où le groupe est réuni chez Diana Ross, dans sa maison d'Hollywood, les frères apprennent de la bouche de la star des Supremes (qu'ils n'avaient pas revue depuis leur présentation à la famille de la Motown dans la maison de Berry Gordy, à Detroit, quelques mois plus tôt) qu'ils donneront un concert privé quelques jours plus tard devant le tout Hollywood.
Berry Gordy leur annonce qu'il va faire d'eux des stars internationales, que leurs premiers singles seront des numéros un et Diana Ross s'engage désormais à les prendre sous son aile, à les présenter aux grands noms du milieu du show business. Très longtemps d'ailleurs, l'histoire voudra que ce soit la jeune femme qui ait découvert le groupe alors qu'il s'agit de Bobby Taylor.
Diana Ross montre aux cinq frères le télégramme annonçant cette performance unique. "C'est un télégramme de ma part adressé à beaucoup d'autres personnes" leur dit-elle. Il y est indiqué :
Venez me rejoindre pour accueillir un groupe extraordinaire, les Jackson Five, le lundi 11 août de 18h30 à 21h30 au Daisy, North Rodeo Drive, Beverly Hills. Les Jackson Five, et leur chanteur sensationnel de huit ans, Michael Jackson, donneront un concert.
Diana Ross
Michael n'a évidemment pas 8 ans en 1969 (mais presque 11 ans) mais quand on lui explique que cette "erreur " est mieux pour "l'image" du groupe, il l'accepte bien volontiers. Le dossier de presse concernant les Jackson 5 lors de la sortie de leur premier album continuera d'exploiter le "jeune âge" des garçons ainsi que le fait que Diana Ross a découvert le groupe (on y trouve notamment un courrier du maire de Gary, Gordon Hatcher qui indique une soi-disant visite de la chanteuse à Gary).
Le Daisy Club est à l'époque une des discothèques les plus réputées parmi les stars de Los Angeles. Situé au 326 N Rodeo Drive, dans le quartier de Beverly Hills, ce club privé qui a ouvert ses portes en 1962 a vu nombre de célébrités du divertissement ou du sport défiler sur sa piste : Paul Newman, Natalie Wood, Peter Falk, Tony Curtis, Angie Dickinson, John Derek et Linda Evans ou encore Sonny et Cher, pour n'en citer que quelques uns.
Le 11 août, plus de trois cents personnes, des professionnels de la musique, du cinéma et des médias, se pressent donc, sur l'invitation de Diana Ross (et bien sûr de Berry Gordy qui organise la soirée !), pour découvrir les petits protégés de la chanteuse des Supremes.
Diana Ross présente le groupe comme "The most talented entertainment act of this decade" (que l'on pourrait traduire par "le groupe le plus talentueux de cette décennie") et les les Jackson Five interprètent des titres de la Motown comme Who's Loving You et des classiques de Disney, notamment le célèbre Zip-A-Dee-Do-Dah, des chansons qui se retrouveront sur les albums du groupe par la suite.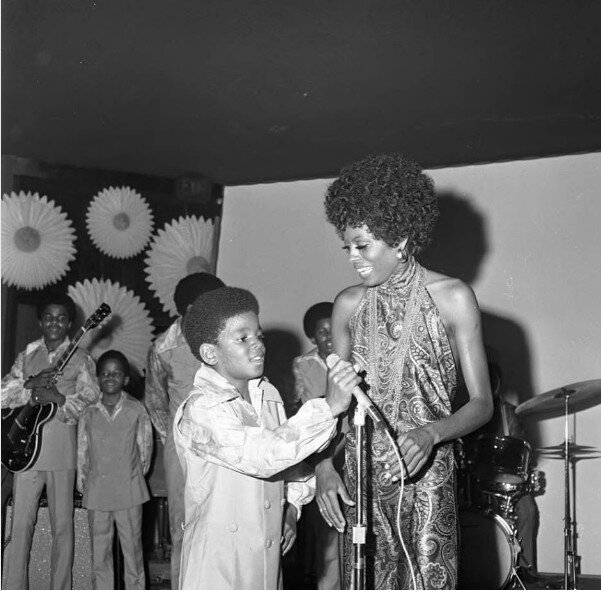 Photo: jackson.rare (instagram)
Selon Jermaine (1), ils auraient également interprété ce soir-là, pour la première fois I Want You Back, ce qui semble peu probable puisque Deke Richards, l'auteur du titre découvre les Jackson 5 ce soir là au Daisy's Disco Club et est fortement impressionné par ce qu'il voit.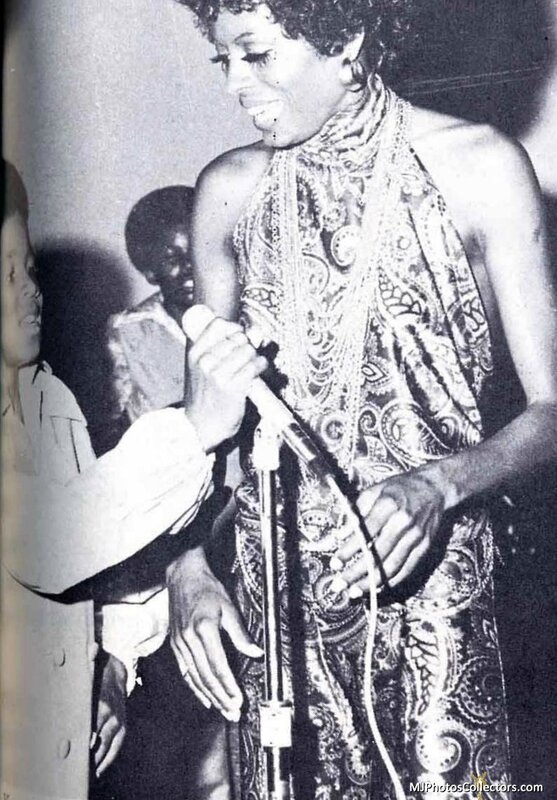 Dans son livre, R. Taraborrelli (2) raconte que "les garçons étaient vêtus à l'identique : vestes vert citron avec chemises dorées et bottes vertes assorties. On avait chorégraphié avec soin chacun de leur mouvements, répétés dans la plus pure tradition Motown".
Lorsque les cinq frères rencontrent la presse, alignés, Diana Ross se chargent des présentations. Deux journalistes du magazine Soul sont présentes à l'époque, Regina Jones, la fondatrice du magazine et Judy Spiegelman, une des journalistes du même magazine.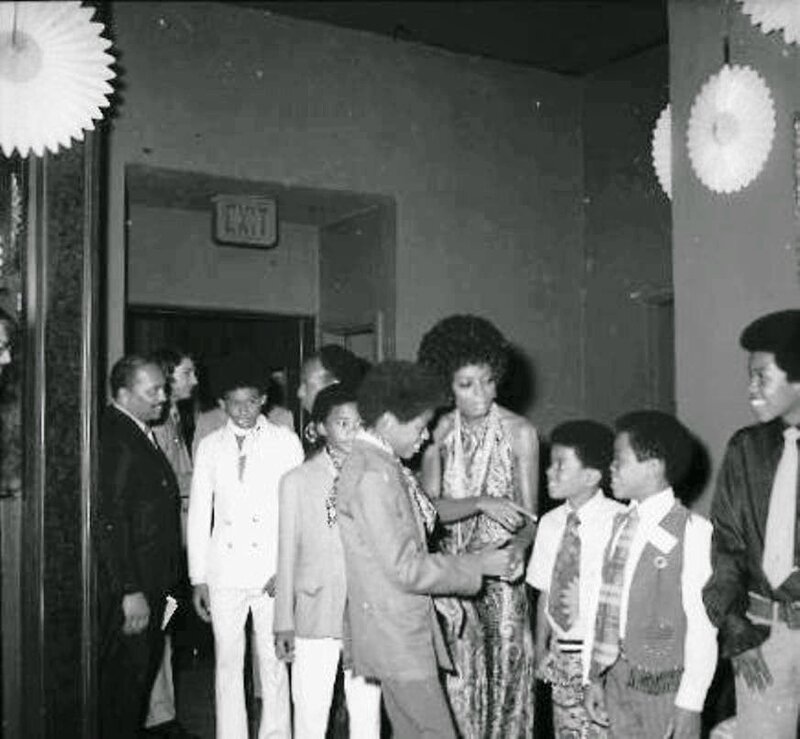 Regina Jones évoque cette rencontre au Daisy dans un article du magazine Vibe paru en 2002, consacré à Michael : "J'ai rencontré Michael Jackson il y a 33 ans quand Diana Ross a présenté les Jackson 5, qui étaient alors de nouveaux membres de la Motown, à 350 professionnels de la musique et des médias au Daisy Club de Beverly Hills. Mon mari, Ken, et moi-même publiions Soul, l'un des premiers magazines nationaux sur l'actualité des artistes noirs. A 10 ans, Michael savait déjà comment charmer une foule. Faisant référence au soutien de Diana, il a déclaré : "Après avoir chanté pendant 4 ans sans devenir une star, je croyais que je ne serais jamais découvert, jusqu'à ce que Melle Ross vienne sauver ma carrière."
Judy Spiegelman raconte : "J'ai été impressionnée, je m'en souviens, par la politesse et la confiance de ces jeunes. C'étaient des gamins mais ils n'étaient pas troublés par l'attention que tout le monde leur portait" (2)
Michael rencontre ce soir là pour la première fois Bob Jones, le responsable des relations publiques de la Motown. Il prendra en charge quelques années plus tard le département communications de MJJ Production.
Diana Ross et Berry Gordy annoncent, lors de cette soirée, que le groupe se produira en première partie du concert de Diana Ross au Forum d'Inglewood, quelques jours plus tard (le 16 août) et fera ses débuts dans son premier show télévisé, le Hollywood Palace, en octobre.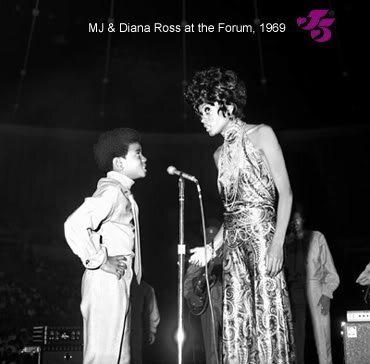 La soirée est bien entendu un succès et la carrière des Jackson 5 peut démarrer ….avec le succès qu'on lui connaît ensuite.
A la fin des années 60, Rodeo Drive n'était pas encore le quartier mondialement renommé qu'il est aujourd'hui pour ses boutiques de luxe, parmi les plus chères du monde. La rue concentre en effet les boutiques des marques les plus prestigieuses, telles que Giorgio Armani, Chanel, Gucci, Cartier, Christian Dior, Hermès, Polo Ralph Lauren, Tiffany, Versace, Louis Vuitton et Yves Saint Laurent. C'est d'ailleurs dans les murs de la boutique Saint Laurent que se tenait il y a plus de 45 ans le Daisy Club où les Jackson 5 ont fait leur première apparition officielle (le club a fermé ses portes en 1989).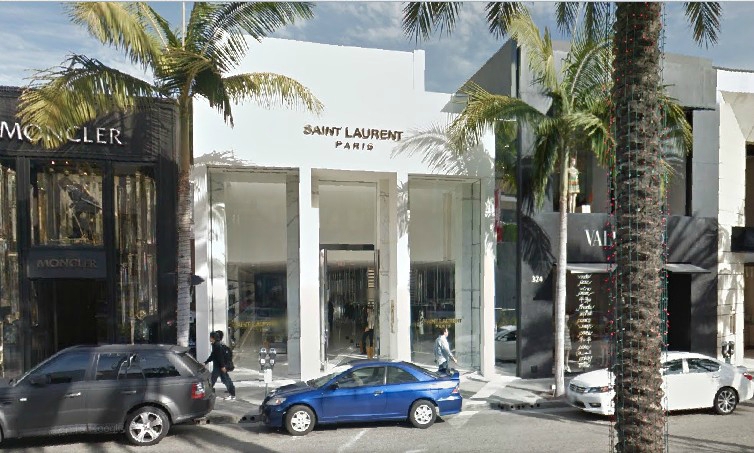 Alors, si vous jouez les touristes sur Rodeo Drive lors d'un prochain séjour à Los Angeles et que l'idée vous vient d'entrer dans ce magasin Saint Laurent, dites-vous que si votre bourse ne vous permet pas de vous payer un de ces ensembles très couteux, vous aurez au moins pu fouler le sol d'un endroit jadis emblématique dans la carrière des Jackson 5.
Sources: (1) Your Are Not Alone, Le Vrai Michael Jackson Dans Les Yeux De Son Frère, Jermaine Jackson, ed. Lafon/(2) Michael Jackson, Randy Taraborrelli, ed. Flammarin/ Michael Jackson The Maestro, Chris Cadman/ j5collector.blogspot.fr/ martinostimemachine.blogspot.fr
Uun reportage sur la première apparition publique des Jackson 5 paraît dans le Soul magazine du 9 septembre 1969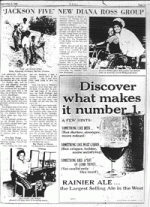 "JACKSON FIVE" LE NOUVEAU GROUPE DE DIANA ROSS
Los Angeles - La chanteuse Diana Ross a découvert ce qu'elle considère comme étant le groupe le plus talentueux de la décennie. Lundi soir dernier, avec tout le faste et l'apparat des débuts Hollywodiens, Diana Ross a présenté ses protégés lors d'une conférence de presse, au Daisy, l'une des discothèques les plus branchées de Beverly Hills.
Plus de 350 personnes, représentant les industries cinématographiques et musicales, ainsi que la presse nationale, étaient invités personnellement par Mademoiselle Ross. Elle a présenté sa nouvelle mine d'or de talent, au milieu de d'applaudissements assourdissants qui ont accueilli les Jackson Five, cinq frères de Gary, dans l'Indiana, âgés de 8 à 16 ans. Sur la scène, flanait avec nonchalance Michael Jackson, âgé de 8 ans, le spectulaire et talentueux leader du groupe. Portant un chapeau melon sur une coupe afro, Michael a charmé son audience, qu'elle soit sur scène ou devant la scène.

Le Protégé de Miss Ross
A la question s'il était ou non le protégé de Diana Ross, Michael répondit avec désinvolture : "Après avoir chanté pendant quatre années, sans devenir une star, je pensais que personne ne me découvrirait... c'était jusqu'à ce que Diana Ross vienne sauver ma carrière".
Il y avait beaucoup plus dans la réponse pleine d'humour de Michael que ce que pouvait en penser la plupart des gens. Il est le principal leader du groupe depuis son quatrième anniversaire, et fait constamment référence à son frère aîné Toriano, 14 ans, avec qui il partage la tête du groupe, et qu'il pourrait assurer tout seul un jour.
Afin de s'assurer que le public ait une chance de voir pleinement ses protégés, Diana Ross insista pour que les promoteurs de son spectacle au Forum de Los Angeles, le Samedi 16 Août, intitule le show "The Jackson Five with Diana Ross and The Supremes". Elle donnera également l'occasion aux Jackson Five d'apparaître pour la première fois sur une télévision nationale, l'Hollywood Palace, le Samedi 18 Octobre. A en juger la critique dithyrambique, Diana Ross a révélé que son oreille pour les nouveaux talents est aussi délicatement accordée que sa voix d'or qui l'a propulsée en haut de l'affiche.

De Ray Charles à Liberace
Les Jackson Five, composé de 5 frères, Michael, 8 ans, Marlon, 9 ans, Jermaine, 13 ans, Toriano, 14 ans, et Sigmund (Jackie), 16 ans, ont un répertoire allant de Ray Charles à Liberace. Selon Toriano, porte-parole du groupe (approuvé par Michael), leur sgroupes préférés sont naturellement Diana Ross and The Supremes, Smokey Robinson and the Miracles, The Temptations, Gladys Knight and the Pips, et Bobby Taylor.
Grandement ravie de son groupe talentueux et de l'acclamation du public qu'il a reçu lors de leur soirée de présentation, Diana Ross commenta : "Je suis très heureuse d'avoir pu donné à un groupe aussi doué une opportunité de se produire en public car c'est de cette façon que nous, les Supremes, avons eu notre première chance. Si Berry Gordy Jr. recherchant de nouveaux talents de notre communauté noire, n'avait pas été là, nous ne serions jamais devenues célèbres.
http://www.jackson5abc.com/dossiers/presse/
Jet Magazine du 21 août 1969