Dès les années 1930, Ward Kimball a fait partie des Nine Old Men (les neuf sages), noyau principal de l'équipe de Walt Disney.
Illustrateur, dessinateur, animateur, réalisateur, il a participé à de nombreux courts et longs métrages de Walt Disney parmi lesquels Peter Pan, Cendrillon, Dumbo, Bambi, Pinocchio, Blanche Neige et les Sept Nains, ….. Il a également fait partie de la Walt Disney Imageering qui a créé les parcs Disneyland. Sa femme, Betty, épousée en 1936, travaillait également pour Walt Disney lorsqu'ils se sont rencontrés.
Musicien, Ward Kimball avait également une autre passion qu'il partageait avec Walt Disney et son collègue et ami Ollie Johnston : le chemin de fer et le modélisme ferroviaire. Il créa ainsi dans son jardin de San Gabriel (banlieue de Los Angeles), un chemin de fer, le Grizzly Flats Railroad, que de nombreuses célébrités venaient voir. Ce train inspira Walt Disney pour construire également dans son jardin, avec l'aide de Kimball, son propre train, le Carolwood Pacific Railroad, puis le Disneyland Railroad (supervisé par Ward) du parc Disneyland. La station de train de Frontierland à Disneyland est directement inspirée de celle du Grizzly Flats Railroad.

Fervent admirateur de Disney, il n'est donc pas étonnant que Michael Jackson chercha a rencontré Ward Kimball dès que l'occasion se présenta à lui.
En 1983, sur le tournage du short film Thriller, Michael demande à John Landis qui s'occupe des costumes. Deborah Landis est la créatrice de la Thriller Jacket mais elle travaille alors avec Kelly Kimball, la fille de Ward et Betty, qui créé les costumes des morts-vivants. "Tu devrais la rencontrer" lui dit John Landis, "tu parles tout le temps de Ward Kimball". Michael est alors allé se présenter lui-même à Kelly et lui a dit qu'il aimerait rencontrer son père. Kelly et Ward ont tous les deux pensé qu'il plaisantait mais Michael est arrivé avec un chauffeur dans sa Bentley devant la propriété des Kimball.
Lors de cette première rencontre, Ward avait installé la table pour dîner dans la maison mais quand Michael a découvert le hangar de trains miniatures, après avoir testé le train dans le jardin, il a demandé s'il était possible de dîner dans cette pièce. Il voulait s'amuser avec les trains tout en dînant. Les Kimball ont accepté.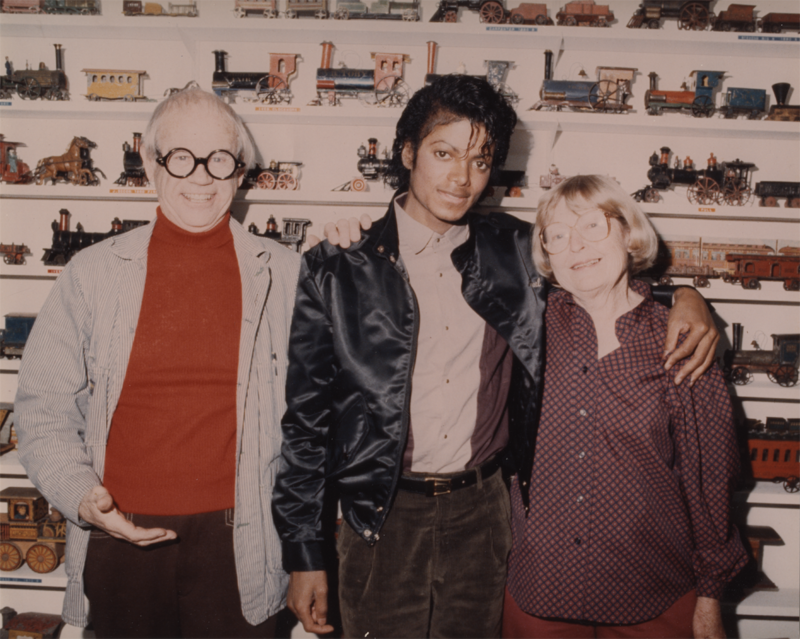 Michael entrouré de Ward et Betty Kimball en 1983
Dans une interview accordée au réalisateur John Canemaker pour les séries de livres Walt's People (volume 11 : Talking Disney With The Artists Who Knew Him, pages 216-217), Ward Kimball raconte que Michael lui a rendu visite deux fois, la dernière fois le 23 mai 1986, avec Jonathan Spence, un jeune garçon rencontré sur le tournage de Captain Eo, et son garde du corps Bill Bray. Michael, qu'il décrit comme quelqu'un de calme qui parlait très doucement, a d'ailleurs laissé un petit mot dans le livre des invités que Ward Kimball aimait faire signer à ses visiteurs : "Love, Michael Jackson".
Michael dans l'atelier de Ward Kimball (merci à la page facebook MJStreet pour la photo)
Les Kimball se sont également rendus chez Michael, à Encino, à trois reprises, dont une fois avec Ollie Johnston et Frank Thomas, qui faisaient également partie des Nine Old Men de Disney. Selon Ward, Michael voulait parler de Walt Disney car il possédait tous ses dessins animés dans son cinéma personnel. "Il nous a fait visiter sa propriété, c'était avant qu'il ne déménage dans son ranch", dit-il.
"Quand nous sommes allés le voir il n'y avait pas l'alcool, pas de cigarette. On s'est assis à cette longue table de banquet pour 25 personnes. Il m'a installé au bout, Betty à ma droite, avec des amis, et il s'est mis sur le côté gauche. J'avais l'impression qu'il me regardait tout le temps. Chaque fois que je le regardais, il me fixait. Ce n'était qu'un contact visuel et il a alors dit "Ward Kimball, sans blague!". Frank peut vous raconter ce qui se passait quand nous allions là-bas avec nos épouses. Il y avait des lumières clignotantes dans les arbres, comme à Disneyland, il adorait cet endroit", raconte Kimball.
Il est évident qu'au cours de ces visites à Ward Kimball, Michael a trouvé l'inspiration pour son futur ranch de Neverland et son Neverland Valley RailRoad …. Car il savait, sans nul doute, qui était à l'origine du célèbre Disneyland Railroad….
Grizzly Flats Railroad et Neverland Valley Railroad
Ward Kimball est décédé en 2002 et sa femme Betty en 2010. Les voies de chemin de fer de Grizzly Flats n'existent plus et Emma Nevada et Chloe, les trains de Ward Kimball sont désormais exposés au Orange Empire Railway Museum de Perris, en Californie.
Grizzly Flats Railroad, 8910 Ardendale Avenue, San Gabriel, Californie
Sources: rbistudio.com/jimhillmedia.com