Dès la fin des années 70, Michael Jackson est devenu un client régulier du parc Disney World à Orlando, en Floride. Il y a été très souvent vu dans le courant des années 80, à tel point que le Royal Hotel Plaza, où il réservait toujours, a suggéré de créer une suite à son nom.
Aujourd'hui appelé le B Resort & Spa, l'hôtel est situé au 1905 Hotel Plaza Blvd, Lake Buena Vista, à une courte distance à pied du parc Disney World.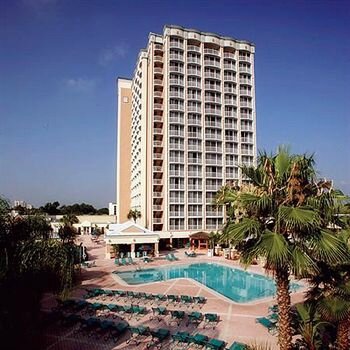 Nancy Henderson, qui travaillait avec Phil Wright, l'assistant manager général de l'hôtel, a expliqué dans un article du Orlando Sentinel de mars 1986, que Michael avait, en 1978, essayé de réserver une chambre au Contemporary Resort Hotel, un hotel luxueux près du parc, mais comme toutes les chambres étaient prises, il s'était alors adressé au Royal Plaza. ''Depuis, Michael séjourne chez nous chaque fois qu'il le peut", déclarait Henderson en 1986. ''Il aime Orlando, les gens, la météo, il se sent à l'aise ici".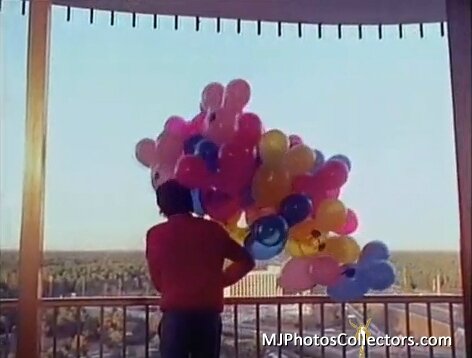 En 1984, Wright déclare au Toledo Blade que "Michael Jackson avait commencé à venir à Disney World, à l'époque où personne ne le connaissait, quand il était encore comme les autres. A l'époque, il pouvait faire ce qu'il voulait, se balader sans que personne ne le dérange".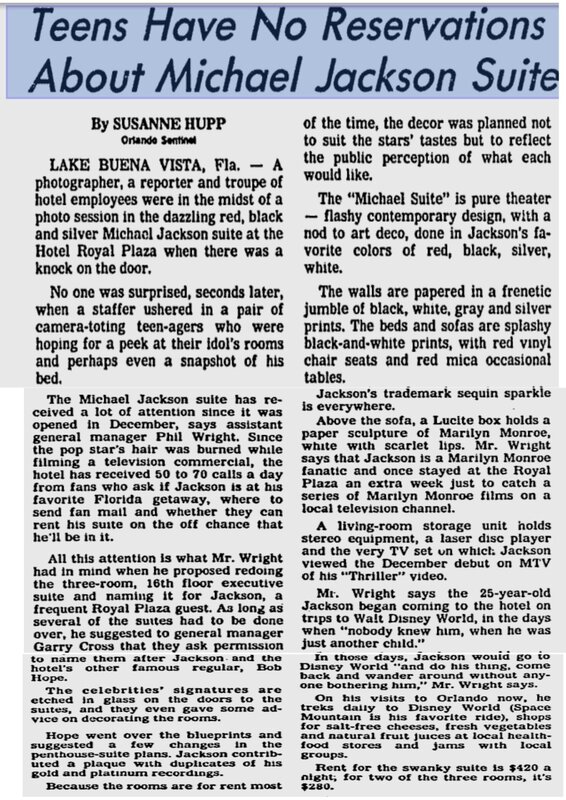 Toledo Blade, 18 mars 1984
En 1983, Phil Wright suggère à son patron, Garry Cross de nommer une suite de l'hôtel à nom de Michael Jackson, que ce dernier pourrait occuper chaque fois qu'il viendrait. Une autre suite au nom de Bob Hope, un autre des clients réguliers de l'hôtel, a également été proposée.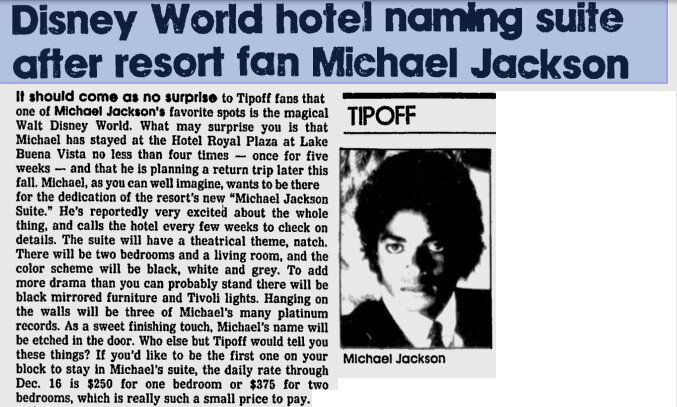 Lakeland Ledger, 17 septembre 1983
Michael Jackson avec Bob Hope et Phil Wright, Jet, 1er septembre 1986
La Michael Jackson Suite serait décorée avec des récompenses que Michael a ferait venir de sa maison d'Encino. Nancy Henderson a été chargée personnellement d'aller chez Michael en Californie pour choisir les fabuleux objets à exposer. Elle faisait d'ailleurs régulièrement des allers-retours afin de renouveler les prix. A l'époque de l'interview pour le Orlando Sentinel, elle venait de rapporter l'American Music Award en verre, de forme pyramidale, très lourd, que Michael avait reçu, avec Lionel Richie, pour la chanson We Are the World.
Michael a travaillé avec des designer pour l'aménagement de cette suite, située au 16ème étage du Royal Plaza et en décembre 1983, celle-ci ouvre officiellement. Michael déclare alors : "Je suis honoré de partager ce qui m'appartient avec le monde. Je suis ici pour les gens et quel endroit plus approprié pour exposer mes souvenirs personnels, qui me sont si chers, que Disney World, où les enfants de tout âge peuvent partager ma joie et ma profonde estime". En effet, lorsque Michael n'occupe pas la suite, celle-ci peut être réservée au tarif, à l'époque, de 700 dollars la nuit (ou 175 dollars la chambre, la suite comportant deux chambres).
La suite, de quatre pièces, comprenant deux chambres, un salon-salle à manger et une salle des trophées, a été décorée avec les couleurs préférées de Michael, rouge, noir, argenté et blanc, et avec un design art deco contemporain.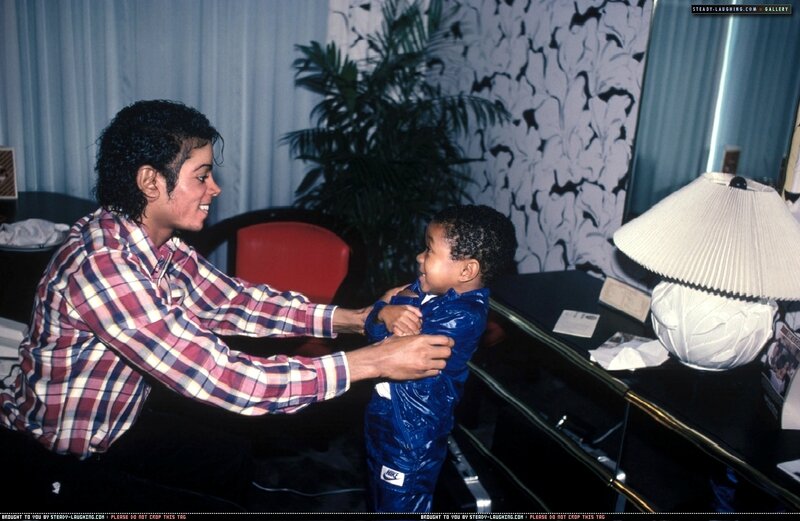 Michael Jackson et Emmanuel Lewis dans la suite en 1984
La première porte de la suite conduit à une pièce tout en longueur appelée la salle des trophées. D'un premier coup d'œil, elle pouvait sembler étroite à cause des trophées qui monopolisent les murs. Elle était remplie de prix et de souvenirs, avec notamment les huit Grammy Awards que Michael avait remportés pour son album Thriller. La pièce maîtresse d'un des mur s était le Presidential Award, avec une photo de Nancy et Ronald Reagan.
Un système d'éclairage permettait d'obtenir une lumière bleue nuit au plafond peint en noir, avec de minuscules lumières imitant les étoiles dans la nuit.
En avril 1984, un petit article dans Jet Magazine indique que les awards donnés par Michael étaient tellement nombreux que l'hôtel envisageait d'abattre une cloison pour agrandir l'espace réservé aux récompenses.
Jet, 9 avril 1984
La deuxième porte du couloir de la suite s'ouvrait sur la chambre principale. Le nom Michael Jackson était clairement indiquée dessus avec un autographe superbe, une porte où les fans laissaient souvent des messages et des marques de baisers.
Une autre chambre et un salon-salle à manger complètent la suite. Les lits et sofas étaient noirs et blancs, les chaises rouges et les tables en mica rouge.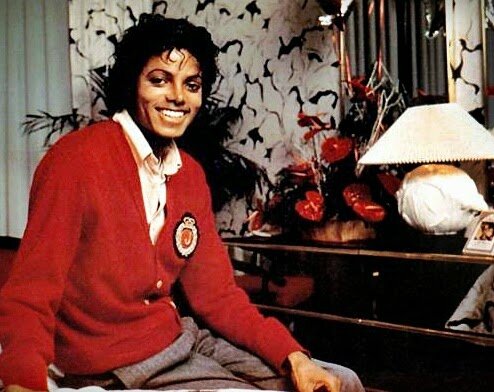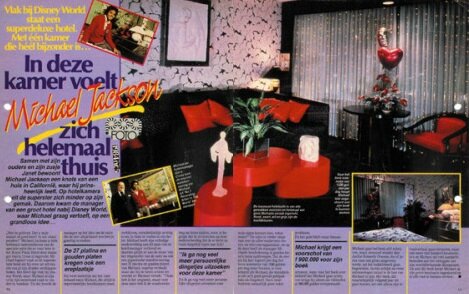 Au dessus du sofa, une boite transparente contenait une sculpture de Marilyne Monroe, dans une robe blanche. Phil Wright expliquait au Toledo Blade en mars 1984 que Michael était un grand fan de Marilyne et qu'il lui était arrivé une fois de passer un week-end entier dans sa chambre du Royal Plaza simplement pour regarder des films de l'actrice qui passaient sur une chaîne de télé locale.
Le salon était également équipé d'un équipement stéréo perfectionné. Michael souhaitait le meilleur système de son et des lumières flashaient au rythme de la musique. Il y avait également un lecteur de laser disc et un écran de télévision dernier cri.
Sur un des murs de la partie salle à manger, l'hôtel avait fait installer un grand cadre avec avec trente-sept disques d'or et de platine de Michael, une réplique indiquant "Presented To Michael Jackson For Being The #1 Artist in the World", l'original étant dans la maison de Hayvenhurst.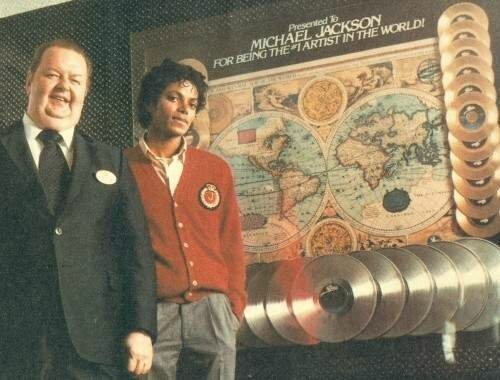 Michael Jackson et Garry Cross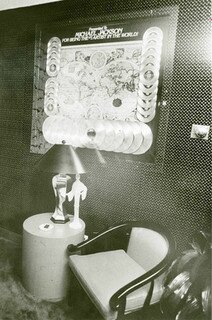 La chambre n'existe plus aujourd'hui mais Phil Wright a gardé un bon souvenir de la star : "Lorsque je l'ai connu à l'hôtel, il était gentil, généreux et incroyablement timide.Nous voulions lui offrir un endroit où il se sentirait chez lui".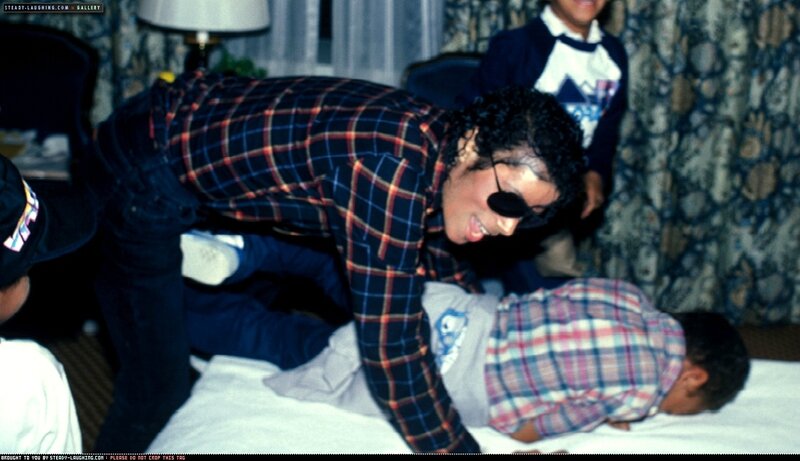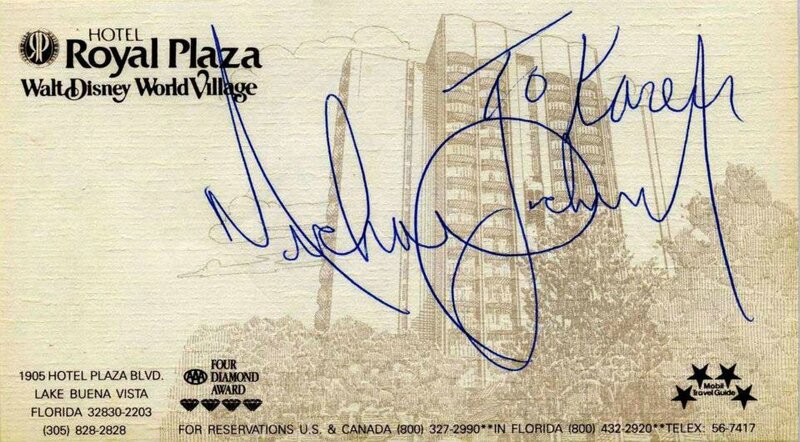 Souces: cartasparamichael.blogspot.com.br/orlandosentinel.com/disboards.com