La venue de Michael Jackson à Tenerife en septembre 1993 dans le cadre du Dangerous Tour reste un moment mémorable pour les espagnols de cette île.
Tenerife fait partie de l'archipel espagnol des îles Canaries, situé à 115 kilomètres à l'ouest des côtes du Maroc, dans l'océan Atlantique. C'est la plus grande et la plus peuplée de ces îles.
Arrivée de Michael Jackson
Le 25 septembre 1993, vers 16h, Michael arrive dans la capitale de l'île, Santa Cruz de Tenerife, pour le seul concert européen de la deuxième partie de sa tournée mondiale qui se terminera en Amérique du Sud quelques semaines plus tard. En provenance d'Istanbul (Turquie), il débarque d'un boing 727 sur le tarmac de l'aéroport international Los Rodeos (aujourd'hui appelé Aéroport de Ténérife-Nord) où plus d'une soixantaine de journalistes l'attendent.
Aux côtés de son fidèle chef de la sécurité, Bill Bray, il est accueilli, à la descente de l'avion par deux jeunes enfants, vêtus de costumes traditionnels, venus lui remettre un bouquet de fleur pour son arrivée.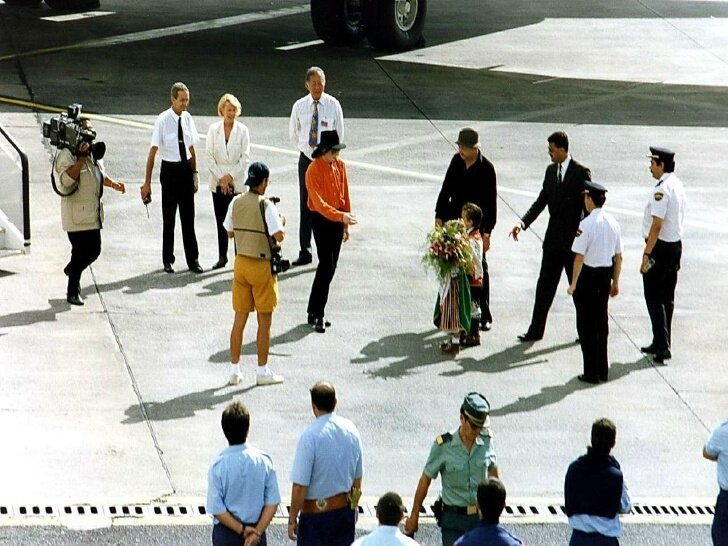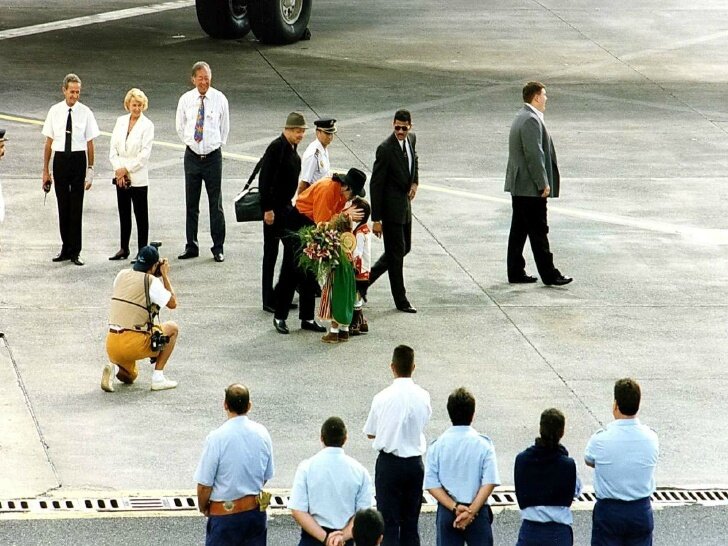 Michael embrasse Jose Adrian Chiyah, fils d'un conseiller municipal de la ville à l'époque et d'un des promoteurs du concert de Michael à Tenerife, et Claudia Gonzalez, les enfants, et prend le temps de poser avec eux pour des photos.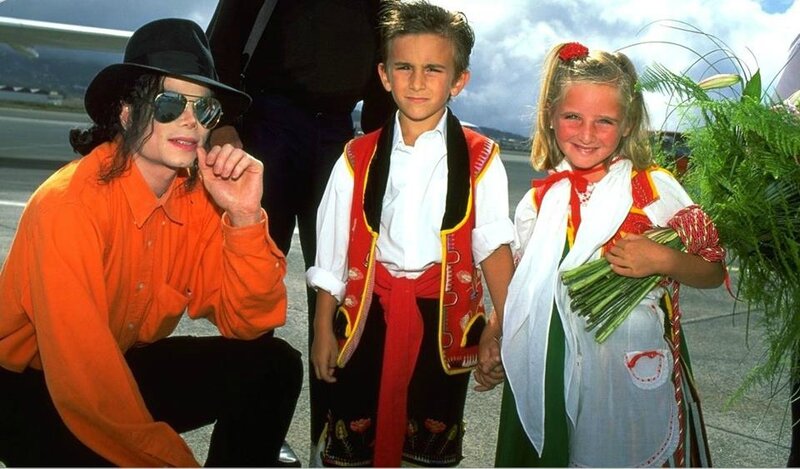 Il monte ensuite dans un van, sous les yeux de près de 3000 fans qui se pressaient dans les différentes zones de l'aéroport, pour assister à son arrivée.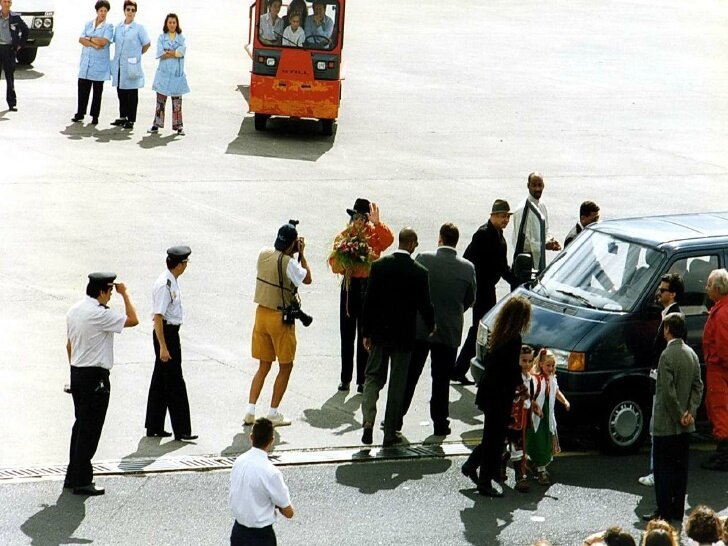 L'hôtel Melià Botanico
Michael est mené directement à l'Hôtel Melià Botanico (renommé aujourd'hui Hotel Botanico & The Oriental Spa Garden) à Puerto de La Cruz, à environ trente minutes de la capitale, qu'il occupera durant son séjour et où il sera également accueilli par des fans très nombreux qui l'attendaient depuis plusieurs heures.
Seul hôtel cinq étoiles de cette ville située sur le flanc nord de l'île, le Botanico se cache dans un quartier résidentiel assez éloigné de la mer, La Paz, sur les hauteurs de Puerto de la Cruz, à 100 mètres du Jardin Botanique (d'où son nom), à un peu moins de trois kilomètres du centre-ville et à quatre kilomètres du parc animalier Loro Parque. Choisi notamment pour ses jardins, dans un lieu calme, mais aussi avec des garanties de sécurité maximale, le staff de Michael réserve la totalité du cinquième étage de l'hôtel où Michael bénéficie d'une suite avec terrasse et jacuzzi. Dix-neuf autres membres de son équipe logent également à l'étage.
Le directeur de l'hôtel à cette époque, Cándido Fuigueroa, se souvient du passage de la star et explique : "Michael devait normalement loger dans un hôtel de luxe de la capitale mais les conditions imposées par le chanteur n'ont pas été acceptées par l'hôtel, car il exigeait une grande suite. J'ai discuté avec l'organisateur du concert, et j'ai plus valorisé la publicité que le séjour de Michael Jackson génèrerait que la gratuité de la chambre. On a donc accepté sa demande et il s'est installé dans l'établissement avec son équipe".
La Royal Suite occupée par Michael comprend une entrée donnant dans un salon spacieux et une petite salle à manger, deux chambres et deux salles de bains, une terrasse avec jacuzzi avec une vue splendide sur les hauteurs de la ville et sur la piscine à l'arrière de l'hôtel.
"Michael avait une ligne disponible dans tous les coins des chambres louées, car à l'époque il n'y avait pas de téléphone mobile. A chaque ligne était attribué un numéro des pays qu'il appelait. L'hôtel recevait des appels de partout dans le monde pour des envois de bouquets de fleurs. Durant son séjour, la couverture médiatique a été extraordinaire, les médias nationaux et étrangers ont été très nombreux".
"Quelques jours avant son arrivée, les fans attendaient devant l'hôtel, certains d'entre eux ont même dormi dehors, aux alentours. Et quand Michael était dans la chambre, les plus hardis grimpaient par les échelles de secours et embrassaient les fenêtres" se souvient également Cándido Fuigueroa.
Michael apparait sur la terrasse de l'hôtel le jour de son arrivée pour saluer ses fans venus en masse devant l'hôtel, ainsi que le montrent ces photos.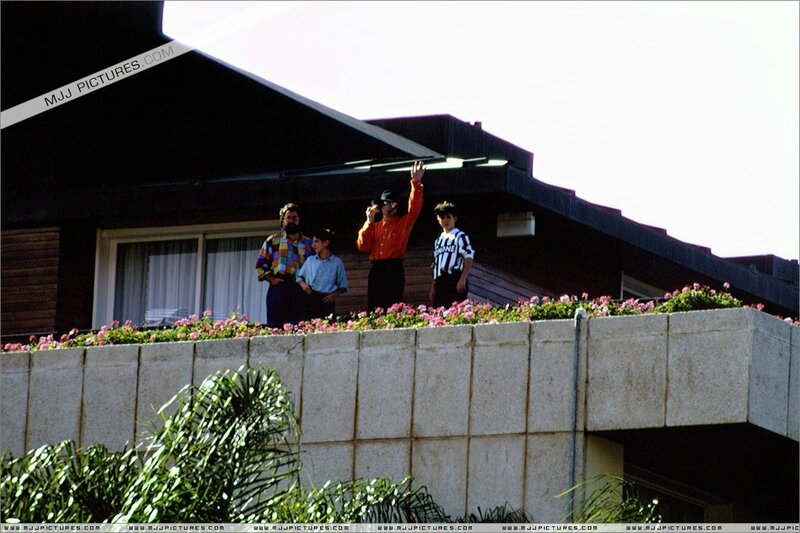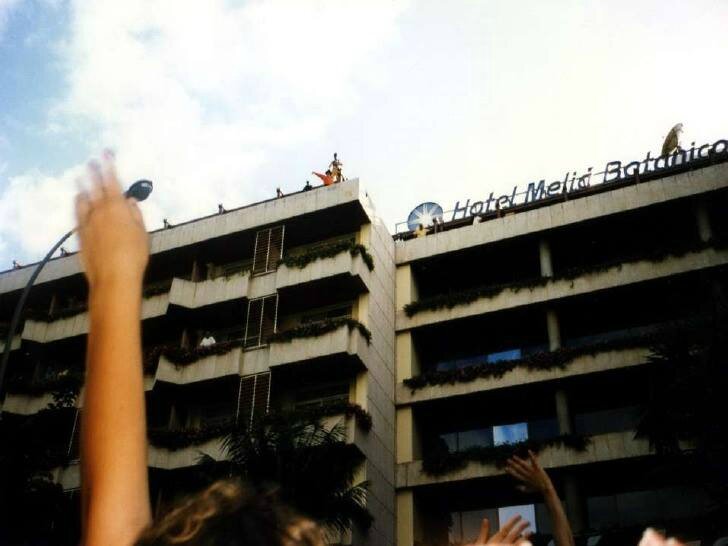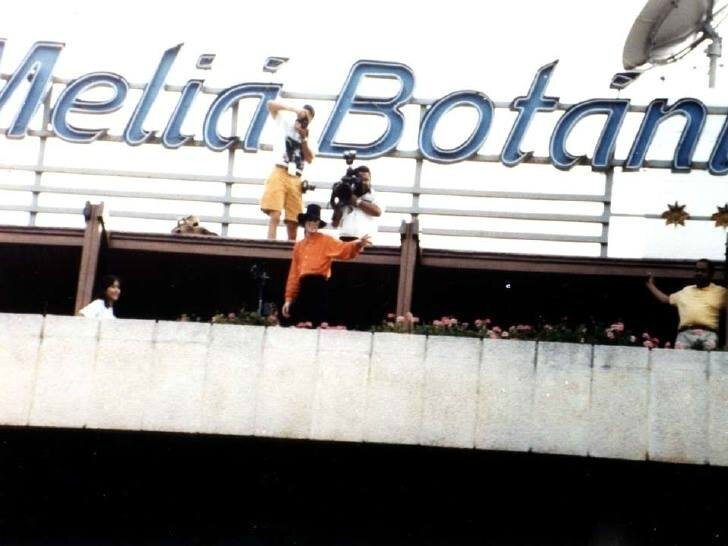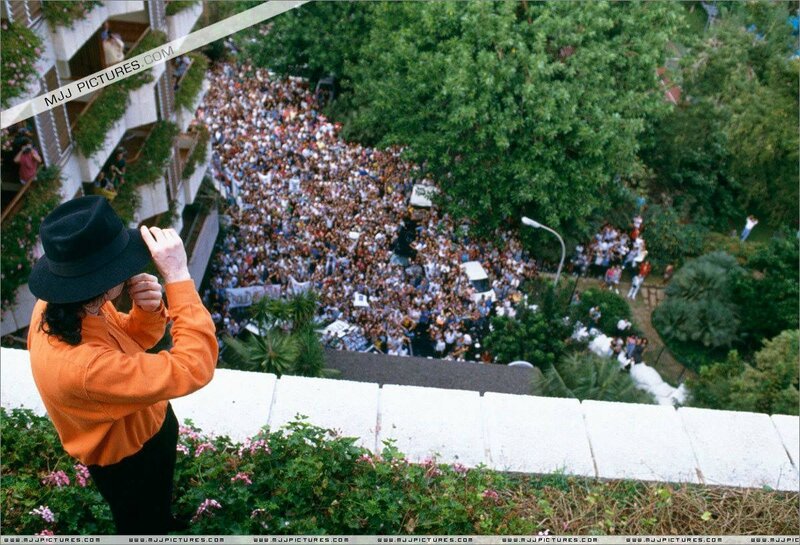 "Michael était une personne peu exigeante, il aimait les fruits et réclamait des plateaux de fruits entiers. Il avait une personnalité complexe et sophistiquée et ce fut une expérience formidable de le connaître et de l'avoir parmi les clients de l'hôtel". Un souvenir que l'ancien directeur garde précieusement tout comme cette photo prise avec la star et sa famille et l'autographe laissé par Michael, désormais dans le guest-book de l'hôtel.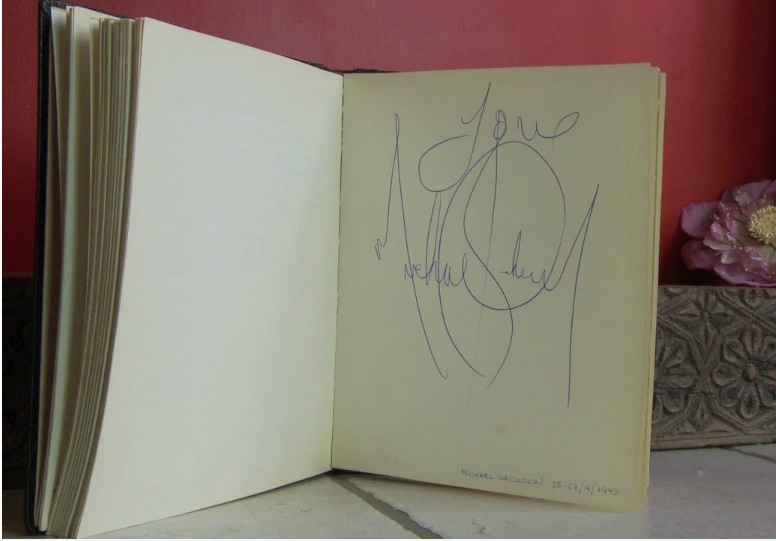 Michael ne manquera pas non plus de profiter des abords de la piscine de l'hôtel.
Aujourd'hui, la suite que Michael Jackson a occupée en 1993 a été rebaptisée Suite Michael Jackson, n°512 (on la trouve aussi sous le nom de Penthouse Suite sur les sites hôteliers) et elle n'a que très peu changé en vingt ans. Elle peut être louée pour environ 650 euros la nuit.
Petite visite:
Le Loro Parque
En fin d'après midi de cette journée du 25 septembre 1993, Michael visite le Loro Parque (le Parc des Perroquets), dont le créateur et propriétaire, Wolfgang Kiessling, est aussi le propriétaire de l'Hotel Botanico. Toujours vêtu de son pantalon noir et de sa chemise orange, et d'une veste noire supplémentaire, il arrive dans ce parc zoologique le plus populaire des îles Canaries, après sa fermeture, pour une visite privée.
Ce paradis des perroquets, fondé en 1972, se distingue également par son aquarium, son espace Naturavision et sa grande diversité d'animaux, notamment des dauphins, des otaries, des gorilles, des chimpanzés, des pingouins et des orques.
A l'époque, Michael assiste à un spectacle privé des dauphins et s'intéresse particulièrement aux chimpanzés, aux gorilles et aux crocodiles.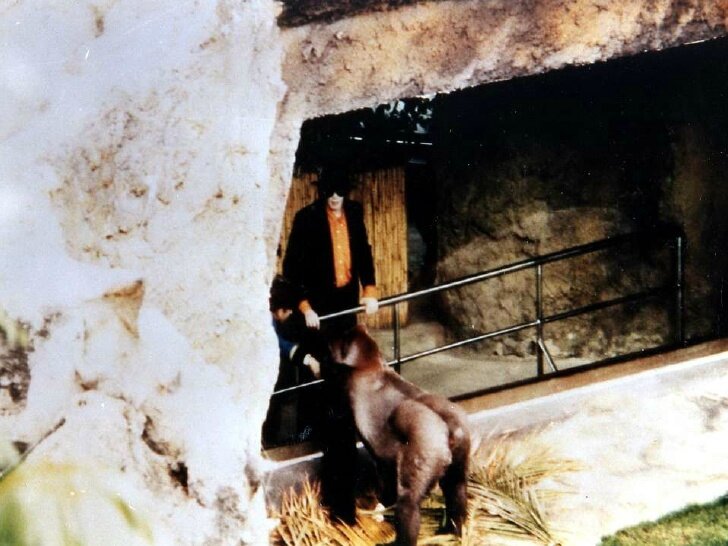 Les deux seules photos de cette visite, où l'on voit Michael, accompagné des enfants Cascio, devant la vitre des gorilles, sont depuis 2009, encadrée et posée près de l'enclos des gorilles, là où elles ont été prises avec indiqué : "Visita Michael Jackson Septiembre 1993".
Michael aurait également été faire quelques achats chez un disquaire du centre-ville de Puerto de la Cruz, où, selon le site El Pais, il aurait acheté la bande originale du film de son ami Macaulay Culkin, Maman, j'ai encore raté l'avion.
Le concert
Le concert du 26 septembre, dans la zone portuaire de Tenerife, derrière la Plaza de Espana, a été vécu comme un très gros évènement. "L'ouragan Jackson", "un dimanche historique", tels étaient les commentaires que l'ont pouvait trouver dans certains médias. "A Tenerife et aux Canaries, il y aura un avant et un après Michael Jackson chaque fois que nous parlerons de spectacles musicaux" écrit un journaliste de El Diario de Avisos, le 27 septembre 1993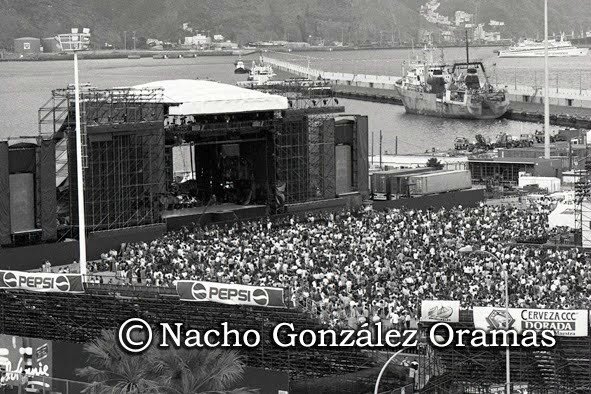 Depuis le 24 septembre, les ouvriers travaillaient à monter la scène. Deux avions transportant tout le matériel étaient arrivés la veille de l'arrivée de Michael pour installer une scène de la hauteur de la Plaza de Espana (que l'on voit au fond de photo).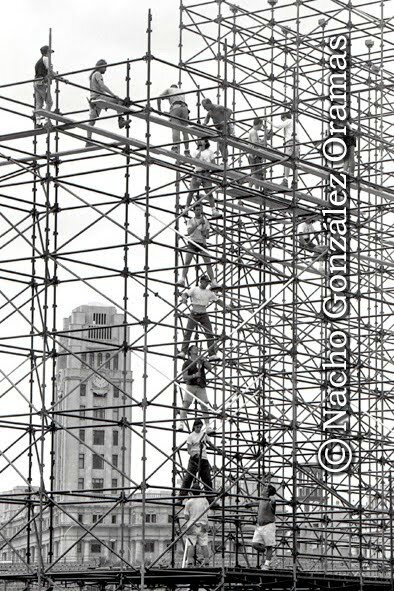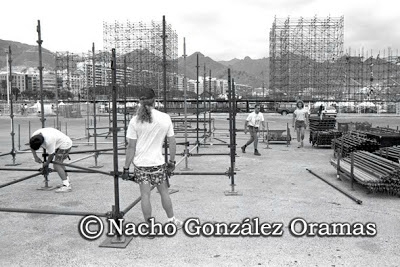 Partout dans les rues, des affiches du concert sont visibles.....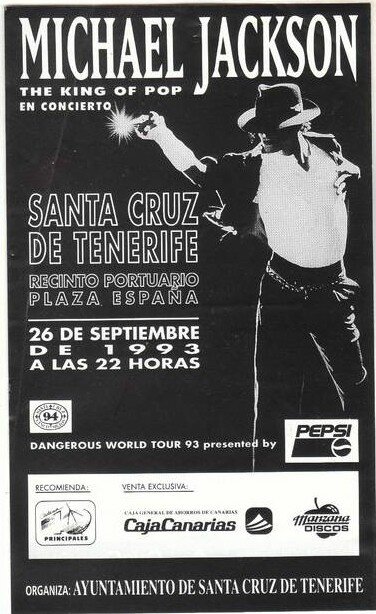 .... et Michael fait également diffuser un message audio à l'attention des espagnols (à partir de 0:27 dans la vidéo ci-dessous).
50 000 personnes, selon les médias locaux, assisteront à ce concert. Pourtant les promoteurs du concert ne pensaient pas que cette venue aurait autant de succès. Un appui, notamment, du Ayuntamiento et de CajaCanarias (des associations importantes de la ville) a été demandé et ils ont du faire face à de "nombreux obstacles, notamment de la part du port, parce que jamais auparavant un spectacle de cette envergure n'avait été monté" sur l'île. Un des promoteurs admet qu'ils "avaient très peur" lorsque les billets ont été mis en vente, parce qu'à cette époque le public de Tenerife n'était pas habitué à payer un billet 5.000 pesetas (30 euros) et 10.000 pesetas (60 euros) pour les tribunes VIP. Mais ce concert a prouvé qu'il était possible d'organiser dans les îles des spectacles de grande envergure.
Dès 17 heures, le 26 septembre, les routes autour de la scène ont été fermées. Des centaines de personnes avaient passé la nuit près de l'entrée principale pour s'assurer les meilleures places. Des milliers d'autres se sont réunies sur la Plaza de Espana pour profiter de l'ambiance….. et parce qu'ils n'avaient pas pu avoir de place.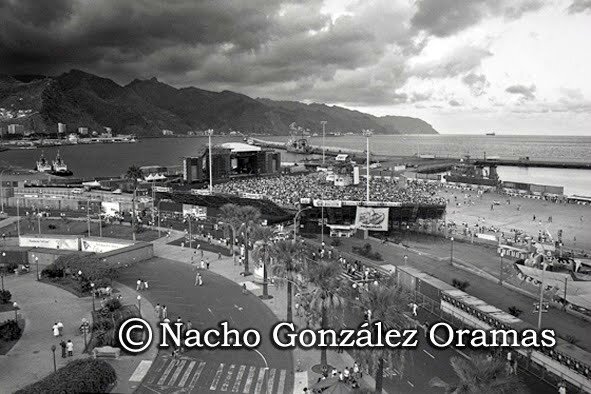 A 22h15, le concert a commencé devant un public impatient et sous une météo instable. Malgré des problèmes de sons et une prestation de la star pas aussi explosive que certains l'espéraient, ce moment resta gravé dans les mémoires. "Cela semblait fou que Michael Jackson choisisse Tenerife pour son seul concert en Europe, mais nous avons réussi. Tout était spectaculaire, depuis l'arrivée de l'équipement pour la scène, l'accueil de Michael et le concert lui-même", se souvient un des promoteurs au micro de Radio Club Tenerife, une des radios principales des Canaries, attirant également l'attention sur l'organisation et le professionnalisme du staff de Michael. "Chacun savait ce qu'il avait à faire, les américains sont très professionnels pour monter de tels shows".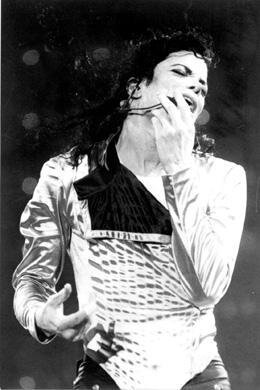 La vingtaine d'enfants qui accompagnaient Michael sur le titre Heal The World a été sélectionnée parmi cent cinquante candidats lors d'un casting qui s'est déroulé dans l'auditorium de la fondation CajaCanarias qui a sponsorisé le concert.
Et pour tous, ce concert a été "mémorable", "un grand moment", "des chansons inoubliables"…. "on a eu Michael Jackson" diront les médias !
Le lendemain, le 27 septembre, Michael quitte Tenerife, accompagné de Frank et Eddie Cascio, et se rend à Gstaad, en Suisse, où il passera quelques jours dans le chalet de Liz Taylor.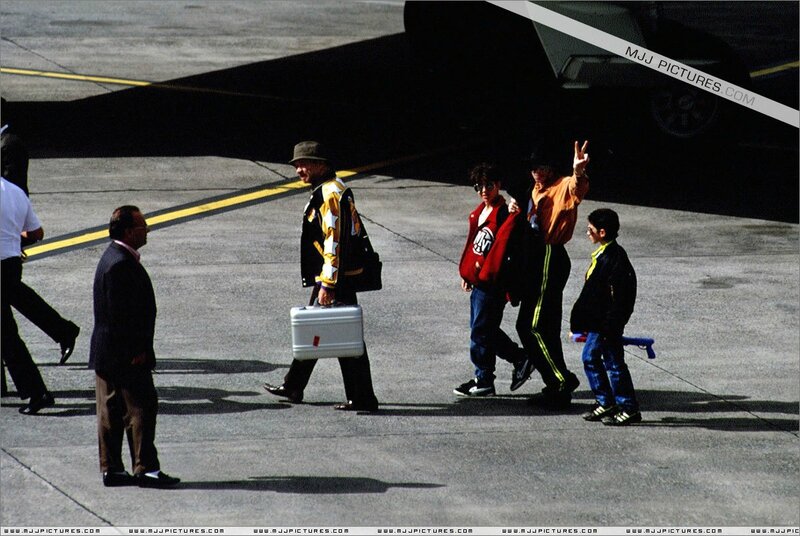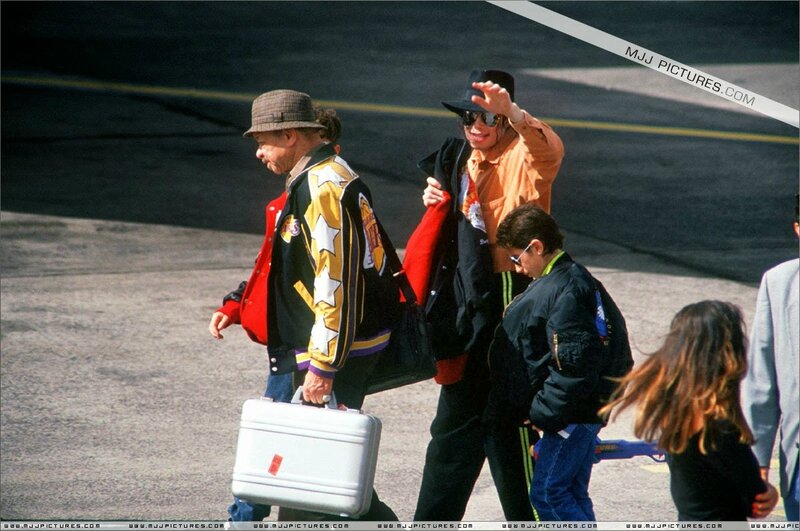 Ci-dessous un documentaire de 26 minutes , intitulé "Ouragan dans l'île", diffusé par TVE, chaîne de télévision espagnole, en 1993 et évoquant la venue des fans sur l'île, la construction de la scène, l'arrivée de Michael à l'aéroport, l'attente des fans devant l'hôtel, l'effervescence avant le concert, des extraits du concert et les réactions des spectateurs.
Sources : nachogoramas.blogspot.fr/ puertodelacruz.blogspot.fr/laopinion.es/elpais.com