Dans une interview au magazine Vibe en 2002, Michael Jackson évoque brièvement sa passion pour The Little Rascals (Les petites Canailles). "I like anything having to do with Shirley Temple, The Little Rascals and The Three Stooges".
Cette série américaine, née sous le nom Our Gang, en 1922, à l'époque du cinéma muet a été produite par Hal Roach (qui a également produit Laurel et Hardy). 220 épisodes d'une vingtaine de minutes et un film ont vu se succéder entre 1922 et 1944 plus de 41 enfants, les héros de ces comédies.
En avance sur son temps, cette série, certainement l'une des plus mémorables dans l'histoire du cinéma, mettait en avant des enfants, indépendamment du sexe, de la race ou du statut social des parents, dans un cadre où ils étaient tous égaux. Une première dans l'industrie du cinéma.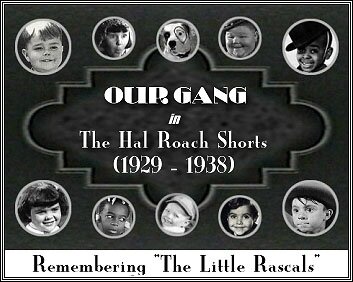 Blagues en tous genres, chamailleries d'enfants sont les éléments essentiels des aventures hilarantes de ces gentils vauriens, gaffeurs, farceurs et indisciplinés: la belle Darla, le petit Porky, Buckwheat le petit noir, Alfalfa le plus grand et charismatique, leur "chef", le gros Spanky et leur chien Petey sont les petites canailles les plus connues.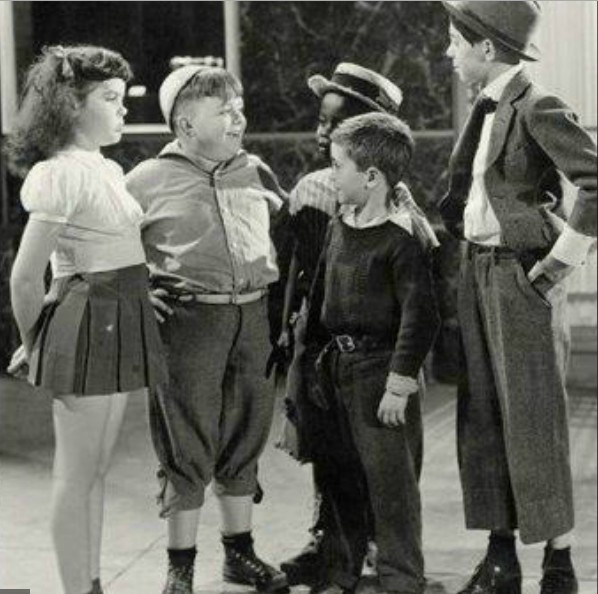 L'acteur qui interprétait Spanky, George McFarland, avait intégré la série en 1932, alors qu'il n'avait que 3 ans. Il devient alors l'un des personnages phares, pendant près de 11 ans, apparaissant dans plus de 95 épisodes. Devenu trop âgé pour jouer son rôle, il quittera la série à l'âge de 14 ans, en 1942.
Michael Jackson, attiré par les enfants star, comme lui, rencontre une première fois George "Spanky" McFarland en avril 1984, lors d'un diner après les Academy Awards (les Oscars) où, lors de la cérémonie, McFarland avait remis un Oscar d'honneur à Hal Roach. Michael lui avoue alors être un de ses plus grands fans.
Les deux hommes se revoient en juillet 1984, lors du passage de la tournée Victory à Dallas, la ville de McFarland. Michael a ainsi passé une journée chez George McFarland et ils ont évoqué longuement la série The Little Rascals.
Alors qu'ils regardaient les albums de McFarland, une photo représentant George sur les escaliers de sa maison a attiré l'attention de Michael. Les deux stars se sont alors apercus qu'ils avaient habité la même maison à Los Angeles, le 1601 Queens Road, à plusieurs années d'intervalle.
Ils ont sans doute aussi regardé des épsiodes. Doris, la veuve de McFarland a expliqué : "Michael nous a demandé de couper l'air climatisé car il avait froid. Il s'est assis dans un rocking chair et il a regardé la télévision avec nous, enroulé dans un plaid afghan…Nous étions en juillet!"
La photo ci-dessous, dévoilée récemment, indique que Michael a également invité son idole dans sa maison d'Encino, quelques années plus tard, propablement en 1987. (George McFarland est à gauche sur la photo).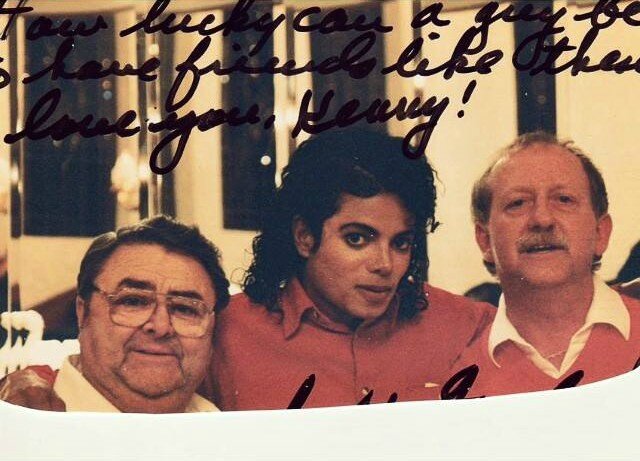 George McFarland sur le plateau du tournage de The Chase, la publicité pour Pepsi que tourne Michael en 1987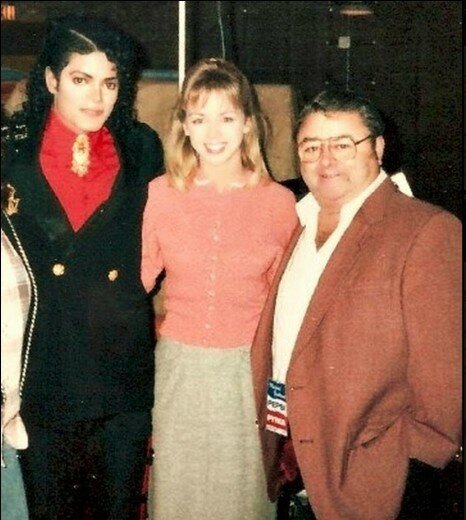 Robert Blake, l'acteur connu pour avoir interprété le détective Baretta dans la série du même nom, avait également intégré Our Gang/The Little Rascals en 1939 en remplacement de Eugene "Porky"Lee.
Robert Blake (alors connu sous le nom de Mickey Gubitosi) et George McFarland
Sur son site, il raconte sa relation avec Michael qu'il a eu l'occasion de rencontrer: "Michael Jackson était un grand fan de Little Rascals. Il aimait tout ce qui concernait ces petits gamins. Spanky McFarland, était l'un de ses meilleurs amis, et a passé du temps à Neverland avec lui. Lorsque Spanky a raconté à Michael que, enfant, j'avais grandi avec mon oncle Tony, The Monkey-man, Michael a eu un choc. Oncle Tony était l'homme qui s'occupait de tous les animaux de la série, Petey le chien, George, le singe, Jimmy, le Corbeau et la chèvre (cette chèvre folle que je détestais).
Michael a insisté pour que Spanky le mette en contact avec moi et j'ai rencontré Michael à deux ou trois reprises, c'était très intéressant et amusant. Il en savait plus sur les Little Rascals que n'importe qui. Tony n'était plus là, mais j'ai emmené Michael rendre visite à sa veuve, Erma (...). Michael a acheté la niche de Petey le chien, le cage de George le singe, et a acheté de nombreuses photos et des tas de souvenirs. Il a tout acheté sauf la maison d' Erma, et a tout rapporté dans sa collection à Neverland. Je n'en sais pas beaucoup plus sur Michael Jackson mais c'était très flatteur d'avoir une des stars les plus brillantes de la planète comme admirateur".
Quelques années plus tard, en 2001, Blake, accusé du meurtre de sa femme, aura pour second avocat lors de son pré-procès, un certain Tom Mesereau!
La série et ses enfants ne pouvaient qu'inspirer Michael Jackson…comme l'ont fait les enfants tout au long de sa carrière.
Ainsi en 1984, lors d'un photoshoot pour Victory, les frères Jackson sont vêtus à la manière des petites canailles et posent dans un cadre rappelant celui de la série …. où l'on aperçoit notamment un chien ressemblant au célèbre Petey.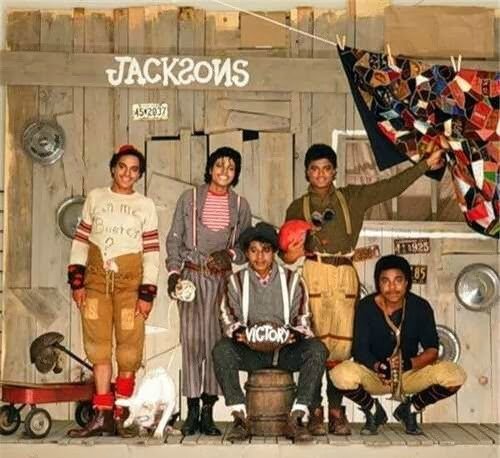 La photo ci-dessous est d'ailleurs sans aucun doute un hommage à la série. Michael pose ici avec un pittbull dont on a dessiné un cercle autour de l'oeil, comme l'avait Petey, ainsi que l'avait d'ailleurs fait son idole plusieurs années auparavant.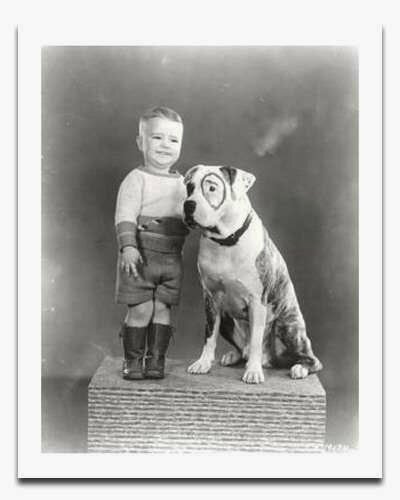 Dans la série, Pal, le premier chien tenant le role de Petey, surnommé aussi Pete the Pup ou Pete, the Dog With the Ring Around His Eye, avait naturellement ce cercle presque complet autour de l'oeil. Il est ainsi devenu l'un des chiens le plus connu dans l'histoire de la télé. Par la suite, les chiens ayant repris le rôle (dont le fils de Pal) se sont vus rajouter le cercle grâce au maquillage.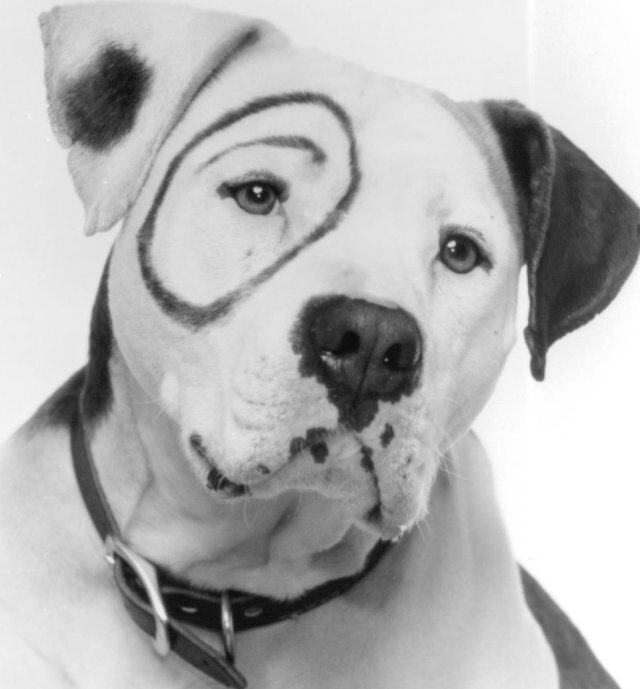 En 2002, pour le photoshoot du magazine Vibe évoqué plus haut, Michael est pris en photo avec ses enfants, Prince et Paris.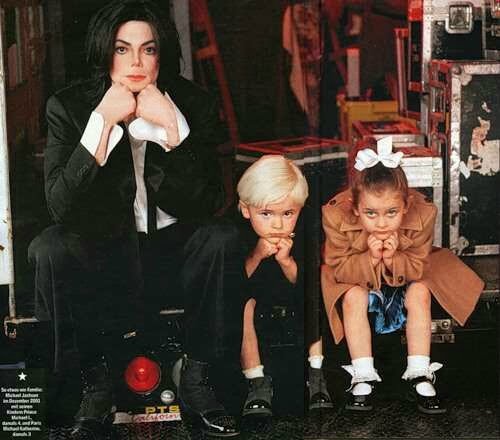 La pose qu'ils adoptent n'est pas sans rappeler celle prise ci-dessous par les petites canailles et un des réalisateurs de la série, Gordon Douglas.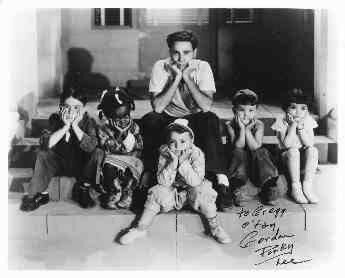 Enfin, comment ne pas associer cette photo de Prince, le fils aîné de Michael ….
… avec celle de Matthew "Stymie" Beard, l'une des petites canailles, qui sera remplacée par la suite par Buckwheat, ou de George "Spanky" McFarland enfant.
Michael Jackson avait également une statue au milieu de son ranch de Neverland, représentant des enfants descendant d'un toboggan….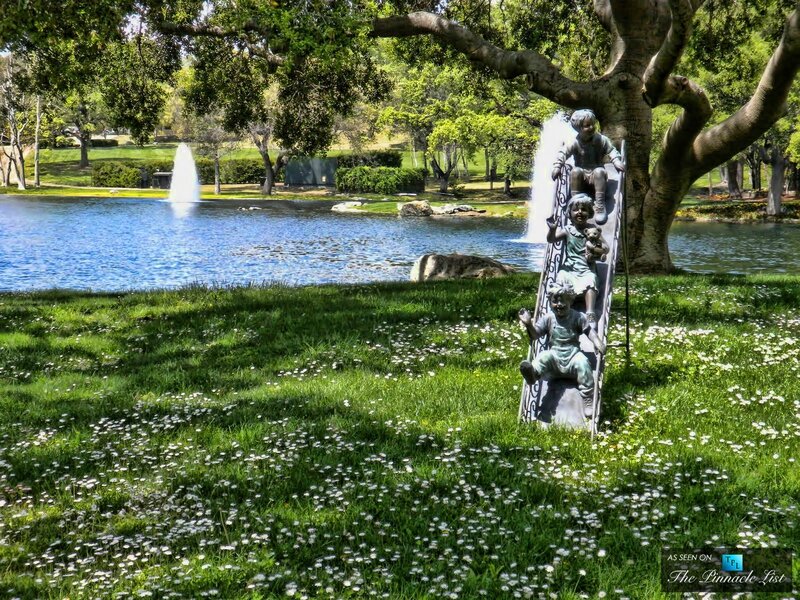 …..aurait-elle été inspirée par cette photo connue de The Little Rascals?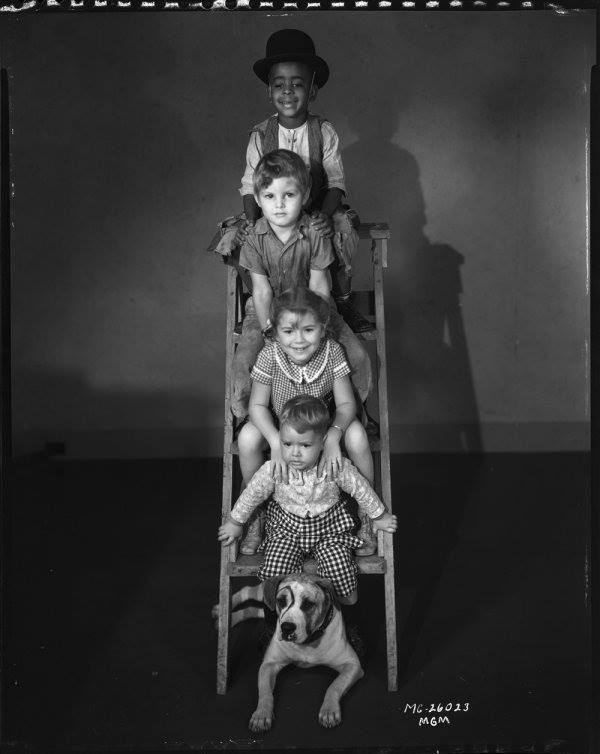 Après sa première rencontre avec Michael, McFarland a dit à Michael H. Price, l'homme qui avait arrangé l'entrevue, que le King of Pop lui avait expliqué qu' "il l'avait inspiré pour arriver où il en était, pour être un showman. Il regardait Our Gang à la télévision tous les jours et il avait alors attrapé le virus du spectacle". Ce à quoi McFarland avait répondu: "Je ne pense pas que la série ait eu une quelconque influence sur sa musique"…..
Sur l'Artiste peut être pas, mais sur l'Homme, l'influence est indéniable….
Sources: theunicoeirrepetiblereydelpopmichaelj.blogspot.fr/robertbobbyblake.com/Wikipedia/cartasparamichael.blogspot.fr/planete-jeunesse.com. Merci à Matilde (facebook) et à jackson.rare (Instagram)