Lorsqu'il a une dizaine d'années, Michael Jackson se voit offrir une porcelaine de Lladro. Ce sera alors le début d'une passion.
Ces petites figurines de porcelaine créées par trois frères espagnols, Juan, José et Vicente Lladro, dans les années 50, sont aujourd'hui devenues des objets convoités par les collectionneurs, atteignant parfois des prix très élevés. "Amour, maternité, famille et religion alimentent les thèmes de ces sculptures-créations aux émotions universelles et intemporelles. C'est ici que réside la grande force de Lladro", déclarait son directeur général en 2007.
Faites à la main, les figurines, représentant des personnages, des animaux ou des petites scènes familiales, … sortent de l'usine du Musée Lladro, unique dans le monde, situé à Tavernes Blanques (la Ciudad de la Porcelana), une petite ville situé à un peu plus de cinq kilomètres de Valence, en Espagne.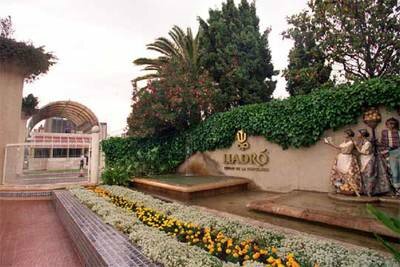 La visite du musée, guidée et gratuite, d'environ une heure et demie, permet de suivre l'élaboration pas à pas des figurines en observant le travail des artistes dans les différents ateliers.
Lors d'un bref passage en Espagne en 1979, pour l'enregistrement d'une émission, Applauso, Michael Jackson, déjà grand amateur de ces figurines, profite des problèmes lors de l'enregistrement pour s'éclipser et aller faire quelques achats dans la boutique Lladro près de la Place d'Espagne de Madrid.
Mais c'est surtout en 1992, alors que le Dangerous Tour parcourt l'Europe et fait un arrêt pour trois dates en Espagne, que le King Of Pop demande à visiter le musée de Valence, entre deux concerts. C'est ainsi que le samedi 19 septembre 1992, Michael arrive discrètement à l'aéroport de Valence, loin des caméras de la presse, attendu par les trois frères Lladro eux-mêmes. Michael débarque de son jet privé, accompagné de Brett Barnes, de son fidèle Bill Bray et de huit personnes de son entourage et est emmené directement à la Lladro Factory, fermée spécialement pour l'occasion, dans la voiture personnelle de José Lladro.
Durant trois heures, parmi quelques employés, il fait le tour de l'entreprise, les ateliers de fabrication d'abord puis le musée lui-même, où de nombreuses pièces sont sous vitrine. Parlant peu, sauf avec Brett Barnes à qui il donne quelques explications sur les porcelaines, il sourit et applaudit quand il voit quelque chose qui l'intéresse.
Il s'attarde particulièrement sur une petite statue de Martin Luther King et a été très touché par une figurine de la collection Disney, représentant la Fée Clochette qu'il a embrassée avant de la reposer délicatement. Il aurait même demandé un bloc-notes et des crayons et aurait commencé à la dessiner.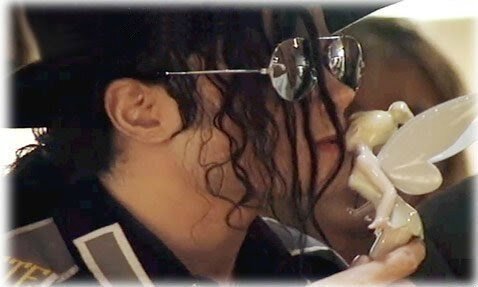 Michael Jackson se voit également remettre en cadeau un livre sur l'histoire de l'entreprise et une statuette en bronze représentant un roi sur un trône avec deux enfants. Sur son socle on peut lire: De la famille Lladró pour Michael Jackson en mémoire de votre visite dans nos studios . Valence, le 19 Octobre 1992.
Il laisse également un petit mot dans le livre d'or: "Let's Heal The World Together, this is my dream , Love, Michael Jackson".
Une vidéo interne avait été tournée à l'occasion de la venue du chanteur.
José Lladro, dans son livre Luces y Sombras de la empresa familiar, paru en 2010, évoque la visite de Michael Jackson dans l'entreprise familiale : "Le Michael Jackson que j'ai connu était une bonne personne, uniquement guidée par de nobles sentiments. Je suis convaincu qu'il aimait Lladró . C'était quelqu'un de tout à fait normal, absurdement mythifiée. (…) Michael Jackson était vraiment quelqu'un dont la douceur transparaiçait à travers une aura flamboyante . Comme Peter Pan, il se comportait comme un enfant qui refuse de grandir. Il parlait timidement,il était calme et semblait vivre dans un monde à part ".
Après la visite, Michael a rencontré les frères Lladro pour leur proposer une collaboration.
Le chanteur voulait que la compagnie réalise une sculpture le représentant à la façon du Joueur de Flûte de Hamelin. Dans cette légende allemande, devenue un conte traditionnel, les enfants suivent le joueur de flûte, attirés par le son de son instrument. Cette figurine serait destinée à la vente afin de récolter des fonds en faveur des enfants du monde entier.
Le projet, approuvé par la compagnie Lladro, représentait Michael marchant entouré d'enfants de toutes nationalités. Derrière lui se trouve un globe sur un arbre surmonté par plusieurs colombes blanches, le tout coloré et monté sur un support en bois.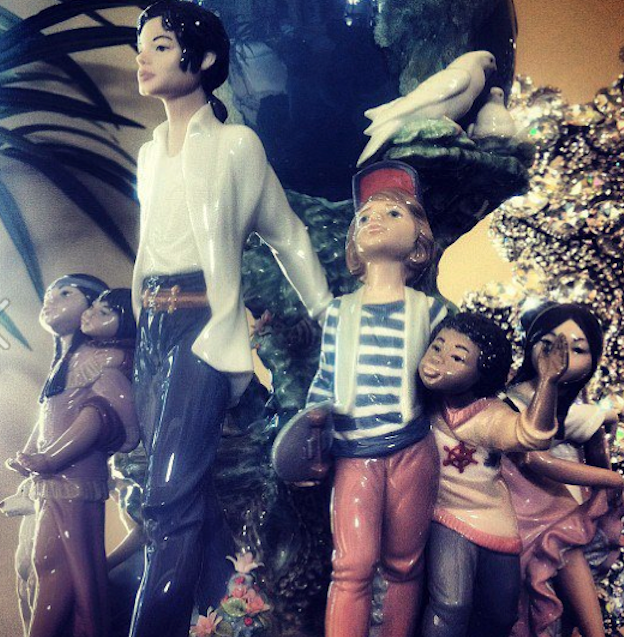 Selon Pino Sagliocco, le promoteur des concerts en Espagne, qui a permis cette visite dans la Lladro Factory, "Michael était très sensible à l'image que véhiculaient ces figurines (….). Lors de nos nombreuses conversations il revenait fréquemment sur son désir de faire quelque chose pour les droits des enfants et de créer une conscience sociale qui rendrait leur monde meilleur ''. Concernant cette collaboration avec les frères Lladro, "Son idée était de proposer aux dirigeants et leaders mondiaux une sculpture qui irait de paire avec la Déclaration des Droits de l'Enfant".
L'accord lors de cette réunion de 1992 s'est scellé par une poignée de main collective, à l'initiative de Michael.
Malheureusement, en raison des accusations qui ont accablé le chanteur en 1993, ce projet n'a jamais abouti. Un exemplaire est pourtant sorti des ateliers Lladro, que Michael possédait personnellement et qui, en 2009, s'était retrouvé dans le catalogue des enchères de Julien's Auctions. Michael avait cependant réussi à faire annuler cette opération.
La figurine est désormais en possession de la famille Jackson. On a pu l'apercevoir lors d'une interview de Paris, la fille de Michael, par Oprah Winfrey en 2012, dans la maison de Calabasas. (à 0:17 dans la vidéo ci-dessous).
Lladro est sans aucun doute une des marques espagnoles les plus renommées au niveau international, emblème de la culture hispanique et du luxe. De grands noms se sont intéressés à l'entreprise. José Lladro reconnaît que "Michael a été le personnage le plus "rare" parmi tous ceux qu'[il] a pu aborder. Mais pas le seul. Tippi Hedren, Lauren Bacall et Michael Douglas se sont également intéressés aux figurines. Plusieurs lauréats du prix Nobel ont défilé devant les fenêtres de Lladro. Ce genre de personnes n'avaient pas besoin d'aller au-delà des conventions imposées par la courtoisie. Ils n'étaient pas obligés de venir nous flatter et pourtant ils l'ont fait. Je sais qu'ils étaient sincères."
Michael Jackson possédait dans son ranch de Neverland près de 300 figurines en porcelaine de Lladro, que l'on a pu découvrir dans le catalogue de Julien's Auctions en 2009. Il a continué au cours des années à collectionner ces pièces magnifiques, fréquentant régulièrement le magazin Lladro de Beverly Hills, sur Rodeo Drive.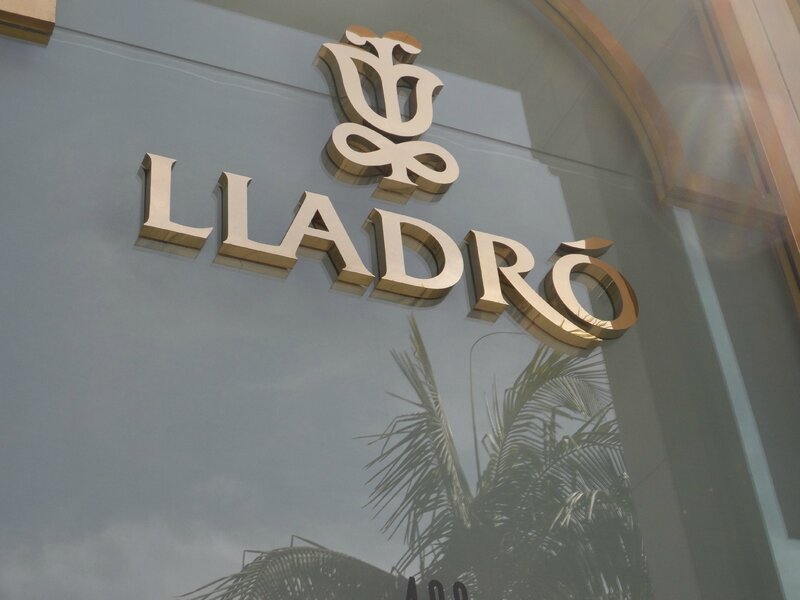 En 2008 En 2009
Outre de nombreux petits personnages (voir ci-après), il possédait notamment l'une des plus belles porcelaines de Lladro, en édition limitée à 1500 pièces dans le monde, Cinderella's Arrival, représentant Cendrillon descendant de son carrosse.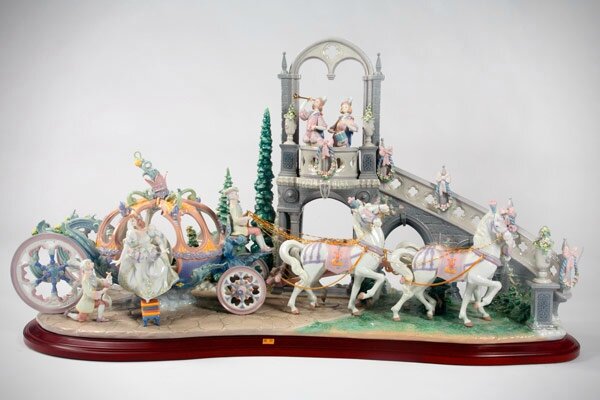 Il se dit qu'en 2009, Michael aurait souhaité acquérir LA pièce la plus chère de Lladro, The Queen Of The Nil, limitée à 100 pièces, d'une valeur de 110 000 dollars.

Voici quelques unes des porcelaines de Lladro que possédait Michael Jackson:
Sources: cartasparamichael.blogspot.com.br/eternamentemichaeljackson-moonlight.blogspot.fr/mjjjusticeproject.wordpress.com/lacortedelreydelpop.com/elmundo.es