Michael Jackson n'a jamais caché son goût pour les films d'horreur. Thriller, son premier short film, au succès mondial, en est directement inspiré. Il n'est donc pas étonnant que certaines de ses idoles le poussent à se présenter, déguisé, à une convention de films d'horreur.
Nous sommes en mai 1995. Michael Jackson est alors sur le tournage de l'un de ses short films les plus chers, Scream, aux studios Universal de Los Angeles. Au même moment, au Sheraton Universal Hotel de Universal City, a lieu le week end de la Famous Monsters of Filmland Horror, Sci-Fi and Fantasy World Convention (du 26 au 28 mai 1995).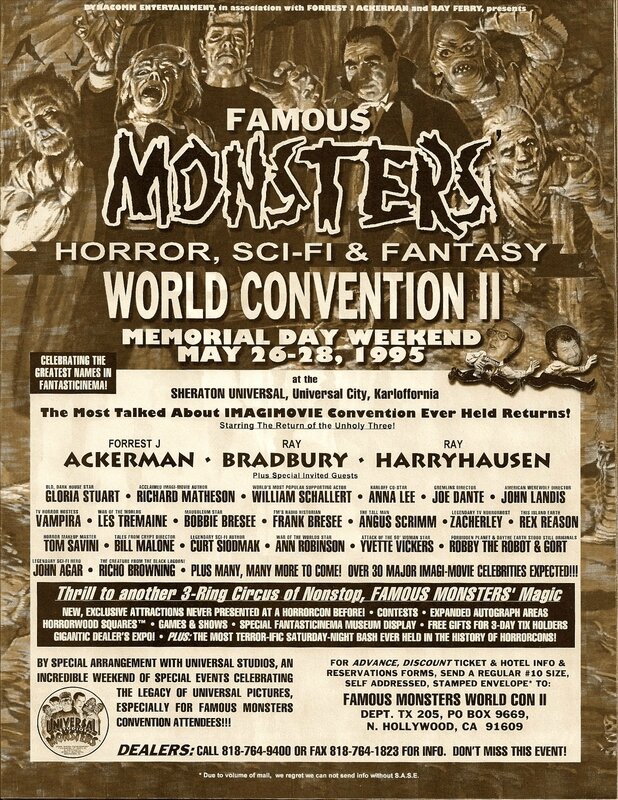 Cette convention est orgnanisée depuis 1974 par le célèbre magazine de films d'horreur, Famous Monsters of Filmland, qui a vu le jour en 1958. Cette année là, John Landis, le réalisateur de Thriller, et Forrest J. Ackerman, un des fondateurs du magazine qui a donné son nom à la convention, et qui fait par ailleurs une apparition dans le short film Thriller, font notamment partie des invités.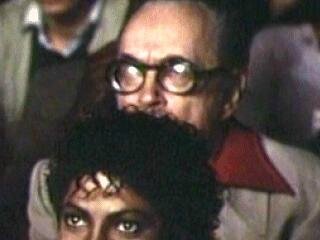 Al Lewis, célèbre pour son rôle de Grandpa Munster dans la série des années 60, The Munsters (Les Monstres) est également le président du jury d'un concours de costumes.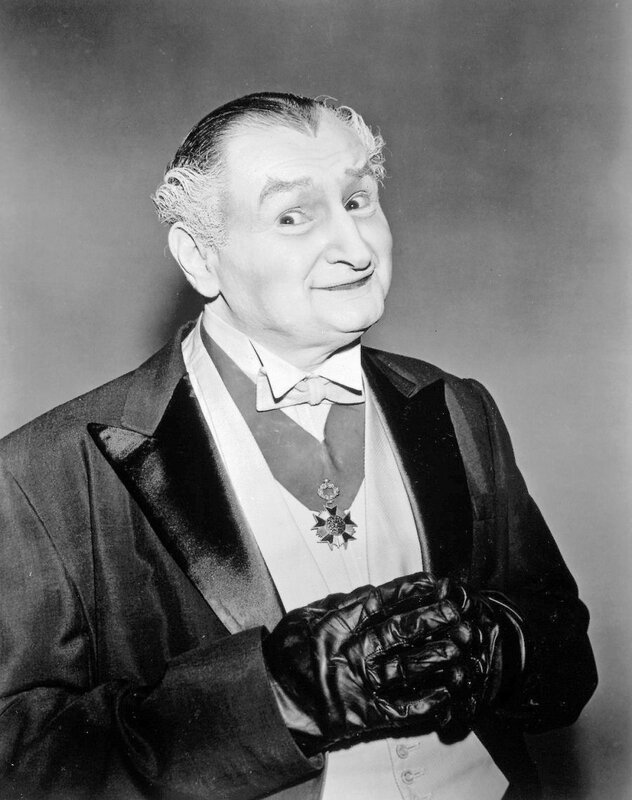 Grand fan d'Al Lewis et ayant appris la nouvelle de sa présence à cette convention, toute proche de son lieu de tournage, Michael fait envoyer une limousine pour qu'il vienne discuter avec lui. Ce qu'il se sont dit, on le sait pas mais Al Lewis aurait declaré que Michael était un "mensch". Issu d'une famille juive, Lewis a utilisé ce terme Yiddish, traduisant un compliment et exprimant la rareté et la valeur des qualités d'une personne.
La photo de cette rencontre, prise par Eddie Wolfl sur le plateau de Scream, est apparue il y a quelques semaines, en septembre 2015, lors de la Kingvention, première convention européenne dédiée au King Of Pop, à Londres (merci à Matilde de facebook pour avoir trouvé qui était avec MJ sur le cliché!)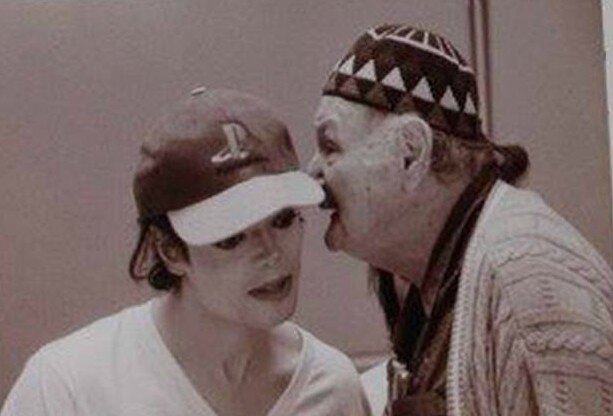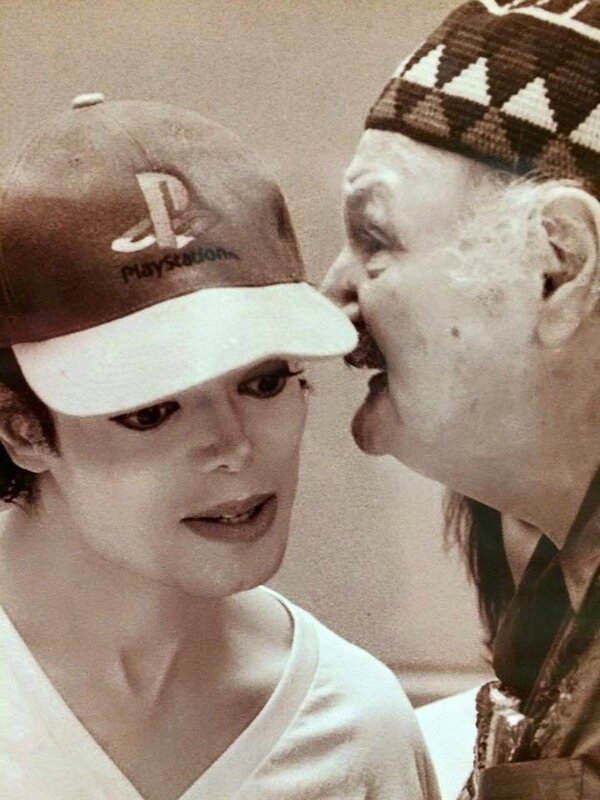 Mais cette photo ne serait pas la seule rencontre entre les deux hommes. En effet, Michael se serait rendu, incognito, déguisé de la tête au pied, au concours de costume dont Al Lewis était le president du jury, lors de cette même convention. Lui-même ne s'était d'ailleurs pas rendu compte que Michael Jackson se cachait sous le costume de Nosferatu (Dracula).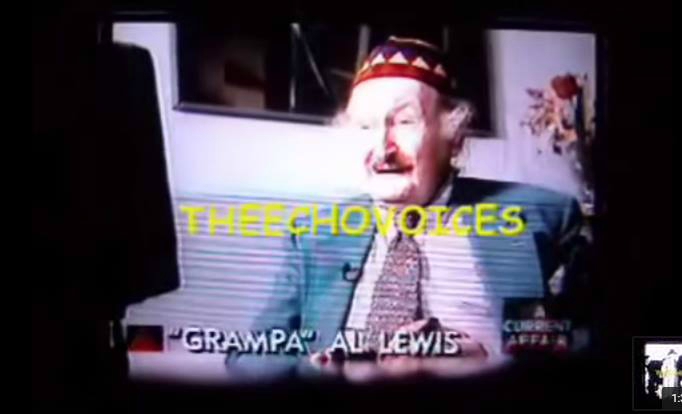 Certains participants, présents ce jour-là, ont appris la nouvelle un peu plus tard, grâce à une petite news de People Magazine . Un des reporters présents sur place aurait reconnu le garde du corps de Michael.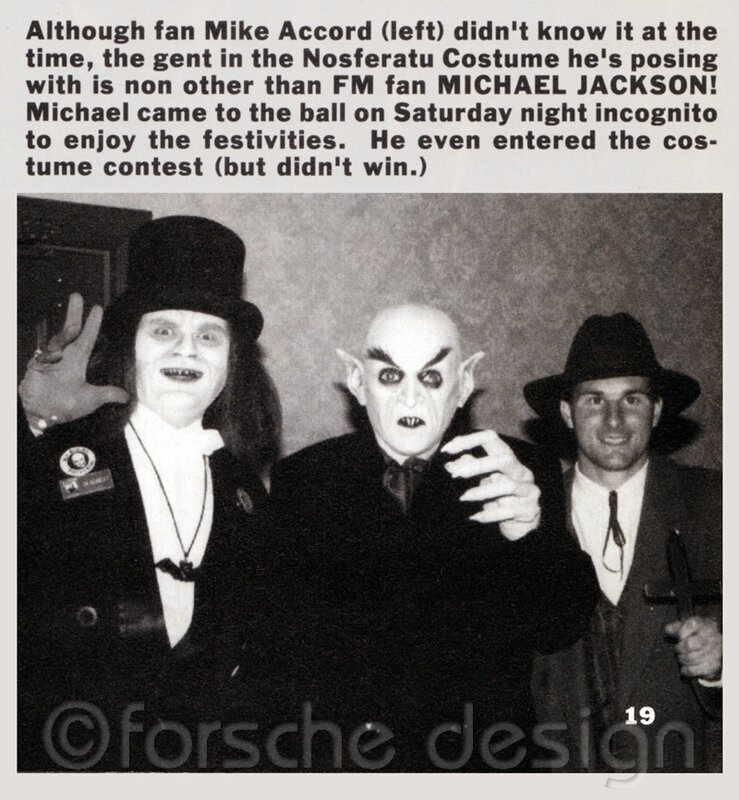 Ils se souviennent de cet homme avec son déguisement qui s'était présenté au concours de costume, aussi naturellement que n'importe quel autre concurrent.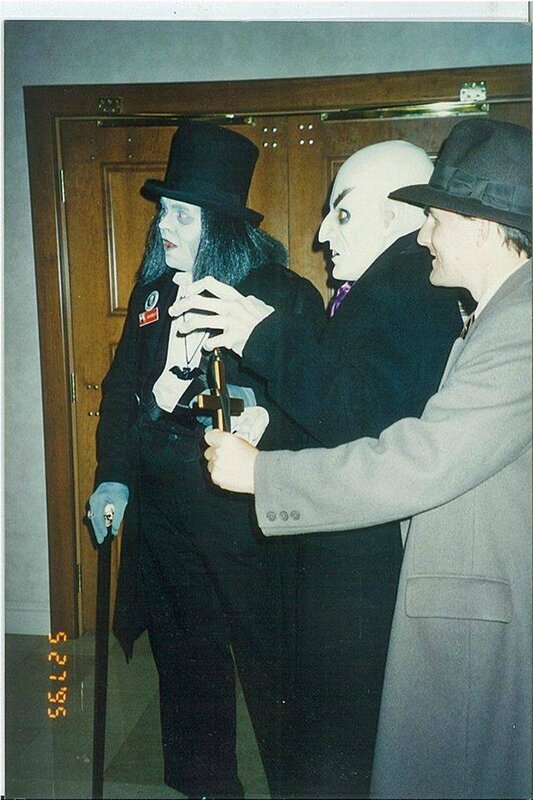 " En mai 1995, j'étais vendeur lors de la Famous Monsters of Fimland Convention à Los Angeles. Un des soirs de la convention se tenait un bal costumé avec un concours du meilleur costume. Un des invités était habillé en Nosferatu. J'attendais dans le couloirs avec cet homme et nous discutions du super costume qu'il portrait. Une petite fille toute mignonne dont je ne me rappelle plus le costume a gagné le concours. Al Lewis (le grand-père Munster) l'aimait vraiment beaucoup et il était le juré du concours.
Quelques temps plus tard, People magazine a écrit une petite brêve indiquant que Michael était venu déguisé à la convention. Je me souviens m'être assis après avoir lu l'article en essayant de me souvenir si quelque chose aurait pu m'indiquer que c'était lui.Mais non, pas vraiment. Il avait une voix douce et essayait vraiment de jouer son personnage quand il parlait. Il avait vraiment un costume génial".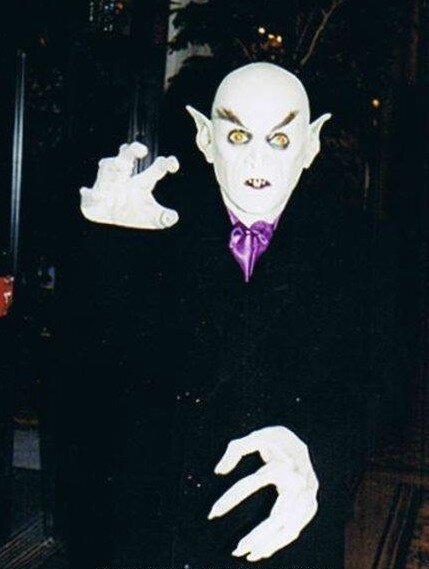 "Un soir (un samedi?), il y eu un concours de costumes et un diner avec des célébrités au Universal Sheraton. Al Lewis était le maître de cérémonie du concours, et, parce que c'était Hollywood, il y avait quelques-uns des meilleurs costumes de monstres j'avais jamais vus. Il y avait des tas de célébrités qui allaient et venaient dans la salle, certaines venant juste se montrer.
C'est alors que pendant les défilés de costumes, est apparu d'une porte latérale, quelqu'un portant le costume de Nosferatu le plus fabuleux que j'avais jamais vu. Il était très grand, il avait une ressemblance fantastique, on aurait dit un costume des parcs Disney, d'une grande qualité (…). La petite fille de 4 ans déguisée en fiancée de Frankenstein a gagné le concours et les quelques quinze participants se tenaient sur la scène avec Al. Lorsqu'ils sont tous descendus de la scène et se sont mêlés à la foule, je suis allé voir Nosferatu de près et j'ai été étonné. C'était un costume entre cinq et dix mille dollars je pense, et il est arrivé 3ème ou 4ème! Je suis allé vers lui et je l'ai félicité sur son costume fantastique. Il a hoché la tête sans dire un mot. Il a ensuite disparu, se volatilisant aussi vite qu'il était apparu.
Il y eu un article dans le Los Angeles Times le lendemain, au sujet de la convention (….), de la distribution prestigieuse du concours de costumes et même de Nosferatu. En fait, le gars dans le costume Nosferatu était une célébrité, aussi : c'était Michael Jackson!"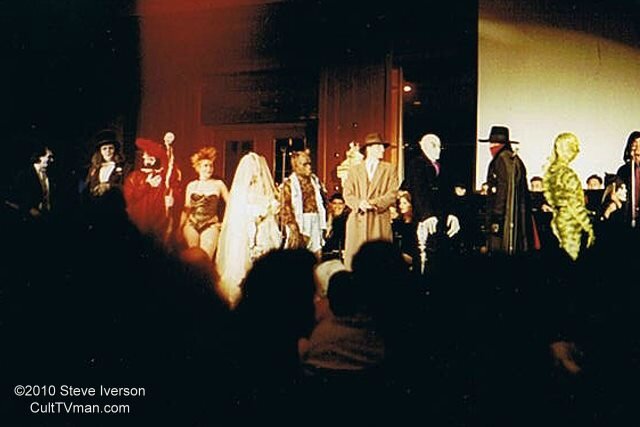 Dans la vidéo ci-dessous, on aperçoit Nosferatu défiler au milieu des autres participants.
Michael Jackson se cachait-il vraiment sous ce masque de Max Schreck, l'acteur allemant ayant joué Nosferatu dans le film muet de 1922? Le mystère reste entier …..

Sources: ireport.cnn.com/ culttvman.net/mjhideout.com/MJLegend/Gracias a Matilde (facebook)