La passion pour le cinéma de Michael Jackson n'est plus à prouver. Ses short films font désormais partie du patrimoine culturel international, au même titre que certains longs métrages.
Dès la fin des années 70, celui qui n'est pas encore le King of Pop s'essaie au septième art en tournant The Wiz, une production de la Motown, remake d'une célèbre comédie musicale de Broadway. Un film qui ne restera pas dans les annales du cinéma mais qui a le mérite de mettre en avant le talent de Michael et d'attiser encore plus son intérêt pour ce milieu. "(…) Grâce à cette expérience, j'ai été contaminé par le virus des acteurs. J'avais très envie de tourner un film et c'était la chance de ma vie", explique Michael en parlant de The Wiz ."Quand on fait un film, on capture quelque chose d'éphémère et on arrête le temps. Les gens, leur histoire, l'histoire du film devient quelque chose qui va pouvoir être reçu dans le monde entier par plusieurs générations. Faire un film est très excitant. C'est un gros travail d'équipe et c'est amusant, en même temps. J'ai très envie de m'y consacrer à l'avenir" .(1)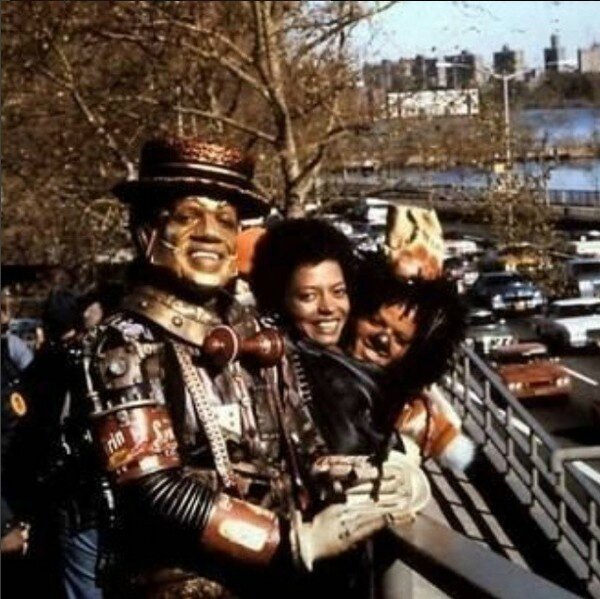 Il se passera près de huit ans avant que Michael ne se retrouve à nouveau sur un tournage de film, d'abord avec Captain Eo, en 1985 puis Moonwalker, en 1988. Mais entre temps, il ne déserte pas les plateaux de cinéma et rend visite à ses amis acteurs, sur leur invitation ou en faisant des apparitions surprises. Puis entre projets avortés et quelques apparitions sur le grand écran, ce plaisir perdurera jusque dans les années 2000, car le cinéma était avec, les années, devenu une passion et un objectif. Ces visites étaient un excellent moyen d'en apprendre un peu plus sur les rouages du milieu.

- Sur le tournage de On Golden Pond
En 1980, Jane Fonda, avec qui Michael s'était lié d'amitié quelques temps auparavant, invite la star à venir passer quelques jours sur le tournage du film On Golden Pond (La maison du lac), sur les bords du lac Squam, dans le New Hampshire (nord-est des Etats-Unis). Jane Fonda est alors l'héroïne du film aux côtés de son père Henri Fonda et Katharine Hepburn. Michael ne se fait pas prier.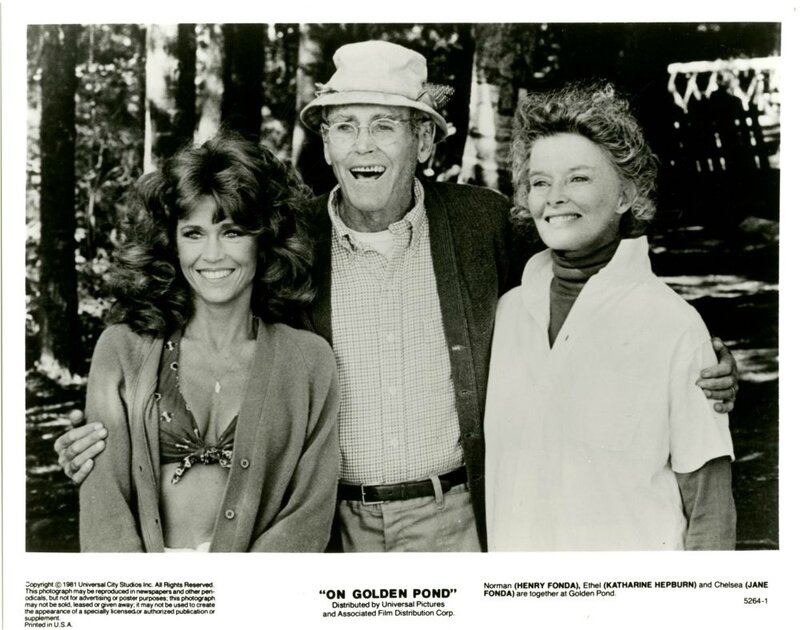 Pourtant Katharine Hepburn ne semblait pas prête à accepter un visiteur, comme l'a expliqué récemment Jane Fonda aux étudiants de cinéma de l'université de Loyola Marymount de Los Angeles, dans le cadre d'une série d'interviewes : "Quand j'ai demandé la permission à Katharine, elle n'était pas contente. L'équipe de tournage a répondu : "Vous ne comprenez pas. C'est Michael Jackson !". Katherine a fini par l'accepter. Il voulait être une star de cinéma ; il venait tout juste de terminer le film The Wiz. Il avait un magnétophone avec lui et tous les jours, je l'emmenais sur le plateau. Entre deux scènes, elle s'asseyait et prenait une chaise pour lui. Elle lui racontait plein d'histoires. Si seulement je savais où se trouvent ces cassettes ! Et chaque histoire comportait une leçon. Elle a parlé de Laurette Taylor, par exemple. Laurette Taylor était tout simplement époustouflante dans La Ménagerie de verre. Alors elle a parlé de cette performance transcendante à Michael en ajoutant qu'elle avait revu Laurette dans le même rôle 25 ou 30 ans plus tard. La magie avait disparu. Katharine a alors dit à Michael : "Elle ne ressentait plus la faim." Une chose si merveilleuse à dire à un jeune chanteur comme Michael : "Tu dois rester affamé." (2)
Michael est resté dix jours auprès de Jane Fonda dans le New Hampshire. Entre bain de minuit et apparition au Festival Day In The Park où Michael montre sa satisfaction quand Art Harriman and Keith Brush des Smiff Bros entament Rockin' Robin….
… Michael entame également une belle relation avec Katharine Hepburn qui deviendra une amie : "J'avais peur de la rencontrer d'abord. Lorsque je suis arrivé sur le plateau de On a Golden Pond, où j'étais l'invité de Jane Fonda, nous avons bavardé un moment. Elle m'a invitée à dîner le lendemain soir. J'étais très heureux et très fiers. Depuis nous nous voyons assez souvent et nous sommes très proches". (1)
Jane demeure pourtant sa confidente. C'est d'ailleurs elle qui suggérera à Michael, un jour qu'ils étaient en voiture, de produire un film où il pourrait tenir le rôle de Peter Pan. Un projet que Michael aura eu toute sa vie et qui, à plusieurs reprises, à failli voir le jour.
- Sur le plateau de la série Dynastie
En 1983, Michael, sa sœur La Toya et sa mère Katherine se rendent à Burbank (banlieue proche de Los Angeles) sur les plateaux de tournage de Dynastie, série mythique des années 80. L'occasion de prendre une photo avec la célèbre Alexie Carrington interprétée par Joan Collins.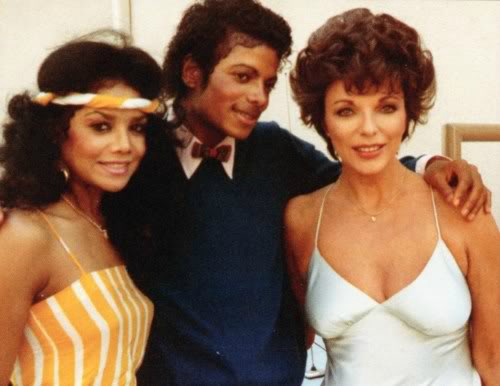 - Sur le tournage des Goonies
En 1985, sort Les Goonies. Ce film devenu culte raconte les aventures d'une bande de gamins à la recherche d'un trésor. Réalisé par Richard Donner, l'histoire est supervisée et produite par Steven Spielberg. C'est d'ailleurs ce dernier qui réservera une surprise de taille aux enfants.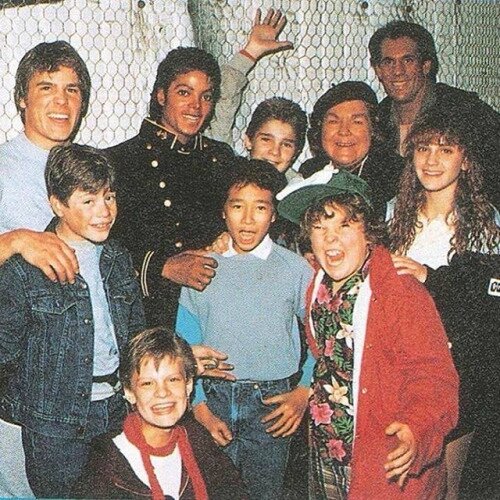 Trois ans auparavant, Spielberg a travaillé avec Michael sur le projet E.T., l'extraterrestre où ce dernier a enregistré un livre audio tiré du film. Le projet Peter Pan évoqué plus haut, qui n'a finalement pas eu lieu, aurait également du être réalisé avec Steven Spielberg. Celui-ci trop occupé avec d'autres productions a repoussé le projet. Les deux hommes sont restés en contact et Spielberg invite le chanteur de Thriller à passer sur le tournage du film, lors des scènes tournées à Los Angeles (la plus grande partie des scènes avait été réalisées à Astoria, dans l'Oregon).
Michael se rend donc aux Warner Bros Studios de Burbank, Stage 16, l'un des plus grands hangars des studios, où sont tournées les dernières scènes du film (celles où les enfants empruntent un tunnel qui les mène au bateau pirate)…


Dans la vidéo ci-dessus, Corey Feldman (l'interprète de Mouth dans le film, Bagou dans la version française), qui deviendra ami avec Michael par la suite, explique que Spielberg, qui a largement contribué à la réalisation du film, lui a annoncé la nouvelle de la venue de Michael juste avant de tourner la scène où il crie "reverse pressure" lorsque les enfants tapent sur la plomberie dans les sous sol du country club. Il a alors obtenu la réaction qu'il attendait du garçon !


Bien entendu, les acteurs et même le réalisateur, Richard Donner, auront le droit à une photo avec Michael Jackson.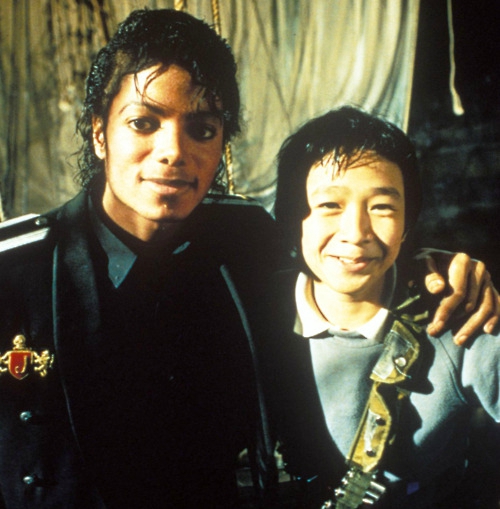 Avec Jonathan Ke Quan qui joue le rôle de Data
Avec Jeff Cohen qui joue le rôle de Chunk (Choco dans la version française)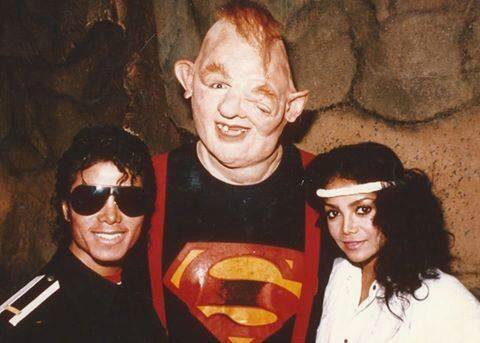 Avec John Matuszak qui joue le rôle de Sloth (Sinok dans la version française) et La Toya Jackson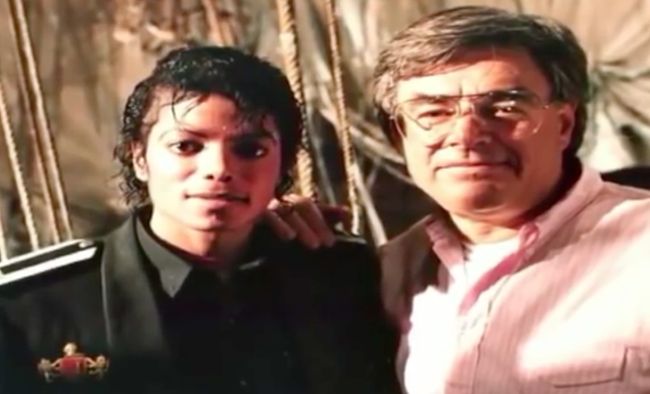 Avec le réalisateur Richard Donner
Au vu des vêtements différents portés par Michael sur les différentes photos, il n'est pas impossible qu'il soit venu au moins deux fois sur le tournage.
- Sur le tournage d'Indiana Jones and The Last Crusade
Juillet 1988, Michael Jackson est à Londres (Angleterre) pour plusieurs concerts de sa tournée Bad. Le 18 juillet, après une journée touristique dans les rues de la capitale anglaise, accompagné de Jimmy Safechuck, Michael s'invite aux Elstree Studios pour rendre une visite à son ami Steven Spielberg, alors en plein tournage du troisième volet de la saga des Indiana Jones, Indiana Jones et la dernière croisade. Michael rencontre donc Harrison Ford et sa partenaire dans le film Alison Doody (qui interprète l'archéologue Elsa Schneider).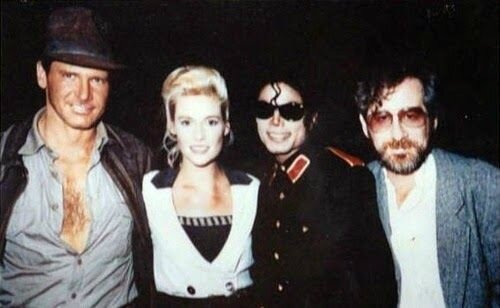 - Sur le tournage de Home Alone 2 : Lost in New York.
Grâce au succès de Maman, j'ai râté l'avion en 1990, Macaulay Culkin qui n'a que 10 ans, devient l'enfant star le mieux payé d'Hollywood. Il se lie d'amitié avec Michael Jackson, une amitié qui durera près de vingt ans. Macaulay apparait dans le short film Black or White de Michael en 1991 et lorsque le garçon tourne, en 1992, la suite de la comédie de 1990, Maman, j'ai encore raté l'avion, le chanteur rend visite à son ami en plein tournage.
Si la plupart de l'histoire de ce deuxième volet a lieu à New York, c'est dans l'Illinois que Michael débarque un samedi. L'équipe est en train de répéter une scène dans la maison qu'occupe la famille McCallister, située au 671 Lincoln Avenue à Winnetka, à cinquante minutes au nord de Chicago.
Devin Ratray qui interprète Buzz McCallister, le frère aîné de Kevin McCallister (Macaulay Culkin) dans l'histoire a récemment évoqué sa rencontre avec le King of Pop au site uk.complex.com et parle de ce jour comme l'un de ses meilleurs souvenirs du tournage.
"Michael Jackson est venu nous rendre visite sur le plateau de Maman, j'ai encore raté l'avion. Ce fut une journée mémorable.
C'était un samedi de répétition, nous étions juste en train de revoir une petite scène. On devait courir hors de la maison et monter dans notre van. Quand je suis sorti du van, Macaulay est venu vers moi et m'a dit: "Viens là, je voudrais te présenter quelqu'un". Il ne voulait pas me dire qui c'était, mais il était très excité. Je l'ai suivi à l'arrière de l'un des fourgons de l'aéroport qui était là, et sur un des fauteuils se trouvait Michael Jackson. Il portait un long manteau gris, un fedora gris et des lunettes de soleil. Il était sept heures du matin, un samedi, en février et on était au milieu de l'Illinois. Je ne savais pas quoi faire ou dire. Et soudain, je me suis retrouvé à serrer la main de Michael Jackson. Qu'est-ce que je pouvais dire? Alors je lui ai dit "Salut, je suis Devin et je joue Buzz." Il a répondu, "Je sais, c'est un vrai plaisir de te rencontrer!" Et je suis resté là et je lui ai dit "Oui, Michael Jackson, c'est un vrai plaisir de me rencontrer". Cela l'a fait sourire. J'avais réussi à le faire rire et il a baissé un peu sa garde.
J'avais avec moi ma caméra vidéo avec laquelle je faisais mon propre documentaire des coulisses du film, une grosse caméra vidéo VHS de 1992, et je lui ai dit, "Hey, tu crois que je pourrais t'interviewer un peu plus tard, avec la caméra?". Il a dit que tant que Macaulay était là, je pouvais. Et, alors que nous attendions pour faire une autre répétition de la même scène, quelques instants plus tard, Michael est entré dans la maison pour aller aux toilettes. Macaulay m'a dit que c'était le bon moment pour lui poser des questions, ce que j'ai fait, avec ma caméra. J'avais cette cassette depuis plus de vingt ans. Je ne l'avais jamais montré à personne.
Après la disparition de Michael, Entertainment Tonight m'a contacté. Ils avaient eu vent de cet enregistrement. J'ai pensé que c'était peut être le bon moment de rendre hommage à l'homme. Je ne voulais pas profiter de cette cassette. Je n'ai pas accepté d'argent. J'ai juste pensé que c'était le bon moment pour un hommage car personne n'avait vu le film. C'est en quelque sorte un petit morceau d'histoire et de ma relation avec Michael."
Dans cette vidéo, Devin demande à Michael de parler de son amitié avec Macaulay. Michael lui explique qu'ils se connaissent depuis quatre ou cinq ans, et se sont rencontrés au Lincoln Center (New York) lors d'une représentation de Casse Noisettes. Ratray affirme devant la caméra d'Entertainment Tonight qu'ils s'entendaient vraiment très bien et que Michael était quelqu'un de vrai et de très ouvert.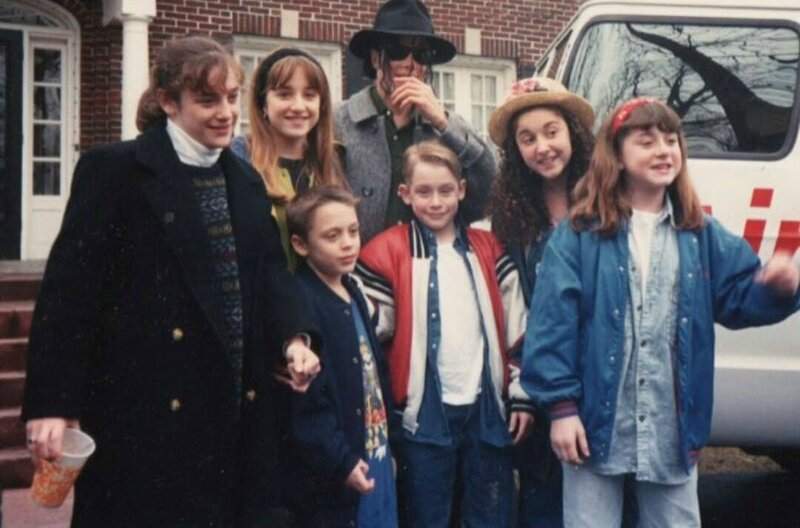 Michael avec les enfants du film Maman, j'ai encore raté l'avion devant la maison qui a servi pour le tournage (via jackson.rare, instagram)
- Sur le tournage de Red Dragon
En 2002, Brett Ratner, réalisateur et producteur, travaille sur l'adaptation cinématographique du roman de Thomas Harris, Red Dragon (Dragon rouge), le troisième volet de la tétralogie du serial killer Hannibal Lecter.
Michael Jackson n'a jamais collaboré avec Brett Ratner mais les deux hommes se sont connus lors du tournage de Rush Hour 1, quelques années plus tôt. Ratner qui réalisait alors le film souhaitait avoir l'approbation du Roi de la Pop concernant un moment dans le film où Chris Tucker effectuait un des pas de danse emblématiques de Michael. Ils deviendront par la suite des amis.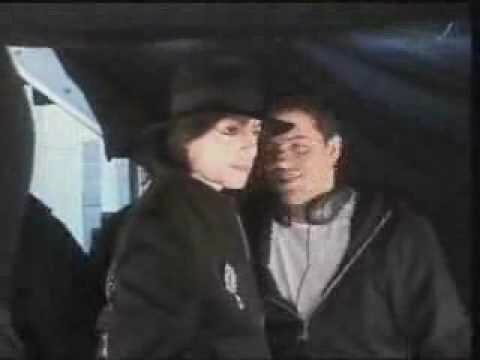 Au début de l'année 2002, Ratner invite Michael Jackson sur le plateau de Red Dragon. La venue de la star a été intégrée au documentaire A Director's Journey: The Making of Red Dragon, qui montre les coulisses du film, présent sur le DVD.
On y voit les préparatifs de sa venue, l'attente des techniciens et Michael assistant à une scène entre Ralph Fiennes (le tueur en série Francis Dolarhyde, surnommé "The Tooth Fairy") et Emily Watson (Reba McCLane). Ralph Fiennes, qui est au courant de la présence du chanteur sur le plateau, en profite pour plaisanter avec sa partenaire actrice durant la scène ("chut, il va nous entendre ? Qui va nous entendre ? Michael Jackson, il est en haut"), ce qui provoque l'hilarité générale.
On découvrira certainement, avec le temps, d'autres clichés ou d'autres anecdotes de la présence de Michael sur un plateau de cinéma. Sa façon à lui de faire son éducation cinématographique.
Il fera quelques apparitions dans des films, dans les années 2000 et l'on sait désormais que son ambition était de se consacrer entièrement au cinéma après ses concerts This Is It et d'apporter ainsi ses idées novatrices au milieu.
En 1988, il écrivait que "en travaillant sur Captain Eo, mes sentiments positifs sur le cinéma se sont encore renforcés et j'ai compris que c'est la direction que j'aimerais prendre à l'avenir. J'aime le cinéma, et cela depuis que je suis tout petit (….). J'aime aussi être devant une caméra 35 mm, je me souviens que mes frère disaient toujours : "Vivement que ce tournage soit terminé". Moi, je ne comprenais pas pourquoi ils n'aimaient pas ça. Je n'en perdais pas une miette, j'observais tout ce qui se passait, et j'essayais d'apprendre, de comprendre ce que le réalisateur voulait obtenir de nous, ce que faisait l'éclairagiste. Je voulais savoir d'où venait la lumière et pourquoi le réalisateur recommençait la même scène autant de fois. J'aimais bien apprendre que le script allait changer. C'est ce que je considère comme mon apprentissage du film. Générer de nouvelles idées est tellement excitant pour moi, et l'industrie du film semble apparemment souffrir d'un manque d'idées originales (…). Moi j'ai envie de changer les choses et j'espère bien y arriver un jour " (1).
Si seulement …..
Cet article peut être partagé en mentionnant la source et le lien. Tout ou partie de son contenu ne peut cependant être reproduit ou commercialisé sans mon autorisation (code de la propriété intellectuelle)

(1) Moonwalk/(2) parismatch.com/tor.com/movies.com/artharriman.com/wikipedia