Juillet 1988, le Bad Tour de Michael Jackson est à Londres (Angleterre) pour une série de concerts à Wembley. Comme très souvent lors de ses déplacements à travers le monde, Michael Jackson profite de ses escales pour se rendre discrètement aux chevets d'orphelins ou d'enfants malades et illuminer un peu leur quotidien.
Le 20 juillet 1988, il arrive au Great Ormond Street Hospital (GOSH), un établissement hospitalier pour enfants situé dans le quartier de Bloomsbury, dans le centre de la capitale anglaise.
Ce n'est d'ailleurs pas la première fois que Michael Jackson se rend dans cette hôpital. En novembre 1972, pendant que les Jackson 5 sont en tournée en Angleterre, le jeune Michael, alors âgé de 14 ans, se rend déjà auprès des enfants malades de cet hôpital. Une photo bien connue le montre poussant le fauteuil roulant d'une petite fille, les bras remplis de cadeaux.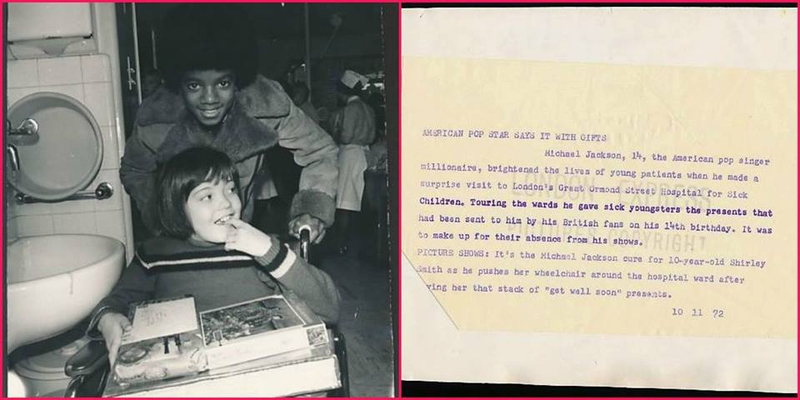 The Great Ormond Street Hospital
Fondé en 1852 par le Docteur Charles West sous le nom de Hospital For Sick Children, il a été le premier hôpital pédiatrique. Ouvert avec seulement dix lits, il est aujourd'hui devenu, avec ses 389 lits, l'un des hôpitaux pour enfants les plus connus à travers le monde. La Reine Victoria et Charles Dickens font partie des bienfaiteurs de l'établissement. La princesse Diana, très investie dans les oeuvres de charité, a été, de 1989 à sa disparition en 1997, la présidente de l'hôpital.
Mais l'établissement est surtout connu pour être le bénéficiaire, depuis 1929, des droits d'auteur du livre Peter Pan, selon la volonté de son auteur James Matthew Barrie. Le gouvernement du Royaume-Uni a confirmé cet acte en donnant à l'hôpital un droit d'auteur perpétuel sur les œuvres du cycle Peter Pan. La déclaration figure dans la section 301 du Copyright, Designs and Patents Act de 1988.
Le 14 décembre 1929, Barrie demande à des acteurs de venir jouer à l'hôpital les scènes de la chambre de la pièce Peter Pan pour les enfants. Barrie lui-même assiste à la représentation (on l'aperçoit sur la photo, derrière le public).
Ce sera le début d'une longue tradition qui se perpétue encore de nos jours. (voir quelques photos ici)
James Barrie et son héros Peter Pan sont donc très présents au sein de l'hôpital: Fresques, statues et plaques commémoratives rappellent l'histoire qui lie l'hôpital à l'auteur de ce petit garcon qui ne voulait pas grandir.
Peter Pan, on le sait, est le personnage préféré de Michael Jackson et il n'est donc pas étonnant que la star ait choisi cet hôpital pour rendre visite aux enfants (tout comme l'avait fait Walt Disney, 37 ans plus tôt, quasiment jour pour jour). Il est d'ailleurs accueilli dans la Peter Pan Ward, cette partie de l'hôpital située au niveau 7 du bâtiment Southwood où les petits patients subissent des chirurgies ORL, dentaires, faciales et des chirurgies réparatrices du visage. La majorité d'entre eux sont agés de moins de cinq ans.
La visite de Michael Jackson
Michael rend donc visite aux enfants gravement malades et à leurs parents.
Une visite tenue secrète mais au cours de laquelle il va de pièce en pièce, au chevet des enfants, même les plus malades. Il apporte ainsi des mots de réconfort à une petite fille au visage déformé, en attente d'une chirurgie plastique. Michael lui a serré la main et lui a dit: "Tu n'as pas à avoir peur, tu peux me regarder". Il embrasse les très jeunes et rayonne de joie en voyant le sourire sur leur visage.
Entouré des infirmières, il passe plus de temps avec les enfants dans un état moins critique. Il prend le temps de s'assoir avec eux, de les prendre sur ses genoux, de leur lire des histoires et de leur distribuer les cadeaux qu'il a apportés.
Neil Clark avait 9 ans lorsque Michael s'est rendu à l'hôpital. Son cas avait été évoqué quelques jours plus tôt dans les médias car il venait de subir une intervention importante destinée à lui sauver la vie, suite à une tumeur au cerveau.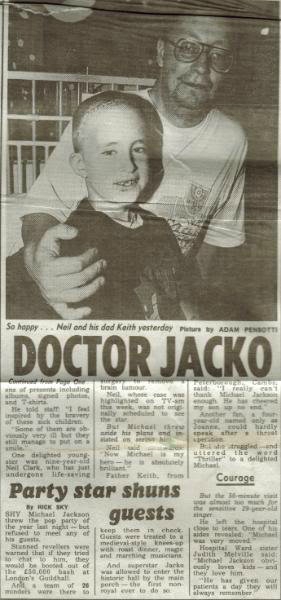 (merci de ne pas tenir compte du titre!)
Michael bouleverse son emploi du temps et tient à rendre visite au jeune garcon qui a la surprise de voir arriver le chanteur. "Maintenant, Michael est mon héros, il est absolument génial" dit-il. Le père du garcon déclare aussi qu'il "ne pourra jamais assez remercier Michael Jackson d'avoir égayer éternellement mon fils".
Joanne Doeffer est la petite fille que l'on aperçoit sur les genoux de Michael sur la photo ci-dessous.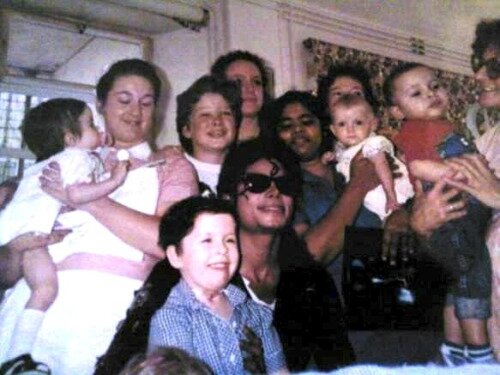 Si les journaux d'alors évoque la petite fille, qui en raison de son opération de la gorge, n'a pu que prononcer le mot "Thriller" devant la star, ce qui a d'ailleurs suffit à le fait sourire, la jeune femme s'est souvenu de l'évènement après la disparition de Michael, plus de vingt ans après cette rencontre.
"Je suis une fan de Michael depuis que j'ai environ 2 ans, depuis que j'ai vu la vidéo Thriller pour la première fois. J'en avais été époustouflée! Je regardais la vidéo, encore et encore, au grand dam de ma mère!
Je suis née avec un rétrécissement de la trachée et j'ai dû passer la plupart des sept premières années de ma vie à l'hôpital Great Ormond Street, à Londres. J'ai subi une trachéotomie d'urgence. En Juillet 1988, j'avais alors presque 4 ans, je me trouvais à l'hôpital pour une autre opération. Une des infirmières a pris ma maman à part et lui a dit: ''Ne dites rien à Joanne ni aux autres enfants, mais Michael Jackson vient nous rendre visite". Ma mère en a été estomaquée. Mais elle n'a rien dit. Elle m'a demandé de me tenir près de la porte principale du couloirs de service et j'ai réussi à dire "MICHAEL JACKSON !!!!!!! '' en lui tendant les bras. Ma maman dit qu'il a souri et un des membres de son entourage s'est mit à rire. Il s'est assis et a discuté avec moi. Je ne pouvais pas parler à cause de l'opération que je venais d'avoir mais j'ai réussi à dire ''Thriller''. Il a demandé à ma mère: ''Que veut-elle dire par là?" Ma mère a répondu: ''Elle regarde votre vidéo tout le temps". Il m'a dit: ''Je suis contente que tu l'aimes '' et il a sourit. Il a signé une photo et le programme de sa tournée BAD, que j'ai encore, puis je me suis assise sur ses genoux et on nous a pris en photo.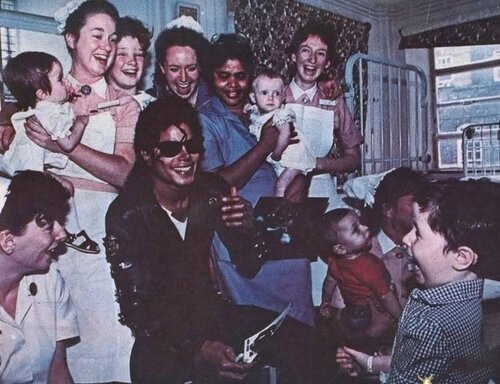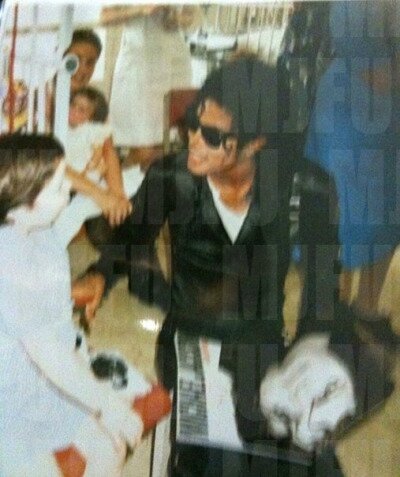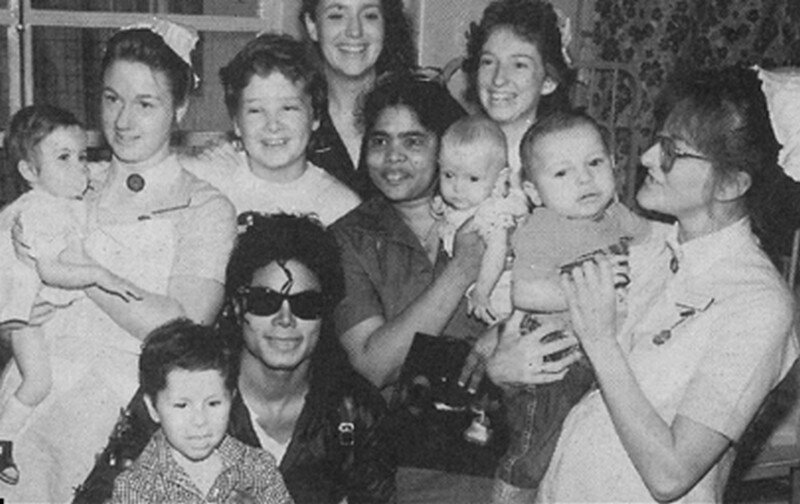 Ensuite il est parti car il devait aller voir d'autres parties de l'hôpital. C'est dommage que je n'arrive pas à me rappeler autre chose que d'avoir dit "Thriller. Mais je me souviens combien j'étais excitée et je n'oublierai jamais ce moment. Ca a été un tel honneur de le rencontrer, il nous a tous fait oublier les opérations et ce à quoi on devait faire face à l'époque. J'étais avec mon père quand j'ai entendu qu'il était décédé. Comme beaucoup partout dans le monde, j'étais en état de choc total. Je ne pouvais pas y croire, je pensais que c'était une mauvaise blague et j'ai allumé Sky News. Je suis restée sans voix. J'espère juste maintenant que Michael Jackson peut reposer en paix. C'était quelqu'un de très bon, comme personne d'autre".
Selon un article d'époque (ci-dessus), Michael a trouvé les enfants très courageux et serait sorti de l'hôpital au bord des larmes. "Il était très ému", indique une des infirmières. "Il est évident que Michael aime les enfants et ils l'aiment aussi. Il a offert à nos patients une journée dont ils se souviendront toujours".
Un autre membre du personnel déclarait: "C'était merveilleux à voir . Il était tellement détendu et il a apprécié chaque minute. C'estvrai ce qu'on dit de lui, il a une merveilleuse relation avec les enfants . II a tenu à parler avec chacun d'eux. Nous étions tous abasourdis . Cela a été un énorme plaisir".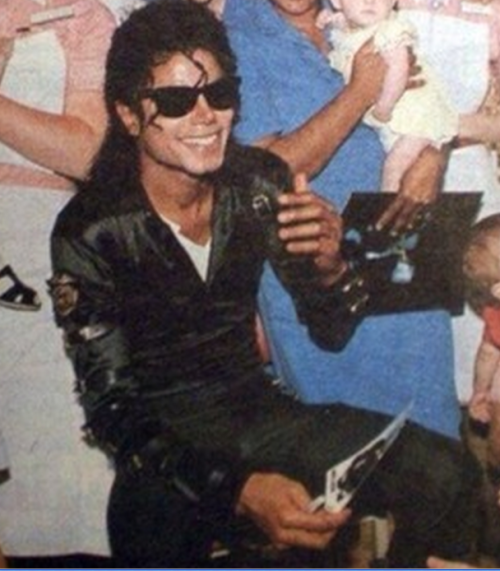 Quatre jours plus tôt, le 16 juillet, dans les coulisses de son concert de Wembley, Michael Jackson avait rencontré la princesse Diana et le prince Charles. Il leur avait remis un chèque de 100 000 livres sterling en faveur de l'hôpital, que la Princesse Diana soutenait particulièrement, entrant ainsi dans la liste des prestigieux donateurs de l'établissement.
Si, ce 20 juillet 1988, les enfants ont passé une journée mémorable, l'hôpital se souviendra également du passage généreux du King of Pop dans ses murs.
Un acte habituel pour Michael dont les médias se faisaient malheureusement peu l'écho.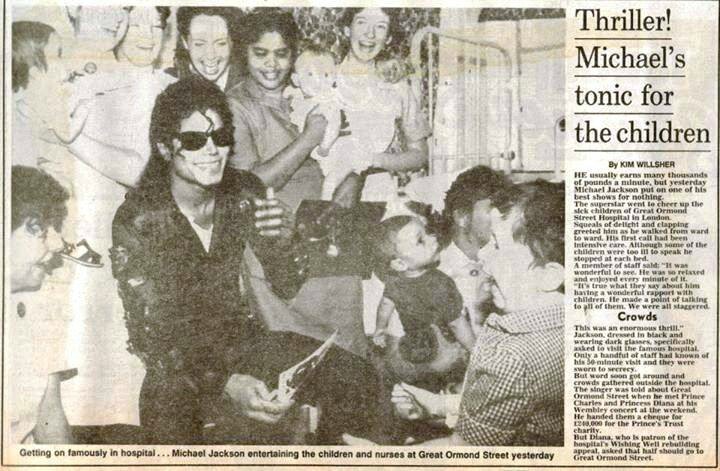 Great Ormond Street Hospital,
Great Ormond St,
London WC1N 3JH
ENGLAND
Sources: blog.britishnewspaperarchive.co.uk/gosh.org/blog.gosh.org/Wikipedia/mjmyinspiration.blogspot.com.br/