S'il est bien une collaboration entre deux artistes qui a longtemps fait parler d'elle, c'est celle entre ces deux grands noms de la musique que sont Michael Jackson et Freddie Mercury, le leader du groupe Queen.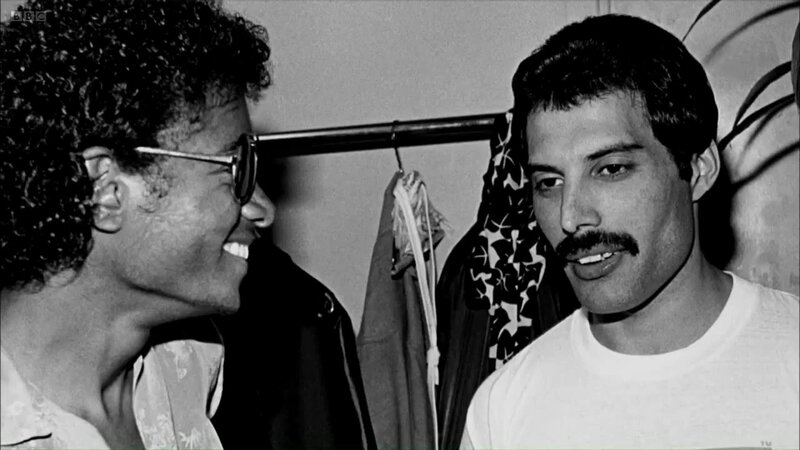 Cette collaboration a donné lieu à trois titres dont l'un reste à ce jour toujours inédit : There Must Be More To Life Than This, State of Shock et Victory.
Les deux hommes se rencontrent pour la première fois en juillet 1980. Le Game Tour de Queen est à Los Angeles pour quatre concerts, entre le 8 et le 12 juillet et Michael Jackson en profite pour se rendre en backstage et discuter le groupe.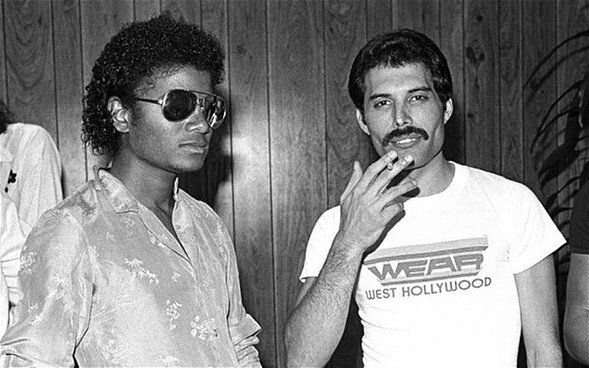 Peter Freestone, l'assistant personnel et ami de Freddie Mercury, présent ce jour-là, évoque cette rencontre : "La première fois que j'ai rencontré Michael Jackson, c'était début juillet 1980, derrière la scène du Forum de Los Angeles. Il assistait au spectacle des Queen et voulait voir les membres du groupe après le concert.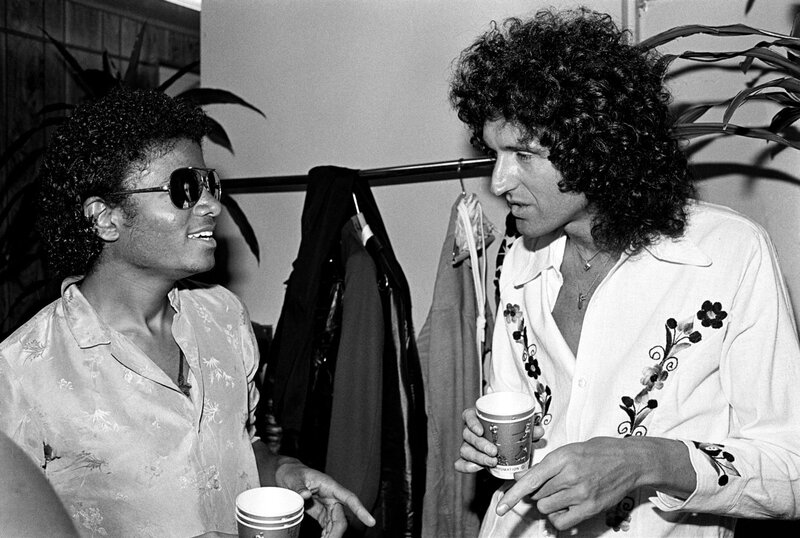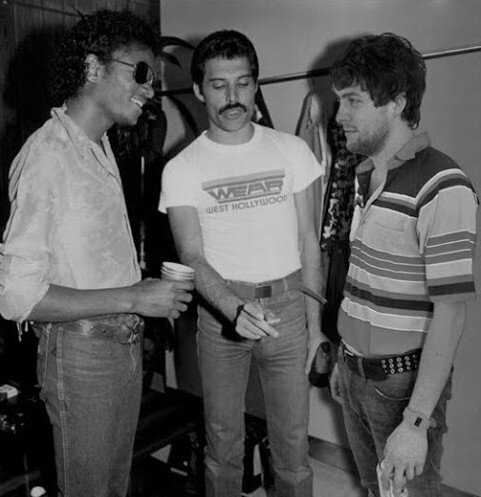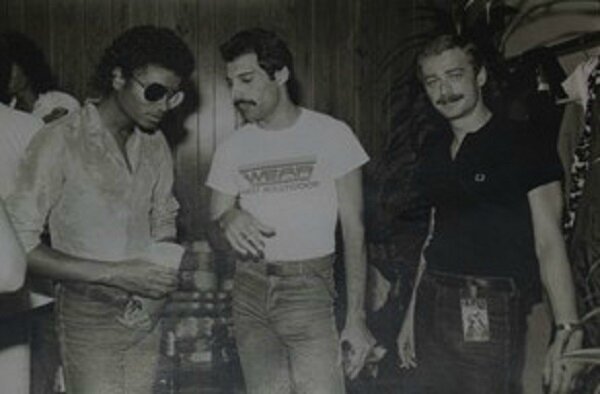 Michael, Freddie et l'ami de Freddie, Paul Prenter
Il a passé pas mal de temps avec John Deacon (le bassiste du groupe) , et ils ont parlé ensemble du morceau Another One Bites The Dust (Deacon était le compositeur du titre). Michael pensait que Queen devait en faire un single. Il a passé aussi du temps avec Freddie. A cette époque, Jackson avait 22 ans et se comportait comme un adolescent excité. Il avait beaucoup aimé le spectacle et en était encore tout remué". (1)
Michael assistera à d'autres concerts du groupe. On le voit notamment dans les couloirs du forum de Los Angeles, lors du Hot Space Tour de Queen, en septembre 1982.
Invité par Freddie, Michael était en coulisses avec lui alors qu'il se préparait à monter sur scène.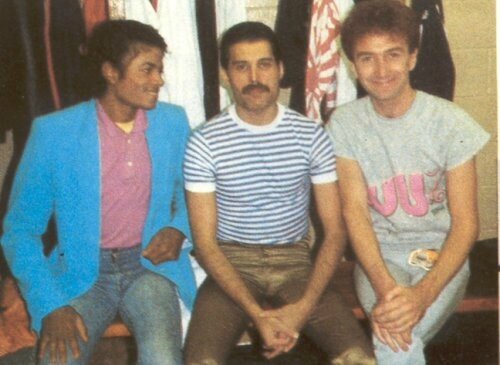 Michael, Freddie et John Deacon, le bassiste de Queen, en 1982
Une amitié est née. Des projets de duos aussi.
C'est au cours de l'été 1983 que les deux stars se retrouvent pour travailler ensemble, à Encino, dans la propriété de Michael. Peter Freestone, venu avec Freddie, raconte sa visite à Hayvenhurst : "La deuxième fois [que j'ai rencontré Michael Jackson], c'était quelques années après, lorsque Freddie a été invité dans sa maison à Encino, au nord de Hollywood. Nous sommes arrivés à la maison après avoir passé un portail contrôlé par des gardes de sécurité. Nous sommes descendus de la voiture, découvrant un manoir de style Tudor, avec des briques au rez-de-chaussée, un enduit blanc et des poutres en bois à l'étage. Michael est sorti de la maison pour nous accueillir, tout sourire et visiblement fier de sa maison. Avant que nous entrions dans celle-ci, il a insisté pour nous faire faire le tour du propriétaire. Je n'oublierai jamais Freddie Mercury marchant dans la boue, avec ses jeans blancs et des baskets blanches, parlant à des… lamas! Nous avons vu tous les animaux, et Michael nous a même emmenés vers un étang où il y avait des cygnes. Il avait un amour véritable pour ses animaux et ses oiseaux qu'ils considéraient comme des membres de sa "famille" au même titre que Freddie considérait ses amis comme tels.
Michael nous a ensuite fait entrer dans la maison. Je ne sais pas combien de pièces il y avait. Michael y vivait avec sa mère, Katherine, et ses deux sœurs LaToya et Janet. Il y avait également des chambres d'amis pour les invités. Quand nous sommes arrivés dans la chambre de Michael, j'ai été surpris par trois choses qui m'ont donné une idée du vrai Michael. Tout autour de la pièce, par terre, se trouvaient les disques d'or et de platine de Thriller. Visiblement, ces récompenses avaient une grande valeur pour lui, il les gardait très près de lui, mais il n'avait pas besoin de les montrer à tout le monde, il n'avait pas besoin de montrer à quel point il avait du succès.
La deuxième chose qui m'a interpellé était un grand terrarium, posé le long du mur, dans lequel se trouvait son serpent. La presse avait beaucoup parlé de l'animal favori de Jackson, qui était dans sa chambre mais sous d'épaisses planches de bois maintenues par des briques. Même considéré comme un "ami", l'animal était gardé à l'écart pour garantir la sécurité.
La troisième et dernière chose qui m'a frappé c'était un matelas de très grande taille, posé à même le sol. Freddie a demandé à Michael : "Où est le lit? Tu as bien assez d'argent pour t'en acheter un!" Michael lui a répondu: "Quand je dors, j'aime bien être près de la terre". "Mais nous sommes au premier étage!" s'est étonné Freddie.
Michael nous a montré beaucoup de pièces, y compris une salle de projection avec une grande collection de vidéos. J'en ai visionné une, en compagnie de Janet, pendant que Freddie et Michael travaillaient.
Une autre anecdote merveilleuse : quand Freddie était aux toilettes, Michael m'a emmené vers la pièce où il jouait aux jeux vidéo, et nous avons joué à une version vidéo de tennis de table. Il y avait deux joueurs, l'un était noir, l'autre blanc. Nous avions commencé à jouer quand Michael a fait remarquer que nous jouions les couleurs opposés: "Je joue le blanc, et toi le noir!"
En retournant au studio, Michael nous a fait passer par la cuisine, et il nous a présentés à Katherine, sa maman. Elle était très aimable et très accueillante. Quand Freddie a demandé s'il pouvait avoir un cendrier, elle a sorti un couvercle de pot de confiture étant donné que personne ne fumait dans la maison ! "(1)
Durant une session de six heures, Michael et Freddie travaillent sur trois titres :
- State of Shock
Une démo est enregistrée. Freddie pose sa voix sur le deuxième lead vocal du titre, commencé par Michael. Mais il ne finira pas la chanson. Le titre paraîtra tout de même en 1984, sur l'album Victory des Jacksons, mais comme duo entre Michael et Mick Jagger. Après s'être offert un duo avec un ex-Beatles, Michael, alors en pleine gloire, se partage la vedette avec le leader des Rolling Stones.
"Le travail consistait à peaufiner la chanson de Michael State of Shock qui avait juste besoin d'une piste vocale supplémentaire, ce que Freddie a exécuté de bonne grâce", raconte Peter Freestone. "Quand il a eu fini de chanter, il restait vraiment plus qu'à mixer le tout, mais malheureusement, après cette session, le temps a fait défaut, et Freddie et Michael n'avaient plus de temps libre à consacrer à cette œuvre. Finalement, Michael a demandé à Mick Jagger d'ajouter sa voix dans la chanson, et c'est sous cette forme que le disque est sorti ". (1)
- There Must Be More To Life Than This
A l'origine prévu pour l'album de Queen, HotSpace, en 1982, le titre est retravaillé en duo par les deux hommes.
"Il y avait une chanson sur laquelle Freddie travaillait à cette époque. C'était un morceau de piano, et Freddie avait ajouté quelques paroles. Il s'est assis au piano et a dit à Michael d'essayer de chanter. Là où il n'y avait pas de paroles écrites, Freddie a demandé à Michael d'ajouter des ad libs, ce qu'il a fait, avec des paroles qui parlaient d'amour", se souvient Freestone. (1)
Le titre ne verra finalement pas le jour mais Freddie enregistre sa version et la publie sur son premier album solo, Mr Bad Guy, en 1985.
Le duo sort finalement en novembre 2014 sur Queen Forever, une compilation du groupe britannique. Brian May et Roger Taylor, ex-membres de Queen parviennent à trouver un arrangement avec l'Estate de Michael Jackson uniquement pour ce titre qui est remixé et produit par William Orbit. Avec une large part accordée à la voix de Freddie.
- Victory
Le titre était prévu pour paraître sur l'album du même nom des Jacksons, en 1984. Il ne sera jamais finalisé et la version de Michael et Freddie est depuis restée dans les coffres.
Peter Freestone explique : "Le travail a continué sur la troisième chanson, qui avait pour titre provisoire Victory. Il n'y avait qu'un seul technicien dans le studio. Il n'y avait pas d'instrument installé ni de musicien. Freddie et Michael avaient des habitudes similaires pour travailler. Au début d'une mélodie, ils avaient besoin d'un batteur qui leur donne le rythme, ensuite ils ajoutaient la musique et les instruments. Michael avait une idée géniale pour la batterie. Lui et Freddie étaient dans la "control room" avec le technicien, et moi, j'ai passé cinq minutes à taper sur la porte des toilettes, en rythme parfait ! Quelque part dans les enregistrements de Michael, il y a ma contribution! " (1)
Dans une interview de 1984, Freddie Mercury explique pourquoi ses collaborations avec Michael n'ont finalement pas abouti : "C'était un de nos amis depuis un moment il venait nous voir en concert tout le temps, et c'est ainsi que nous sommes devenus amis ... (…), Nous avons enregistré trois titres mais ils n'ont malheureusement jamais été terminés. C'était des chansons supers, mais le problème c'était le temps, parce que nous étions tous les deux très occupés à cette époque. Nous n'étions jamais assez longtemps dans le même pays pour finir quoi que ce soit complètement. Michael m'a même appelé pour me demander si je pouvais terminer State of Shock, mais ce n'était pas possible parce que j'avais des engagements avec Queen. Mick Jagger a repris le titre. C'était une honte, mais finalement une chanson est une chanson. Tant que l'amitié est là, c'est ce qui compte. " (2)
D'autres rumeurs circuleront également sur le fait que le travail entre l'anglais et l'américain n'ait jamais abouti. Ainsi, en 2013, Jim "Miami" Beach, l'ex-manager de Queen a déclaré que Freddie, le jour de la session à Encino, l'avait appelé lui demandant "de le faire sortir de là, j'enregistre un lama". Michael aurait fait entrer son lama Louis dans le studio d'enregistrement. Quant à Michael, il aurait mis fin à ces enregistrements car il ne supportait pas que Freddie prenne de la cocaïne chez lui.
Peter Freestone garde, lui, un souvenir ému de la rencontre entre ces deux grands : "Qui était Michael Jackson pour moi? J'ai rencontré en lui un jeune homme magnifique. Il était un technicien hors pair et un être humain respectable. Lui et Freddie avaient beaucoup de choses en commun. Il était plein de confiance et déjà à l'époque c'était un musicien et artiste incroyable. Il ne m'a jamais traité différemment de Freddie. Il pensait aux autres qui étaient dans des situations difficiles, même s'ils n'avaient rien à voir avec lui. Dans les quelques conversations que nous avons eu ensemble, j'avais l'impression qu'il n'avait que peu d'ami. Il travaillait quasi sans cesse et avait beaucoup de relations professionnelles ou d'associés. Il était peut-être déjà un peu seul, car il avait autour de lui, à son jeune âge, tellement de gardes du corps. Il était obligé de faire venir à l'intérieur de sa maison les divertissements que toute autre personne de son âge pouvait aller chercher à l'extérieur. Il n'avait que 3 ans de moins que moi mais il n'avait pas encore grandi ! Il n'aspirait qu'aux choses simples, dans la vie, … et il trouvait un peu de tranquillité auprès de ses animaux.
Le studio était un lieu de travail tant pour Freddie que pour Michael mais en les regardant, on imaginait aisément deux enfants dans une salle de jeux. Ils levaient tous deux les mains en l'air et éclataient de rire quand l'un d'entre eux faisait une erreur… mais en même temps, c'était vraiment du sérieux. Repenser aujourd'hui à ce moment où j'ai observé ces deux maîtres au sommet de leur art ensemble dans un même endroit, en train de créer ces chansons, me donne la chair de poule". (1)
Freddie Mercury s'éteint le 24 novembre 1991. Mais la relation entre les deux stars ne s'arrête pas là et ce sont des studios qui les mettront à nouveau, quelques années plus tard, sur le même chemin. En effet, c'est aux Mountains Studios de Montreux (Suisse), en janvier 1997, que Michael Jackson vient terminer son album Blood On The DanceFloor.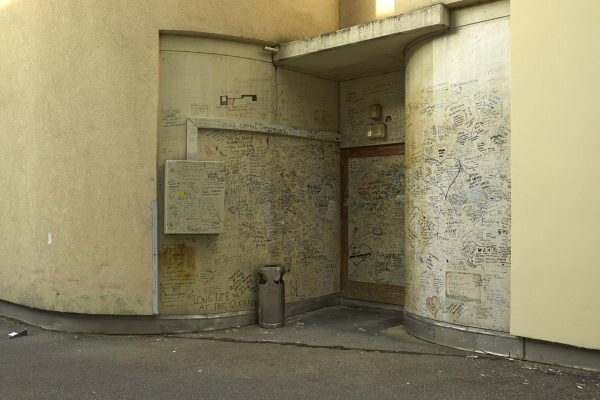 Montreux c'est la ville d'adoption de Freddie Mercury et les Mountains Studios ont appartenu au groupe Queen entre 1979 et 1993. C'est dans cet antre musical de renommée mondiale (AC/DC, David Bowie, Iggy Pop, Chris Rea, The Rolling Stones, Yes, Rick Wakeman, Led Zeppelin, Brian Ferry y ont enregistré), que Queen enregistrera six de ses albums dont le dernier, Made In Heaven. Michael Jackson vient donc ajouter son nom à cette liste de stars qui a suivi les pas de Freddie Mercury.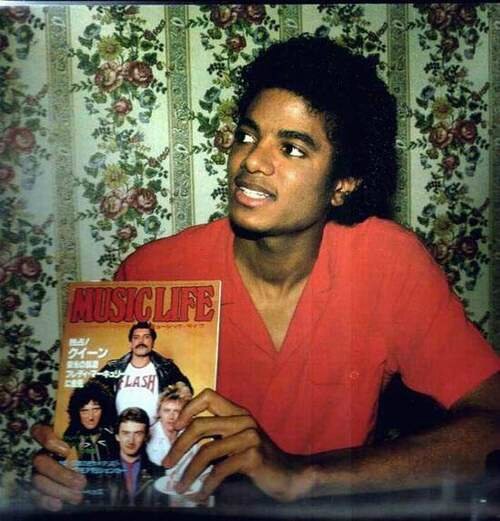 Michael avec le magazine japonais Music Life d'avril 1981, avec Queen en couverture
Sources : (1) montreuxmusic.com - archives-lepost.huffingtonpost.fr/(2) hollywoodreporter.com/The Maestro, Chris Cadman/Wikipedia