La Suisse a souvent eu la visite de Michael Jackson, au cours de sa carrière. Un petit pays d'Europe que le King of Pop appréciait particulièrement pour son calme.
Bâle
- Parc Saint Jacques : Le 16 juin 1988, dans le cadre de son Bad Tour, puis le 25 juillet 1997, pour le HIStory Tour, Michael se produit dans le Stade Saint Jacques. Démoli puis reconstruit en 1999, il porte désormais le nom de Parc Saint Jacques.
St. Jakobs-Strasse 395, 4052 Bâle
Genève
- Hôtel d'Angleterre : Michael Jackson occupe la suite présidentielle au troisième étage (balcon central) de cet hôtel cinq étoiles situé sur les bords du lac Léman.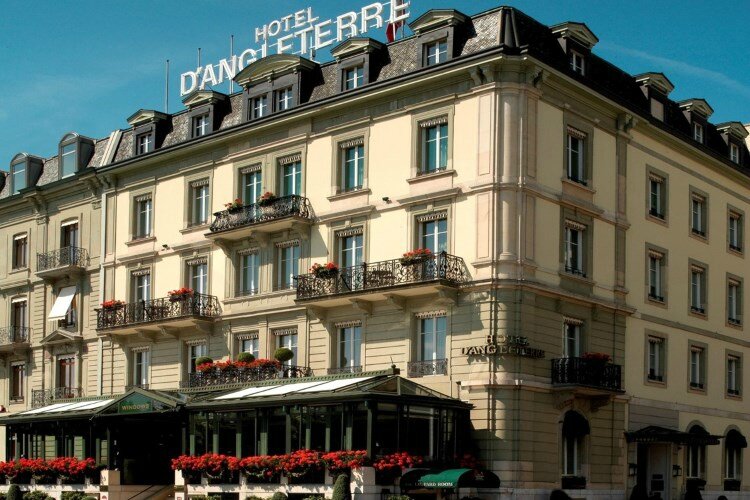 Avec sa vue sur le Mont Blanc, ses meubles antiques et ses tableaux de maîtres sur les murs, cette suite de 110 m2 a accueilli le Roi de la Pop à deux reprises, en juin 1997 (pour le HIStory Tour de passage à Lausanne) puis en juin 2000. Dans une vidéo privée, on y voit Prince faisant ses premiers pas de "réalisateur" en filmant sa soeur Paris.
La suite aujourd'hui
Michael photographié à la sortie arrière de l'hôtel, rue de Monthoux en 2000
Quai du Mont-Blanc 17, Genève
- Hôtel Richemond : Lors du Dangerous Tour, le 7 septembre 1992, avant et après son concert à Lausanne, Michael loge dans cet hôtel historique de Genève. L'hôtel Richmond est habitué au passage des stars : Charlie Chaplin, Louis Armstrong, Sophia Loren, Rita Hayworth ou encore Marc Chagall ont occupé ses suites luxueuses.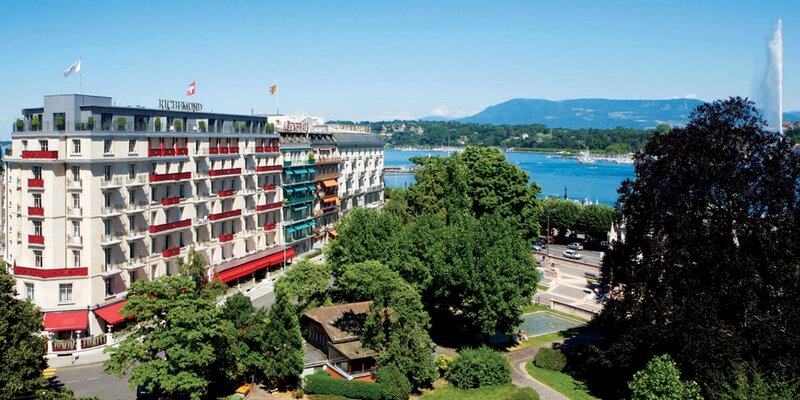 Rue Adhémar-Fabri 8-10, 1201 Genève
Gstaad
La station balnéaire des stars a, à plusieurs reprises, reçu la visite du King of Pop qui n'hésitait pas à se montrer dans les rues.
- Chalet D'Elizabeth Taylor : En 1962, Liz Taylor acquiert le chalet Ariel où elle viendra régulièrement se ressourcer. En septembre 1993, en plein Dangerous Tour mais dans la tourmente d'accusations mensongères, Michael vient se reposer dans le chalet de son amie avec les enfants Cascio. Frank Cascio évoque d'ailleurs ce séjour dans son livre Mon ami Michael (pages 67 à 70).
Gigerlistrasse, 3780 Gstaad
- Palace Hotel : Hotel de luxe par excellence, situé en plein milieu de la montagne suisse dont Michael est un client régulier. Et il n'est pas le seul : nombre de stars internationales descendent dans cet établissement centenaire cinq étoiles qui a aussi été le lieu de tournage de certains films (Le retour de la panthère Rose en 1975, Christmas in Love, en 2004, …). En 2006, Michael envisage de racheter l'hôtel qui domine la ville: "Andrea Scherz, le directeur lui propose de louer la mirifique Penthouse Suite. Le chanteur a une autre idée: le Gstaad Palace tout entier qui ferait un parfait pied à terre. Le bâtiment et ses tours de dessins animés lui rappellent ces châteaux qu'il voyait, enfant, dans un livre recensant les plus beaux palais à travers le monde. Andrea Scherz s'interroge: "Pourquoi voudriez-vous acheter l'hôtel?" demande-t-il à la star qui lui répond laconiquement "Parce que je l'aime" (1)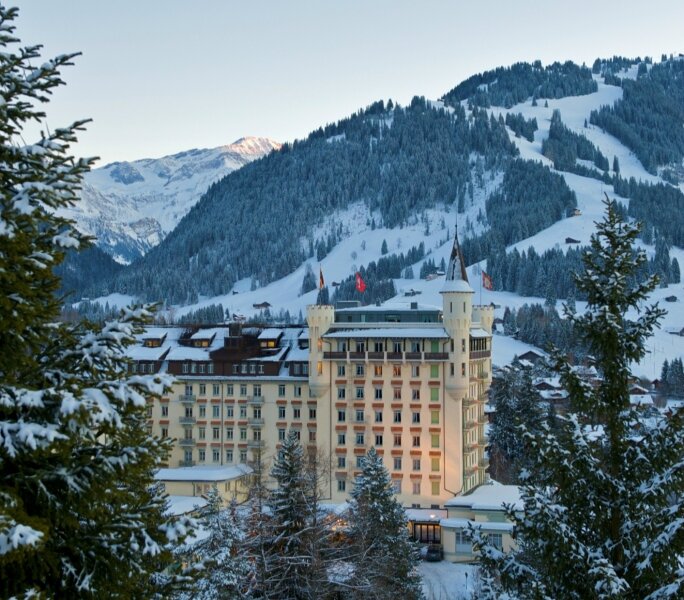 Palacestrasse 28, 3780 Gstaad
Lors de son séjour en 1993, Michael se promène dans la rue principale de Gstaad sans être particulièrement embêté et s'arrête pour faire du shopping dans certains magasins :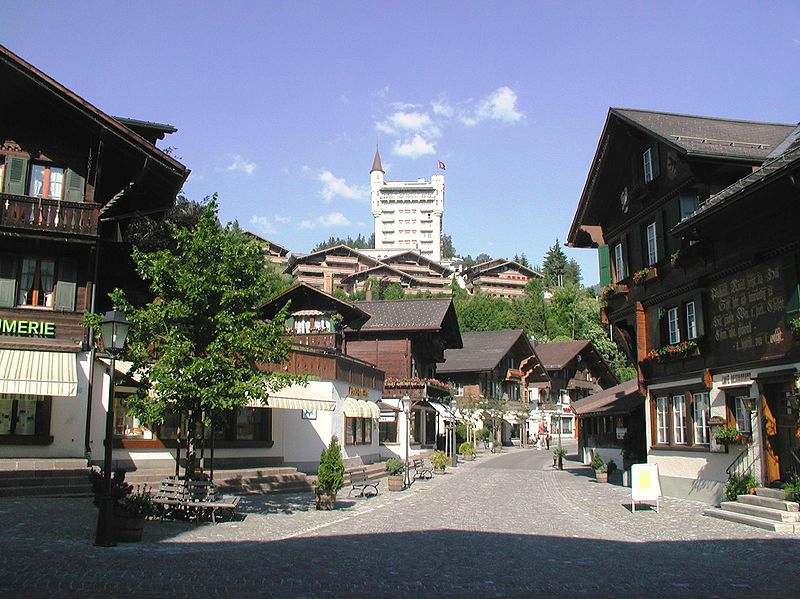 - Pernet Store : Il est photographié à côté de ce magasin d'épicerie fine et de spécialités régionales, un must pour la richissime clientèle de cette ville.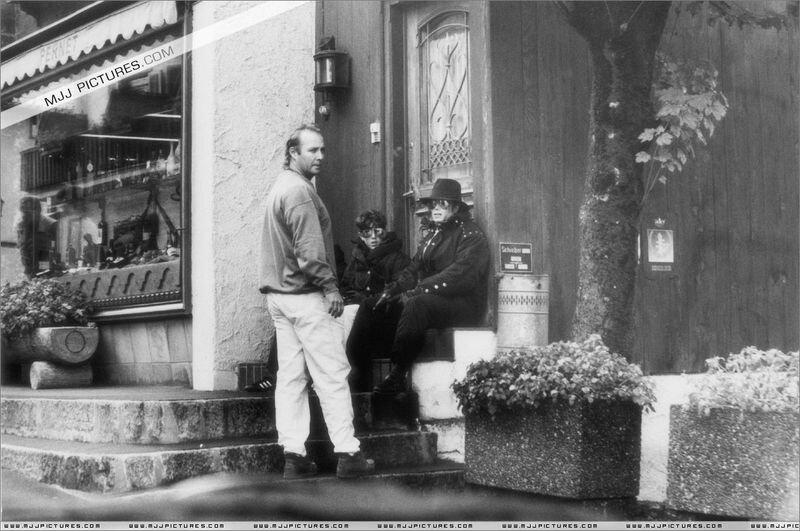 Promenade 75, 3780 Gstaad
- Hermenjat Sports Store : La star est aperçue sortant du magasin, voisin du précédent, qui n'existe plus aujourd'hui.
Promenade 79, 3780 Gstaad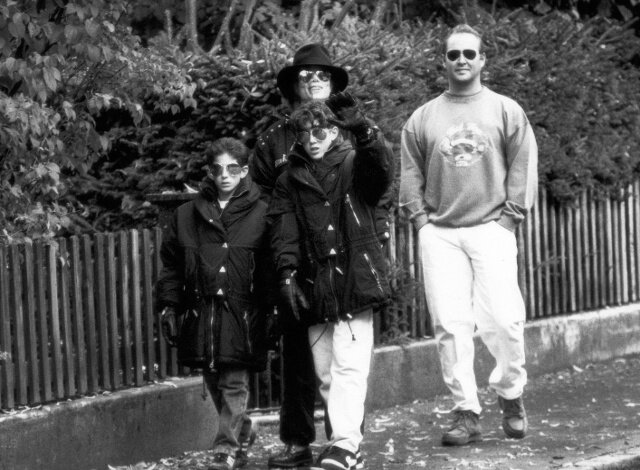 Lausanne
- Gare ferroviaire : C'est dans cette gare principale de la ville que Michael arrive par l'Orient Express le 7 septembre 1992, pour son concert du lendemain.
Place de la Gare, 1003 Lausanne
- Stade Olympique de la Pontaise : Lors de ses trois tournées mondiales en solo (le Bad Tour le 19 août 1988 , le Dangerous Tour le 8 septembre 1992 et le HIStory Tour le 20 juin 1997), Michael performe au stade de la Pontaise, situé au nord de la ville. Il détient d'ailleurs le record d'affluence du stade.
Route des Plaines du Loup 7, 1018 Lausanne
C'est dans cette petite ville de montagne que Michael vient se produire pour la première fois en Suisse, en février 1979, avec ses frères.
- Piste de ski Plan Praz : Le domaine skiable accueille les frères Jackson le 14 février 1979 pour l'enregistrement d'une émission spéciale du groupe ABBA pour la BBC. Les cinq frères interprètent, les pieds dans la neige, entourés d'enfants, Shake your Body (Down To The Ground) et Blame It On The Boogie, extraits de leur album Destiny, devant un bâtiment que les gens du village appelaient "Chez Malou" (2). C'est aussi ici que Michael pose pour une série de photos en combinaison de ski.
Route de Plan Praz, 1854 Leysin
- Restaurant Le Leysin : The Jacksons enregistrent le 15 février 1979 leur prestation pour une deuxième émission spéciale du groupe Abba. Devant la cheminée de ce chalet montagnard, au cœur du vieux village de Leysin, le groupe interprète Destiny. Le soufflet, aperçu dans la vidéo de la prestation, et la cheminée sont toujours présents dans le restaurant-bar.
Rue du Village 8, 1854 Leysin
- Magasin Hefti Sport : Bien qu'ayant changé d'emplacement, il s'agit du magasin de sport qui a habillé les frères Jackson pour leur passage à Leysin.
Route du Belvédère, 1854 Leysin
- Hôtel Central Résidence : Les frères Jackson logent dans cet hôtel trois étoiles le temps de leur séjour à Leysin.
Route du Belvédère, 1854 Leysin
- Ancienne boutique La Mascotte : Aujourd'hui reconvertie en appartement, située en face de l'église, La Mascotte (devenue ensuite Carton Concept (3)) a servi de lieu de pose pour les frères Jackson lors de l'une de leur ballade dans Leysin.
Croisement Rue du Village/Rue Louis Favez, 1854 Leysin
Montreux
- Le Fairmont Montreux Palace : hôtel de luxe de la riviera Suisse, ce palace cinq étoiles accueille le King of Pop en janvier 1997 pendant deux semaines alors qu'il travaille sur son album Blood On The DanceFloor aux Mountain Studios.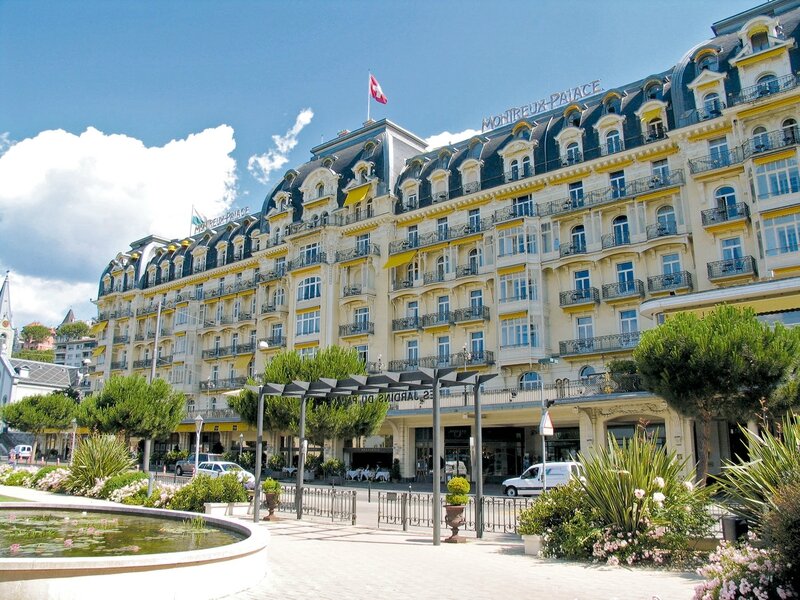 Michael occupe la Tower Suite, au dernier étage. Une suite de 90 mètres carrés avec vue panoramique sur les Alpes et le lac Léman, deux terrasses sur le toit de l'hôtel, un ascenseur personnel et deux salles de bains avec jacuzzi. Il s'agit d'une suite identique à la Quincy Jones Suite (peut être la même ?) ! A noter que l'hôtel possède également une suite Freddie Mercury.
Michael y avait été photographié à la sortie de l'hôtel (sortie arrière pour la photo ci-dessous)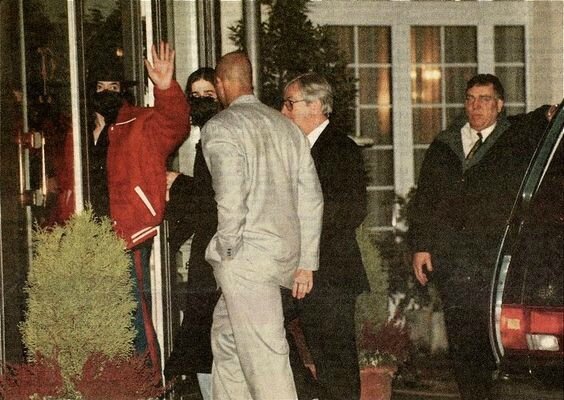 Avenue Claude Nobs, 2 (anciennement Grand Rue, 100) , 1820 Montreux
- Les Mountain Studios : Michael vient travailler son album Blood On The DanceFloor en janvier 1997 dans ces studios de renom ayant appartenu pendant 14 ans au groupe Queen. Freddie Mercury et son groupe ainsi que David Bowie, Iggy Pop, Chris Réa, les Rolling Stones, … viendront y enregistrer quelques uns de leurs albums. Les studios situés dans le Casino Barrière n'existent plus (à cette adresse en tout cas !) mais une exposition permanente dédiée à Queen y est visible gratuitement, toute l'année. Les visiteurs ne manqueront pas de signer The Wall (le mur extérieur), qui a gardé la trace du passage des stars tout au long de ces années. Les fans de Michael y avaient laissé leur message en 1997.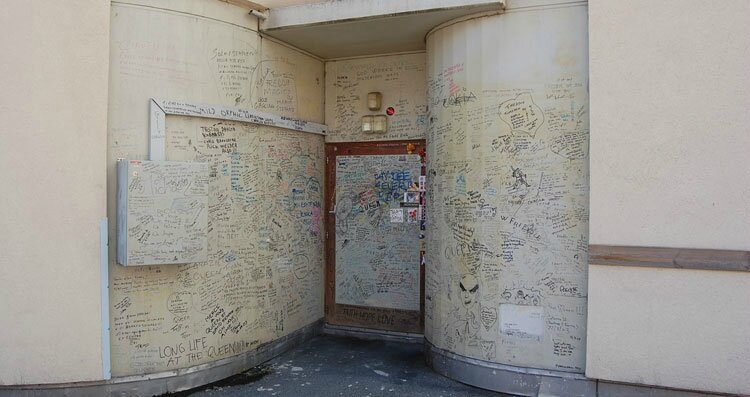 Casino Barrière de Montreux, Rue du Théâtre 9, Montreux
- Michael est vu dans la Grand-Rue de la ville. Il entre dans le magasin Cadeau Impossible (98, Grand-Rue) et le Tabashop (46, Grand-Rue). Si le premier magasin, situé juste à côté du Montreux Palace où il séjourne, est aujourd'hui fermé, le Tabashop est toujours là.
Vevey/Corsier sur Vevey
- Le Manoir de Ban : Propriété de Charlie Chaplin lorsqu'il a été chassé des Etats-Unis, en 1952, il y passera les vingt cinq dernières années de sa vie. Michael rend visite à plusieurs reprises à la famille de son idole et aurait même souhaité racheter la demeure. En juin 1988, il y rencontre Oona Chaplin, la veuve de Charlie, avec qui il passe une journée. Il se retrouvera parmi les enfants et petits enfants de Chaplin à nouveau en janvier 1997, lors de son séjour Suisse pour l'enregistrement de Blood On The DanceFloor.
Le Chaplin's world, le musée dédié à Charlie Chaplin, ouvrira ses portes sur le domaine de Ban le 17 avril 2016.

Route de Fenil 2, 1804 Corsier-sur-Vevey
- Michael est aperçu dans les rues de Vevey en janvier 1997, faisant du shopping. Il s'arrêtera notamment dans le magasin de chaussures Bally et la boulangerie Saley (rue du Lac, 13). Ces deux magasins n'existent plus aujourd'hui.
Zurich
- The Dolder Grand : Le 7 mai 2000, Michael arrive à Zurich pour quelques jours et séjourne, avec ses enfants Prince et Paris, dans cet hôtel cinq étoile situé en hauteur, sur les bords du lac de Zurich. Winston Churchill, Nelson Mandela, Elizabeth Taylor, le Prince Philip, Luciano Pavarotti ou les Rolling Stones ont fait partie des prestigieux invités de l'établissement.
Michael occupe une des suites luxueuses de l'aile ouest du bâtiment principal. Dans une vidéo privée, on y voit Prince et Paris, filmés par leur père sur le balcon de la suite.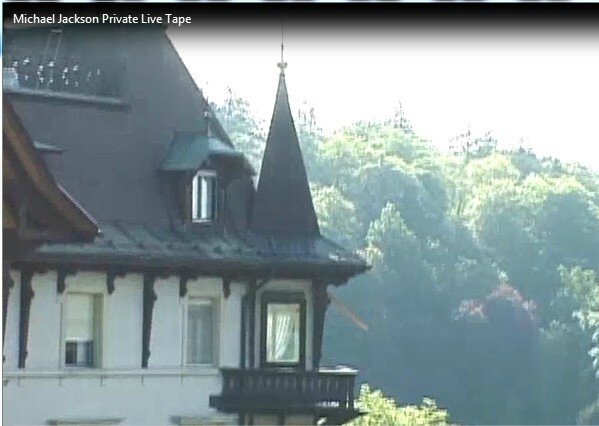 Kurhausstrasse 65, 8032 Zürich
Il en profitera pour assister, ce soir là, à une représentation du cirque Knie donnée à Zurich et rencontrer les membres de la troupe.
Sources : (1) bilan.ch/(2) Groupe facebook Tu es de Leysin si..../(3) opt-immo.net/Sur les pas de Michael Jackson/Wikipedia/ben-jackson.com (photo MJ sortie hôtel d'Angleterre, Genève)/ilovetravelling.fr (photos suite présidentielle hôtel d'Angleterre, Genève)/sites officiels des hôtels