En septembre 1996, Michael Jackson arrive à Varsovie pour le premier et unique concert qu'il donnera en Pologne. Ce jour-là, le chanteur découvre les charmes de la capitale polonaise où il souhaitera, quelques mois plus tard, s'installer et élaborer un projet de parc d'attractions.
Michael atterrit à l'aéroport d'Okecie (aujourd'hui appelé aéroport Frédéric Chopin) de Varsovie, à bord de son avion privé, le mercredi 18 septembre 1996 en milieu d'après-midi. Il est accueilli par des danseurs de folklore et des fans sur le toit d'un bâtiment de l'aéroport.
Michael loge dans la suite présidentielle de l'hôtel Mariott de la ville.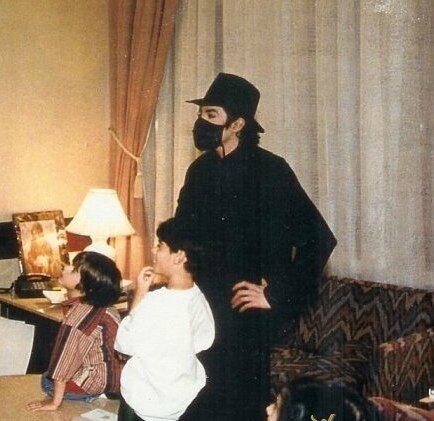 C'est d'ailleurs devant la tour de l'hôtel que les fans l'attendent nombreux et où Michael viendra, à plusieurs reprises les saluer et leur signer des autographes.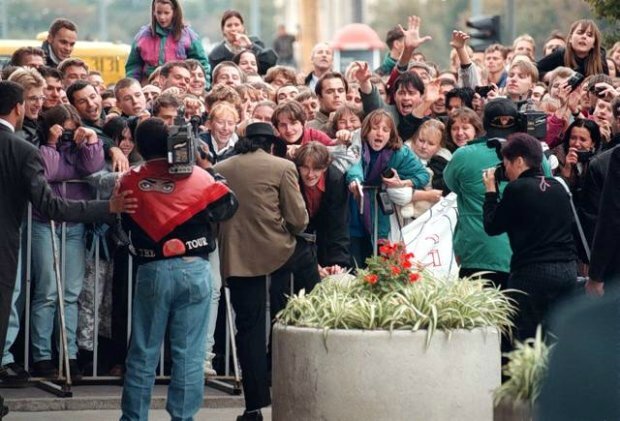 Sa suite luxueuse est au quarantième étage de l'hôtel, ce qui déçoit les fans car ils ne peuvent pas apercevoir la star à sa fenêtre, comme il a l'habitude de la faire lors de ses tournées. Ils n'hésiteront pas pour certains à venir cependant l'approcher dans l'ascenseur même de l'hôtel.
Lors de ses déplacements, il est, ce premier jour, accompagné par le maire de Varsovie, Marcin Święcicki et de la jeune Marielle Tourel, fille de l'homme d'affaires, actuel propriétaire du World Trade Center de Varsovie, Jacques Tourel.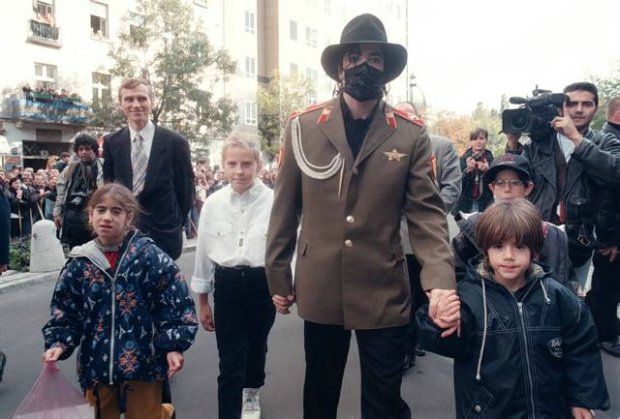 Michael fait du shopping après son enregistrement à l'hôtel. Il se rend dans une librairie, dans un magasin de musique puis de jouets où il achète des cadeaux qu'il distribuera le lendemain aux enfants d'un orphelinat.
En début de soirée, la star est accueillie au Palais Présidentiel par le président polonais, Aleksander Kwasniewski et son épouse Jolanta Kwaśniewska. Ils discutent musique et oeuvres de charité.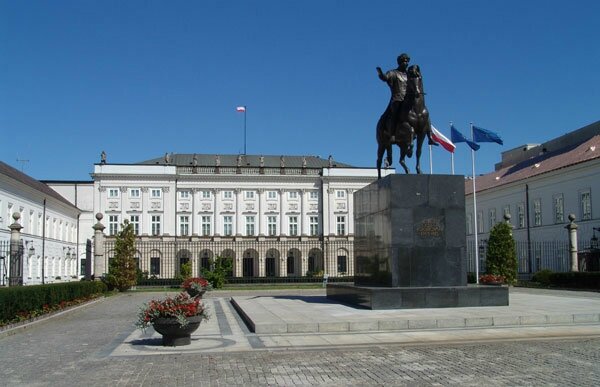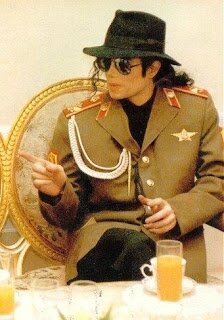 Très investie dans des œuvres caritatives, la première dame de Pologne accompagne le chanteur le lendemain, lors de sa visite de l'orphelinat Dom Dziecka, au 21 rue Rakowiecka.
Photos by Jolanta (Facebook)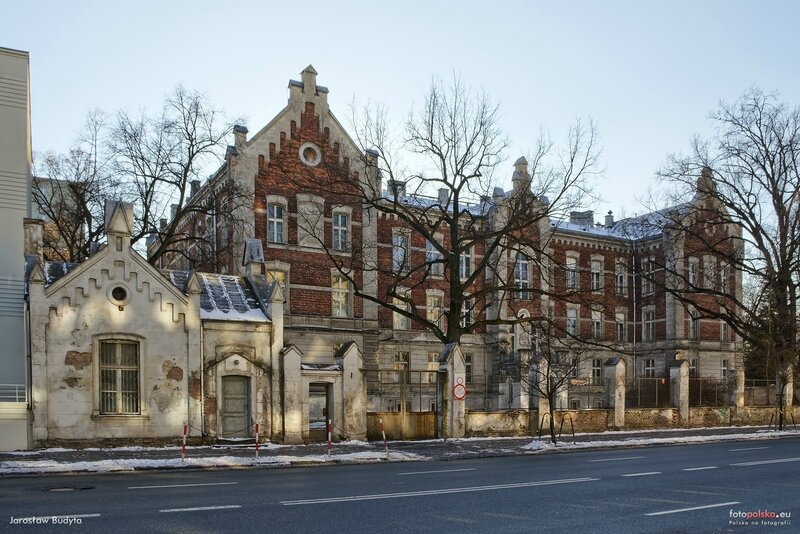 L'orphelinat est à l'abandon depuis 2009
Les bras chargés de cadeaux et de peluches, Michael passe du temps avec les enfants à qui il signe des autographes et en embrasse certains. Il remet une peluche géante de Mickey à un jeune garçon, Sébastien, qui décide de l'offrir à sa petite sœur de 3 ans. L'accueil de l'orphelinat a été très chaleureux. Les enfants et les infirmières ont été émus du passage de la star et de sa gentillesse. Certains se souviennent de lui comme quelqu'un de "fragile et maigre, avec des yeux tristes". Le King of Pop repart avec des dessins de lui de la part des enfants.
Ce jour là, le 19 septembre, le King of Pop est reçu par le ministre des finances Grzegorz Kołodko, qui lui remet son livre Poland 2000.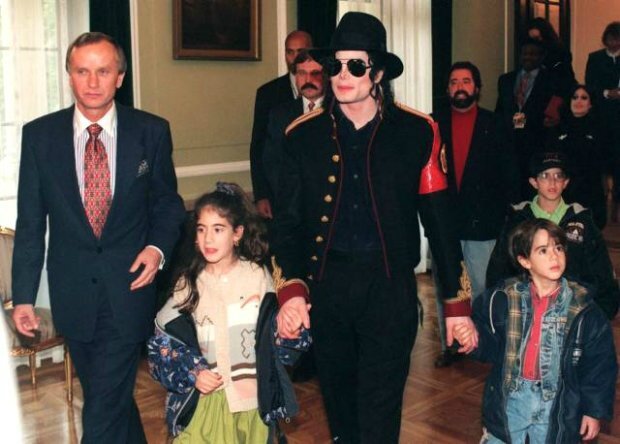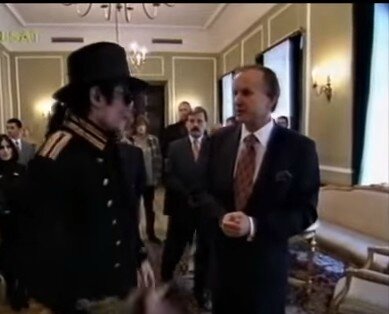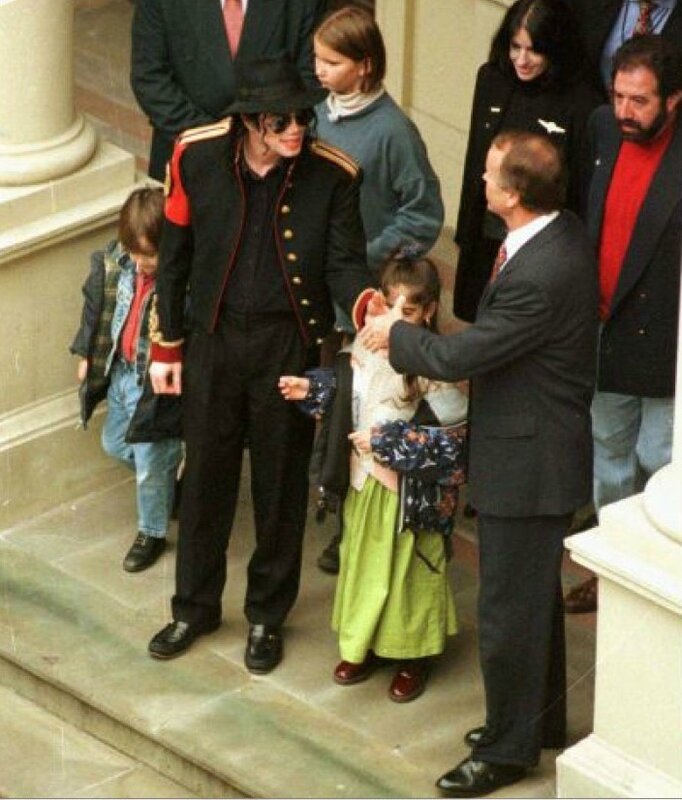 Il est aperçu faisant à nouveau du shopping dans l'une des artères les plus importantes de la ville, Rue Marszałkowska (Ulica Marszałkowska).

Photos forum.mjpolishteam.pl (1)
Le 20 septembre, peu avant le concert, Michael reçoit un disque d'or pour son album HIStory. Le concert, qui a lieu sur le site de l'aéroport de Bemowo, accueille 120 000 spectateurs, un record et un exploit pour le pays.

Photos forum.mjpolishteam.pl (1)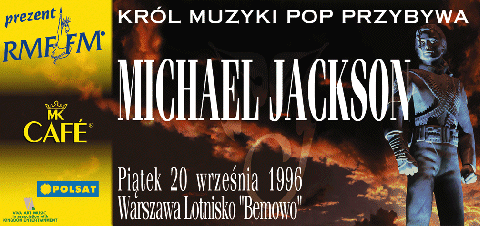 Photos michael-jackson-genius.blog.onet.pl (2)
Pour commémorer ce concert HIStorique, en 2009, l'amphitéâtre de Bemowo a été renommé Amphitéâtre Michael jackson. Une plaque commémorative en l'honneur de l'artiste a été disposée à l'entrée du bâtiment.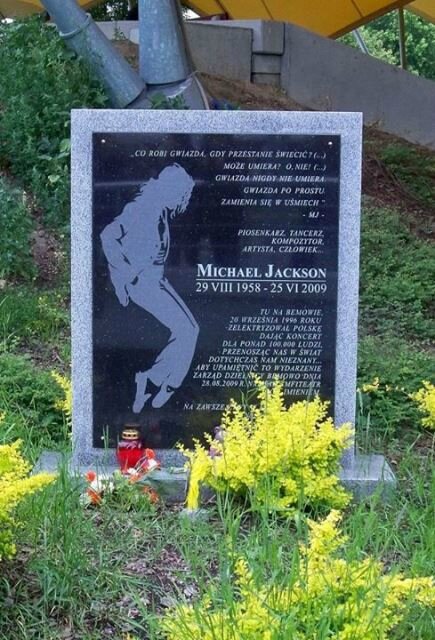 Photos theworldremembers.wordpress.com (3)
Peu avant de repartir de Varsovie, le 21 septembre Michael passe déposer une gerbe devant un monument aux morts de la Deuxième Guerre Mondiale.
2ème partie: Michael Jackson à Varsovie, mai 1997

Sources : (1) forum.mjpolishteam.pl/(2) michael-jackson-genius.blog.onet.pl/ (3) theworldremembers.wordpress.com