Michael Jackson s'est rendu à trois reprises à Budapest, capitale de la Hongrie: en août 1994, en juillet 1996 et en septembre 1996.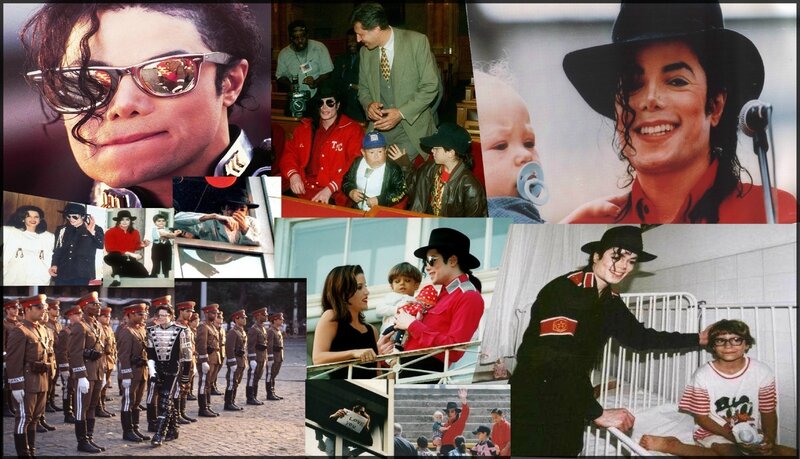 La ville est divisée en 23 arrondissements. Les lieux où Michael Jackson est passé sont donc listés par arrondissement.
1er arrondissement : Vár (ou Várkerület, arrondissement du Château)
- Le château de Buda : Sur la rive occidentale du Danube, le Palais de Buda, qui abrite la Galerie Nationale Hongroise et le Musée historique de Budapest, est le lieu de tournage du teaser HIStory en août 1994.
L'armée de Michael Jackson défile devant la statue d'Eugène de Savoie
Michael et sa jeune épouse Lisa Marie sont aperçus dans les jardins du Palais Royal, devant la fontaine des enfants pêcheurs
Budavári Palota, Szent György tér 2, Funiculaire à prendre sur Clark Ádám tér au Métro ligne 2, station Batthyány Tér (aux alentours de 5 euros l'aller-retour). Le château est aussi accessible à pied.
- Le Pont des Chaînes : Le Széchenyi lánchíd apparaît dans le teaser HIStory. C'est par ce célèbre pont suspendu que l'armée de Michael entre dans la ville pour les besoins du tournage.
Széchenyi Lánchíd, Métro ligne 1, station Vörösmarty Tér (dans le 5ème arrondissement) ou en en bas du funiculaire pour le château.
5ème arrondissement: Belváros-Lipótváros
- Le Parlement Hongrois : Michael visite le Országhá, ce superbe édifice, siège de l'Assemblée Nationale de Hongrie, le 22 juillet 1996, en compagnie du ministre hongrois de la culture, lors de son passage dans la ville, en préparation de son concert de septembre.
On connait notamment les photos prises dans la salle de l'Assemblée.
Országház, Kossuth Lajos tér 1-3, Métro ligne 2 station Kossuth Lajos tér
- Kempinski Hotel Corvinus : Lors de chacun de ses séjours dans la capitale hongroise, Michael loge dans la suite Royale de cet hôtel cinq étoiles. Située au dernier étage de l'établissement, elle donne sur la rue où les fans venaient attendre Michael et où se trouve désormais un mémorial (voir ci-après).
Erzsébet tér 7-8, Métro ligne 1, station Vörösmarty Tér
- Memorial Tree : Un arbre en face de l'hôtel Kempinski Corvinus est devenu, depuis la disparition de Michael, un mémorial. Les fans viennent accrocher des posters, déposer des fleurs, allumer des bougies et se rassemblent en souvenir du chanteur.
- Vàci utca : La rue pietonne Vàci est l'une des rues les plus touristiques de Budapest. En juillet 1996, Michael s'y promène, provoquant un attroupement devant notamment le restaurant Sörforrás étterem. On l'apercevra également chez un disquaire où les fans brisent la vitrine du magasin.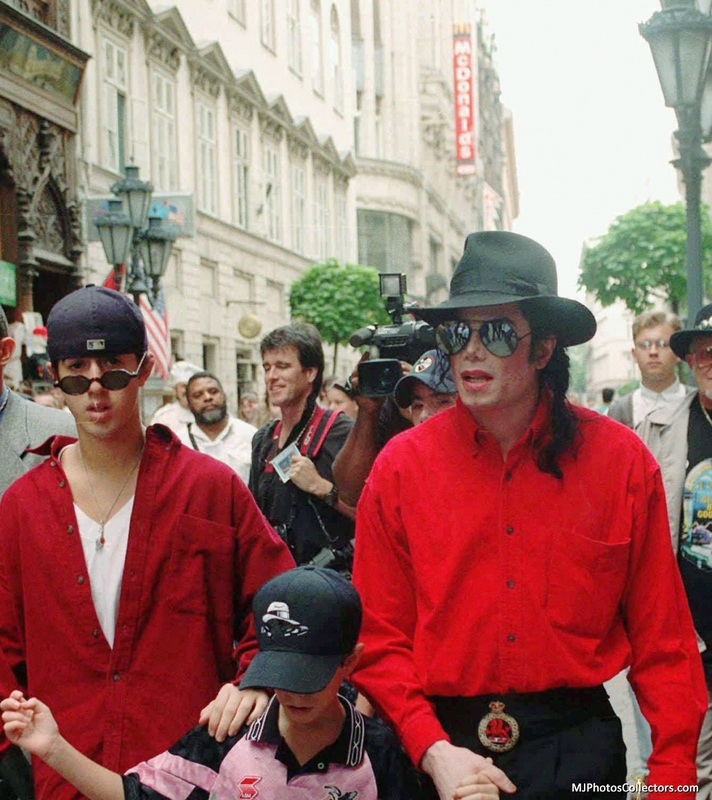 Sörforrás étterem Restaurant Váci utca. 15 , Métro ligne 1, station Vörösmarty Tér
- Hard Rock Cafe: situé sur la célèbre place Vörösmarty, au coin de la rue Váci , ce célèbre café abrite deux souvenirs liés à Michael Jackson: un chapeau porté en 1976 prise par Weldon McDougal et un disque d'or de Thriller.
Hard Rock Cafe, Deák Ferenc utca 3-5, Métro ligne 1, station Vörösmarty Tér
8ème arrondissement: Józsefváros
- L'Hôpital pour enfants Heim Pál : Le 6 août 1994, alors qu'il est à Budapest pour le tournage du teaser HIStory, Michael et Lisa Marie rendent visite aux enfants de ce centre hospitalier. La Heal The World Foundation, en partenariat avec Toys'R us et AmeriCares offriront près de 2600 jouets aux enfants des deux hôpitaux visités (Voir ci-après, Hôpital Bethesda).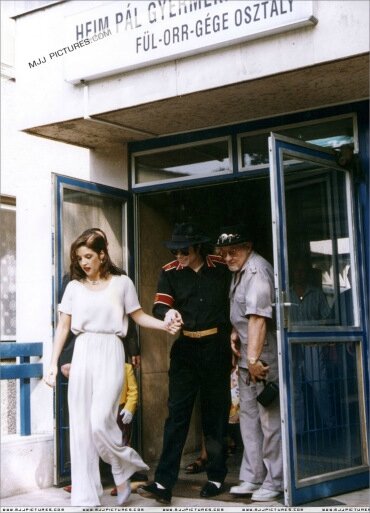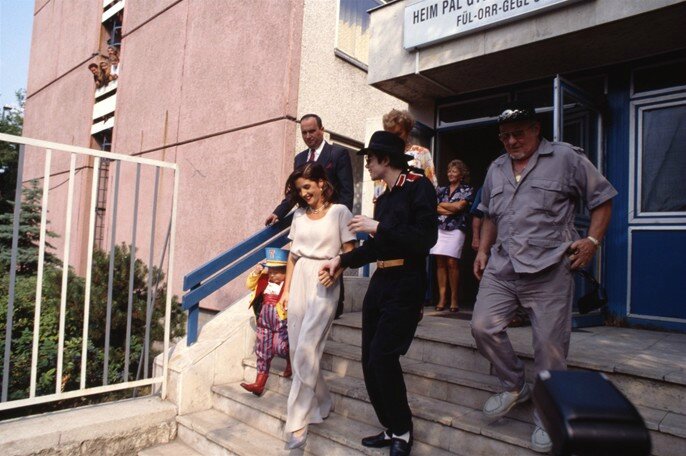 Heim Pál Gyermekkórház, Üllői út 86, Métro ligne 3, station Nagyvárad tér
14ème arrondissement: Zugló
- La Place des Héros : même si Michael n'apparait pas dans les séquences du teaser History, c'est sur cette place, en août 1994, que son immense statue est érigée dans la vidéo. Place emblématique de la ville au bout de l'avenue Andrassy, on y trouve deux demi-cercle avec des statues des principaux rois hongrois et une colonne avec l'archange Gabriel à son sommet. C'est au pied de cette colonne que Michael provoquera un attroupement en juillet 1996 lors de sa visite de la ville.
Hősök tere, Métro ligne 1, station Hősök tere
- Parking avenue Dozsa Gyorgy : c'est sur ce parking, tout près de la Place des Héros que sont tournées des scènes où Michael défile avec son armée pour le teaser HIStory en 1994.
Dozsa Gyorgy ùt, Métro ligne 1, station Hősök tere
- L'hôpital pour enfants Bethesda : Michael et Lisa Marie rendent visitent aux enfants malades de ce centre hospitalier le 6 août 1994. Ils y retourneront les jours suivants après le tournage de Michael pour le teaser HIStory. Michael rencontre le petit Bela Farkas, à l'époque âgé de 4 ans, en attente d'une greffe du foie, sans laquelle il mourra. La star proposera de payer tous les soins nécessaires grâce à sa fondation Heal The World. Il achète aussi une machine respiratoire pour l'hôpital. Michael reviendra en juillet 1996 prendre des nouvelles et rencontrer à nouveau le petit garçon guéri.
Bethesda Gyermekkórház Bethesda utca. 3, Métro ligne 1 station Széchenyi fürd ou Tramway, ligne 72 ou 74, station Bethesda utcà
- Stade Ferenc-Puskás : Le 10 septembre 1996, Le HIStory Tour s'arrête dans ce stade alors appelé Népstadion. Quelques semaines plus tôt, le 23 juillet, Michael avait visité le stade pour la préparation du concert. Il est actuellement est cours de démolition pour être remplacé, à partir de 2019, par une arena plus moderne.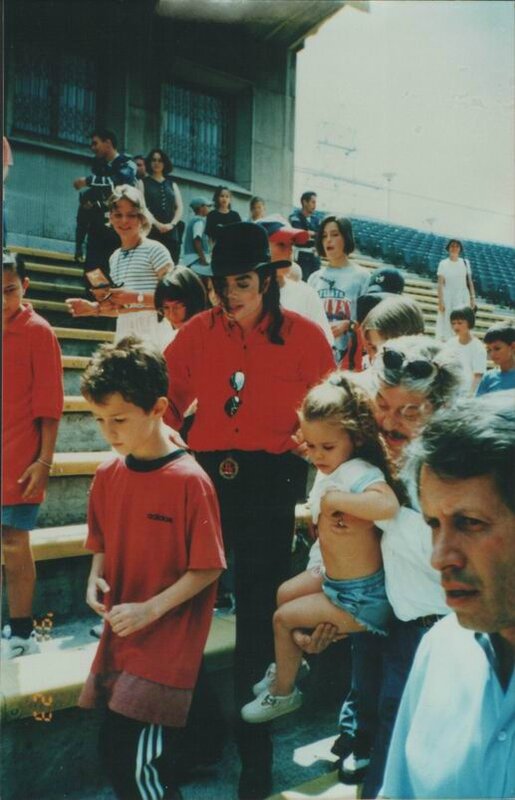 Istvánmezei út 3-5, Métro ligne 2, station Pillango utcà, tramway ligne 95 ou 195, station Puskás Ferenc Stadion
Source: mjbudapesten.wordpress.com