En août 1980, dans l'émission 20/20 de Barbara Walters, Stevie Wonder annonce que sa tournée de promotion pour son album Hotter Than July, qu'il fera à partir d'octobre, avec le chanteur Bob Marley, servira à récolter des fonds pour une campagne demandant l'instauration d'un jour férié aux Etats-Unis pour l'anniversaire de Martin Luther King. Cette bataille, commencée peu de jour après l'assassinat du pasteur noir américain, en 1968, n'avait alors jamais obtenu satisfaction.
Le chanteur écrit Happy Birthday en hommage à Martin Luther King, Ce titre, qui a désormais fait le tour du monde, servira d'emblème pour la campagne. L'album Hotter Than July est d'ailleurs un hommage au pasteur, militant des droits civiques.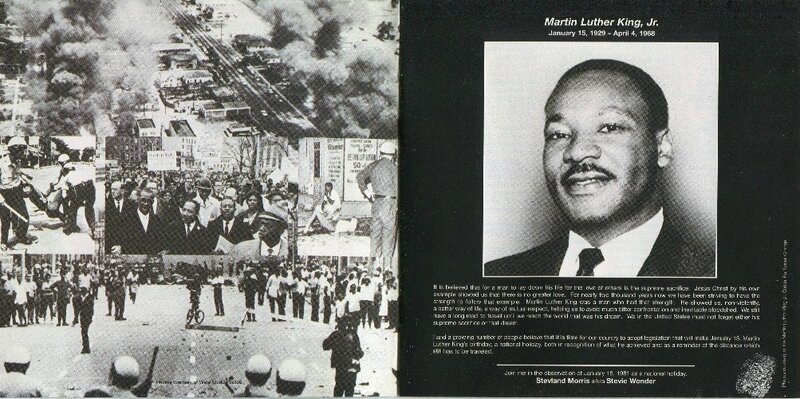 Le projet de Stevie était une tournée qui passerait par Washington avec une marche sur le Mall de la capitale américaine, le 15 janvier 1981 (jour de l'anniversaire du pasteur), afin de sensibiliser l'opinion et de mettre la pression au Congrès américain. L'endroit, n'est pas choisi au hasard. Il est plus que symbolique puisque c'est sur ce même Mall que Martin Luther King avait fait son célèbre discours I Have A Dream, en août 1963.
Gil Scott-Heron, musicien soul, poète et romancier américain, notamment connu pour son titre The Revolution Will Not Be Televised , ne veut pas manquer ce passage de Stevie Wonder à Washington. Le destin en décidera autrement: Stevie Wonder fait appel à lui pour l'accompagner sur la tournée en remplacement de Bob Marley qui vient de découvrir qu'il souffre d'un cancer (qui l'emportera six mois plus tard). Une aubaine que le poète accepte sans hésiter.
La tournée commence à Houston (Texas) le 31 octobre 1980. A la fin de chaque concert, Gil Scott-Heron rejoint Stevie sur scène pour interpréter Happy Birthday et Master Blaster (Jammin'), titre écrit en l'honneur de Bob Marley.
La tournée est un succès. Le passage par le Madison Square Garden de New York en novembre 1980 marque l'une des dates les plus mémorables de la tournée avec la présence de Michael Jackson (Michael est d'ailleurs présent dans les choeurs d'un des titres de l'album Hotter Than July, All I Do).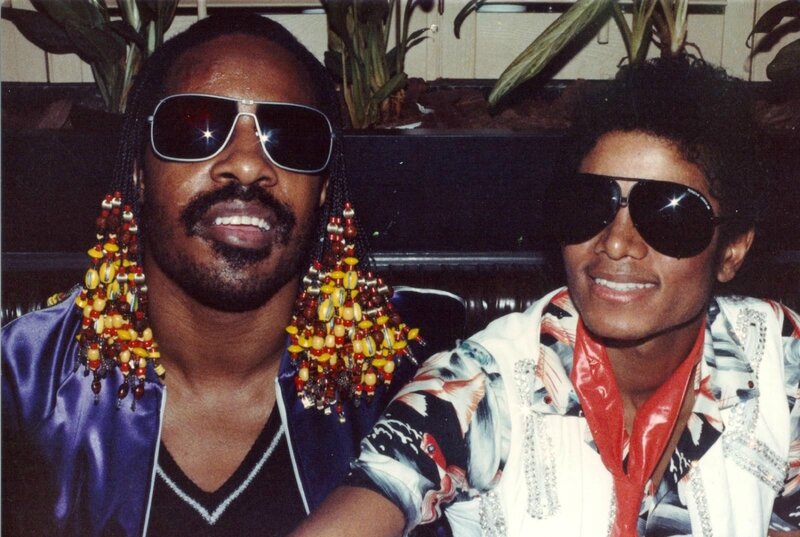 Michael et Stevie en 1981, lors du Triumph Tour des Jacksons
Gil Scott-Heron évoque sa rencontre avec le futur King of Pop dans ses mémoires, The Last Holiday (La dernière fête) dont il avait terminé la rédaction peu avant sa disparition en 2011.
"En 1980, j'étais un habitué du Madison Square Garden. Si j'avais encore habité à New York à l'époque, j'aurais même pu trouver ça barbant pendant mon second concert là-bas avec Stevie. (…)
Il y avait une chose indéniablement avantageuse dans le fait de jouer dans un lieu comme le Madison Square Garden. A certaines occasions, l'énergie générée par la musique transformait le concert en évènement, donnait à un spectacle des airs de festival, l'aura d'une célébration. (…)
Sous les feux de Broadway et les avenues embouteillées, d'autres mondes existaient ; des mondes de magie, de musique et de miracles. Ce soir-là, ce serait le monde de Michael Jackson.
Encore un Jackson. Exactement ce qu'il me fallait.
Des milliers d'admirateurs qui rêvaient de ressembler à Mike, ou qui aimaient simplement Mike, auraient droit à un spectacle unique ce soir là parce que le prince de la pop était déjà dans les murs et que le bruit courait qu'il échauffait déjà ses membres élastiques dans une minuscules pièce privée, avant même que j'aie fini mon concert. Il était censé faire figure d'invité très spécial en nous rejoignant Stevie et moi à la fin de la soirée. J'avais eu l'occasion de voir plusieurs musiciens nous rejoindre sur scène, de Houston à Hollywood. Impossible de prédire la surprise que Stevie réservait à son public lors de notre traversée des Etats Unis et du Canada. C'était devenu tellement ordinaire pour des rockeurs de haut vol de parader lors du final, qu'il était rare de voir les habitués ou les roadies lever le sourcil, mais la rumeur Michael Jackson avait fait courir un frisson chez les organisateurs comme chez le tout-venant.
J'étais content que tout le monde soit content. Depuis les représentants de la compagnie Concerts West de Dick Griffey jusqu'à certaines personnes haut placées dans la hiérarchie du Madison Square Garden, il régnait ce soir-là une hystérie et un brouhaha perceptibles dans la salle.
J'avais déjà rencontré Michael et quelques-uns de ses frères, mais on ne peut pas dire que je le connaissais ni qu'il se serait souvenu de moi. Je l'admirais, bien sûr, puisqu'il était impossible de ne pas apprécier un artiste qui avait vendu autant d'albums que McDonald's de hamburgers. J'avais été invité par Greg Phillinganes un après-midi baigné de soleil dans un studio de L.A., où les Jackson se retrouvaient pour enregistrer un album. Michael était une des quelques stars encore présentes au moment de mon arrivée et Greg avait fait de brèves présentations. J'avais pris ça à la coule, ça m'avait même fait plaisir de les rencontrer en personne. C a n'avait pas été aussi électrique que ma rencontre avec Quincy Jones ou Miles Davis mais je n'étais pas près de l'oublier. Qu'est-ce que je savais de lui ? Seulement que le jeunot, avec sa mèche qui lui tombait dans l'œil et sa voix si douce et fluette qu'elle vous obligeait à tendre l'oreille, était le roi de l'industrie du disque. (….)
En côtoyant des gens qui avaient connu le succès, j'avais croisé des centaines de noms plus reconnaissables que ceux qui les portaient. (….) Mais ces rencontres informelles avec des artistes ne m'avaient pas préparé à l'électricité dans l'air, à la poussée de fièvre qui s'est produite dans la salle quand Michael Jackson nous a rejoints sur scène sur les rythmes reggae de "Master Blaster". Il fit monter la tension.
J'essaie souvent d'expliquer à quel point Michael Jackson était unique, comme si tout le monde ne le savait pas déjà. C'est que moi, je l'ignorais. Je croyais le savoir – jusqu'à ce qu'il apparaisse pour "Master Blaser" au Madison Square Garden.
Stevie a demandé au régisseur de monter le rythmique et avec un grand sourire a fait signe à son "invité exceptionnel" d'entrer, quelqu'un qui n'avait pas besoin d'être présenté. Je l'ai vu derrière moi faire trois pas, s'arrêter sur un temps, se tenir plus droit et plus grand, prenant une consistance solide comme s'il passait de l'état gazeux à celui d'homme. Je ne me rends pas vraiment compte de ça. Parfois.
Il n'a pas fait que monter sur scène. Il est passé à l'état solide en arrivant. Un tour que nous jouait l'éclairage. Il a glissé devant moi dans la lumière des projecteurs. Un regain d'énergie dans la foule a fait passer le son de la stéréo à la quadriphonie. La température dans la salle a semblé monter d'un cran à son entrée dans le halo des projecteurs. Quand la foule l'a reconnu, la rumeur s'est transformée en un vigoureux rugissement. Le son de la régie a été recouvert, le sourire de Stevie s'est élargi et il a frappé dans ses mains près de la poitrine en attendant son tour, puis s'est engouffré dans l'ouverture quand l'intro s'est répétée, et la salle a rugi de plus belle.
Quand l'accroche est arrivée, ce fut comme un énorme avion qui atterrit sur de la mousse : "Didn't know you would be jammin' until the break of dawn… " Michael et moi avons attaqué sur le temps et à l'unisson, mais avec cette même délicatesse qui l'avait fait venir à mes côtés en flottant, sa voix est montée sur la note suivante, où il sembla annuler notre collision et se sentir de nouveau comme chez lui, la tierce au-dessus.
Après avoir chanté le refrain une seconde fois avec Mike en lui tenant le micro, j'ai compris à quel point il était prêt et à quel point je ne l'étais pas.
Il connaissait la chanson. En entier. Les paroles, les changements de tonalité, et toutes les parties harmoniques. Merde, moi je n'étais au point que depuis notre concert à Hartford. Ce soir-là, j'ai eu l'impression d'être un mannequin d'un mètre quatre-vingt-cinq qui tient le bout du micro comme un immense cône de glace grisâtre, figé, le bras tendu entre nous pour tenter de recueillir nos deux voix. Autant recueillir de l'eau avec un filet à papillons. J'étais voué à rester immobile pour empêcher le micro de bouger. Michael aurait pu le tenir, mais même immobile, il semblait partir dans tous les sens. Sans plus réfléchir je lui ai tendu le micro et me suis glissé dans l'ombre de notre côté de la scène.
Avant tout, je voyais deux prodiges en un. De près : un Stevie souriant au centre de la scène derrière sa rangée de claviers, la tête légèrement penchée vers l'endroit où je m'étais trouvé ; et comme s'il glissait, entrant et sortant du cercle de lumière douce qui m'indiquait habituellement où me tenir, je voyais le jeunot, contorsionné selon un angle impossible, enroulant le temps autour de lui comme s'il enroulait la ficelle d'une toupie. Puis il repartait dans l'autre sens, tournoyant comme un patineur démantibulé. La symétrie était parfaite car il était aussi immobile qu'une statue quand le couplet suivant commença et que Stevie rentra dans la boucle. J'ai vu ce qui m'attendait, il me faudrait encore une trentaine de concerts pour essayer de faire ça, pour y arriver comme Mike. Et encore."(1)
Aucun enregistrement ne semble exister de ce duo improvisé entre les deux stars de la Motown. Seul le documentaire sur la tournée Hotter Than July de Stevie Wonder, diffusé sur la BBC en 1981, montre Stevie Wonder et Gil Scott-Heron ensemble sur scène lors de l'interprétation de Happy Birthday (à partir de 49 :00).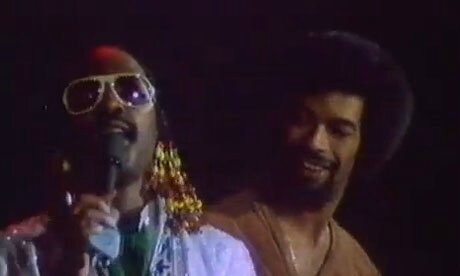 Ronald Reagan est élu président des Etats-Unis en novembre 1981. Le 2 novembre 1983, il signe, en présence de Coretta Scott King, la veuve de Martin Luther King, la loi qui établit la création d'un jour férié pour célébrer l'anniversaire du Dr King, le troisième lundi du mois de Janvier. Il ne sera observé qu'à partir de janvier 1986, certains états, jusqu'en l'an 2000, refusant cependant de le respecter.
Sources: (1) La dernière fête, Gil Scott-Heron, editions de l'Olivier; 2014/medium.com