La carrière de Mohamed Ali, né Cassius Clay en 1942, n'est plus à décrire. Ce plus grand boxeur de tous les temps est aussi connu pour ses prises de position politiques, notamment en faveur des droits civiques aux côtés de Malcom X. Il est décédé le 3 juin 2016 après avoir mené son plus long combat, celui contre la maladie de Parkinson dont il souffrait depuis 1984.
Michael Jackson rencontre pour la première fois le boxeur au Hollywood Palladium de Los Angeles, lors d'une levée de fonds en faveur du Brotherhood Crusade, pour une soirée intitulée Salute To Muhammad Ali.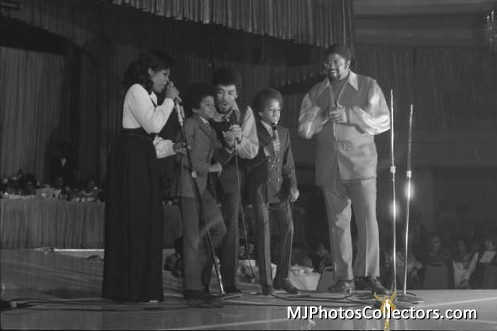 En février 1975, les frères Jackson assiste à une conférence de presse de Mohamed Ali, celle annonçant son match contre Chuck Wepner.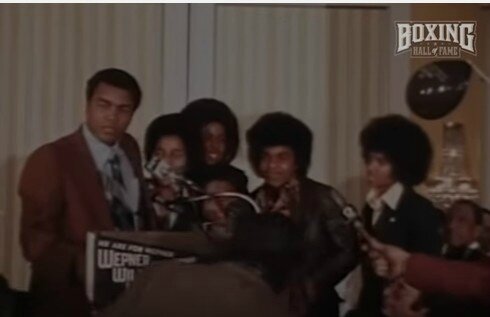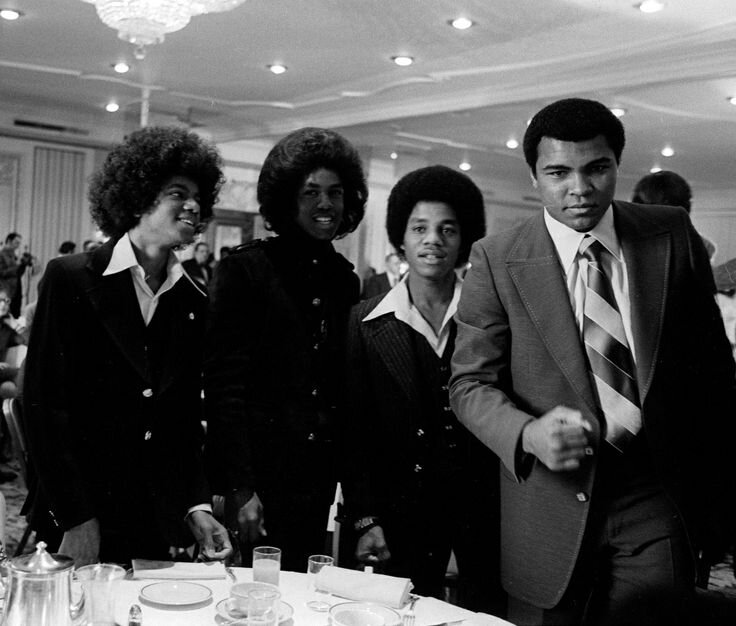 En novembre 1975, un nouvel événement en faveur de Mohamed Ali a lieu. Les Jackson 5 ne performent pas mais sont présents. Ce sera, comme l'explique Jermaine Jackson, le début d'une amitié entre le boxeur et le futur King of Pop.
"Un jour, en allant chez mes parents, j'ai rencontré Mohamed Ali dans la cuisine, l'homme noir le plus fier d'Amérique, assis avec Michael et Maman. Les frangins l'avaient rencontré en coulisse au cours d'un évènement people en son honneur en 1975, et une joyeuse amitié s'était installée avec toute la famille, surtout avec Michael. Ali était l'homme le plus doux et le plus sympathique du monde ; il était comme un oncle adorable que l'on ne se lasse pas de rencontrer. Chaque fois qu'il nous voyait, il nous faisait un numéro de boxe mimée tout autour du salon : il esquivait et plongeait sous des coups de poings invisibles, puis il prenait la pose en faisant des grimaces, comme celles qui l'avaient rendu célèbre dans son combat contre Joe Frazier. Il nous regardait droit dans les yeux et envoyait son poing dans l'espace, de chaque côté de nos oreilles. Et nous entrions dans son jeu, chacun son tour. Son aura était timide mais magnétique, sa présence puissante mais tendre. Il n'y avait pas de soupçon d'ego de star chez lui. C'était le même Ali, sur le ring ou plaisantant à la télévision, que celui qui nous rendait visite à la maison.
Il parlait tellement vite et avec tellement d'enthousiasme que sa passion était contagieuse. Il avait une éloquence de poète et il maniait l'allitération avec la même rapidité que son art de la boxe. Si on avait mis de la musique sur ses conversations, il aurait pu devenir le premier rappeur de l'Amérique. Pour lui, la vie était un jeu de l'esprit. Personne ne montait sur le ring sans avoir une stratégie, disait-il, et chacun de nous a la même capacité à devenir quelqu'un d'unique et formidable. Blanc ou noir. Riche ou pauvre.
"Répétez-vous que chaque jour vous êtes le meilleur, le plus fort, que personne ne peut vous battre. Soyez le meilleur. Devenez-le, croyez-y".
C'est comme ça qu'Ali a enfoncé le clou déjà planté par nos parents.
Michael adorait Ali parce qu'ils avaient la même passion pour la magie. Un jour, nous étions dans le jardin, le photographe Howard Bingham était là, et Ali nous a fait un numéro de lévitation. Il flottait littéralement à trois centimètres du sol.
"Recommence ! Refais-le", a hurlé Michael, qui avait les yeux sur les pieds d'Ali.
Il a recommencé.
"Comment tu fais ? Dis-le-moi !"
"Beaucoup de concentration, beaucoup de magie !", lui a-t-il répondu.
Peu de temps après, Ali lui a expliqué comment il s'y prenait quand mon frère est allé lui rendre visite dans sa magnifique maison à Hancock Park. Michael est revenu complètement bluffé par tout ce qu'il y avait vu : les photos des combats, les trophées aux murs. Il allait là bas pour apprendre la magie et les trucages ; ils y passaient des heures. Mon frère, de cette manière, en apprenait beaucoup, grâce à Ali, sur la philosophie de la vie, la religion, son amour de la musique, et tout ce qu'il fallait pour devenir un personnage public".(1)
En février 1977, Muhamed Ali participe à l'épisode 7 de l'émission Variety Show des Jacksons. "Nous voici à côté du plus grand du plus grand boxeur de l'histoire du Ring … le plus célèbre poids-lourd du monde (…) Oui pas mal, mais vous n'avez jamais fait un seul hit !!! (voir la vidéo sur le lien, à partir de 5:00)
Michael en profite pour jouer des poings en face de son ami, tout en citant une de ses célèbre phrase: "Float like a butterfly, sting like a bee" (flotter comme un papillon, piquer comme une abeille). En 1974, avant son match contre Foreman, Mohamed Ali avait déclaré "Float like a butterfly, sting like a bee. The hands can't hit what the eyes can't see."
En avril 1977, les Jacksons se rendent au camp d'entrainement de Mohamed Ali à Deer Lake en Pennsylvanie (aujourd'hui devenu un Bed & Breakfast). L'occasion de prendre quelques photos lors d'un combat où les frères Jackson viennent à bout du champion !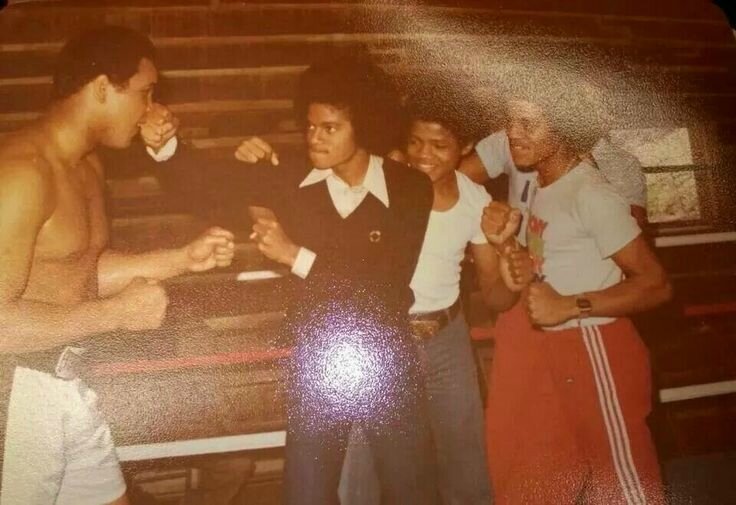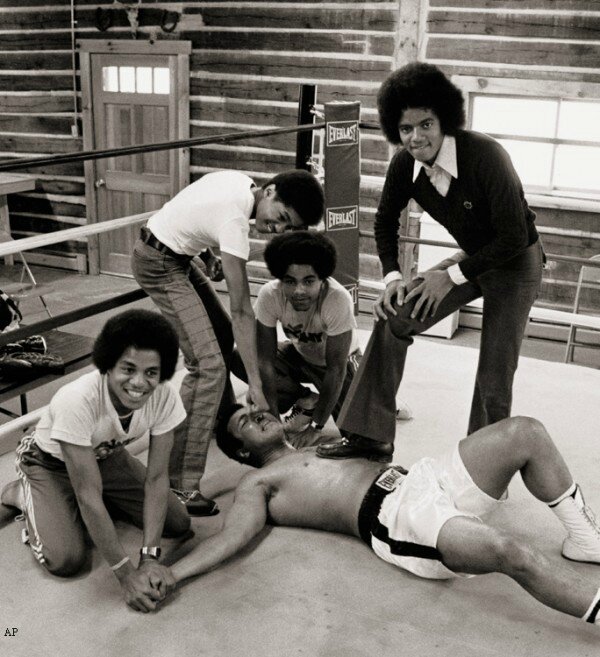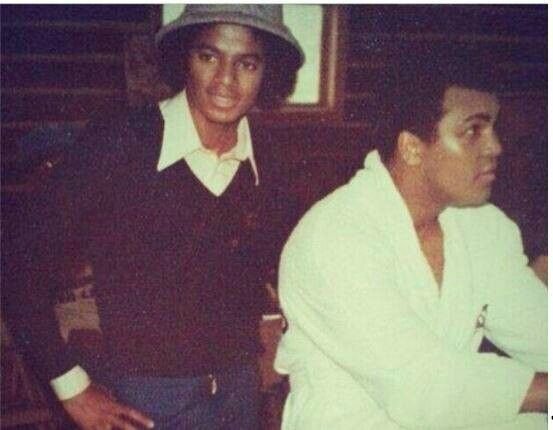 En août 1977, Michael assiste au Robert F. Kennedy Pro-Celebrity Tennis Tournament à Forest Hills (New York). Mohamed Ali et sa femme Veronica posent avec lui au cours de la soirée.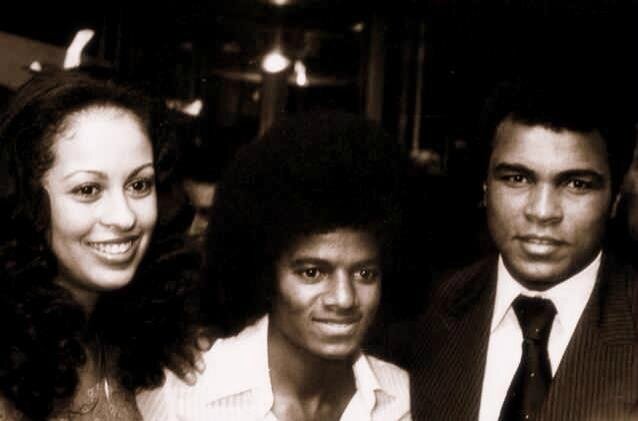 En 1977, The Jacksons sont invités par Mohamed Ali lors d'une de ses interviewes pour la télévision où il exprime ses idées politiques concernant la position des noirs américains.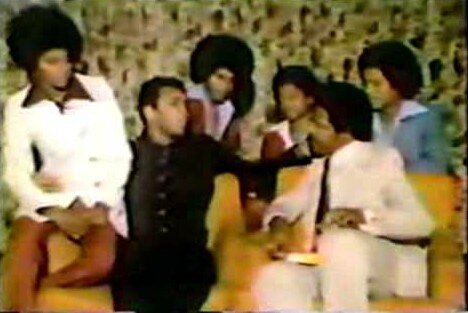 "L'admiration d'Ali pour Malcom X intriguait Michael. (…) Motown nous avait demandé de ne jamais parler en public de Malcom X afin d'éviter les sujets qui fâchent. Répondre à des questions sur le Black Power était à proscrire. Mais en privé nous étions pour son combat en faveur de la justice pour les Noirs. Je n'oublierai jamais une interview qu'Ali fit à la télévision avec mes frères en 1977. Il parlait de sa récente visite à la Maison-Blanche :
"Les images que j'ai vues sur le mur m'ont laissé une impression forte : c'est vraiment une maison blanche. Oh ! Mais j'y ai vu un cuisinier noir ! " (1) (citation à 4 :38 dans la partie 2 de l'interview ci-dessous)
Durant la période Thriller, Michael continua à aller chez Mohamed Ali comme en témoigne cette photo postée par la fille du boxeur, Laïla Ali, en 2014, qui explique qu'elle était cependant trop jeune pour se souvenir de la venue du chanteur.
"Michael considérait Ali comme un modèle sur le plan à la fois personnel et professionnel. Mais je doute qu'il ait compris à quel point cette admiration était réciproque. L'année où mon frère est mort, Ali lui a rendu hommage. Il a dit que quand on lui demande d'où lui vient sa force pour lutter contre la maladie de Parkinson, il pense à Michael Jackson." (1)
Désormais The Greatest a rejoint le King of Pop….
Source: (1) You Are Not Alone, le vrai Michael dans les yeux de son frère, Jermaine Jackson/Page facebook MJJDreamers