S'il est indéniable que Michael Jackson a révolutionné le monde de la musique, en matière de danse et de vidéo, le monde de la mode a également été touché par le King of Pop. Il a clairement défini son style, immédiatement reconnaissable, et parmi toutes les touches qu'il a apportées, il est un vêtement auquel il a été fidèle tout au long de sa carrière : les vestes dites militaires.
Les débuts timides
Le chanteur dévoile son goût pour le style militaire au cours de la période qui précède Thriller. Dès 1979, sur la scène du Destiny Tour. Les frères Jackson apparaissent avec une veste à épaulettes qui n'est pas sans rappeler les vestes militaires.
La même année, Michael et ses frères réalisent des photoshoots pour les magazines Soul et Ebony, dans leur propriété d'Encino.
Michael porte alors une casquette qu'il abhorrera à plusieurs reprises par la suite.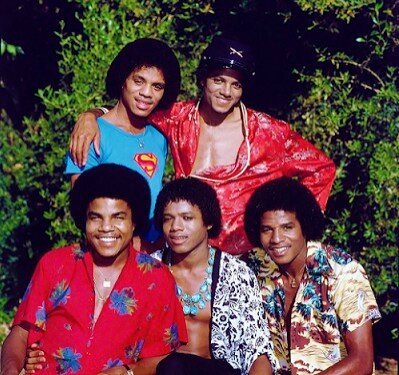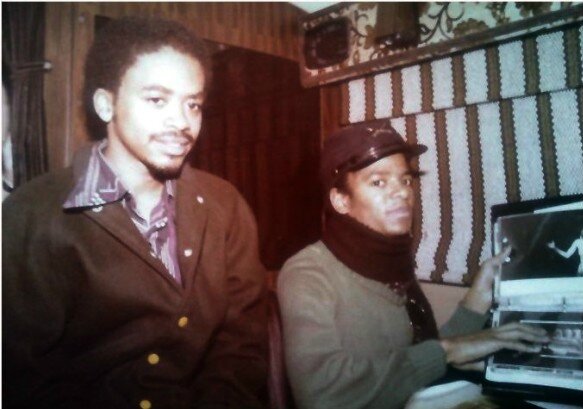 Si cette casquette peut paraître banale, Michael étant habitué à porter régulièrement des chapeaux ou des casquettes, elle a cependant une signification particulière.
Il s'agit en effet d'une casquette ou plus exactement d'une réplique d'un képi porté par les soldats de l'Union lors de la Guerre de Sécession au 19ème siècle. L'insigne sur la casquette de Michael, deux fusils croisés, est l'emblème de l'infanterie américaine.
On notera, cependant, que les dates ne correspondent pas : le képi a été porté par les soldats entre 1861 et 1865 alors que les fusils croisés n'ont été apposés sur les képis qu'à partir de 1875. Durant la guerre civile, l'emblème de l'infanterie était des sabres croisés.

Néanmoins, le fait que Michael adopte cette casquette traduit déjà son goût pour les tenues militaires qui va s'accentuer lors de la sortie de Thriller.
En 1979 également, Michael pose dans un studio Hollywoodien en tenue de grand officier de la guerre de Secession. Il porte le chapeau à rabat (avec la couronne de laurier) et la tenue de ce qui semble être un lieutenant colonel ou un général de l'Union. Un vrai portrait officiel.
Le look militaire dès les années 80
Les vestes militaires qu'adopte Michael Jackson dans les années 80 sont également appelées des vestes hussard.
Le hussard est un cavalier militaire appartenant à la cavalerie légère. Le terme date du Moyen-Âge et vient du Hongrois húsz (prononcer "houss") signifiant "vingt" et ár (prononcer "are") qui signifie "paye". En effet, dans le royaume de Hongrie, dès le Moyen Âge, chaque village devait fournir au souverain des cavaliers montés équipés et armés au nombre d'un homme pour vingt parcelle. D'où le nom de "houzard" devenu par la suite "hussard". Les premiers hussards furent levés par Matthias Ier de Hongrie en 1485 lors de sa guerre contre les Ottomans. Le modèle fut copié dans d'autres armées et devinrent avec le temps une unité d'élite à l'uniforme coloré.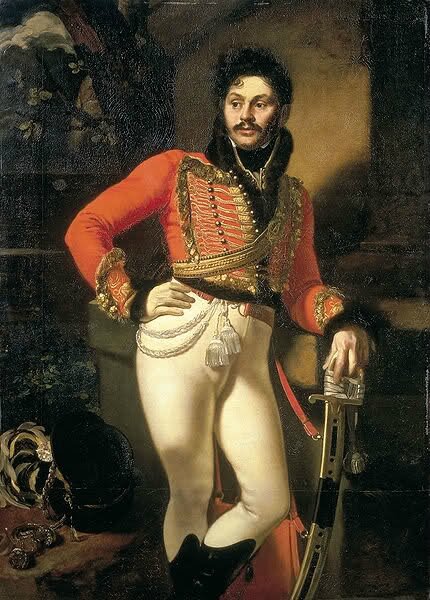 Portrait de 1810 du hussard russe Evgraf Davydof
La veste hussard consiste en un dolman, "une veste ajustée à la taille caractérisée par des manches étroites et pendantes. Elle est agrémentée d'une grande variété d'ornements (galons ou tresses) et peut comporter des brandebourgs, un passement en forme de nœud plus ou moins sophistiqué " (1)
Le dolman traditionnel comporte 18 rangées de demi-boutons ronds, répartis en 5 colonnes. Il y a au total 72 petits boutons servant à la décoration de la veste et 18 grands boutons servant à la fermeture car le dolman est généralement porté fermé.
C'est exactement ce type de veste hussard que porte Michael en mai 1981. Il apparait aux côtés de Liza Minnelli après son spectacle au Greek Theater de Los Angeles. Probablement la première veste militaire de Michael Jackson.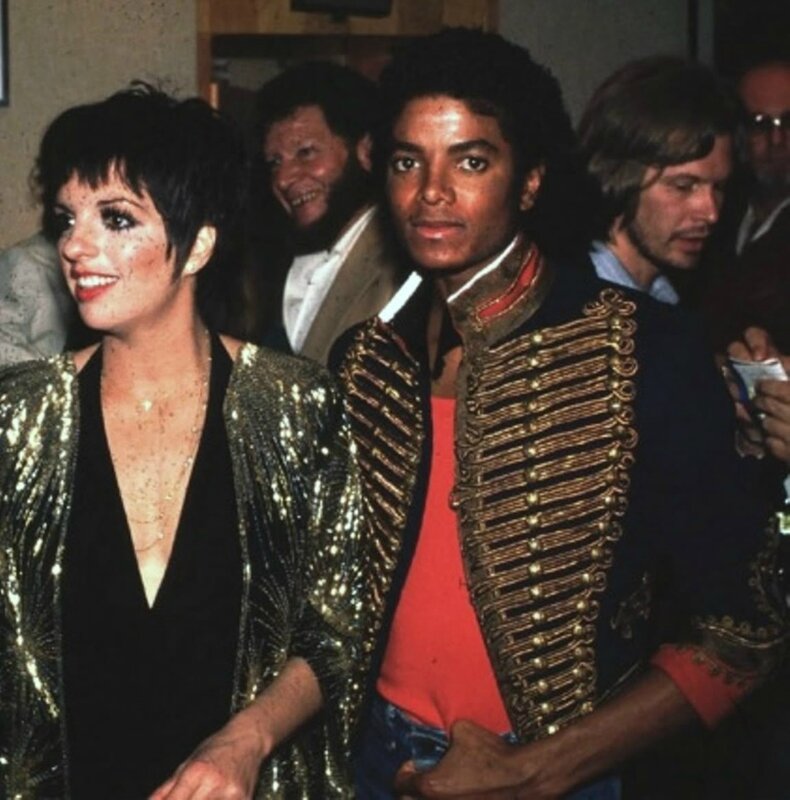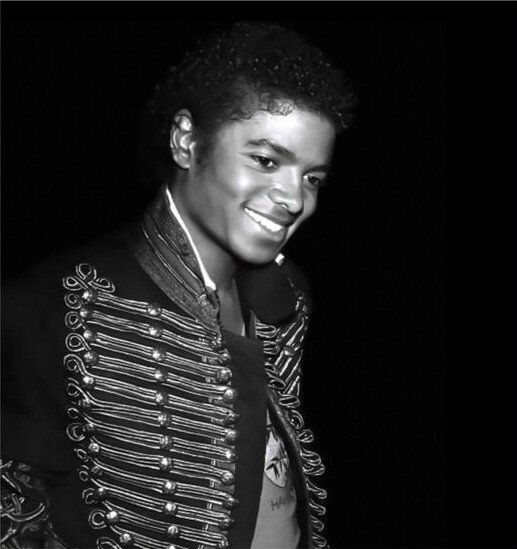 Michael n'est pourtant pas le premier à adopter le style militaire. La veste qu'il porte ce soir de mai 1981 est inspirée de la veste qu'Adam Ant porte dans la vidéo de son titre Kings of the Wild Frontier, en 1980.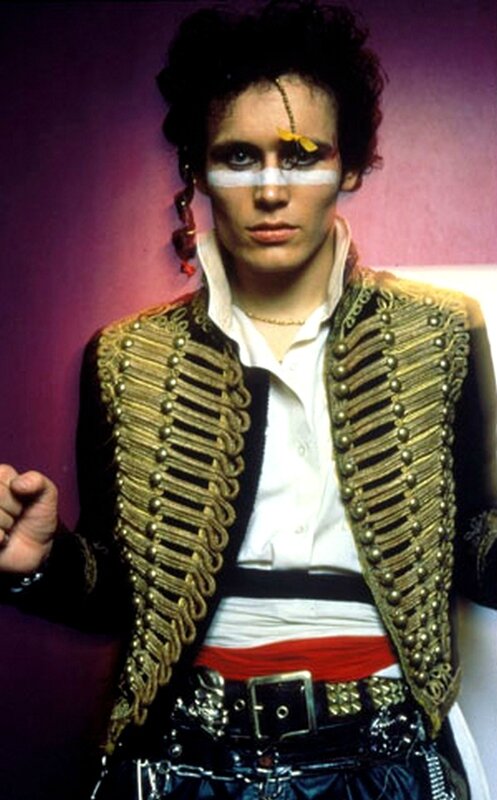 Michael, qui a vu la vidéo, appelle en pleine nuit le rocker anglais, qui croit d'abord à une mauvaise blague de ses musiciens. Il faudra l'intervention de Quincy Jones pour que Ant réalise qu'il s'adresse bien à Michael Jackson. Après lui avoir parlé un peu de son musical, Michael lui avoue qu'il adore sa veste. Ant lui répond qu'il l'a trouvée chez Berman's and Nathan's, un important dépôt de costumes pour le cinéma et la télévision de Covent Garden, à Londres. Ravi d'avoir obtenu ce qu'il voulait, Michael raccroche.
Cette veste de Ant, que Michael adoptera quelques mois plus tard est également celle que David Hemmings portait dans The Charge Of The Light Brigade (La charge de la brigade légère), en 1968.
Avant lui, en 1967, Jimi Hendrix et sa célèbre veste hussard qu'il porte sur beaucoup de ses photos et les Beatles et leur album Sgt. Pepper's Lonely Hearts Club Band lancent le style militaire.
Si le King of Pop n'a donc pas été l'initiateur de ce style, il l'a cependant rendu célèbre et même populaire puisqu'il est aujourd'hui largement adopté chez les couturiers.
Mais chez Michael Jackson, la signification est sans aucun doute autre qu'un effet de mode. Il aime l'opulence de ces tenues, souvent rehaussées de décorations à connotations royales, qu'il porte lors de cérémonies officielles ou au cours de ses nombreux déplacements à travers le monde. Il prend également un grand plaisir à se tenir en tête d'armées des pays qu'il visite, tel un général. Son défilé le plus "mémorable" reste sans doute celui de son teaser HIStory, tourné en 1994.
On peut distinguer trois périodes dans le style militaire du King of Pop.
- Les strass des années 80 avec Bill Whitten
"When I came into the business, the only man in a beaded jacket was Liberace. Nobody had tasty beading for men. Nobody." (2) ("Lorsque j'ai débuté dans le milieu, le seul homme à porter une veste avec des perles était Liberace. Personne n'osait les belles perles pour les hommes. Personne" (Bill Whitten en 1984)
Bill Whitten est le costumier des stars. Il a travaillé au cours de sa carrière avec des noms comme Elton John, Neil Diamond, Lionel Richie ou les magiciens Siegfried and Roy. Il est connu pour avoir créé le gant pailleté de Michael Jackson. Grâce à lui, après la sortie de son album Thriller, Michael Jackson allie la veste hussard à la brillance des perles et du strass.
Il porte ainsi principalement au cours de l'année 1984 quatre vestes inoubliables
-La veste rouge des American Music Awards
- La veste bleue, sans brandebourg, des Grammys Awards que le chanteur portera également pour son passage à la Maison Blanche la même année, aux côtés de Ronald Reagan.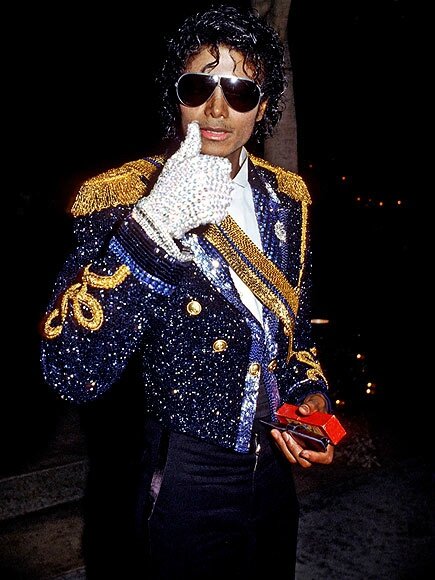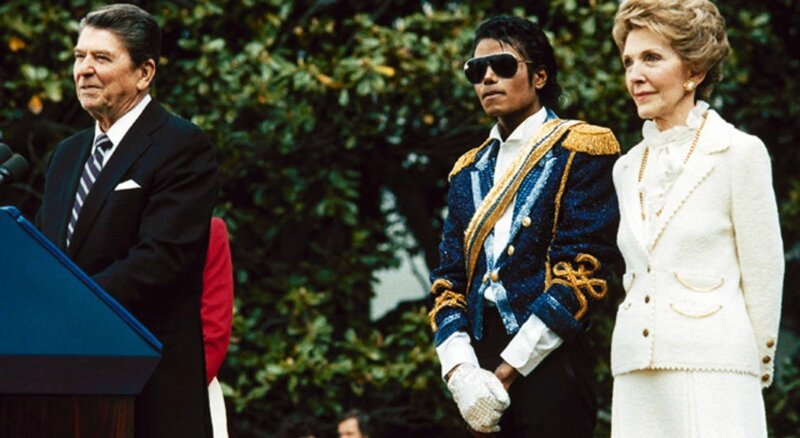 - Une veste bleue également mais avec 7 brandebourgs, que Michael porte pour l'inauguration de son étoile sur le Walk of Fame de Los Angeles, le 10 novembre 1984, et qu'il aura également lors de l'inauguration de sa statue chez Mme Tussaud à Londres en 1985.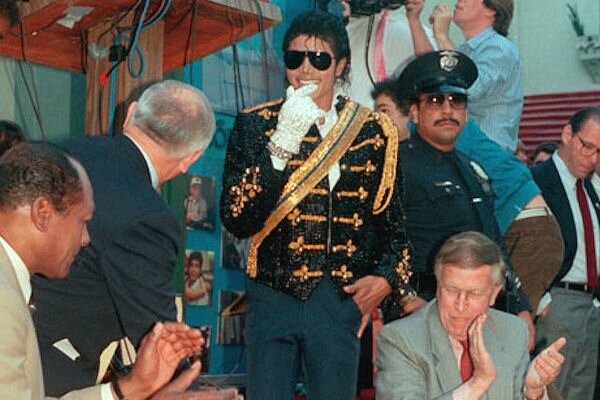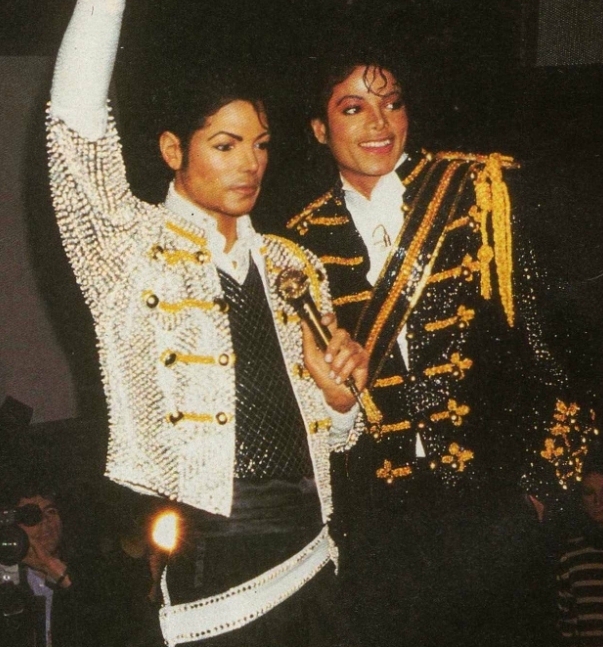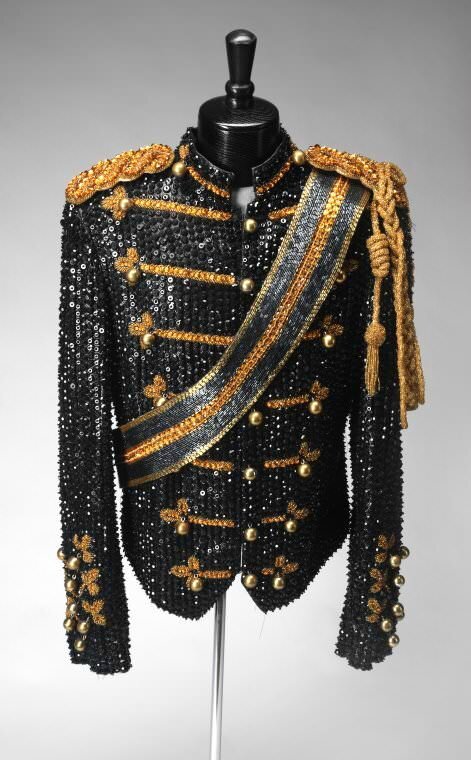 - La veste blanche utilisée pour le Victory Tour
- Le style métallique avec Michael Bush et Dennis Tompkins, de la fin des années 80 aux années 2000
En 1985, sur le plateau du tournage de Captain Eo, Michael rencontre Michael Bush qui, avec Dennis Tompkins, va devenir son costumier personnel jusqu'à sa disparition. La première décennie de leur collaboration marque un changement dans le look de Michael et sur le type des vestes militaires qu'il porte. Fini (ou presque) le strass, Michael adopte un look plus "bad", plus cuir, plus urbain. Les vestes peuvent être accessoirisées d'ornements en métal, de badges, de boucles. La veste du Bad tour en est l'exemple premier ….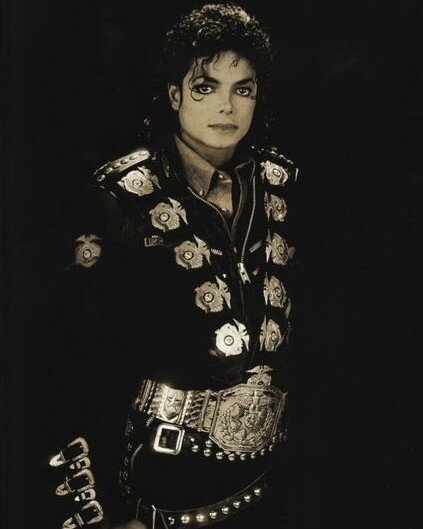 …. Mais il y a également celle de la pulicité L.A. Gear…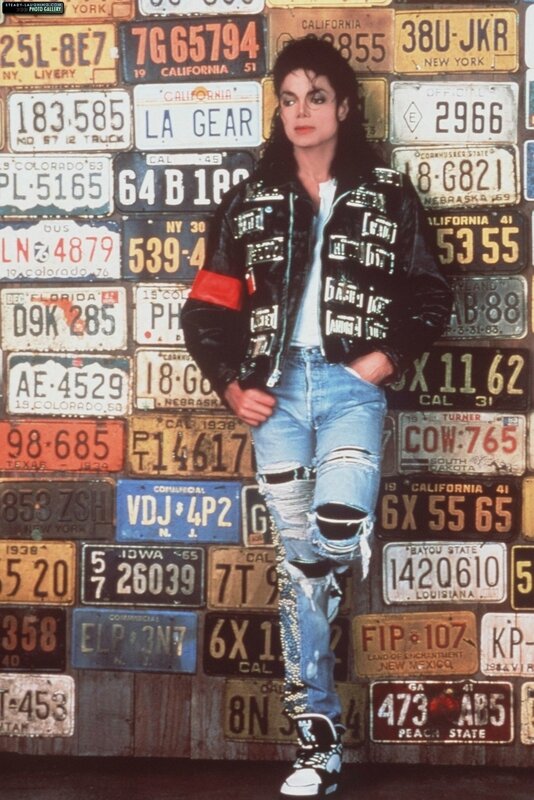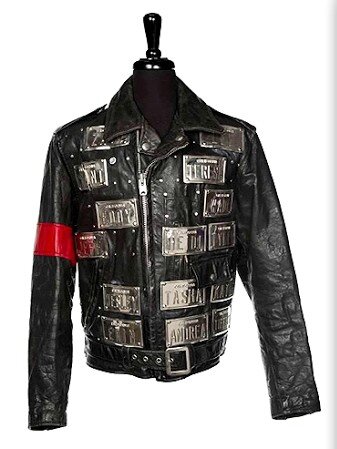 …. Celle de la tournée Dangerous et du SuperBowl ....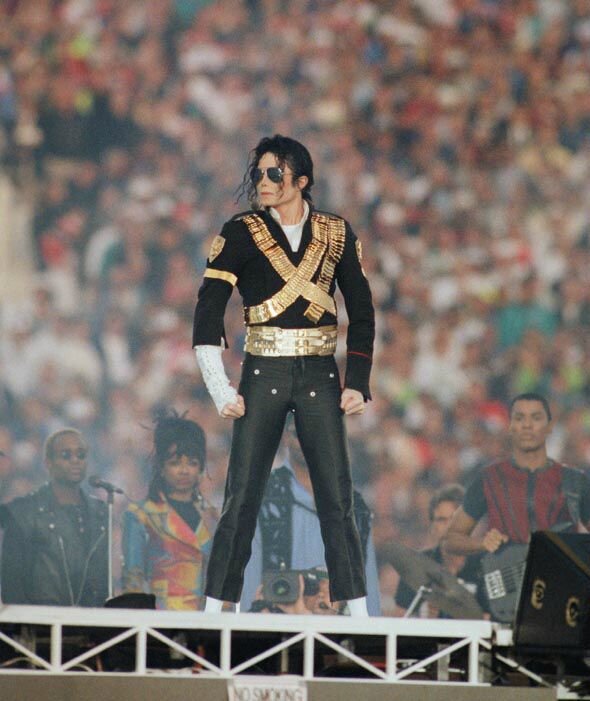 .... les différentes vestes des photoshoots de l'album Dangerous, ici la veste "RAC" (appelée aussi Berlin Coat) et la veste "dinner" ornée de couverts ....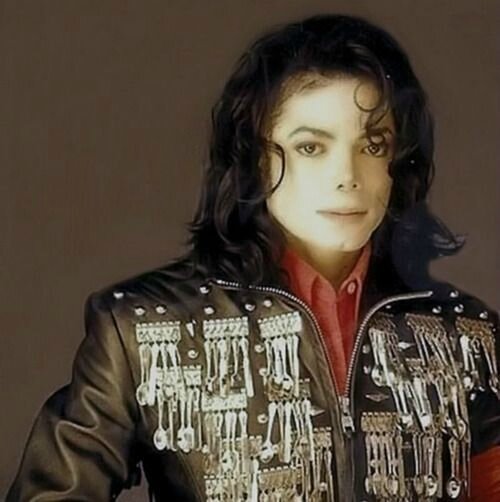 ..... celle du gala de pré-inauguration à la présidentielle de Bill Clinton en janvier 1992 (Clinton Coat)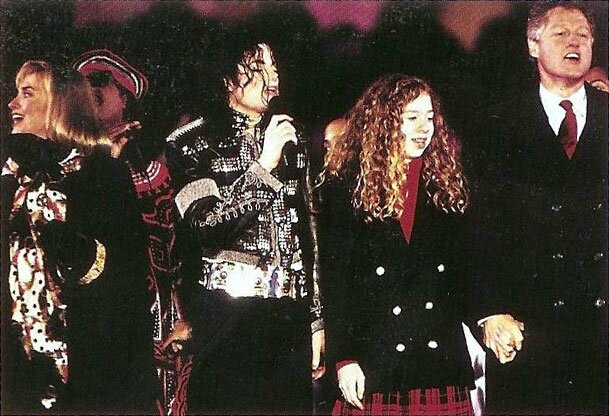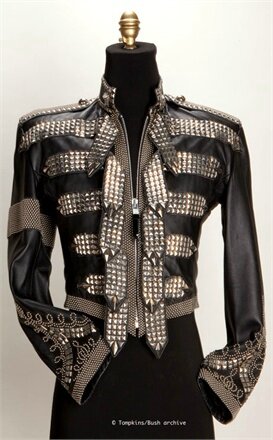 Et bien sur, celle du teaser HIStory en 1994 qui traduit parfaitement le goût pour la mise en scène militaire du King of Pop.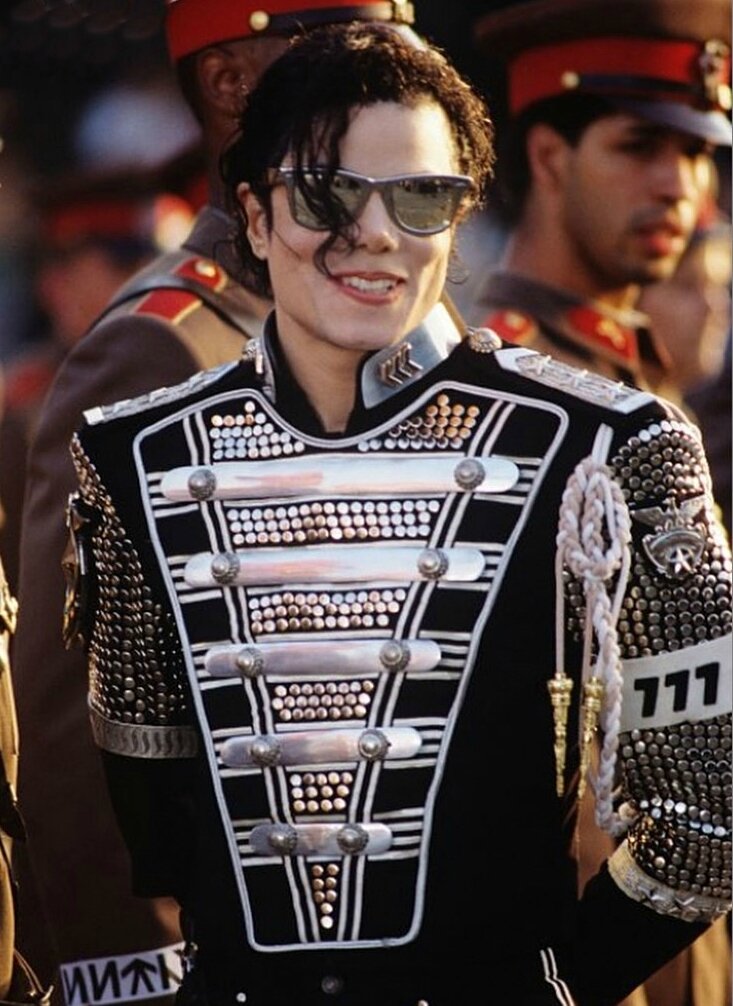 Les vestes du photoshoot pour les singles Who Is It et Will You Be There, bien que vierges de plaque métallique, restent dans le style hussard, avec le rappel aux brandebourgs.
Lors de certaines occasions officielles, les vestes se font plus sobres, plus discrètes mais avec raffinement et élégance.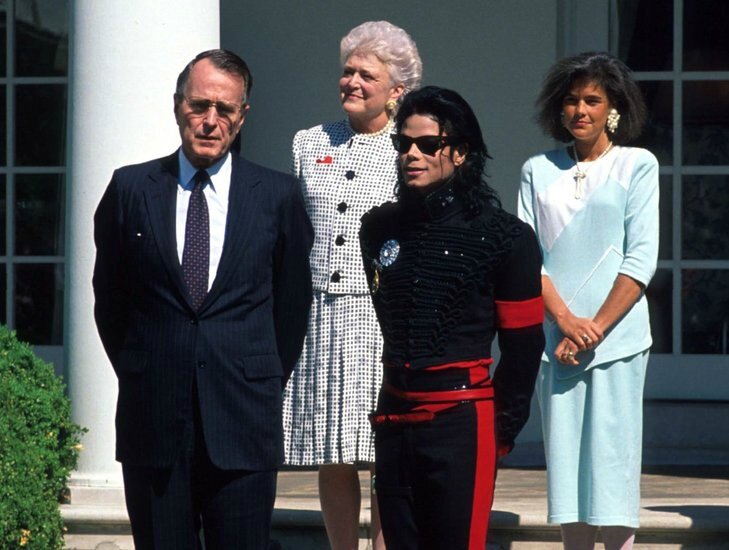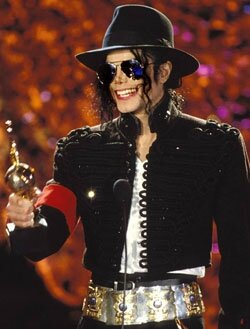 Le détail de la veste que Michael porte lorsqu'il rencontre George W. Bush à la Maison Blanche, en avril 1990 (ainsi que pour les World Music Awards en 1993), révèle la finesse du travail et l'importance de la rencontre : un vêtement digne d'un souverain !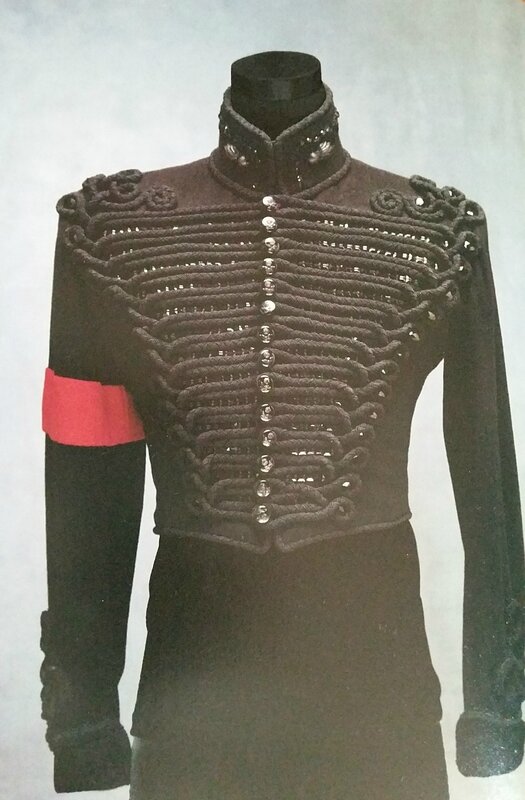 En 1993, pour les 35ème Grammy Awards, Michael porte une veste blanche incrustée d'une centaine de perles (The Pearl Jacket), avec laquelle il recevra des mains de sa sœur Janet The Living Legend Award. Une autre veste digne d'un Roi, sa veste préférée selon son couturier, Michael Bush. La veste qu'il portera également lors de son dernier voyage.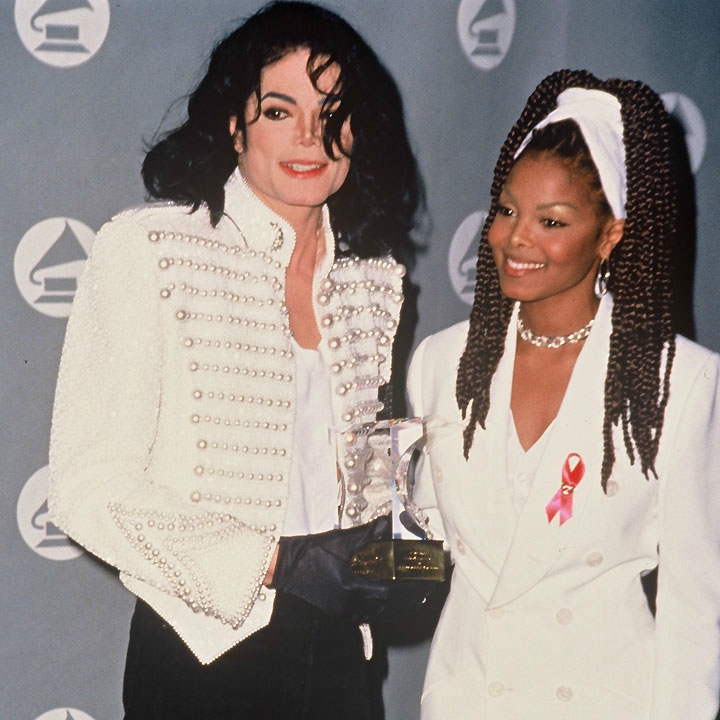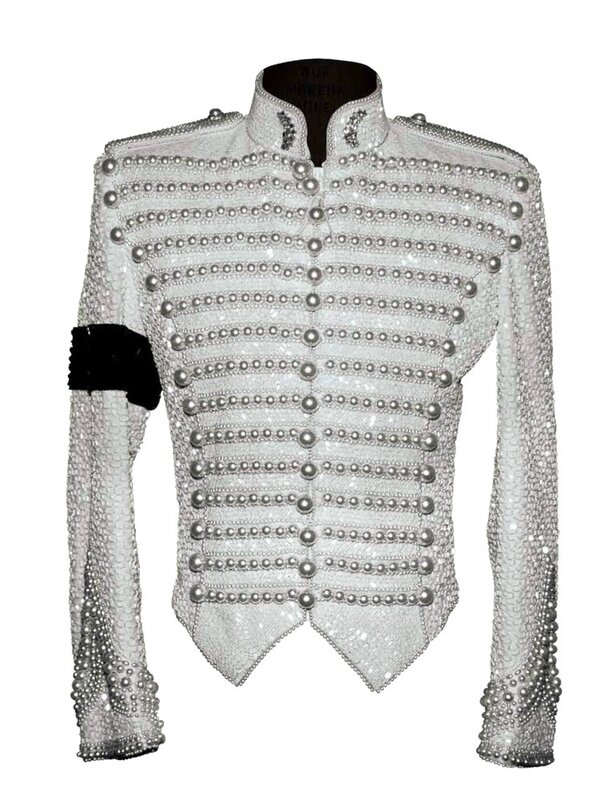 Dans la deuxième partie des années 90, le côté métallisé reste présent pour certains costumes (l'ensemble futuriste et les gold pants du HIStory Tour restent inoubliables !) ou certaines vestes comme celle portée en Afrique du Sud en 1997…
…. mais Michael adopte, au cours de ses visites à travers les pays où passe sa tournée HIStory, des vestes militaires qui lui donne un look de réel cavalier hussard….
Prague 1996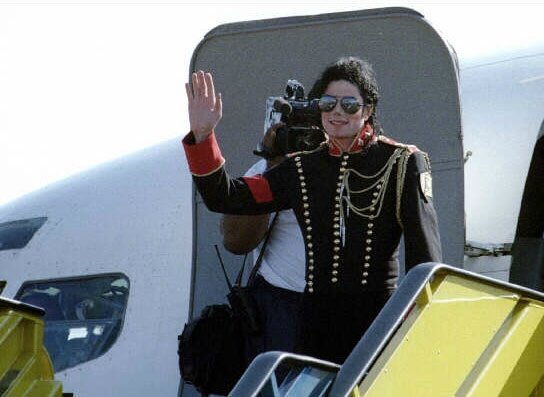 Afrique du Sud 1996
Hawaï 1997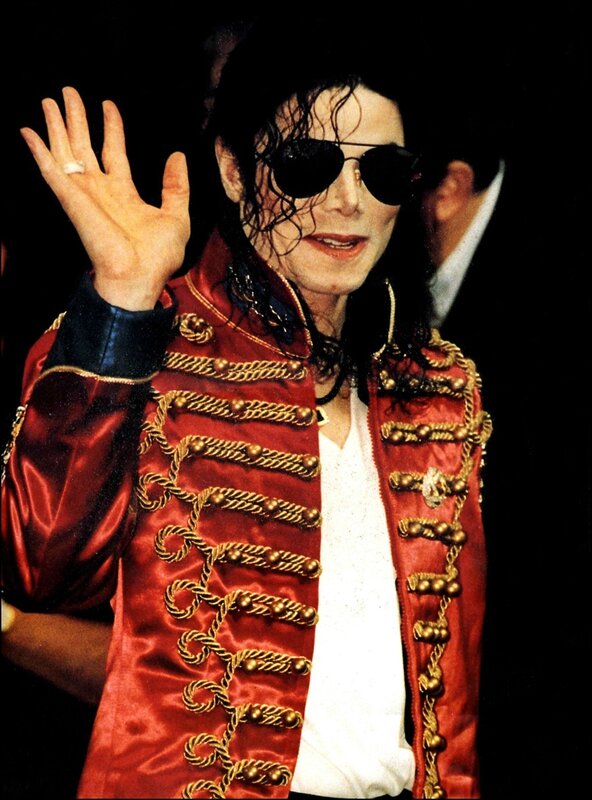 Angleterre 1997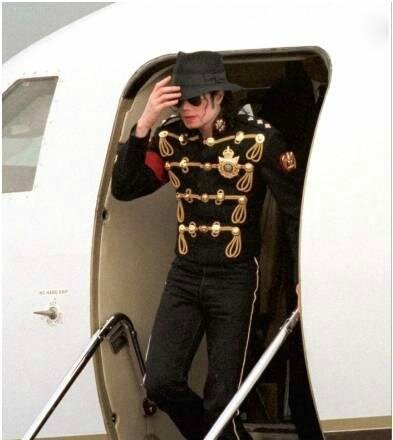 Pologne 1997
…. Avec parfois l'utilisation de strass comme ici pour le final des concerts du HIStory tour, sur le titre HIStory (veste utilisée également en 2002, à l'Apollo)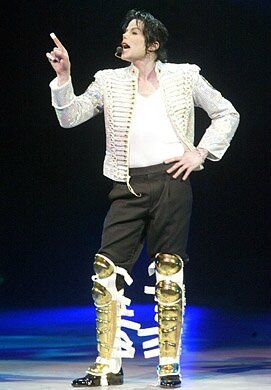 Michael Bush évoque, dans son livre The King of Style, que l'une des plus belles vestes que lui et Dennis Tompkins aient eu à créer pour Michael a été celle qu'il portait lors d'un photoshoot de Jonathan Exley, avec Lisa Marie, en préparation de l'interview télévisée que le couple allait réaliser pour Diane Sawyer en juin 1995.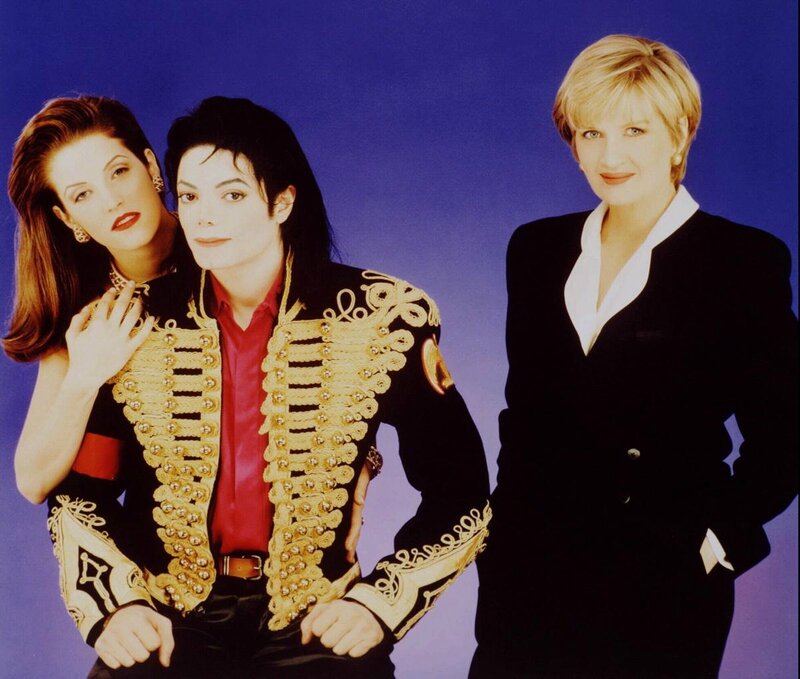 Deux semaines avant la séance photo, Michael a demandé à Bush de visionner une cassette VHS d'un film étranger évoquant une bande de tziganes prenant un pirate en otage et le dépouillant de son manteau bleu recouvert de soutaches en or.
Michael lui dit qu'il veut une veste noire recouverte de soutache.
La soutache est une tresse décorative plate et étroite utilisée très fréquemment sur les costumes militaires pour indiquer le rang de l'officier. Dans le monde de la mode, la soutache sert à couvrir les coutures.
Pour la veste de Michael, Tompkins et Bush ont utilisé plus de métrages de soutache qu'ils ne l'avaient jamais fait sur les autres vestes, entre 13 et 18 mètres. Mais, ce qui rend cette veste unique, c'est l'utilisation de soutache en or, un matériau rare, à 18 carats. Une veste unique. La soutache en or est très peu utilisée de nos jours, seule la robe du Pape en possède.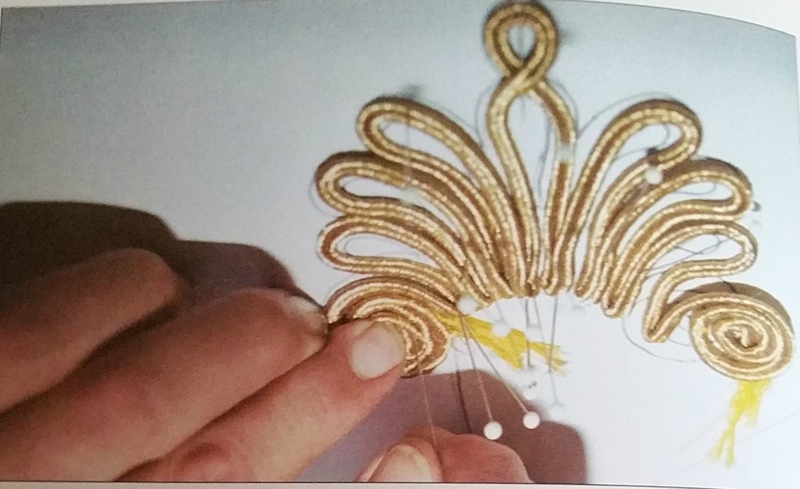 La soutache a également été utilisée pour décorer le dos de la veste. Plus de 80 boutons sur 14 rangées ornent le devant de la veste que Michael portera également lors d'un hommage à Elvis Presley à Memphis en août 1994.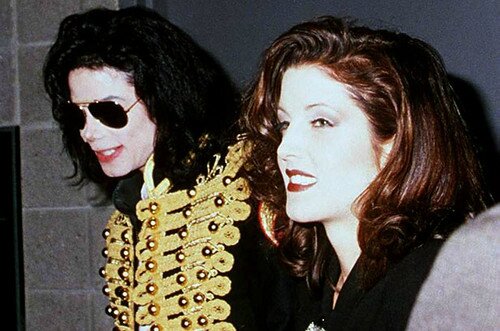 Au cours du procès de 2005, Bush et Tompkins créent chaque jour une tenue différente pour Michael Jackson. Mais plus de veste militaire. Michael est en costume, coloré et d'une élégance extrême, malgré la gravité de la situation.
- Le style Balmain et Givenchy de la fin des années 2000
Après son procès, Michael disparait quelques temps. Il revient sur le devant de la scène en 2007 pour célébrer les 25 ans de son album légendaire Thriller. Le style militaire a laissé la place aux costumes de la maturité, simples et raffinés, et souvent de couleurs sombres.
Lors de la désormais célèbre séance de photos pour l'Uomo Vogue en septembre 2007, Michael rencontre Rushka Bergman. Impressionné par son goût méticuleux pour les vêtements, il fait de cette éditrice de mode d'origine serbe sa styliste personnelle et son consultant créatif. Elle a notamment collaboré, avec des maisons de haute couture, aux costumes prévus pour les concerts This Is It.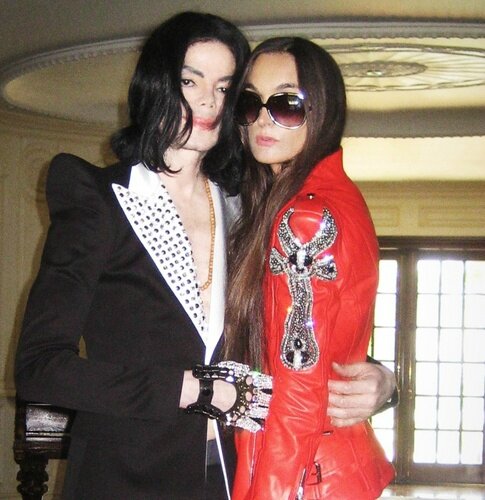 Rushka Bergman est ainsi derrière le look que Michael Jackson adopte au printemps 2009. Une nouveauté dans la manière de se vêtir du King of Pop. Là où, durant deux décennies, ses vêtements ont été créés à la main, réalisés selon ses souhaits, ses envies, inventant lui-même son propre style vestimentaire, si unique et reconnaissable, on lui apporte et propose désormais différentes tenues créées par deux des plus grandes maisons de couture, Balmain et Givenchy, des tenues que d'autres pouvaient porter.
Jusqu'à sa disparition en juin 2009, Bergman côtoie et habille le chanteur. Un style qui peut paraitre surprenant, avec ses vestes à larges épaulettes et des pantalons près du corps mais sexy.
Les vestes rappellent toutefois les vestes militaires des années 90 que Michael aimait porter.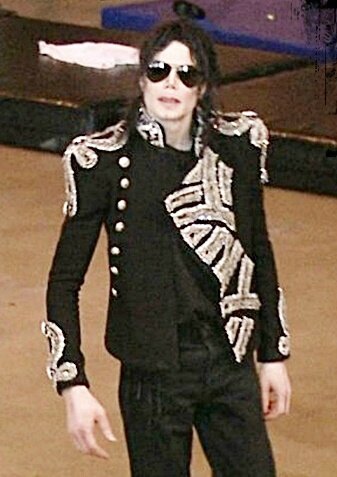 Un style qui influencera la maison Balmain dans ses défilés haute couture ….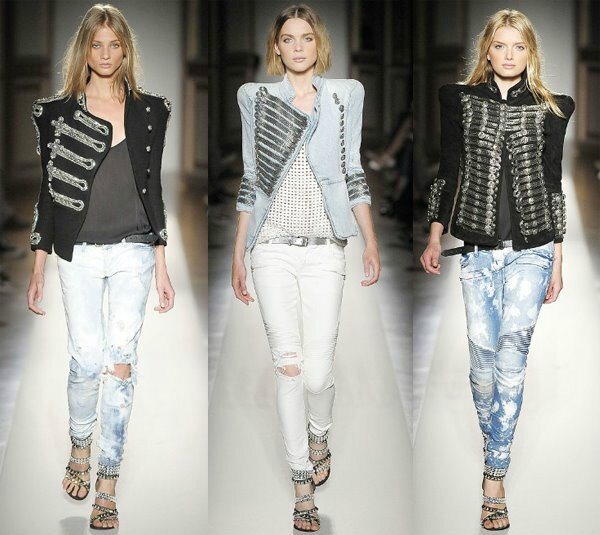 Un style régulièrement repris depuis et qui restera à jamais la marque de Michael Jackson. King of Pop mais aussi King of Fashion !
Note : cet article n'est pas une liste exhaustive de toutes les vestes portées par Michael Jackson
Sources : (1) Wikipedia/ (2) onthisdayinfashion.com/The King of Style, dressing Michael Jackson, Michael Bush/Michael Jackson Style, Stacey Appel
Merci à mes amis facebook pour leur aide sur la photo de 1979 (Michael dans un studio d'Hollywood)