Le site michaeljacksonreel.weebly.com a interviewé Sean Conrad, un DJ qui était au cours des années 60 et 70 en relation avec Russ Terrana, l'ingénieur du son de la Motown. Grâce à lui, Sean s'est retrouvé invité à une fête chez la famille Jackson, en 1973, dans leur propriété d'Encino, au milieu des stars de la Motown. Il évoque Michael et apporte quelques photos personnelles, qui viennent compléter celles que l'on connaissait déjà.
Le carton d'invitation de cette fête a été mis aux enchères il y a quelques années par Julien's Auctions.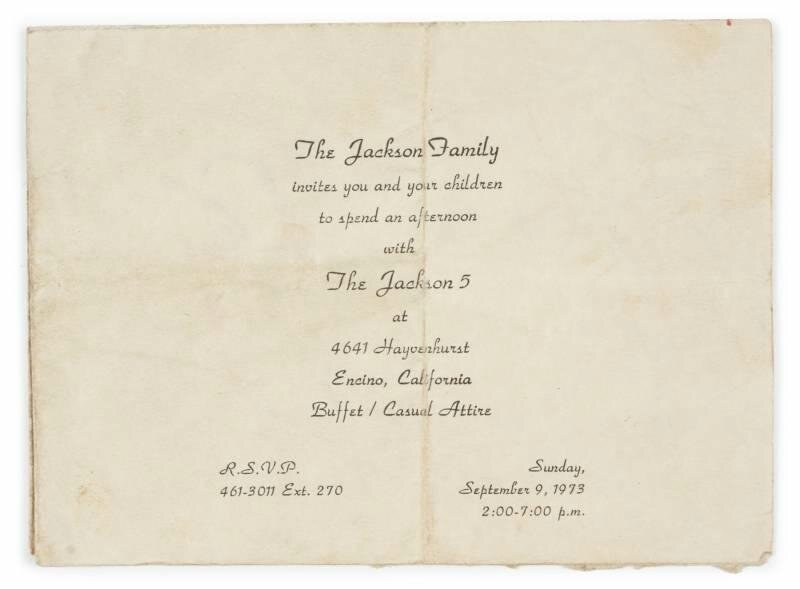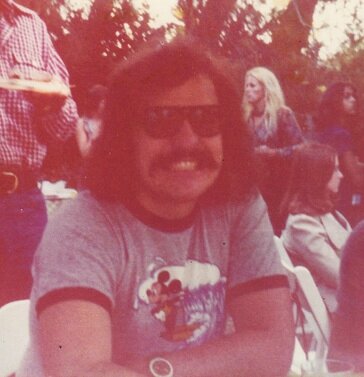 Vous avez travaillé à la radio pendant des années et vous avez accompli beaucoup de choses. Quand commence votre histoire?
J'ai commencé à travailler à WING Radio à Dayton dans l'Ohio, quand j'étais au lycée. WING était sur 1410 et à l'époque c'était la station de radio numéro un à Dayton.
Votre livre Kickin 'Out The Jams revient plus en profondeur sur l'histoire de votre vie, mais il y a des détails vraiment importants qui méritent d'être évoqués - comme votre amitié avec l'ingénieur du son de la Motown, Russ Terrana. Comment vous êtes-vous rencontrés?
C'est une histoire vraie ... Quand je vivais à Detroit, je dirigeais alors un groupe et j'avais besoin d'un studio pour les faire d'enregistrer. J'ai donc ouvert l'annuaire téléphonique, laissé tomber mon doigt sur un nom et je me suis dit, "J'appellerai le studio sur lequel mon doigt tombera". Et mon doigt a atterri sur Terra Shirma, c'était le studio d'enregistrement de Russ, de son frère et d'un de leur copain. Je me suis aperçu qu'il y avait alors à Detroit des tonnes de studios d'enregistrement, presque un sur chaque coin de rue. J'ai appelé Terra Shirma, parlé à Ralph et lui ai dit: "J'ai un groupe que je veux enregistrer. Combien ça va me coûter à l'heure?" Quand j'ai fait venir le groupe, Russ était mon ingénieur, et c'est ainsi que nous nous sommes rencontrés [c'était au cours de l'année 1968]. Nous sommes immédiatement devenus amis et ça dure depuis plus de 50 ans maintenant.
Sean Conrad à Encino le 9 septembre 1973 (photo: S. Conrad)
Russ est sans aucun doute une personne incroyable avec un important héritage Motown. Dans le même temps, votre carrière à la radio s'est faite sa propre histoire musicale. Comment votre histoire s'est-elle liée à celle de la Motown?
La Motown est tellement importante pour moi parce que la musique représente une grande partie de ma carrière à la radio. Russ a été l'un de leurs ingénieurs du son et il a travaillé sur un grand nombre des hits de la Motown, mais nous étions déjà des amis proches au moment où la maison de disques a déménagé à Los Angeles.
Après avoir quitté Detroit, j'ai emménagé à Los Angeles. Peu de temps après, peut-être 6 ou 8 mois plus tard, Berry Gordy a déplacé la Motown à Los Angeles. Russ et moi étions ensemble à Detroit, puis nous nous sommes retrouvés à Los Angeles, et avons toujours été amis depuis.
A l'époque, j'étais le directeur de programme pour la KHJ Radio à Los Angeles, et je passais constamment les succès de l'époque et un grand nombre d'entre eux étaient des artistes Motown. Russ m'appelait de temps en temps et me disait "Hey, viens au studio! On est en train d'enregistrer Smokey Robinson". C'est ce genre de souvenirs spontanés, c'était amusant et c'est toujours génial de pouvoir les évoquer.
Russ était et sera toujours un ami unique. Il est tellement gentil. J'adore ce gars. Il est comme mon frère.
Parlons un peu musique. Vous avez passé beaucoup de disques des Jackson 5. Y a-t-il des titres qui se démarquent pour vous que vous aimiez jouer à la radio?
Je me souviens particulièrement de Dancing Machine à cause de Russ. J'étais sur KHJ Radio à l'époque, Russ était l'ingénieur d'enregistrement de la chanson. Je me souviens qu'il m'a dit un jour, "je dois y aller, mec. J'ai une session ce soir avec les Jackson 5 pour une chanson intitulée Dancing Machine. Ca va être un grand succès". Russ le savait. Je veux dire il sentait que ça allait être un monstre.
Photo : Sean Conrad
Vous avez rencontré Michael et la famille Jackson après que le groupe ait terminé l'enregistrement de Dancing Machine. Racontez-nous.
J'ai rencontré Michael pour la première fois à la fête pour la fin de l'enregistrement de Dancing Machine qui avait lieu dans la maison familiale. C'était un samedi [il s'agit en fait d'un dimanche], en tout début d'après-midi, par une belle journée ensoleillée. Quand nous, les invités, sommes arrivés là-bas, les tables étaient toutes installées dans la cour et autour de la piscine, et il y avait de la nourriture partout. Beaucoup de stars étaient présentes aussi. La réception a duré environ cinq heures et on s'est bien amusé.
Que vous rappelez vous d'autres à propos de cette fête?
Je me souviens que c'était une grande famille! Ils étaient nombreux, mais ils étaient tous très normaux. Les plus jeunes enfants, les enfants Jackson et d'autres enfants présents ce jour-là, couraient partout autour de la piscine et s'amusaient. Sauf Randy qui était en béquilles.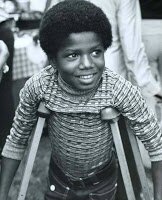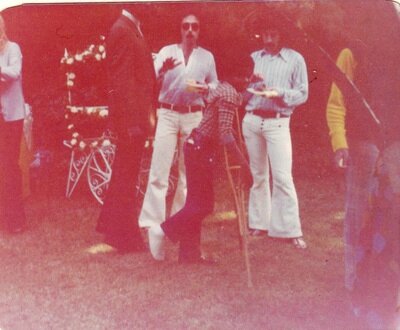 Photo: Sean Conrad
Vous n'auriez jamais imaginé que les Jackson 5 étaient des grandes stars. Michael était le centre d'intérêt de tout le monde ce jour – là, il concentrait l'attention mais il était très poli. Ils agissaient tous normalement. Et comme je l'ai dit, jamais on n'aurait on aurait pu deviner que les Jackson 5 étaient si célèbres parce qu'ils profitaient simplement de la fête comme tout le monde. Michael était cependant vraiment timide, c'était juste un jeune adolescent.
Extrait du livre de Sean Conrad, Kickin' Out The Jams, disponible sur Amazon:
Russ Terrana: "Hey Sean, tu veux aller à une fête? "
Sean Conrad: "Est-ce que j'ai déjà dit non pour faire la fête? C'est qui? C'est quoi ? C'est où? C'est quand "?
RT: " C'est chez Joe Jackson, à Hayvenhurst. C'est une fête familiale, nos femmes et nos enfants peuvent venir aussi. "
SC: "Toute la famille Jackson va être là? "
RT : "Oui, tout le monde. C'est un barbecue décontracté près de la piscine. Nous venons de terminer l'enregistrement de 'Dancing Machine' on va fêter ça ".
C'était un chaud après-midi au cœur de l'été californien quand tous les huit, Russ, Joanne, Beth et moi, mes enfants, Rhonda et Robyn, et les enfants de Russ, Terry et Christy, sommes arrivés dans l'allée de la maison des Jackson 5. Nous avons marché jusqu'à la cour, à l'arrière de la maison, qui était entourée d'un magnifique bosquet d'arbres. Nous nous sommes installés à une table qui allait devenir notre quartier général pour le reste de l'après-midi. La cour avait été décorée pour la fête, c'était incroyable. Il y avait de grandes tables rondes dispersées tout autour de leur piscine, où il y avait deux dauphins peints au fond.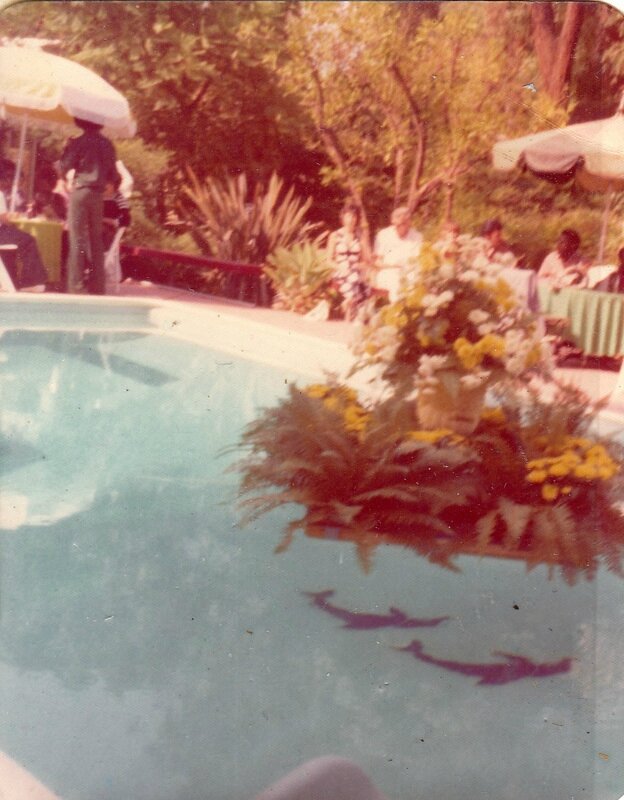 Photo: Sean Conrad
Toute la famille Jackson était là, y compris les parents Katherine et Joe, ainsi que du personnel et l'équipe de la maison de disques et les amis de la famille.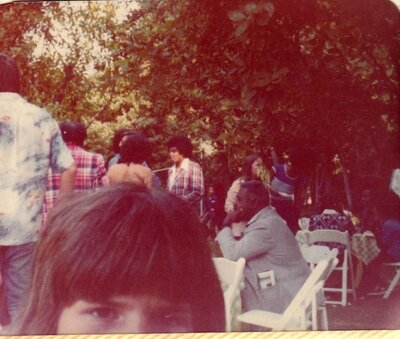 Photo: Sean Conrad
Il y avait aussi beaucoup de jeunes enfants qui jouaient autour de la piscine et dans la salle de jeux (parmi eux il y avait Janet Jackson). Nos quatre enfants ont pu se faire prendre en photo avec Michael ce jour là aussi. (Imaginez comment nos enfants âgés de 6 à 10 ans se sentaient après ça !)
Photo: Sean Conrad
Sources: michaeljacksonreel.weebly.com (traduction: omjfootsteps. Thank you Christina for your work and for letting me use it). Photo credit to Sean Conrad
Vidéo et photos de ce jour. Voir aussi l'article ici