Après son séjour en Virginie, Michael Jackson s'installe quelques mois à New York et chez les Cascio dans le New Jersey. Il revient quelques semaines à Los Angeles, en novembre 2007, pour assister à l'anniversaire du Révérend Jesse Jackson puis retourne à Las Vegas peu avant les fêtes de Noël.
Il séjourne alors pendant deux semaines dans une des suites du complexe Green Valley Ranch ….
…. Avant d'occuper la suite Hugh Hefner de l'hôtel The Palm, la suite la plus chère qui offre une vue imprenable sur Las Vegas, que George Maloof, le propriétaire du Palm, lui laisse à sa disposition gratuitement.
Michael et ses enfants seront ensuite déplacés dans une suite plus petite. C'est pendant ce séjour au Palm que Michael occupe les studios du complexe pour peaufiner son album anniversaire Thriller 25, qui sortira quelques semaines plus tard.
Au milieu du mois de janvier 2008, Michael emménage dans une maison située en périphérie du Strip de Las Vegas. La villa du 2710 Palomino Lane ressemble à une hacienda méditerranéenne. "Hacienda Palomino" était d'ailleurs le nom de cette propriété désormais connue sous le nom de Thriller Villa, depuis le passage de son célèbre et dernier locataire.


Construite au début des années 50 au Mexique puis déplacée brique par brique jusque dans le Nevada, elle n'était au départ qu'une simple maison de ranch. Au milieu des années 90, son troisième propriétaire, Horst Schmidt reconstruit et étend la résidence principale qui offre désormais plus de 2 500 mètres carrés de surface habitable (plus une maison d'invités de presque 300 mètres carrés) sur un terrain de près de 6900 mètres carrés.
En 2004, après la mort de Schmidt, Aner Iglesias, un homme d'affaire également consul honoraire du Salvador pour le corps consulaire du Nevada, achète la propriété qu'il louera au King of Pop par le biais de Zar Zanganeh, l'agent immobilier du chanteur. Elle est aujourd'hui en vente pour 9,5 millions de dollars.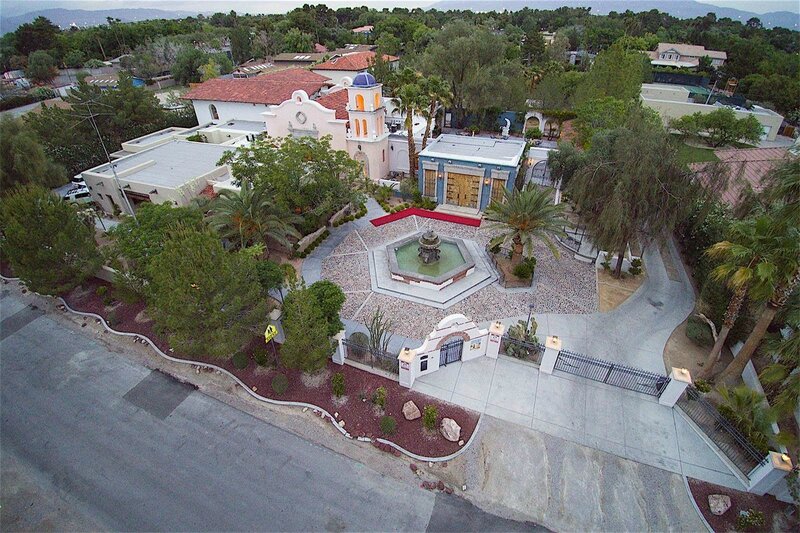 Comme la précédente maison louée par Michael Jackson à Las Vegas, celle-ci est au bord de la route, ce qui a l'époque déplait à ses gardes du corps : "Dès qu'il [Michael Amir] m'a parlé de l'endroit, j'ai su de quelle maison il parlait. J'étais passé devant à quelques reprises et je savais qu'elle était disponible mais je n'y avais jamais prêté attention car je savais que Mr Jackson ne l'aurait pas choisie. La maison était une propriété type hacienda espagnole sur Palomino, à l'ouest de Rancho Drive, au nord d'où était la maison de Monte Cristo. Je connaissais le quartier, ce n'était pas l'idéal. Les maisons voisines étaient très proches et Rancho est une rue très passagère, ce qui signifiait beaucoup de circulation et de curieux." (1)
En effet, le portail en fer de la propriété est à même la route. Il reflète l'ambiance espagnole qui règne dans la maison, avec le nom Hacienda Palomino inscrit sur le mur.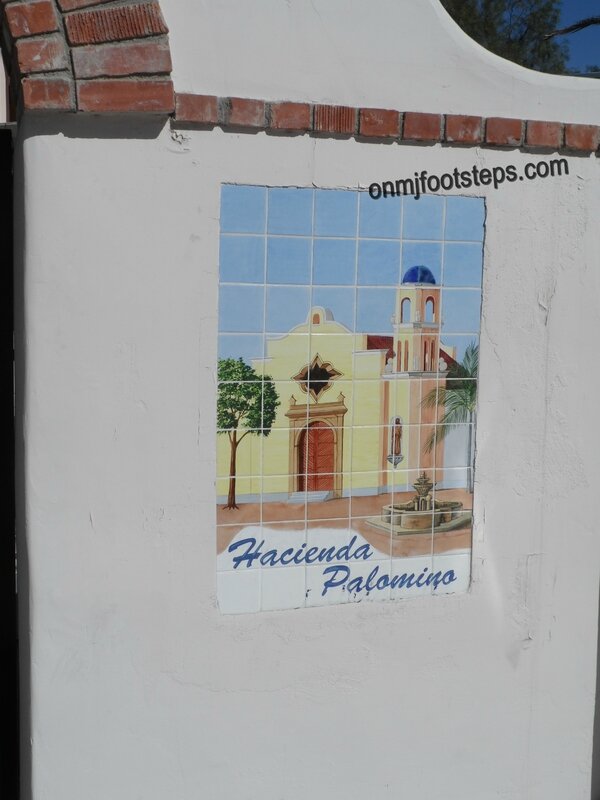 Une imposante fontaine, visible de la rue, trône au milieu de l'allée circulaire pavée qui mène à l'entrée de la maison. Cactus et palmiers rappellent que la ville du péché est au beau milieu d'un désert.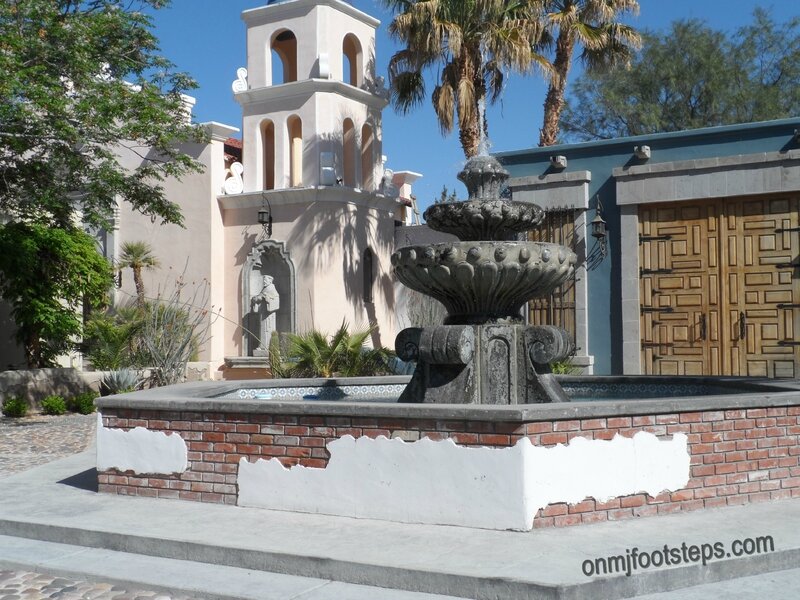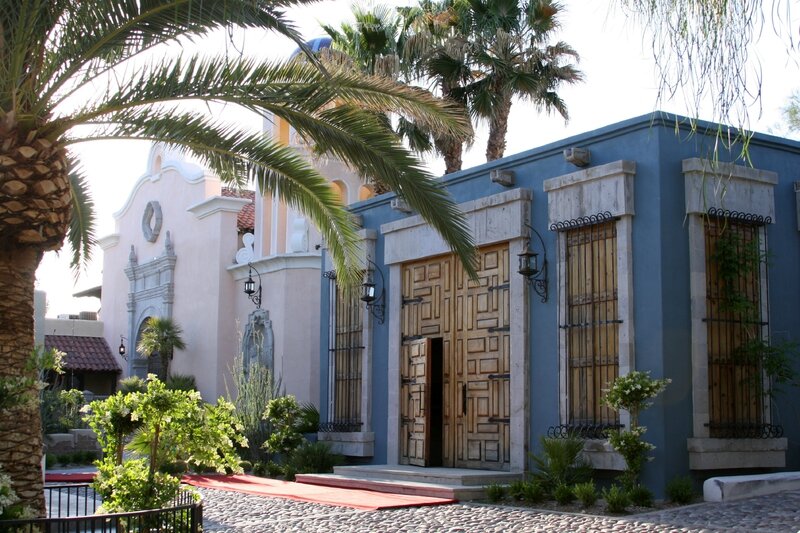 La maison comprend sept grandes chambres, douze salles de bains, plusieurs coins bar, une cuisine d'été, une chapelle et un sous sol avec une galerie d'art privée. Petit tour du propriétaire !
L'entrée principale (The Foyer)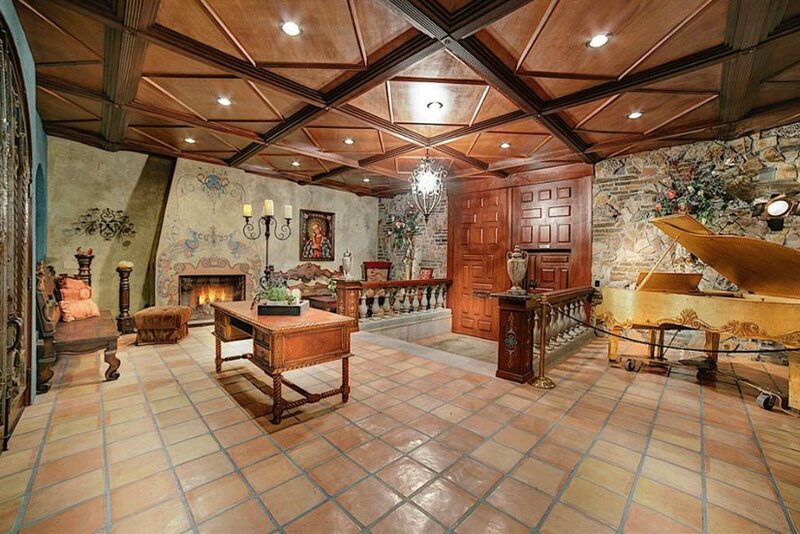 L'imposante porte en bois de l'entrée s'ouvre sur un grand vestibule avec cheminée et plafond en bois. A gauche de l'entrée, un portrait grandeur nature de Michael Jackson, assis nonchalamment sur son fauteuil rouge qu'il avait à Neverland, repose à côté d'un piano finement décoré. Tout est fait pour rappeler la présence de la star dans les murs.
Le grand salon
Selon l'agence immobilière chargée de la vente de la maison, cette immense salle, pouvant accueillir près de 70 invités lorsqu'elle est convertie en salle à manger, était la pièce préférée de Michael Jackson. Elle est désormais une salle hommage au Roi de la pop, avec son portrait bien évidence sur la cheminée en pierres massives. Avec son plancher bois, des poutres apparentes au plafond et un superbe lustre en verre Murano, elle est la plus belle pièce de la propriété qui a accueilli ces dernières années plusieurs réceptions mondaines.
The King's Courtyard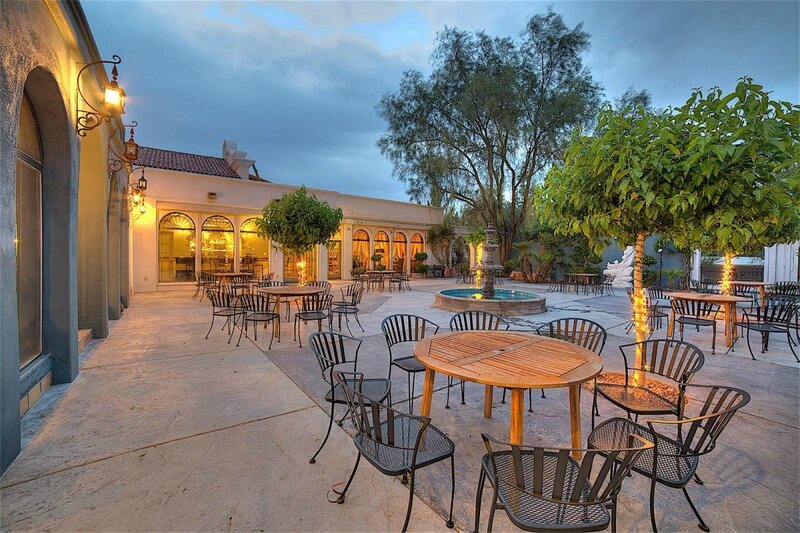 Les fenêtres en arc du foyer et du grand salon donnent sur un grand patio, The King's courtyard (la cour du Roi) qui peut accueillir près de 300 invités. Protégée des regards extérieurs, cette cour renferme une fontaine et une statue en marbre, Los Hijos de La Luna, représentant des enfants grimpant sur un croissant de lune….vous avez dit Neverland ?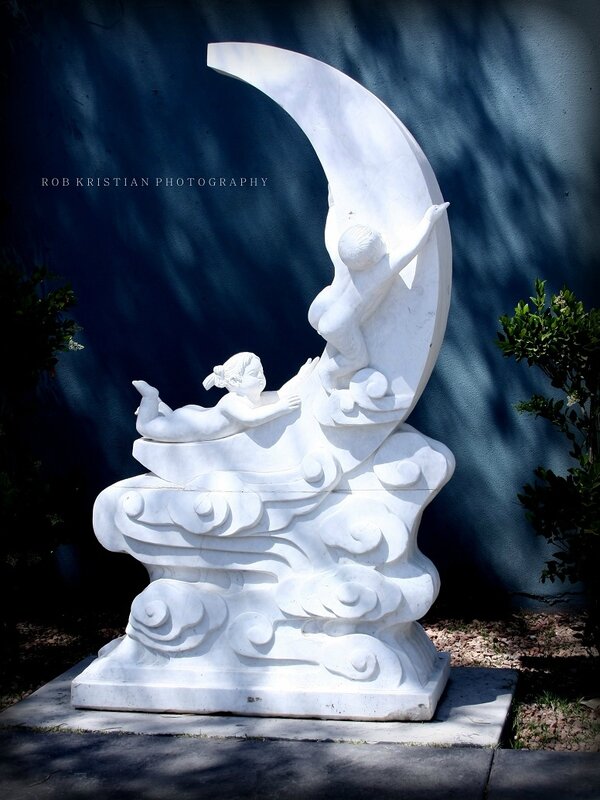 Le Havana Cigar Bar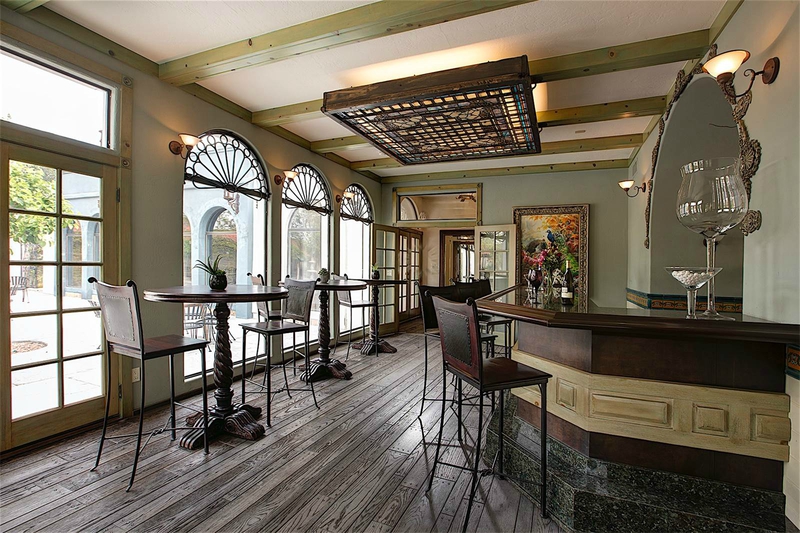 Plusieurs coins bars ont été aménagés dans la maison. Dans la continuité du grand salon, le Havana Cigar Bar dont les fenêtres donnent également sur la cour du Roi, permet de se retrouver dans un endroit plus intime.
La cuisine
La cuisine principale au ton vert émeraude, qui évoque le thème méditerranéen, et ses poutres apparentes aurait été laissée à l'identique de celle trouvée par le chanteur en 2008.
Une partie salle à manger jouxte cette pièce conviviale.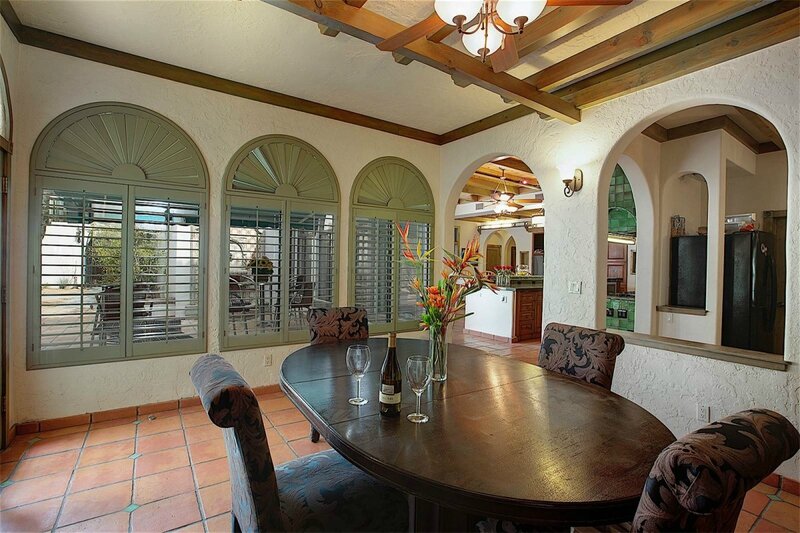 La grande pièce donne sur une cuisine d'été extérieure avec barbecue et un patio qui appelle à la détente, au milieu des cactus et d'espèces rares d'arbres.
Le bureau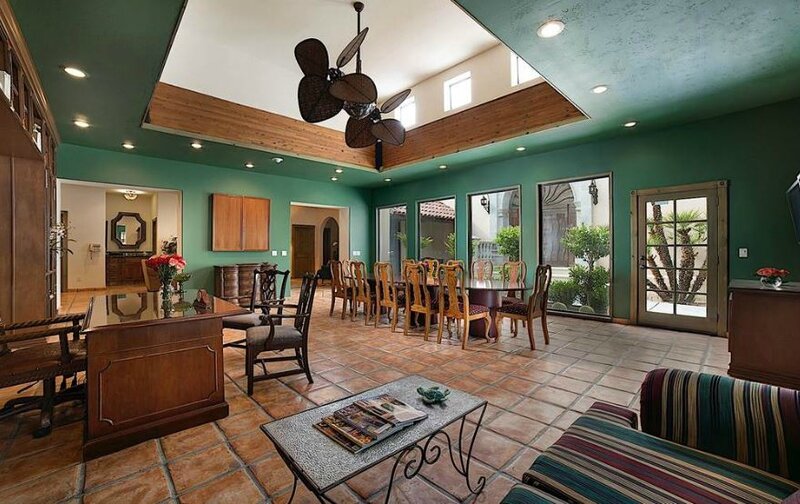 Un bureau qui fait également office de salle de conférence, The We Are The World Conference Room ( !) se trouve également au rez-de-chaussée avec un accès sur l'extérieur. Elle permet d'accueillir une soixantaine de personne ou vingt personnes à la table de conférence. Des photos de Michael avec des leaders mondiaux seraient exposées dans cette pièce.
Les chambres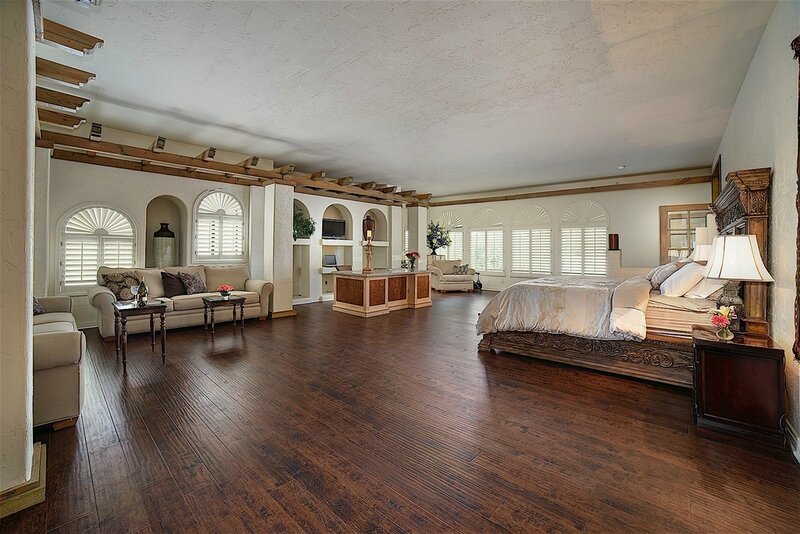 A l'étage, la chambre de maître (Master Bedroom) a été laissé telle que Michael Jackson l'avait occupée. La suite principale dispose de tout ce qu'un artiste pourrait avoir besoin : Un miroir géant qui serait celui devant lequel Michael répétait ses pas de danses, un bar privé....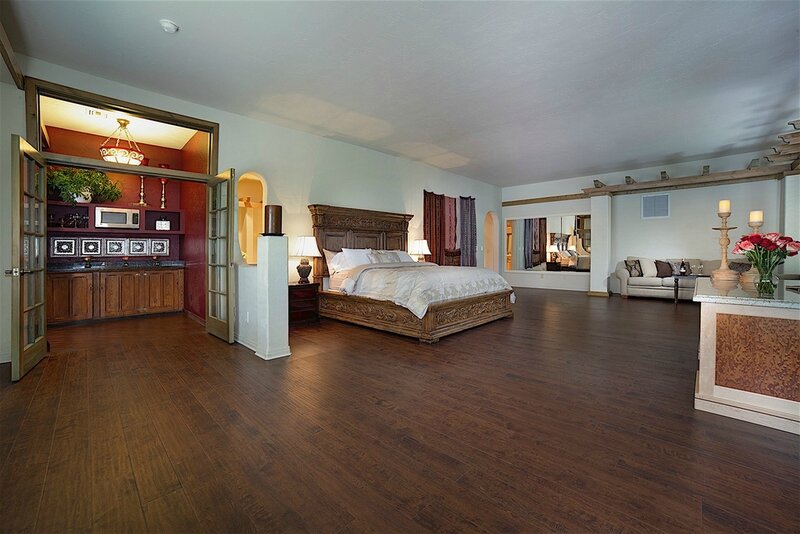 ... Une salle de bains aussi grande qu'un appartement.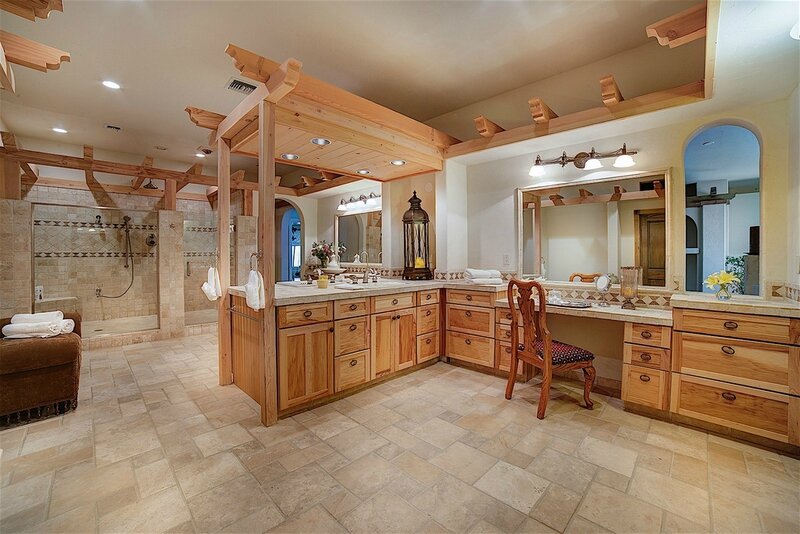 Et un salon privé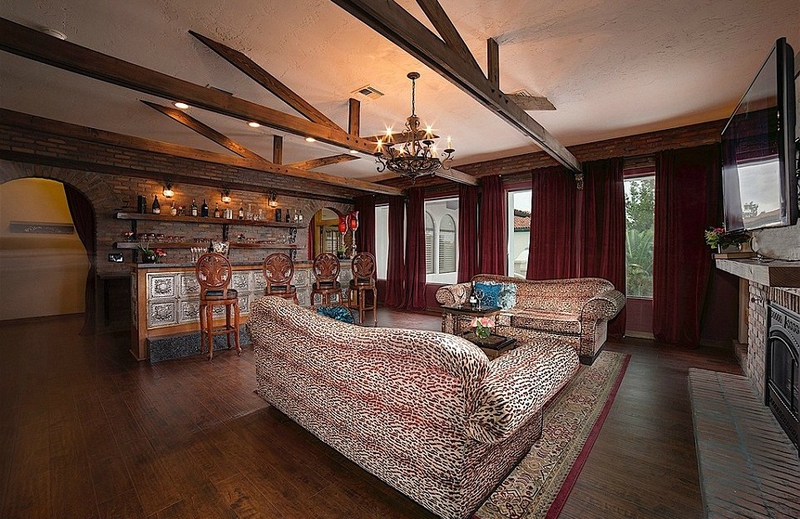 Ces appartements privés occupent une partie de l'étage.
Les autres chambres (dont une près du bureau) ou salles de bains sont tout aussi spacieuses, à l'instar de celles-ci.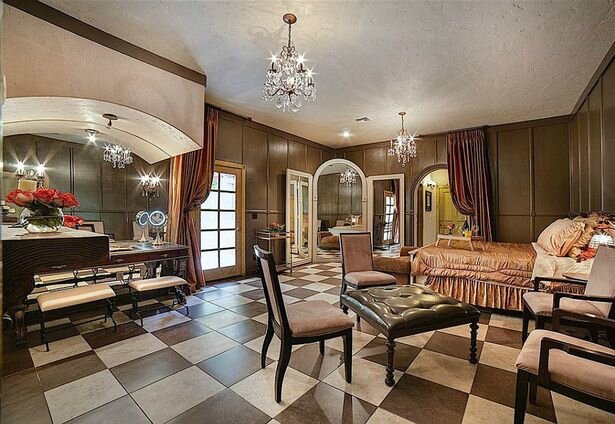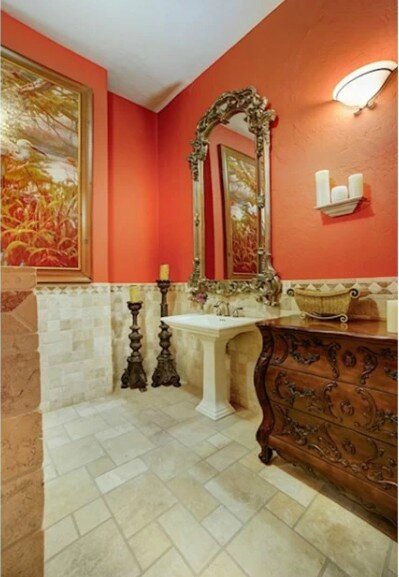 La Chapelle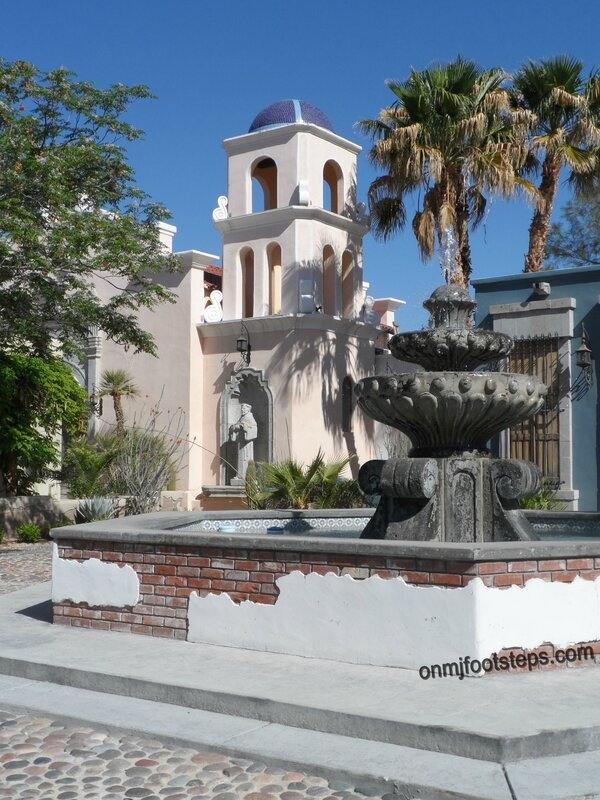 L'originalité de cette propriété vient dans le fait qu'elle possède une vraie chapelle, avec un clocher. Rebaptisée The Neverland Chapel (!), elle peut accueillir jusqu'à 70 personnes. Avec son énorme porte en bois (qui a longtemps été une fausse entrée, notamment au cours du séjour de Michael) rappelant l'époque médiévale, la statue de Saint François d'Assise, un religieux catholique italien notamment saint patron des animaux, son plafond peint à la main représentant le ciel et son lustre central en forme de couronne d'épines, cet endroit a semble-t-il été un lieu où Michael stockait certaines de ses œuvres d'art. Aujourd'hui, elle est utilisée comme un théâtre, son balcon et sa décoration le suggérant, accueillant des évènements mondains. L'acoustique est également parfaite pour en faire un studio d'enregistrement.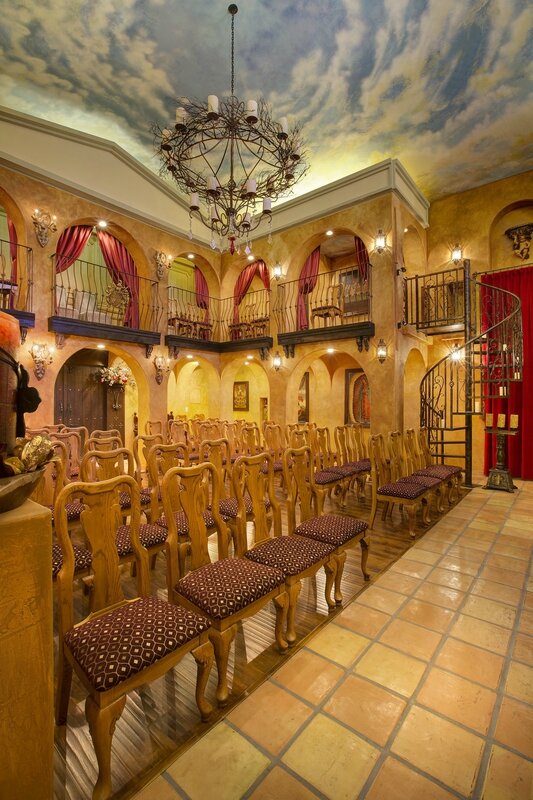 The Artist's Vault (la galerie privée)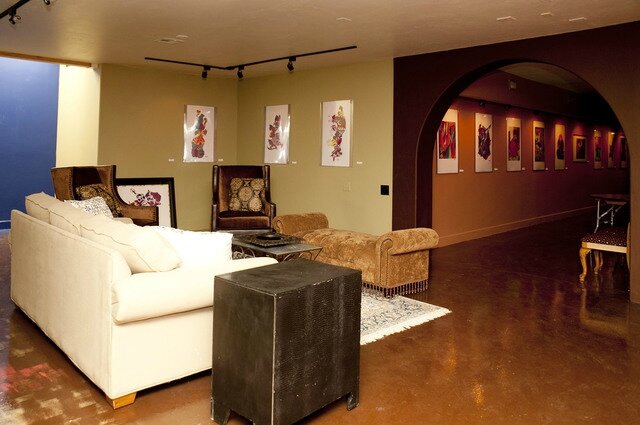 L'autre caractéristique de cette villa est de posséder une galerie d'art en sous-sol, ainsi qu'une suite privée avec cuisine (un sous-sol auquel on accède par un tunnel que le chanteur empruntait pour entrer et sortir de la propriété sans être importuné par les paparazzi). Il semble d'ailleurs que ce soit ce sous-sol et cette galerie qui aient été déterminants dans le choix de Michael pour cette maison.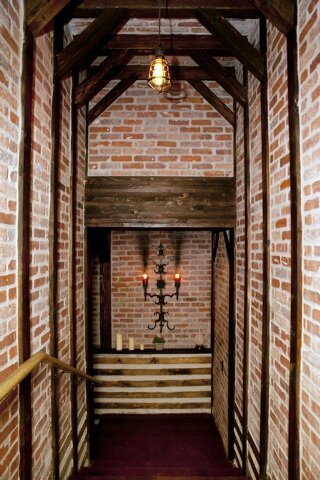 La galerie de 790 mètres carrés fait le lien entre la maison principale et la maison des invités dans laquelle Michael Jackson aurait entreposé son importante collection d'œuvres d'art, estimé à 600 millions de dollars, pendant qu'il résidait dans la maison.
La voûte accueille aujourd'hui des collections et des évènements privés.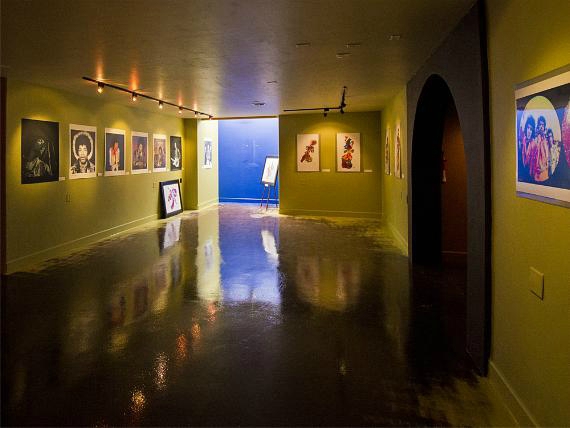 La propriété comprend également un terrain de tennis privé et des écuries.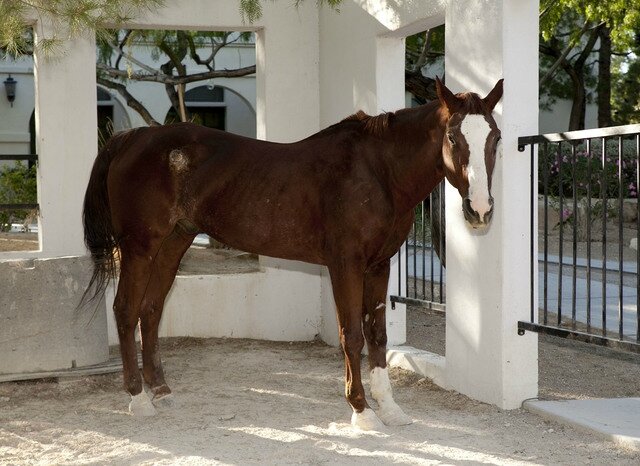 Zar Zanganeh, l'agent immobilier du chanteur, explique que lorsqu'il a commencé à travailler avec Michael Jackson pour lui trouver une maison à louer, celui-ci lui a demandé de chercher une villa meublée (la maison de Monte Cristo) car il n'avait pas l'intention de déménager toutes ses affaires personnelles. Mais "cette maison de Palomino Lane était différente car je pense que Michael s'y sentait bien. Il a amené ses effets personnels, contrairement à l'autre maison. Il a fait venir ses œuvres d'art de Neverland, en a couvert les murs et en a stocké dans la galerie. Il a passé beaucoup de temps dans cette maison." (2)
L'avis de ses gardes du corps est toutefois complètement différent : "Les mois qui ont suivi le séjour au Palm n'ont pas été des moments heureux. En surface, les affaires prenaient le pas sur le quotidien, mais l'humeur de la maison était un peu sombre. Dans la maison de Monte Cristo, même si celle-ci avait pas mal de problèmes, il y avait au moins un effort pour en faire un vrai "chez soi" : construire une bibliothèque, un studio de danse et une salle pour faire classe aux enfants. A Palomino ? Il n'y avait pas de studio, pas de salle de classe, pas de bibliothèque. Ce n'était pas une maison." (1)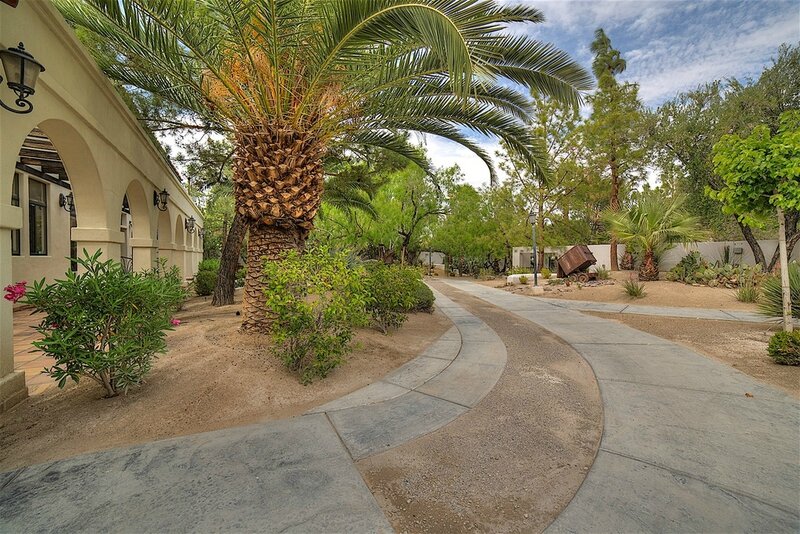 Michael aurait malgré tout continué de louer cette maison, même après son retour à Los Angeles en octobre 2008, c'est en tout cas ce que prétend l'agence immobilière.
Des travaux de rénovation ont été entrepris après la disparition du chanteur mais la propriété, en vente depuis 2009 à quatre reprises n'a jamais trouvé preneur. Et ce n'est pas faute de mettre en avant son illustre locataire.
Une ironie cependant.
Car là où certains effacent toute trace de passage de Michael dans l'endroit qu'il a construit et où il connu des instants de grand bonheur (Neverland), d'autres s'efforcent de faire passer ce qui n'a été qu'une villa de passage, une maison sans âme, pour un lieu aimé en rebaptisant la propriété et certaines de ses pièces des titres célèbres de la star….. Aucune photo d'ailleurs (à ma connaissance) ne sont parues de Michael dans cette propriété!
Source : (1) Remember The Time, Protecting Michael Jackson in His Final Days, B. Whitfield, Javon Beard/ (2) reviewjournal.com / mirror.co.uk /sothebysrealty.com