Le samedi 2 mai 1970, les Jackson 5 donnent leur premier concert officiel sous le label Motown, à Philadelphie (Pennsylvannie). Le début également de leur First National Tour, une tournée de quatorze dates à travers les Etats-Unis.
Quelques mois plus tôt, en décembre 1969, le groupe avait sorti son premier album, Diana Ross Presents The Jackson 5 et le single I Want You Back avait atteint le somment des ventes. Le second single ABC, extrait de l'album du même nom qui sortirait le 8 mai 1970, avait suivi le même chemin. La Jacksonmania était en route. Pourtant, les cinq frères étaient loin de se douter de ce qui allait les attendre dans les mois à venir et plus particulièrement lors de ce premier concert à Philadelphie.
Afin de promouvoir le concert, Motown avait fait publier une annonce dans le journal local précisant non seulement la date du concert mais également l'heure de l'arrivée du groupe à l'aéroport International de Philadelphie le 1er mai, et leur numéro de vol, provoquant ainsi une émeute au moment de leur atterrissage : trois mille cinq cents fans en délire ont envahi l'aéroport afin d'apercevoir les frères qui ont du être évacués rapidement en limousine.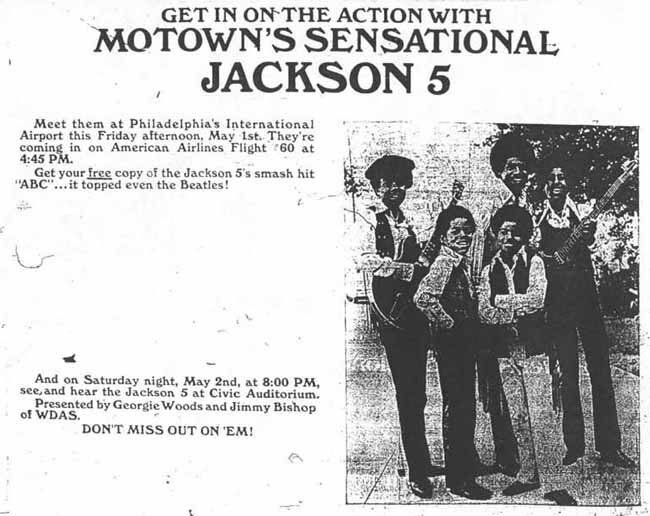 Motown avait aussi fait envoyer une équipe pour filmer l'arrivée à l'aéroport (et le concert). Ce sont les images que l'on retrouve dans le show Going Back To Indiana (à partir de 11 :10 dans la vidéo ci-dessous) diffusé en septembre 1971 à la télévision (et ayant donné lieu à l'album du même nom).
On y aperçoit les Jackson 5 descendant de leur avion, Michael avec une casquette blanche, accompagnés de Suzanne DePasse puis montant dans leur voiture et les fans les poursuivant en criant après avoir brisé les barrières de sécurité de l'aéroport.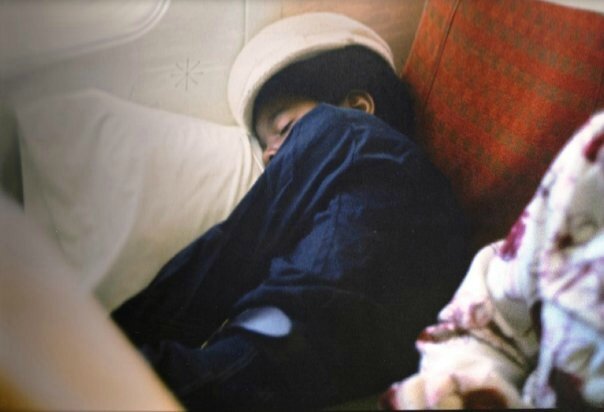 Michael dort dans l'avion. Il ne se doute pas encore de l'hystérie qui l'attend.
"Avant d'arriver à Philadelphie, nous n'étions pas conscients de notre popularité. Evidemment, il y avait tous ces records de vente, ces articles de journaux, les sacs de courriers des fans, et nous étions le premier groupe d'enfants à avoir vendu plus d'un million de disques. Mais jusque là, rien de très concret pour nous, car nous étions cachés, confinés dans notre cocon chez Motown, dans les studios d'enregistrement aux murs sans fenêtres et dans les limousines, qui nous ramenaient à la maison, tard le soir, à moitié endormis. Dans les studios de télévision, nous ne recevions que des applaudissements feutrés. A l'école, rien ne laissait présager la folie à venir. (….) C'est seulement quand nous sommes montés sur scène ce jour-là que la réalité Motown (…) nous a frappés en plein fouet", se souvient Jermaine Jackson (1)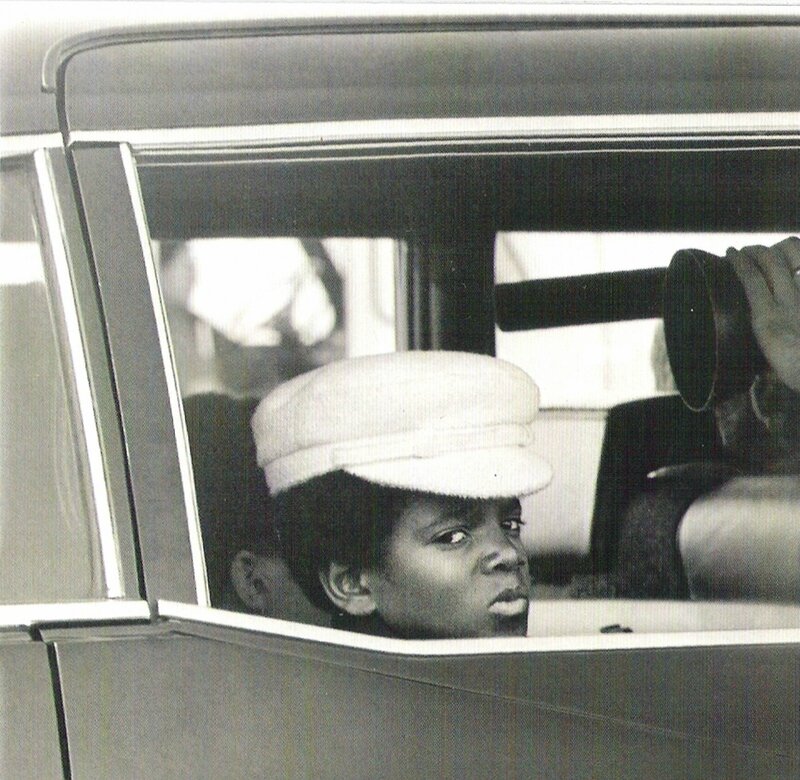 L'équipe de la Motown a également filmé les répétitions du concert sous la direction de Suzanne DePasse .
Le lendemain, le concert a lieu au Philadelphia Convention Hall and Civic Center. Johnny Jackson et Ronnie Rancifer, respectivement batteur et claviériste, accompagnent les Jackson 5, comme ils ont l'habitude de le faire depuis les débuts du groupe.
On les retrouve sur cette photo en coulisses juste avant d'entrer sur scène au côté des frères Jackson et de Weldon McDougal, le publiciste de la Motown (avec son fils).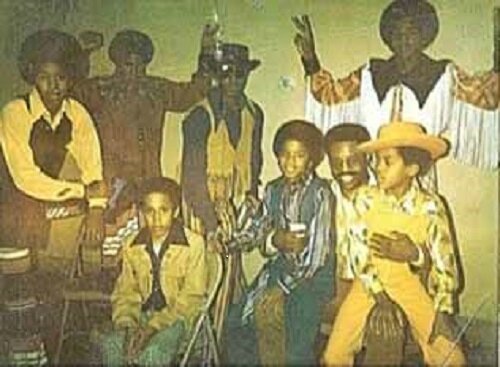 Ce soir-là, Michael met le feu à la salle. Du haut de ses 11 ans, il a déjà tout d'un professionnel et envoute le public, un peu à la manière de son idole James Brown.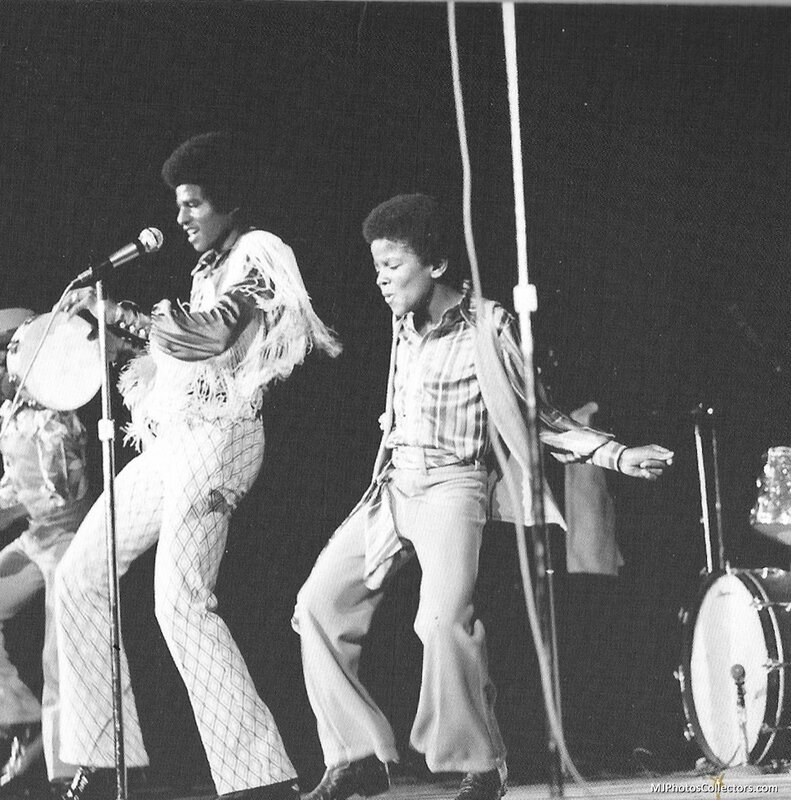 La setlist du concert:
I Want You Back
Stand!
Hum A Song (From Your Heart)
My Cherie Amour
Feelin' Alright
Yesterday
Zip-A-Dee-Doo-Dah
There Was A Time
It's Your Thing
Thank You (Fallettin Me Be Mice Elf Agin), une reprise de Sly & The Family Stone où Michael présente les différents membres du groupe suivi du fameux "Thank You" des frères, a cappella
ABC
Who's Loving You
Les scènes d'hystérie se répètent dans le public. A plusieurs reprises, la centaine d'officiers de police présente est obligée de repousser les adolescentes qui essaient d'envahir la scène. Le show est même arrêté lorsque les Jackson 5 entament leurs succès I Want You Back, afin de faire revenir le calme.
Michael et ses frères seront obligés de regagner leur hôtel escortés de motos de police, devant le chahut régnant à la fin du concert.
"Michael était mort de peur, relate Jermaine. Nous autres, on était plutôt impressionnés, mais Mike, lui, il était vraiment terrorisé. "Je ne sais pas si je pourrai faire ça pour toujours, a-t-il dit. Peut être un petit moment mais pas pour toujours" (2)
Et pourtant …. ce n'était que le début d'une vie sous les feux des projecteurs et de la folie des fans…
Sources: (1) You Are Not Alone, le vrai Michael dans les yeux de son frère, Jermaine Jackson/ (2) Michael Jackson, J. Randy Taraborrelli/ j5collector.blogspot.fr