Le 20 août 1983, lors d'un concert de James Brown au Beverly Theater de Hollywood, trois légendes de la musique se retrouvent réunies une seule et unique fois sur une même scène : James Brown, Michael Jackson et Prince. Un moment mémorable.
Le Godfather of Soul est en plein concert, interprétant It's A Man's World, lorsqu'il appelle Michael Jackson sur scène.
L'interprète de Thriller n'est pas encore connu sous le nom du King of Pop mais il a fait sensation ces derniers mois non seulement avec son album Thriller mais aussi avec son célèbre pas, le Moonwalk, dévoilé quelques semaines auparavant lors du Motown 25 Anniversary. Et Michael Jackson est depuis toujours un grand admirateur de James Brown. S'il est venu discrètement assister au concert de son idole, James Brown ne peut rater l'occasion d'avoir la star du moment auprès de lui afin de le voir effectuer à nouveau son pas iconique.


James Brown exprime toute son admiration pour Michael Jackson : "un jeune homme que j'ai vu grandir (…) très gentil, humble et plein de talent. (..). S'il vous le voulez bien, je vous demande de faire une standing ovation pour un jeune homme assis derrière vous et dont vous n'aviez même pas idée qu'il pouvait être parmi vous…. Michael Jackson !"
Michael, aux côtés de Bill Bray, son chef de la sécurité, est ovationné par le public et devant l'insistance de James Brown, n'a pas d'autre choix que de le rejoindre sur scène. Il chantonne un "I Love You" sur la musique de It's A Man's World puis le groupe accélère le rythme dans le but de l'inciter à danser, ce qu'il finit par faire. Imitant d'abord son idole à la perfection, tel qu'il le faisait quand il était petit (on se souvient notamment de l'audition pour la Motown en 1968), il réalise ensuite un moonwalk rapide puis tombe dans les bras de James Brown, pour le remercier.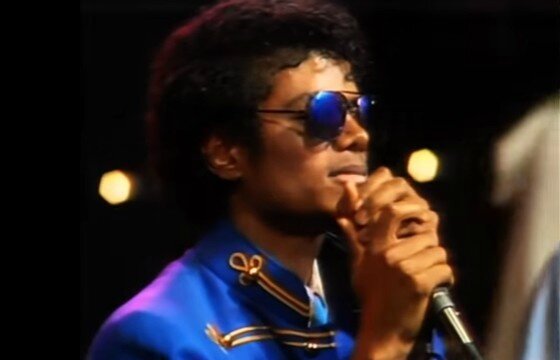 C'est à ce moment là qu'il lui murmure quelque chose à l'oreille, lui indiquant probablement la présence de Prince dans le public. James Brown reprend alors le micro et dit "Applaudissez-le très fort parce qu'il a insisté pour que je vous présente Prince".
Le Kid de Minneapolis est amené sur scène par un gros bras, emprunte une guitare et se lance dans un morceau en solo. Il enlève ensuite sa veste et, torse nu, entame des mouvements et des cris qui ont fait sa renommée puis repart en chutant après avoir fait tomber un élément du décor. Une apparition fugace pour un moment légendaire.
Prince, très influencé par James Brown, a débuté sa carrière à la fin des années 70 et son album de 1982, 1999 est son premier gros succès. Mais il lui faudra attendre la sortie de Purple Rain (le film et l'album) en 1984 pour obtenir la reconnaissance mondiale. Et pour que les médias se délectent d'une soi-disante rivalité avec Michael Jackson.
Ce qui est sur, c'est que ce jour-là, en un peu plus de six minutes, les spectateurs ont la chance incroyable d'assister à une performance mythique. Michael et Prince n'ont finalement jamais eu l'occasion d'enregistrer ensemble, mais cette vidéo est un véritable trésor maintenant que ces génies de la musique ne sont plus là…..
Sources : grantland.com/ uproxx.com