Bryan Loren est un compositeur, producteur, interprète et musicien américain qui a travaillé avec des grands noms de la musique tels que Barry White, Janet Jackson, Sting ou Whitney Houston.
Au début des années 90, il collabore avec Michael Jackson sur son album Dangerous. Aucun des titres qu'il a proposés n'a été retenus pour l'album mais il a participé musicalement à certains titres de Dangerous et est à l'origine de morceaux plus ou moins connus dans la carrière du King of Pop : Work That Body, Superfly Sister (paru sur l'album Blood On The DanceFloor), Do the Bartman, Mind Is The Magic et To Satisfy You.
Samedi 24 septembre 2016, l'association Music First (à qui l'on doit déjà la venue de Brad Sundberg en France en 2013 et 2016 et la visioconférence avec Bruce Swedien en 2014) a fait venir Bryan Loren aux Abbey Road Institute de Suresnes (92) afin qu'il évoque sa collaboration avec Michael Jackson. Un échange avec les fans de près de cinq heures au cours duquel il a livré ses souvenirs à la fois professionnels et personnels avec la star.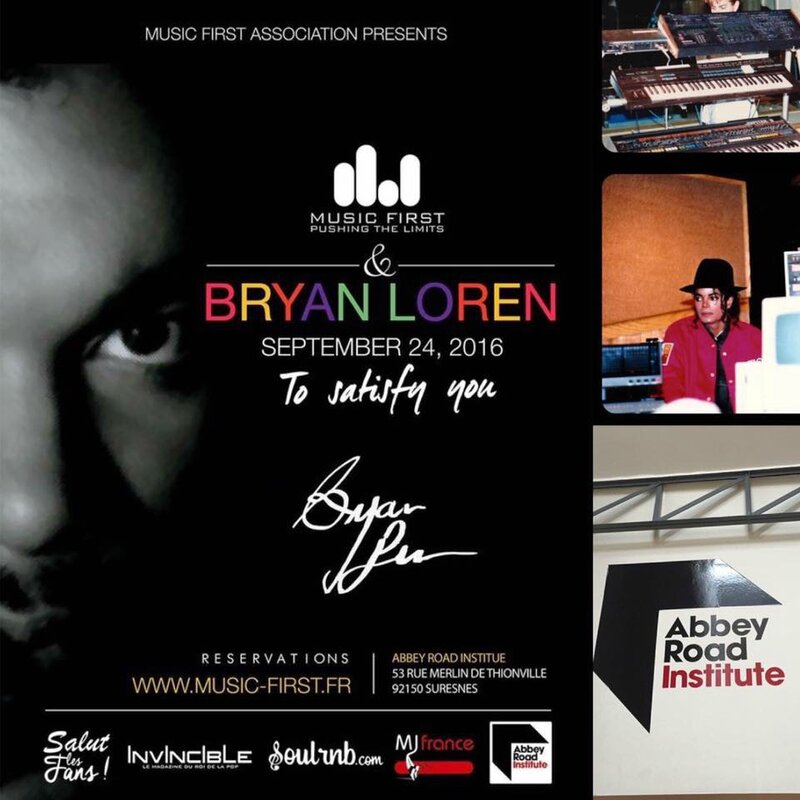 La première partie de la conférence est un échange questions/réponses avec les fans. Bryan Loren propose aux fans de répondre aux diverses questions qu'ils ont à lui poser. Si cette orientation part sans doute d'une bonne intention, elle a cependant l'inconvénient d'aborder des tas de thèmes, parfois sans lien entre eux et il peut être difficile de se faire une idée de la chronologie de la collaboration entre les deux hommes. Voici un résumé de ses propos.
Premier Contact
Bryan Loren a été approché par Michael Jackson lui-même à la fin des années 80. Loren avait travaillé sur l'album de Shanice Wilson et utilisé des sons samplés de The Police pour des morceaux up-tempo qui avaient plu à Michael.
La première rencontre entre les deux hommes, Loren s'en souvient comme ayant eu lieu avec des "interactions lentes". Au téléphone déjà, lors de la première prise de contact, Michael était très réservé. Il régnait une certaine atmosphère où les deux musiciens n'étaient pas spécialement à l'aise, ce qui a rapidement changé par la suite.
Bryan Loren indique qu'il a travaillé pendant près de 8 ans (de Dangerous à Blood On The Dance Floor) avec Michael Jackson et a créé environ 28 morceaux pour lui. La plupart de ces morceaux sont up tempo à l'exception de To Satisfy You et d'un autre titre jamais présenté à Michael.
Mind Is The Magic
Bryan Loren déteste ce titre qu'il avoue avoir composé contre son gré. Il a lui-même créé les sons de ce morceau.
Do The Bartman
James Brooke, un des créateurs du dessin animés The Simpson, a contacté Michael Jackson pour lui demander une participation sur un épisode de la série.
Michael s"est tourné vers Bryan Loren qui a écrit les paroles de Do The Bartman. Il en possèderait toujours les droits actuellement.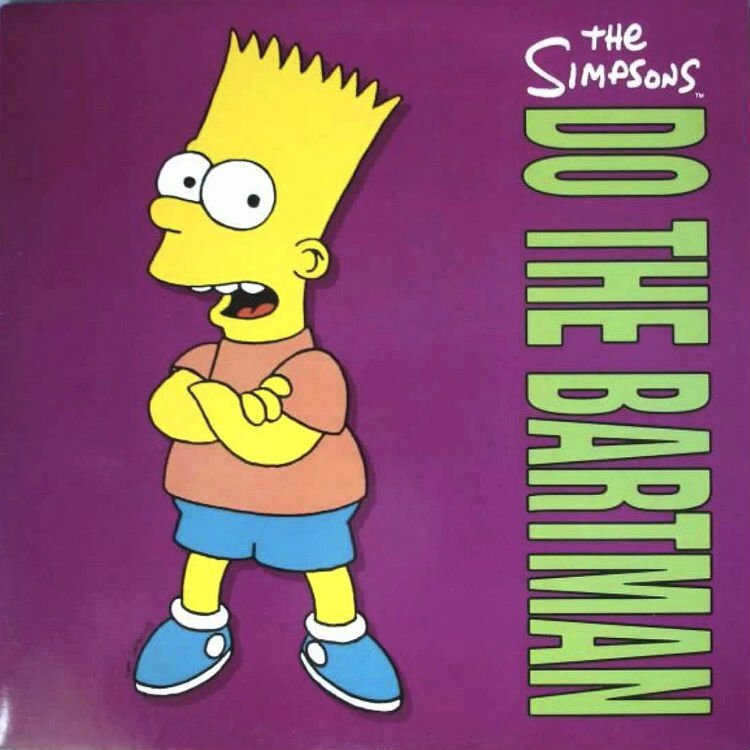 Album Dangerous
Bryan Loren a travaillé de 1989 à 1991 sur l'album Dangerous de Michael. Selon lui, beaucoup de sons et d'arrangements de l'album sont inspirés de son travail, à l'image de Garbage (que Bryan Loren nous fait écouter), un titre qui aurait inspiré Can't Let Her Get Away. Il n'y aura pourtant aucun de ses morceaux retenus. Les sons des albums HIStory et Invincible sont, selon lui, aussi inspirés de ses sons.
Bien que n'ayant pas été crédité, Loren affirme avoir écrit le rap de Black or White. Bill Bottrell a été crédité à sa place et il semble que Loren garde une certaine rancœur envers Bottrell ("Bill Bottrell is a vilain !"). Le titre Black or White existait déjà quand il s'est investi dans le rap. Il indique également qu'il a fait les percussions sur Who Is It.
La collaboration sur Dangerous entre Michael et Bryan Loren était toujours spontanée, très amicale. Le processus créatif avait lieu au studio ou dans le studio personnel de Loren, chez lui. Pour illustrer son propos, il diffuse un enregistrement audio d'une session de travail de Don't Believe It, chez lui, aux alentours de Thanksgiving ou de Noël. Ils regardaient la télévision quand Michael a eu envie d'écrire. Ils sont descendus dans le studio de Loren afin de trouver le refrain de la chanson.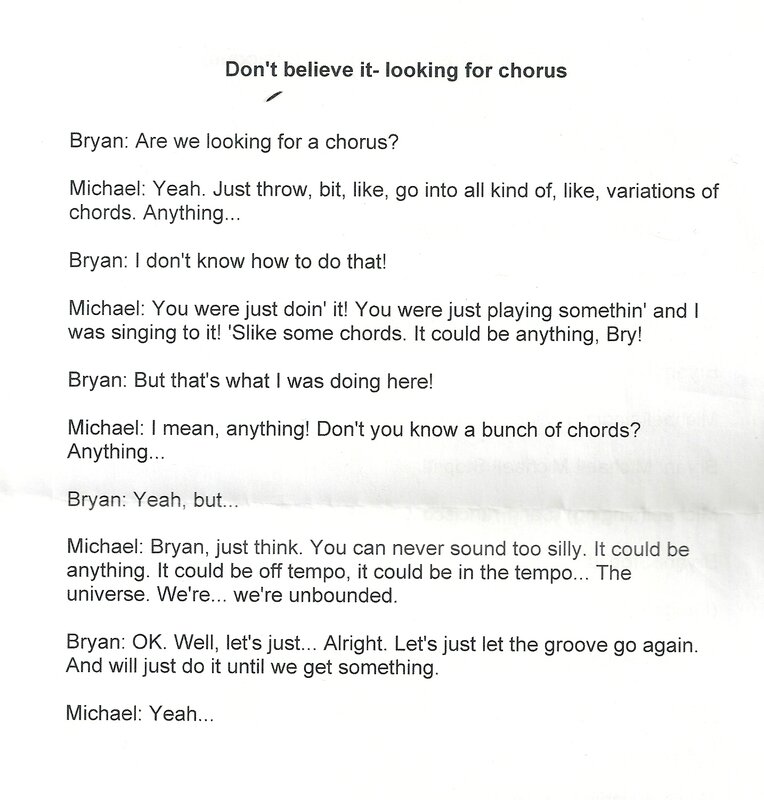 Michael était un grand farceur et les sessions de travail étaient souvent entrecoupées de blagues. A l'exemple de ce jour où Michael et Bryan Loren étaient en train de déjeuner au studio. Ils avaient dans l'assiette une purée blanche, un peu granuleuse. Michael a mis un peu de purée sur le bout de son doigt, évoquant des crottes de nez, puis s'est essuyé le doigt sur le bord de l'assiette de Loren, qui bien sûr, détestait ça. Bryan Loren a fini par enlever le chapeau de Michael, laissant apparaitre sa chevelure qui n'était pas coiffé et faisant râler Michael. Un chapeau que Loren possède toujours aujourd'hui.
Au cours d'une session studio, lors d'une pause, Michael a montré à Bryan Loren la vidéo de son apparition au concert de James Brown, en 1983. Ce jour-là, Prince monte également sur scène et sa prestation reste mémorable, pas forcément en bons termes. Michael le sait et avec Bryan Loren, ils ont passé un moment à rire et se moquer de Prince.
Il n'y avait pas de planning, pas de routine en studio. Michael était très relax, en tout cas avant que Tommy Mottola ne vienne le voir. Le dirigeant de Sony a débarqué au studio pour voir comment avançait le travail sur Dangerous, car Michael était en retard sur le planning. Michael est ressorti de l'entretien avec Mottola en pleurs.
Après ce jour, Michael a fait appel à Teddy Riley pour accélérer les choses. On sait désormais que les titres de Riley ont été préférés à ceux de Loren. (On ressent d'ailleurs une certaine rivalité entre les deux hommes, dans les propos de Loren).
Bryan Loren joue de tous les instruments sur ses morceaux.
Michael ne jouait que du piano. Loren se souvient avoir vu Michael jouer Don't Be Messing Around au piano. (Il prend place au piano du studio et joue quelques notes de la chanson).
Bryan Loren était présent lors de toutes les sessions d'enregistrement vocal.
Bryan Loren n'a pas été approché par l'Estate pour un projet Dangerous 25. Le musicien est propriétaire des titres qu'il a écrit pour Michael à 50% avec l'Estate qui peut donc faire ce qu'il veut sans son autorisation.
To Satisfy You/Work That Body
L'objectif de l'album Dangerous était de créer un son nouveau. Pourtant lorsqu'il a écrit To Satisfy You ou Work That Body, Bryan Loren a dans l'idée de faire une suite à Off The Wall, qui selon lui, reste le meilleur album de Michael Jackson. Cet album, qui marque sa jeunesse, est le début de tout : le premier projet avec Quincy Jones et Rod Temperton, un album très intime, et celui où il y a le plus de cohésion.
Michael n'aimait pas assez To Satisfy You pour l'intégrer à Dangerous. Bryan Loren récupère le morceau pour son album de 1992, Music From The New World.
Il n'existe pas de version aboutie du titre avec Michael Jackson, seule une démo avec les chœurs. Loren évoque donc ce titre comme une "old song", dans le style Off The Wall.
Pour Work That Body, que Bryan Loren nous fait écouter après la pause (voir plus loin), celui-ci y avait intégrer des paroles du morceau des Jackson 5 de 1970, ABC, le bridge parlé où Michael dit "Come On Girl, I think I love you". Michael a refusé de chanter des paroles qu'il chantait à l'âge de dix ans.
Man In Black
Michael a entendu parler d'un projet de film de Steven Spielberg intitulé Men In Black. Il écrit alors, en compagnie de Loren, un morceau du même nom. Loren nous passe une version sans paroles, uniquement avec Michael dans les chœurs mais précise qu'il existe une version, plus aboutie, avec les paroles.
Family Thing
Le titre, destiné au film Les Valeurs de la Famille Adams et écrit par Teddy Riley et Michael est la démo (que Bryan Loren nous fait entendre) de ce qui deviendra Ghosts. Le rap est écrit et chanté par Bryan Loren mais Michael aurait du y poser sa voix. Les paroles sont assez sombres. En raison des accusations de 1993, le projet Ghosts sera retardé.
Album HIStory
Comme on le sait désormais, Michael travaillait de manière répétée ses titres, qu'il ressortait pour d'autres projets. Ainsi, They Don't Care About Us, présent sur l'album HIStory, a été créé peu avant Dangerous. Bryan Loren se souvient avoir entendu le titre lors des sessions de cette époque. Les paroles n'existaient pas encore mais le processus créatif a eu lieu au début des années 90.
Bryan Loren n'a travaillé sur HIStory que durant deux semaines, au Hit Factory Studios de New York. Il évoque le titre Money et sa participation dans les chœurs et au niveau des percussions.
Album Blood On The DanceFloor
L'idée des remixes de l'album serait sorti, selon Loren, d'un remix qu'il a créé, Son Of Thriller (voir plus bas).
Bryan Loren évoque, suite à une question, le "clap" important présent dans la chanson Superfly Sister. Il a été enregistré à la demande de Michael, dans la salle de bain du studio. Plusieurs claps ont été enregistrés mais sur la chanson il n'y a pas d'effets sonores renforcés. Michael tape lui-même dans ses mains, de manière très puissante. Bryan Loren explique que cette puissance est quelque chose de présent dans la famille Jackson. Lorsque Randy Jackson claquait des doigts pour les besoins d'un titre, c'était un claquement très fort que Loren a rarement observé chez quelqu'un d'autre.
Le clap est également utilisé dans le titre Don't Believe It (voir plus bas).
Les claquements de doigts et de mains sont aussi la marque de Michael lorsqu'il écoutait et aimait une musique. Loren revient sur les trois titres très controversés de l'album posthume Michael et explique que trois collaborateurs de Michael, dont Matt Forger, ont écouté les titres et qu'à aucun moment ils n'ont discerné ces claps et snaps qui caractérisent Michael. Pour lui, il ne fait aucun doute que ce n'est pas Michael sur ces titres.
Les sœurs Jackson
En 1997, Rebbie Jackson signe sur le label de son frère Michael, MJJ Productions. Ce dernier demande à Bryan Loren de lui composer plusieurs titres. Deux d'entre eux se retrouvent sur l'album Yours Faithfully, sorti en 1998.
En 1988/1989, Janet Jackson enregistre son album Rhythm Nation. Bryan Loren qui travaille avec la plus jeune des Jackson lui demande d'écrire les paroles d'un titre dont il a composé la musique. Quelques jours plus tard, Janet revient avec Work (voir plus loin) qui finalement ne sera pas retenu pour l'album.
Au cours de leur collaboration sur Dangerous, Michael avoue à Loren que ce n'est pas Janet qui a écrit les paroles de Work mais qu'il en est l'auteur.
Côtoyer Michael Jackson
Bryan Loren s'est rendu à plusieurs reprises à Neverland. C'est d'ailleurs au ranch qu'il a vu Michael pour la dernière fois au début des années 2000, à l'époque d'Invincible.
Il raconte la fois où il s'est retrouvé seul dans une pièce avec Bubbles, le chimpanzé de Michael, attablé. Le singe s'est levé, s'est dirigé vers Bryan Loren et l'a frappé douloureusement à la poitrine. Loren est sorti, est allé voir Michael et lui a raconté ce qui venait de se passer. Michael a ri et a expliqué à Loren que Bubbles lui avait simplement fait comprendre, avec ce geste, qu'il faisait partie de sa vie.
Il évoque aussi une séance shopping au magasin Tower Records de Los Angeles avec Michael, qui était sorti déguisé avec une perruque, un chapeau et un masque. Loren se sentait un peu gêné de cet accoutrement. Certaines personnes regardaient Michael et ont commencé à le reconnaître mais sans l'importuner. Au passage en caisse, Michael a sorti sa carte bancaire et le nom MICHAEL JACKSON était clairement inscrit dessus. Il n'y a cependant pas eu d'émeute.
Enfin, il se souvient de la fois où Michael et lui étaient en voiture. Michael était du côté passager et à un feu, une autre voiture s'est arrêtée à côté d'eux. Le conducteur de la voiture a regardé Michael à la fois avec insistance et étonnement mais est reparti en haussant les épaules en se disant que ce ne pouvait pas être Michael Jackson dans une voiture aussi banale. Michael ne s'est, quant à lui, aperçu de rien.
Ecoute de matériel inédit
Après la pause, Bryan Loren nous fait écouter quelques titres inédits qu'il possède.
- Don't Believe It (5 :46). Une démo de 1991. Michael et Bryan Loren sont partis de rien, comme on a pu l'entendre dans la session de travail passée plus tôt (voir plus haut). Avant de nous faire écouter la démo, on entend une autre partie du travail sur le titre. Il s'agissait d'une fin de séance, les deux hommes étaient fatigués et Michael énerve un peu Loren en plaisantant.
Le morceau entendu ensuite n'a pas été mixé, finalisé. La démo se termine par un beat box de Michael.
- Seven Digits (2 :56). La démo a été travaillée en 1991, chez Bryan Loren.
- All The Truth (5 :02) : Bryan Loren chante et Michael fait les chœurs.
- Work That Body : Une version a fuité il y a quelques années. Bryan Loren possèdant toutes les cassettes du titre, il explique que la fuite vient donc forcément de quelqu'un qui a travaillé avec lui. On entend une verison longue (7 :04) avec le "Girl, I Think I love You" de ABC des J5.
- Son of Thriller : un remix de 3 :06 avec des extraits de Thriller, Don't Stop 'Til You Get Enough, Wanna Be Starting Something et un rappel à Bille Jean.
- She Got It : une version de 7:20.
- Work de Janet Jackson : le morceau ne portait pas le nom Work, avant l'écriture des paroles par Michael. C'est un son très industriel et le morceau a parlé de lui-même. Le titre est venu tout seul. Bryan Loren avoue avoir respecté l'esprit de l'album Rhythm Nation, sans connaître l'âme du projet.
- Serious Moonlight (4 :42): Bryan Loren chante sur ce titre qu'il a proposé à Michael. Celui-ci cependant ne se voyait pas chanter dessus.
- Serious Effect (5 :26) : le morceau favori de Loren. LL Cool J interprète la partie rap, ce qui n'était pas prévu au départ. Une version différente de celle connue.
- Truth About Youth (5 :02) : LL Cool J interprète ce que Michael aurait du chanter. Le rappeur a écrit les paroles et Michael a travaillé sur le morceau.
Dans la playlist de Loren se trouve également un morceau intitulé House Groove, que nous n'aurons malheureusement pas la chance d'entendre.
Bryan Loren considère Michael Jackson comme étant dans le top 5 des artistes avec qui il a aimé travailler et ce, malgré les grosses productions qu'impliquaient les enregistrements des albums de la star. Loren explique qu'il y toujours beaucoup d'intérêts personnels de chacun des participants à la production et que tout est question d'égo.
Michael était quelqu'un de drôle avec les gens qu'il aimait et par-dessus tout, Bryan Loren aimait la voix de Michael. C'est d'ailleurs la raison pour laquelle il a souhaité travailler avec lui. Ce travail n'aura malheureusement pas eu tous les objectifs que le musicien souhaitait.
S'il évoque à un moment de la conférence le mot "amitié" entre la star et lui, il ressort de ses souvenir principalement des relations professionnelles. Je n'ai pas retrouvé chez Bryan Loren la passion dans sa relation avec Michael, comme ont pu le partager Brad Sundberg ou Bruce Swedien lors des conférences organisées précédemment par Music First. Il a parfois eu des réactions à l'encontre de collaborateurs de Michael que je n'ai pas tout à fait saisies et appréciées (rancœur personnelle ?) : "Brad Buxer doesn't count. He doesn't exist!" (Brad Buxer ne compte pas, il n'existe pas).
J'ai également été étonnée de ne pas voir de photos des deux hommes. Elles sont quasiment inexistantes sur le net et Bryan Loren ne nous en a pas proposées.
Ce genre d'évènement reste cependant un moment apprécié. Merci à l'équipe de Music First pour leur travail, l'investissement et leur passion qui nous permettent de rencontrer les acteurs de la carrière de Michael Jackson.