Les Pays-Bas (et non la Hollande comme on appelle communément ce pays, la Hollande étant une province des Pays-Bas) ont régulièrement vu passer le King of Pop au cours de sa carrière, Amsterdam ayant souvent eu les faveurs du chanteur (voir ici). Voici les adresses des lieux où l'on peut se rendre ….onmjfootsteps !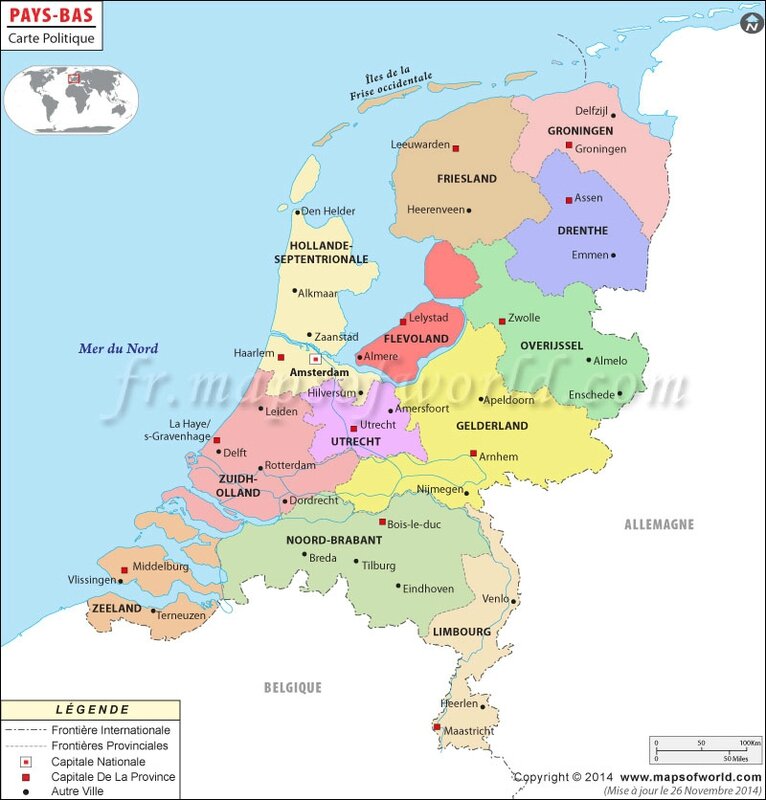 Amsterdam
Les adresses sont données par quartier.
Centrum (Centre-ville)
- Hotel Sofitel Legend The Grand : Lors du passage du HIStory tour dans la ville, en septembre 1996, Michael arrive en bateau à l'hôtel où il séjourne un peu plus d'une semaine (il y séjournera également en juin 1997). Il occupe une des suites impériales (laquelle ?). En hommage au King of Pop, l'hôtel a désormais sur sa carte un "Michael Jackson Hot Chocolate", servi par un serveur avec un gant à paillette, dans la bibliothèque-salon de thé où trône d'ailleurs le célèbre cliché de la star pris en 1977 par Claude Vanheye (voir ci-dessous).
Oudezijds Voorburgwal 197, 1012 EX Amsterdam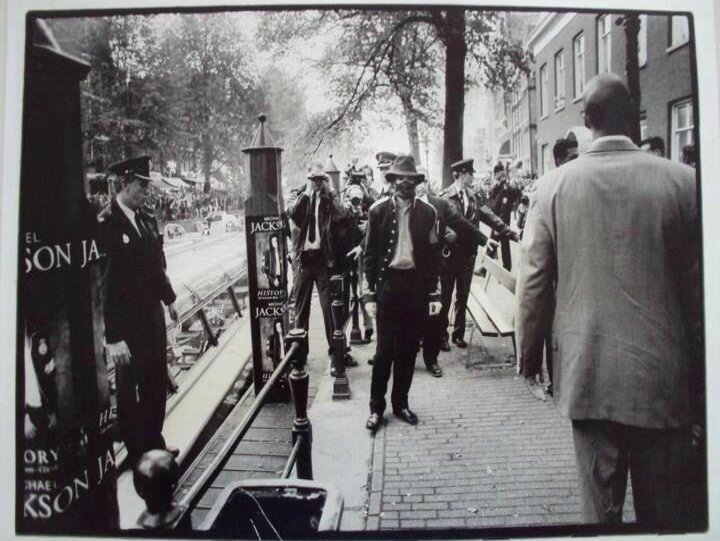 - Musée Madame Tussauds : Comme la plupart des musées Madame Tussauds à travers le monde, celui d'Amsterdam, situé sur la place du Dam, a aussi la statue du Roi de la Pop. Ce dernier s'y serait d'ailleurs rendu en septembre 1996.
Dam 20, 1012 NP Amsterdam
Jordaan et canaux ouest
- Rue Hazenstraat : The Jacksons se rendent au studio du photographe Claude Vanheye en mai 1977 pour un shooting photos. Quelques clichés auront lieu dans la rue, au niveau du n° 22. Les studios étaient au numéro 10-12.
Hazenstraat 22, 1016 Amsterdam (photos des Jacksons)/ Hazenstraat 10-12, 1016 Amsterdam (studio)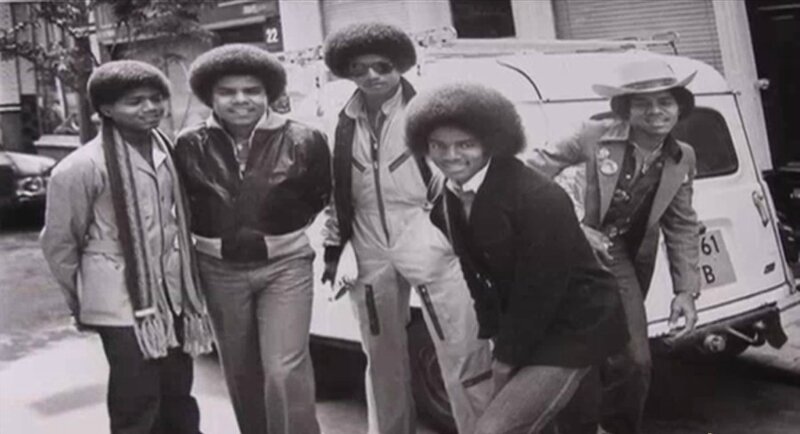 - Angle de la Hazenstraat et de la Lauriergracht : Une photo désormais connue du passage de Michael Jackson aux Pays-Bas, en 1977 a été prise à l'angle de cette rue, par Claude Vanheye. En 2014, un panneau avec le cliché a été placé quelques semaines à l'endroit même où a été prise la photo.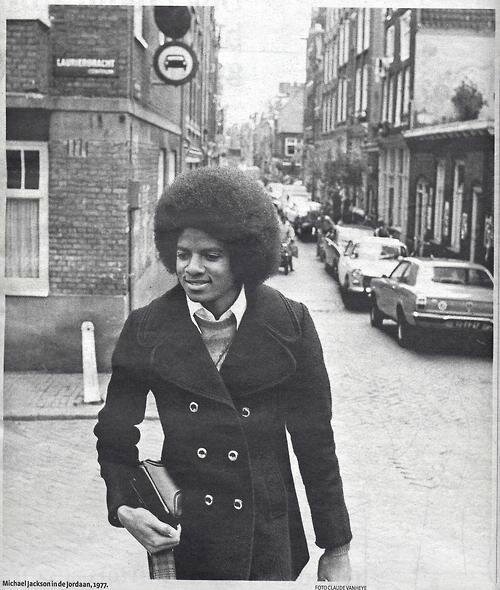 Nieuwmarkt et Plantage
- Koninklijk Theater Carré (Le théâtre royal Carré) : situé sur les berges de l'Amstel, ce bâtiment classé au registre des monuments nationaux, accueille, en 1979, les Jacksons qui viennent y donner un concert dans le cadre de leur Destiny tour.
Amstel 115 /125, 1018 EM Amsterdam (métro lignes, 51, 53, 54, station Weesperplein ou tram n° 7 ou 10, station Weesperplein)
Quartiers Sud
- Complexe aquatique De Mirandabad : en février 1979, The Jacksons participent à une émission télévisée au cours de laquelle ils interprètent Shake Your Body (Down To The Ground) et Blame It On The Boogie à la De Mirandabad, près de la piscine à vagues, dont c'est l'inauguration.
De Mirandalaan 9, 1079 PA Amsterdam (métro lignes 50 ou 51, station RAI + 15 minutes de marche ou bus n° 62, station President Kennedylaan/Waalstraat
- Ronald McDonald Huis VU MC (Ronald McDonald House du centre médical VU): le 3 octobre 1996, Michael se rend dans cette unité, qui vient d'ouvrir, afin de remettre des cadeaux et rencontrer les jeunes malades. Après son passage, la pièce où il est venu à la rencontre des enfants a été rebaptisée à son nom. Une photo est conservée dans la pièce.
Amstelveenseweg 627, 1081 JD Amsterdam (métro ligne n°50, station Amstelveenseweg)
- Amsterdam Arena : Le HIStory tour s'arrête dans ce stade (inauguré en août 1996), hôte des matchs de football à domicile de l'Ajax et de l'équipe nationale néerlandaise, en septembre et octobre 1996 puis en juin 1997.
ArenA Boulevard 1, 1101 Amsterdam (métro lignes n°50 ou 54, station strandvliet)
Rotterdam
- Erasmus MC–Sophia Children's Hospital : Le 29 juin 1992, Michael Jackson est à Rotterdam (Pays-Bas) pour son Dangerous Tour. Il visite l'hôpital Sophia pour enfants malades à qui il fait un don de 100 000 florins et où il inaugure la Michael Jackson Playroom.
Wytemaweg 80, 3015 CN Rotterdam (métro lignes A, B, C, station Dijkzigt)
- Stadion Feijenoord (Stade Feyenoord) : appelé aussi De Kuip, le stade, situé dans le quartier du même nom, accueille le Bad Tour en juin 1988 et le Dangerous Tour, en juin/juillet 1992.
Van Zandvlietplein 1, 3077 AA Rotterdam
- Hilton Hotel : Michael Jackson aurait occupé la Suite Présidentielle au cours de l'un (ou plus) de ses séjours.
Weena 10, 3012 CM Rotterdam
Best
- McDonald's : Cette petite ville du sud du pays, à quelques kilomètres d'Eindhoven, a son intérêt pour les fans de Michael Jackson car, sur le parking du McDonald se trouve la statue HIStory, une de celles qui avaient été créées pour la promotion de l'album du même nom en 1995.
Le jour de sa visite à la Ronald McDonald House du centre médical VU, le 3 octobre 1996, Michael fait don de cette statue de douze mètres de haut à son effigie. Elle sera mise aux enchères et achetée par le propriétaire du McDonald qui l'expose depuis sur le parking de son restaurant. A l'intérieur du fast food, on peut y voir un mot de remerciement signé de Michael.
Eindhovenseweg-Zuid 59, 5683 PW Best