Gare Centrale d'Amsterdam, octobre 2016. J'arrive de Paris par le Thalys à l'heure du déjeuner pour découvrir cette ville que l'on surnomme la Venise du Nord. Quelques jours à flâner au gré des canaux qui rythment le centre d'Amsterdam mais aussi et surtout onmjfootsteps….
Mes premiers pas dans la ville me mènent rapidement Place du Dam, LA place d'Amsterdam. A quelques minutes de là, au bord du Canal Oudezijds Voorburgwal, se trouve l'hôtel Sofitel Legend The Grand où Michael Jackson a séjourné lors de son passage dans la ville en septembre 1996.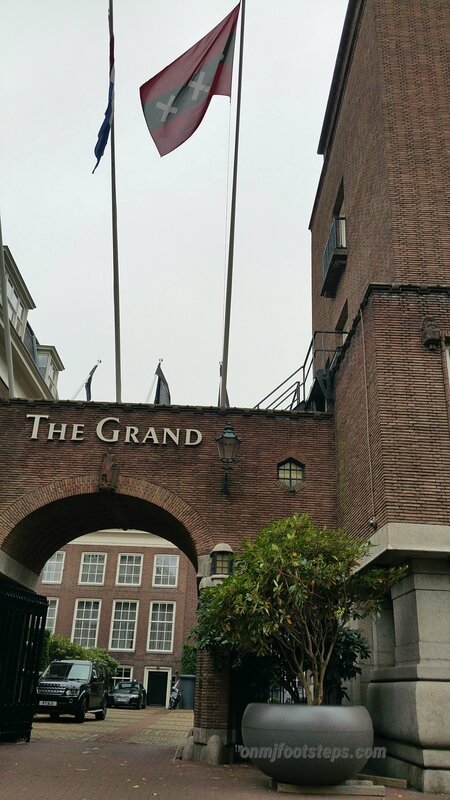 Je m'assois quelques instants sur le banc, le long du canal. Michael était arrivé en bateau à l'hôtel, en 1996.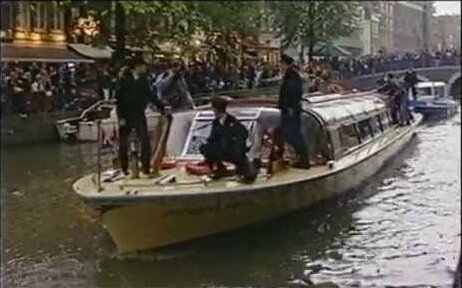 Une arrivée très remarquée, suivie par de nombreux fans qui avaient envahi les rues autour du canal. Une photo le montre posant devant l'objectif d'un photographe à sa descente du bateau ….exactement où je me trouve ce jour-là, quasiment vingt ans plus tard. Les poteaux d'amarrage sont toujours les mêmes, seul le calme qui anime cette ville diffère.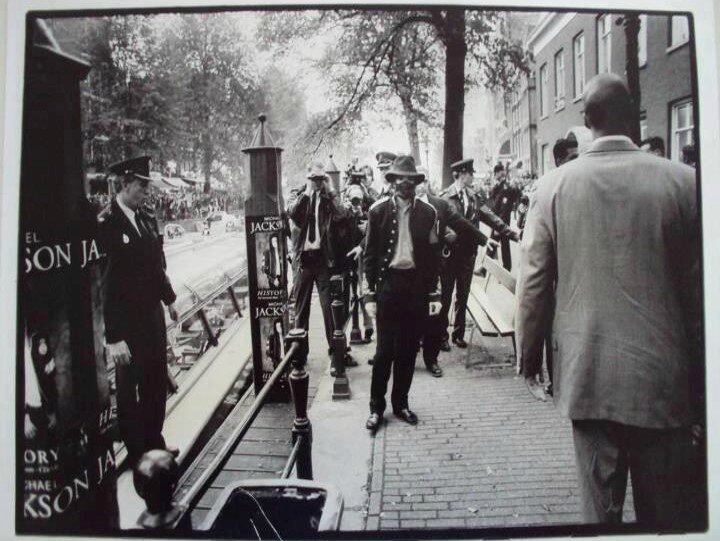 Sur le trottoir d'en face, je reconnais les fenêtres du bâtiment de l'hôtel devant lesquelles Michael avait été photographié, un bouquet de bienvenue à la main.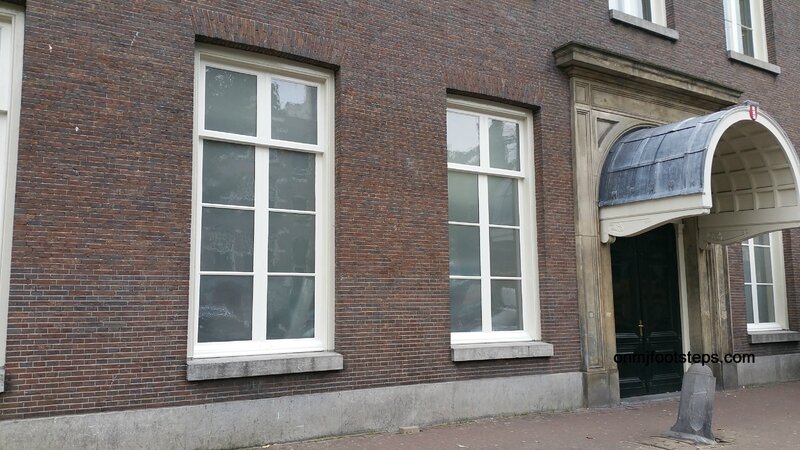 Je commence à avoir l'habitude de me rendre dans les hôtels où Michael est passé, la chance ne me sourit pas forcément, tout dépend de l'accueil que me réservent les employés. Chaque fois, je me dis que je n'ai rien à perdre à part un refus. Je ne me suis encore jamais faite expulsée … alors je pénètre dans la cour de l'hôtel après avoir passé le portail en fer forgé (en travaux) que je reconnais pour avoir vu des vidéos de Michael devant.
Dans la cour, je reconnais également l'endroit où Michael avait été photographié, en compagnie de Debbie Rowe, saluant un jeune garçon en fauteuil roulant.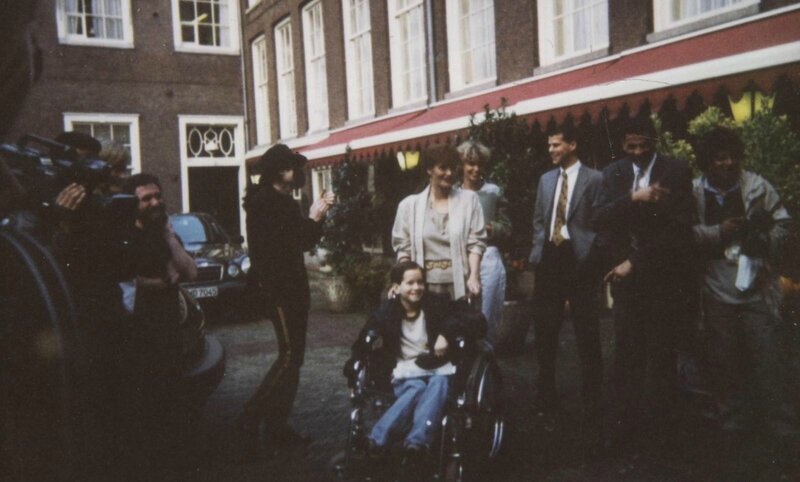 Dans le lobby de l'hôtel, je repère une jeune femme au téléphone qui, je l'espère, pourra me renseigner (tout est dans le repérage de la bonne personne !!!). Je lui explique la raison de ma visite et je la sens très rapidement disponible, prête à m'aider. Elle se renseigne pour voir si la chambre est occupée (ce qui sera le cas malheureusement et donc impossible de la visiter) et appelle une de ses collègues pour savoir si Michael a laissé une trace de son passage dans le livre d'or de l'hôtel. Lorsque je lui parle d'une photo de Michael qui serait exposée dans la bibliothèque de l'hôtel et de la possibilité de s'y faire servir un "Michael Jackson Hot Chocolate", elle m'indique le lieu, juste derrière moi.
Je n'ai aucun mal à trouver, non pas une, mais deux photos de Michael. Les deux clichés, pris par le photographe néerlandais Claude Vanheye, en 1977, montrent, d'une part, les frères Jackson dans la rue où se trouvait son studio à l'époque et d'autre part, Michael seul dans une rue d'Amsterdam, une photo désormais très connue. Dans le cadre cosy, noir et rouge de la bibliothèque, les photos sont mises en valeur grâce à deux spots.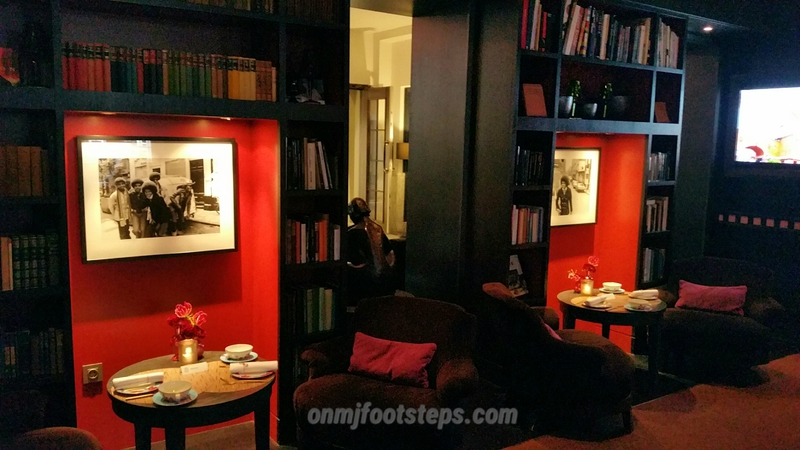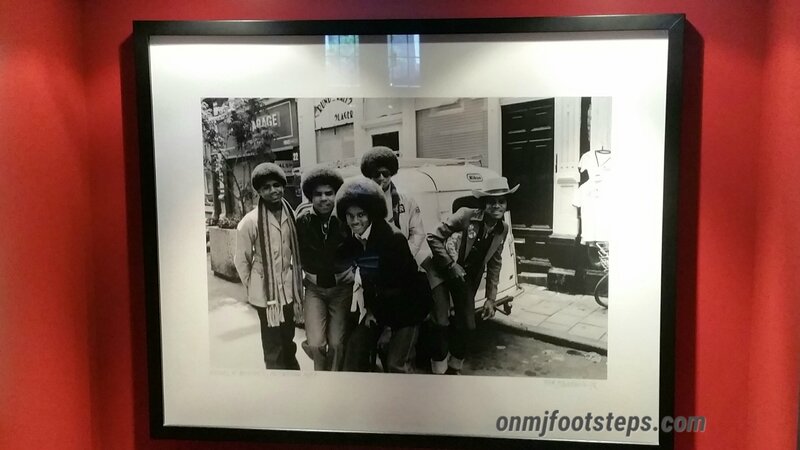 Alors que je suis en train de photographier les lieux, une jeune femme vient à ma rencontre, un gros livre dans les mains. Avec un sourire, elle me montre le superbe autographe que Michael a laissé dans le "guest book" et me laisse le prendre en photo.
Nous évoquons le passage de Michael et elle me dit que, contrairement à ce que je pensais, elle n'est pas sûre qu'il soit revenu séjourner dans l'hôtel lors du deuxième passage du History Tour à Amsterdam en juin 1997. Elle n'était pas présente dans l'hôtel (aucun des employés rencontrés ce jour-là ne l'était), mais elle se souvient par contre du passage des frères Jackson en 2012 pour un photoshoot avec celui qui les avait photographiés 35 ans plus tôt, Claude Vanheye.
Pendant que nous échangeons brièvement, une autre jeune femme vient me voir pour m'indiquer que malheureusement l'hôtel ne sert plus le "Michael Jackson Hot Chocolate". Je n'aurais donc pas la chance de voir un serveur au gant blanc m'apporter de quoi me réchauffer !
Après avoir profité quelques instants de la bibliothèque, je retourne remercier l'employée de l'accueil qui me demande de patienter quelques instants. Elle est en train de m'imprimer le descriptif de la suite Impériale Maria de Medicis que Michael Jackson a occupée. Je ne pourrai pas voir la suite mais la jeune femme me montre plusieurs photos sur son ordinateur (elle me dit qu'il est difficile de les trouver sur internet. Après vérification, on peut en voir quelques unes) et me laisse un petit mémo. Pour mon premier contact avec les amstellodamois, j'avoue que cette employée me laisse un très bon sentiment.
La jeune femme m'indique également où je peux apercevoir la fenêtre de la suite, par où Michael avait salué ses fans. Elle se trouve au coin d'une rue, à l'arrière du bâtiment. J'avoue que j'aurais certainement eu du mal à la trouver sans son aide, car si je reconnais effectivement les lieux (j'ai les photos d'époque sous les yeux), les hautes branches des arbres cachent désormais légèrement la fenêtre.
La vue sur les canaux que Michael devait avoir est absolument superbe. Nous sommes dans un endroit paisible de la ville et les couleurs d'automne des arbres se reflètent dans l'eau, invitant à la flânerie et la détente ….. mais ce ne devait certainement pas être le cas vingt ans plus tôt pour Michael qui vivait, lui, au son des cris de ses fans.
Le lendemain, je me rends dans le quartier Jordaan. Quartier très prisé de la ville, c'est ici qu'Anne Franck a vécu les dernières tristes années de sa vie enfermée dans l'annexe d'une maison au bord du Prinsengracht et que Rembrandt a été enterré. Mais c'est aussi dans ce quartier, dans la rue où se trouvait son studio que le photographe Claude Vanheye a immortalisé un moment simple de la vie de Michael Jackson, celui de pouvoir se promener dans une rue sans être importuné. La photo est d'ailleurs depuis devenue le symbole de son passage à Amsterdam, même si elle date de 1977 et que le chanteur est par la suite revenu dans la capitale néerlandaise.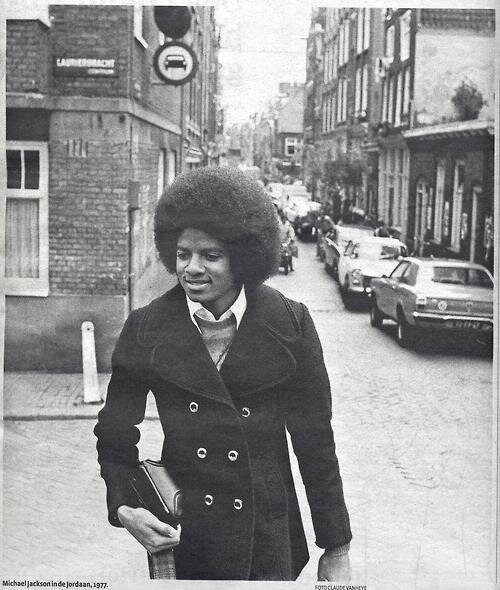 C'est à l'angle de la Hazenstraat et de Lauriergracht que Michael pose devant l'objectif de Vanheye. Presque quarante ans plus tard, le lieu semble avoir été figé dans le temps, avec seulement quelques végétaux en plus sur les murs. Je prends la pose, pour le souvenir, tout en imaginant Michael à l'endroit même où je me tiens, profitant de ce moment.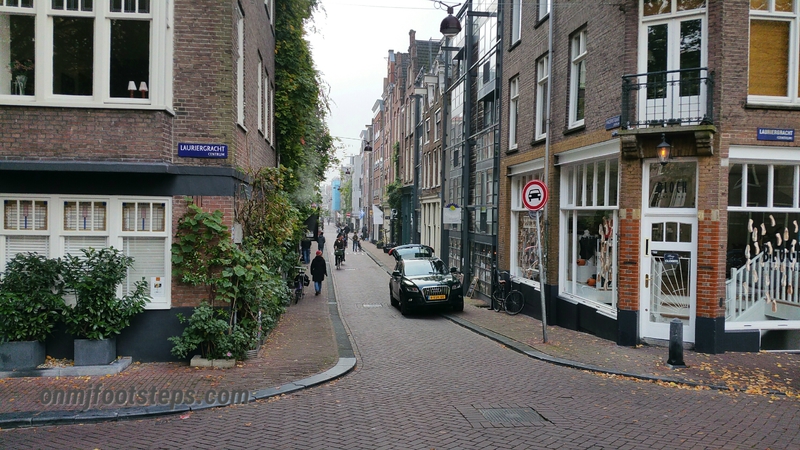 Je m'enfonce ensuite dans la rue Hazenstraat. Claude Vanheye y possédait son studio, aux numéros 10/12. Ma curiosité me fait m'approcher et découvrir, derrière une grille, une arrière cour avec des habitations. Le studio était probablement ici.
Un peu plus loin, au niveau du numéro 22, les frères Jackson avaient posé dans la rue pour le photographe. Les Jacksons étaient venus faire un shooting dans le studio de Vanheye et certains clichés en extérieur ont eu lieu devant ce qui est aujourd'hui une boutique pour chats. C'est l'une de ces photos qui était d'ailleurs exposée à l'hôtel The Grand.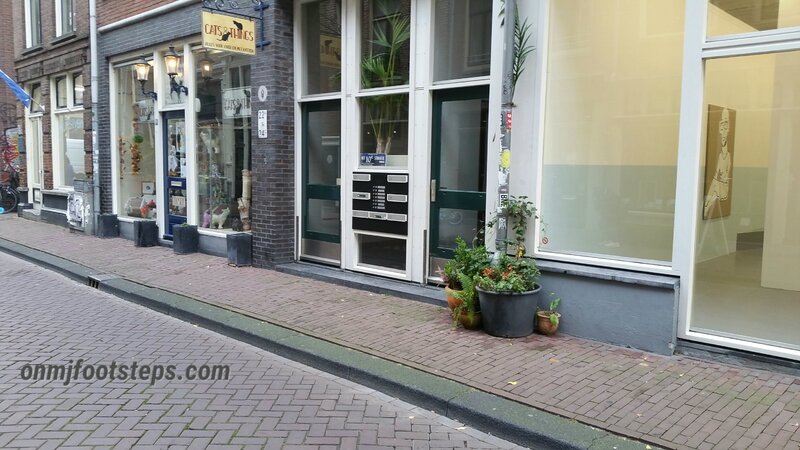 Le jour suivant, je m'éloigne du centre pour découvrir un peu les quartiers périphériques. Mon objectif du jour : la Ronald Mc Donald House, où Michael était venu à la rencontre des enfants malades en octobre 1996.
Avant cela, je me rends devant le Koninklijk Theater Carré, le Théatre Royal Carré. Le bâtiment, situé au bord du canal Amstel est un imposant bâtiment blanc de style néo-Renaissance. C'est ici que les Jacksons se sont produits en concert en 1979, au cours de leur Destiny Tour. Le bâtiment est fermé en cette heure matinale, je n'obtiendrai donc aucun renseignement !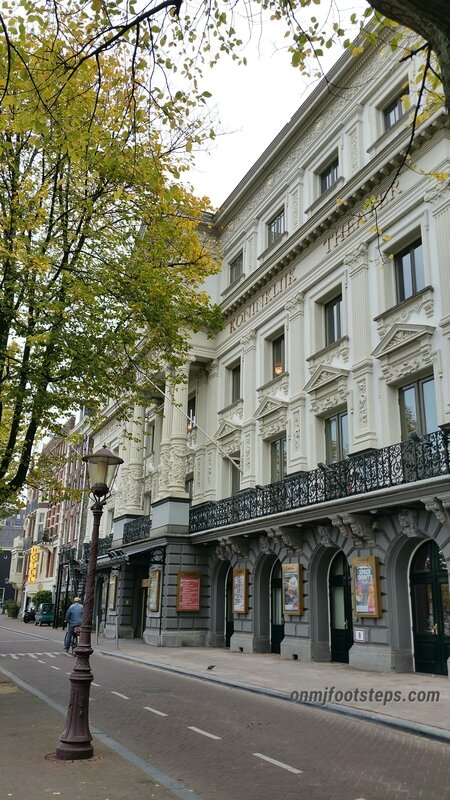 Je reprends donc le métro pour me diriger vers l'Amsterdam Arena. Nouvellement construit en 1996, le stade accueille alors le HIStory Tour de Michael Jackson les 28 et 30 septembre et le 02 octobre puis les 8 et 10 juin 1997. Les alentours du stade sont déserts, seule la boutique officielle de l'équipe de football de l'Ajax Amsterdam, qui joue à domicile ici, est ouverte.
La Ronald McDonald Huis VU MC (la maison Ronald McDonald du centre médical VU) est située à une trentaine de minutes en transport en commun du stade. Je reprends donc le métro en espérant avoir plus de chance que depuis le début de la matinée.
Le VU Medisch Centrum (VU MC) est un hôpital universitaire parmi les plus côtés du pays.
En 1996, l'établissement ouvre la Ronald McDonald House, qui accueille les enfants malades et leur famille qui souhaite rester auprès d'eux. Le 2 octobre 1996, Michael Jackson rend visite à ces jeunes malades en arrivant, comme il le fait souvent, les bras chargés de cadeaux. Depuis son passage, un mot signé de sa main et une photo de ce jour là sont exposés dans une des salles de l'unité.
En me rendant sur les lieux ce jour-là, j'espère pouvoir voir cette photo et ce mot, devant lesquels les neveux de Michael avaient posé un mois plus tôt lors d'une visite à l'hôpital. Cela risque d'être difficile car il s'agit d'un lieu médical protégé et je pourrais comprendre qu'on refuse l'accès à une étrangère. Mais comme à chaque fois, je me dis "je n'ai rien à perdre, sinon un "non".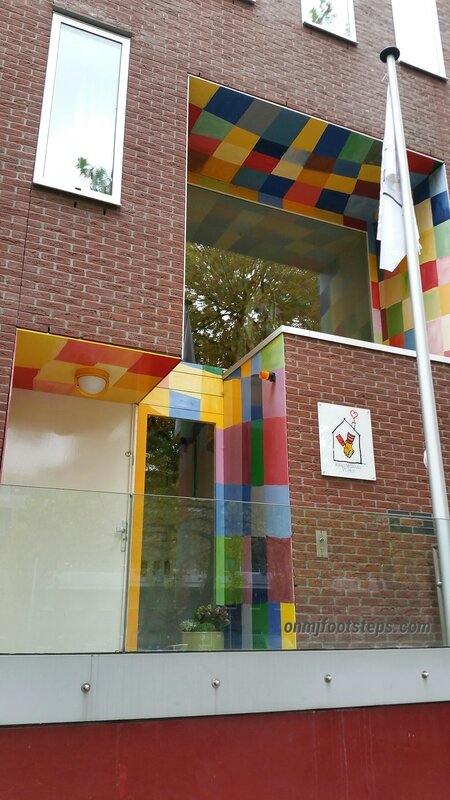 Arrivée devant le numéro 627 de cette grande avenue Amstelveenseweg, un bâtiment en pierres rouges avec une entrée très colorée, je sonne et une femme vient m'ouvrir. Premier bonne chose, elle parle anglais (cela dit, la plupart des néerlandais parlent très bien l'anglais !). Je lui explique qui je suis et ce que je cherche mais je la sens un peu hésitante. Je n'ai cependant pas à insister énormément, elle me dit que si c'est juste pour voir la photo, cela ne pose pas de problème. Elle me fait entrer dans un hall spacieux et lumineux et me mène immédiatement dans une salle toute proche, dont les fenêtres donnent sur la rue, destinée à la détente. Une table et quelques fauteuils équipent la pièce. Au milieu d'un mur blanc trône un cadre avec ce que je suis venue chercher : la photo et le mot signé de Michael.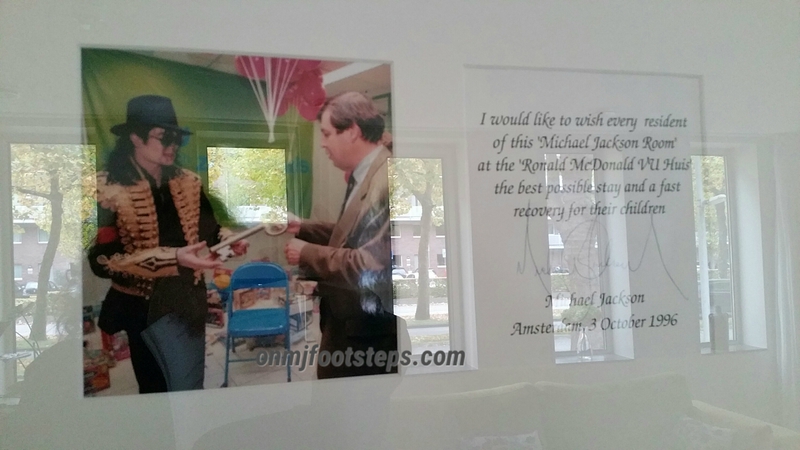 La femme me laisse prendre les photos que je souhaite puis nous commençons à discuter un peu de ma présence à Amsterdam. Je lui montre les différentes photos de Michael dans les lieux que j'ai visités. Elle semble admirative de ce que je fais (fait assez inhabituel pour le souligner car aux yeux des gens que je rencontre, je passe souvent pour une illuminée !) et lorsque je lui évoque le passage de Michael dans cette pièce, elle me dit que malheureusement elle n'était pas encore employée ici en 1996. Par contre, elle me confirme bien la venue de ses neveux le mois précédent. Elle ne semble pas reconnaître l'escalier que je lui montre sur une des photos de 1996, un escalier blanc en colimaçon mais me dit que certains lieux ont peut être été rénovés en vingt ans.
Je repars au bout de quelques minutes, satisfaite de cette incursion dans un lieu que je pensais assez inaccessible. La gentillesse et l'accueil des néerlandais, toujours très ouverts, y est pour beaucoup, il faut bien le reconnaître.
La dernière journée de ce séjour sera, en partie, consacrée au Musée Madame Tussauds, situé au cœur d'Amsterdam, sur la place du Dam. Non pas que je sois une grand admiratrice de ces musées de cire, qui plus est assez chers, (et après avoir visité celui de Los Angeles, j'avoue que je ne m'attends pas à aussi bien ailleurs) mais c'est surtout parce que Michael s'est personnellement déplacé pour visiter celui d'Amsterdam et que j'espère y trouver des photos de ce passage (on a le droit de rêver! ) que dès l'ouverture je suis à déambuler parmi les statues des célébrités. Il y en a une que j'attends impatiemment bien sûr, celle de Michael. Elle se trouve aux côtés de Prince, George Michael, Davide Bowie et Lenny Kravitz.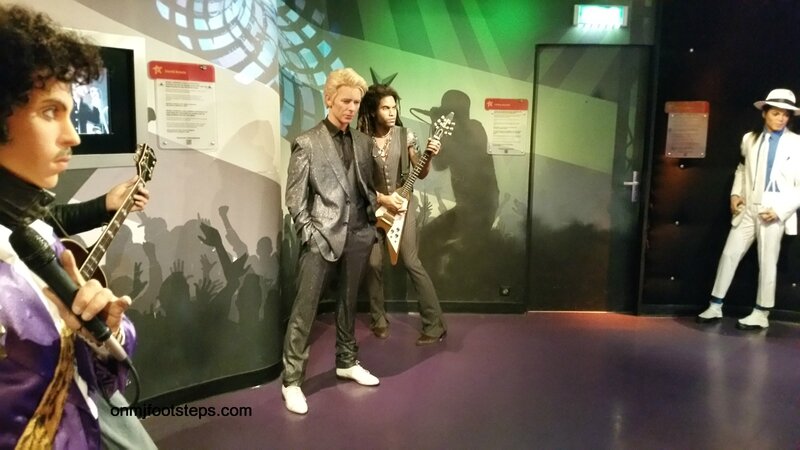 Michael porte son costume de Smooth Criminal et je trouve personnellement la statue assez réussie, même si Michael me semble un peu petit. Une séance photos auprès de lui s'impose !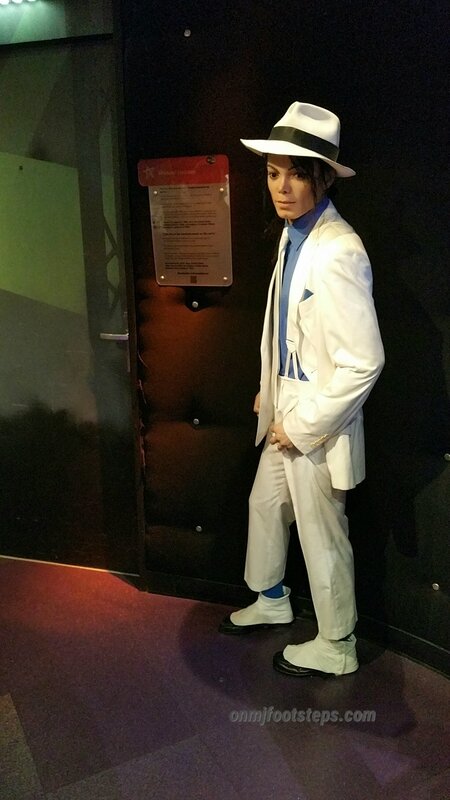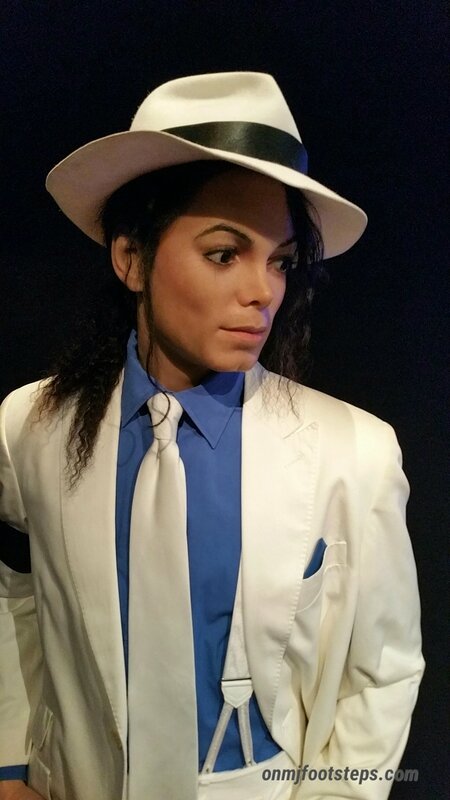 Je trouverai un peu plus loin l'empreinte de la main de Michael (sous celle de Stevie Wonder), telle que je l'avais vue au Madame Tussauds de Los Angeles.
La même empreinte, cette fois-ci avec une signature, est accrochée dans les escaliers qui mènent vers la sortie du musée.
Le musée est assez petit. En moins d'une heure, j'en ai fait le tour et me retrouve dans l'inévitable boutique de souvenirs. Je m'adresse alors à deux vendeurs pour leur demander ce qu'il en est réellement des visites de Michael au musée. L'un deux, bien au fait, me dit qu'il y est venu à trois reprises, de manière très discrète. Les médias n'ont pas été mis au courant. Le musée possède bien sûr des souvenirs de ces visites, des photos et probablement des autographes mais ceux-ci sont conservés aux archives et le public (et moi, en l'occurrence, ce jour-là !) ne peut y avoir accès. Dommage !
Amsterdam est une ville superbe, une capitale qui n'a rien à voir avec les capitales européennes telles que Paris, Londres ou même Rome. Il fait bon s'y promener et profiter du calme qui s'en dégage. Une ville aussi très axée sur la culture avec notamment Rembrandt et Van Gogh. Car Onmjfootsteps ne veut pas dire oublier les innombrables musées et monuments qui ont marqué l'histoire des grandes villes visitées…. Il s'agit simplement d'allier la découverte à la passion.
Toutes les adresses des lieux visités ici. Retrouvez aussi l'historique des passages de Michael Jackson à Amsterdam ici