Les 26 et 27 novembre 2016, le magazine Invincible a organisé un week end à Lyon (Pierre-Bénite), avec le célèbre chorégraphe de Michael Jackson, Vincent Paterson, afin de célébrer les 25 ans de l'album Dangerous. (voir ici)
Vincent Paterson n'est plus à présenter. En plus de son travail sur les différents short films et prestations de Michael Jackson, pendant 17 ans, il a également collaboré avec Madonna et le cirque du Soleil. Un grand nom dans le milieu mais un homme d'une simplicité et d'une générosité exceptionnelles.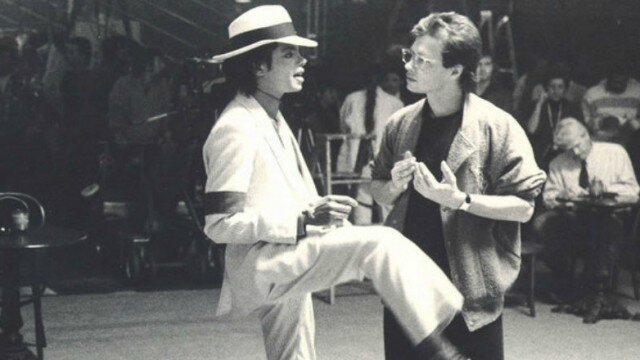 Au programme de ce week end : conférences, Meet & Greet, masterclass, diffusions des documents vidéos et aussi l'occasion de se retrouver entre fans pour l'anniversaire de cet album de légende que pourtant l'Estate de Michael Jackson n'a pas souhaité célébrer dignement.
Le samedi 26 novembre, Vincent entame les festivités avec une conférence au cours de laquelle il va livrer aux fans ses souvenirs de ses précieux moments passés auprès de Michael Jackson. Une conférence de plus de deux heures qui sera arrêtée en raison du planning mais qui reprendra le lendemain à la demande générale.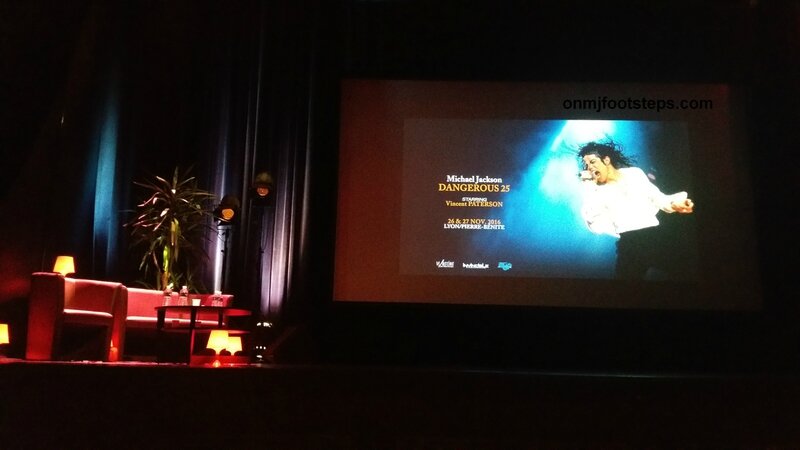 Voici quelques unes des anecdotes racontées par Vincent Paterson sur ses différents projets :
- Beat It : Vincent Paterson est à la fois un danseur et un acteur. Lorsqu'il se présente au casting pour le tournage du clip Beat It, il décide d'arriver en jouant le personnage pour lequel il auditionne, un des bad boys de la vidéo. Il arrive donc vêtu comme un véritable membre de gang, avec d'ailleurs les vêtements qu'il porte dans Beat It. Cela lui vaudra de se faire remarquer et d'obtenir le rôle.
Le tournage de la vidéo à lieu dans le dowtown de Los Angeles. Un lieu mal fréquenté et la police est là pour surveiller. Un jour, une femme est arrivée avec ses enfants pour observer ce qui se passe. Malheureusement, trop curieuse, elle se trouve dans le champ de la caméra et un des policier lui demande vulgairement de se pousser ("Hey, s…. , tu peux te pousser"), ce à quoi la femme répond tout aussi vulgairement : "Petit e….., tu ne me parles pas comme ça devant mes enfants, ici c'est chez moi, retourne donc à Hollywood !" Vincent Paterson riait encore de la situation en nous la racontant !
- Thriller : Il faisait très froid pour le tournage de ce qui deviendra le short film le plus célèbre de l'artiste. John Landis est le réalisateur et malgré le froid, il fait tourner les scènes encore et encore. A un moment, un des zombies demande au réalisateur s'il peut aller aux toilettes. Landis lui refuse en prétextant qu'il veut encore tourner une scène. Michael est alors intervenu en lui disant : "John, ce ne sont pas de vrais zombies, ils ont le droit d'aller faire pipi !!"
Vincent Paterson fait partie des zombies qui dansent auprès de Michael dans la rue. Le danseur n'avait pas le droit mais il nous avouera avoir gardé les fausses dents qu'on lui avait remises pour se grimer en zombie.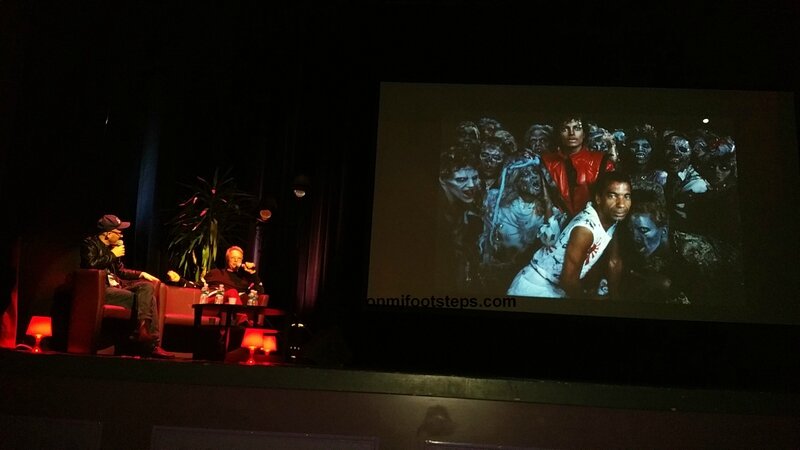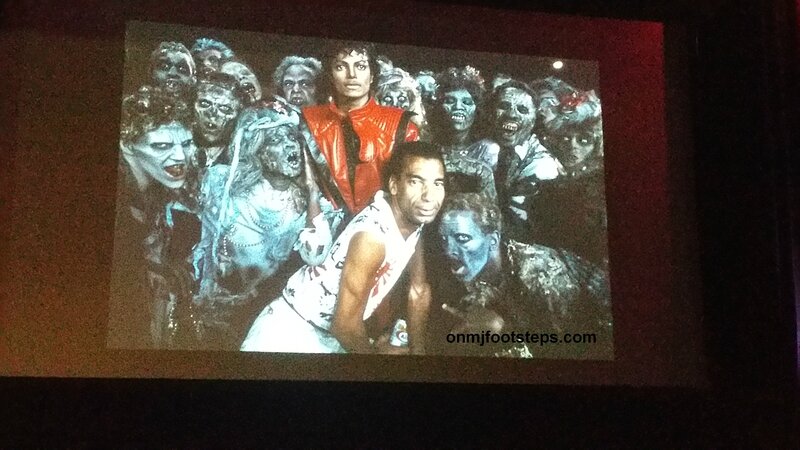 Michael, ses zombies et Michael Peters. Vincent Paterson est le zombie, à gauche sur la photo.
A l'époque, il n'y avait pas de syndicats pour danseur et ces derniers avaient très peu d'avantages. Michael a aidé à la création d'une union qui a permis qu'ils aient une sécurité sociale.
- Smooth Criminal : le short film a été tourné avant The Way You Make Me Feel, pour lequel Vincent Paterson a également collaboré.
Michael a appelé Vincent pour lui demander s'il voulait travailler avec lui. Vincent n'a pas tout de suite reconnu Michael au téléphone et a cru à un canular. Michael lui a proposé de chorégraphier Smooth Criminal, alors que jusqu'à présent Vincent n'était que simple danseur.
Michael a remis à Vincent une cassette audio du morceau et lui a dit "laisse toi guider par la musique, laisse la musique te parler", ce que Vincent a fait et ce qu'il continue d'enseigner.
Cet adage est d'ailleurs un des trois points auxquels Michael attachait de l'importance lorsqu'il était en phase de création. Il insistait également toujours pour que soit proposées des choses nouvelles, et pour créer pour les fans (Vincent confirme que Michael attachait énormément d'importance à l'avis de ses fans).
Le short film est inspiré d'un film que Michael aimait beaucoup, The Third Man (Le troisième homme), sorti en 1949. Vincent Paterson indique, que contrairement à la rumeur, il n'y eu, au départ, aucune intention de faire une vidéo de style western.
Vincent se souvient de longs moments de travail en studio où Michael pouvait être très sérieux et répéter pendant plusieurs heures d'affilées le même pas (Vincent n'hésitera pas à nous donner le credo de Michael qu'il a fait sien, répéter non pas quatre, cinq, six fois mais encore et encore jusqu'à ce que cela soit parfait) comme il pouvait aimer rire et plaisanter.
Michael et Vincent ont chorégraphié ensemble Smooth Criminal. Vincent embauchait des danseurs, répétait avec eux puis allait voir Michael à Encino pour lui montrer le travail. Chaque fois, Michael en voulait toujours plus et lui disait : "Eh si on rajoutait des danseurs ?" Et Vincent recommençait chaque fois avec plus de danseurs jusqu'à ce que Michael lui dise "et si on en rajoutait sur deux étages ?!"
Au cours de la chorégraphie, Vincent a laissé des moments où Michael pouvait improviser, comme c'est le cas lors de la séquence où il est sur une scène et il chante en tenant le micro. Tout a été repris tel qu'il l'a créé (aidé par Jeffrey Daniels qui a ajouté quelques figures) par Colin Chilvers qui a réalisé la vidéo pour le film Moonwalker.
Michael s'est retrouvé avec une arme dans les mains pour la première fois dans la vidéo. Il a montré sa joie lorsqu'il a su cela. Vincent explique que Michael était contre la violence mais que les rôles qu'il pouvait avoir lui permettaient d'expérimenter des choses qu'il n'aurait certainement jamais faites. Lui et les danseurs devaient vraiment entrer dans la peau des personnages.
Michael était également comme un enfant avec le jukebox (que l'on voit dans l'une des premières scènes du clip, lorsqu'il lance la pièce) avec lequel il s'amusait.
Vincent Paterson, à la question d'un des fans, a révélé les secrets du lean dans le short film, une technique qu'il évoque dans son autobiographie qu'il est en train de rédiger.
- The Way You Make Me Feel : A l'origine, aucune chorégraphie n'était prévue pour le short film. Michael a cependant demandé à Vincent Paterson de le rejoindre aux studios Debbie Reynolds à Los Angeles pour lui faire écouter un de ses titres, extrêmement fort, comme il aimait le faire, et lui a demandé ce qu'il en pensait. Vincent lui a proposé de s'occuper de la séquence de danse. Michael voit Vincent effectuer le pas où il est au sol et même s'il dit en plaisantant au chorégraphe "You're nasty Vincent", il aime beaucoup ce geste et décide de l'intégrer à la chorégraphie.
Michael est arrivé un jour en studio avec une chemise bleue. Vincent a trouvé que cela lui allait très bien, qu'il était très beau et lui a dit que ce serait la tenue idéale pour le clip. Michael a d'abord refusé car il était dans sa période Bad, avec les ceintures et les boucles et selon lui, c'est ce que les fans attendaient de lui comme tenue. Vincent a cependant insisté et Michael a finalement porté cette chemise pour le short film.
Le tournage a lieu en studio. Vincent évoque deux moments du short film (la version longue inédite sera diffusée) qui l'ont marqué : lorsque Michael se met à chanter "You knock me off of my feet now baby", qui marque le départ de la chanson, toute l'équipe de tournage s'est arrêtée, sidérée par la puissance de la voix de Michael. Ce dernier s'en en aperçut et a demandé: "J'ai fait quelque chose qu'il ne fallait pas ? !" Le deuxième moment est celui où Michael saute puis ressort d'une voiture, à la poursuite de Tatiana. Une séquence, proposée par le chorégraphe, que Michael a adoré car il s'agissait pour lui d'une attitude où, tel un enfant, il pouvait se laisser aller.
Vincent Paterson réalisait alors à quel point le chanteur était nostalgique d'une enfance qu'il n'a pas eue et ces souvenirs l'ont énormément ému.
- Grammy Awards, 1988 : La prestation de Michael sur Man In The Mirror (une version légèrement différente nous est présentée avec, à la fin, des images vidéo complètement inédites du photoshoot avec les Boys Scout of America en 1990) ....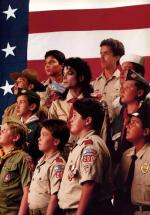 ... était un hommage à James Brown, présent dans la salle. Le parrain de la soul avait un rituel lorsqu'il interprétait son titre Please Please Please, il feignait de s'écrouler de fatigue sur scène. Un de ses assistants lui apportait alors une cape en le ramenant vers les coulisses mais James Brown se redressait et se débarrassait de la cape pour continuer de chanter. Lors de sa prestation au Grammy Awards, Michael s'écroule à la façon de son idole (à 5 :07 dans la vidéo ci-dessous) et Andrae Crouch vient l'aider à se relever.
Même si l'évènement reste une des meilleures prestations de Michael, Vincent indique que les répétitions lui ont laissé un souvenir plus marquant que la prestation elle-même.
- Black or White : l'évocation de ce short film est l'occasion de visionner des images inédites des répétitions en studios de Michael, issues des archives personnelles de Vincent Paterson. Quelques minutes de bonheur qui se terminent par des applaudissements pour remercier Vincent Paterson de ce cadeau.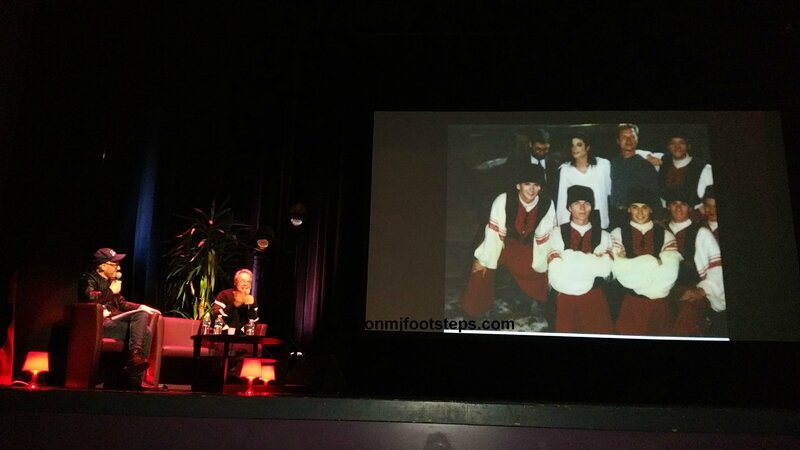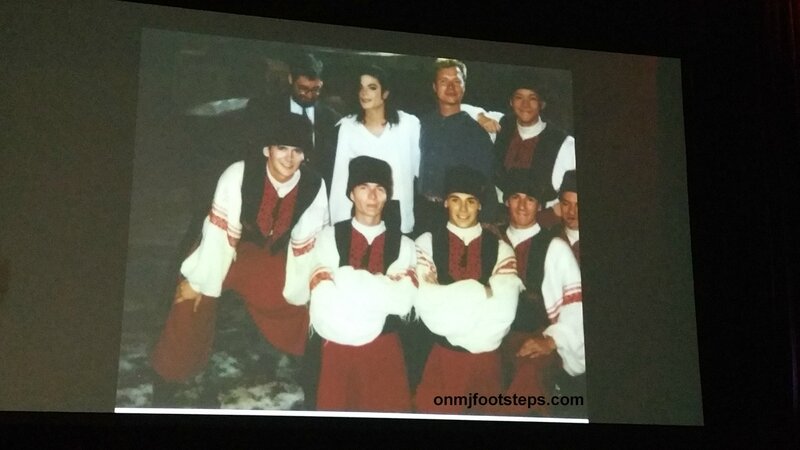 Dans la deuxième partie du short film, Michael réalise des gestes suggestifs dont celui de se caresser le bas ventre. Vincent Paterson explique qu'il s'agit d'un geste qu'il a effectué devant Michael qui a aimé et il a décidé de l'intégrer dans le clip.
Pour Black or White, Michael porte pour la première fois un corset de poignet blanc. Le chorégraphe explique que l'idée est venue à Michael de l'intégrer dans son look lorsqu'il a vu quelqu'un avec un bras plâtré. Lorsqu'il trouvait quelque chose qui lui plaisait, il l'adoptait et l'adaptait à sa façon.
- Superbowl 1993 : Vincent Paterson voulait faire quelque chose d'innovant mais Michael souhaitait conserver des numéros du Dangerous Tour. Vincent a cependant eu l'idée des cartes qui représentent les enfants du monde et Michael celui du globe terrestre qui apparait au centre de la scène. Trois jours de répétitions leur ont suffit et Vincent s'est rendu compte que même si Michael refait des numéros connus, chaque prestation est exceptionnelle parce que Michael apporte une énergie nouvelle.
- Will You Be There, MTV 10th Anniversary : pour cette prestation, Vincent a engagé trois générations de figurants (enfants, adultes, seniors) qui étaient répartis sur différents paliers et Michael chantaient, sautaient, dansaient entre eux. Il a également eu l'idée des symboles forts comme la bible et l'ange qui vient envelopper Michael de ses ailes.
- Blood On The DanceFloor : Deux vidéos ont été tournées pour ce titre. L'une, en 8 mm, que Sony a refusé et qui pourtant, met en scène un Michael Jackson très sexy, et celle que nous connaissons.
Vincent voulait, dans ce clip, un Michael Jackson sexy, à la façon d'Elvis Presley ou encore d'Humphrey Bogart dans Casablanca. Il ne voulait pas de cri ou de pas de danse où Michael se saisirait l'entrejambe mais plutôt une danse sensuelle, façon mambo.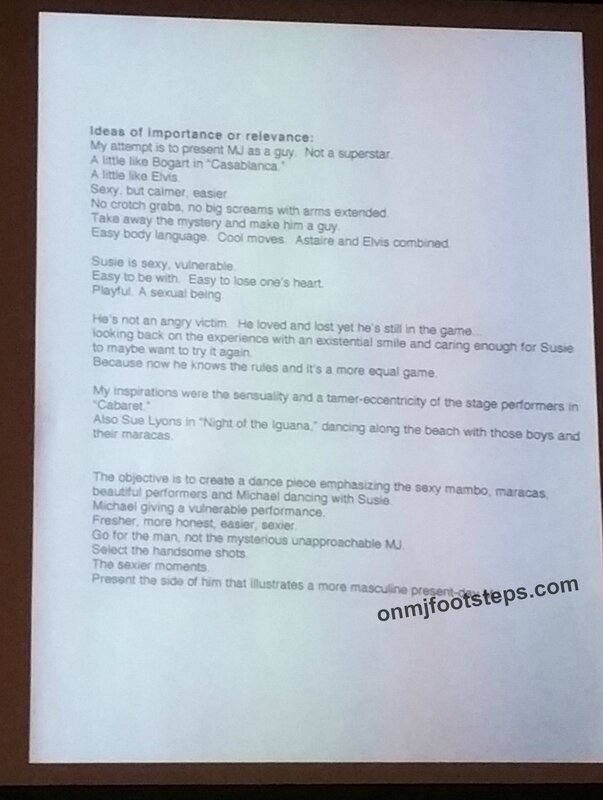 Les objectifs et premiers dessins des idées de Vincent Paterson pour le short film Blood On The DanceFloor (photos de Vincent Paterson présentées lors de la conférence)
Vincent explique qu'une des scènes du clip est un hommage à Jailhouse Rock (Le rock du Bagne) d'Elvis Presley. Dans son film de 1957, Elvis est filmé entre les jambes de Gloria Pall au Florita Night Club. La scène dans le short film où Michael tient les jambes de la danseuse est donc une reprise de cette célèbre scène d'Elvis Presley.
Le décor avec l'échelle du clip rappelle également la mythique séquence où Elvis interprète son Jailhouse Rock !
Régulièrement au cours de cette conférence, les short films sont diffusés pour appuyer le témoignage de Vincent Paterson. Ce dernier les regarde comme s'il les découvrait pour la première fois, faisant part de ces émotions. Lorsque je lui ai posé la question sur ce qu'il ressentait lors de ces moments, au cours du Meet & Greet, il a expliqué, avec beaucoup d'émotions, qu'il avait bien entendu de précieux souvenirs que ces clips lui remémoraient mais qu'il n'avait jamais cherché à être un ami de Michael Jackson en dehors du milieu professionnel. Il ne voulait pas s'imposer à lui. Si Michael l'appelait pour travailler avec lui et qu'il était disponible, il acceptait. S'il ne l'appelait pas et choisissait quelqu'un d'autre, cela ne lui posait pas de problèmes. Mais il garde dans son cœur ses moments formidables passés avec lui avec une préférence avouée pour les répétitions en studios où il avait la chance de côtoyer alors à la fois l'homme et l'artiste. Pour les sessions de tournage, Michael était plus entouré et il y avait des obligations de part et d'autre.
Vincent Paterson est un homme extrêmement simple, proche des fans et très sensible. Certains moments de partage ont été entrecoupés de rires mais aussi de larmes. Des instants intenses en émotions qui nous rappelaient cruellement que Michael nous manque tellement.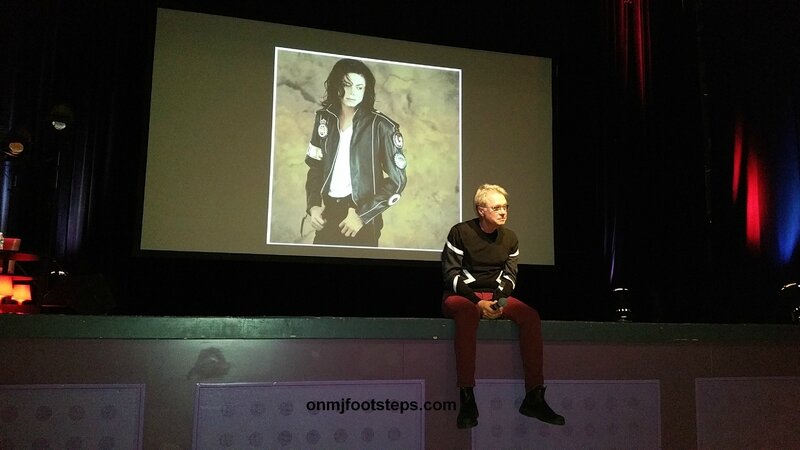 En dehors de ces conférences, Vincent a échangé également avec des petits groupes de fans, lors du Meet & Greet. L'occasion aussi d'obtenir une dédicace et de poser auprès de lui avec en fond l'album Dangerous.
Certains fans ont également eu l'opportunité d'assister à une master class d'une heure dans un studio de danse, au cours de laquelle Vincent leur a enseigné la chorégraphie, très technique, de Smooth Criminal. Ceux-là pourront dire qu'ils ont dansé avec Vincent Paterson qui n'a pas hésité à se mettre, avec beaucoup de patience, à la hauteur des fans, pour certains inexpérimentés.
La diffusion du documentaire The Man Behind The Throne a permis de (re)découvrir l'incroyable carrière de Vincent Paterson. Un documentaire d'une heure qui suit le chorégraphe alors qu'il est en pleine création de Viva Elvis pour le Cirque du Soleil, ponctué de flashbacks sur ses collaborations avec Michael Jackson, Madonna, et sa participation au film Dancer In The Dark de Lars Von Trier, avec Bjork, palme d'or du Festival de Cannes en 2000.
Le week end s'est clôturé par la diffusion du documentaire Dangerous 25, réalisé par Invincible Magazine, qui est revenu sur les temps forts de la période Dangerous.
Richard Lecocq, Olivier Chalumeau, Marguerite Lenoble et la Maison du Peuple de Pierre-Bénite ont permis aux fans, grâce à leur motivation et leur passion, de réaliser un bel évènement, riche en émotions, en rencontres. Un évènement comme on voudrait qu'il y en ait plus souvent, un évènement que l'on aurait voulu plus long tant Vincent Paterson avait encore à partager. Merci à eux!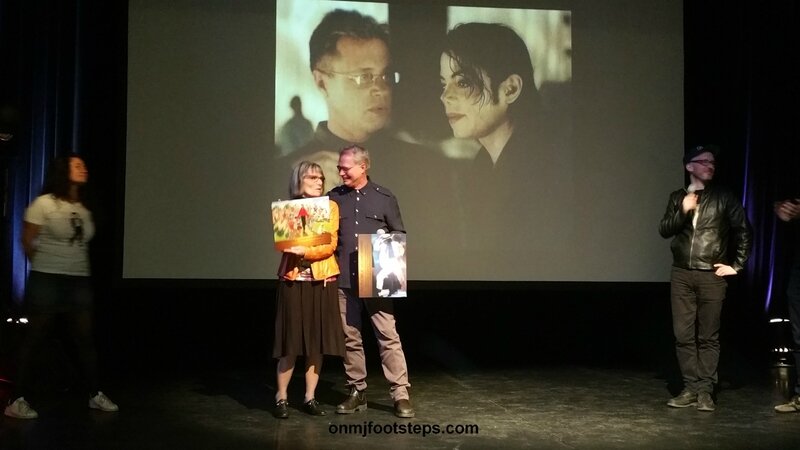 Remise d'un Invincible Award à Vincent Paterson et Margurite Lenoble par Invincible Magazine
Ce chorégraphe, qui a côtoyé les plus grands et qui a lui-même un palmarès impressionnant, reste un homme abordable, humble, gentil et surtout extrêmement sensible. Il nous a ouvert, le temps de ce week end les portes de son passé, très riche, se livrant émotionnellement. Un homme qui ne pouvait que toucher Michael Jackson tant son humanité est réelle. Il nous a donné la preuve, si tant est que nous en avions besoin, que l'on peut être un génie dans son domaine et rester un homme simple et ouvert aux autres.
Merci Mr Paterson de nous avoir accordé un peu de votre temps pour célébrer l'album Dangerous et perpétuer la mémoire de notre King of Pop.
Merci à mon amie Lid (Facebook MJJ Top News) pour son aide à la rédaction de ce compte rendu.