Le 14 décembre 1969, les Jackson 5 font leur première apparition au Ed Sullivan Show, une émission de variétés présentée par Ed Sullivan le samedi soir sur la chaîne CBS.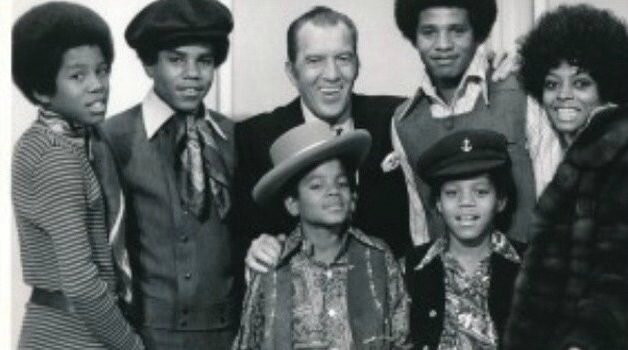 Le show, très populaire, diffusé depuis 1948, a permis à de jeunes talents de lancer leur carrière et des artistes plus connus de réaliser des prestations qui restent dans les annales de l'émission. Parmi les grands noms qui ont foulé le Ed Sullivan Theater de New York (connu aussi comme le CBS Studio 50, qui accueille aujourd'hui The Late Show with Stephen Colbert) on compte Elvis Presley, The Beatles, The Supremes, Janis Joplin, The Rolling Stones, The Beach Boys, …. Quiconque passait par le Ed Sullivan savait sa carrière assurée !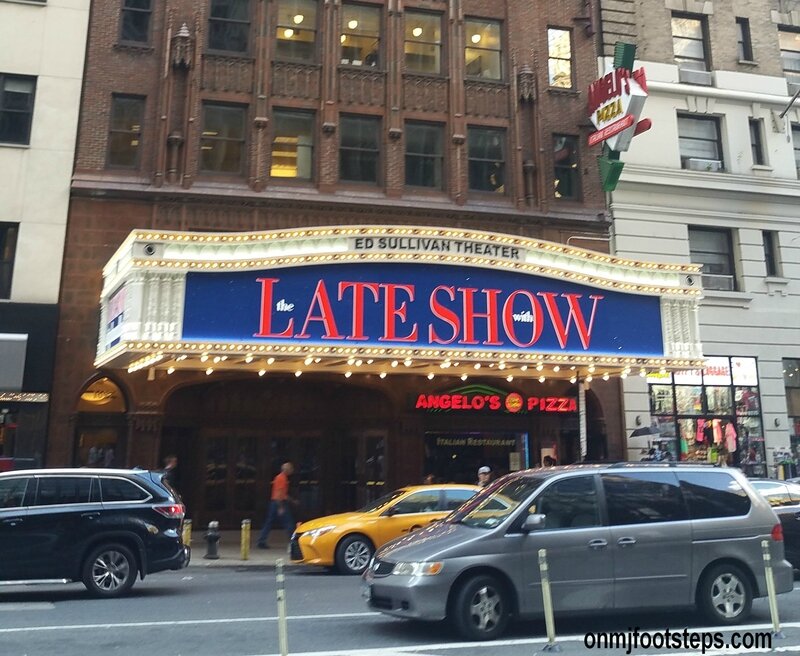 Ed Sullivan n'avait pas pu échapper à l'ascension fulgurante des Jackson 5 en cette fin d'année 1969. Le groupe était apparu, officiellement pour la première fois à la télévision, le 18 octobre dans l'émission Hollywood Palace, présentée par Diana Ross (qui donnera lieu à un album en mars 1970), sur la chaîne ABC. Supporter des artistes Motown, Ed Sullivan et Berry Gordy se mettent d'accord pour une apparition du groupe dans l'émission.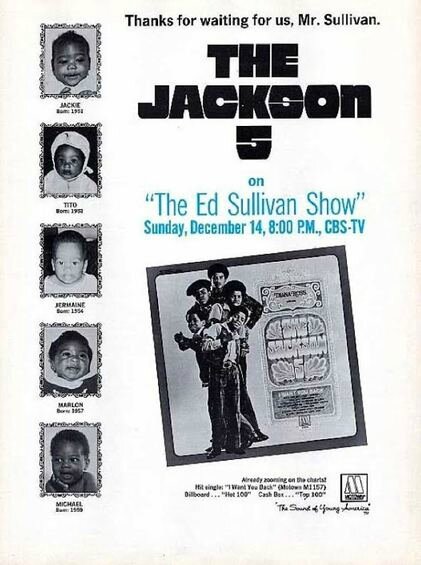 Ce soir de décembre 1969, Ed Sullivan présente les Jackson 5 comme "un groupe sensationnel" et les frères entament Stand ! de Sly and The Family Stones. Suivra ensuite l'incroyable performance vocale de Michael avec Who's Loving You puis le tube du moment du groupe, I Want You Back.
"Je me rappelle que, pour la circonstance, Michael portait un chapeau rose à large bords avec sa redingote bleue et une chemise à motifs marron. C'est devenu une image célèbre au cours des années, mais ce que les gens ne savent pas, c'est sa panique quand il a fallu choisir ce costume extravagant. Il avait la même passion pour les chapeaux que notre batteur Johnny et cet accessoire faisait désormais partie de notre look, notamment pour Jackie, Marlon et Michael. Le problème c'est que quelqu'un avait oublié les chapeaux pour le fameux show télévisé. La pauvre Suzanne De Passe s'était précipitée à Greenwich Village, et le chapeau rose était tout ce qu'elle avait pu trouver pour Michael. Il s'est regardé dans le miroir – tout en rose, bleu et marron – et il a dit : J'adore !", explique Jermaine. (1)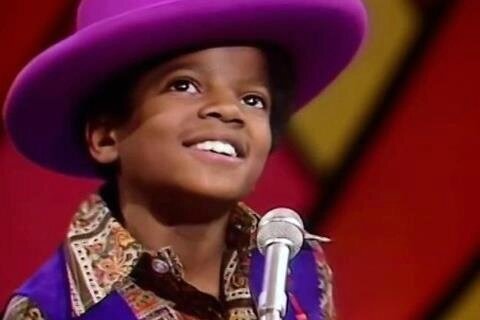 La carrière des Jackson 5 est lancée ce soir-là. Ils reçoivent un tonnerre d'applaudissements qui présagera de leur immense succès à venir. Ed sullivan ne manque pas de préciser, à la fin de la prestation, ce qui deviendra un mythe populaire dans la carrière du groupe, que Diana Ross, présente dans le public, est celle qui a découvert les cinq frères.
"Ed Sullivan était un des présentateurs les plus charmants que j'ai connus et il savait nous mettre à l'aise" (2), se souvient simplement Michael. Il est vrai que la carrière des Jackson 5 sera par la suite marquée par de nombreuses apparitions télévisées dont une , à nouveau, en mai 1970, dans l'émission d'Ed Sullivan.
D'autres photos de la prestation ici
Antoinette Holmes, amie du groupe, a été de 1967 à 1972, la présidente du fan club des Jackson 5. Elle était présente aux côtés des frères ce 14 décembre 1969. Elle évoque, pour le site michaeljacksonreel.weebly.com les souvenirs de cette journée :
A l'hôtel, quelques heures avant la première apparition de la Jackson 5 au Ed Sullivan Show
"Quand les Jackson 5 sont venus à New York pour leur première apparition au Ed Sullivan Show, ils ont séjournés au JW Essex House Hôtel. On peut dire que ce n'était pas un jour comme les autres parce que les garçons ne plaisantaient pas autant que d'habitude. L'ambiance était très sérieuse ce jour-là et je les ai surpris par moment assis tout seul à essayer de se calmer et de se concentrer. J'ai une photo de Tito assis dans un des fauteuils de l'hôtel quelques heures avant le spectacle, qui essayait de se détendre. Sur la photo, il porte le chapeau de mon amie Ghita. (Ghita et lui avaient l'habitude d'échanger souvent des chapeaux). Michael était également très calme lors de cette journée, il se stimulait et se concentrait énormément.
J'ai donné un bracelet à Michael ce jour-là à l'hôtel, pour lui souhaiter bonne chance. (J'avais ces bracelets de ma famille qui me les rapportaient des Bahamas, c'était des bracelets rigides en argent). J'ai retiré un des bracelets qui était à mon poignet et je lui ai donné pour qu'il lui porte chance le soir. (J'ai une photo de lui où il porte le bracelet, et sur la photo il avait une veste bleue/verte claire et un pantalon foncé. J'ai une autre photo de Michael et Marlon, debout, ensemble et une de Michael seul. J'ai réussi à en prendre une aussi d'un de mes cousins assis avec Marlon dans un fauteuil). Toutes ces photos ont été prises dans leur chambre d'hôtel, quelques heures avant d'aller au studio Ed Sullivan. (Certaines des photos que j'ai été ont été faites par Michael, lui-même)". Voir les photos ici.
L'Arrivée avec les membres du fan club au studio Ed Sullivan
"Avec le fan club nous sommes arrivés au studio Ed Sullivan environ une demi-heure avant le début du spectacle et nous sommes allés voir les garçons en coulisses pour leur souhaiter bonne chance. Nous ne sommes pas restés longtemps car ils venaient d'avoir leurs costumes pour le show et nous ne voulions pas les déranger. Nous sommes allés nous assoir. Nous avions une rangée réservée pour nous dans le public ce soir-là, et j'avais essayé de faire venir autant de membres du fan club que je pouvais pour assister au spectacle. (Un grand nombre de nos membres étaient jeunes en raison de l'âge des Jacksons, et beaucoup d'entre eux n'avaient pas été autorisés à venir). Mais, Joseph avait pris soin de nous et nous avait dit: "Vous n'aurez aucun problème. Nous avons des places VIP pour vous tous".
Le siège à côté de moi était vide, et Joseph m'avait demandé de m'assoir à côté de cette chaise vide. Il m'avait donné le numéro du siège et dit: "Le reste du fan club peut s'assoir où il veut" mais il voulait être sûr que je serais assise sur ce siège en particulier. Je me suis donc assise là, mais le siège à ma gauche est resté vide un long moment. Je me suis dit: "Je me demande qui est supposé s'assoir là." Tout à coup, une femme est arrivée. Elle s'est assise à côté de moi, et tout le monde était en admiration devant elle. "Regardez qui c'est! Regardez qui c'est!" Je me suis retournée et j'ai vu Diana Ross. Elle portait ce magnifique manteau chinchilla, il était superbe.
Avant que le spectacle ne débute, il y avait toujours quelqu'un pour chauffer le public. Pendant ce temps-là, Diana Ross s'est levée et s'est dirigée vers l'entrée du côté de la scène où Ed Sullivan était caché pour lui parler. (Je me souviens que cette entrée latérale avait des marches bleues qui menaient à la scène avec des rideaux fermés).
Avec le fan club, nous avons regardé tout le show et les Jackson 5 ont été excellents. Ils ont interprété des chansons de leur premier album, Diana Ross Presents Jackson 5 (qui sortirait quatre jours plus tard) : Stand !, Who's Lovin 'You' et I Want You Back.
J'avais l'habitude de porter un petit gilet en daim et Michael l'adorait. Il le mettait de temps en temps, mais Michael était si petit que le gilet ne lui allait pas bien. Alors, ils lui ont procuré son propre gilet pour sa performance et ça lui allait parfaitement.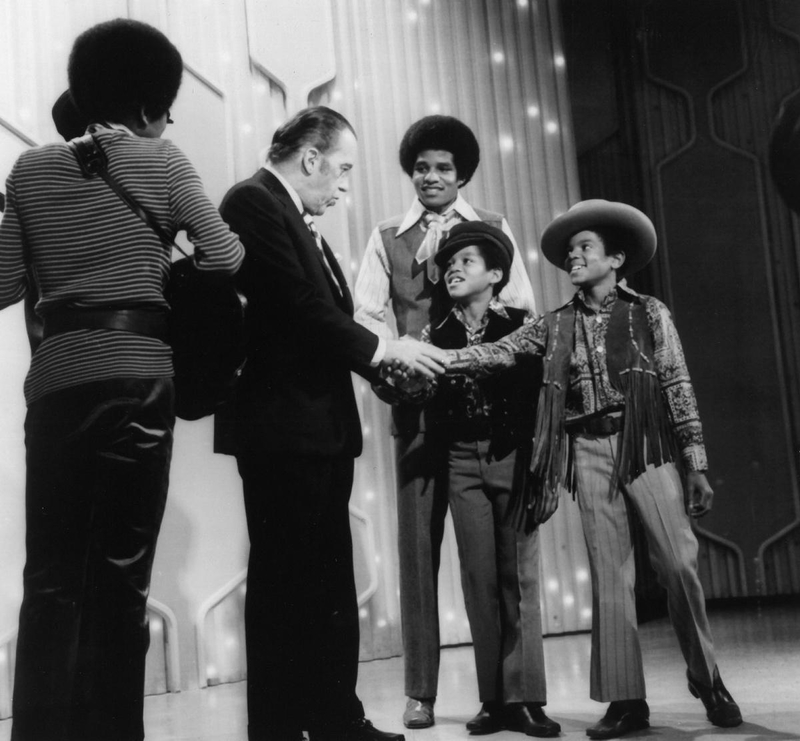 L'after party: A Victory Celebration
"Après le spectacle, le fan club et moi sommes allés en coulisses et Joseph m'a dit: "Je voudrais que Ghita, et Becky et toi veniez avec les garçons à la Victory Celebration au Cheetah. Il avait appelé l'after party "A Victory Celebration" , et The Cheetah était un club célèbre de New York dans les années 1960 et 70. (The Cheetah était en face du Ed Sullivan Show mais il a ensuite été transféré sur la 8ème Avenue).
Mr Jackson nous a dit à toutes les trois :"Je veux que vous veniez toutes au Cheetah avec nous dans la limousine. On est sur le point de partir et on va passer un bon moment. Je veux que vous montiez dans la limousine ainsi quand les garçons y monteront, vous pourrez être à côté d'eux." Il parlait de Jackie, Jermaine et Tito. Nous allions toutes les trois pouvoir monter avec eux, mais quand j'ai vu les autres membres du fan club qui nous regardaient, je n'ai pas voulu pas les laisser tomber.
Les garçons nous disaient: "Allez, venez!" Mais finalement, je leur ai dis: "On se retrouve là- bas."
Les Jackson 5 m'ont dit: 'Mais Joseph nous a dit que… ". "Je sais. Je suis désolée, mais je ne peux pas laisser le reste du club de côté", j'ai répondu.
Ghita, Becky et moi sommes donc allées au Cheetah avec le reste du fan club. Quand nous sommes arrivés là-bas et je me souviens que c'était vraiment psychédélique. C'était une boîte de nuit sur deux niveaux, avec le bar sur un niveau et la piste de danse sur l'autre. Il faisait sombre et les lumières clignotaient de partout. Quand nous sommes arrivés, la musique jouait déjà, c'était génial. Nous avons tous commencé à danser avec le Jacksons et nous avons fêté leur performance de la soirée. Nous, les filles, avons dansé chacune notre tour avec eux. Quand j'ai dansé avec Michael, Diana Ross est arrivée pour danser avec lui. Je me suis donc mise à danser avec Marlon, et il faisait cette petite danse qu'il faisait toujours, il me montrait comment faire.(rires). Heureusement que je portais un pantalon parce que si j'avais eu une robe, je n'aurais pas été capable de la faire!
Marlon me montrait donc comment faire cette danse (qu'il faisait sur scène, au début des performances des Jackson 5) qu'il appelait The Skate. Il patinait d'un côté et de l'autre sur le sol, puis il arrêtait et lançait une jambe sur le côté. Il nous a montré comment faire cela. Puis les garçons nous ont montré comment faire une danse appelée The Rubber Leg où vous marchez tout en cognant vos genoux ensemble pendant que vous le faites. (Vous marchez, mais vous frappez vos genoux ensemble comme s'ils étaient en caoutchouc). Puis vous arrêtez et vous vous tenez debout, et donnez un coup de pied avec un talon. Ensuite, vous faites la même chose, mais sur le côté opposé. À un moment donné, nous étions tous en train de faire la danse."
La fin de la soirée:
"Il faisait très froid cette nuit-là à New York et il a même commencé à neiger un peu. Ma mère m'avait donné l'autorisation de manquer l'école le lendemain parce que j'étais très fatiguée. Joseph était très strict mais d'une bonne façon, il faisait toujours en sorte que nous tenions nos mères informées de l'endroit où nous étions. Ce soir-là , il nous a dit: "Appelez toutes vos mères et dites leur que nous allons au Cheetah après le Ed Sullivan Show. Dites leur aussi que tout se passe bien". A la fin de la soirée, il nous a tous donné de quoi prendre un taxi et tous les membres du fan club sont rentrés chez eux grâce à plusieurs taxis."
Sources : (1) You Are Not Alone, le vrai Michael dans les yeux de son frère, Jermaine Jackson/(2) Moonwalk, Michael Jackson/michaeljacksonreel.weebly.com (traduction: onmjfootsteps.com)