Si le nom de Michael Jackson a plus souvent été associé à celui de basketteurs célèbres (Magic Johnson, Michael Jordan), en matière de sport, la relation du King of Pop avec le ballon rond du football a permis à certains clubs européens de voir leur image promue par la star.
Le soccer (nom donné au football aux Etats-Unis) est un sport beaucoup moins réputé aux pays de l'Oncle Sam qu'il l'est en Europe. Les américains lui préfèrent de très loin le football américain, véritable religion dans le pays, qui, s'il porte le même nom, n'en a cependant pas du tout les mêmes règles. Michael associera à jamais son nom au football américain lors de sa performance inoubliable pour la mi-temps du Superbowl le 31 janvier 1993.
Ci-dessous avec Bo Jackson, champion de football américain au début des années 1990.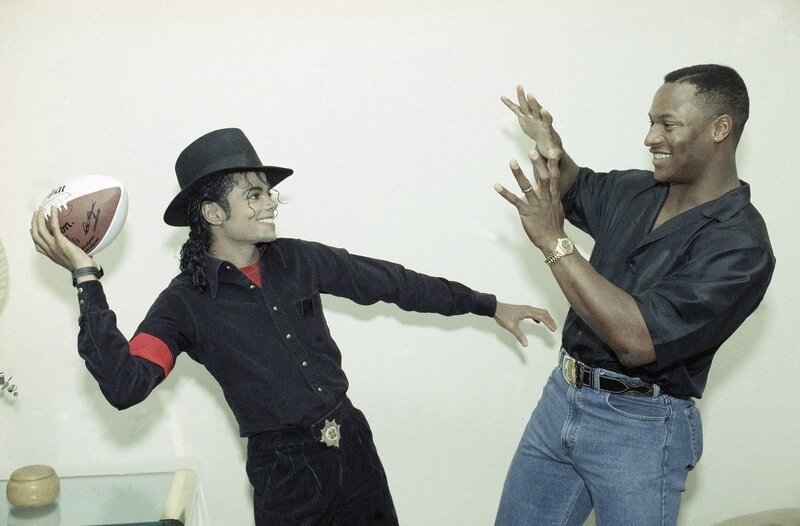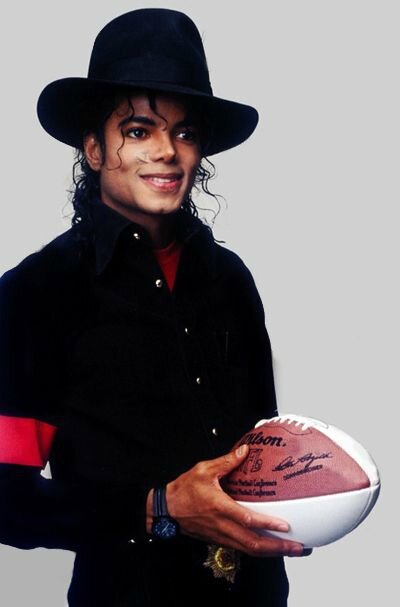 Ses premiers coups de pied officiels dans un ballon de football (soccer), Michael les donne sous l'œil des caméras, dans l'émission du First Annual Rock N Roll Sport Classic le 10 mars 1978 (voir ici). [MAJ: il semble que ce soit Marlon Jackson sur la photo ci-dessous (merci à Ben Scarr sur facebook pour la correction ;) .... ce qui voudrait dire que finalement, Michael n'a jamais joué au football!]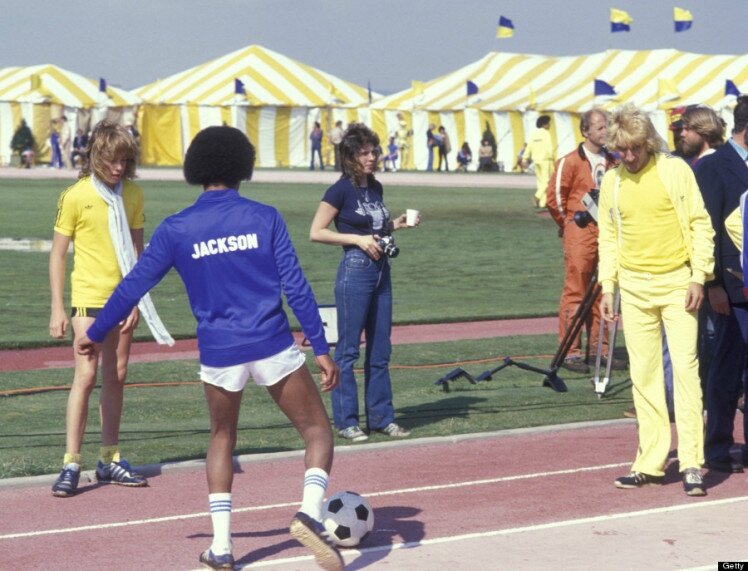 Nice OGC
En 1983, la Thriller-mania bat son plein et Michael Jackson est à la une de nombreux magazines. Todd Gray, le photographe du chanteur à cette époque, doit réaliser un photoshoot pour la couverture de Rock Superstar Magazine. Il se rend au domicile de Michael Jackson, à Hayvenhurst où il aura la surprise de le voir arriver pour le shooting vêtu d'un maillot de foot de l'équipe de Nice, club de football du sud de la France. Personne ne sait comment il a obtenu ce maillot "Coq Sportif" de la saison 1979-1980 de l'OGC Nice, un maillot mythique semble-t-il, avec le sponsor Olympia Chaussette, mais ce qui est sûr c'est que Michael a insisté pour faire les photos avec.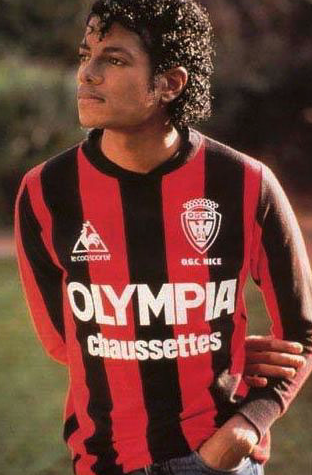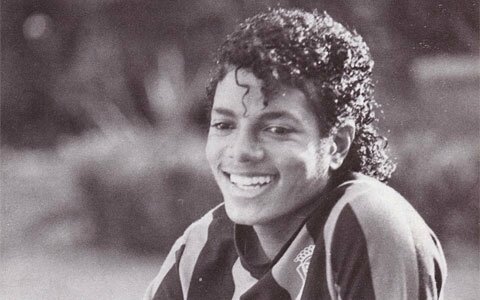 Un des clichés fera la une du magazine et un autre servira également pour un picture disc, The Story of Michael Jackson Told by Jerry Cowan, en 1983.
TSV 1860 Munich
Le 2 mai 1997, Michael Jackson est à Munich, en Allemagne. Il doit tenir une brève conférence de presse au stade Olympique (Olympiastadion), destinée à promouvoir son HIStory World Tour en Allemagne.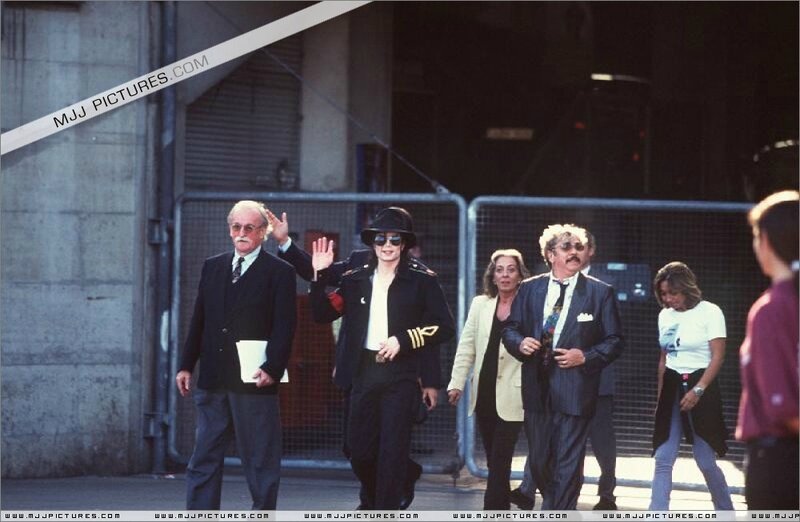 A cette occasion, une plaque et un maillot du TSV 1860 Munich, un des clubs de football de Munich, qui évolue alors en Bundesliga, le championnat allemand, et qui joue sur la pelouse du stade Olympique, lui sont remis. Le maillot, aux couleurs bleues et blanches du club est signé des joueurs et floqué du nom du chanteur.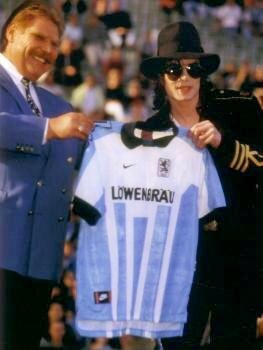 Fulham FC
Le 10 avril 1999, Michael Jackson assiste à un match de football, entre des clubs de la deuxième division anglaise, Fulham et Wigan. Si on ne peut décemment pas dire qu'il pénètre pour la première fois dans un stade de football, sachant le nombre de concerts donnés dans ce genre de lieu par la star, on peut cependant affirmer qu'il s'agit d'une première pour le King of Pop qui découvre réellement ce jour-là un stade sous un autre point de vue.
Le Fulham FC, qui porte le nom du quartier de Londres où il joue, est le plus ancien club de football professionnel de la capitale anglaise et joue sur la pelouse de Craven Cottage depuis 1879.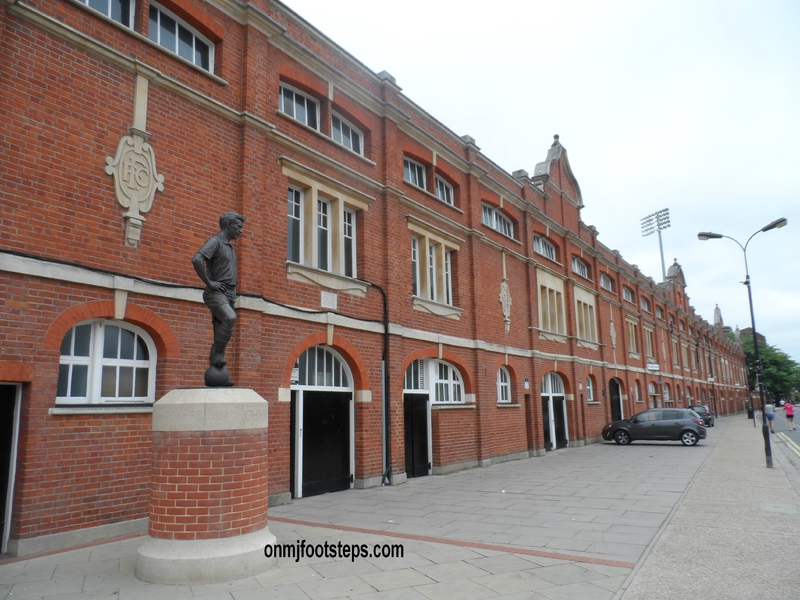 Mohammed Al-Fayed, ami de Michael Jackson et propriétaire du club depuis 1997, invite le chanteur à venir assister à un match. "Michael est venu chez Harrods (une célèbre boutique dans le centre de Londres que possédait également Al-Fayed) pour faire du shopping et je lui ai demandé s'il aimerait voir un match avec moi. Il a accepté et je me souviens qu'il était excité ce jour là, assis dans les tribunes avec moi à suivre le cours du match", se souvient l'homme d'affaires égyptien.
A la grande surprise des spectateurs, Michael fait un tour sur la pelouse du stade protégé d'un parapluie orné du blason noir et blanc du club avant de s'installer dans une tribune du Riverside Stand (la tribune construite sur les bords de la Tamise) bien emmitouflé d'une écharpe du club, tel un véritable supporter, pour assister à la victoire 2 – 0 de Fulham.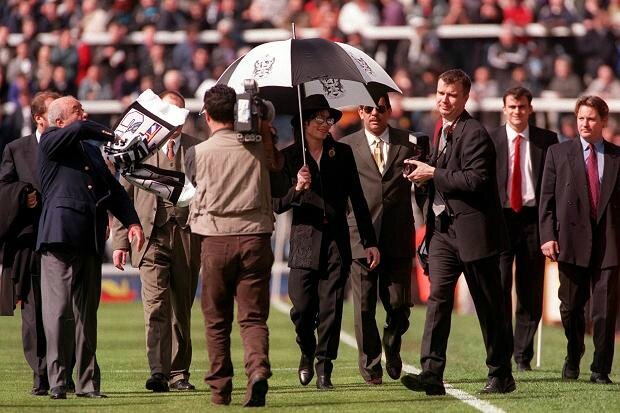 Après le match, Michael ira à la rencontre des fans pour leur signer des autographes, à l'entrée de Craven Cottage.
Interviewé par Piers Morgan pour le Daily Mirror peu après, Michael déclare : "Je ne connaissais rien au foot et je n'avais jamais assisté à un évènement sportif mais Mohamed Al Fayed m'a beaucoup appris et je me suis bien amusé à Fulham. Je suis fan de foot maintenant et je suis accro. Vous risquez de me voir plus souvent à des matches. C'était incroyable! J'ai posé quelques questions parce que je ne connaissais pas les règles au début, mais une fois que j'ai eu compris, c'était réellement amusant. ... Tout le monde criait, hurlait et encourageait leurs joueurs. J'ai eu un peu le trac au début, mais c'était merveilleux, c'était tout simplement génial. J'ai ressenti quelque chose de bizarre quand j'ai entendu le public crier, je voulais me lever et commencer à danser car j'ai l'habitude d'entendre les gens crier quand je joue. (rires)"
A propos de l'équipe de Fulham, il dit : "Je suis sûr que l'équipe remontera en première division. C'est une bonne équipe et il y a un bon état d'esprit. J'ai rencontré tous les joueurs, ils ont été adorables avec moi."
A la mort de Michael Jackson, Mohammed Al-Fayed souhaite rendre hommage à son ami et commande une statue à l'effigie du chanteur qu'il souhaite exposer dans son magasin Harrods de Londres. Mais, en mai 2010, Harrods est racheté par des investisseurs qataris qui refusent de prendre la statue de 2,3 mètres. Celle-ci est donc exposée, à partir du 3 avril 2011 à l'entrée de Craven Cottage, mais essuie une pluie de critiques de la part des fans du club qui la trouvent trop kitsch et estiment que cela n'a rien à voir avec le football. Là où certains stades ont une statue à l'effigie d'un de leur plus grands joueurs, le Fulham FC avait Michael Jackson!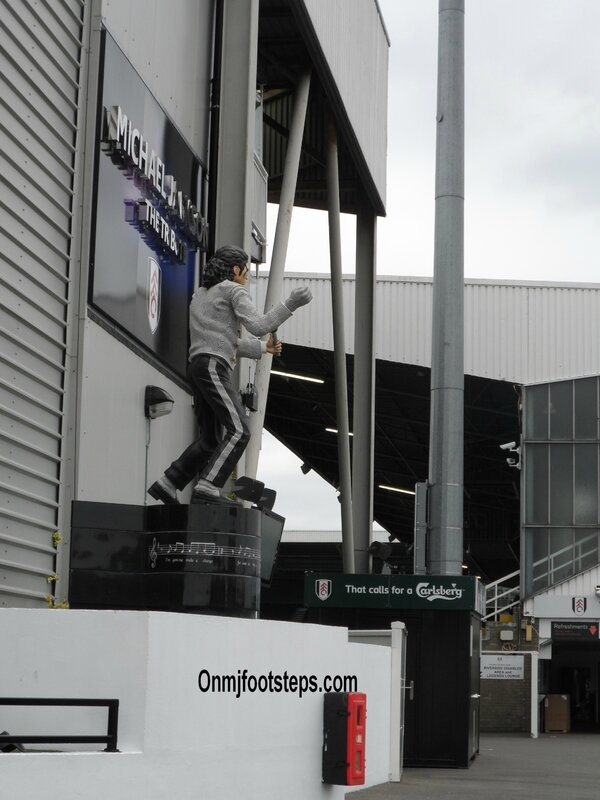 En juillet 2013, Sahid Khan, un homme d'affaires pakistano-américain rachète le club de Fulham et ne souhaite pas conserver la statue. Le 25 septembre 2013, la statue est retirée et en mai 2014, le club de Fulham est relégué en deuxième division (le club avait accédé à la première division en 2000). Il n'en fallait pas plus pour qu'Al-Fayed y voit un signe : "Quand le nouveau propriétaire a décidé de la retirer, je lui ai dit : "Comme tu veux, c'est un porte-bonheur, tu le regretteras plus tard." Maintenant, il va vraiment le regretter, car je l'avais prévenu. Je lui ai dit : "Tu payeras avec du sang pour cela", parce que les gens l'adoraient. C'était une grosse erreur, mais il a payé pour. Il a été relégué et s'il se réveille et me redemande Michael Jackson, je lui répondrai : "Pas moyen."!"
En mai 2014, la statue est déplacée au National Football Museum de Manchester où elle est toujours.
Exeter City
En juin 2002, Michael Jackson est de retour sur la pelouse d'un stade de football, cette fois pour une bonne cause.
Exeter est le chef-lieu du comté de Devon, au sud-ouest de l'Angleterre. Connue pour son ancienne cathédrale et ses ports, c'est pour une tout autre actualité qu'on évoque cette ville le 14 juin 2002. Michael Jackson est en effet en visite, pour quelques heures à St James Park, le stade qui accueille l'équipe de football de la ville, le Exeter City FC.
Michael arrive directement de Londres (où son départ de Paddington Station a créé une véritable émeute) en train, accompagné de Uri Geller, animateur de télévision israélien et illusionniste controversé, ami de la star. Les deux hommes avaient été mis en relation quelques années plus tôt grâce à Mohammed Al-Fayed et Michael avait été le témoin de Geller lorsqu'il avait renouvelé ses vœux de mariage en 2001.
En 2002, Geller est également le co-président, du club de foot d'Exeter, qui évolue en troisième division, et dont la santé financière bat de l'aile. Qui de mieux alors que la superstar Michael Jackson pour déplacer les foules au cours d'un évènement destiné à récolter des fonds pour le club et pour des œuvres de charité en faveur des enfants atteints du sida! Michael accepte de se déplacer à condition que Geller fasse venir des enfants malades.
Près de 10 000 personnes sont présentes pour l'évènement de deux heures, au cours duquel vont se succéder quelques groupes avant l'apparition du chanteur.
Michael entre dans le stade à bord d'une voiture vintage réplique de celle du film de 1968, Chitty Chitty Bang Bang.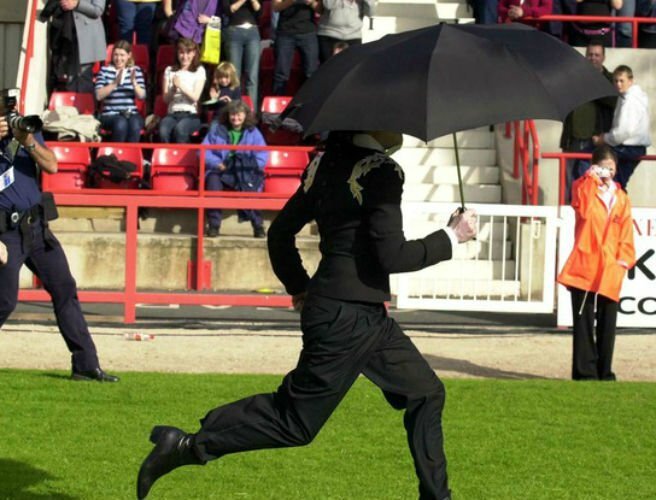 Il salue les spectateurs avant d'aller à la rencontre des jeunes malades puis se rend sur la scène aménagée pour l'occasion.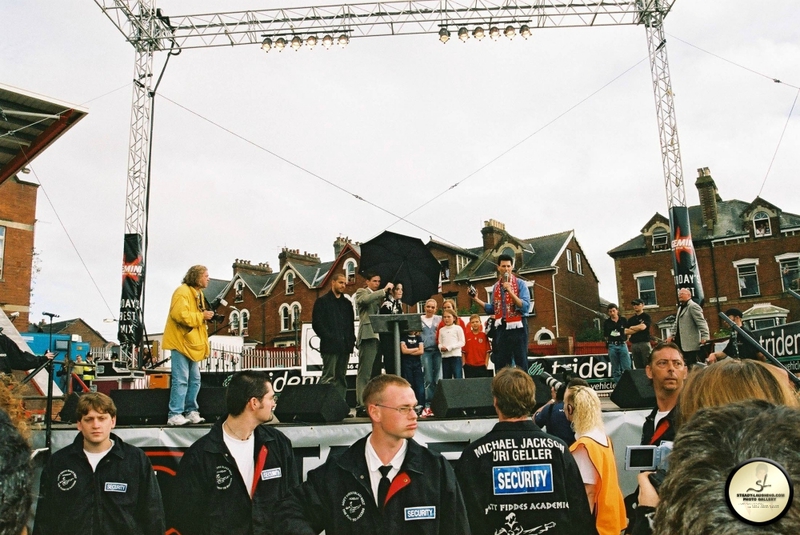 Entouré de Uri Geller et David Blaine (un autre illusionniste, américain, que Michael côtoyait beaucoup à l'époque) il va, pendant plus de cinq minutes, livrer l'un de ses plus beaux discours, un plaidoyer pour l'amour et la considération de l'autre, pour la lutte encore plus active du sida.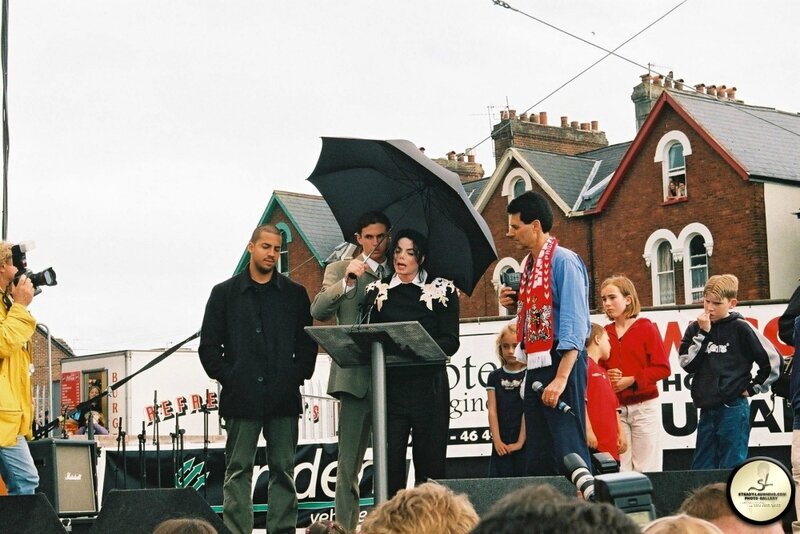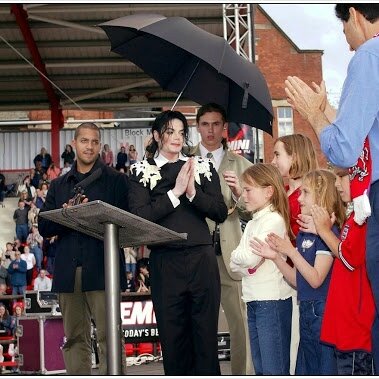 A la fin de son discours, Michael déclare au public que l'Angleterre battra le Danemark le lendemain lors du match les opposant en huitièmes de finale de la Coupe du Monde qui se joue ce mois-là….. avant de plaisanter en disant qu'il n'y connait strictement rien en sport ! Mais l'Angleterre a finalement battu le Danemark 3 à 0 !
Michael est nommé président d'honneur du club de football d'Exeter et aura même un maillot du club à son nom.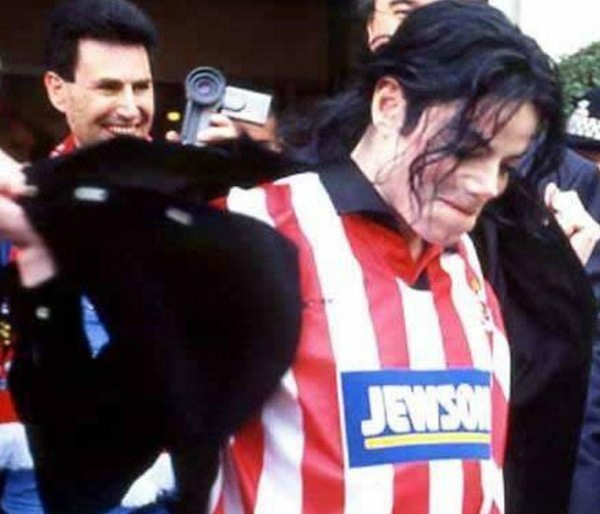 Malheureusement, cet évènement ne sauvera pas le club de ses ennuis financiers et il sera relégué, pour la première fois de son histoire, à la fin de la saison 2002- 2003, dans une division de football amateur. L'année 2003 ne sera d'ailleurs pas plus chanceuse à Michael Jackson. Ce passage à Exeter marque ainsi les derniers liens de Michael avec le football.
Le King of Pop a foulé tout au long de sa carrière les pelouses des stades les plus connus, certains considérés comme La Mecque du football (le Camp Nou à Barcelone, Wembley à Londres, pour ne citer que ces deux-là) mais Michael Jackson n'a jamais été réellement un fan de football. Son nom et son image ont simplement été utilisés par ses "amis" pour faire de la publicité à des clubs parfois perdus dans les méandres des classements ….
Sources: sofoot.com/fulhamsw6.com/newstalk.com/thesefootballtimes.co (merci à Brice Najar pour son aide)