Quel était le point commun entre Debbie Reynolds, Elizabeth Taylor, Carrie Fisher, Evan Chandler et Arnold Klein ? Le monde d'Hollywood les avait tous fait croiser la route de Michael Jackson.
Carrie Fisher, partie rejoindre les étoiles le 27 décembre 2016, est la fille de l'actrice Debbie Reynolds et du chanteur Eddie Fisher. L'information n'est pas un scoop…. Mais Eddie Fisher a aussi été le quatrième mari d'Elizabeth Taylor.
Suite à la disparition tragique, en 1958, de son troisième mari, Mike Todd, Elizabeth est consolée par Eddie Fisher, l'ami de son époux. Les couples Debbie Reynolds – Eddie Fisher/ Elizabeth Taylor – Mike Todd étaient alors les meilleurs amis et régulièrement vus ensembles dans des évènements mondains.
Elizabeth Taylor, Eddie Fisher et Debbie Reynolds, dans les années 50
En 1959, Carrie Fisher a à peine 3 ans lorsque ses parents divorcent. Si, comme au cours de beaucoup de divorces, les choses ne se passent pas toujours très bien, Debbie Reynolds et Elizabeth Taylor, amies depuis la fin des années 40, ont fini par faire la paix bien des années plus tard, Liz Taylor ayant même fait un leg à Debbie Reynolds dans son testament.
Elizabeth Taylor devient donc la belle-mère, durant cinq ans, de Carrie Fisher. Au fur et à mesure qu'elle grandit puis, à 19 ans, en devenant l'inoubliable Princesse Leia dans la sage des Star Wars, la jeune femme doit régulièrement faire face aux questions des médias sur ses relations avec l'actrice anglaise, que, selon ses propres dires, elle "ne connaissait pas du tout". Ce n'est que dans les années 90 que les deux femmes sympathiseront finalement, suite à la participation de Carrie à une soirée de levée de fonds pour le SIDA. En 2001, au cours du tournage du téléfilm These Old Broads (Drôles de retrouvailles), écrit par Carrie Fisher avec sa mère et son ex belle-mère, comme héroïnes, Liz Taylor s'excuse finalement auprès de Debbie Reynolds du mal qu'elle lui a fait !
Liz Taylor avec Debbie Reynolds (à gauche) et Carrie Fisher (à droite)
En septembre de cette même année Liz Taylor obtiendra une entrée pour Debbie Reynolds au Madison Square Garden, pour le concert célébrant les trente ans de carrière de Michael Jackson.
La connexion entre Michael et Debbie Reynolds se fait cependant plusieurs années auparavant, lorsque Michael utilise régulièrement, pour répéter ses chorégraphie les studios de l'actrice (on pense notamment aux répétitions de Thriller), qui s'est fait un nom dans le chef d'œuvre de 1952, Singin' In The Rain (Chantons sous la pluie) et décédée le lendemain de la disparition de sa fille, le 28 décembre 2016, probablement affectée par la mort de cette dernière. Vincent Paterson, le chorégraphe de Michael Jackson pendant de longues années, évoque souvent les Debbie Reynolds Dance Studios, au nord de Los Angeles, lorsqu'il travaillait avec Michael. Margie Duncan, la manager des studios, évoque la présence de Michael dans les locaux dans la vidéo ci-dessous.
La relation que Carrie Fisher entretient désormais avec Elizabeth Taylor dans les années 90 lui permet de côtoyer davantage Michael Jackson, ami très cher de Liz Taylor depuis le milieu des années 80.
Mais c'est dès 1993, par le biais d'une autre personne et dans des circonstances très troubles que la jeune femme entend parler de Michael Jackson, l'homme. Son dentiste n'est autre qu'Evan Chandler … le père de Jordy Chandler, celui par qui le scandale et les premières accusations d'attouchements sexuels arrivent. Carrie Fisher évoque cet épisode dans ses mémoires, écrites en 2011 sous le titre de Shockaholic.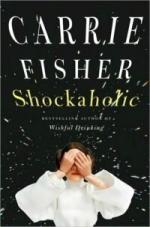 "Vous vous souvenez du Dr Evan Chandler, le dentiste qui a porté plainte contre Michael Jackson en prétendant qu'il avait réalisé des attouchements sexuels sur son fils ? C'était mon dentiste. C'était plusieurs années avant que Michael n'ait des enfants lui-même. Le Dr Chandler n'arrêtait pas de dire combien son fils aimait Michael Jackson et, plus important, combien Michael Jackson aimait son fils. Et, le plus troublant dans ses propos c'était qu'il disait "mon fils est vraiment très beau." Quel père parle ainsi de son fils. Peut être que certains le font mais a) je n'en connais pas et b) il ne lève certainement pas un sourcil de manière suggestive en disant cela. C'était grotesque.
Le Dr Chandler me parlait de Michael qui achetait des ordinateurs pour son fils et qu'ils dormaient dans le même lit et que … attendez !
"Pardon", j'ai dit. "Ils dorment dans le même lit ?!" Il m'a fait un clin d'œil. "Oui mais mon ex-femme est toujours là, tout va bien, et son beau-père et … et … et… ". Quelques mois plus tard, le Dr Chandler m'a dit que sa femme et lui allaient poursuivre Michael Jackson. "Pourquoi ?", lui ai-je demandé. "Parce que Michael dort dans le même lit que mon fils", il m'a dit. Il avait été assez louche pour laisser faire les choses et maintenant il se disait choqué ! "Vous y croyez ? Je pense que Michael a même peut être mis ses mains sur des parties intimes de mon fils", disait-il.
A quoi donc pensait cet homme ? Il a laissé faire parce qu'il pourrait alors dire "Oh mon Dieu, je réalise soudainement que ce qui se passe entre Michael et mon fils est bizarre. Je suis horrifié et mon fils doit être dédommagé. Et la seule chose qui puisse réparer cela ce sont des millions de dollars !"
J'ai su que je devais trouver un autre dentiste. Je n'ai jamais pensé que la relation de Michael avec des enfants avait quelque chose de sexuel. Jamais. Ce n'est pas parce que ce n'est pas normal que cela signifie que c'est pervers. Qui serait assez stupide pour avoir des relations sexuelles avec des enfants avec qui vous traînez ? Michael n'était pas stupide. Il était peut être un peu naïf et très riche et c'est cette combinaison fatale qui a fait que des gens lui ont soutiré de l'argent." (1)
Les deux stars semblent déjà être en relation à cette époque car Carrie évoque une photo que Michael lui aurait demandée de faire avec sa fille Billie, alors bébé (la jeune actrice Billie Lourd est née en 1992). "Personne ne semblait croire qu'il agissait innocemment, mais moi je le savais." (2)
Mais ce qui restera comme l'épisode le plus touchant de la relation entre Carrie Fisher et Michael Jackson est sans aucun doute le dernier Noël du chanteur, qu'il a souhaité passer avec l'actrice de Star Wars. Fan de la saga, le King of Pop souhaite que ses enfants rencontrent celle qui a été la Princesse Leia.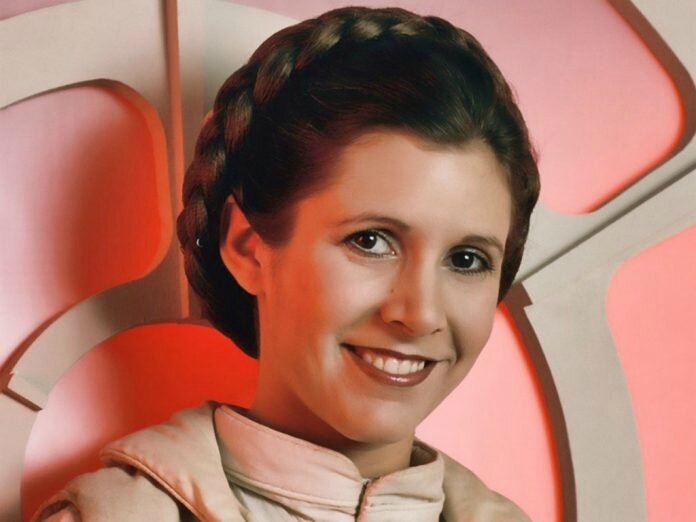 Michael Jackson et ses trois enfants, Prince, Paris et Blanket (Bigi) passent donc le réveillon de Noël 2008 avec Carrie Fisher. Arnold "Arnie" Klein, le dermatologue des stars, ami commun de Michael Jackson et de Carrie Fisher (et d'Elizabeth Taylor) est également présent. Carrie Fisher raconte aussi ce moment dans son livre Shockaholic :
"Le jour du réveillon 2008, le dernier de Michael, je suis allée chez lui, il habitait à quelques blocs de chez moi, en bas de la colline. Il voulait que ses enfants aient l'enfance que lui n'a jamais eue. Une enfance loin de la célébrité, avec des personnes qui ne les objectivent pas. Parce que pour Michael, la vie c'était comme être un animal dans un zoo. Une espèce en voie de disparition à jamais derrière les barreaux. J'ai pu entrer dans cette cage avec Michael sans être montrée du doigt et ce n'est pas donné à tout le monde.
J'ai donc rejoins Michael le temps de quelques heures dans son zoo. Nous avons pris des photos, mangé des cookies, décoré le sapin de Noël.
Et puis Michael m'a demandé de refaire pour ses enfants mon fameux discours lorsque j'apparais sous forme de Hologramme dans Star Wars. Il fallait bien que quelqu'un me rappelle à quel point Michael était fan des Star Wars.
Durant tout ce temps, on prenait des photos. Arnie prenait des photos de Michael, de moi, des enfants, je prenais des photos d'Arnie, de ses amis et de toute la famille de Michael. Ma photo préférée est celle où Michael est en train de lire mon livre Wishful Drinking.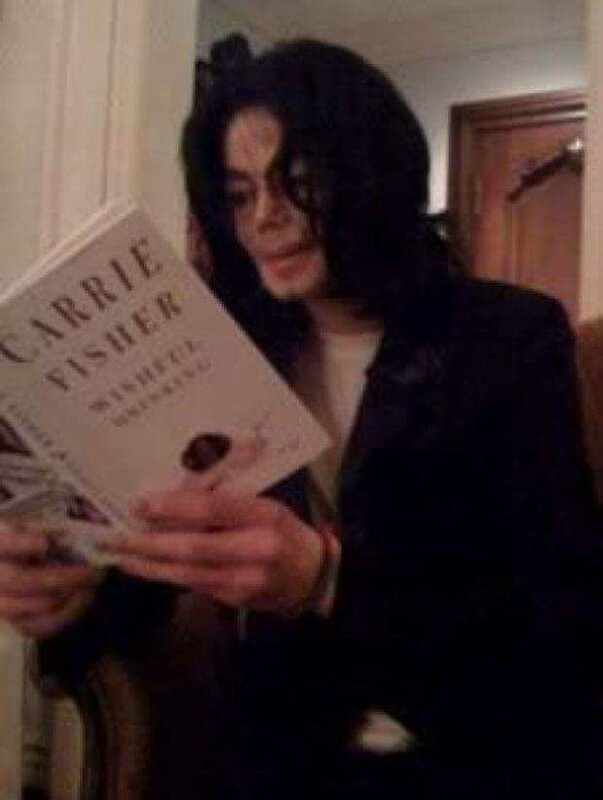 Je chérirai toujours ce Noël particulier. En y repensant, c'était comme si Michael ne savait pas profiter d'une situation sans l'enregistrer. Il avait tellement l'habitude de tout enregistrer. Mais la principale raison cette fois-là, était que les amis d'Arnie voulaient des photos pour pouvoir dire ensuite "J'ai passé le réveillon de Noël avec Michael Jackson." Mais bon, nous en avons profité et on s'est amusé. Nous avons pris des photos, nous agissions comme des gamins (enfin ça y ressemblait). A un moment, Michael a dit : "Ok, je vous laisse prendre des photos de mes enfants parce que je sais que vous n'allez pas les dévoiler, car vous savez que je veux que personne ne voit mes enfants."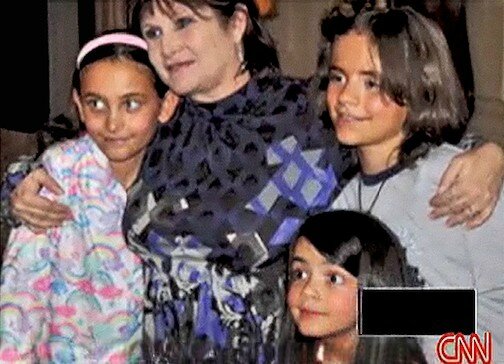 Il voulait que ses enfants soient le moins possible photographiés. Si les Africains pensent qu'ils perdent une partie de leur âme chaque fois qu'ils sont photographiés, alors Michael n'en avait plus depuis longtemps. Mais il essayait de faire en sorte que ses enfants gardent la leur. Et ses enfants étaient des gamins adorables. Et peu importe ce qu'était ou n'était pas Michael, je crois que c'était vraiment un très bon père. Ses enfants sont gentils, très polis, ils n'étaient pas pourris-gâtés. Et ça, ça ne vient pas d'une nounou. On ne simule pas ce genre de chose. Cela vient forcément des parents. Et ce parent, c'était Michael." (3)
Les photos de ce moment, depuis divulguées, montrent Michael et ses enfants, en pyjama, heureux dans leur maison de Holmby Hills. Un Noël simple, comme celui de nombreuses familles.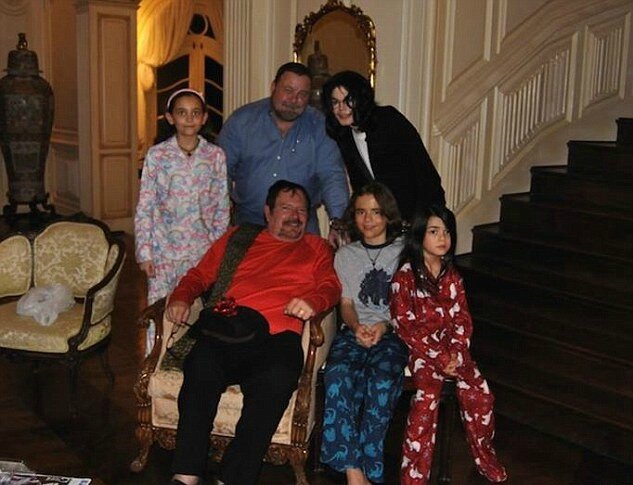 En 2012, trois ans après la disparition de Michael Jackson, Carrie Fisher continue de défendre le chanteur contre les rumeurs qui disent que Prince n'est pas son fils biologique. Elle somme même Arnold Klein d'arrêter de prétendre aux médias qu'il est le père de Prince.
Carrie, comme celle qui fut sa belle-mère, Elizabeth Taylor, a été une amie fidèle pour Michael Jackson. Le genre d'amitié que Michael Jackson avait besoin dans le monde de requins qui l'entourait.
Aujourd'hui, Michael, Elizabeth, Carrie et Debbie (et même Evan Chandler et Arnold Klein) ne sont plus parmi nous. Si la musique n'est certainement plus la même sans son King, le cinéma Hollywoodien a perdu de grandes actrices. On se dit tout de même que le paradis pouvait attendre !
Sources : (1) dailymail.co.uk/ (2) articles.latimes.com / (3) huffingtonpost.com/ heavy.com/ Wikipedia
(traduction des articles: onmjfootsteps.com)