Parmi les grandes stars hollywoodiennes disparues au cours de l'année 2016, le nom de Charmian Carr est plus ou moins discrètement venu s'ajouter à la liste. L'actrice, qui s'est fait connaître grâce à son rôle dans le film musical The Sound of Music (La mélodie du bonheur), en 1965, est en effet décédée le 17 septembre 2016 d'une forme rare de la maladie d'Alzheimer.
Charmian Carr n'a que 19 ans lorsqu'elle est sélectionnée pour le rôle de la fille aînée des Von Trapp, Liesl, auprès de Julie Andrews et Christopher Plummer, dans les rôles principaux. Le film devient rapidement l'un des plus gros succès commercial de tous les temps, surpassant même Gone With The Wind (Autant en emporte le vent), et il recevra en 1966 l'oscar du meilleur film. Malgré son accès fulgurant à la célébrité, Charmian Carr, décide d'abandonner le cinéma après avoir joué, en 1966, aux côtés d'Anthony Perkins, dans le téléfilm musical, Evening Primrose. Elle souhaite se consacrer à sa famille et devenir architecte d'intérieur. Elle établit sa compagnie de design Charmian Carr Designs, à Encino, un quartier calme de Los Angeles …. le même quartier où vit alors Michael Jackson.
Michael Jackson a toujours été un fan de The Sound of Music. Le film de 1965 est adapté de la comédie musicale du même nom de Richard Rodgers et Oscar Hammerstein II créée à Broadway en 1959, elle-même basée sur le livre autobiographique de Maria Augusta Trapp, La Famille des chanteurs Trapp.
L'histoire se déroule peu avant le déclenchement de la Seconde Guerre mondiale en Autriche, au moment de l'Anschluss. Maria (Julie Andrews) est une jeune femme qui se prépare à devenir religieuse dans une abbaye bénédictine située à Salzbourg. Son couvent l'envoie en tant que gouvernante dans une famille de sept enfants, celle d'un veuf, le capitaine Georg Ritter Von Trapp (Christopher Plummer). Maria devient bientôt la confidente et amie des enfants tout en leur donnant des cours de chant. Elle fait revenir la joie dans la maison des Van Trapp et tombe amoureuse du Capitaine Von Trapp.
En 1963, Michael n'a que cinq ans lorsqu'il interprète, au cours d'un spectacle d'école, Climb Ev'ry Mountain. La chanson va révéler à toute la famille sa superbe voix et faire de lui le leader vocal du groupe qu'il forme avec ses frères, les futurs Jackson 5.
(extrait de The Jacksons: An American Dream, en 1992)
Climb Ev're Mountain est un des titres extraits de The Sound Of Music, la comédie musicale de 1959. Dans le film de 1965, le titre est interprété, pour la première fois par la Mère Supérieure du couvent où Maria s'est réfugiée après s'être rendue compte de ses sentiments pour son employeur. La Mère Supérieure explique alors à Maria qu'elle doit accepter sa destinée, vivre ses rêves.


Lorsque le jeune Michael Jackson interprète ce titre, du haut de ses cinq ans, on se dit qu'il avait peut être un message à faire passer à sa famille !
En février 1984, à la question d'un journaliste posée à la sortie des Grammy Awards puis au cours d'une interview accordée à TV Guide en 1999, Michael déclarait que sa chanson préférée était My Favorite Thing. Julie Andrews interprète ce titre lors d'une scène du film de 1965 où elle tente de rassurer les sept enfants Von Trapp apeurés par un gros orage et venus la retrouver dans sa chambre (Liesl/Charmian Carr apparaît à 1 :29 dans la vidéo).
Le titre est depuis devenu un standard et a été repris de nombreuses fois. Michael l'aimait tellement qu'il fera partie de ceux qu'il avait sélectionnés pour être joués dans les jardins de sa propriété de Neverland .
Michael possédait également une affiche originale du film dans son ranch de Neverland.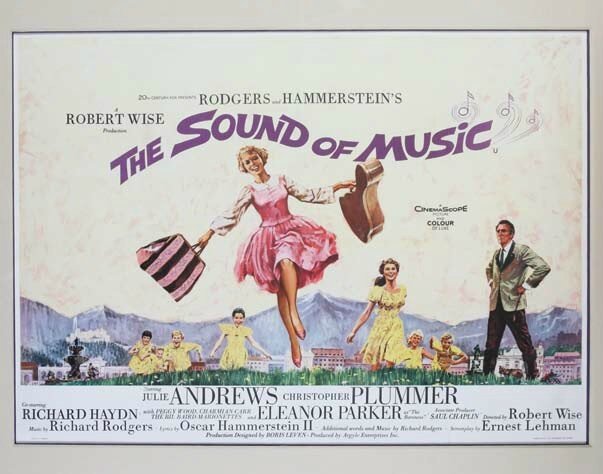 En 1981, Michael rachète la propriété d'Encino à ses parents. Il décide de la rénover et fait appel à Charmian Carr et son entreprise de décoration. Dans son livre Forever Liesl : A Memoir of The Sound of Music, sorti en 2001, puis au cours de certaines interviewes qu'elle donnera dans le courant des années 2000, l'actrice évoque son amitié avec le chanteur.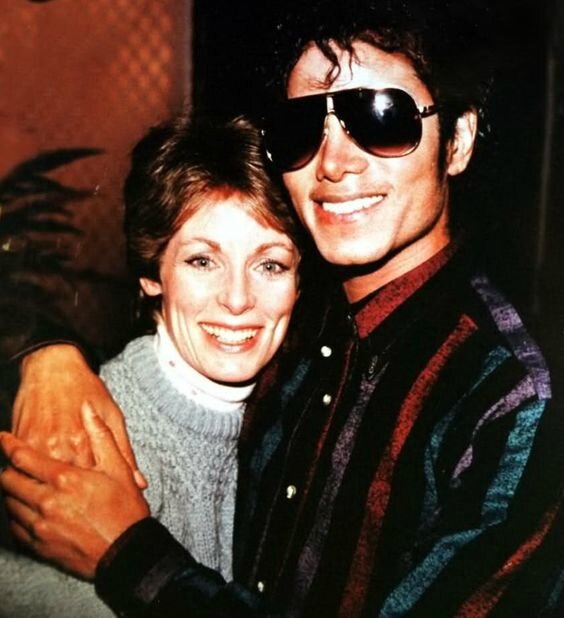 "La première fois que j'ai vu Michael, c'était chez lui, à Hayvenhurst. Sa mère et ses deux sœurs, La Toya et Janet étaient là. Michael était très timide et il a passé son temps à jouer dans la cour avec le chien. Quand je suis rentrée chez moi, il m'a appelée et nous avons parlé au téléphone pendant une demi-heure. Il m'a demandé si je pouvais concevoir des choses pour la décoration de sa maison. Je lui ai dit que j'allais trouver le temps. Cela a été le début d'une amitié de plus de huit ans.
"Je n'arrive pas à croire que tu vas décorer ma maison", m'a-t-il dit. "The Sound of Music est mon film préféré et j'ai toujours aimé le personnage de Liesl."
Et moi, je n'arrivais pas à croire que j'allais travailler pour lui. Nous avons parlé d'une des chansons du film So Long, Farewell. Peu de temps après, il m'a chanté la chanson au téléphone.
Sa maison n'était pas très loin de chez moi. Il aimait Disneyland et voulait apporter la magie du parc chez lui. Nous avons donc fait en sorte de créer un château magique, une cascade, un magasin de bonbons, des décorations fantaisies et nous avons installé une atmosphère magique avec des éclairages particuliers.
Pour l'une des pièces de la maison, il voulait qu'elle soit décorée comme s'il y avait une soirée. J'ai donc mis des mannequins habillés en tenue de fête. Pour une autre, près de la salle à manger, il voulait une décoration comme Pirates des Caraïbes à Disneyland. Comme il ne se décidait pas vraiment, on a décidé d'aller à Disneyland. Michael s'est déguisé avec une fausse moustache, des gros sourcils, des lunettes en plastique, un peu comme Groucho Marx. Ce n'était pas vraiment réussi mais Michael était heureux et il s'est bien amusé. Malgré ces visites à Disneyland, Michael n'a jamais pu se décider sur ce qu'il voulait vraiment pour sa maison.
Lorsque je travaillais pour Michael, j'ai eu l'occasion de rencontrer des personnalités, Jackie Onassis notamment. Michael travaillait sur son autobiographie et Jacqueline était venue directement de New York pour le voir au nom de son éditeur, Doubleday. Michael m'a invitée à me joindre à eux. Peu avant l'arrivée de Jackie, le python de Michael avait réussi à sortir de sa cage. Nous avons du faire vite pour le retrouver. Partout dans la maison, on pouvait voir des signes de la mue du serpent mais il était introuvable. Lorsque nous l'avons enfin retrouvé, dans la chambre de Michael, il avait mangé son cacatoès !
J'ai adoré la période ou j'ai travaillé avec Michael. Cela a été un vrai défi de créativité, un de mes meilleurs projets de design.
Michael était quelqu'un d'adorable et très gentil. Nous étions de bons amis et on sortait souvent pour dîner ensemble. Il nous a invitées, mes filles et moi, lors du Victory Tour."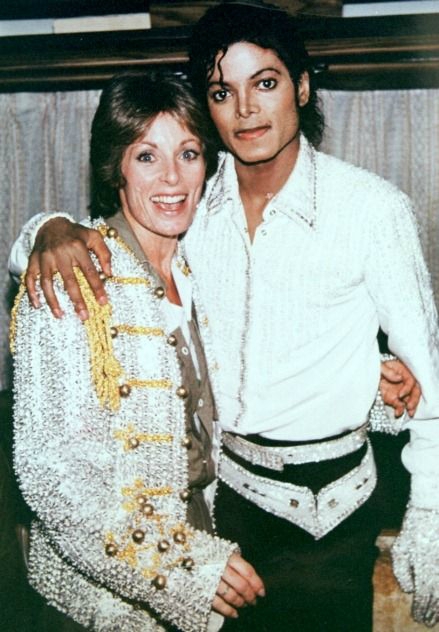 Une amitié qui perdurera encore quelques années puisque Carmian et sa famille sont invitées pour le Bad Tour et on la retrouve également auprès de Michael lors du Dangerous Tour.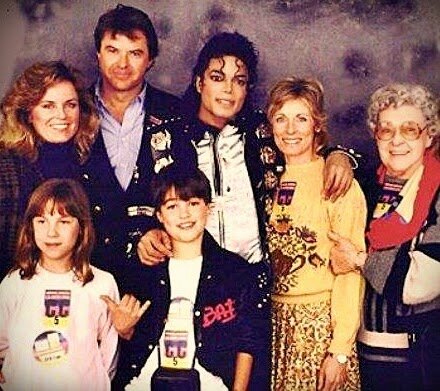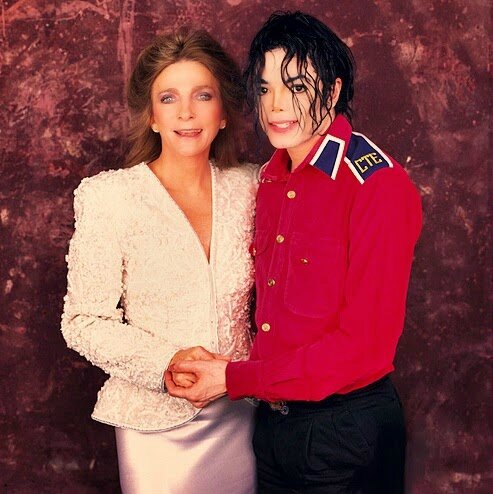 Quant à Julie Andrews, Maria dans The Sound of Music, Michael ne l'a rencontrée (semble-t-il) qu'une seule fois, lors de l'évènement Because We Care, en février 1980. Filmé au Dorothy Chandler Pavilion, en présence de nombreuses stars, le concert était destiné à récolter des fonds pour aider les victimes de la famine au Cambodge.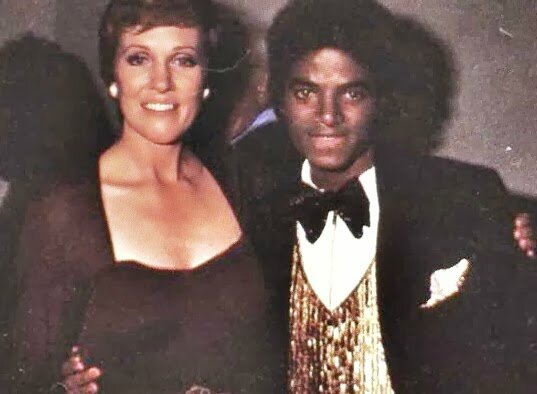 Michael Jackson a développé, tout au long de sa vie, des amitiés avec de nombreuses actrices hollywoodiennes qui le fascinaient et qui avaient la caractéristique d'avoir été confrontées, comme lui, à la célébrité très jeune. Charmian Carr vient donc s'ajouter à cette liste, d'autant plus qu'elle faisait partie d'un des films qui a laissé à jamais son empreinte dans l'histoire du cinéma hollywoodien.
Sources: Wikipedia/bemikelike.wordpress.com/cartasparamichael.blogspot.fr