La légende, selon la Motown et Berry Gordy, veut que les Jackson 5 aient été découverts par Diana Ross. On sait désormais que ce n'est pas la star, à l'époque, du label qui a permis aux frères Jackson d'arriver chez Motown.
S'il est indéniable que le talent de Michael et ses frères a surtout et avant tout été décelé par leurs parents, c'est dans un premier temps Gladys Knight qui a tenté d'informer la Motown du potentiel du groupe.
Gladys Knight est la chanteuse du groupe Gladys Knight and The Pips, originaire d'Atlanta (Georgie) et également composé de son frère Merald "Bubba" Knight, et de leurs cousins William Guest et Edward Patten. Le quatuor a signé en 1966 chez Motown et leur plus gros succès est I Heard It Through the Grapevine qu'ils enregistrent en 1967.
Cette année-là, au cours d'un concours de talents qui a lieu au Regal Theater de Chicago, les Jackson 5 ont l'honneur de partager l'affiche d'un soir avec Gladys Knight and The Pips."La récompense la plus alléchante dans ce concours, c'est que si on gagnait trois fois de suite, on était invvités à revenir. Mais cette fois, on était payés, et ça se passait devant des milliers de spectateurs, et non pas devant quelques dizaines, comme c'était le cas quand on jouait dans les bars. Nous avons eu le privilège de faire ce spectacle avec Gladys Knight and The Pips qui chantaient une nouvelle chanson intitulée Through The Grapevine. Ce fut une soirée géante" , explique Michael (1)
En juin 2009, invitée du Early Show sur CBS, Gladys Knights s'est souvenu de la première fois où elle a entendu Michael chanter : "J'ai rencontré les Jackson au Regal Theater à Chicago. Ils n'étaient alors que des enfants et je les ai entendus avant de les voir. Et j'ai bondi et j'ai dit : "Qui c'est ça ?" Ils répétaient pour le concours de talents. J'ai couru jusqu'à la rampe d'escaliers pour essayer de voir qui c'était. Leur père les a fait monter après leur répétition et j'ai eu la chance de les rencontrer. C'était une famille étonnante." (2)
Jermaine Jackson évoque également cette rencontre dans la loge de la chanteuse : "Pendant les répétitions, j'ai aperçu Joseph dans les coulisses avec Gladys Knight. Ce jour-là, elle nous a entendus chanter, elle a sauté au plafond et a demandé qui nous étions. Dès que nous sommes sortis de scène, Joseph nous a dit qu'elle voulait nous rencontrer dans sa loge. Nous étions très excités, car ces artistes étaient au sommet de leur gloire, ils avaient remporté tous les suffrages avec un tube qui était resté n°2 toute l'année précédente, I Heard It Through The Grapevine. Nous nous sommes précipités dans sa loge, conduits par Joseph. Je ne sais pas ce qu'elle a du penser lorsque les cinq frangins intimidés ont débarqué. Michael était tellement petit que quand il s'est assis sur le canapé, ses jambes ne touchaient pas le sol. "Votre père assure que vous avez un bel avenir devant vous, les garçons", nous a-t-elle dit. Nous avons hoché la tête. Gladys a regardé Michael. "Tu adores chanter n'est-ce pas ?" "Ouais" a dit Michael. Puis elle nous a regardé tous les quatre. Nous avons fait signe que oui. "Vous devriez signer chez Motown, les garçons !" Cette nuit-là, Joseph a demandé à Gladys si elle pouvait faire venir quelqu'un de chez Motown pour nous voir et nous écouter sur scène. Elle a promis qu'elle téléphonerait, et elle avait l'air vraiment sincère. De retour à la maison, Joseph a dit à maman que c'était une question d'heures avant que le téléphone sonne, mais il n'a jamais sonné. En réalité, Gladys avait tenu sa promesse, et nous avons appris plus tard qu'elle avait appelé un directeur artistique chez Motown, mais Berry Gordy ne s'intéressait pas aux groupes d'enfants." (3)
Gladys Knight avoue chez Oprah Winfrey, toujours en 2009, qu'elle a ressenti quelque chose de spécial chez ce groupe ayant elle-même commencé à chanter très jeune. Les Pips discutaient beaucoup avec les J5 lors de la semaine où avait lieu le talent show. Gladys a donc fini par leur dire qu'elle allait contacter un représentant de la Motown pour qu'il puisse venir voir le groupe chanter. Malheureusement la chanteuse n'avait pas beaucoup d'influence dans le label et elle n'a jamais su si quelqu'un était venu à Chicago.
"Nous avons découvert les Jackson 5" a-t-elle à Disc en Novembre 1972, "mais à l'époque, nos voix n'étaient pas assez fortes pour être entendues. Nous avons essayé de faire venir quelqu'un mais personne ne nous écoutait à l'époque." (4)
Mais l'histoire ne s'arrête pas là. Gladys Knight gardera toujours un contact avec Michael, devenant parfois une confidente dans les moments difficiles, à l'âge adulte. "Il me racontait ce qui lui arrivait ou ce qui ne lui était pas arrivé dans sa vie, comme aller à un match de baseball quand il était enfant." (2)
Dès 1969, lorsque les Jackson 5 enregistrent leur premier single chez Motown records, I Want You Back, ils apprennent qu'il était originellement destiné à Gladys Knight and The Pips. Gordy en décide autrement, modifie quelques paroles et le titre et le destine aux cinq frères. Un pari gagnant…
"On nous a proposé une nouvelle chanson qui s'appelait I Want You Back. La chanson avait une histoire, comme c'est souvent le cas. Elle avait été écrite par un type de Chicago qui s'appelait Freddie Perren. Il avait été le pianiste de Jerry Butler quand nous étions passés pour la première fois au night-club de Chicago [le club en question est le Regal Theater, les Jackson 5 avaient alors fait la première partie de Jerry Butler] (…) Au départ cette chanson s'appelait I Want To Be Free et elle évait été écrite pour Gladys Knight. Freddie avait même pensé que Berry pourrait "contourner" Gladys et donner la chanson aux Supremes. Entre-temps, Berry raconta à Jerry qu'il venait juste de signer avec un groupe de gamins de Gary, dans l'Indiana. Freddie comprit que c'était nous et décida de miser sur le bon cheval." (1)
Le 02 mars 1974, au cours de la cérémonie des Grammy Awards qui a lieu au Hollywood Palladium de Los Angeles, les Jackson 5, accompagnés du batteur Shelly Manne, remettent à Gladys Knight and The Pips l'award du meilleur groupe de R&B pour leur titre Midnight Train To Georgia.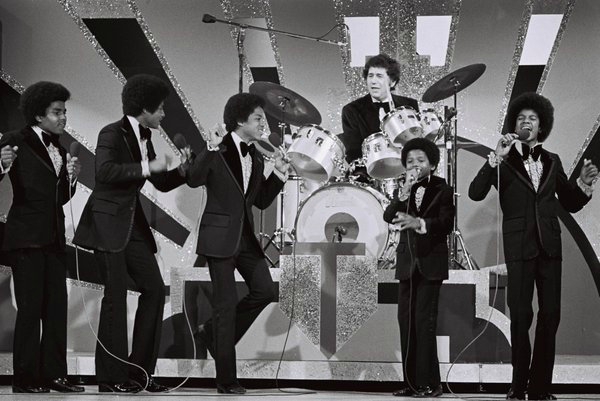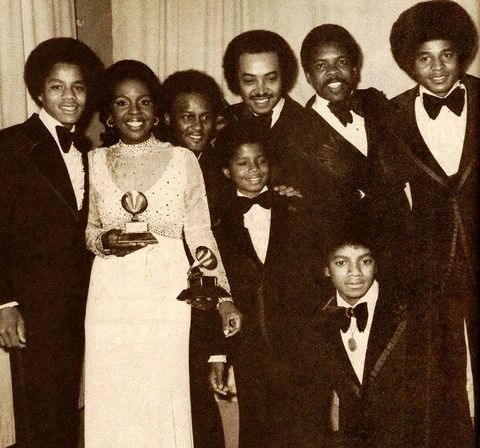 En 1978, les Jackson et Gladys Knight and The Pips se retrouvent lors de l'enregistrement du premier Annual Rock'N Roll Sports Classic, à Irvine, près de Los Angeles (ci-dessous avec Janet Jackson)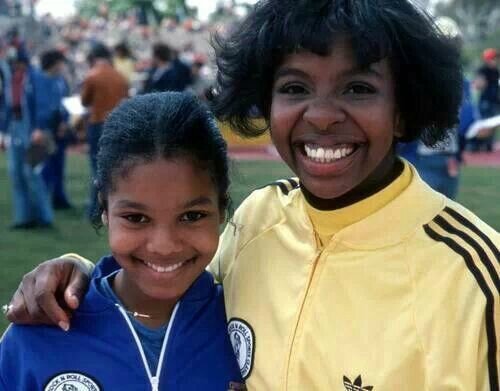 Dans les années 80, Gladys et Michael ont eu le même manager, Ron Wiesner. Michael aurait écrit une chanson pour la chanteuse qui n'a malheureusement jamais été enregistrée.
En février 1994, Gladys Knight est présente aux côtés de la famille Jackson pour la soirée des Jackson Family Honors à Las Vegas. Elle y interprète, avec Smokey Robinson, un medley des titres phares de la Motown. La chanteuse est à la droite de Michael lors de la seule prestation de celui-ci au cours du spectacle, l'interprétation finale de la famille et des invités sur le titre If You Only Believe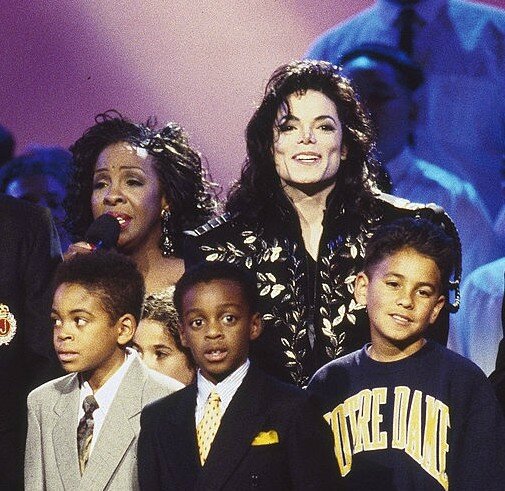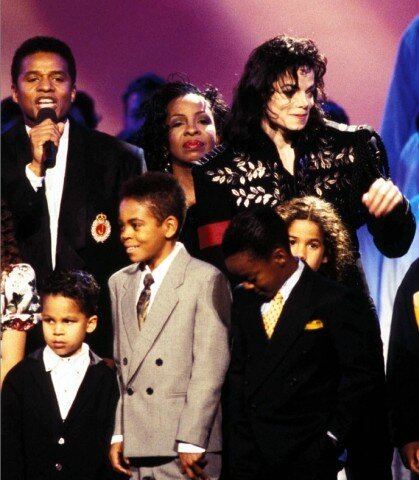 Au cours de son procès en 2005, Gladys et son mari William ont invité Michael à venir passer du temps chez eux, des moments privés qui n'ont jamais été révélés. "Michael avait besoin de réconfort, il avait besoin de tellement de choses que nous pouvions difficilement lui apporter." (4)
Le 3 septembre 2009, Michael Jackson est enterré à Forest Lawn. Gladys Knight compte parmi les invités et clôture la cérémonie privée en interprétant l'hymne Our Father.
Gladys Knight est donc l'artiste Motown qui a découvert les Jackson 5. Elle n'a jamais eu la reconnaissance de cette découverte mais elle a su, à travers les années, conserver une amitié avec celui qu'elle a connu, dit-elle, "d'une autre façon". Une amitié discrète et loin des médias qui aura duré plus de quarante ans.
Sources: (1) Moonwalk, Michael Jackson / (2) cbsnews.com/ (3) Your Are Not Alone, le vrai Michael dans les yeux de son frère, Jermaine Jackson / (4) The Maestro, Chris Cadman