On connait les influences du cinéma des années 30 ou 40 dans la vidéographie de Michael Jackson et ses amitiés avec les stars hollywoodiennes. On peut également se demander si certains acteurs du cinéma muet des années 20 et du cinéma des années 50 n'auraient pas aussi inspiré le King of Pop pour quelques unes de ses photos.
Charlie Chaplin
On pense bien sûr tout de suite à Charlie Chaplin. Michael Jackson, on le sait, était un grand fan de Charlot et il n'a pas hésité à le montrer à plusieurs reprises, s'appropriant même des poses, en 1995, du plus célèbre comique du cinéma muet de son époque (voir ici).
Mais ce n'était pas la première fois que Michael Jackson s'inspirait de grands noms devant un objectif.
Gloria Swanson
En 1987, le premier choix pour la pochette de l'album Bad n'avait rien à voir avec celle que l'on connait. Michael s'était inspiré d'un portrait de Gloria Swanson, pris en 1924 et paru dans un numéro de Vanity Fair. L'actrice américaine, grande star du cinéma muet, est photographiée par Edward Steichen avec un voile devant son visage. Michael s'approprie le célèbre cliché et souhaite que la photo devienne celle de la pochette. Walter Yetnikoff, le président de sa maison de disques, CBS, refuse, la trouvant trop "féminine" et une photo beaucoup plus en adéquation avec le titre de l'album sera choisie.
Rudolph Valentino
Michael Jackson était-il un fan de cet acteur italo-américain, le plus idolâtré de sa génération ? Plusieurs clichés réalisés dans les années 80 ont en tout cas été influencé par celui qui faisait chavirer le coeur de nos arrière grands-mères.
Né en Italie en 1895, Rodlofo Alfonso Raffaello Piero Guglielmi di Valentina, de son vrai nom, émigre aux Etats-Unis en 1913 où il est d'abord danseur et gigolo à New York avant de décrocher ses premiers rôles à Hollywood.
Rudolph Valentino jouera dans une trentaine de longs métrages. Cinq d'entre eux contribueront à créer sa légende : The Four Horsemen of the Apocalypse (Les quatre cavaliers de l'Apocalypse), de Rex Igram (1921), The Sheik (Le Cheik) de George Melford (1921), Blood and Sand (Arènes sanglantes), de Fred Niblo (1922), Monsieur Beaucaire, de Sidney Olcott (1924) et The Son of The Sheik (Le fils du cheik), de George Fitzmaurice (1926). Le 23 août 1926, celui qui est devenu en quelques années le plus grand séducteur d'Hollywood, meurt d'une septicémie suite à une opération chirurgicale pour un ulcère. Il avait 31 ans. Hollywood vient de perdre sa première star universelle.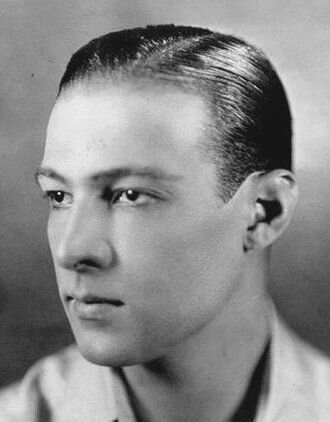 Sa disparition déclenche l'hystérie, notamment parmi la gente féminine, comme le faisaient d'ailleurs ses apparitions. Ses funérailles à New York rassemblent plus de 100 000 personnes. Une deuxième cérémonie aura lieu en Californie où il repose.
Tout a été dit concernant Rudolph Valentino : il a été le sex-symbol du cinéma muet, grand séducteur mais marié qu'à deux reprises, très dépensier et un temps endetté (il se lance alors dans une tournée mondiale de danse, art qu'il avait appris lors d'années passées à Paris, en 1923, pour combler ses dettes), de nombreuses rumeurs ont régulièrement circulé à son sujet (homosexualité, notamment) ….
Le portrait n'est pas sans rappeler celui du King of Pop.
La comparaison pourrait s'arrêter là si Michael Jackson ne s'était pas inspiré de cette icône des années 20 pour des photos prises au cours des années 80.
En 1921, sort The Sheik (Le Cheik), qui raconte l'enlèvement et la séquestration d'une jeune anglaise par un cheik arabe au milieu du désert. Grand succès populaire, le film assoit définitivement Rudolph Valentino dans son statut de sex-symbol. Une suite sort en 1926, juste après la disparition de Valentino, sous le titre The Son of the Sheik (Le fils du Cheik) et remporte le même succès. C'est une des scènes finales du film qui aurait inspiré Michael Jackson à poser à la manière Valentino, cigarette à la main, lors du Bad Tour en 1987.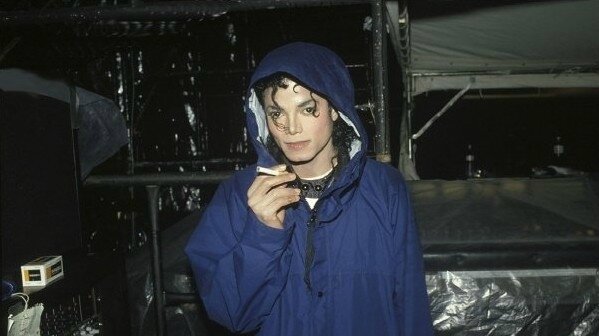 En 1922, Valentino est à l'affiche de The Young Rajah. C'est une des photos connues du film que Michael reprend, se faisant lui-même photographier en maharajah.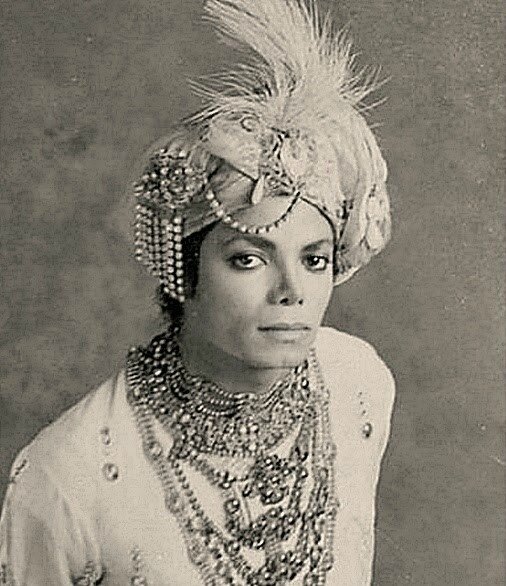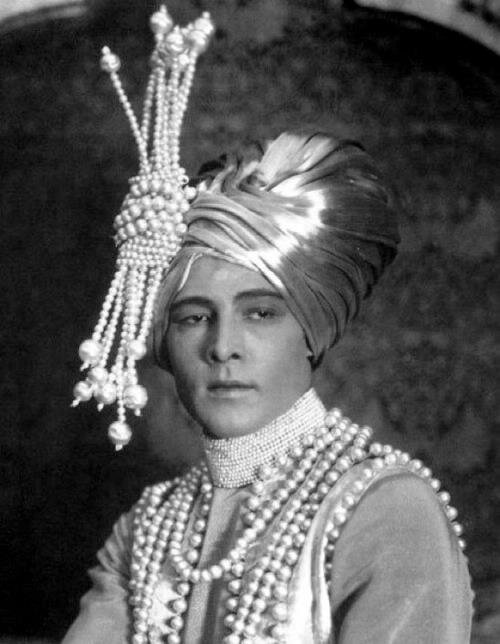 Toujours en 1922, Valentino est le héros matador de Blood and Sand (Arènes sanglantes). Durant les années Thriller, Michael enfile lui aussi le costume de toréador le temps d'une prise photo.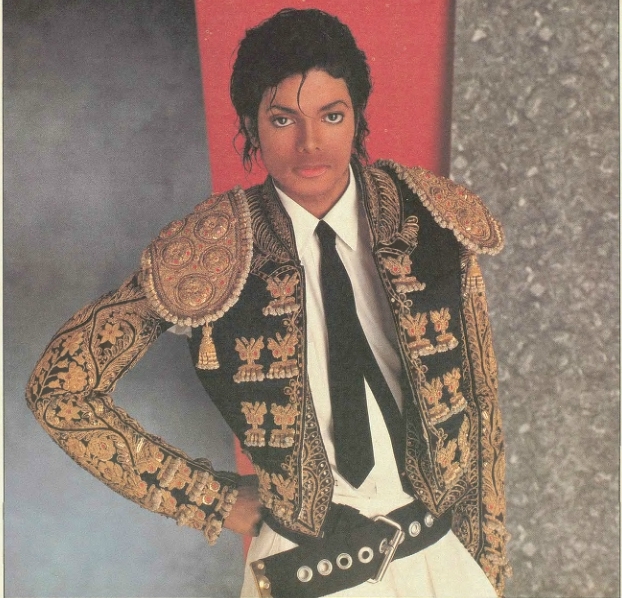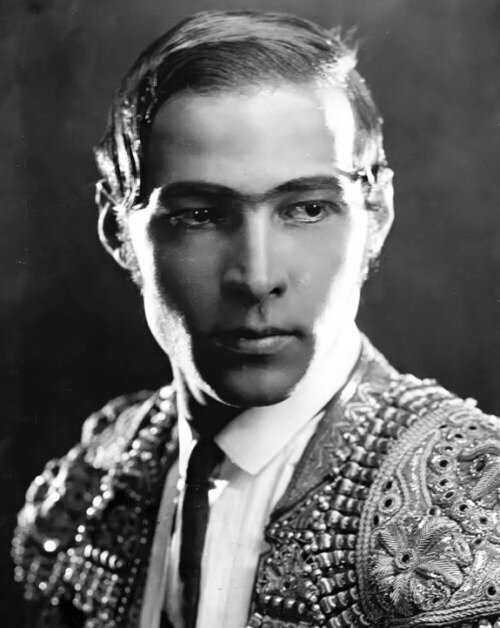 La veste que porte le personnage de Rudolph Valentino dans son avant-dernier film, The Eagle (L'aigle noir), sorti en 1925, n'est pas sans rappeler les vestes militaires que Michael affectionnait.
Et pour le plaisir, une dernière comparaison….peut être fortuite !
Dans les années 50, les latin lovers du cinéma muet sont remplacés par des séducteurs plus rebelles, plus rocks.
Marlon Brando
Avant de devenir un ami proche de Michael Jackson, qui aimait passer du temps dans son ranch de Neverland, Marlon Brando a été une icône de sa génération et est considéré comme l'un des plus grands acteurs américains du 20ème siècle.
Révélé par A Streetcar Named Desire (Un Tramway nommé Désir) en 1951, c'est son rôle dans The Wild One (L'Equipée Sauvage), en 1953, qui va avoir un grand retentissement et imposer son image de rebelle. Et rendre célèbre le jeans et le blouson de cuir Perfecto. C'est ce look qui donnera lieu à une photo célèbre du King of Pop dans les années 80.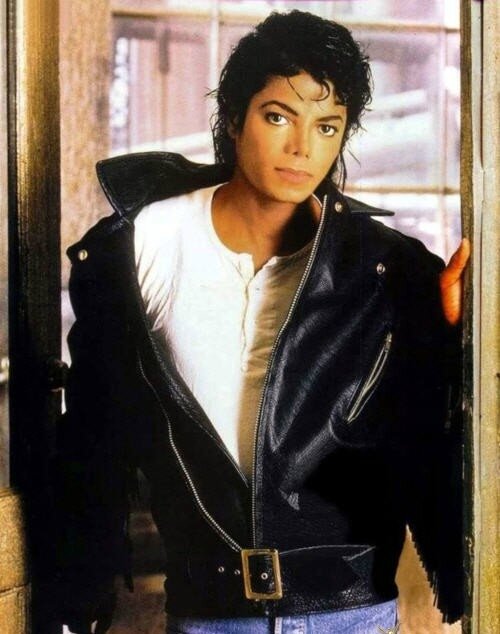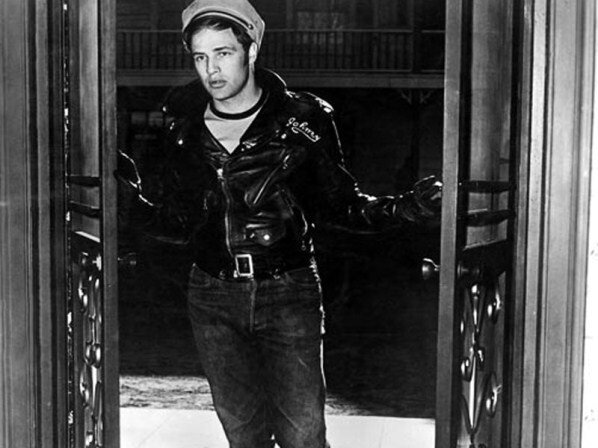 On découvrira sans doute avec le temps que d'autres grands noms du cinéma ont pu être une source d'inspiration visuelle pour Michael Jackson. Sa passion pour le cinéma était immense et "regarder les maîtres à l'œuvre" était sa devise pour devenir le plus grand. Il était donc normal que les photos légendaires de ces stars, comiques ou séducteurs, lui donnent envie de créer aussi sa légende. Et comme l'écrit Todd Gray dans son livre Michael Jackson Before He Was A King, "il aimait particulièrement les livres sur le Hollywood glamour des années 30, les livres richement illustrés sur les enfants et les livres de photographie. Michael avait l'habitude de s'assoir au fond du bus, alors que les autres étaient toujours devant ensemble. Je préférais aussi le calme du fond et je me suis assis avec lui une fois alors qu'il était absorbé par un livre de belles photos du glamour hollywoodien des années 30. Une photo a plus précisément attiré son regard et il a dit : 'C'est magique, on ne fait plus de photos de ce genre.' Il étudiait la pose, les yeux, le maquillage et l'expression, tout ce qui comptait pour faire une grande photo glamour."
Sources : forever-michael.livejournal.com/Wikipedia/lexpress.fr/cartasparamichael.blogspot.fr