Michael Jackson s'est rendu à plusieurs reprises à Munich, en Allemagne, la capitale de la Bavière (Bayern). Voici les principaux lieux qu'il a fréquentés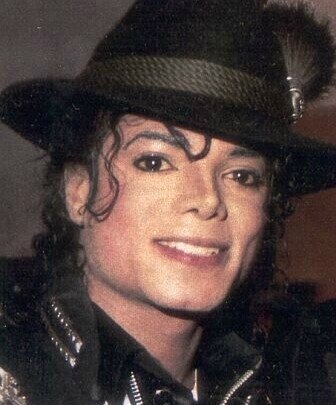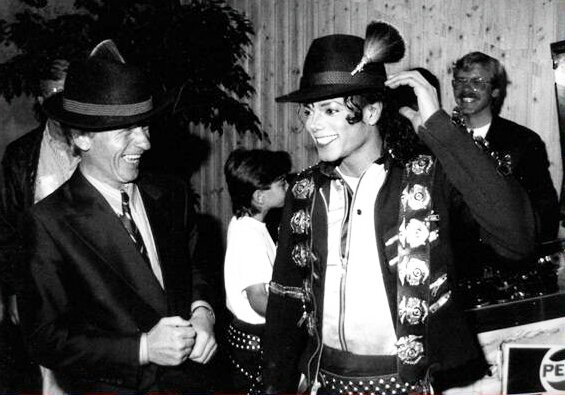 Michael portant un chapeau de feutre traditionnel bavarois (Trachtenhut), avec le Gamsbart (touffe de cheveux de chamois), lors du Bad Tour à Munich en juillet 1988.
Les Hotels
- Hotel Bayerischer Hof : Michael occupe cet hôtel lorsqu'il se rend à Munich en 1997, 1998, 1999. Il louait le troisième étage (connu comme l'étage du Palais Royal, Royal Palais Floor), de la suite n° 32 à la N° 35 (Royal Palais Suite). Il faisait régulièrement des apparitions à sa fenêtre pour saluer les fans qui l'attendaient dans la rue, et notamment avec cette banderole "Stop Filthy Press".


Promenadeplatz 2-6, 80333 Munich (métro lignes U3 ou U6, station Marienplatz)
- Mémorial MJ : En face de l'hôtel Bayerischer Hof, les fans ont improvisé, après la disparition de Michael, un mémorial sur la statue d'Orlando di Lasso. Des photos, des bougies, des dessins, des poèmes ornent le socle de la statue en mémoire du King of Pop.
Promenadeplatz 2-6, 80333 Munich (métro lignes U3 ou U6, station Marienplatz)
- L' hotel Mandarin Oriental : ce palace cinq étoiles, plus connu sous le nom de Hotel Rafael, accueille Michael Jackson lors du lancement de la tournée Dangerous en juin 1992.
Neuturmstraße 1, 80331 Munich (métro lignes U3 ou U6, station Marienplatz)
Les lieux emblématiques de la ville
- Hotel de Ville : le vendredi 26 juin 1992, le maire remet à Michael Jackson un chèque pour sa fondation Heal The World et une statue du Münchner Kindl (l'enfant de Munich, symbole de la ville). Le chanteur signe le livre d'or de la ville et fait une apparition à l'une des fenêtres du deuxième étage qui donne sur Marienplatz.
Marienplatz 8, 80331 Munich (métro lignes U3 ou U6, station Marienplatz)
- Circus Krone : le 28 mars 1998, Michael assiste à une représentation du Cirque Krone, avec son fils Prince.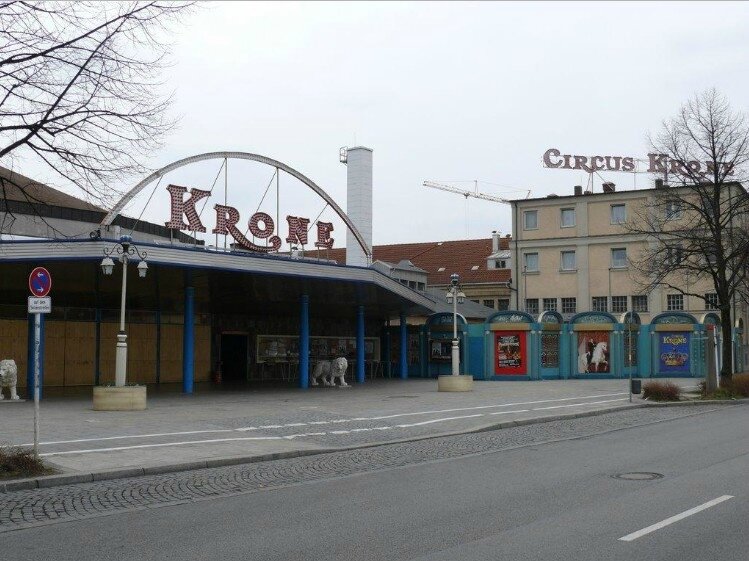 Marsstraße 43, 80335 Munich (tram lignes 16 ou 17, station Hackerbrucke)
Les boutiques
- American-Freizeitshop : en 1997, Michael s'arrête dans ce magasin ,qui vend notamment des uniformes, pour faire du shopping
Leopoldstr. 17, 80802 München (métro lignes U3 ou U6, station Giselstrasse) ... n'existe plus, remplacée par un MacDonald!
-Jürgens Comic-Shop : C'est probablement dans ce magasin que Michael vient acheter, en 1998, après la fermeture, pour 500 marks de livres. Josefa Rieder-Janetzki, l'ancien patron se souvient que "Michael Jackson était très calme et modeste."
Karlsplatz 4, 80335 Munich (métro lignes U4 ou U5 station Karlsplatz) .... n'existe plus.
- Magasin de jouets Obletter Spielwaren : le 25 juin 1992 puis en 1997, Michael dévalise le plus ancien magasin de jouets de la ville pour quelques milliers de marks.
Karlsplatz 11 80335 Munich (métro lignes U4 ou U5 station Karlsplatz)
Olympia Park
- Olympiastadion Munchen (Olympic Stadium) : La tournée Dangerous commence dans ce stade le 27 juin 1992. Avant elle, le Bad Tour s'y était arrêté, le 08 juillet 1988 et c'est aussi là qu'ont lieu deux dates du HIStory World Tour, les 4 et 6 juillet 1997. Le concert MJ & Friends du 27 juin 1999 y a également lieu (ainsi que la conférence de presse, en juin). Le 2 mai 1997, Michael vient donner au sein du stade une brève conférence de presse promouvant le HIStory Tour.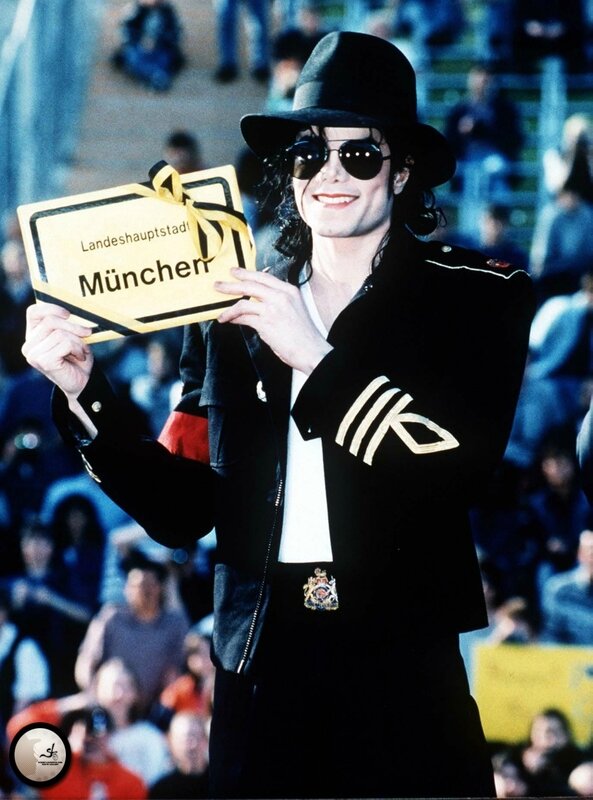 - Tour de la télévision du parc Olympique : en 1972, lors d'une tournée européenne, Michael est photographié en haut l'Olympiaturn, une tour autoportante de radio-télévision située dans le village Olympique. On l'aperçoit aussi lors de la venue du chanteur en 1999 sur la pelouse du stade.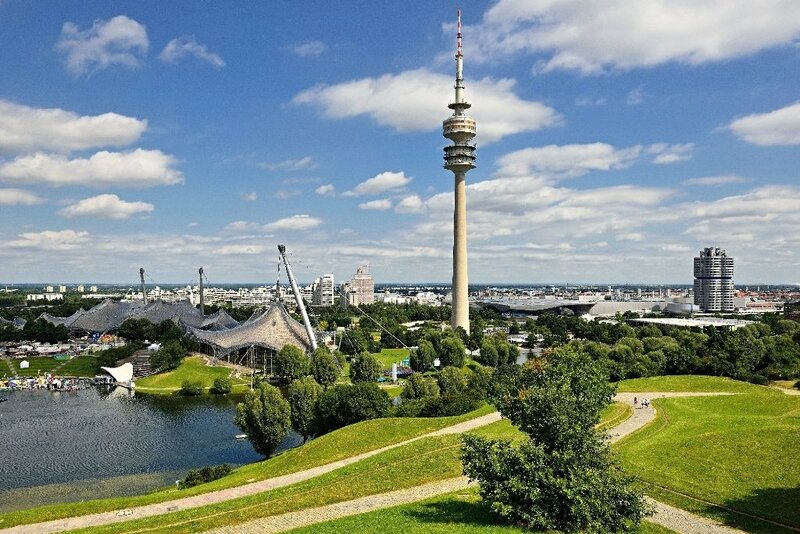 - Olympia Halle : située dans le parc olympique, près du stade olympique, la salle est utilisée pour les concerts, des compétitions sportives, des expositions ou des salons. En juin 1992, après son premier concert du Dangerous Tour à Munich, Michael y donne un after show qui ressemble à une véritable fête foraine.
Spiridon-Louis-Ring 21, 80809 Munich (métro Ligne U8, station Olympiazentrum)
Divers
- Landsberger Strasse : Au numéro 166 de cette rue se tient un garage de voitures. En juin 1992, alors qu'il doit lancer sa tournée Dangerous dans la ville, Michael se rend dans ce qui est alors un entrepôt pour tourner, en quelques heures, le clip de Give In To Me.
Landsberger Strasse 166, 80687 Munich (métro lignes U4, U5, U7, station Westendstrasse ou tram lignes 18 ou 19, station Am Lockschuppen)
- Backwaren & Cafe Michl (page facebook ): Michael n'est jamais venu dans cette boutique qui vend des viennoiseries et des spécialités bavaroises mais le patron est un grand fan du chanteur et de nombreuses photos sont exposées dans le magasin.
Häberlstraße 19, 80337 Munich (métro U3 ou U6, station Goetheplatz)
Sources : michael-jackson-memoriampage.de/Guide Sur les pas de Michael Jackson, Antoine Cadinot, Christophe Charlot